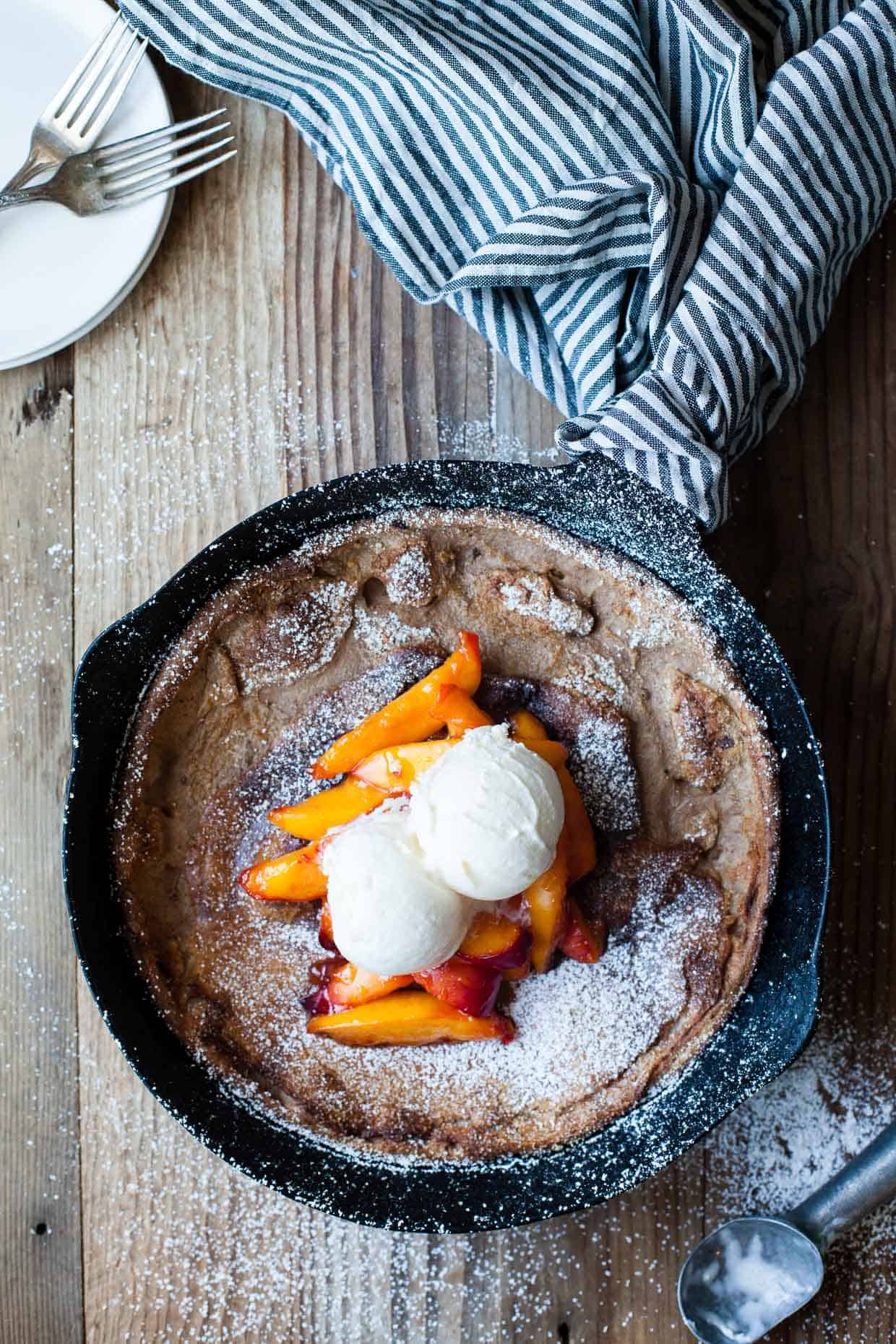 You might have noticed I've been popping by here somewhat sporadically the past couple of months. I've been busy working on some behind-the-scenes baking that's sucking all the energy out of me. Quite literally, actually. Before I tell you about this puffy golden chestnut dutch baby pancake, I'm excited to finally be able to share a sneak peek of what I've been baking up.
Here's the recipe:
Preheat oven to 98.6°F.
Place bun in the oven.
Bake for 9 months.
Remove on February 9th, 2016.
That's right, folks - we've got a baby in the oven! And it turns out growing a tiny human is about all the energy I've been able to muster up lately (sorrynotsorry for being so MIA!). We're nearly 15 weeks along now though, which I've been promised means a burst of energy is heading my way soon (...pretty please?).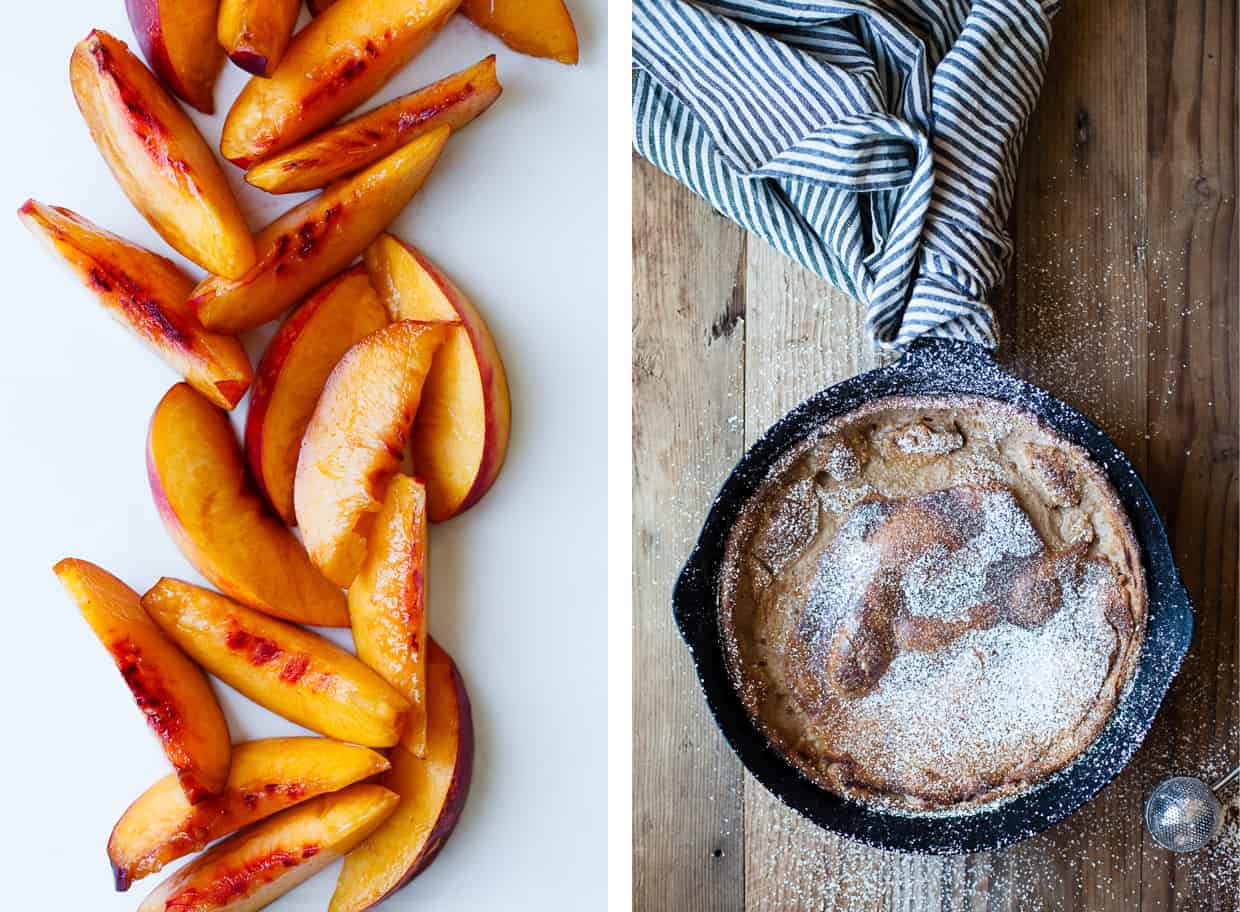 Karen warned me that when she was pregnant, she didn't want to look at food or food blogs for the first three months. As usual, I brushed Karen's warning aside (just as I did her "wear gloves while picking blackberries" caution) and, as usual, she was right. Morning sickness is a curious misnomer that should really be called Allthetime Sickness.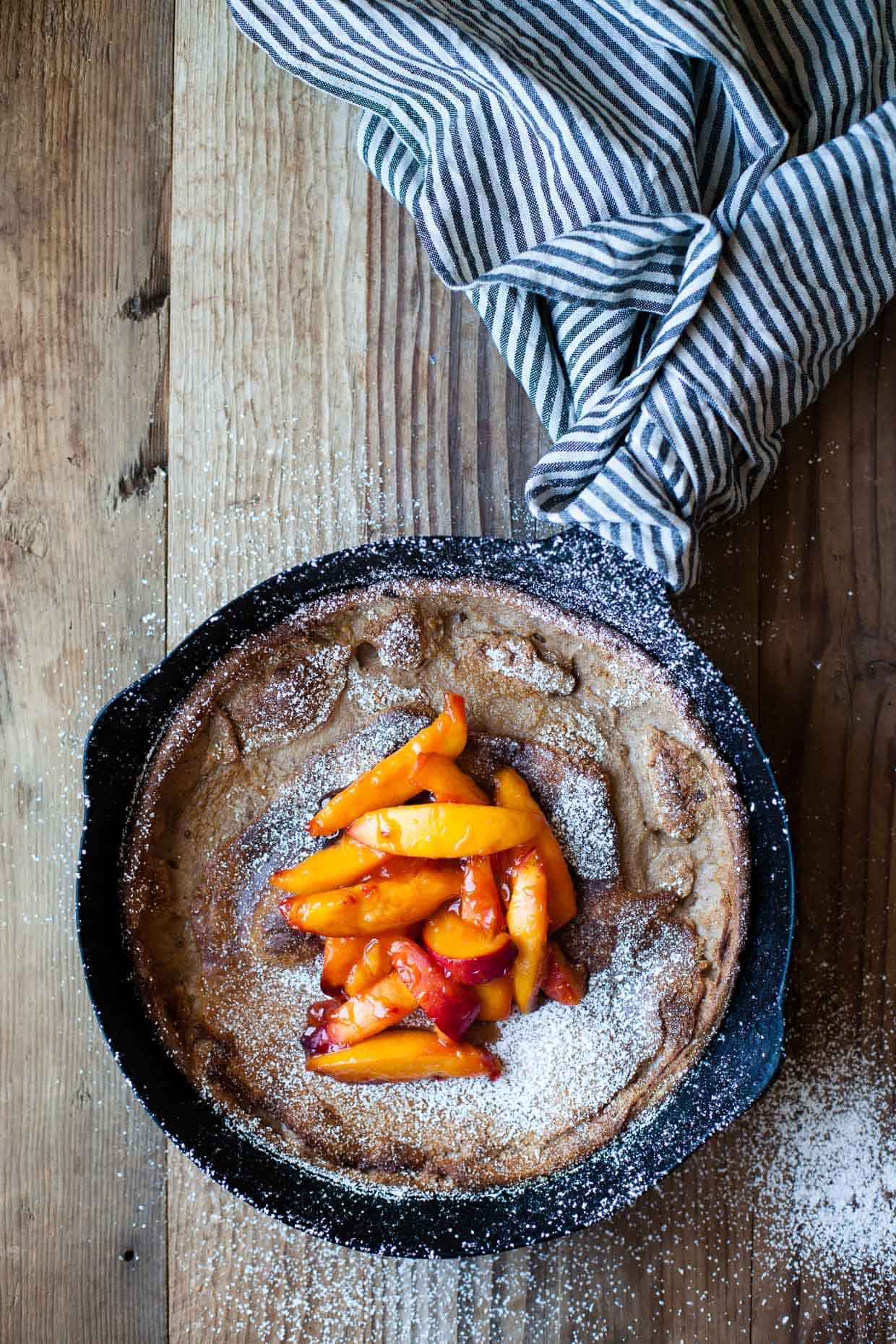 In my case it meant I've wanted to eat nothing but cheese and popsicles for the past 3 months. And apparently, if you do that, you can still grow a baby. At our last ultrasound appointment, I pointed to the screen and matter-of-factly announced to the doctor, "that's made of cheese." Lucas was in stitches. #cheesebaby
Aside from 3am nacho-fests, I've eaten my way through about 10lbs of ice and finished off a gallon of milk in only 4 days last week. When I wake up hungry in the middle of the night, I hear Karen's voice saying, "Milk is the best - instant calories, and you don't even have to chew!" Amen.
Pregnancy is weird. Weirdly awesome.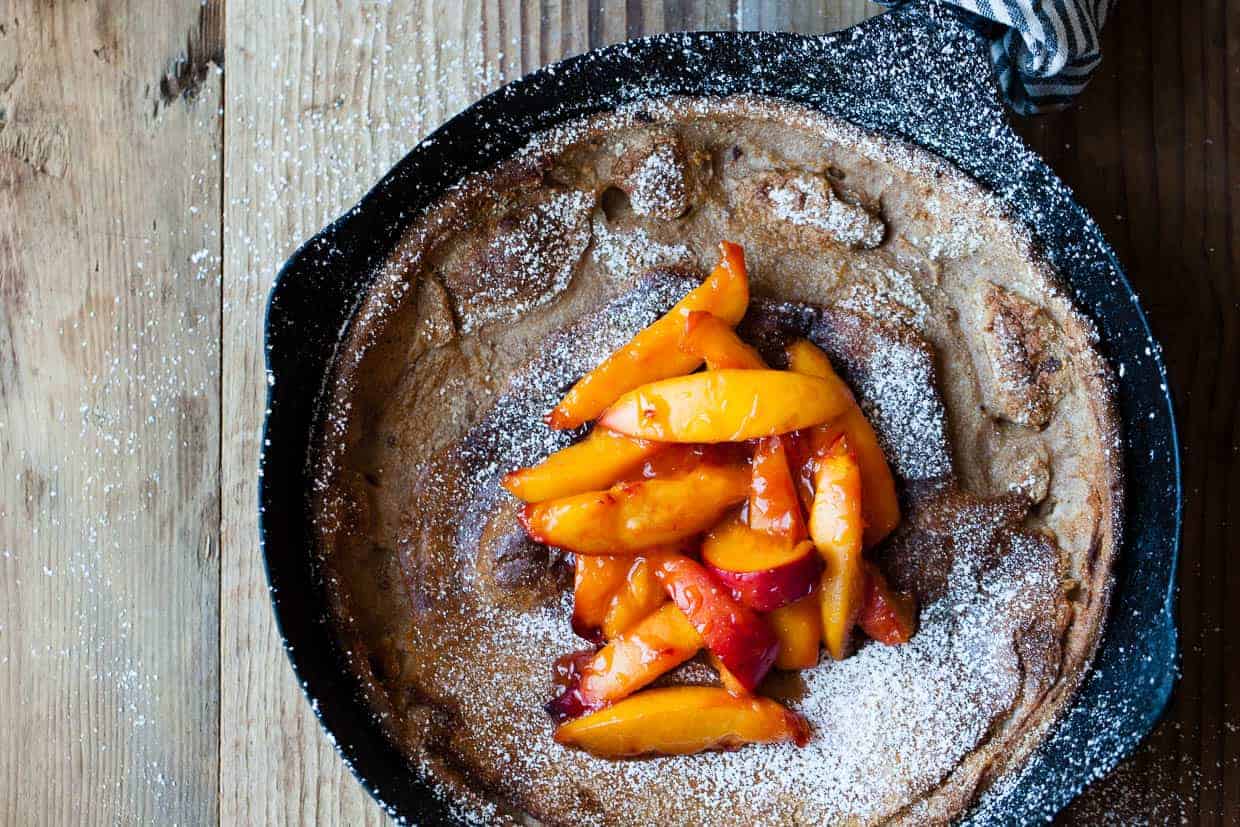 At 15 weeks, this little bean sprout is about the size of a large nectarine. My goal from here on out is to post a recipe using an ingredient the size of le bébé (haven't worked out where I'll find a pumpkin in February though...).
To start things off - the other baby I've got in the oven today is this gluten-free chestnut dutch baby pancake with caramelized nectarines. (Thanks to Alanna for the dutch baby idea and help...before she stepped in, I was over here like "maybe I can make baby carrots...??").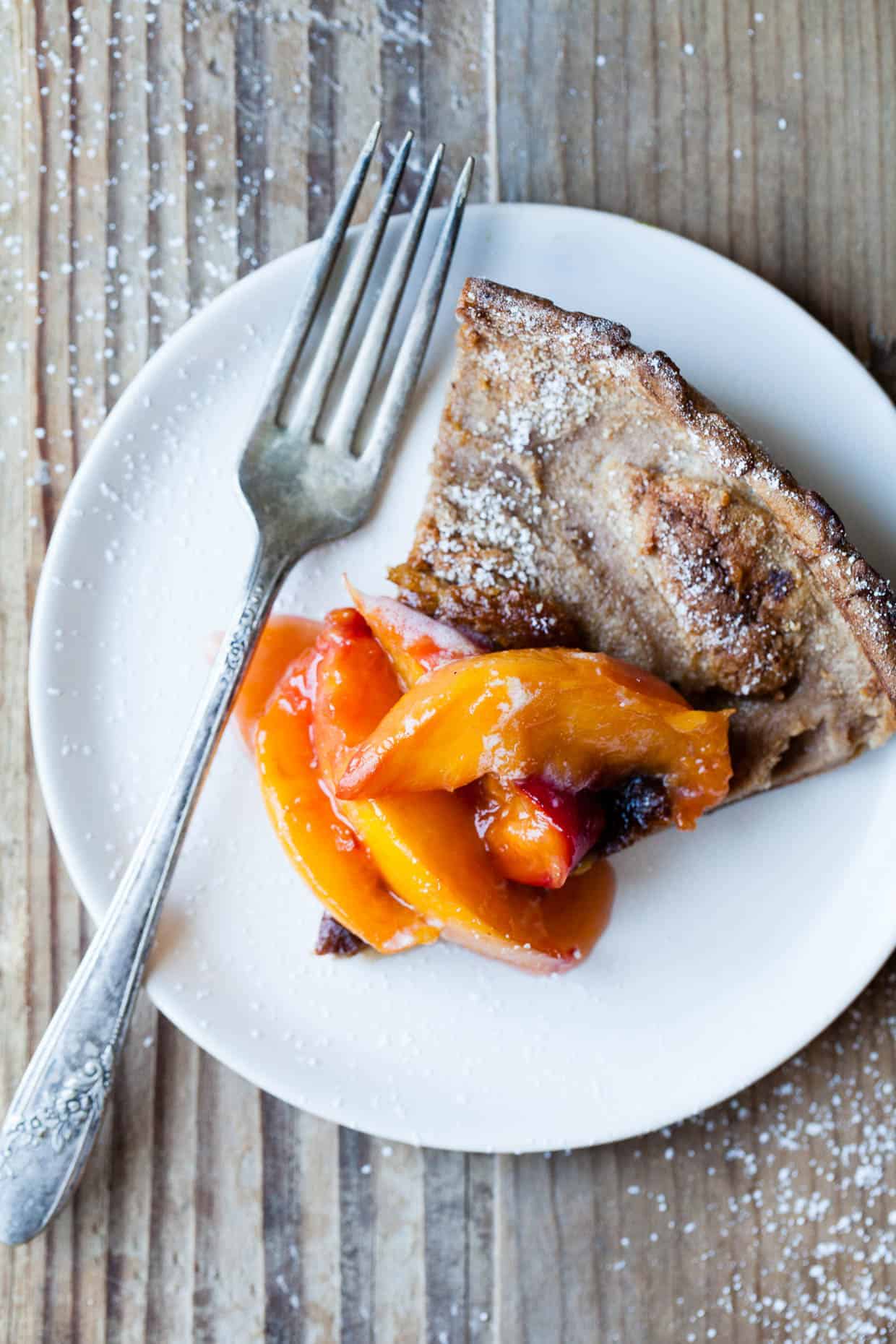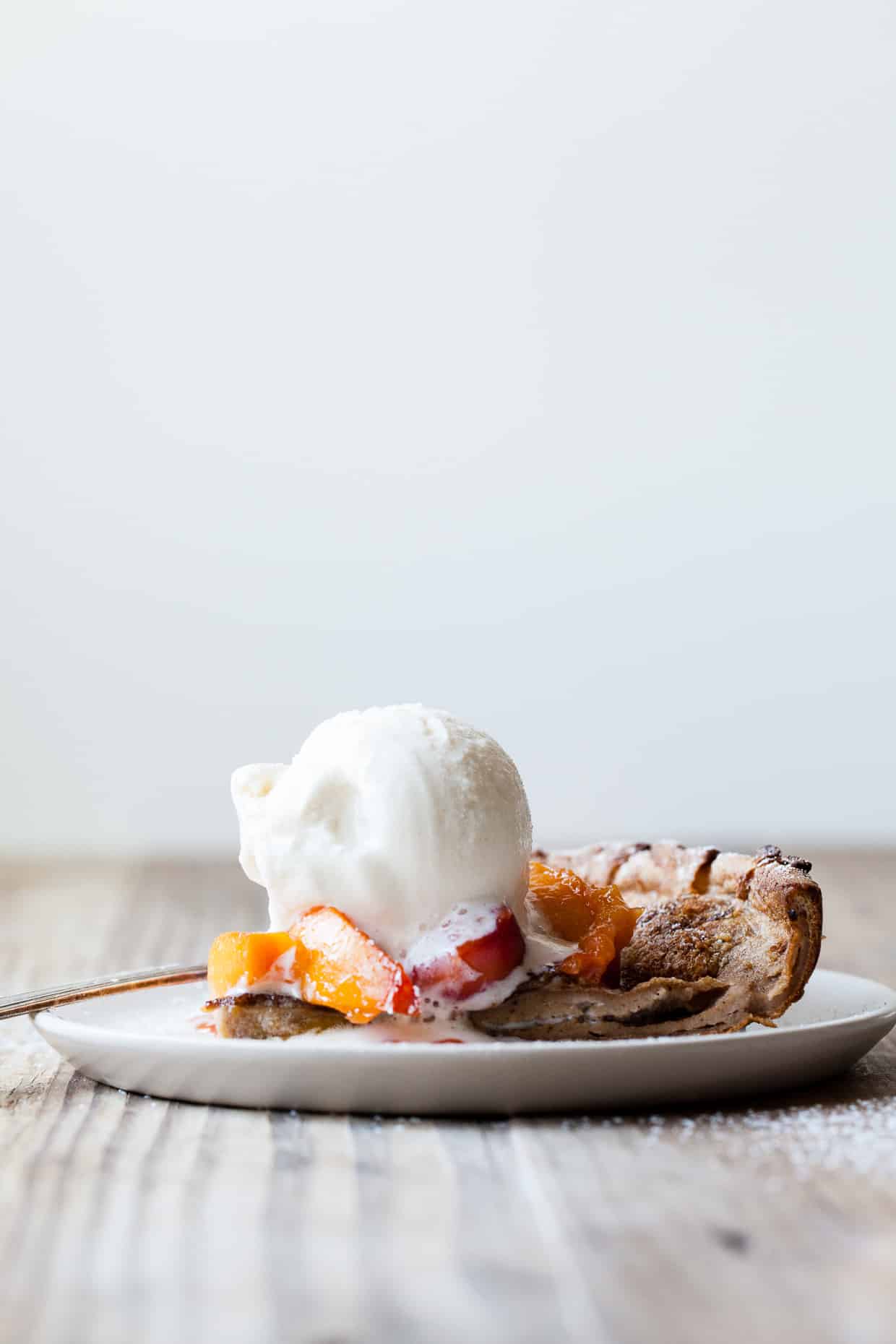 A thin pancake-like batter is poured into a sizzling-hot cast-iron skillet and baked until the edges rise up the side of the pan and the center puffs up with golden-brown pillows. The outside is light and crispy with an eggy almost custard-like center. This version with chestnut flour is a little nutty and a tad sweet even without any sugar mixed in.
Then of course, I doused the whole thing in powdered sugar, unloaded a hefty spoonful of caramelized nectarines, and dropped a scoop of vanilla ice cream on top because my sweet tooth can't leave well enough alone. Dessert masquerading as breakfast.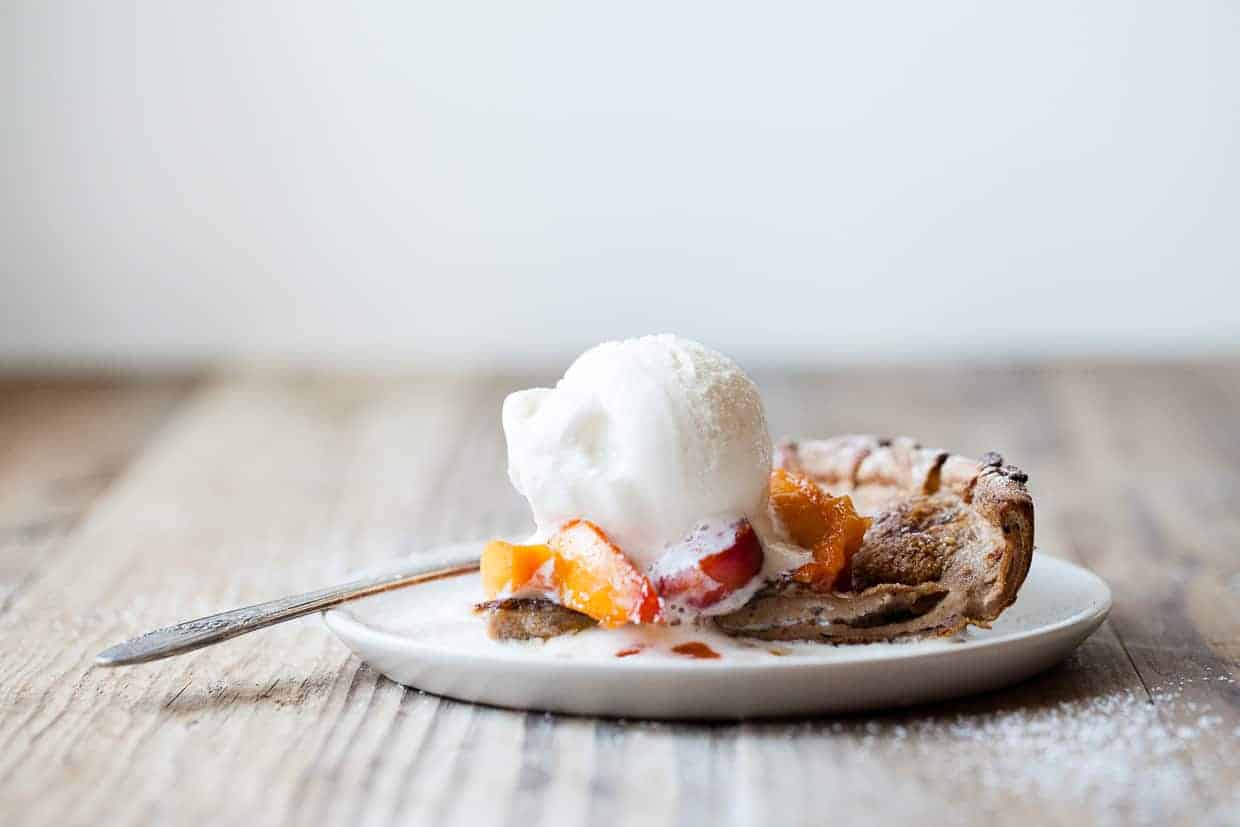 Thanks for reading Snixy Kitchen! To stay up on what's coming out of my kitchen, follow me on Facebook, Instagram, Twitter, Bloglovin', Pinterest, or subscribe via e-mail to get new recipes right to your inbox.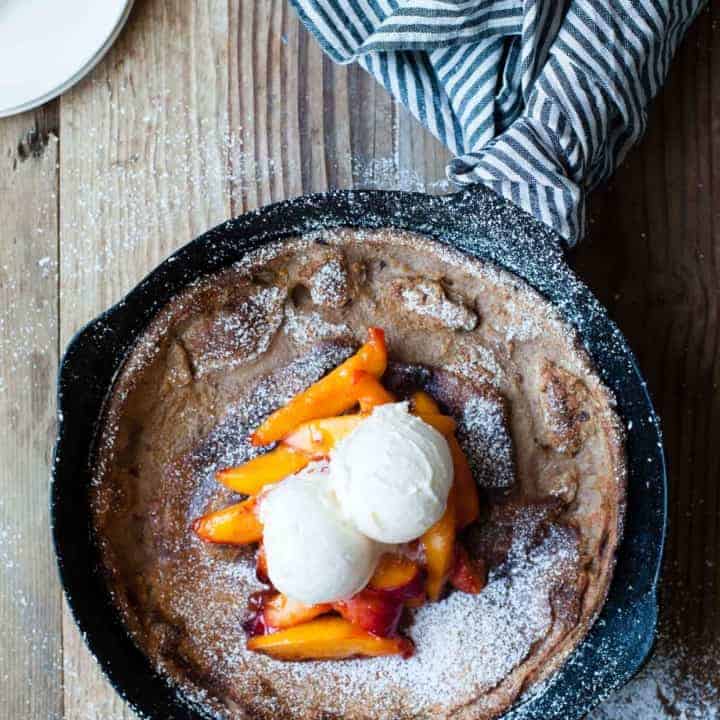 Chestnut Dutch Baby with Caramelized Nectarines
Yield:
1 10-inch dutch-baby
Ingredients
For the Chestnut Dutch Baby
For the Caramelized Nectarines
3 nectarines, sliced
¼ cup sugar
1 tablespoon unsalted butter
Instructions
Preheat the oven to 450°F with a 10-inch cast-iron skillet on the middle rack.
In a stand mixer fitted with the whisk attachment or with a hand mixer, whisk the eggs on high speed until frothy, about 1-2 minutes.
Add the chestnut flour, millet flour, sweet rice four, milk, salt, and vanilla. Continue mixing on medium-high speed until smooth, about 1 minute. Scrape down the sides with a spatula as needed. (If you don't have a mixer, you can also use a blender.)
Carefully remove the skillet from the oven and add the butter, swirling the pan to melt and coat the whole pan.
Carefully pour the batter into the center of the skillet and gently return the skillet to the oven.
Bake until the edges and center puff up and turn golden brown, about 20 minutes.
Meanwhile, prepare the nectarines. Add the nectarines, sugar, and butter to a medium skillet over medium heat. Cook, stirring constantly, until the sugar begins to turn golden brown and the nectarines soften. Remove from heat and set aside.
Serve the dutch baby warm straight from the oven* topped with powdered sugar, caramelized nectarines, and a scoop of vanilla ice cream (optional).
Notes
*The dutch baby will be most impressively puffed up straight from the oven. After a bit of time out of the oven, it will begin to deflate, but still taste delicious.
Adapted from Everyday Gluten-Free