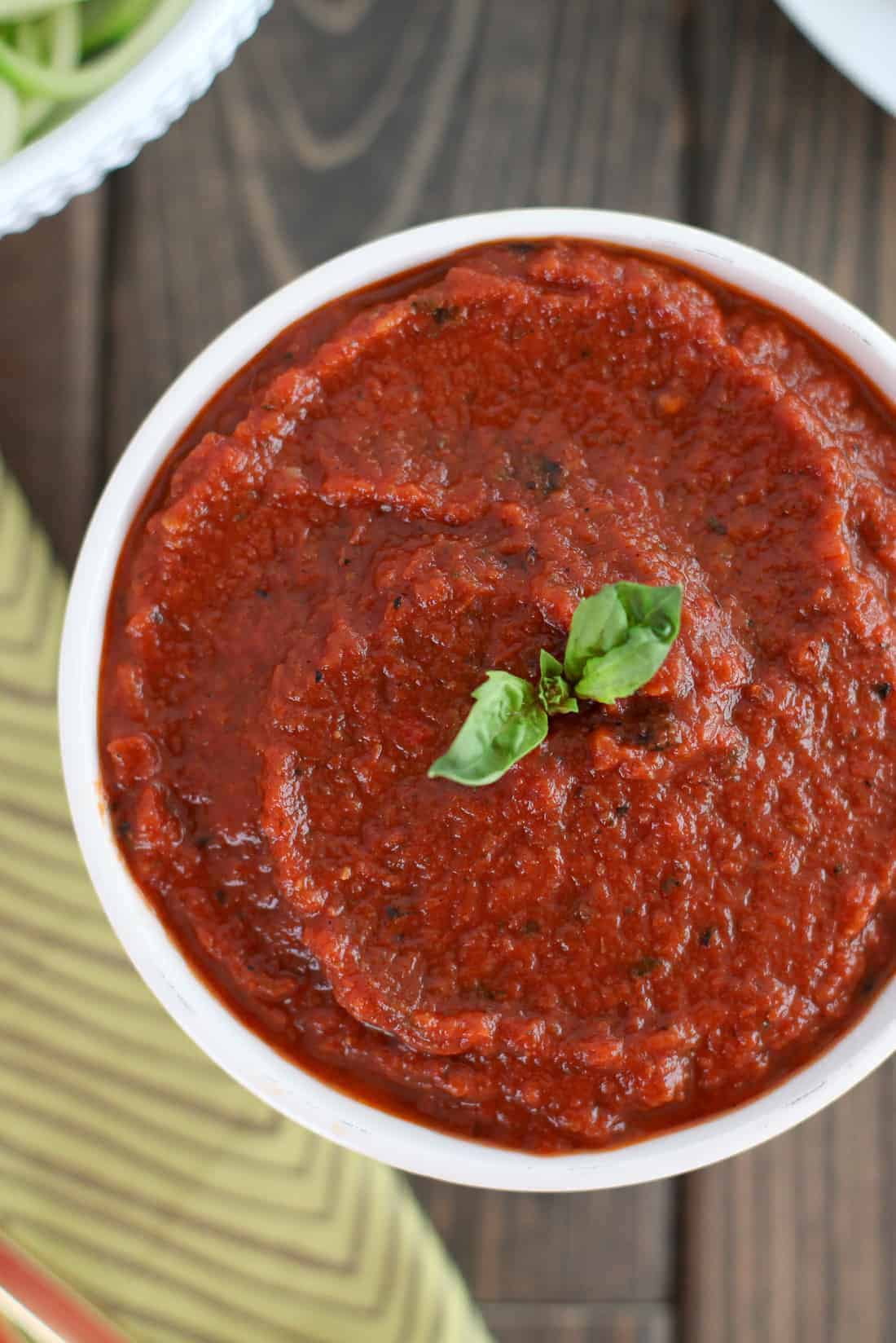 When I think about my mom's home cooking, spaghetti sends a wave of nostalgia. My mom makes chunky spaghetti sauce stuffed with mushrooms, onions, garlic, and ground beef. And now I crave it when I need a mom hug and she's not nearby to give one. It wasn't always that way though...
There was a time when I turned up my nose and painstakingly picked every trace of "chewy" mushroom or "crunchy" onion or "mushy" tomato out of the sauce before taking a bite. A texture discriminator. In high school, I rejected my mom's chunky spaghetti sauce in favor of canned tomato sauce mixed with a smidgen of tomato paste and lots of sliced black olives. I'm sure my friend Jenny remembers what I'm talking about. I had such bland preferences that we probably didn't even put spices in it. Still, that sauce had more depth than my prior faved pasta dish from my elementary years: "bow-ties" with butter and grated parmesan cheese.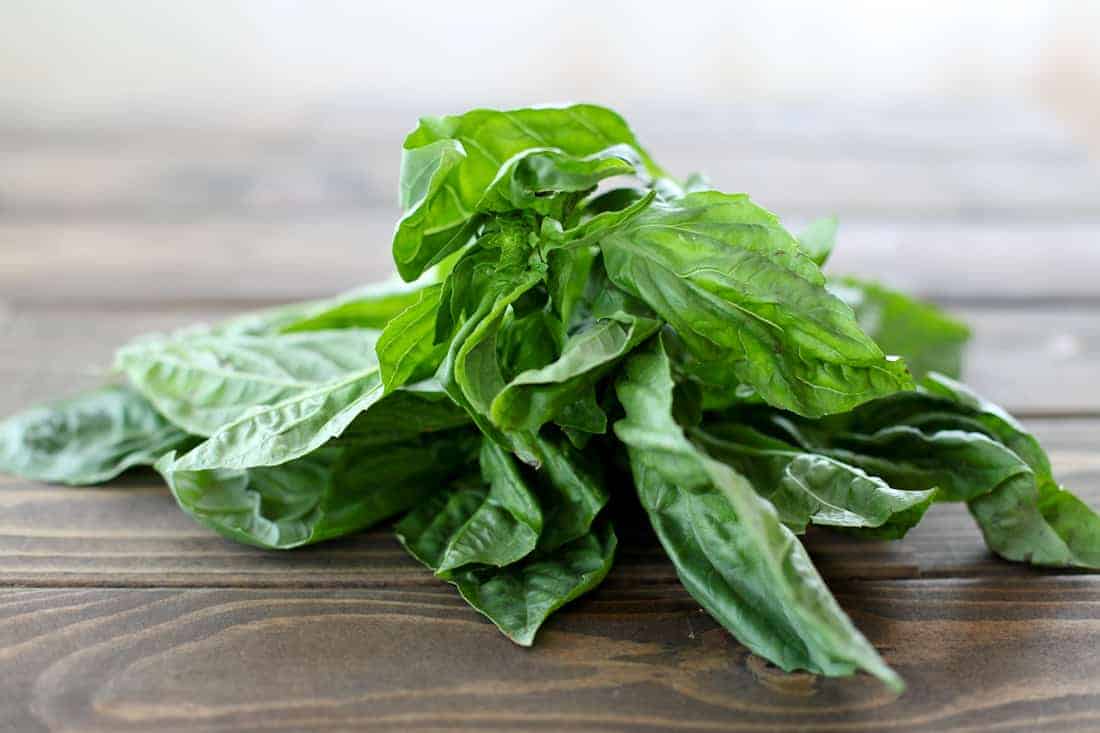 I'm happy to report I've graduated to era where I appreciate the taste of mom's chunky vegetable-filled spaghetti. As a simple weeknight recipe, her recipe calls for tossing all the vegetables and meat in with jarred marinara sauce, and sprinkling in some seasoning. And I love it. In the spirit of making things from scratch though, I got to thinking recently that, while I've made ragu plenty of times, I'd never made my own marinara. Homemade marinara feels like the ultimate staple in the genre of made-from-scratch cooking. You know, cook an enormous batch and freeze much of it for later. Let's get fancy with this sun-dried tomato marinara.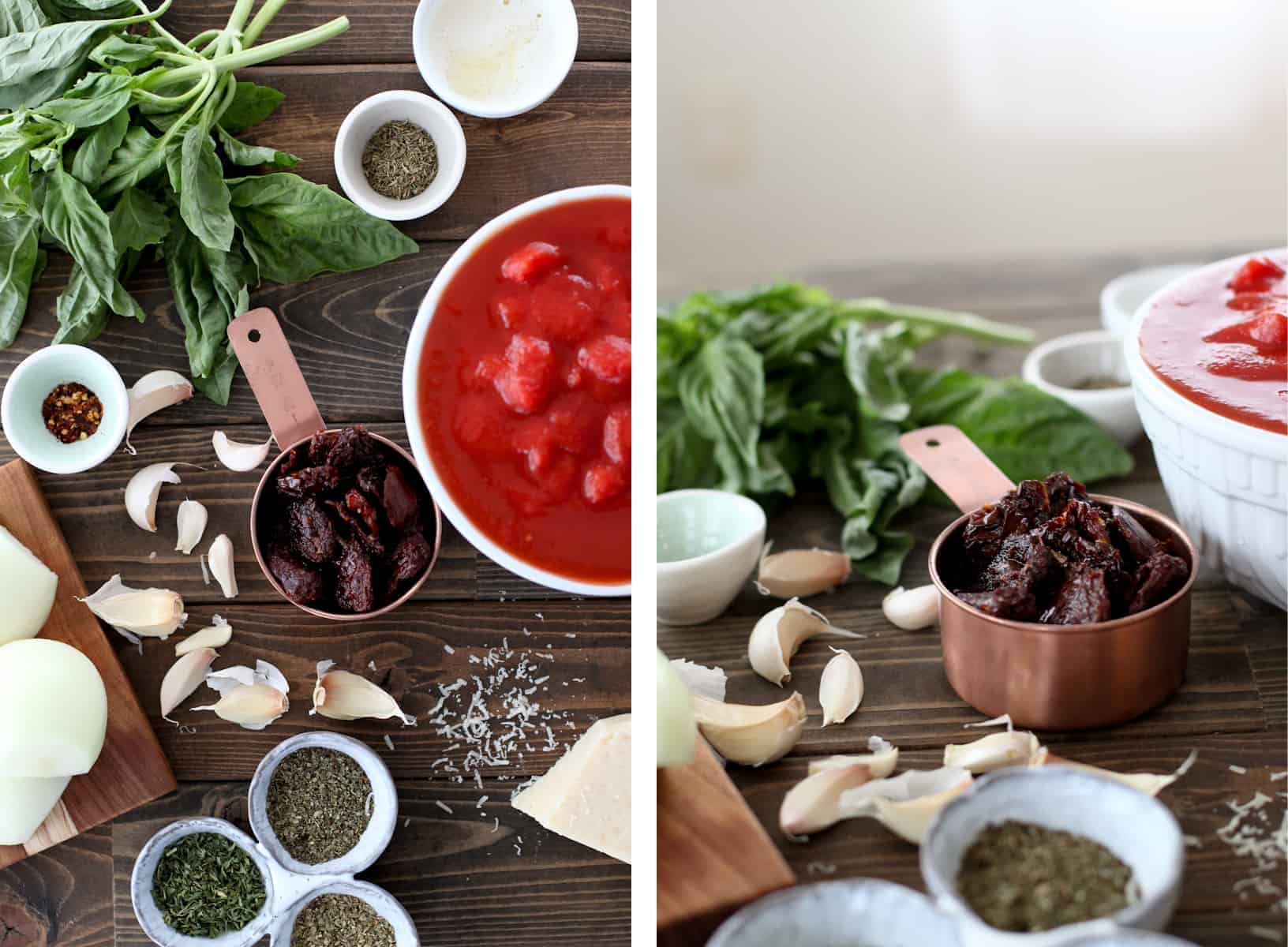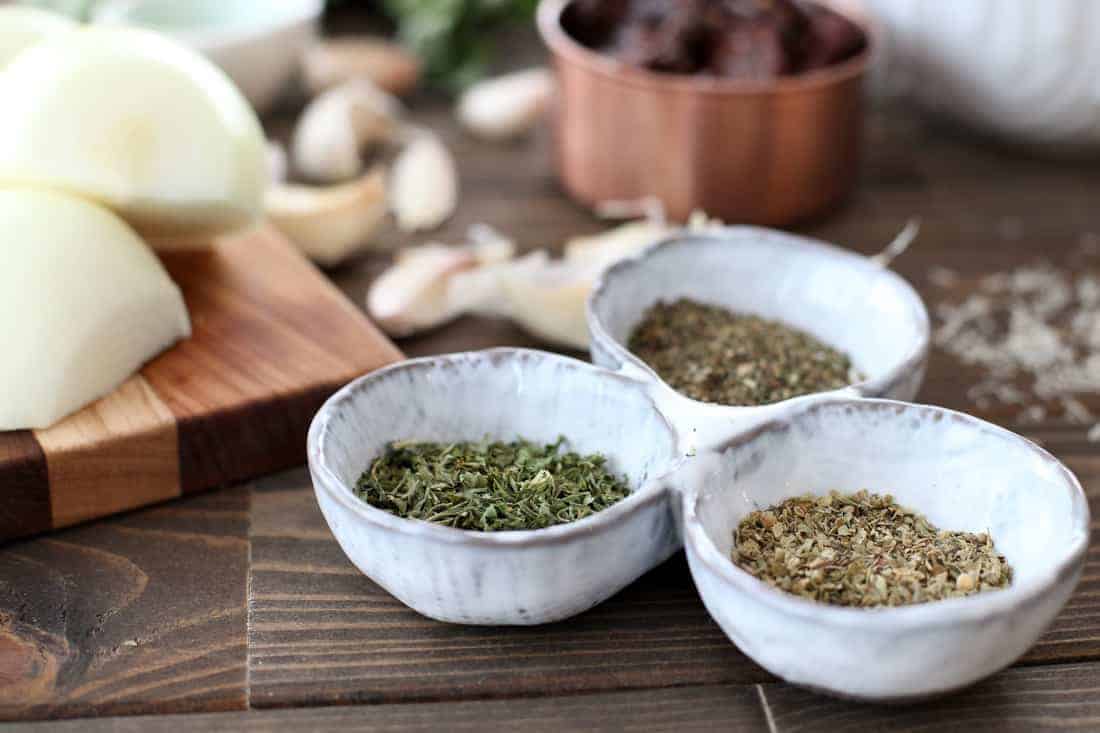 So that's just what I did - I doubled the recipe below and froze a whole heck of a lot for quick meal on a busy night. Even though freezing leftovers was absolutely my intent, when I finished puréeing the sauce, I was still shocked by the massive amount of sauce I'd made. Oops. A happy oops though because now I've got this rich homemade marinara in my freezer just waiting to top some more zucchini and meatballs or melty eggplant parmesan or creamy polenta with caramelized mushrooms. So many options!
Comfort food just when you need it. You know, like on a week when your kitchen sink is clogged beyond handyman husband repair and, after holding out three days for the plumber to come, you resort to tackling your mountain of dishes in the bathtub. Then after the plumber comes and leaves the door to the crawl space open, you close it only to discover a couple of days later that a poor kitty's gotten himself trapped under the house and is too terrified to find his way out. So, after unsuccessfully luring him with treats, water, and tuna, you resort to slithering army-style through cobwebs across the dirt trying to rescue him. An emotional week for a cat-loving home cook. One that begs for comfort food.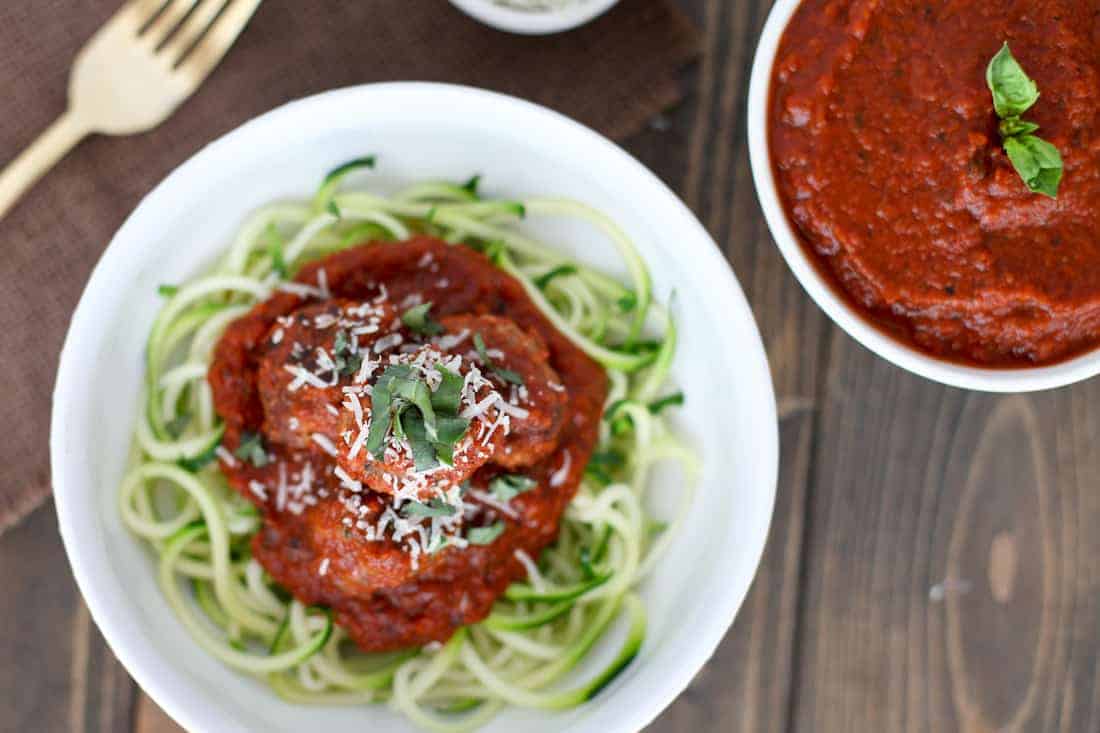 This is special occasion sauce. A robust sauce for tomato lovers, not for high-school Sarahs playing hide and seek from flavor. The kind of sauce where a little bit goes a long way. One that tastes like the love and fresh ingredients you put into it. A thick tomato-y sauce with a hint of rich sweetness that balances nicely with a hearty base like spaghetti and meatballs. Look out for my recipe for turkey meatballs and zucchini noodles topped with marinara in the next few days.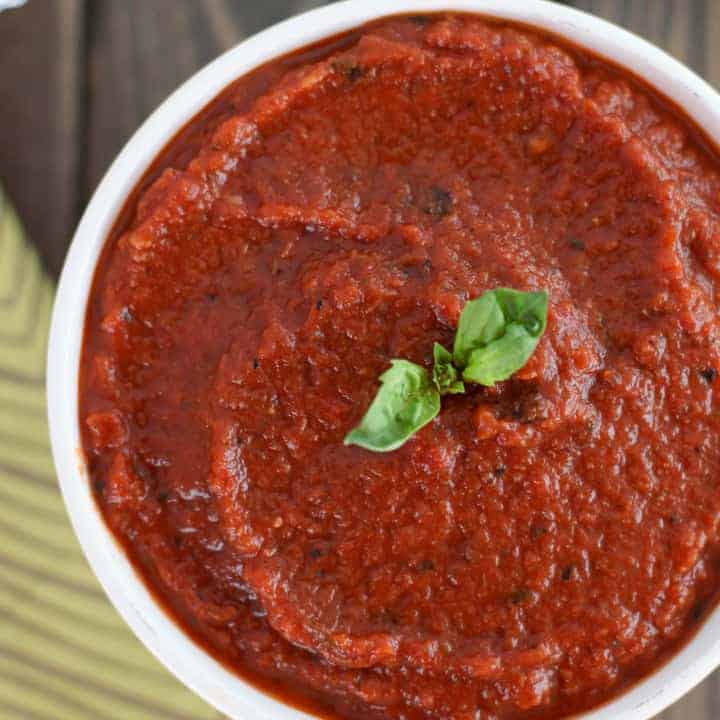 Brown butter sun-dried tomato marinara
Ingredients
1 tablespoon olive oil
1 small yellow onion, coarsely chopped
5 large cloves garlic, coarsely chopped
2  28-ounce cans whole peeled San Marzano tomatoes
½ cup drained sun-dried tomatoes packed in oil
¼ cup sun-dried tomatoes (not in oil) *Feel free to mix and match as you please based on what you have on hand
2 teaspoons dried basil
1½ teaspoons dried oregano
¾ teaspoon dried thyme
¼ teaspoon red pepper flakes
¼ teaspoon pepper
¼ teaspoon salt
¼ teaspoon nutmeg
5 tablespoons unsalted butter, divided into 1 tablespoon and 4 tablespoons
1 tablespoon brown sugar
2-4 tablespoons fresh parmesan cheese
Instructions
Heat the olive oil in a large heavy-bottom pot. Add the onions and garlic and sautée until fragrant, about 2-4 minutes.
Add whole tomatoes, sun-dried tomatoes, dried spices, and 1 tablespoon of butter to the pot and bring to a summer over medium-high heat. Reduce heat to low and cook, covered, for 30 to 45 minutes, stirring occasionally (the time is really flexible here - if you're making pasta or meatballs, you can give or take 15 minutes).
After the sauce has cooked, use an immersion blender or food processor (working in batches) to purée the sauce until desired consistency (I like mine smooth, but some people prefer to leave a few chunks).
In a small pan, heat the butter. After the butter melts and foams, it will begin to turn golden brown with a nutty aroma. Stir frequently, watching carefully until it just browns. Pour the browned butter with any crispy bits into the puréed sauce and stir.
Stir in the brown sugar and fresh parmesan.
Serve over your favorite plate of spaghetti or zucchini noodles and meatballs (recipe for meatball and zucchini noodles coming later this week!). Store in an air tight container in the refrigerator for up to one week or in the freezer for up to 3 months.