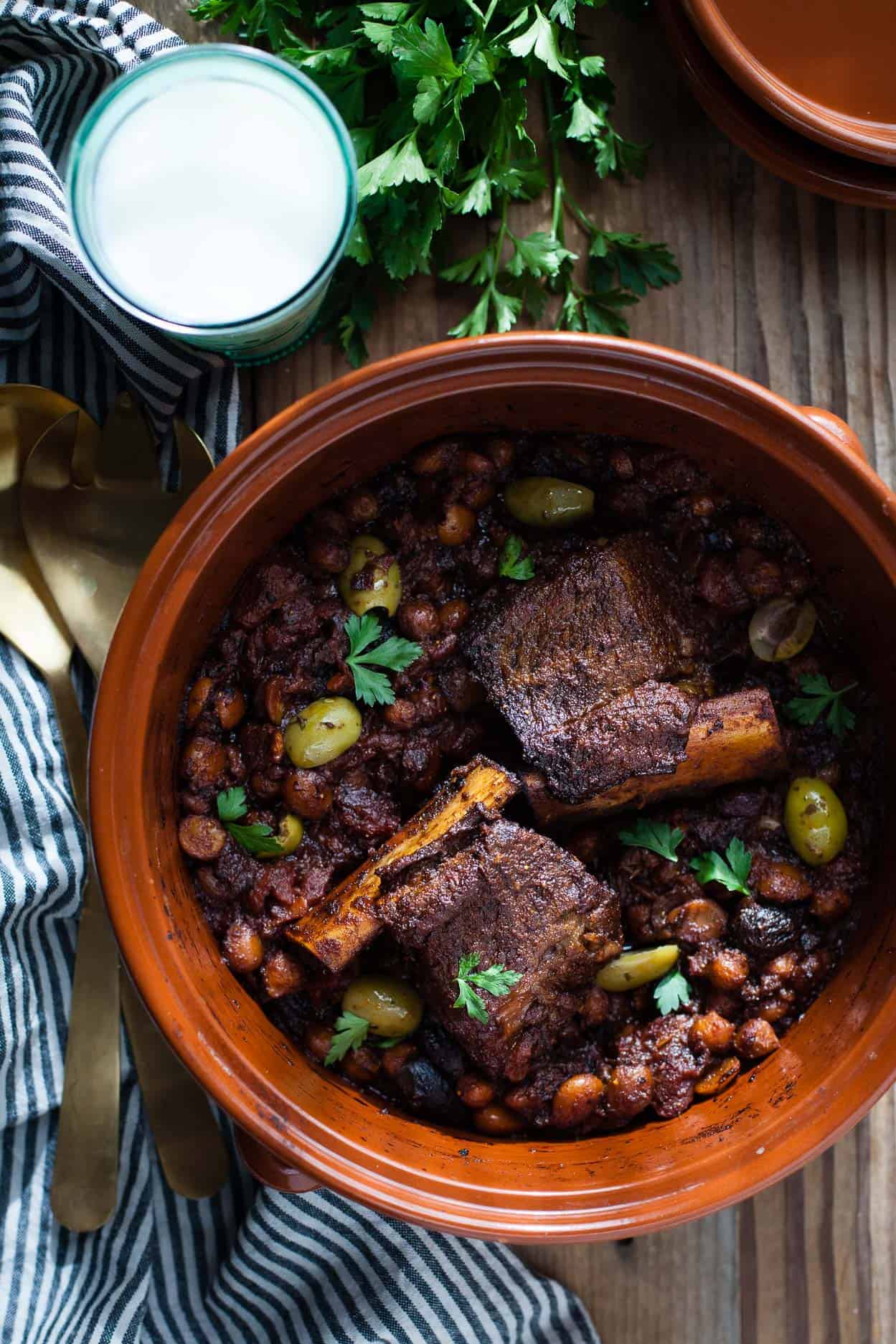 Back when I first told you about #cheesebabygirl, I mentioned my new-found love affair with milk. When random people at the grocery store (yah, that's a thing) ask me what unusual cravings I've had throughout my pregnancy, the only answer is milk. 7.5 months in and my love for milk is still just as fierce as day 1. Like 2am rendezvous every single night fierce. So I've teamed up with Got Milk? to bring you a recipe pairing that's basically just my personal love-letter to milk.
Dear Milk, you and this braised short rib tagine are meant for one another.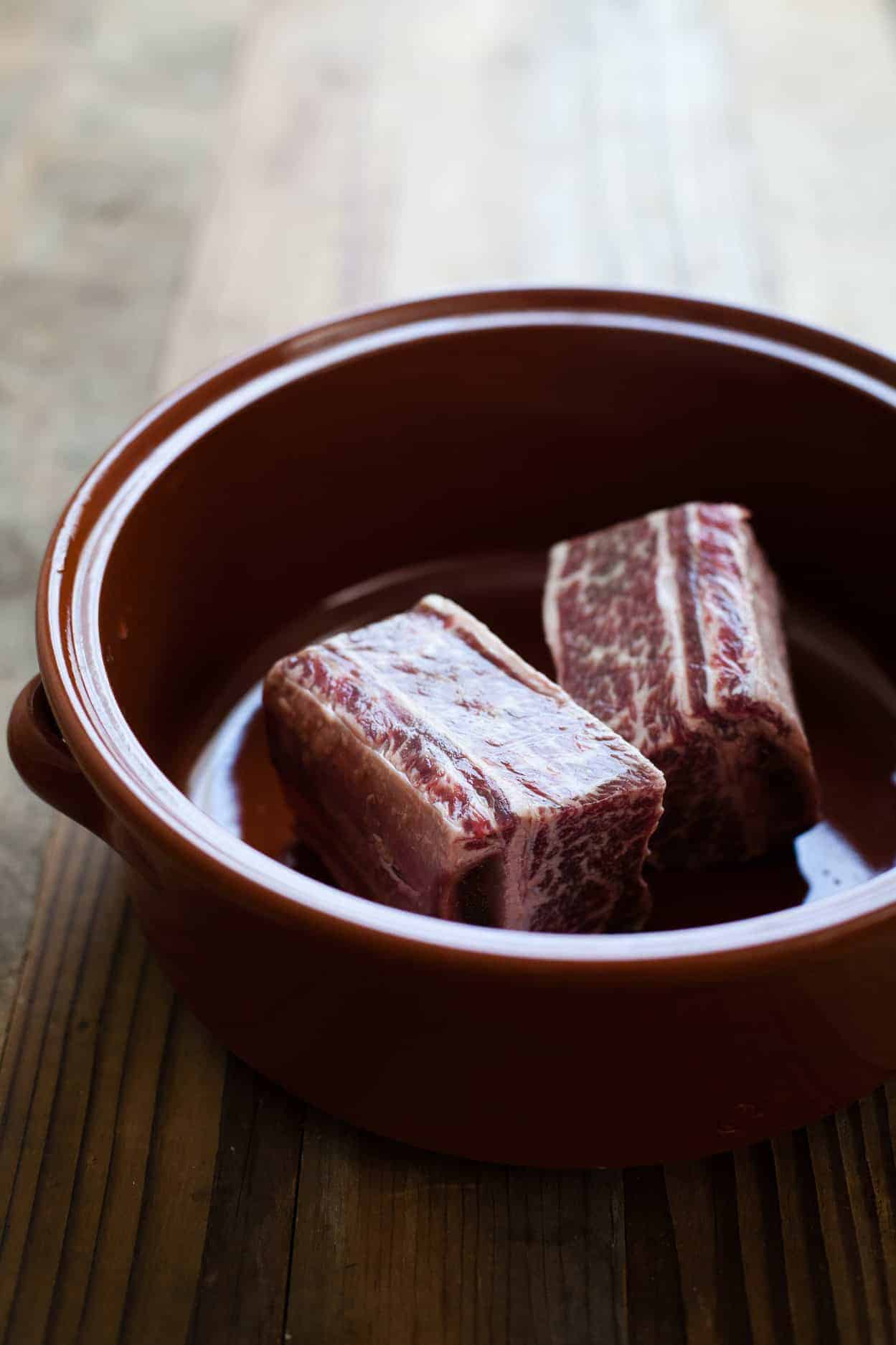 Now that Thanksgiving has come and gone (wait, where did summer go?), it's time to turn our attention on all those warm wintry main courses to serve over the holidays. And this braise short rib tagine is just that. It's seared and slow-stewed in deep Moroccan spices until the meat falls apart off the bones, then served with all the warm seasoned tagine vegetables spooned over top on a bed of quinoa.
The stew comes together with hearty chickpeas, sweet roasted dried figs, crunchy salted marcona almonds, and tangy green olives. With a little cayenne kick on the end, a chilled glass of milk (or two) adds just the right finish. The creamy milk calms the spice and rounds out the rough edges of the piquant stew. (Trust the pregnant lady on this one).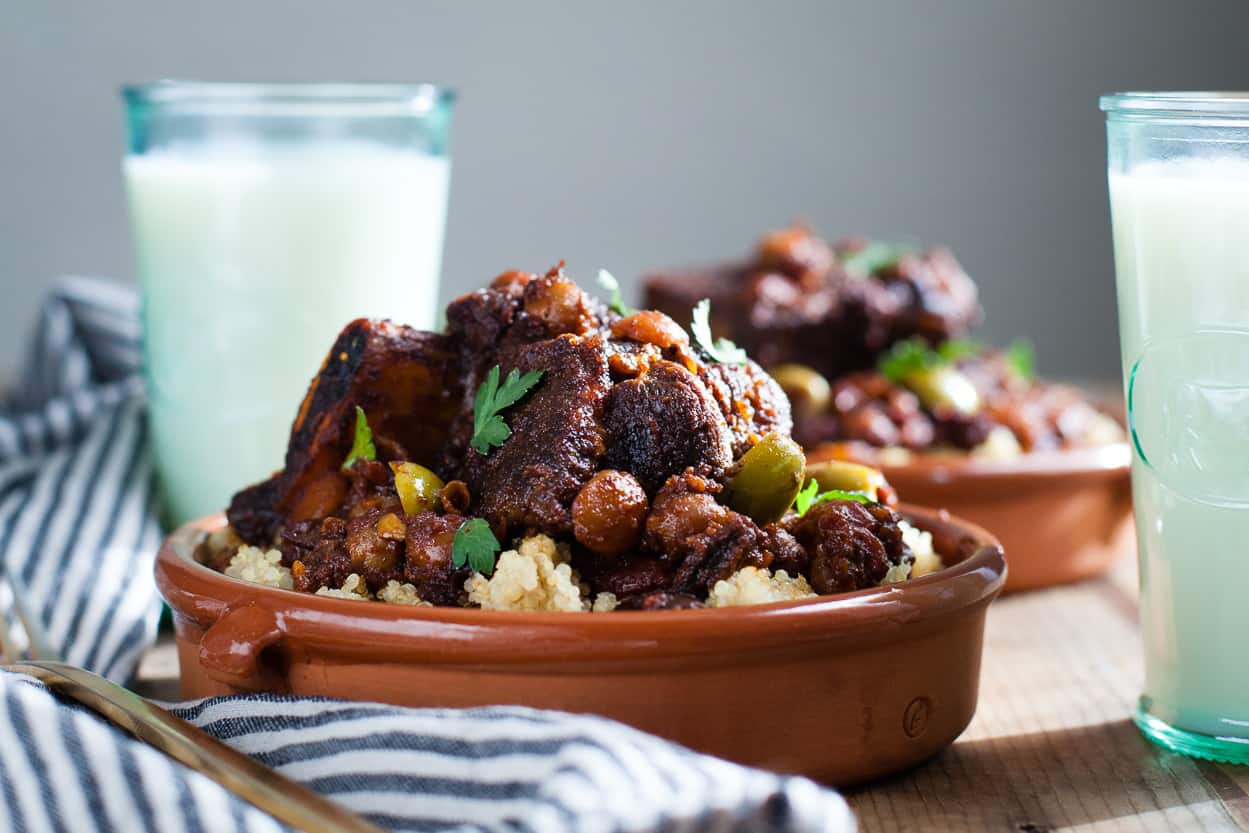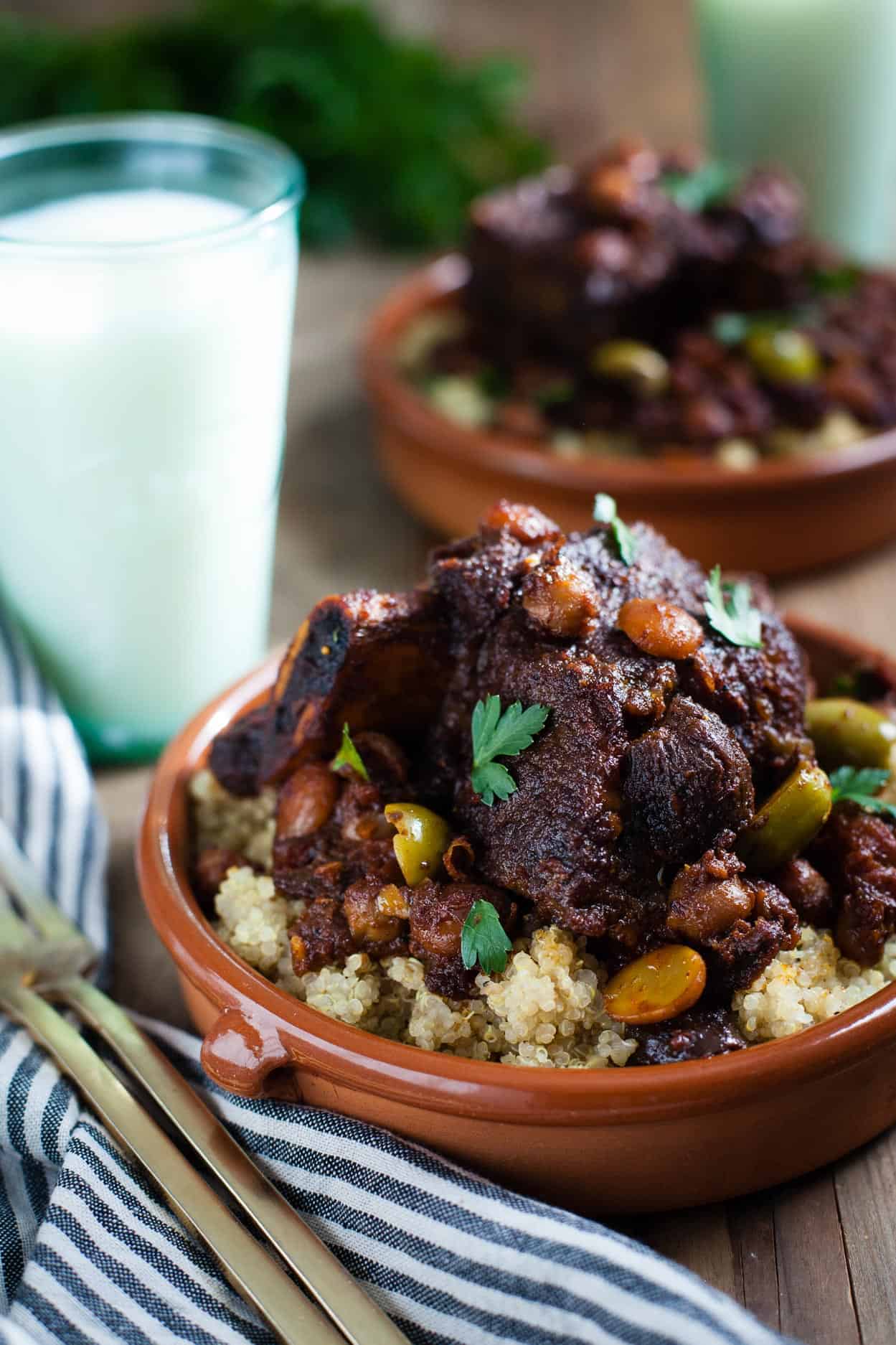 Speaking of the holidays (holidays = all of December), have you set up a tree and pulled out your 100+ collection of Santa figurines? Is your elf on the shelf yet? If not, then you're WAY behind my mom in showing off your holiday spirit.
She may be turning 60(!) in January, but when it comes to Christmas, she's a kid a heart - with her very own Elfie.
(To find.)
You see, while my mom would listen to Christmas tunes all year, my dad's a bit of a holiday grinch. So a couple of years ago, I sent them an Elf on the Shelf, with the rule that throughout December, my dad was in charge of hiding him. He begrudgingly agreed, but I think he's secretly been having a bit of fun finding (sometimes risqué) places for Elfie.
On December 1 this year, I texted my dad to remind him to hide Elfie. The next evening, he casually started the following conversation with my mom:
Dad: "Did you find Elfie yet?"
Mom: "Well, no...because he's still in the box."
Dad: "Are you sure?"
Mom: (Shows him the box with Elfie snug inside)
Dad: "Do we have another one?"
Mom: "No...but I guess I better figure out what you hid."
This is what she found - straddling the shower spout. Mr. Wonderful: a talking man doll my mom got him as a stocking stuffer years ago that, when squeezed, says things like "I may have bought you too many presents this year, but you deserve so much." To my grinch dad, he apparently bears a striking resemblance to a little boy holiday elf.
My dad is awesome at Christmas.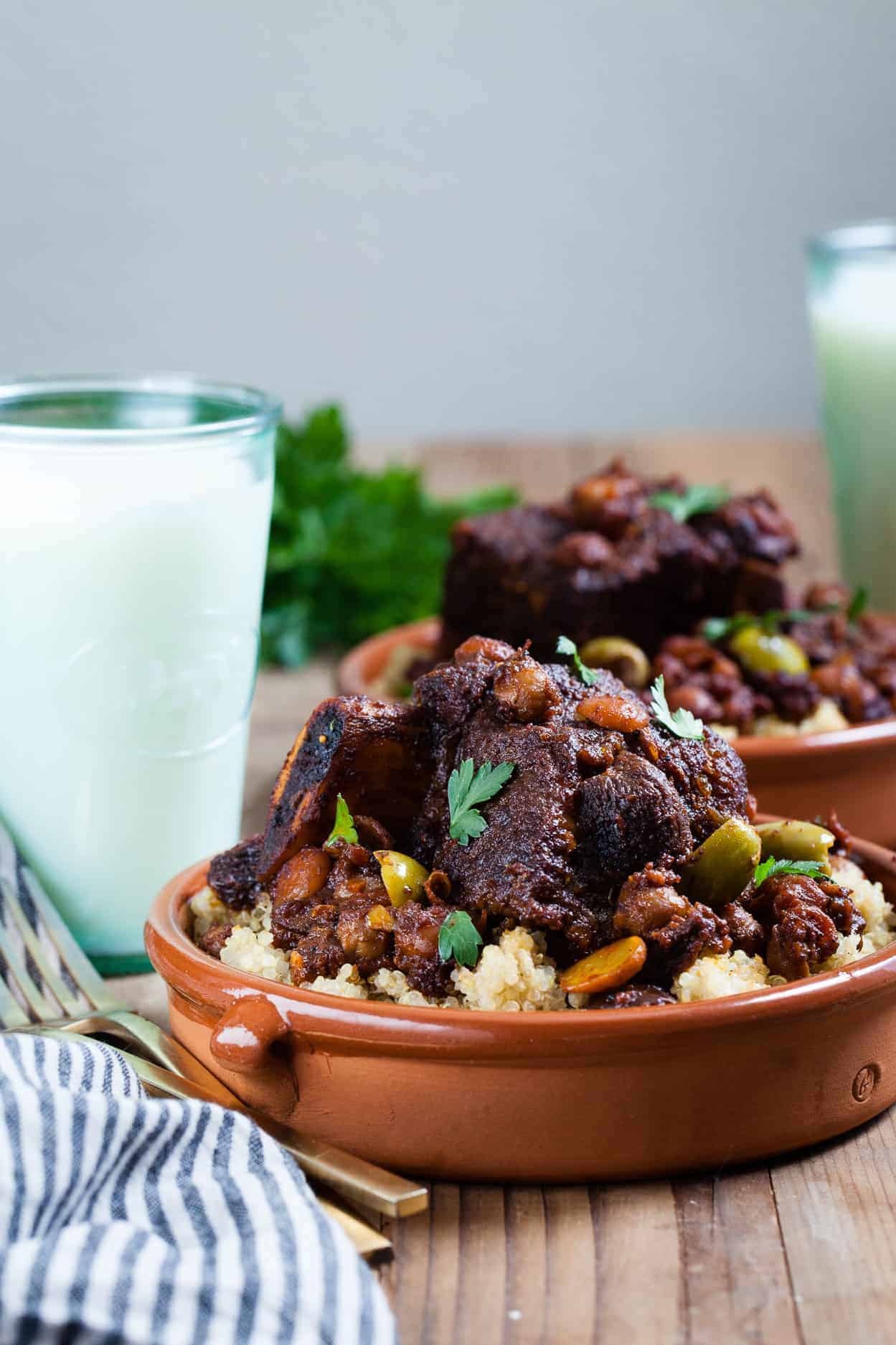 You can be awesome at Christmas too if you make this braised short rib tagine (except for real, for real). You see the size of these servings? Lucas blinked and scraped his plate clean, declaring the stew good enough to stand on its own even without the tender braised short ribs. But definitely with a cool glass of milk.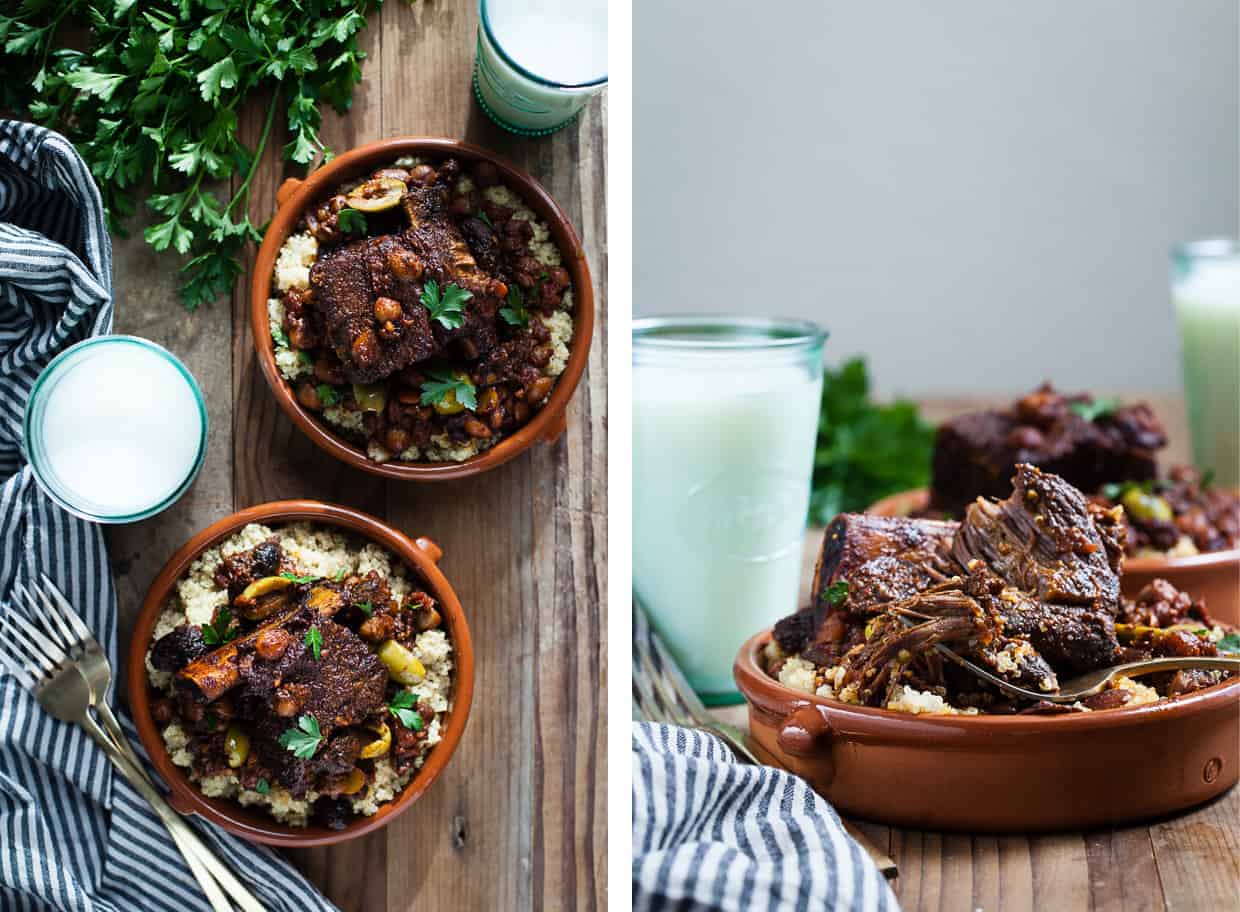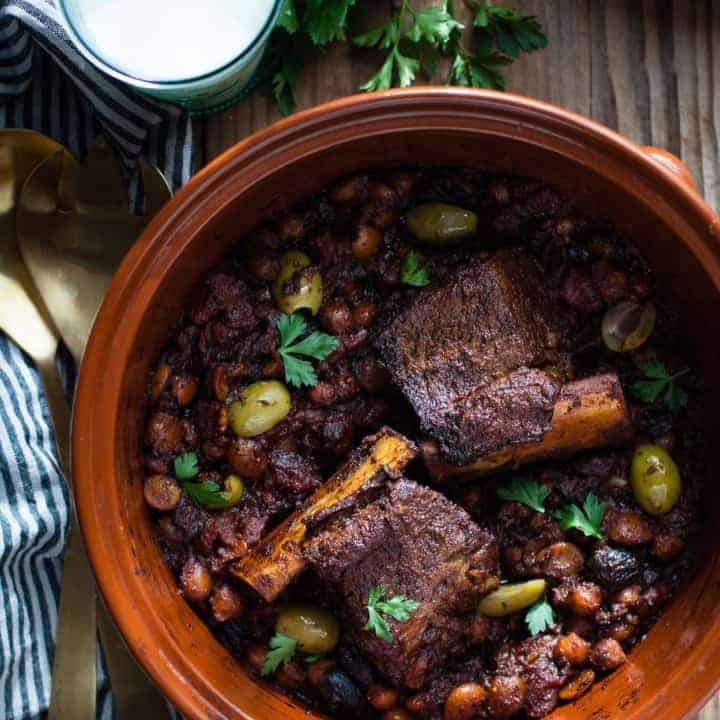 Braised Short Rib Tagine with Figs & Almonds
Ingredients
Braised Short Rib Tagine
1 tablespoon light brown sugar
1 tablespoon paprika
1½ teaspoons turmeric
1 teaspoon ground ginger
¾ teaspoon ground cinnamon
½ teaspoon ground cardamom
½ teaspoon salt
¼ teaspoon cayenne
¼ teaspoon pepper
2 tablespoon olive oil, divided
2 teaspoons minced fresh ginger
2 teaspoons minced garlic (About 3 medium cloves)
2 beef short ribs (about 1¼ lbs)
2 cups chicken broth
1 14.5-ounce can chopped tomatoes, with their juices
1 cup drained canned chickpeas
½ cup dried figs (about 14-16 figs), de-stemmed and sliced into thirds
1 tablespoon tomato paste
½ cup marcona almonds
¼ cup seedless green olives, sliced in half
About 2 tablespoons of fresh parsley leaves, for serving
Quinoa
1 cup dried quinoa, rinsed and drained
1 tablespoon unsalted butter
2 cups chicken broth
¼ teaspoon salt
Instructions
Braised Short Rib Tagine
Combine spices (first 9 ingredients) in a small bowl.
Pat short ribs dry and generously coat all sides of ribs with spice mixture, reserving excess spices. Place ribs on a plate and marinate, uncovered for 30 minutes to an hour.
Put oven rack in lower third of oven (so it will fit a giant pot) and preheat oven to 325°F.
Heat 1 tablespoon of oil in a large clay pot or a heavy-bottomed pot (like a dutch oven) over high heat until hot but not smoking and quickly brown ribs on all 3 meaty sides (but not bone side), about a minute per side. Transfer meat back to the plate.
Add the remaining tablespoon of olive oil and the fresh ginger and garlic. Sauté for 1 minute.
Stir in chicken broth, tomatoes with their juices, chickpeas, figs, tomato paste, and reserved spices. Nestle ribs into the center of the pot with any drippings accumulated on plate and bring liquid to a boil, uncovered.
Spoon some sauce over ribs and stir in almonds. Cover pot and transfer to oven. Braise until meat is very tender, 2 - 2.5 hours.
Skim off excess fat from surface of sauce and discard.
Serve over cooked quinoa topped with olives, parsley.
Quinoa
Melt butter in a medium saucepan over medium-high heat. Add quinoa and toast, stirring frequently, for 3-4 minutes.
Add chicken broth and salt and bring it to boil. Reduce heat to low and cover for 15 minutes.
Remove from heat and let set for 5 minutes. Fluff with a fork.
Disclosure: Special thanks to Got Milk? for sponsoring this post! And thanks to you for supporting the companies that keep Snixy Kitchen cooking!