These blackberry hibiscus spritzers with tarragon are a vibrant refreshing summer mocktail for special occasions, casual backyard gatherings, or just cooling off! It's tart and sweet with a little fizz and herbal aromatics.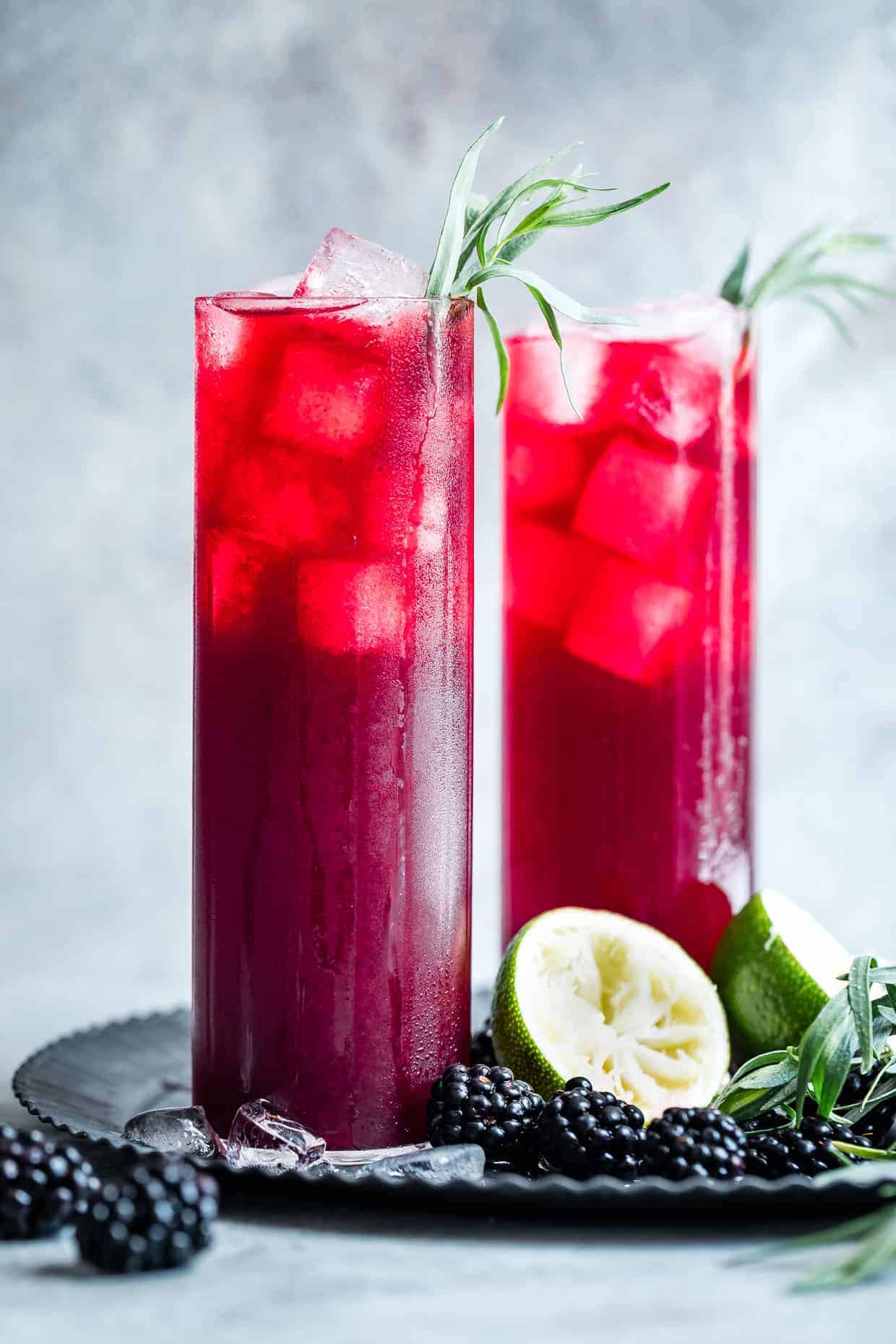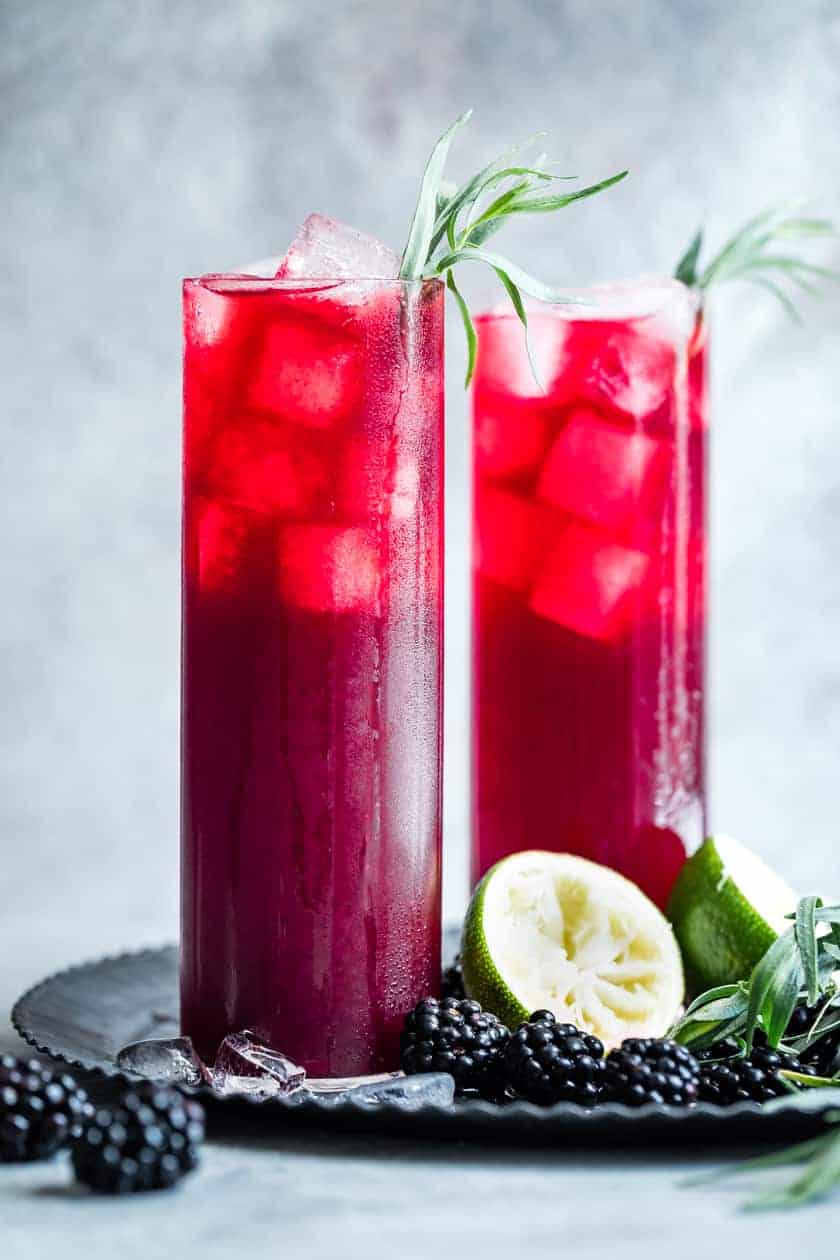 We're celebrating Lucas's birthday today. It's not a huge milestone birthday, but between juggling a toddler, being 34 weeks pregnant, getting our house ready to accommodate another human, and 6 months of work packed into the next 3 to 6 weeks, it feels like a milestone that the day didn't pass by without one or both of us forgetting. I started early this year by concocting the perfect drink in Lucas's honor in partnership with OXO using my favorite beverage tools. It's a twofer or maybe even a threefer with his birthday, Father's Day, and our 5 year wedding anniversary all in the next 2.5 weeks.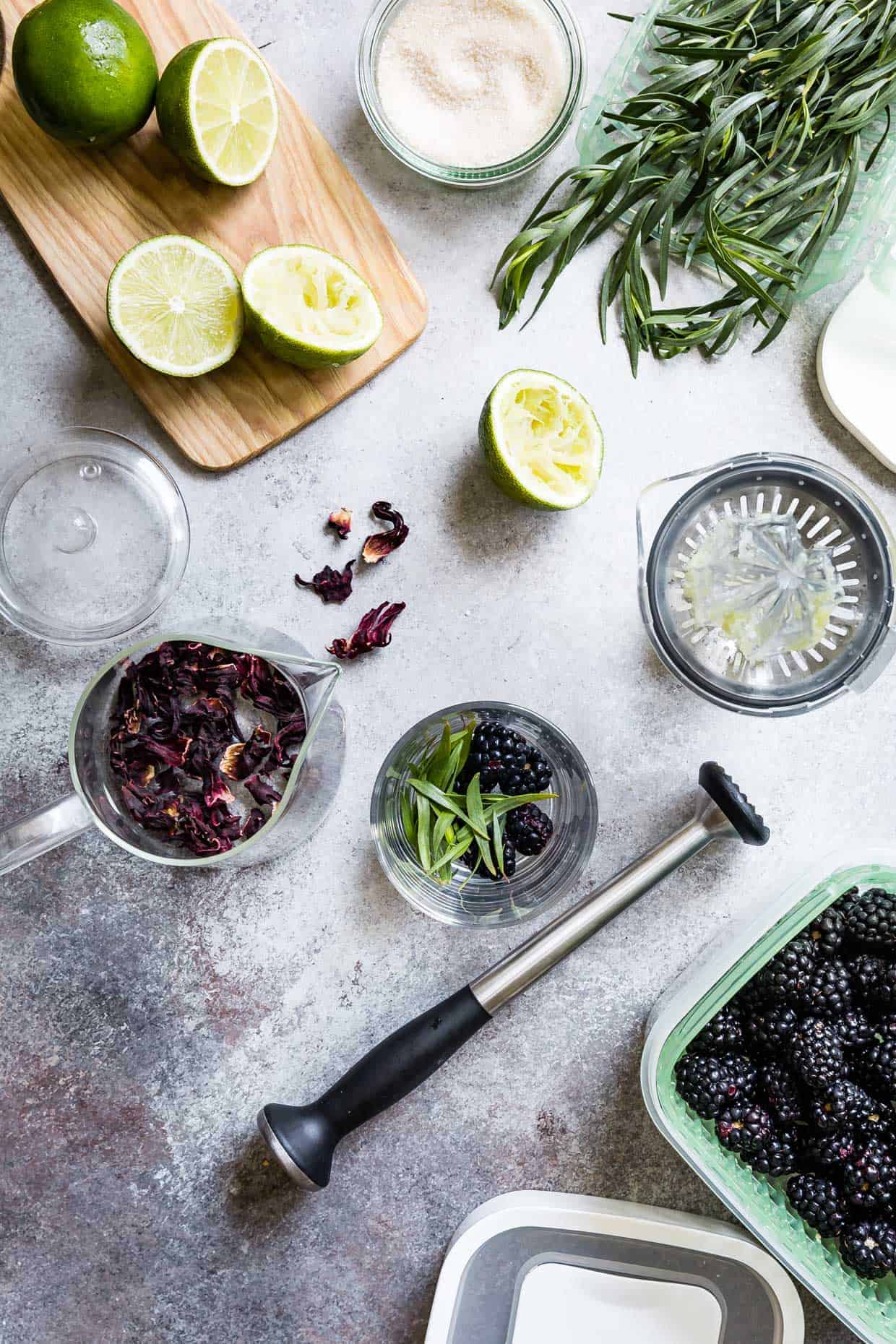 We're both suckers for interesting mocktails, spritzers, and sodas on restaurant menus, always ordering two different options to share. With much to celebrate and no time to go out, I wanted to create something at home that was worthy of ordering again.
The drink itself is just the end game though, the real fun happened in the process. We brewed this drink together as a duo of mixologists on a date-night in this weekend. After the kid had gone to bed, I pulled out the ingredients and my OXO beverage tools, and we mixed and stirred and tasted for hours until we found the perfect ratio. There were a lot of variables and we needed to test them all. We're both very scientific and insisted on adjusting each variable in isolation which made for a lot of (delicious) tests. I think this would actually make both of us terribly slow bartenders.
Should we make a blackberry syrup or muddle the berries? Likewise, should we muddle or syrup the tarragon? Would sorrel add any flavor to this drink? What happens if I leave out the blackberries? What about leaving out the hibiscus? Lime and how much?
Then of course there was the question of ratios of all of the above. Thank goodness for the OXO jigger to help us keep track of exactly how many ounces we put into each cup. With the angled measurements on the spout, it makes it super easy to read and measure precisely.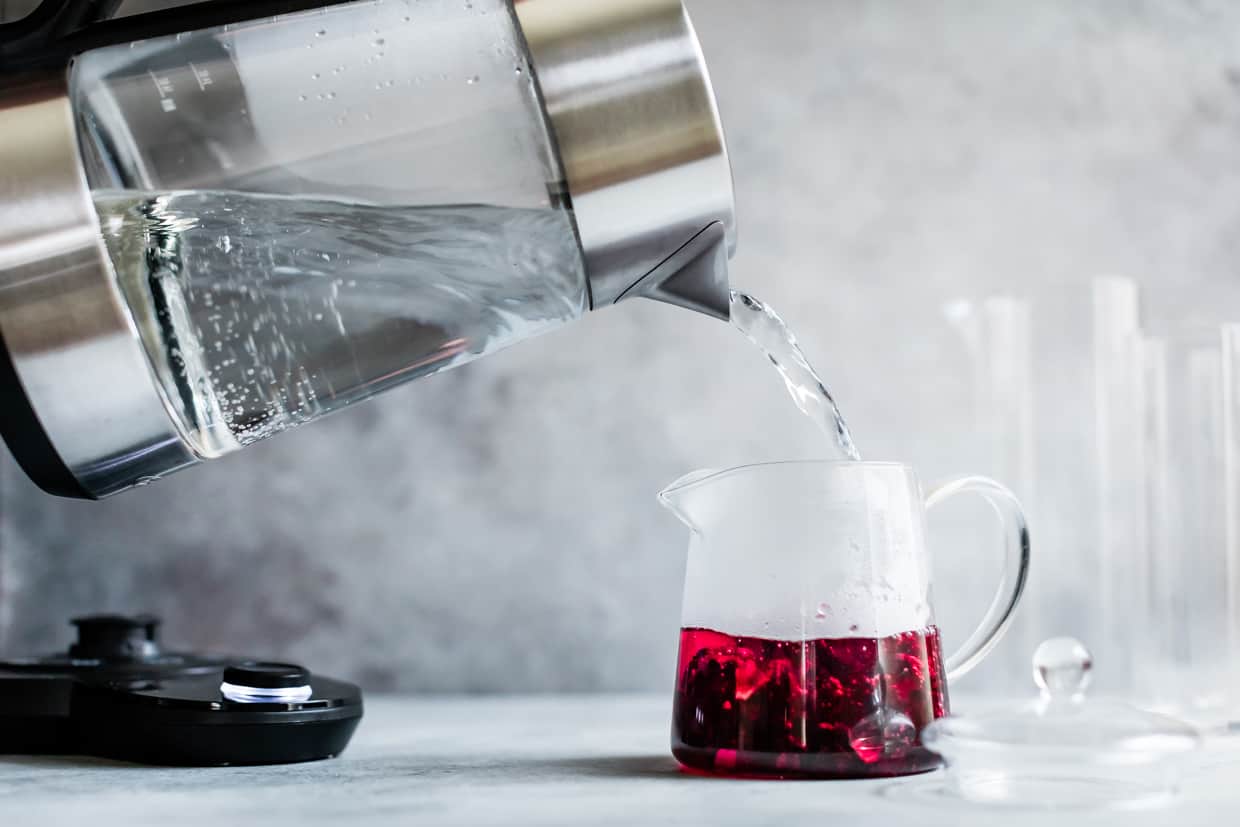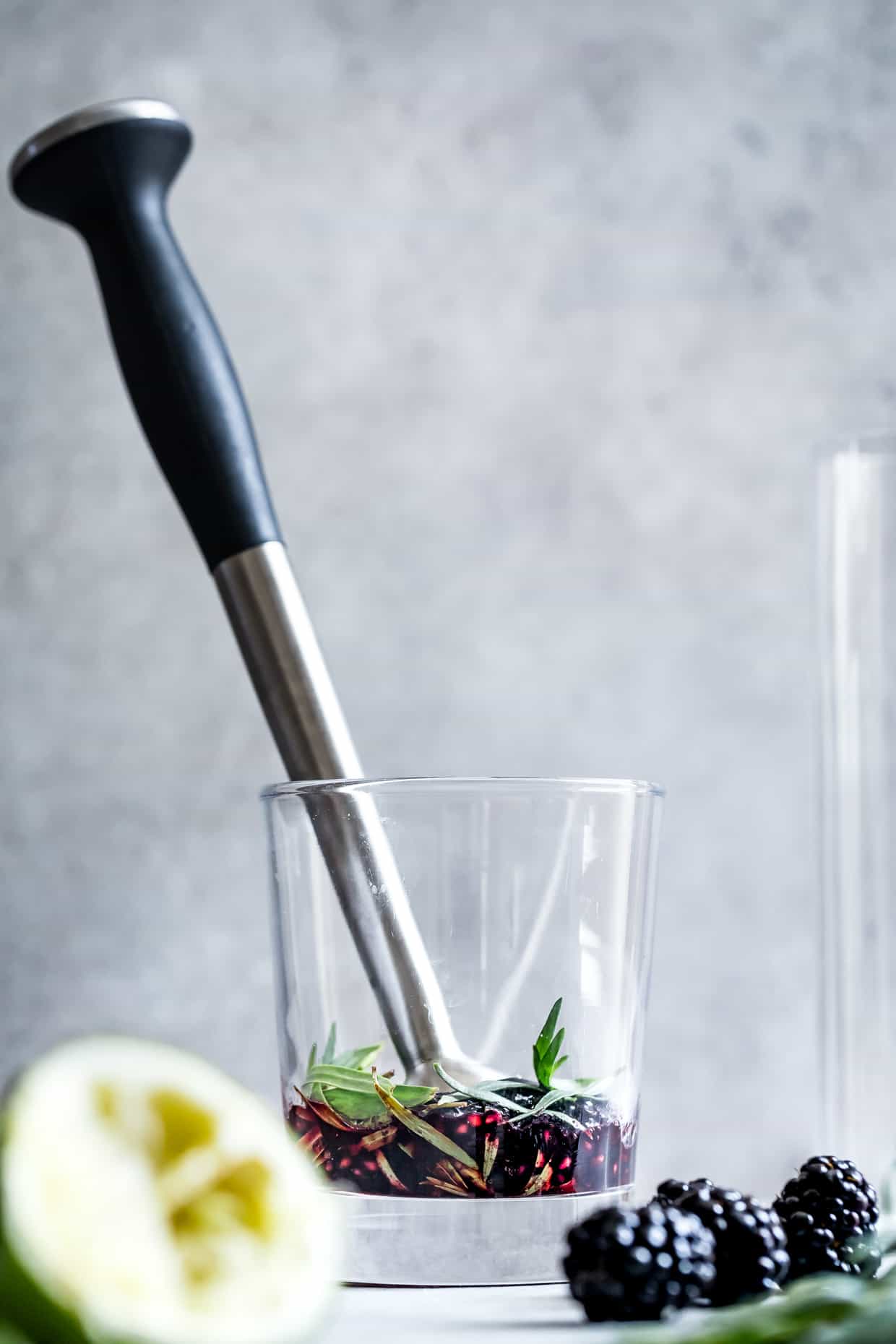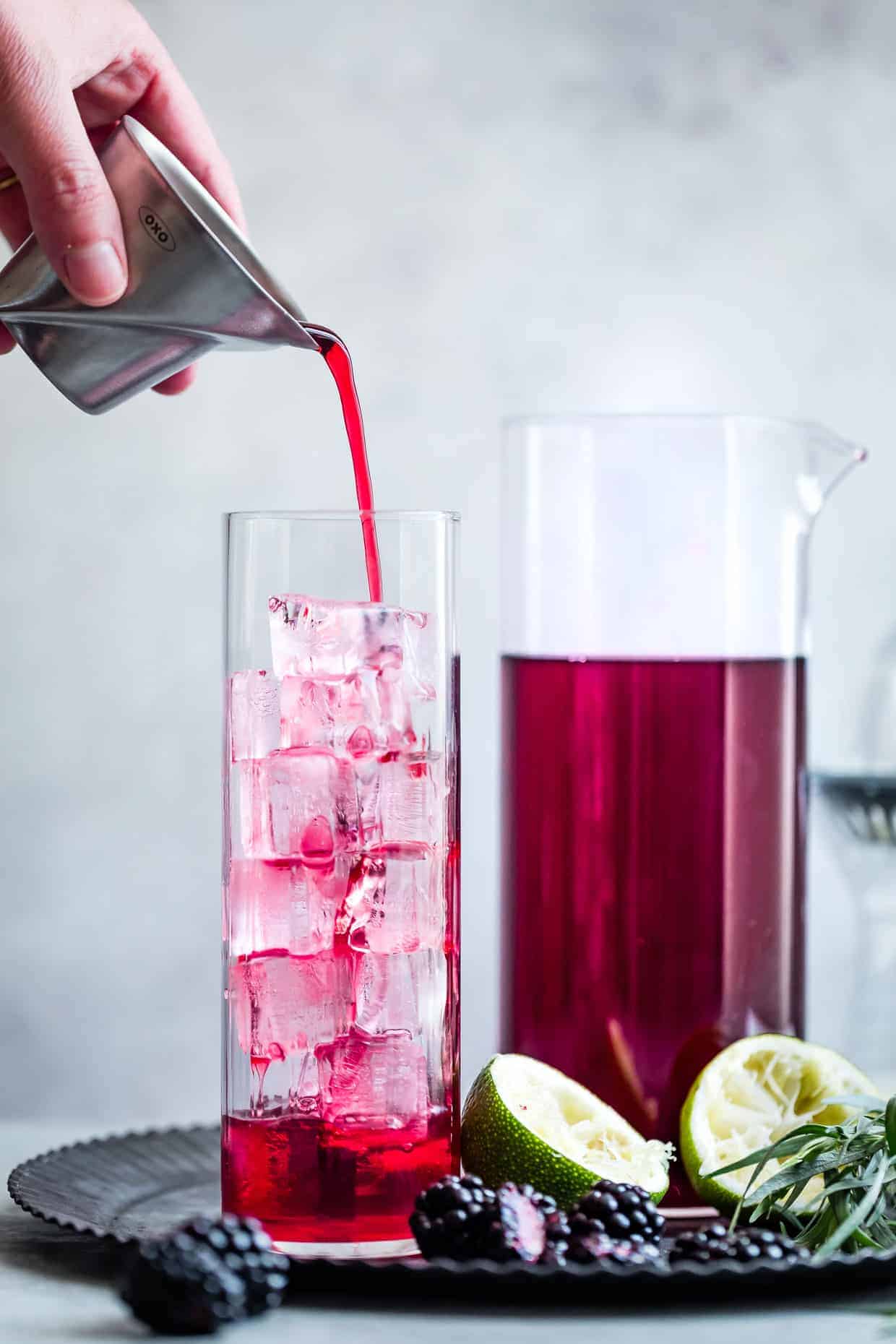 The jigger is a new addition to our kitchen and I can't express how stoked I am on such a seemingly small tool. As a budding pretend-chef herself, Zoella has a habit of stealing all my OXO liquid measuring beakers - my normal go-to for small liquid measurements. We never got around to baby proofing our kitchen, but instead told her what she was/wasn't allowed to touch in the cabinets. This strategy has worked great, except that now my set of plastic measuring beakers go missing daily. When I can't find them, the first place I look is her play kitchen microwave, where they're usually warming with her stuffed cat in a loaf pan.
So now I've got my own measuring jigger for small things like mocktails that will live out of reach of curious toddler hands. For now...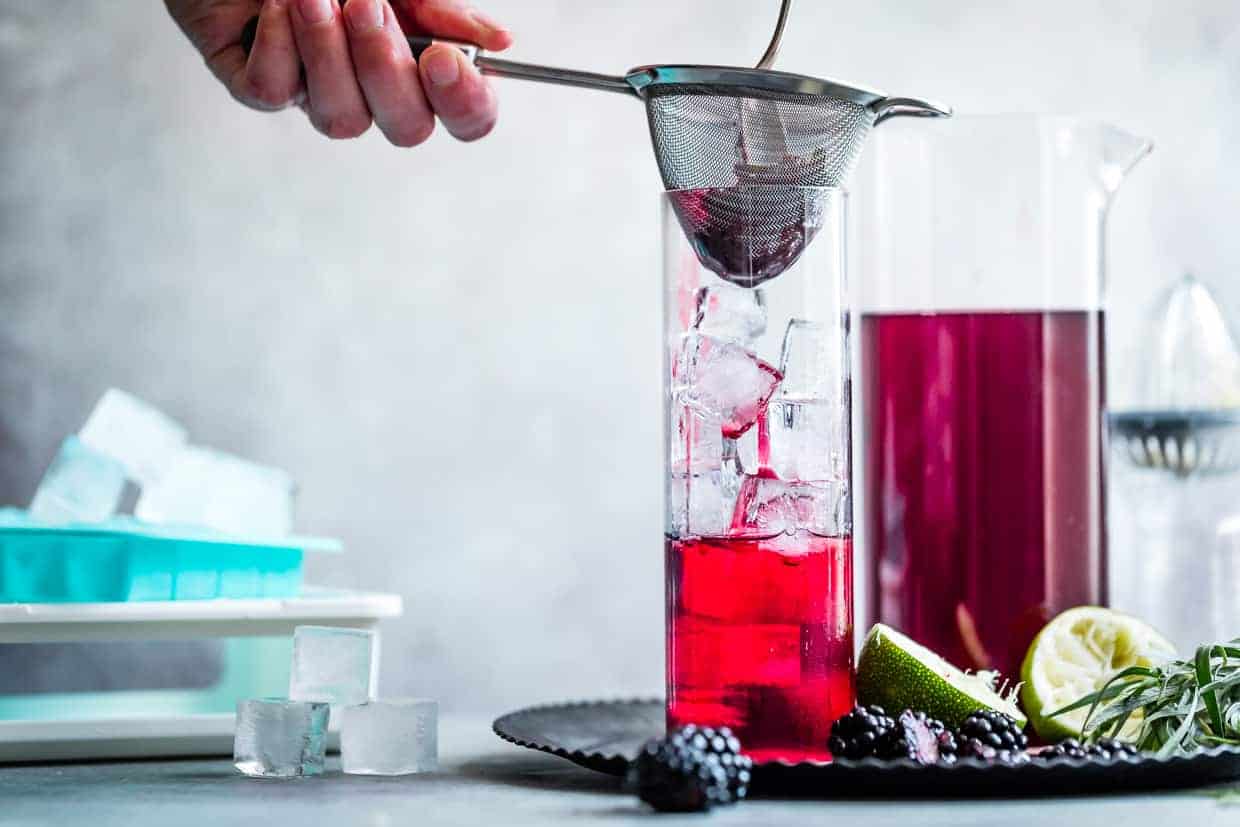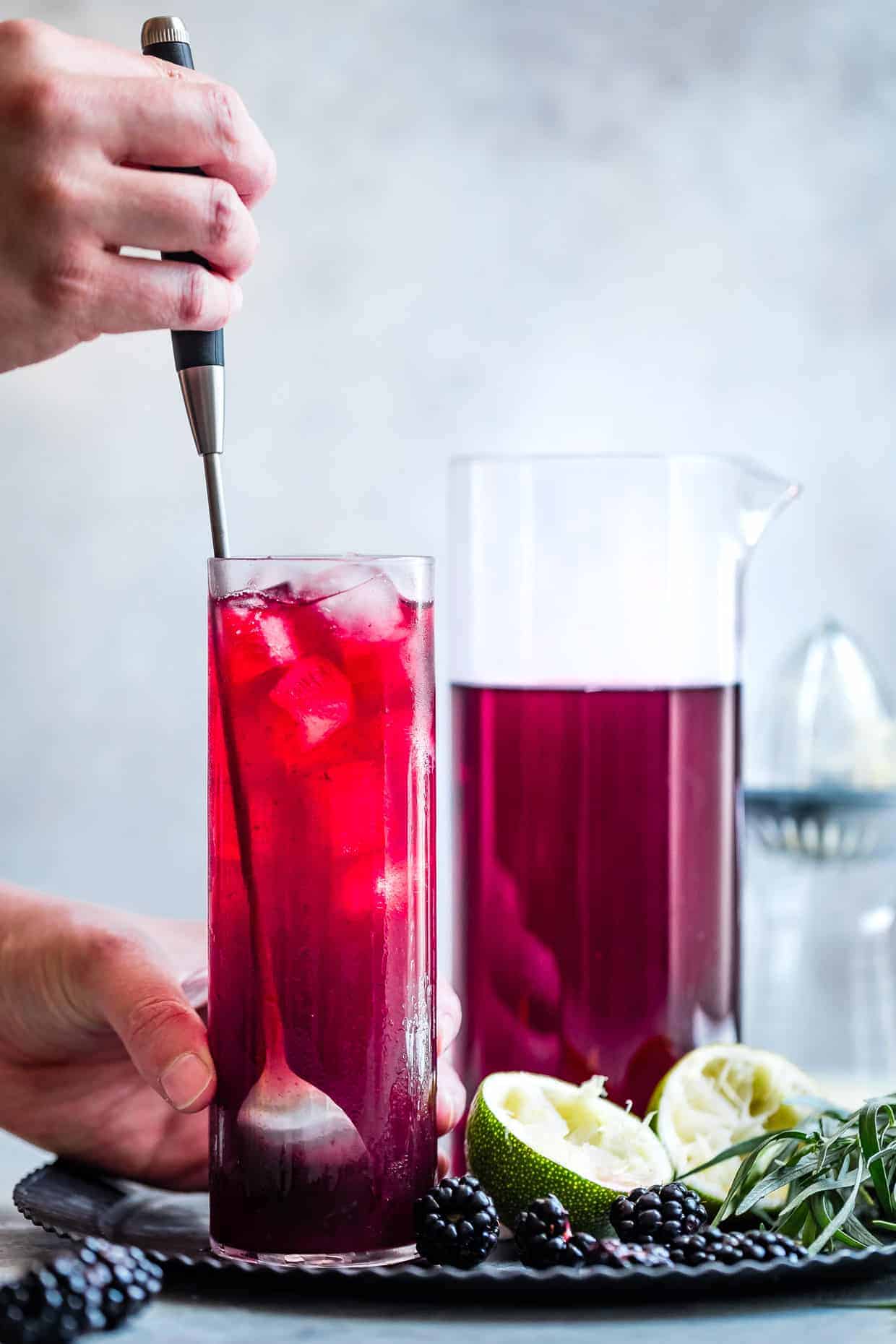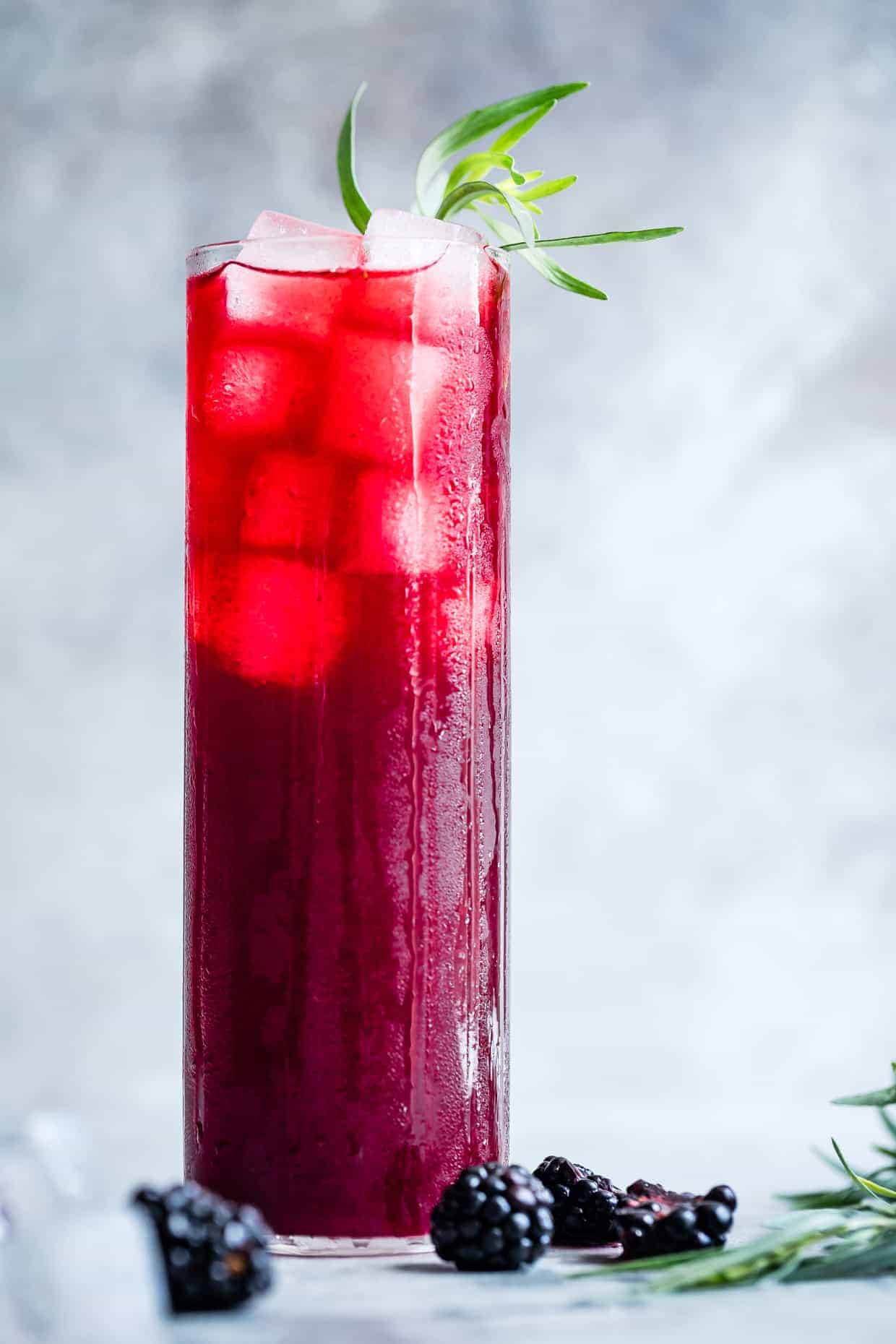 So let's break down this drink. First I brewed hibiscus tea - using the perfect 208°F water temperature with the adjustable temperature kettle - then chilled it while we prepared the rest. The hibiscus adds a bright tartness while blackberries a deep dark sweet flavor and both are necessary! In our tests, we found that the tarragon was most noticeable if you make a tarragon simple syrup for flavor and muddle and strain the tarragon with the blackberries and lime juice for aromatics to enhance the flavor.
While I'm definitely no bartender, my food styling tips for serving pretty drinks is to use cubed cocktail ice - this will take your drink from casual to impressive (especially in photos). Then give your drink a stir with the bar spoon that spins to keep the spoon against the glass to prevent your ice from chipping, keeping your drink from watering down quickly. Finally, keep your herbs and berries fresh for longer in their respective GreenSavers so you always have perky garnishes!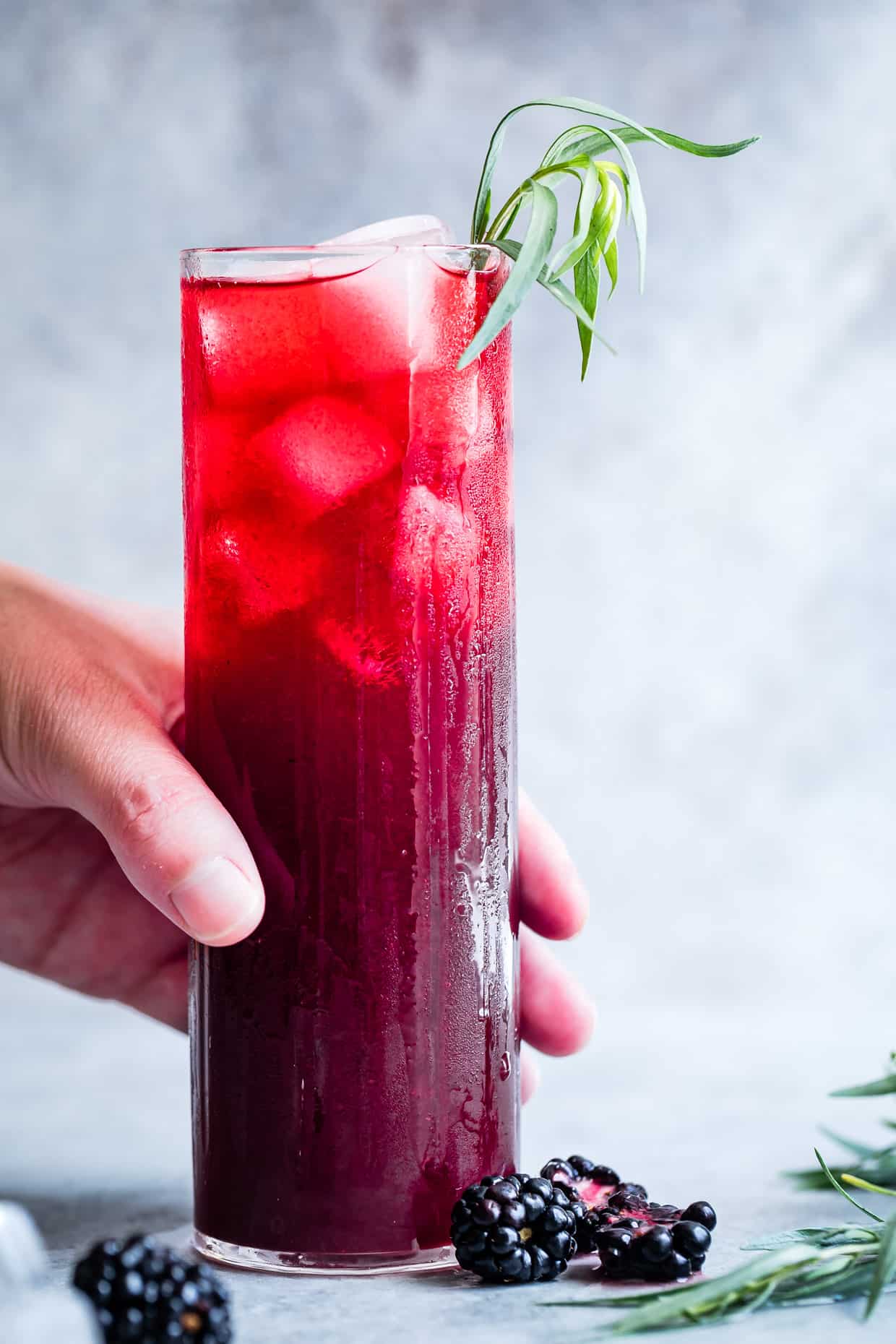 Consider this is a Father's day or birthday cheers for a dad who doesn't drink alcohol. Though I imagine it'd taste quite delicious with some sparkling wine swapping in for sparkling water, if that's your style.
Disclosure: Special thanks to OXO for providing the tools shown above and sponsoring this post! And thanks to you for supporting the companies that keep Snixy Kitchen cooking!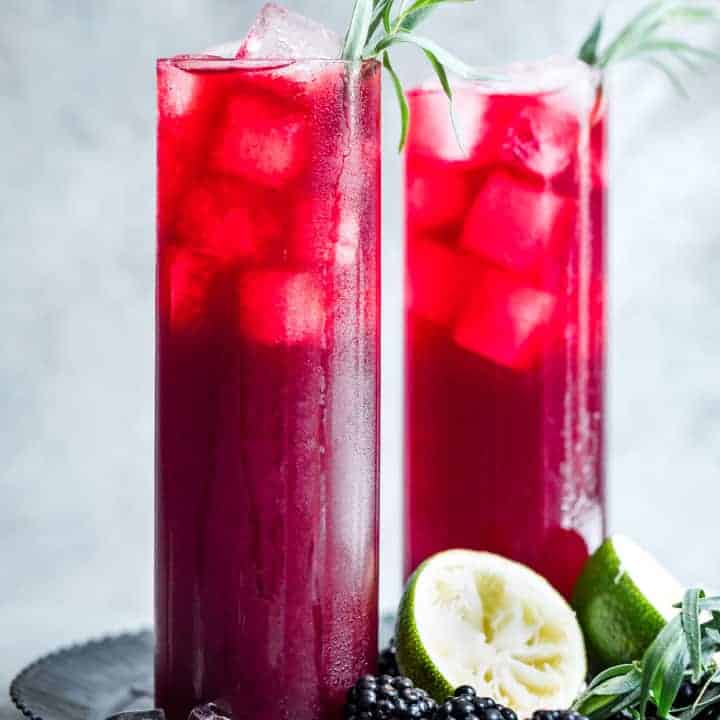 Blackberry Hibiscus Spritzer with Tarragon
Ingredients
Tarragon Simple Syrup
½ cup sugar
½ cup water
4 large sprigs fresh tarragon
Blackberry Hibiscus Spritzer with Tarragon - One glass
2oz brewed hibiscus tea, chilled (from tea bags or loose-leaf tea)
1oz tarragon simple syrup
6 blackberries
1 sprig fresh tarragon leaves
⅛ oz fresh lime juice
2-3oz sparkling water
Ice for serving
Blackberry Hibiscus Spritzer with Tarragon - 6 glasses
12oz brewed hibiscus tea, chilled (from tea bags or loose-leaf tea)
6oz tarragon simple syrup (above batch should make just about this much)
36 blackberries
6 sprigs fresh tarragon leaves
¾ oz fresh lime juice
12-15oz sparkling water
Ice for serving
Instructions
Prepare the simple syrup. In a small saucepan over medium heat, combine the sugar and water. Bring to a boil, then remove from heat, stir in the 4 large sprigs fresh tarragon. Cover and let steep for 20 minutes. After steeping, strain and press syrup to remove tarragon. Chill until at least room temperature.
For a single drink, muddle 6 blackberries with the leaves of a sprig of fresh tarragon and ⅛ tsp lime juice.
Pour 2 ounces hibiscus tea and 1 ounce tarragon simple syrup over a glass filled with cocktail ice cups.
Strain and press the muddled blackberries through a fine mesh sieve over the hibiscus tea.
Top with 2-3 ounces sparkling water, to taste. Stir to thoroughly combine and garnish with fresh tarragon, if desired.
For a larger batch of six, combine the hibiscus tea and simple syrup in a pitcher. muddle the blackberries with tarragon and lime juice by hand or in a food processor, and strain and press it into the pitcher. Stir to combine. For each drink, serve 4 ounces of this mixture with 2-3 ounces sparkling water over ice.