This chamomile blackberry ice cream recipe has a floral chamomile-infused cream base with a sweet blackberry compote swirled throughout. It's a creamy herbal berry ice cream with notes of honey and vanilla.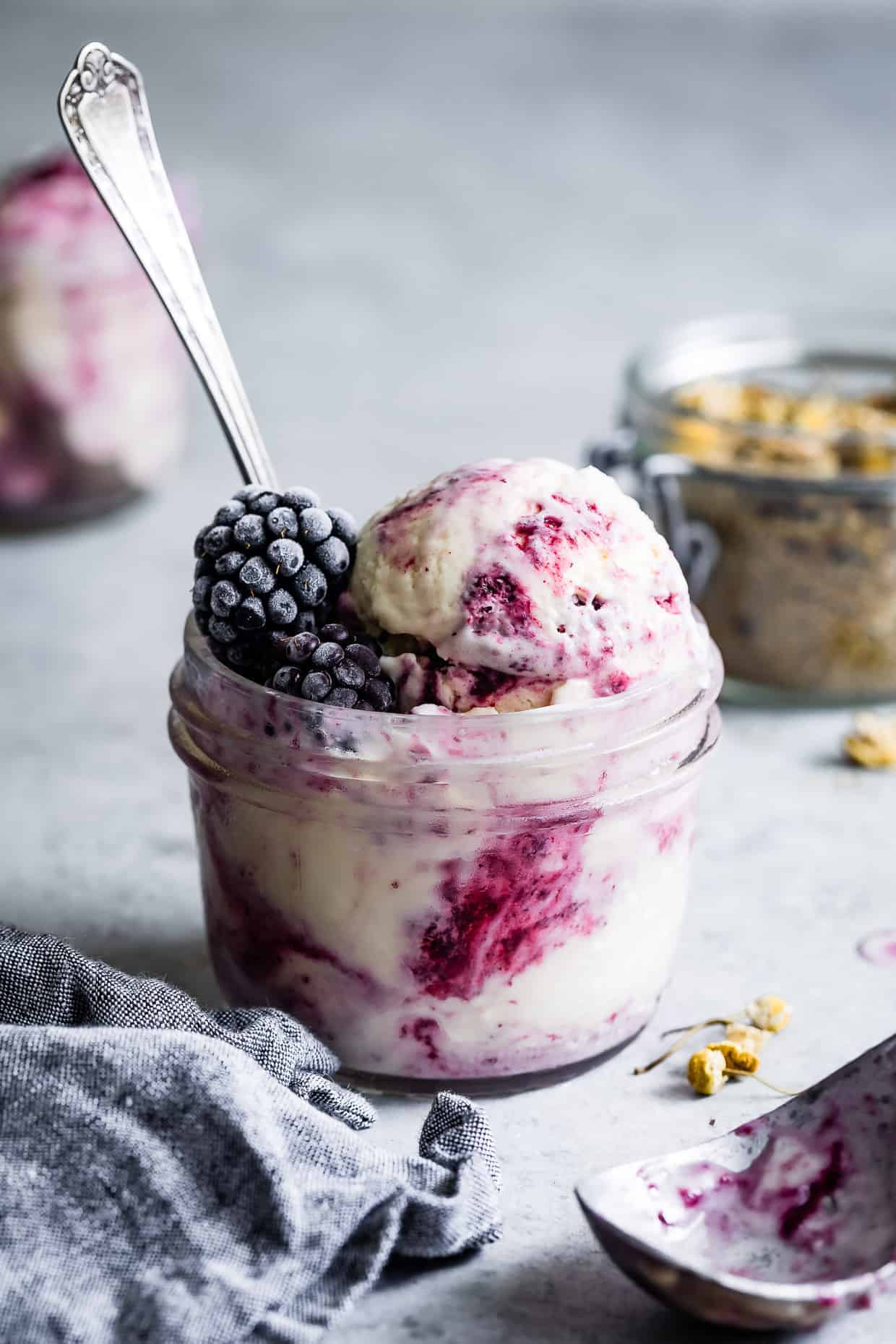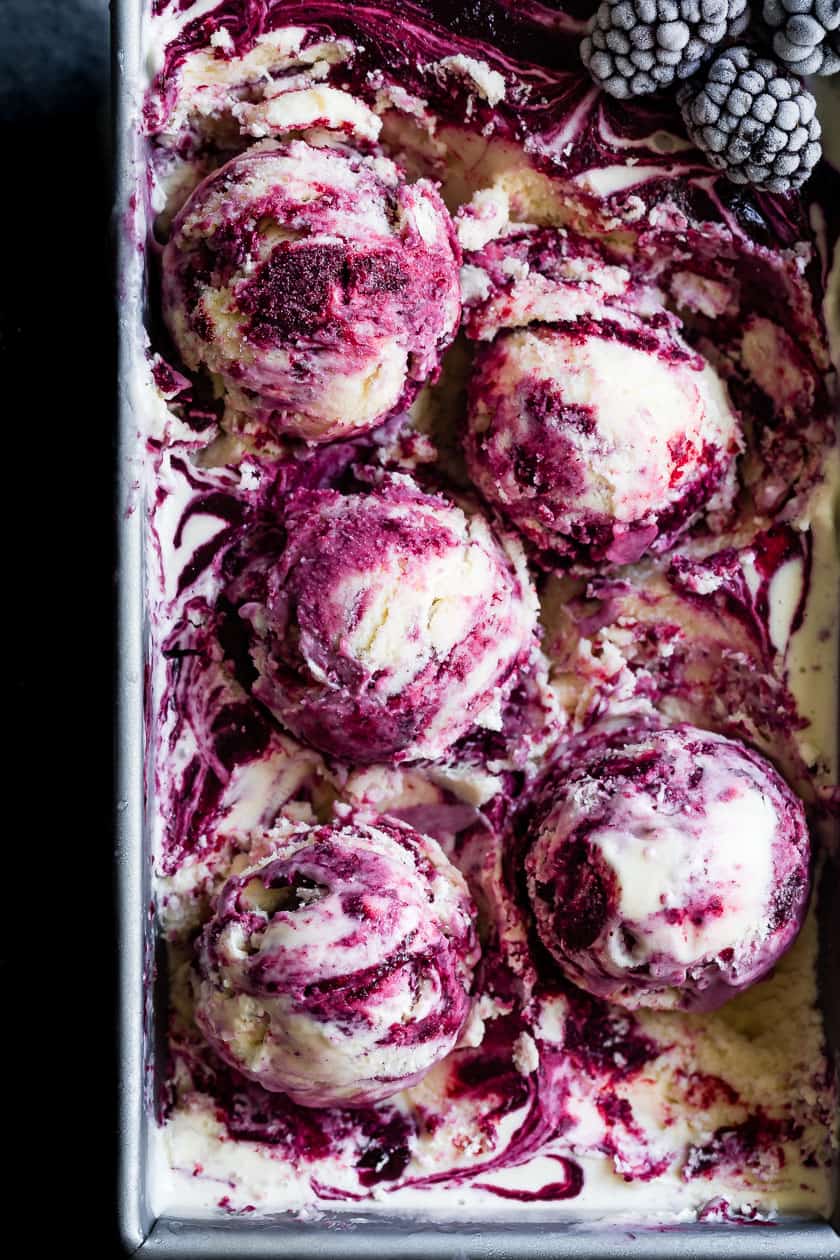 Even though folks all over are heading back to school, summer's not quite over yet. As far as seasonality goes, ice cream temperatures are actually just beginning to peak here in the Bay Area! There's still plenty of time for homemade ice cream, which will probably help soften the ease back into a school-time routine anyhow, right?
With our tiny babes, we don't have "back-to-school" in our house just yet, but Lucas heads back to work after his two-month paternity leave on the Monday after the official last day of summer. It took us until last week to make our way through our new-baby prep freezer dinners to clear out space for the ice cream maker bowl, which seems like a sign. I plan to make sure we've got plenty of homemade ice cream on hand to get us through the transition. We'll have crazy days and share berry ice cream together at night.
We're just in time to take advantage of blackberry season and freeze up a batch of this chamomile blackberry ice cream. This floral berry ice cream is made in partnership with Driscoll's and The Feed Feed using my favorite late summer bramble berry!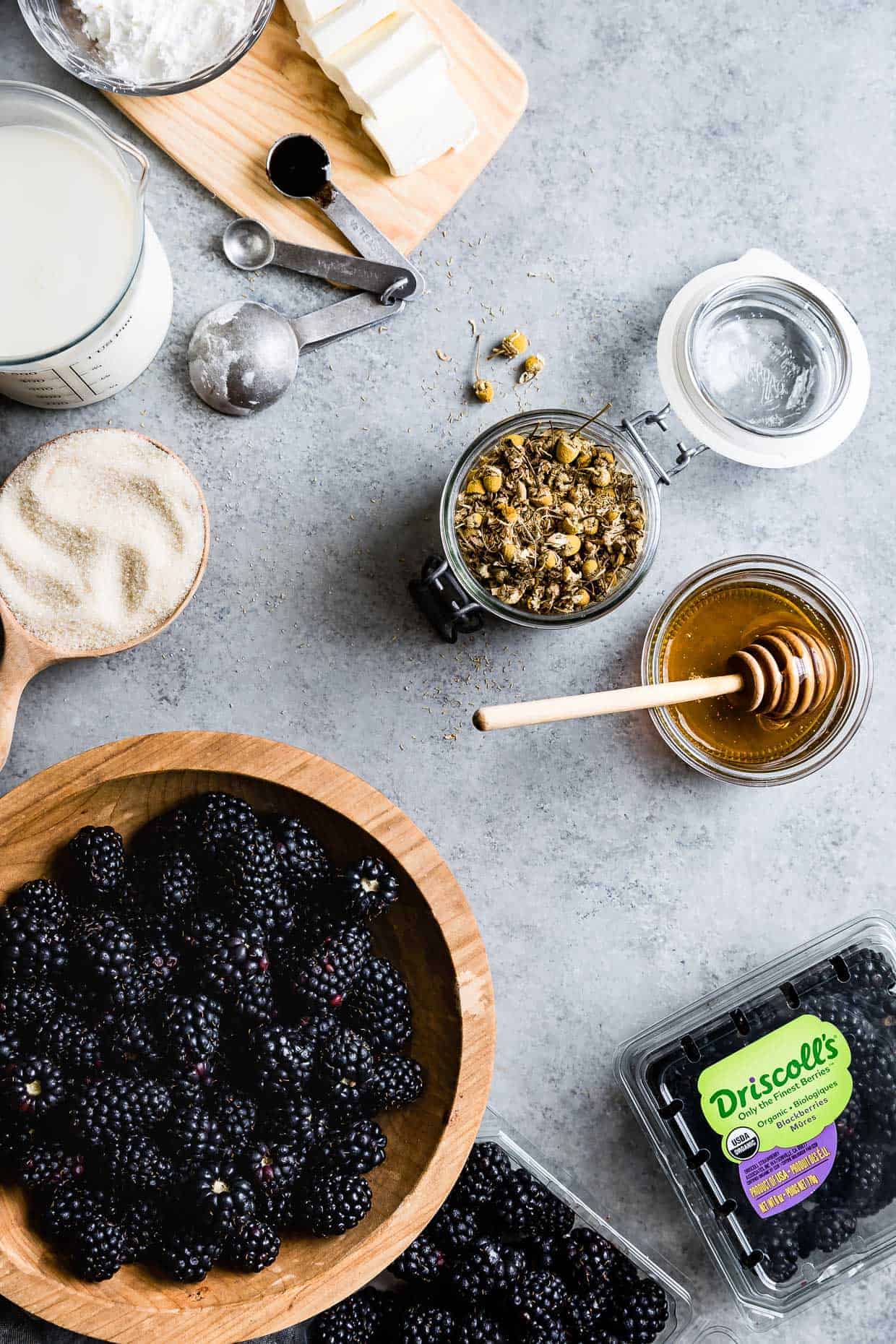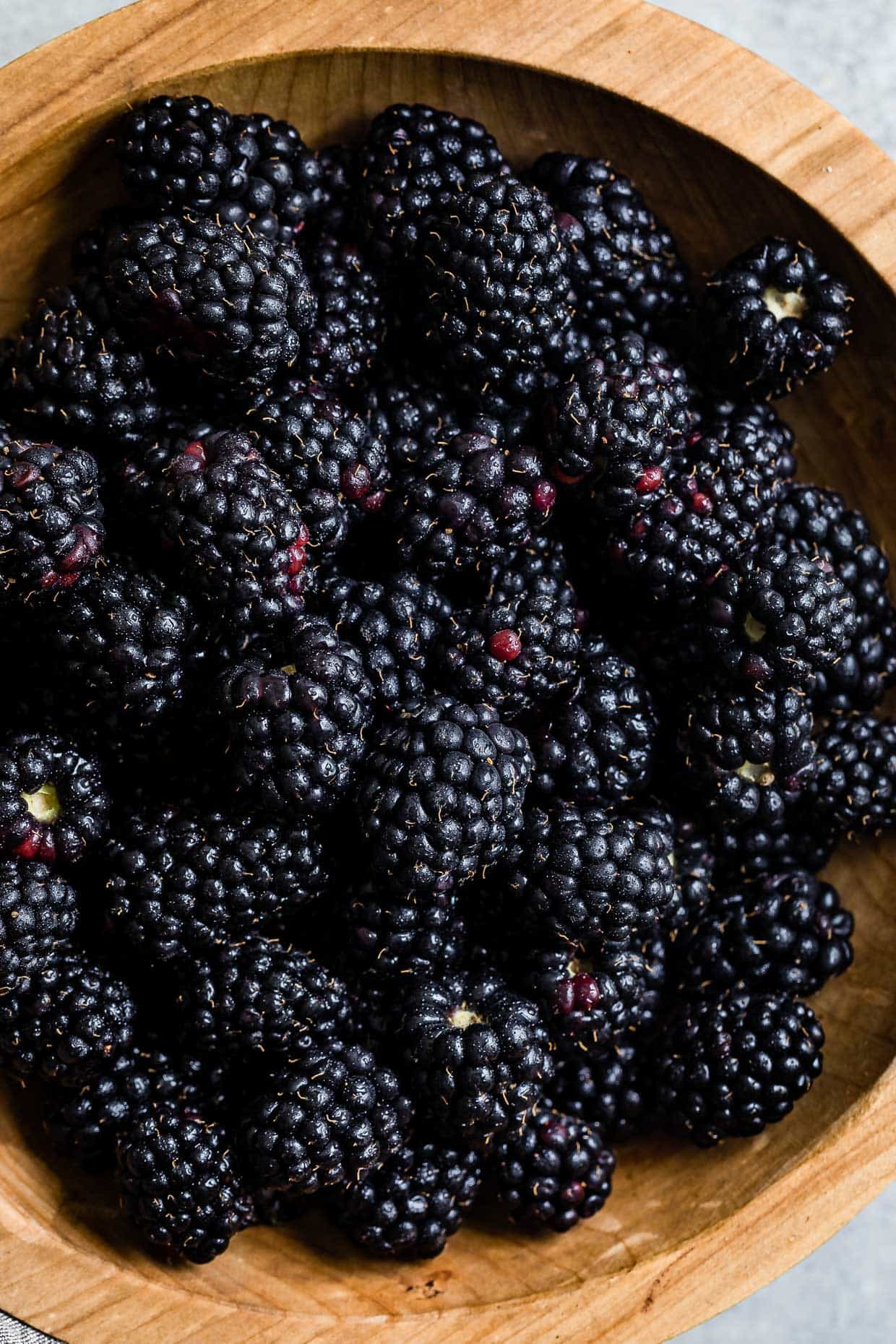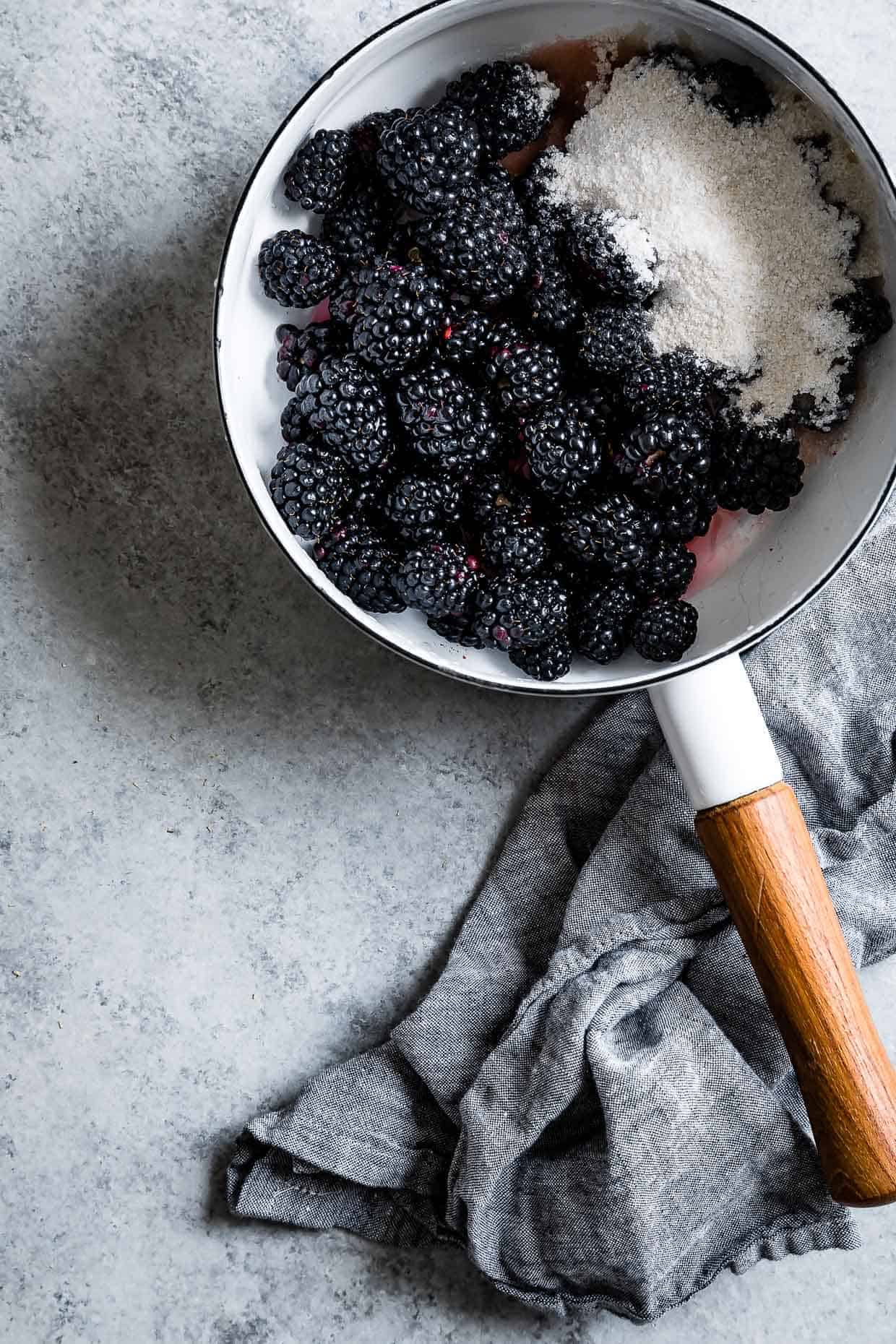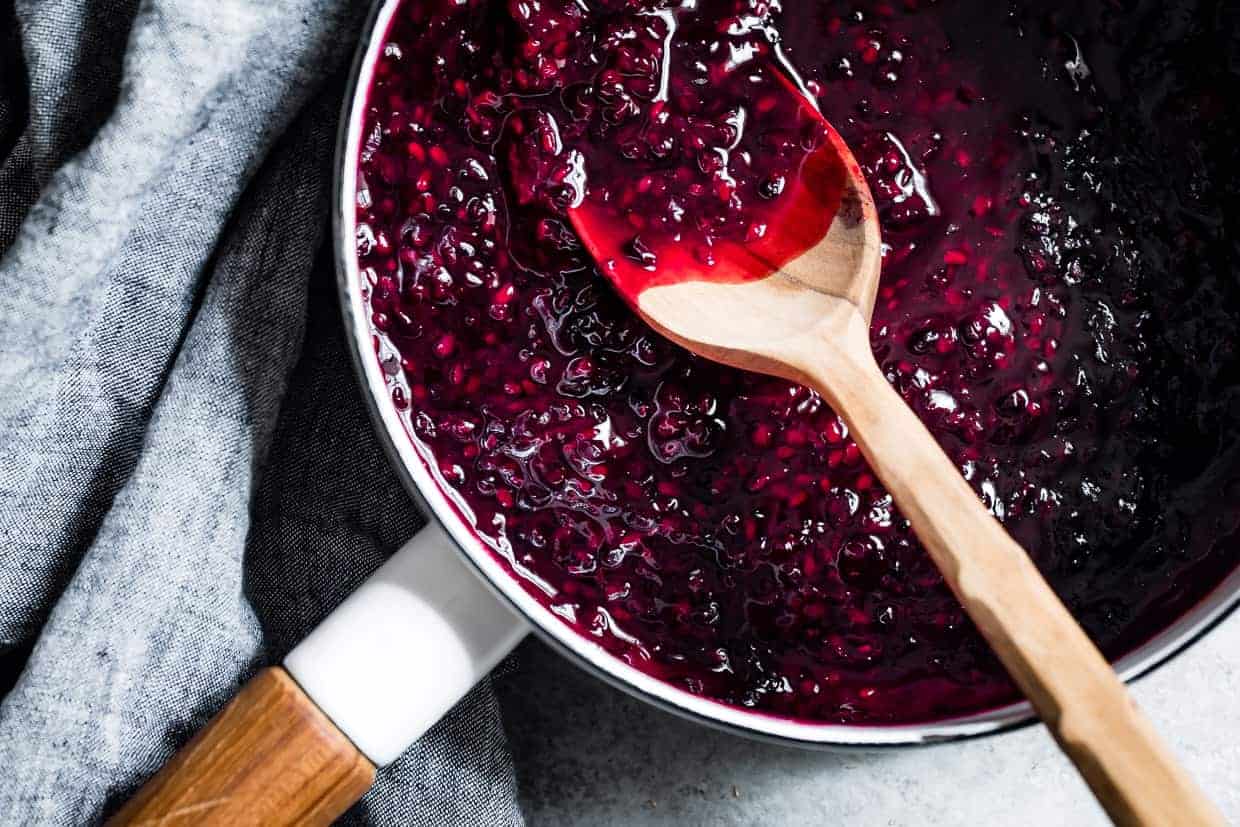 For the past couple weeks, we've been rewarding ourselves for getting two kids into bed by sitting down with scoops of this blackberry swirl ice cream together like a mini date night every night. Over Labor Day, we took advantage of sleep-time to make a 3-hour car ride to my family cabin with a toddler and an infant. Leaving at bedtime though meant we couldn't enjoy our ice cream treat unless we ate it in front of (and shared with) the toddler before we hit the road. To be honest, there's no greater joy than that of a toddler eating a bowl of ice cream, especially when there are pink and purple berry hues involved - it's possibly one of my most favorite moments to watch. But you better believe I learned my lesson when I gave Zoella a tiny scoop of ice cream right before bed a few nights earlier. Ice cream is now strictly a daytime treat for Zoella.
If you thought I'd just suck it up and skip my nightly ice cream, then clearly you don't know me very well.
When the entire car was packed and both kids were ready for bed, I snuck the ice cream out of the freezer. To keep Zoella distracted, I sent her into the living room to help daddy put his shoes on while I ate spoonfuls straight from the carton. It took quite a bit of prompting for Lucas to understand why I insisted the two year old help him put his shoes on. Fortunately he's a willing accomplice and knows exactly who he married.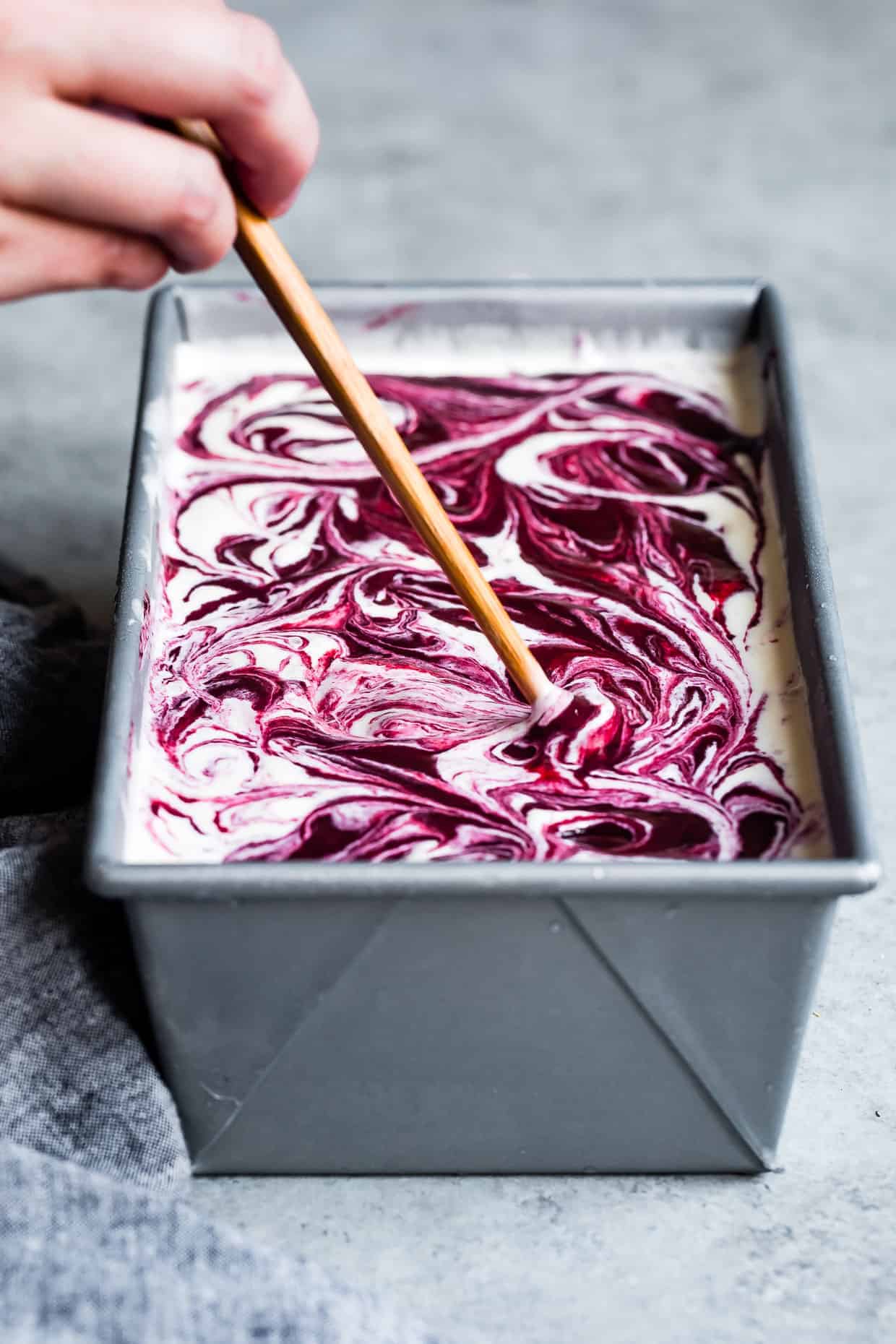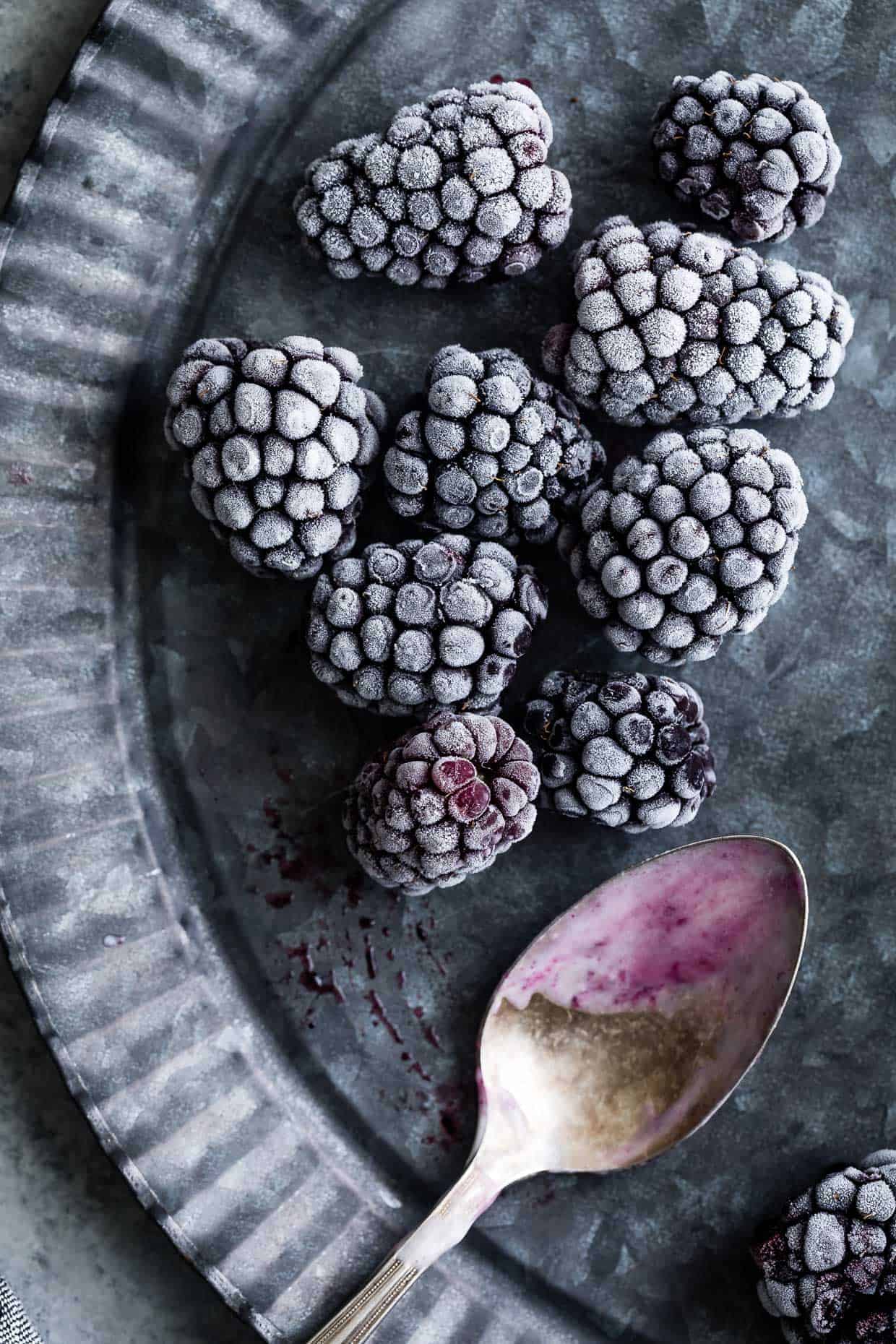 Flavor depends on sweet blackberries
When making a blackberry mix-in for ice cream, the burst of flavor you get from the swirl depends on delicious blackberries as a starting point. Since the base of this ice cream is steeped with chamomile, I wanted the blackberry compote sweet enough to stand out against that backdrop. For this blackberry swirl, I used two clamshells of Driscoll's organic blackberries, which were sweet and juicy to start - they were neither overly mushy nor underripe and bitter. This is no accident. Driscoll's Research & Development team selects only the top 1% of most flavorful berry varieties and cross-pollinates with the best parent plants to create the delicious berries right out of the clamshell.
California blackberries are reaching peak season right now at the end of summer, which means the best of the best are available at the market! Blackberries have long been prized for their use in pies and jams and that's because cooking it down into a compote makes the flavor pop even more.
Frosty blackberries for garnish
As if the bright blackberry compote swirl weren't enough, I served this blackberry ice cream with some frozen frosty blackberries as garnish. You know those gelato shops that have a garnish on each flavor bin as a nod to its ingredients? A decorative fancy-cut pineapple or kiwi, for example. Somehow it makes it taste that much more fresh, even though they don't even serve you that garnish on your scoops.
But why not serve them up too? I took an extra clamshell of washed and dried fresh blackberries and spread them out on a baking sheet in the freezer while the ice cream was firming up. As soon as they come out of the freezer, they turn picture-perfect frosty to pop right on top of the scoops. Work quickly or use chopsticks to avoid disturbing the perfect frostiness.
We then ate the rest of the frozen fresh blackberries as a healthy summer snack because we couldn't put them down!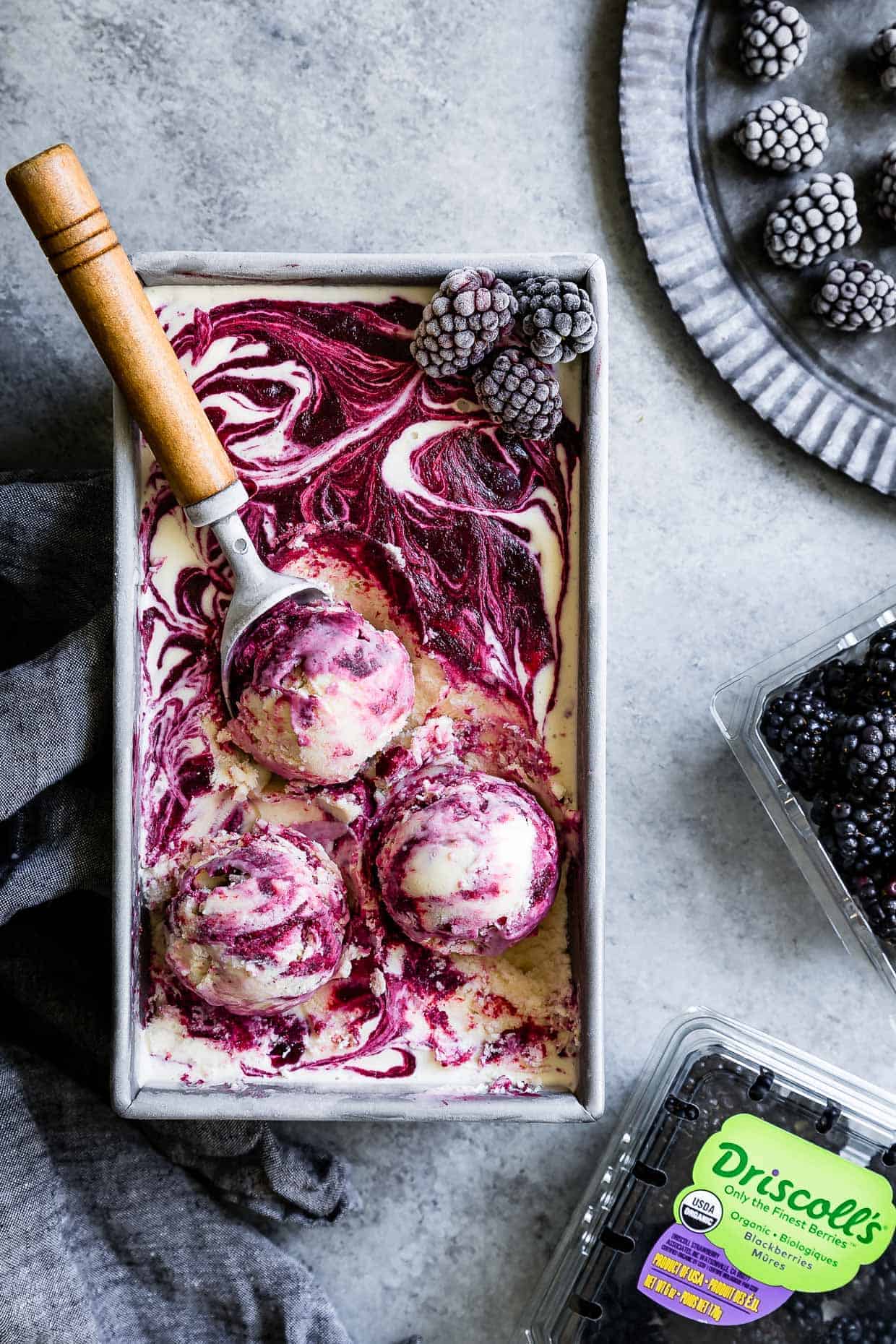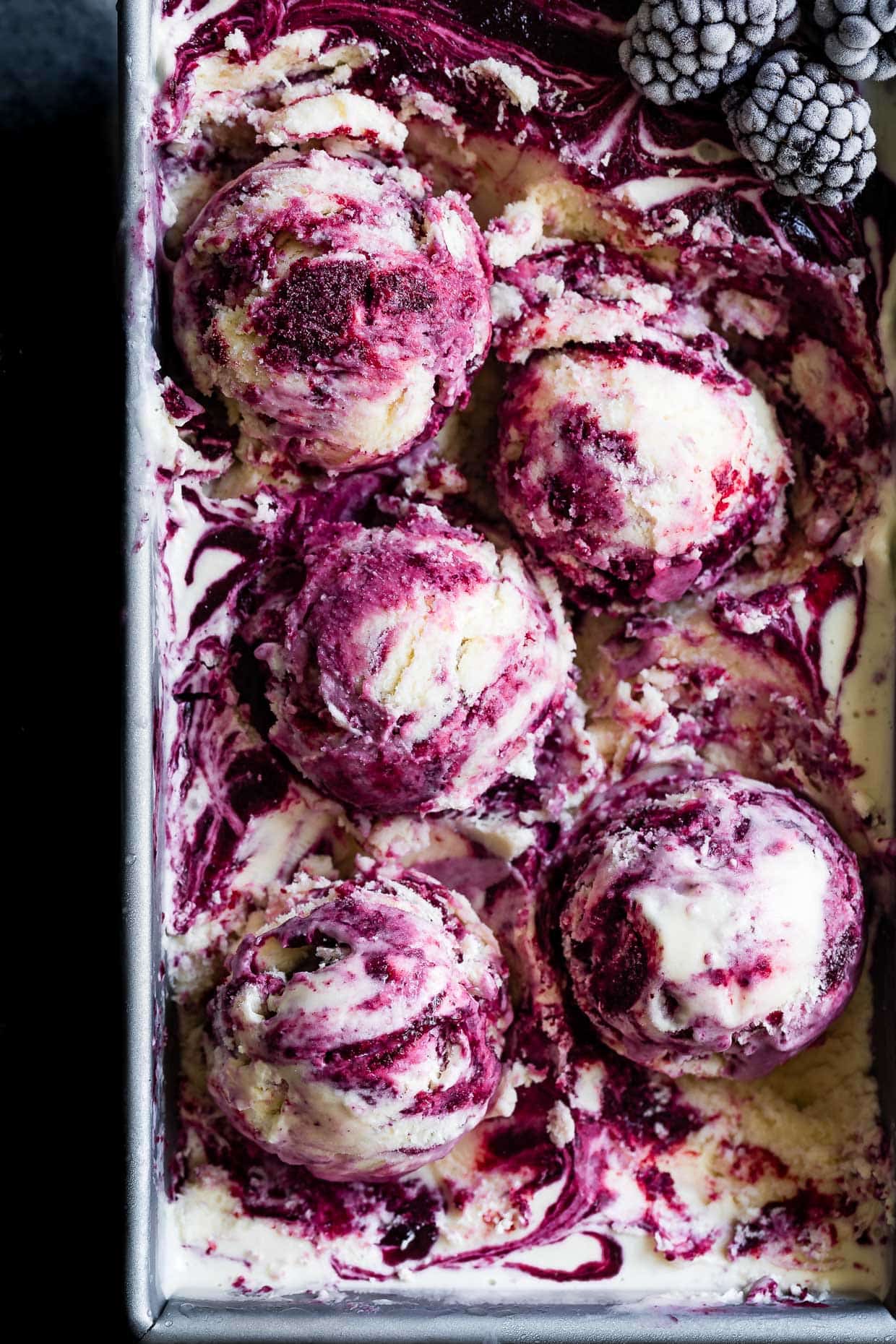 How to make a blackberry swirl ice cream
In addition to intensifying the flavor, cooking the blackberries down into a compote before swirling it into the ice cream also helps keep the blackberry swirl soft enough to scoop. Cooking the berries with additional sugar reduces the freezing point and cooks down some of the liquid so the berry swirl doesn't freeze rock solid and icy.
After cooking it down, the blackberry compote gets pressed through a fine mesh sieve to remove the seeds, which would otherwise leave an unpleasant crunchy grainy texture. Smooth berry swirl ready for chamomile blackberry ice cream!
The last important tip when adding a swirl or mix-in to your ice cream is to reduce the sweetness of the overall ice cream base to account for the sugar in the compote. I start with an ice cream base that's thickened with corn starch and has cream cheese added for richness - a method created by Jeni's Spendid Ice Cream. This base method is my go-to when making dairy-based ice cream because it's super smooth without feeling overly heavy from an egg yolks custard.
With that as my starting point, I cut down the overall sugar in the chamomile-infused ice cream to get it ready for a sweet berry swirl. Doing so both balances the sweetness of the finished ice cream and also keeps it from getting too soft and melty from too much sugar.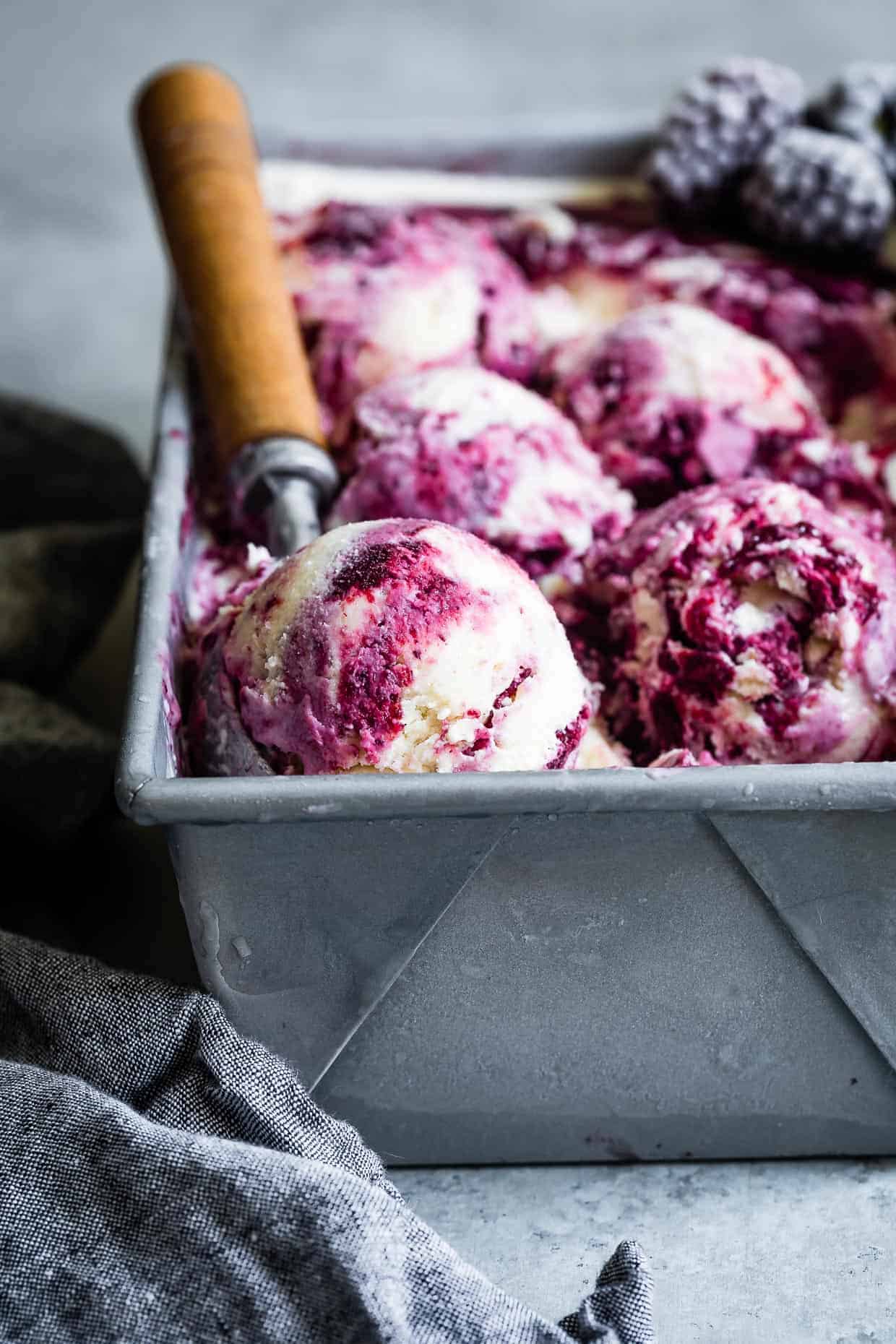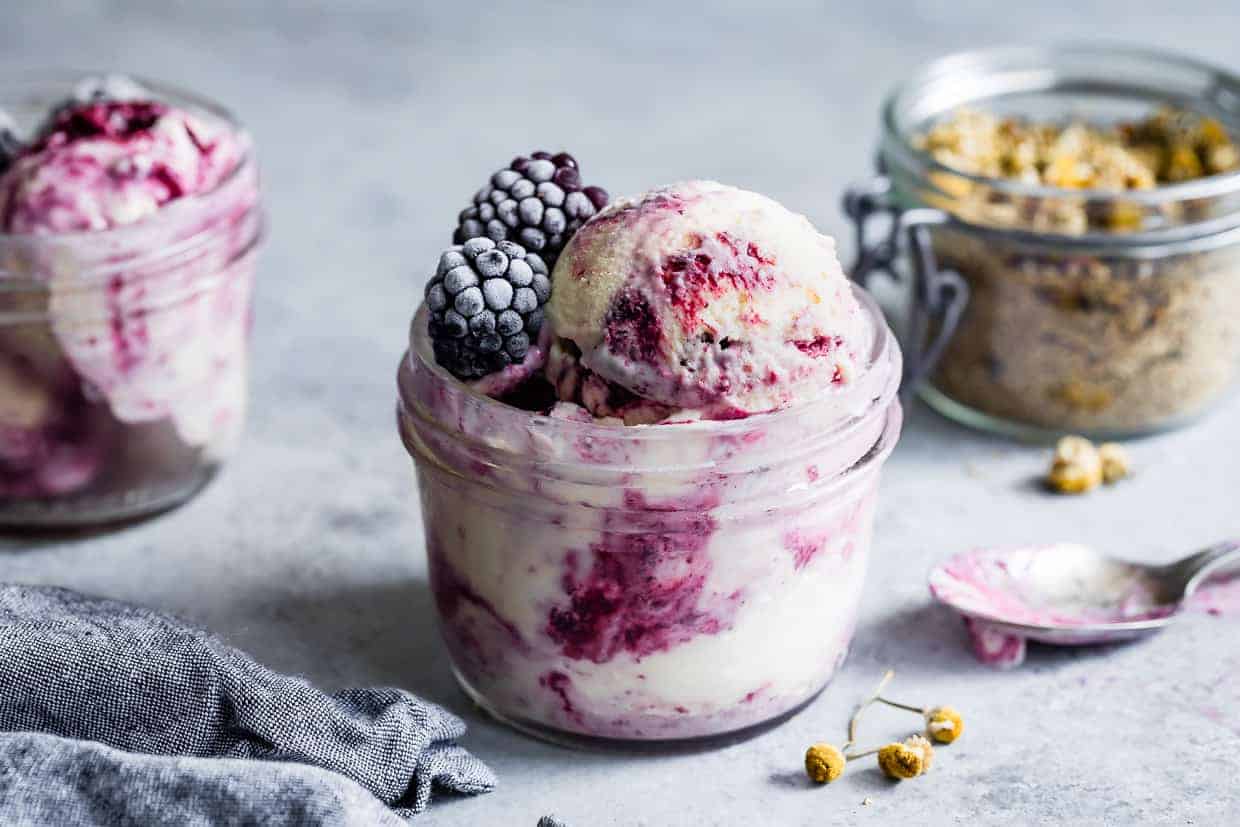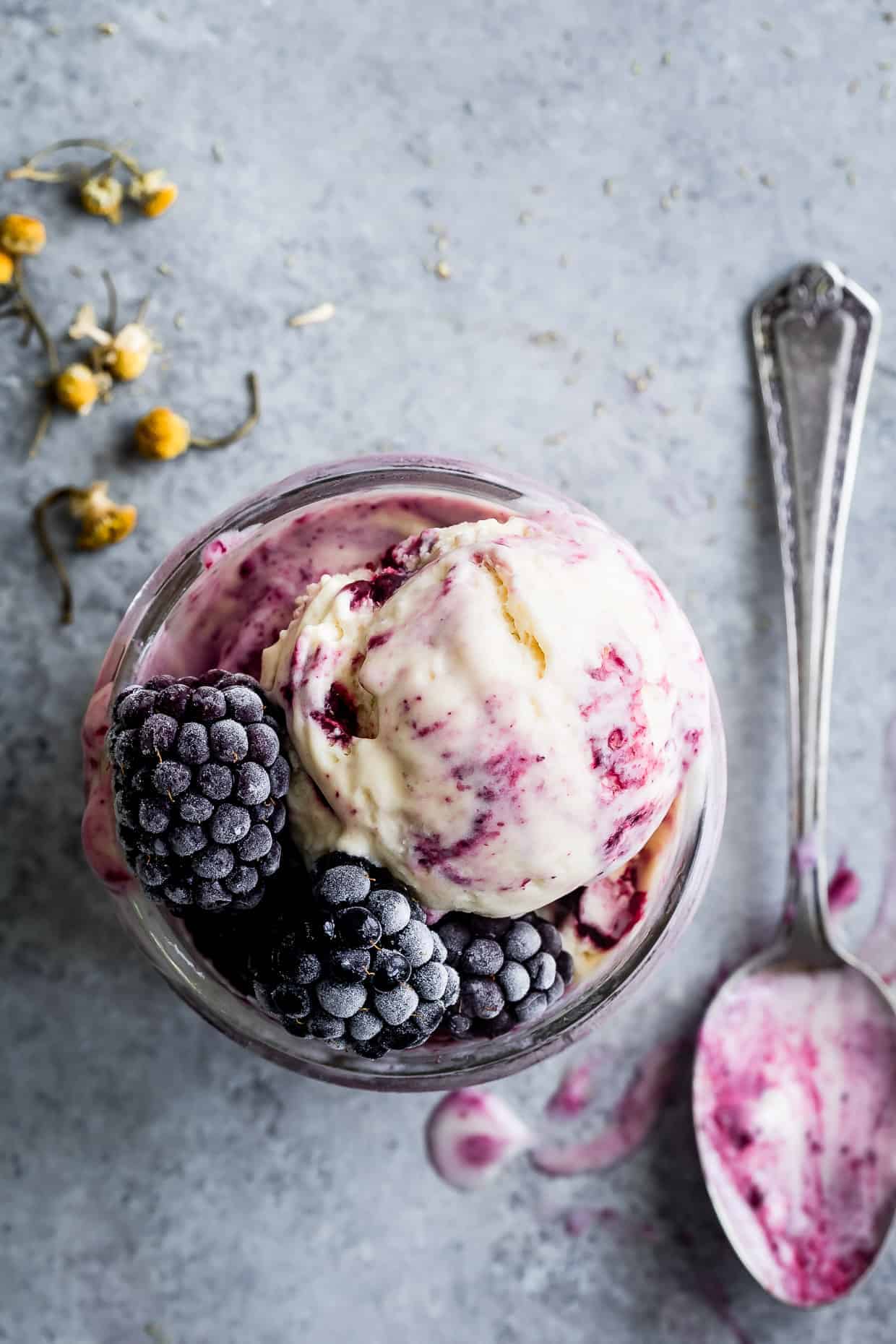 Chamomile Ice Cream + Blackberry Swirl + Honey
The final swirly ice cream has flowery herbal notes with a hint of honey sweetness and a bright brambly blackberry pop. This floral berry ice cream is a luscious late summer dessert that's perfectly balanced between creamy and bright.
I plan to make homemade berry ice cream a summer family tradition because it's the best way I know how to bottle Zoella's pure bliss. Head over to learn about Driscoll's #BerryTogether campaign. If you make this recipe, share it on Instagram or Twitter with the #BerryTogether!
Disclosure: Special thanks to Driscoll's in collaboration with The Feed Feed for sponsoring this post! And thanks to you for supporting the companies that keep Snixy Kitchen cooking!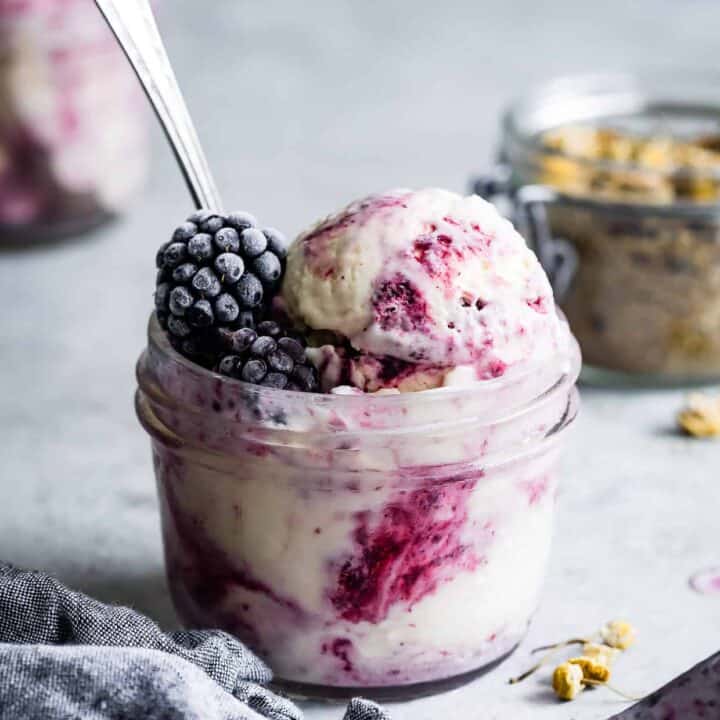 Chamomile Blackberry Ice Cream
Additional Time:
40 minutes
This chamomile blackberry ice cream recipe has a floral chamomile-infused cream base with a sweet blackberry compote swirled throughout. It's a creamy herbal berry ice cream with notes of honey and vanilla
Ingredients
Blackberry Swirl
1⁄3 cup sugar
1 tablespoon corn starch
12 ounces Driscoll's fresh blackberries (about 2 cups)
1 tablespoon fresh lemon juice
Chamomile Ice Cream
3 cups + 3 tablespoons whole milk, divided
3 tablespoons corn starch
2½ ounces (5 tablespoons) cream cheese, cut into ½-inch cubes, room temperature
¼ teaspoon kosher salt
1¾ cup heavy cream
¾ cup sugar
4½ tablespoons honey
1½ teaspoons vanilla paste or vanilla extract
½ cup dried chamomile
1 tablespoon vodka (*optional)
Instructions
Place a metal loaf pan in the freezer and make sure your ice cream maker bowl is pre-frozen according to its instructions.
First prepare the blackberry swirl. Whisk the sugar and corn starch for the swirl in a small bowl to keep the corn starch from clumping.
Cook the blackberries, sugar, corn starch, and lemon juice in a small sauce pan over medium-low heat, stirring occasionally, until the blackberries have completely broken down and the sauce is thick and bubbly, about 10-12 minutes. Transfer to the bowl of a blender or food processor and let cool slightly before pureeing until smooth. Press the sauce through a fine mesh sieve to remove and discard seeds. Chill sauce until cold.
Meanwhile, prepare the chamomile ice cream. Whisk 3 tablespoons of the milk with the corn starch in a small bowl to make smooth slurry. Set aside. Place the cream cheese in a small bowl and set aside.
In a medium saucepan, combine the remaining 3 cups of milk milk, cream, sugar, honey, and vanilla paste/extract and bring it to a boil over medium-high heat, stirring constantly to avoid scorching the bottom. Let it boil for 2-3 minutes then remove from heat. Stir in the chamomile and cover to steep for 20 minutes.
Meanwhile, prepare an ice bath by filling a large bowl with ice cubes and water.
Strain the milk through a fine mesh sieve lined with a cheese cloth, pressing all the liquid through. Return the strained milk to the saucepan.Give the corn starch slurry one last whisk to make sure it's completely incorporated. Slowly whisk the corn starch slurry into the hot milk saucepan and return it to medium-high heat. Bring it back to boil and cook, stirring, until it lightly coats the back of a wooden spoon, about 1-2 minutes. Remove from heat.
Slowly pour about ⅓ cup of the hot milk into the cream cheese bowl and mix with a fork until mostly smooth. Pour this cream cheese mixture back into the saucepan and whisk until completely smooth. Mix in vodka, if using.
Pour the mixture into a large 1-gallon Ziploc bag. Seal it and submerge the mixture in the ice bath until cold, about 30 minutes. Alternatively, place it in a bowl in the refrigerator until chilled, 2-4 hours.
Pour the ice cream base into the bowl of your pre-frozen ice cream maker. Follow the directions on your ice cream maker to churn the base into ice cream, until it is the consistency of soft-serve, about 15-20 minutes.
Spread ¼ of the ice cream mixture into a loaf pan. Dollop ¼ of the blackberry sauce in 5-7 places on top of the ice cream. Use the back of a spoon or a chopstick to gently swirl the blackberries into the ice cream. Repeat 3 times until you've used up all of the ice cream and blackberry sauce. Cover the ice cream and freeze until firm, at least 4 hours, but preferably overnight.
Notes
*You can't taste the vodka in the finished ice cream, but adding the vodka will create a slightly softer and creamier ice cream that makes it a little easier to scoop when frozen. Without, the ice cream is still just as delicious!