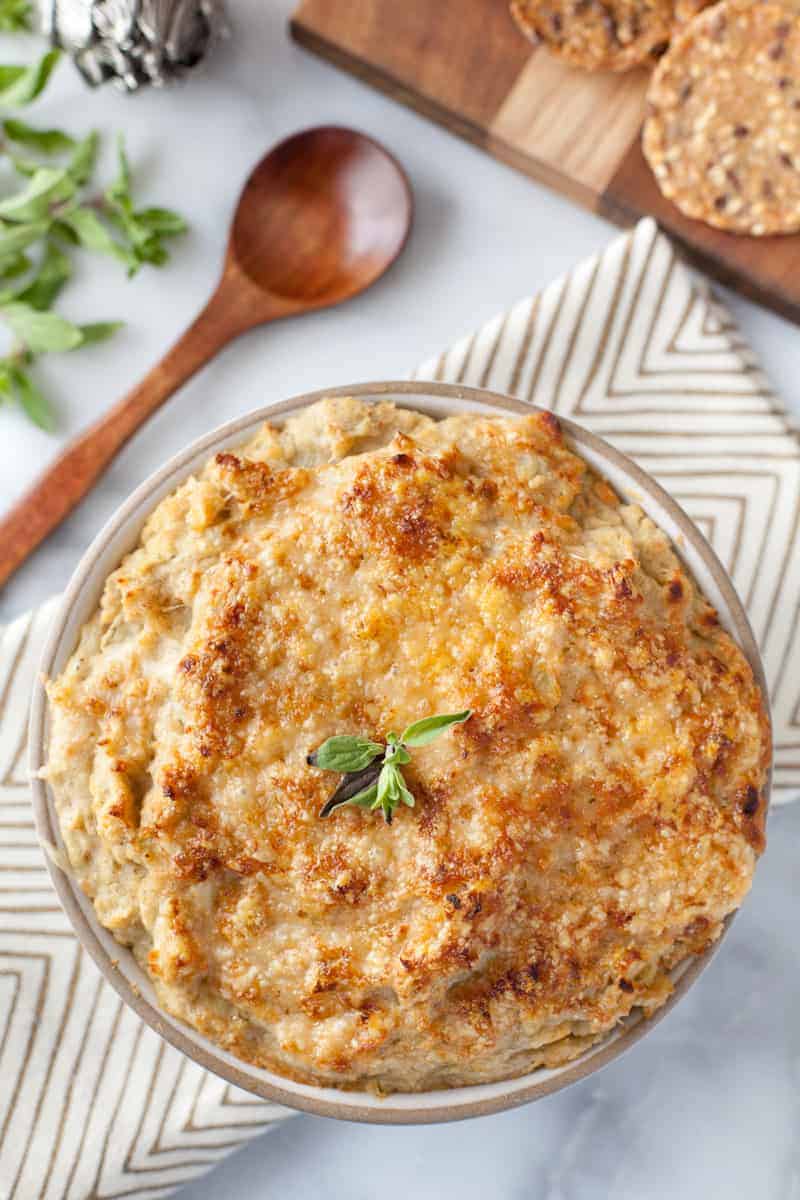 This white bean dip is one I dream about. A healthy protein-heavy dip with a dollop of parmesan cheese melted on top for good measure. The creaminess comes from low-fat Greek yogurt and a bit of water mixed in with the beans.
Rather than the traditionally heavy spinach artichoke dip, this baked white bean and artichoke dip promises to be just as popular as a party appetizer, but must more healthier so you can eat more of it.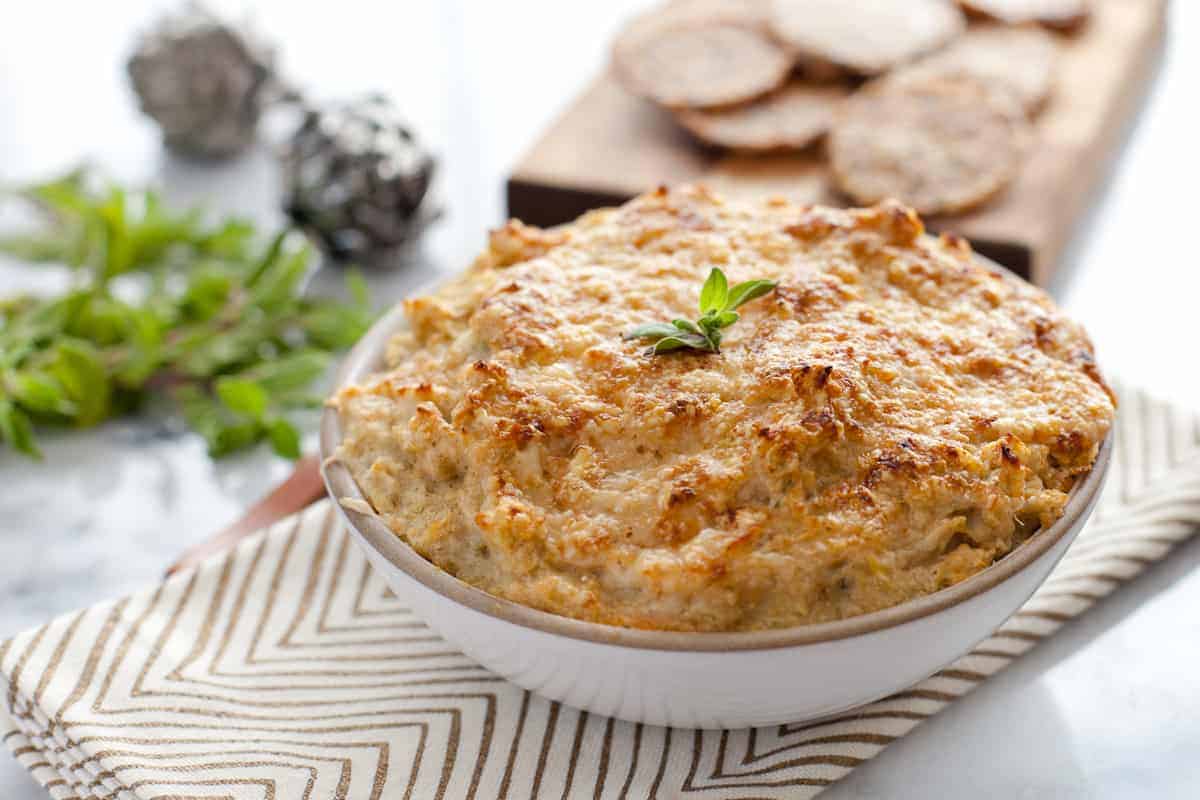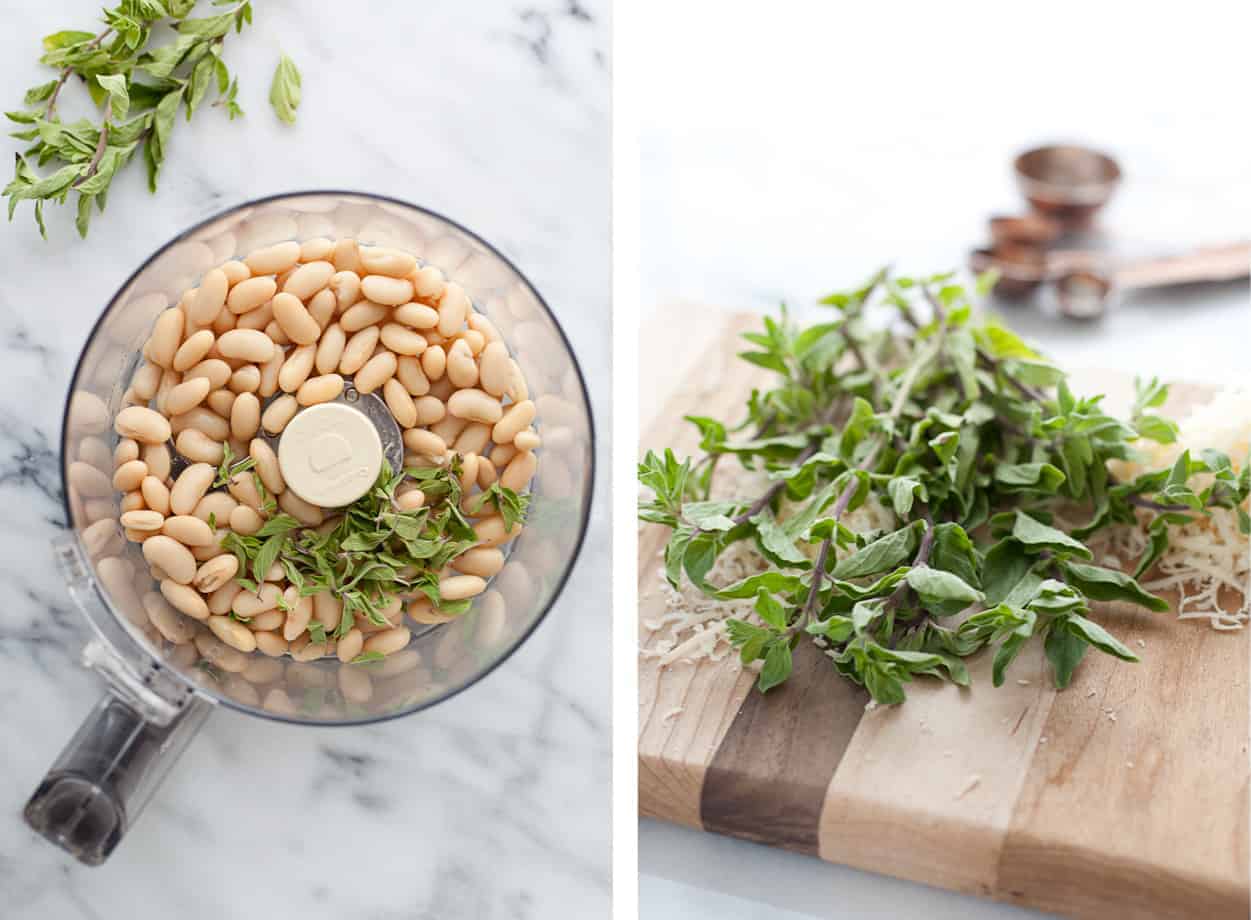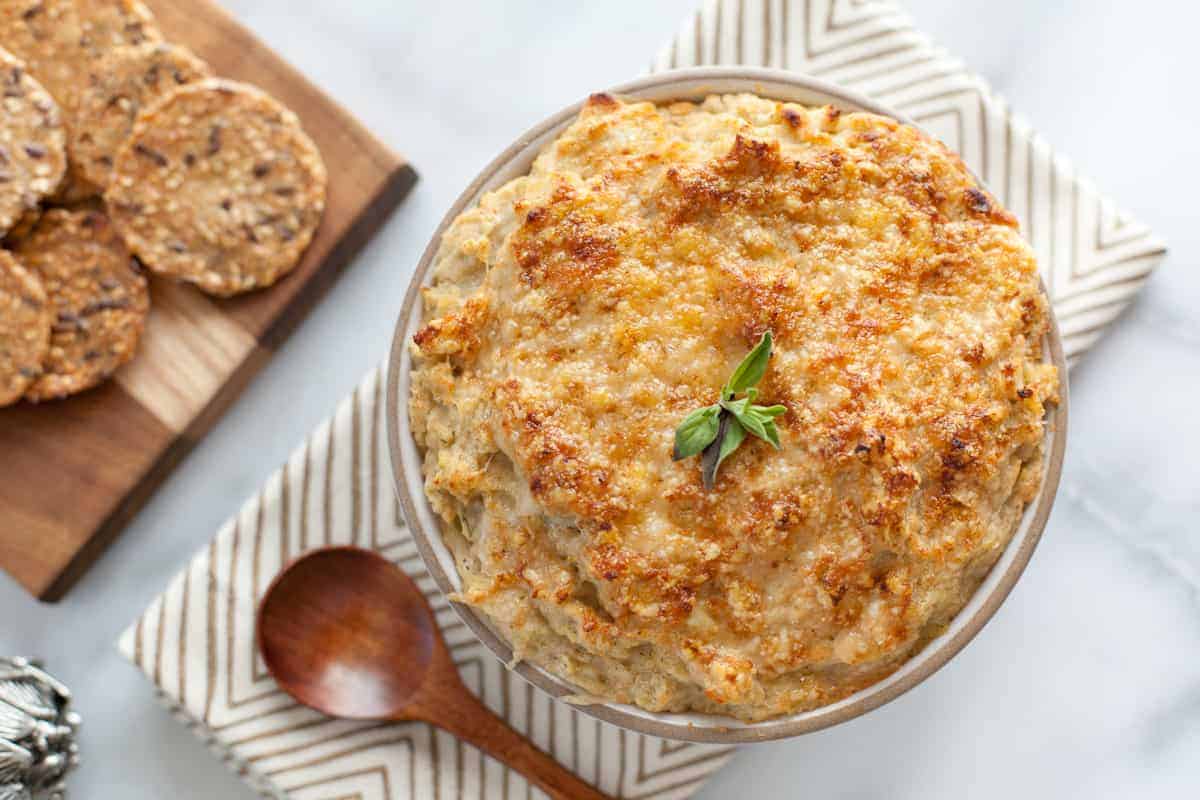 When I'm throwing a party, I usually take on way more than I can handle and wind up still in the kitchen when the partygoers arrive. This dip takes one thing out of your day-of party prep because you can make it all the night before, refrigerate it, then just pop it in the oven 20 minutes before your guests come over. Score! Or, you know, you could make it all right now and then eat the entire bowl for lunch without any guests. I'm all for that approach.
This baked artichoke dip takes white bean spread to a whole new level. The beans are puréed until nice and creamy. Except no cream, so we're all happy and healthy. Then the artichokes are tossed in and pulsed 1 - 2 - 3 times to mix up, leaving little chunks of the best part scattered throughout. If you're looking for a good dipping wafer, I strongly urge you to serve it up with these gluten-free crackers.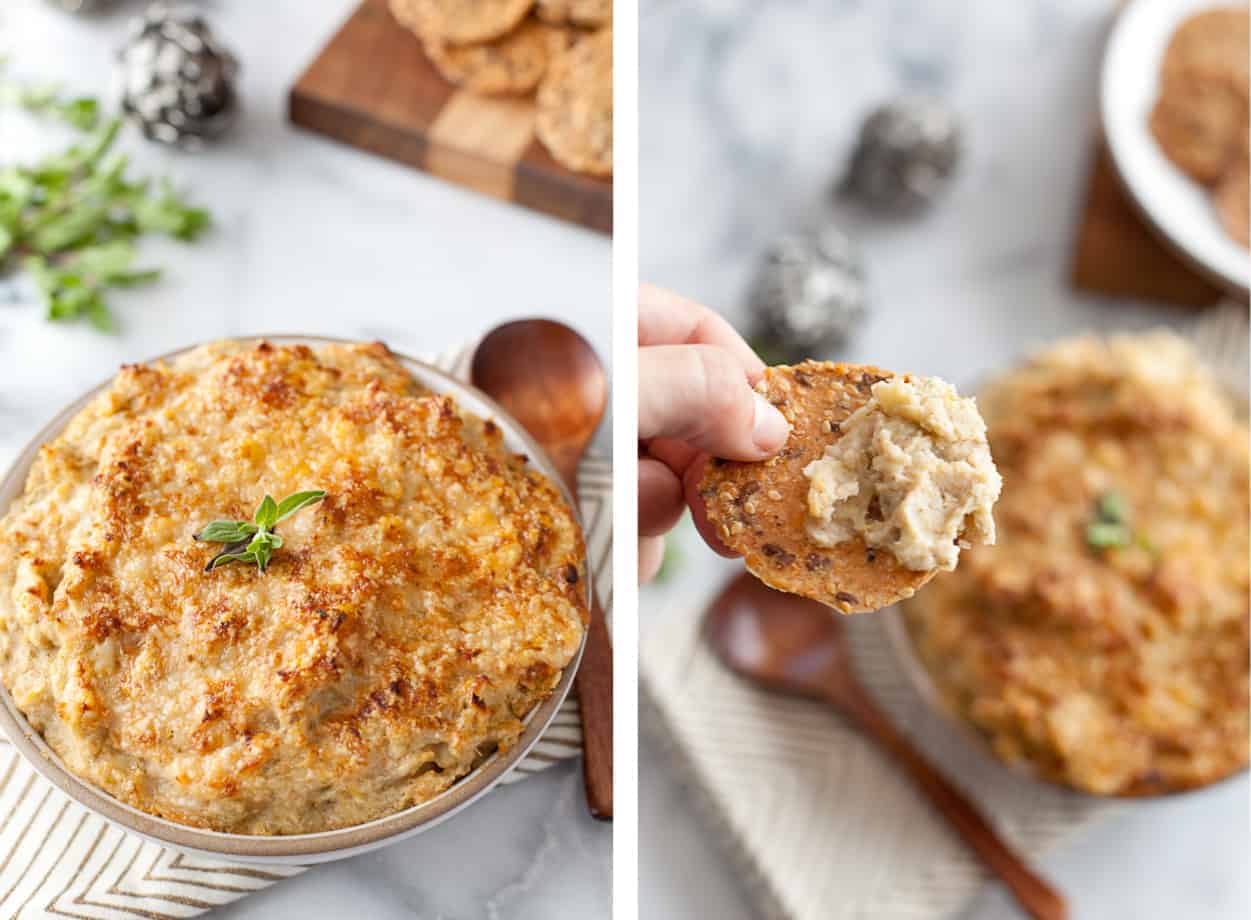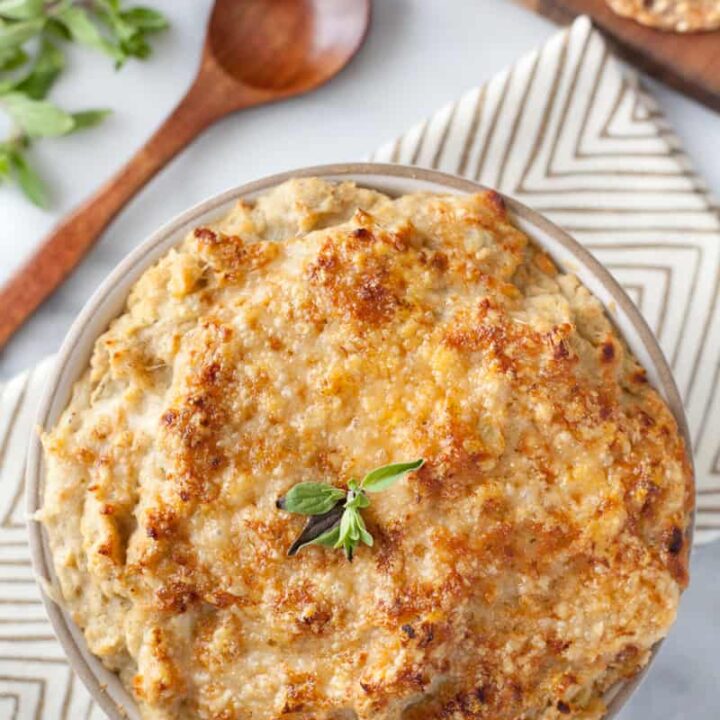 Baked white bean and artichoke dip
Ingredients
1 small shallot, finely chopped
2 large cloves garlic, finely chopped
1 15-ounce can of cannelini beans, drained and rinsed
2 tablespoons low-fat greek yogurt
1 tablespoon lemon juice
2 teaspoons packed fresh oregano
1½ tablespoons plus 1 teaspoon extra virgin olive oil, divided
1½ tablespoons water
⅛ teaspoon cayenne
Salt & pepper, to taste
1 12-ounce jar of marinated artichokes, drained
3 tablespoons freshly grated parmesan cheese (for sprinkling on top!)
Instructions
Preheat the oven to 375ºF.
Heat 1 teaspoon of olive oil in a small skillet over medium heat, add the shallot and cook, stirring, for about 2 minutes, or until the onion softens. Add the garlic and cook for 1 minute longer, just to release the garlic aroma and lightly brown.
Transfer the shallot and garlic to a food processor with the cannelini beans, greek yogurt, lemon juice, and fresh oregano. Purée until completely smooth.
With the food processor running, slowly drizzle in the olive oil and water. If you'd like a smoother consistency, you can add more water.
Season with cayenne, and salt and pepper, to taste, pulsing to incorporate.
Add the marinated artichoke hearts (drained of their oil) to the food processor and pulse just a few times to incorporate, leaving chunks of artichoke heart throughout.
Transfer to a small oven-safe dish and bake for 20 minutes.
Sprinkle the parmesan cheese on top, turn the oven to broil, and broil for about 4-5 minutes, or until the cheese on top is brown and crisped.
Serve warm with your favorite cracker, bagel chip, or toasts. Note: the dip tastes great cold too, so if that's what you prefer, you can skip the oven and mix the cheese right into the dip.