Last updated on August 8th, 2019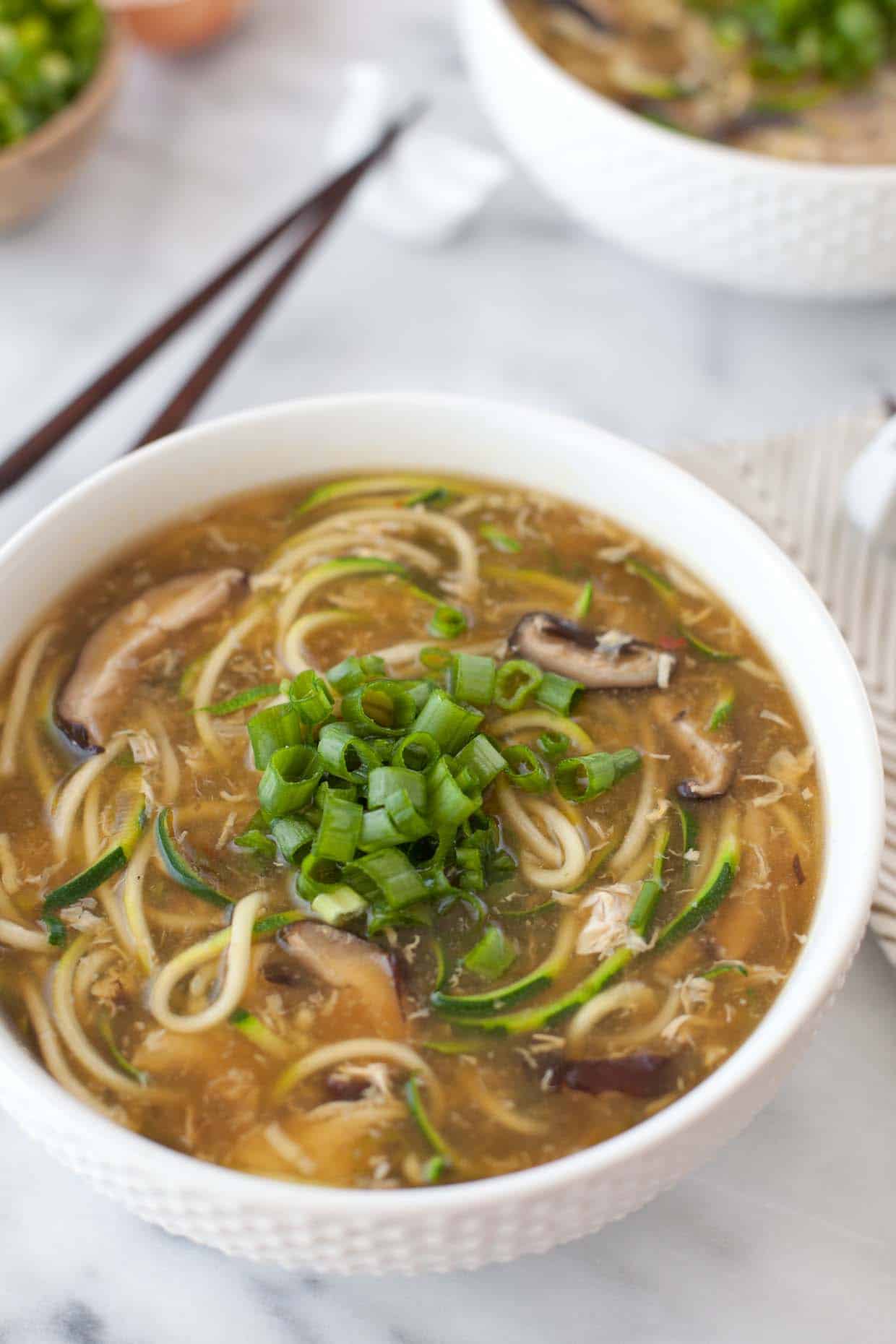 Zoodles! Oodles and oodles of zoodles! You know what's got me so fired up over here? We grew a zucchini! In a bed now covering our pig roast pit. An enormous feat for the girl with the black thumb who has killed two rosemary plants and a few succulents. Indestructible plants, my big toe! I can definitely take care of your cat or probably even your baby, but it's not the wisest idea to trust me with your garden. Signs so far indicate that I did not inherit my mom's green thumb.
BUT we grew a zucchini!! Well, if I'm being truthful, Lucas grew it and I occasionally reminded him to water it, sometimes even nervously pulling out the hose myself when he was in China. Then after a few weeks of most everything else in our garden deciding it hated our soil clay and shriveling up, a zucchini grew!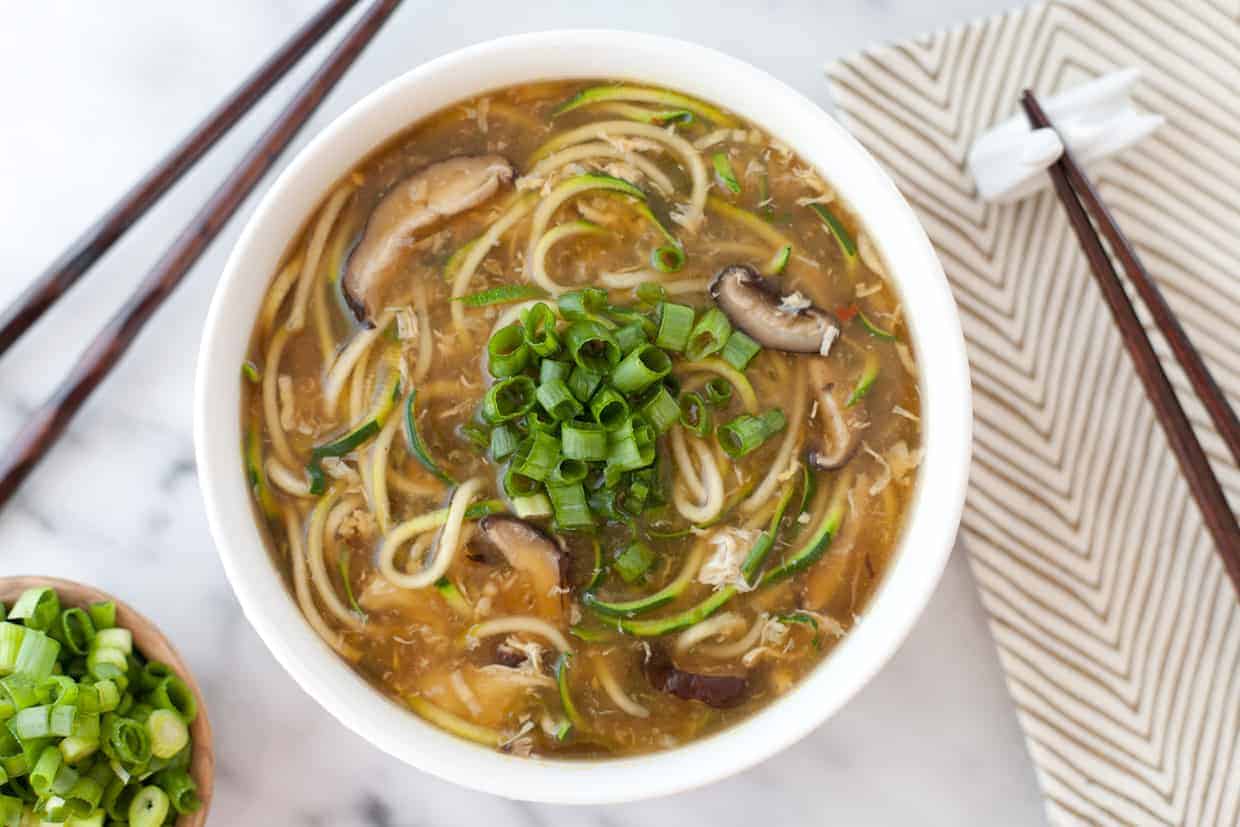 It grew even despite the fact that our six overeager tomato plants were screaming "RAWWWRR! I'M A TOMATO PLANT MONSTER! LET ME BE FREEEE!!!" and spreading out over every square inch of our garden. Yes, probably we should have caged them; They were invading the garden, but they just looked like they were having such a grand summer and they made us feel successful, so we let them do their thing. Plus, they've settled down and decided to start fruiting.
The zucchini plant gave zero hoots about the tomato plant party and just minded its own business amidst the invasion. So now we've got a bunch of not-quite-ripe tomatoes and one bulbous zucchini. Call me Farmer Sarah!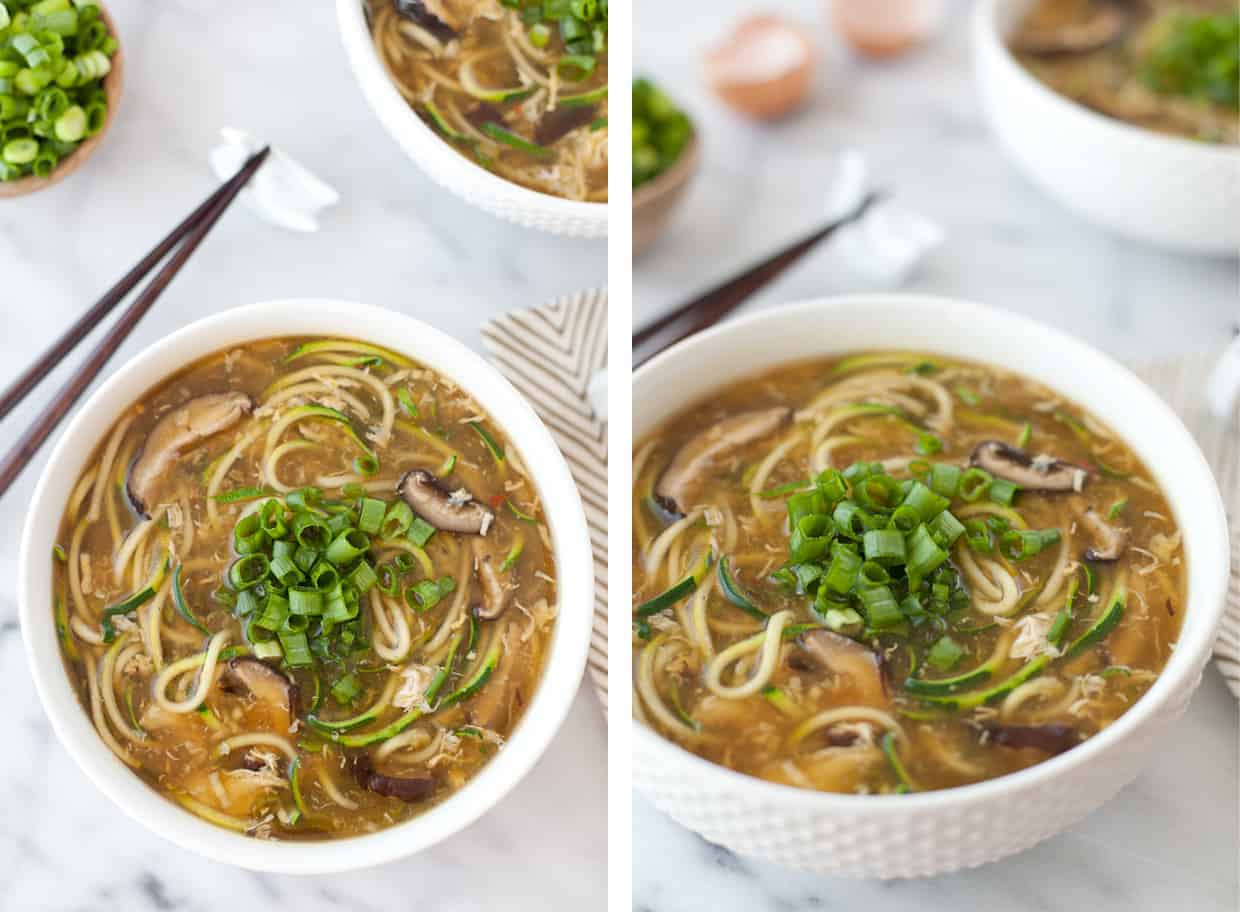 So what did we do with our prized zucchini? We spiralized it into zucchini noodles, of course. ZOODLES! If you don't have a spiralizer already – what are you waiting for? Things get a lot tastier and a whole heckova lot healthier when you turn your veggies into noodles. We use our spiralizer for anything from sweet potatoes to butternut squash to zucchini. In this zucchini noodle egg drop soup, zucchini noodles act like ramen, adding a textural bite, without leaving you feeling bloated. Zucchini noodles for the win.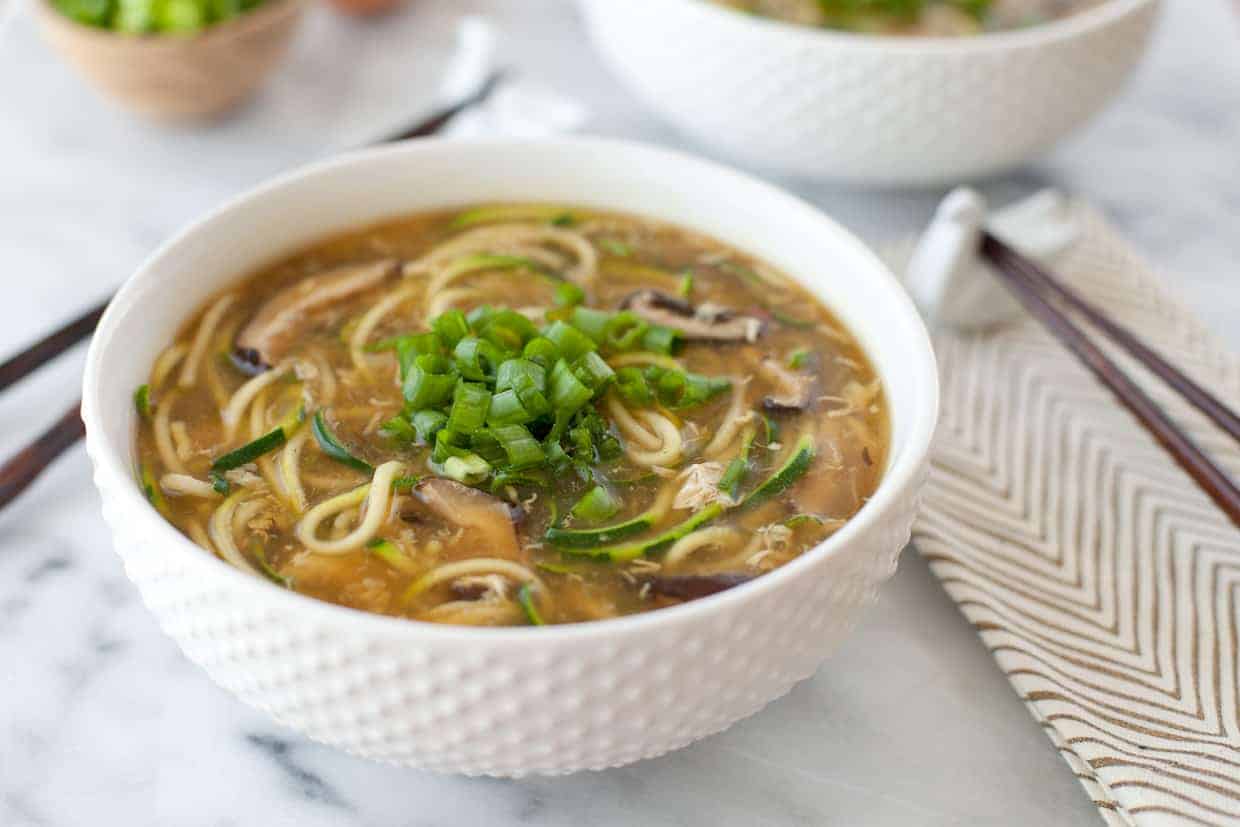 Whenever we have guests coming for dinner lately, I add this zucchini noodle egg drop soup with a side of gluten-free Chinese scallion pancakes to the menu (I'll share this scallion pancake recipe soonish, promise). It comes together super fast, but has many dimensions: savory mushrooms in a lightly salted broth, thickness from the cracked eggs, freshness from the green onions, slurp-worthy zucchini noodles, and a spicy kick from the ginger infused throughout.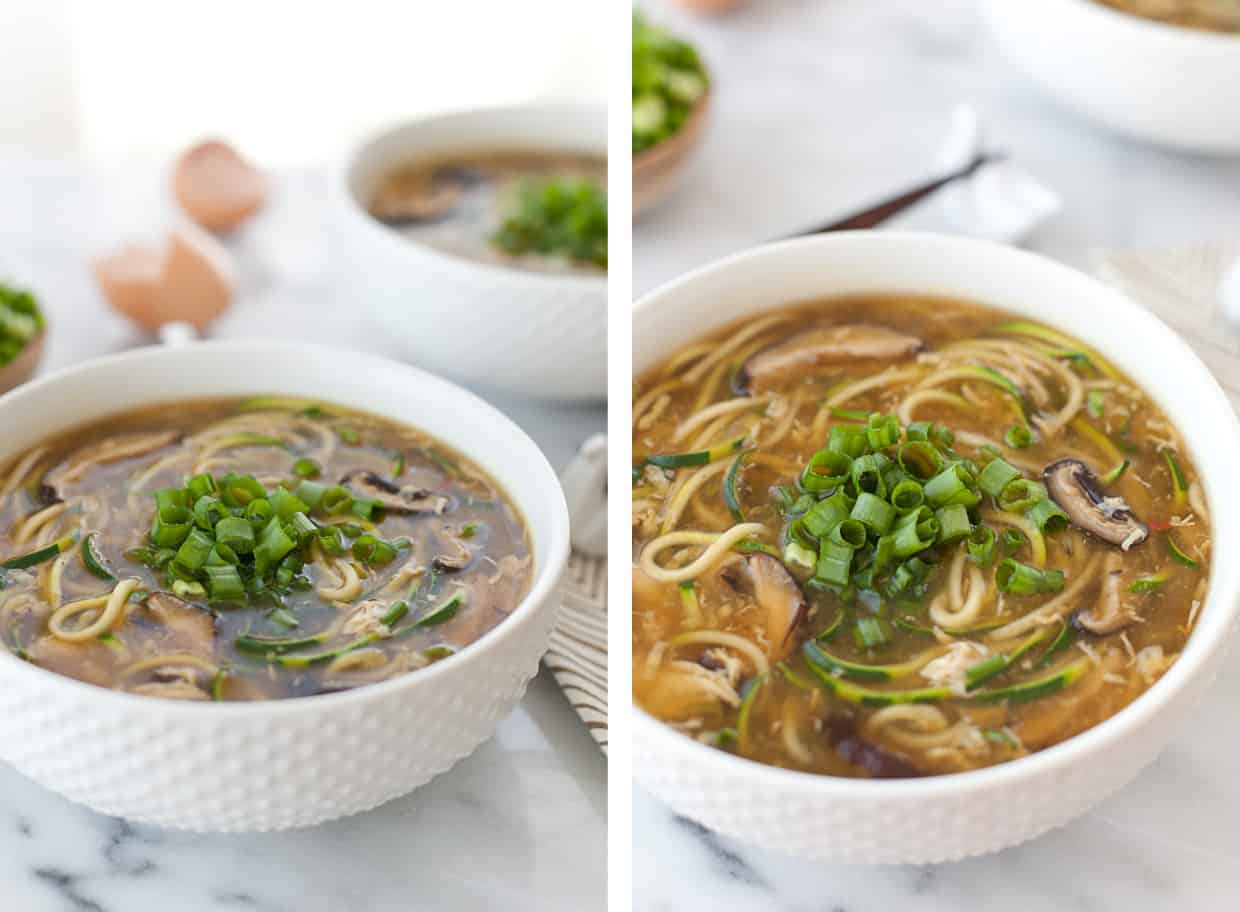 We're in the Bay, where the weather only fluctuates about 5 degrees all year round. Lucky for us this means it's always soup weather. Especially since we've been having a few spurts of cold weather this July. If it's too hot for soup where you're at? Serve this zucchini noodle soup just below room temperature for a light and refreshing meal. No better way to use up your summer zucchini!
I'm sure you're all walking around with bright green thumbs, so please tell me: what fresh fruits and veggies do you have growing in your garden??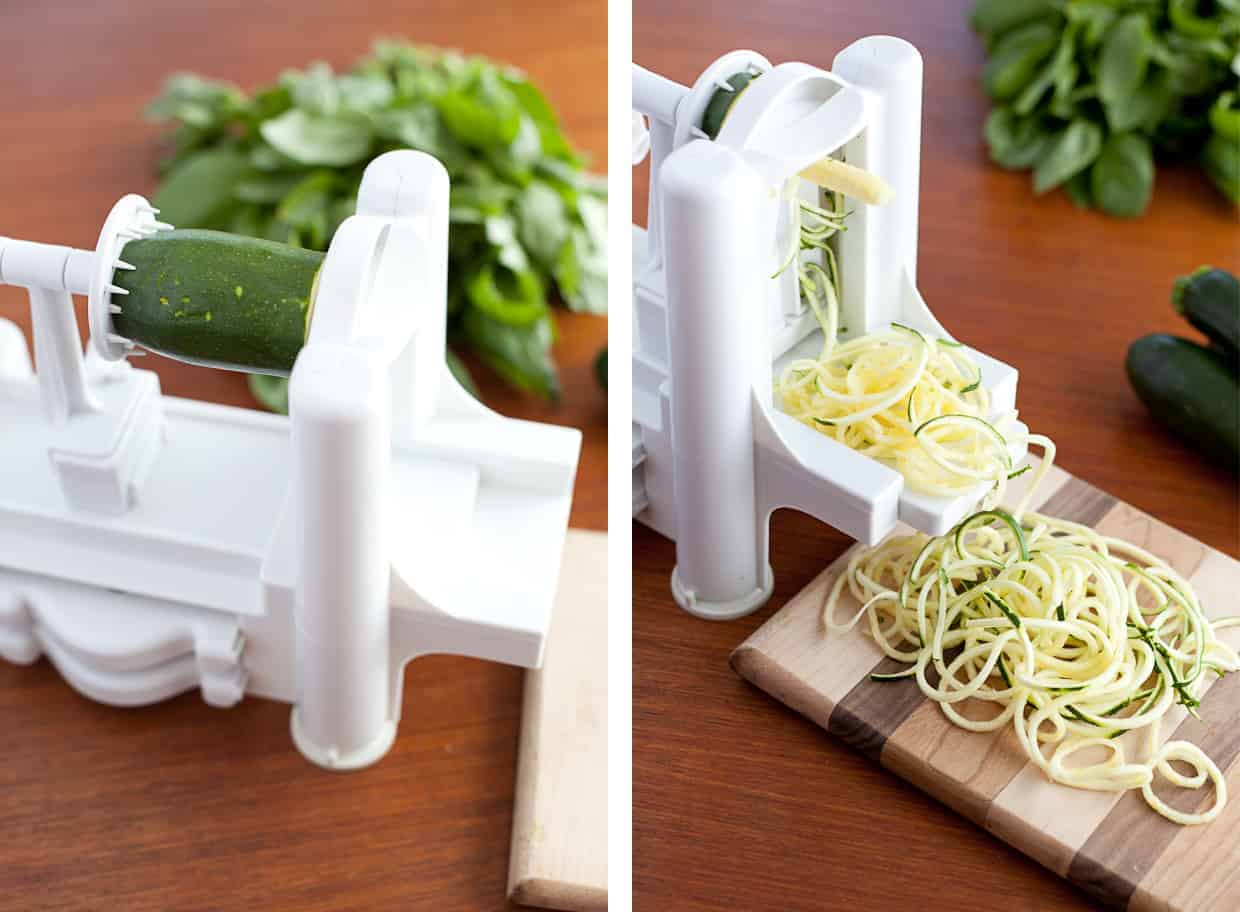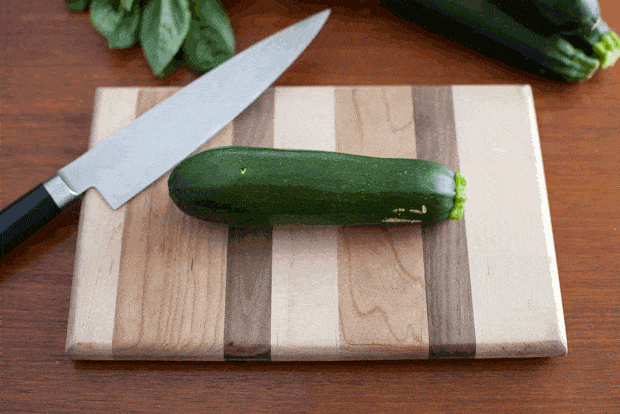 Thanks for reading Snixy Kitchen! To stay up on what's coming out of my kitchen, follow me on Facebook, Instagram, Twitter, Bloglovin', or Pinterest, or subscribe via e-mail to get new recipes right to your inbox.
Before we get to the recipe for this soup, here's a step-by-step tutorial for using a spiralizer to cut zucchini noodles.
Spiralized zucchini noodle tutorial
To pick a zucchini that is perfect for spiralizing, check the size and the straightness. It's best to use zucchini that's at least 1½ inches in diameter. I aim for medium zucchini. The spiralizer leaves a small core that isn't cut, so small zucchini won't produce as many noodles. Likewise, if you use a zucchini that is too large, the very center where the seeds are will produce mushy noodles that fall apart easily. Finally, you want a zucchini that's as straight as possible, or else when you feed it through the spiralizer, you'll end up with lots of "half-moon" pieces (these are tasty, but not as noodle-like).
Cut the ends off of your zucchini, then using very straight cuts, cut your zucchini crosswise into 3-4 inch long pieces (as shown in the gif above).
Put the small noodle blade in place (Blade C). Make sure your spiralizer is suctioned down to the table, and set a plate or cutting board on the end to catch your noodles.
Carefully the very center of one end of the zucchini on the metal core of the cutter panel of the spiralizer, then slide the spiked holder into the center of the opposite end of the zucchini.
Simultaneously lightly press the side handle forward, while spinning the back handle. Watch your zucchini noodles come out the other side with ease! I prefer to pause and cut my noodles every 12-15-inches so they don't get too tangled.
Repeat until you've used up all of your zucchini pieces, saving the core for another use.
To cook zucchini noodles, I prefer to toss them with whatever sauce in a sautée pan for about 2 minutes or just throw them in my soup and cook for about 1-2 minutes until tender (they cook really fast!).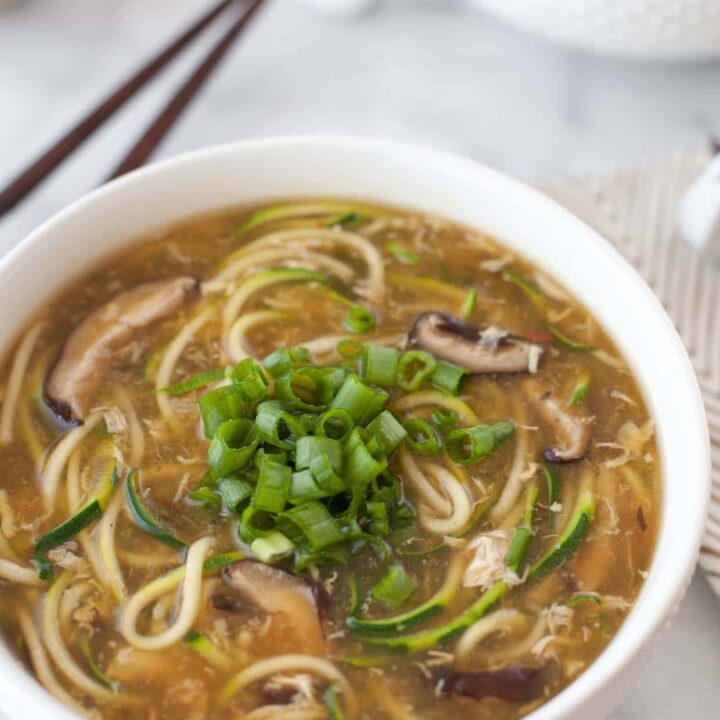 Ginger zucchini noodle egg drop soup
Ingredients
4 medium to large zucchini
2 tablespoons extra virgin olive oil
2 tablespoons minced ginger
5 cups shiitake mushrooms, sliced
8 cups vegetable broth, divided
2 cups, plus 1 tablespoon water, divided
1/2 teaspoons red pepper flakes
5 tablespoons low-sodium tamari sauce or soy sauce
2 cups thinly sliced scallions, divided
4 large eggs, beaten
3 tablespoons corn starch
Salt & pepper to taste
Instructions
Prepare the zucchini noodles with a spiralizer using the step-by-step guide above.
In a large pot, heat the olive oil over medium-high heat.
Add the minced ginger and cook, stirring, for 2 minutes.
Add the shiitake mushrooms and a tablespoon of water and cook until the mushrooms begin to sweat.
Add 7 cups of the vegetable broth, the remaining water, the red pepper flakes, tamari sauce, and 1½ cups of the chopped scallions. Bring to a boil, stirring occasionally.
Meanwhile, mix the remaining cup of vegetable broth with the corn starch and whisk until completely smooth.
While stirring the soup, slowly pour in the beaten eggs in a thin stream. Continue stirring until all of the egg is incorporated.
Slowly pour the corn starch mixture into the soup and cook for about 4-5 minutes to thicken.
Season to taste with salt & pepper (usually I add just a bit of pepper, but as long as I'm using a full-sodium vegetable broth, I don't need any extra salt).
Add the spiralized zucchini noodles to the pot and cook, stirring, for about 2 minutes, or until the noodles are just soft and flexible (remember, they'll continue cooking in your bowl!).
Serve topped with the remaining scallions.