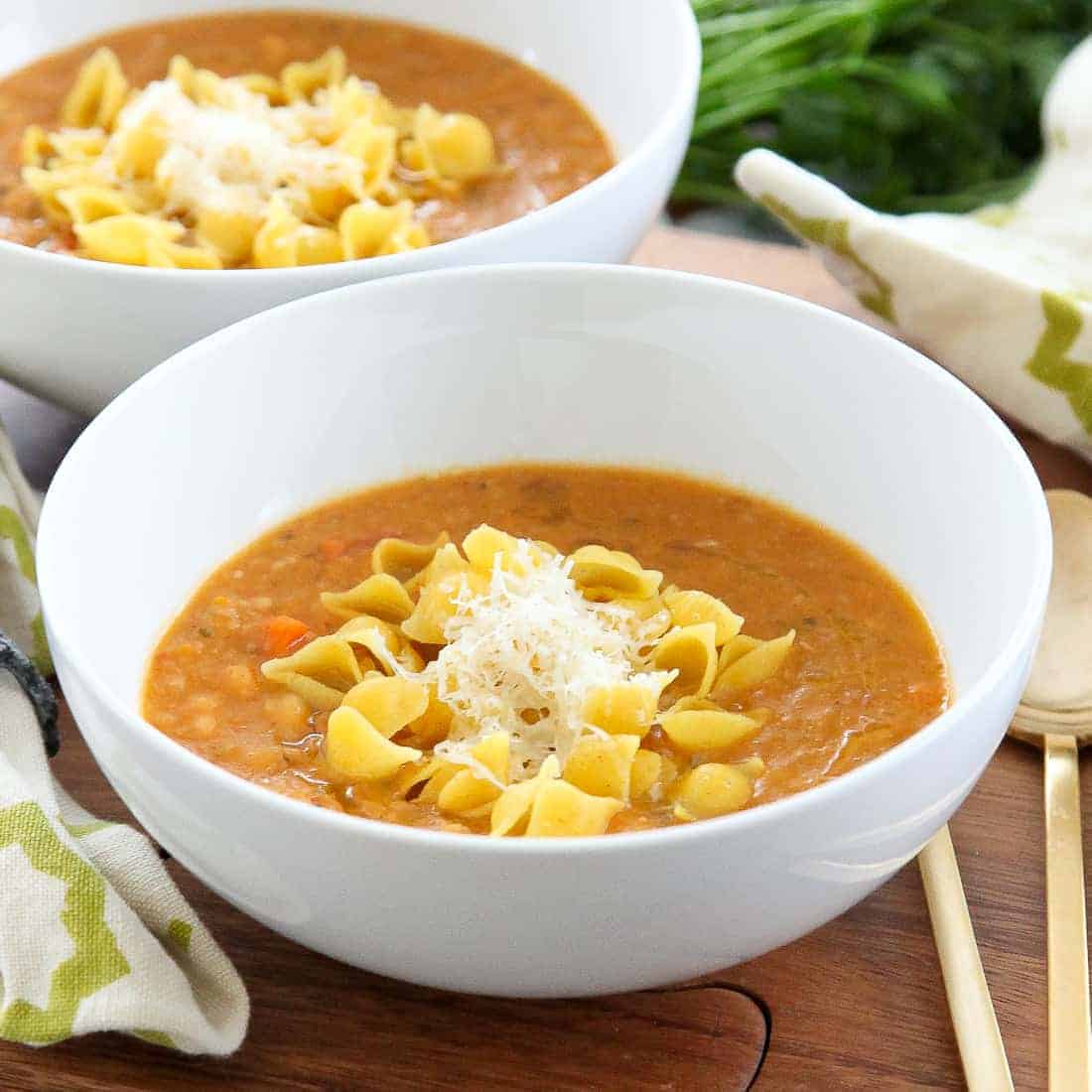 Even though my poor circulation is not a big fan of the cold, one of winter's redeeming factors is soup. This cold winter slows me down and has me constantly wishing I was sitting in front of a warm fireplace with a cup of hot cocoa in my hand. Apparently our cats share this feeling - the fireplace part, not the hot cocoa...I don't think. Do cats like hot cocoa? Steamed milk perhaps? While we were on our honeymoon, the baby kitties spent 3 weeks at Chez Grandma and Grandpa snuggling up underneath the wood stove - probably scorching some fur while they were at it. Life was great. And warm. When they came home to the land of no wood stove, the cats claimed a new "bed" - curled up on the heat vent behind a box under the side table in the back corner of the living room. They seem to find this a suitable alternative for when the stereo receiver is not turned on (their other heated bed). I agree, guys - we need a wood stove. Soup will have to do.
The comfort of soup isn't just in the eating of a hot bowl of rich winter flavors or even in the leftovers that last for days. These things are the icing on the cake, but the real comfort of soup is in the magic of making it. There's something relaxing about standing for an hour over a steaming pot of vegetables. Soul soothing. Soup therapy. You cook all your worries away and focus on pouring all your positive energy and love into this one giant pot. This feeling is one I inherited from my mom; when it's cold outside and life's got your panties in a twist, pull out the beans and veggies and spend an hour stirring. I didn't use to enjoy soup - I thought it was a flat, one note dish that I'd get bored with after a couple bites. I'm here to tell you now: I get it mom. I get why you make soup all the time. I'm with you.
This is the recipe that made me realize that soup can have layers of complexity. That you can eat more than one bowl and you'll keep discovering new hidden flavors. And that you'll need bread to sop of every last drop. This recipe came passed on from my namesake, Big Sarah, and it's one that I keep coming back to, even freezing large batches to always have on hand. By far, my favorite soup.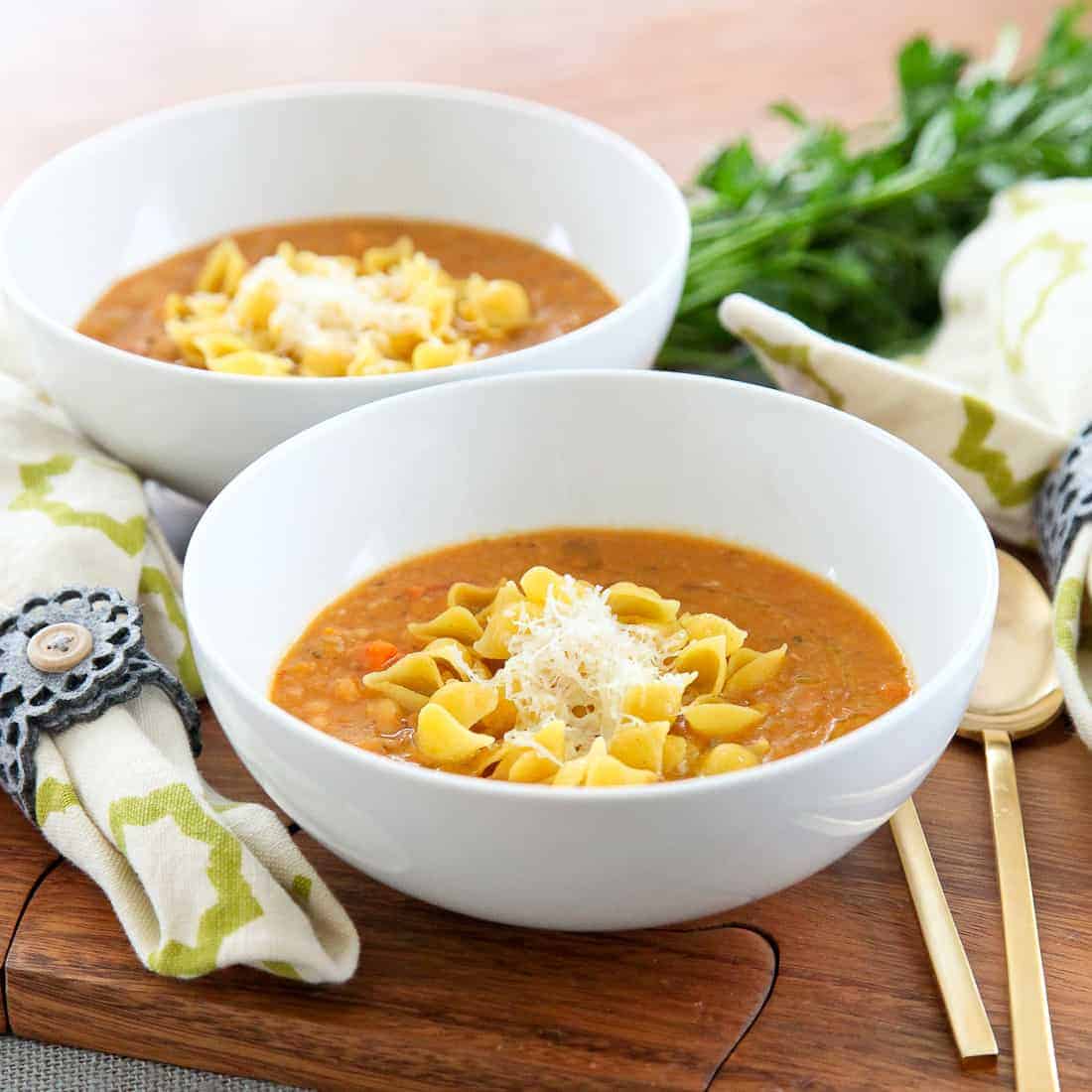 For the past several years, I'd always start this recipe with high hopes of cooking in my Le Creuset French oven . Until our wedding, I only owned two large pots, my french oven and a flimsy cheap one I'd had since college. I'd heat the oil in my heavy-bottomed, much-loved, cherry red french oven. Prepare the mirepoix. Stir in some garlic and parsley. Add beans. Oh, doesn't the soup smell lovely? And next, without fail, I'd go to pour in the diced tomatoes and 7 cups of water only to discover my pot was too small. At which point, I'd have to transfer the half-made soup to my not-as-pretty pot that wobbled a bit on the burners. You'd think I'd learn and just start with the larger pot, but for some reason, I'd routinely make this mistake. Wishful thinking, I suppose.
Never again; as a wedding gift, a group of our friends pooled together to stock our kitchen with the finest pots and pans, including among many, a shiny 5½-quart flame Le Creuset french oven (oh, AND this brilliant artichoke-handled stock pot). Soup making has never been more fantastic. I can stand over my stove for hours easing all the tension in my life as the aromas of this white bean and rosemary oil soup waft through my kitchen.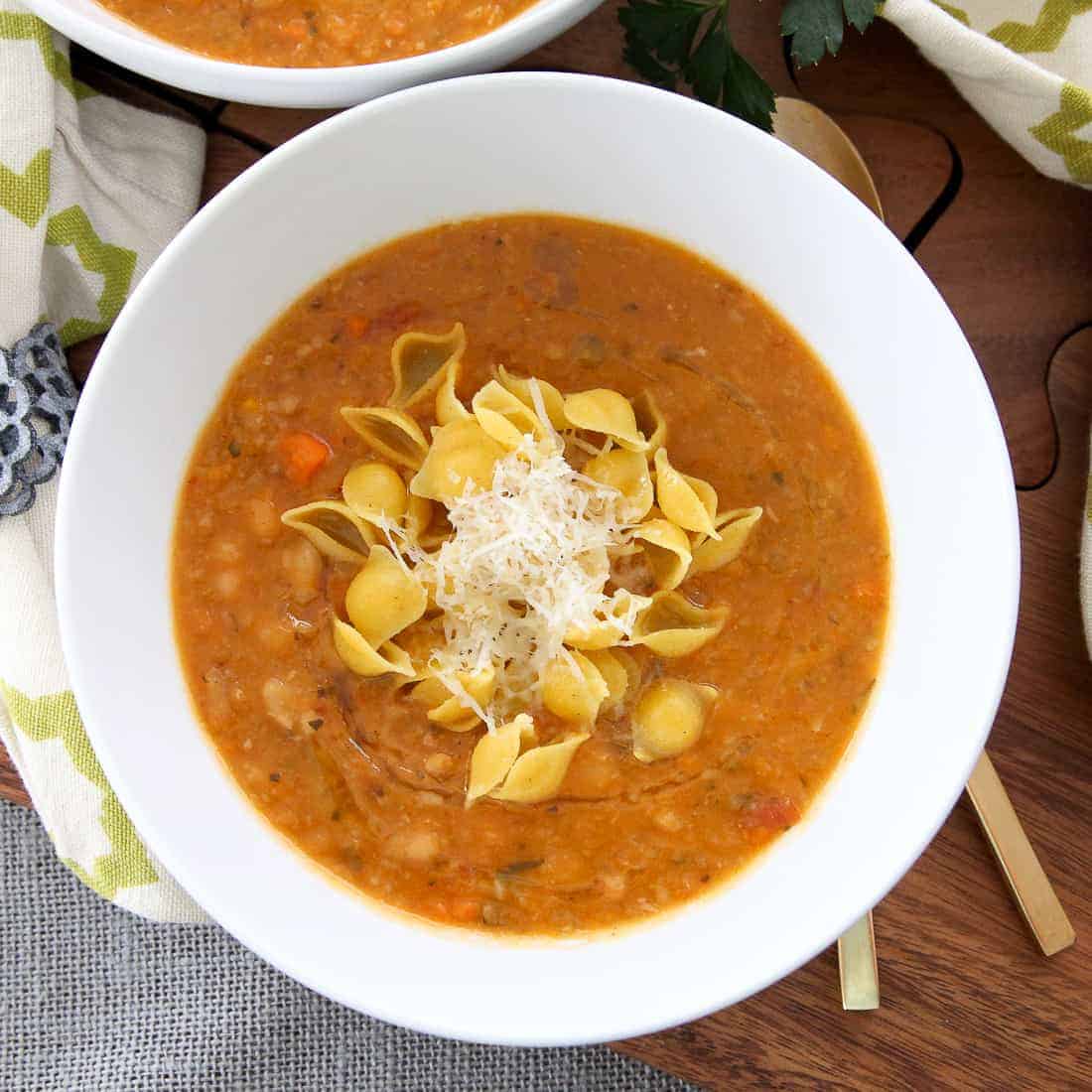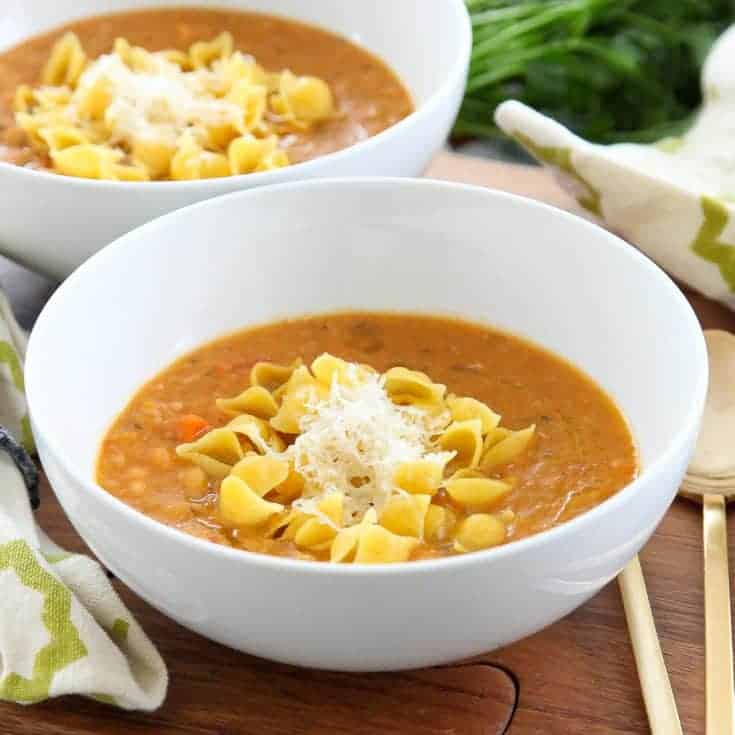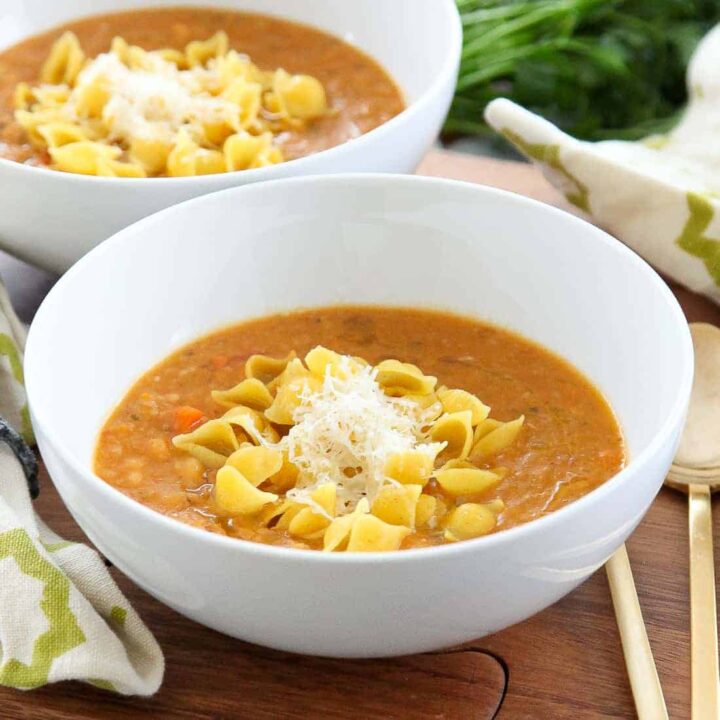 White bean soup with rosemary oil
Ingredients
Rosemary Oil
⅓ cup extra virgin olive oil
2 tablespoons fresh rosemary
2 garlic cloves, sliced
White bean soup
2½ cups dried cannellini or navy beans
2 tablespoons extra virgin olive oil
1 tablespoon fresh rosemary, chopped
1 medium onion, finely chopped
2 carrots, diced
2 celery ribs, diced
5 garlic cloves, sliced
⅓ cup parsley, chopped
1 cup canned diced tomatoes canned with their juices
7 cups of water
2 teaspoons salt, plus more to taste
½ freshly ground black pepper, plus more to taste
2 cups dried gluten-free small pasta shells, cooked (I used quinoa pasta shells)
Instructions
Rosemary Oil
Warm the olive oil, rosemary, and garlic clove slivers until the garlic begins to color, about 5 minutes.
Turn off the heat and set aside until needed.
White bean soup
Freshly grated parmesan cheese
Cover the dried beans with boiling water and set aside while you chop and prepare the rest of the ingredients.
Warm the olive oil and chopped rosemary in a large pot over medium heat.
Add the onions, carrots, and celery. Cook for about 10 minutes, or until the onion is softened and begins to color.
Add the garlic and parsley and cook for another 2-3 minutes.
Drain the beans and add them to the pot.
Add the tomatoes and water. Bring to a boil, then lower the heat and simmer, covered, for about an hour, until the beans begin to soften.
Add 2 teaspoons salt and continue cooking, covered, until the beans are completely tender, about 30 minutes.
Transfer half of the soup to a food processor and purée. Return the puréed soup to the pot and stir to combine. Add pepper, to taste.
Divide the soup into bowls and add a handful of cooked pasta to each.
Strain the rosemary oil and drizzle some oil over each bowl.
Serve with freshly grated parmesan cheese and a slice of crusty (gluten-free bread).