This quick and easy weeknight Instant Pot beef ragu is made using a jar of marinara to develop rich flavors. Pot roast shreds into a comforting pasta sauce that tastes like it took hours to make! Serve over pasta, polenta, or even a baked potato.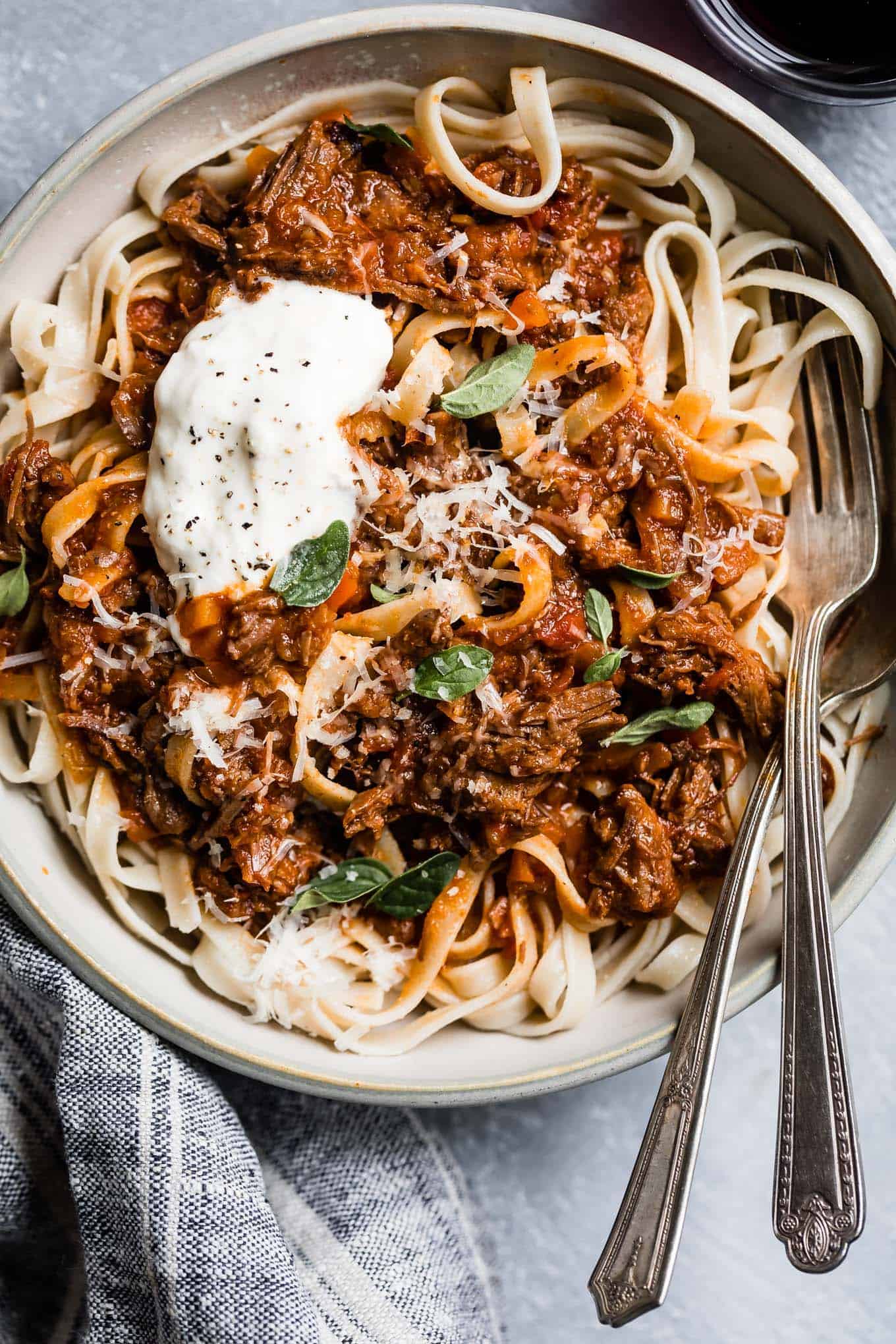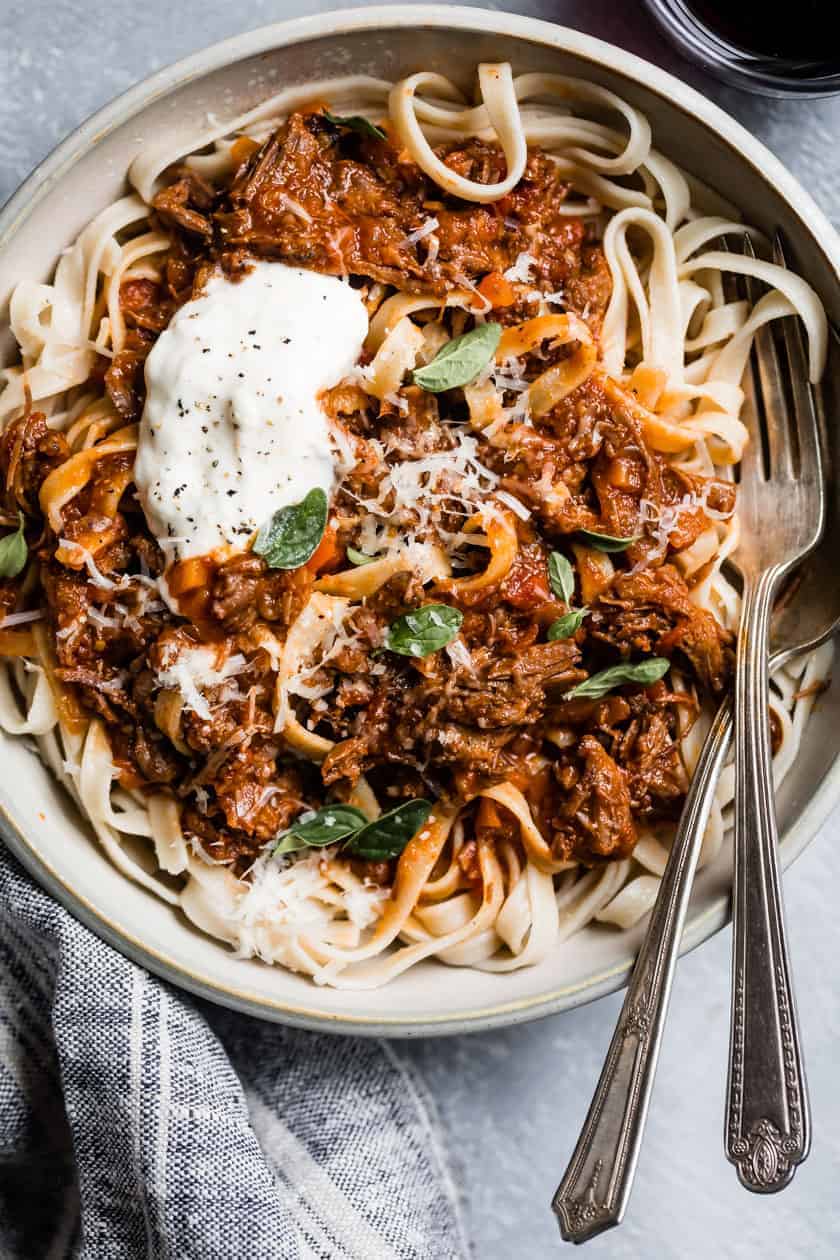 This post is sponsored by Lucini Italia, using their organic tomato sauces
Zoella locked me in the garage a few days ago. In between prepping and cooking dinner, I went to quickly toss in a load of laundry. I walked the 10 feet from the kitchen to the washing machine in the garage, leaving the door wide open behind me so I could hear Zoella sweetly playing with her 5 month old brother on the kitchen floor. Then SLAM. Just when you think they're preoccupied...
It turns out she can reach the dead bolt now and knows how to use it. Only one of us found the whole debacle hilarious - guess who?
My mom was also very amused. When I was a toddler the same age I locked her on the balcony behind the sliding glass door, laughing all the while. The apple doesn't fall far from the tree. Unlike toddler me, though, Zoella was fortunately also able and willing to unlock the dead bolt. Maybe it's time to get keypad locks on all our doors. Or hide a key? Or send my laundry out?
To say I have my hands full during dinnertime is an understatement. Unless Lucas is home early, I get about 5-10 minutes to prep dinner with two hands before I'm splitting attention with five other things while holding a baby or a toddler on my hip. Dinners need as little hands on time as possible in our house.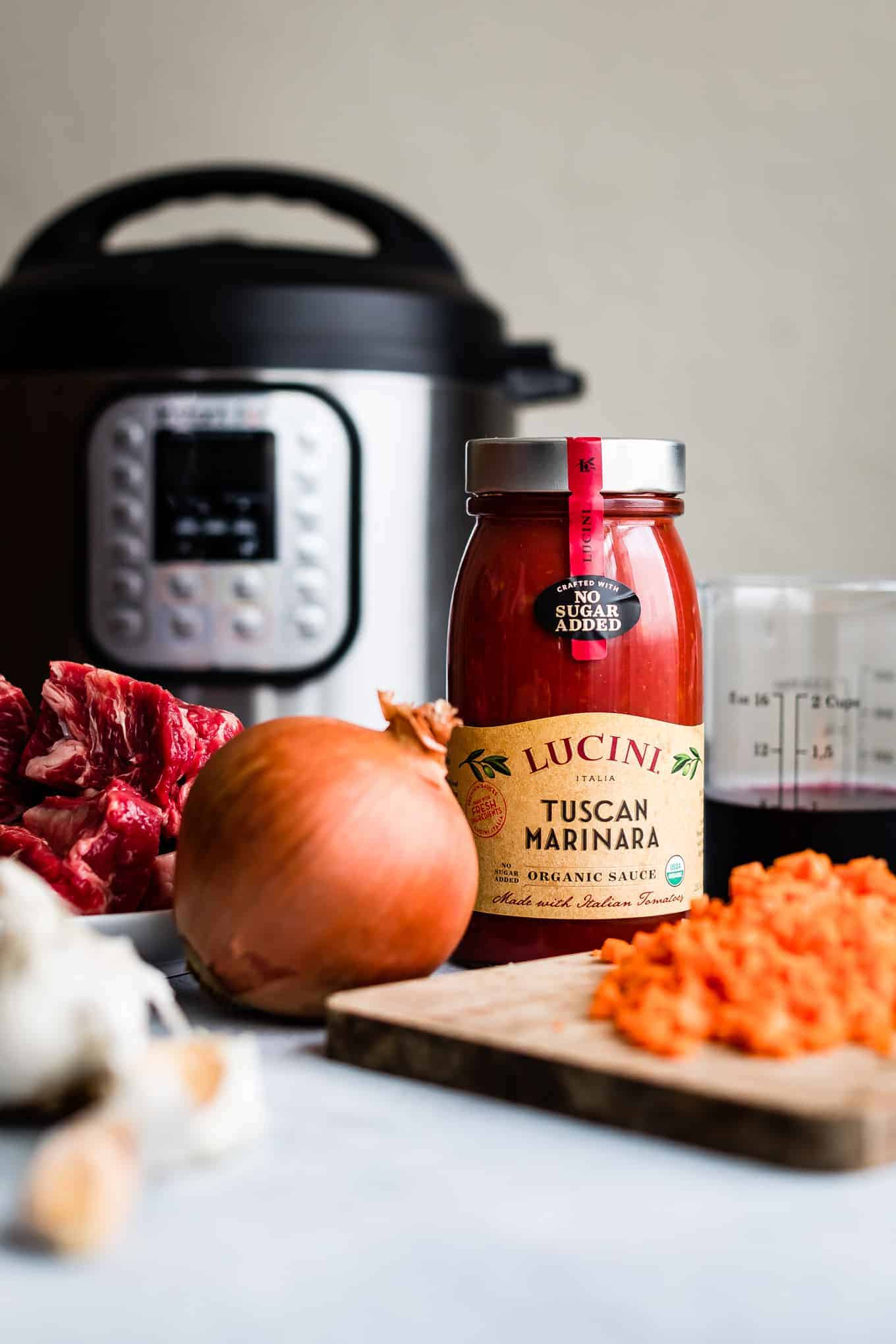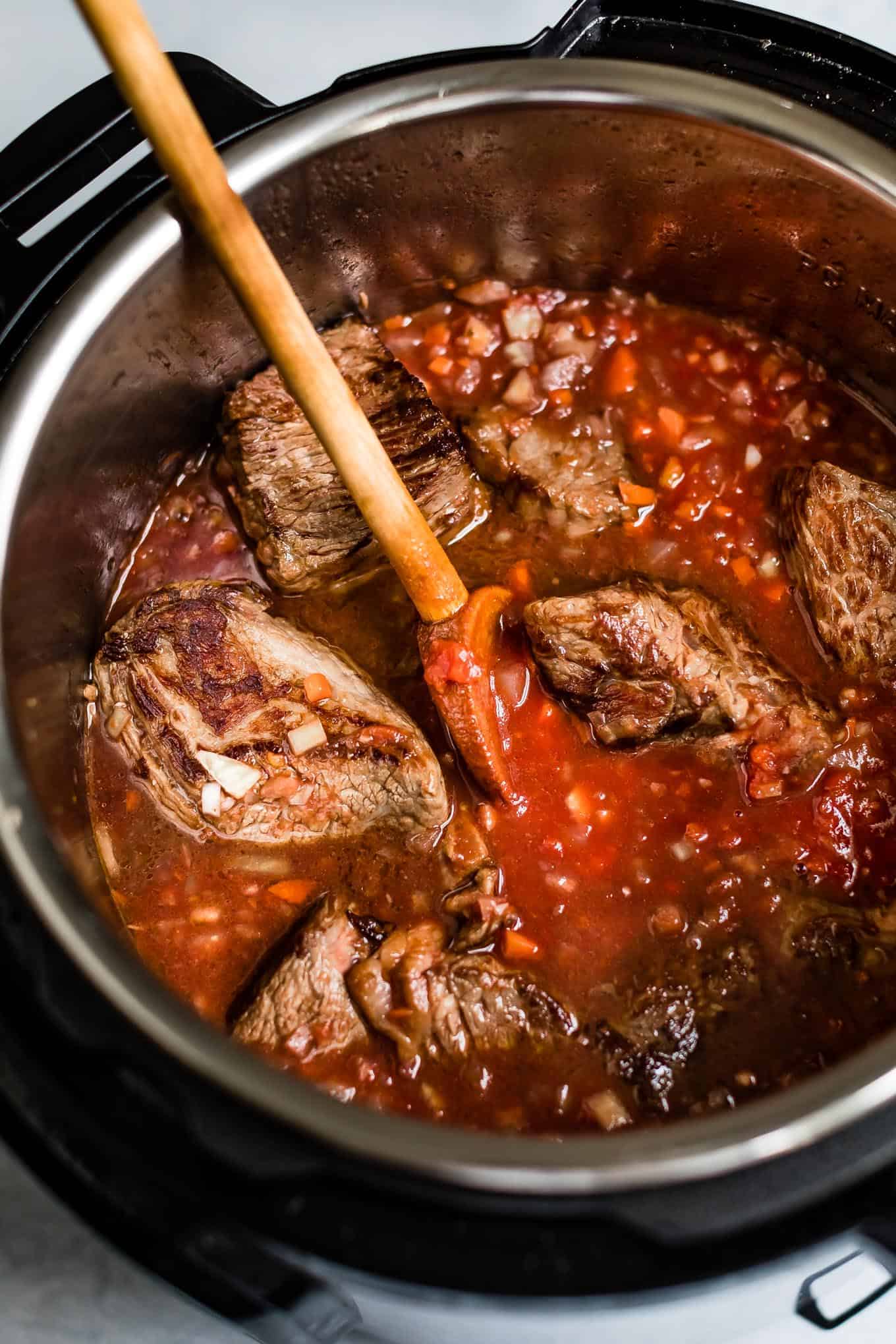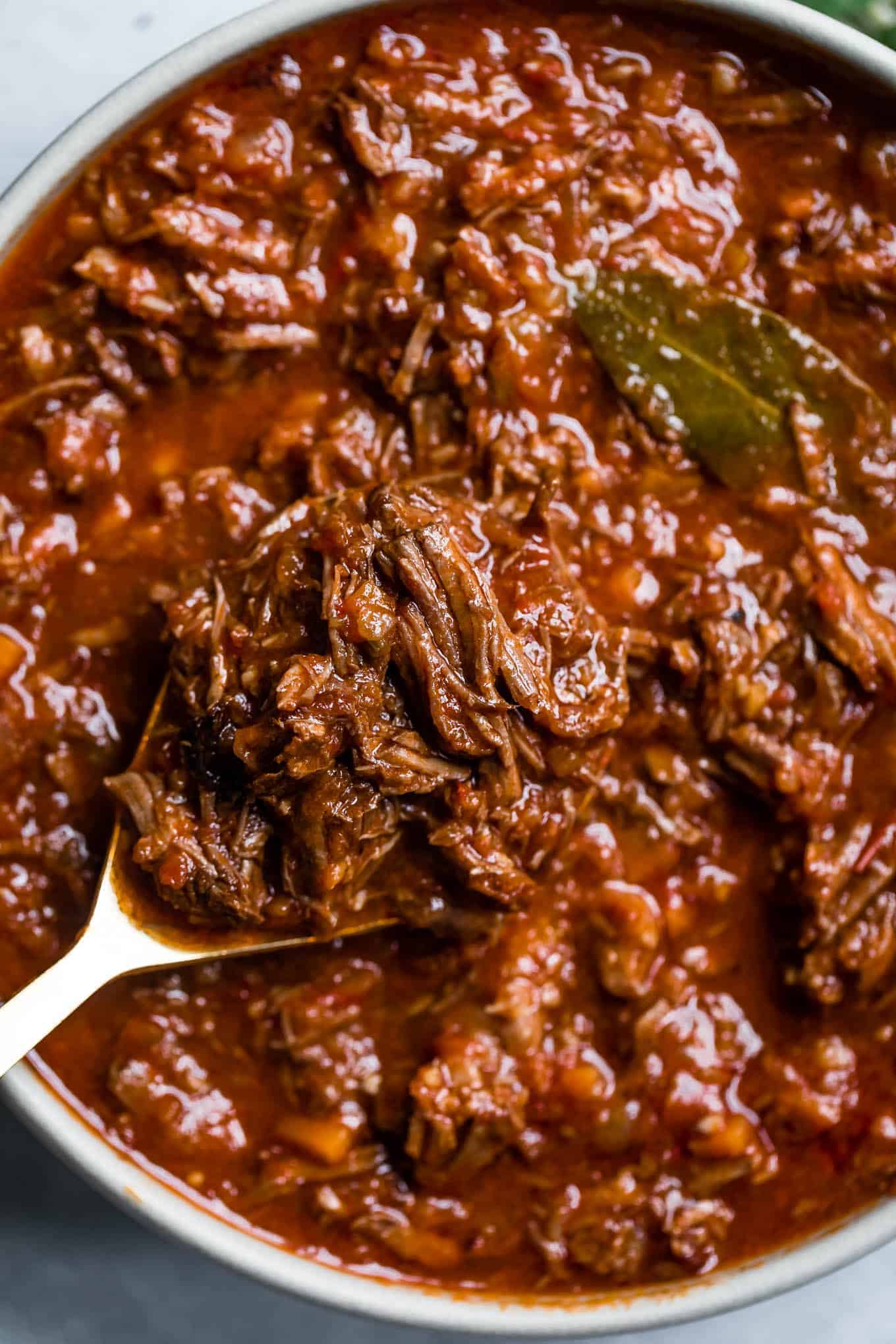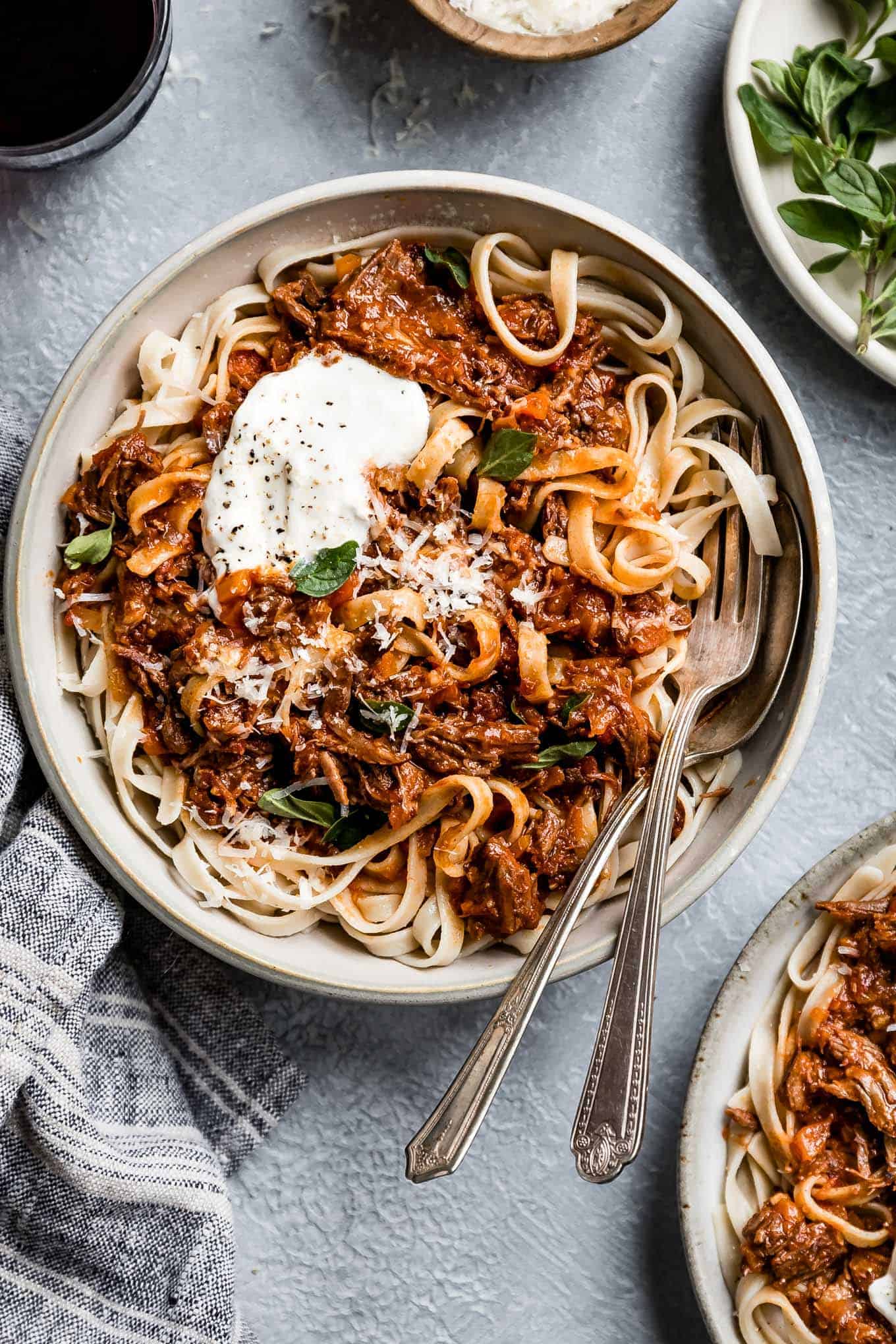 Weeknight Instant Pot Pasta Sauce
That's what makes this weeknight instant pot beef ragu perfect for busy weeknights. Nothing complicated - no prepping elaborate ingredients or tending to a pot. If you can chop an onion, garlic, and carrot and shred beef, the rest of the recipe practically makes itself.
Lucas thinks I need to start a new recipe series. Dinners that you can make entirely with one hand while holding a 16-35 pound child with the other.
Here's my shortcut trick: Start with a jar of flavorful high-quality pasta sauce to stew the beef. If you want a comforting flavorful beef ragu in the Instant Pot, this is the only way to go. Using Lucini's organic Tuscan Marinara or Spicy Tuscan Tomato sauce, infuses the ragu with rich flavors that make this instant pot pasta sauce taste like it's been stewing for hours. To make it even easier, you could even skip the onion and carrots if you really wanted. Lucini's sauces include them. But I add them for a little texture and layer of umami.
I made my instant pot beef ragu with the Tuscan Marinara sauce for a version that my spicy-averse toddler would like. Though you could use any of Lucini's organic tomato sauces. After eating two of my test batches of this Instant Pot meat sauce for dinner in one week, my mom went back home and promptly messaged me for the recipe. She then made it to eat for dinner a third time, but this time with the Spicy Tuscan Tomato sauce, which she raved was just as delicious. That Spicy Tuscan Tomato sauce is my favorite - just the right amount of kick to balance out the flavors of the sauce. Whether you're cooking for yourself or guests, choose whichever sauce speaks to your preferences!
Instant Pot Pot Roast with Marinara = Weeknight Beef Ragu
Imagine an Instant Pot pot roast stewed in a flavorful Tuscan marinara sauce until the meat tenderizes and shreds into a thick pasta sauce. That's this weeknight beef ragu. It's a cozy comforting sauce that simultaneously tastes familiar and exceptional. Homey enough for to serve on just any other night, while also special enough for a celebration or intimate meal (like, say, Valentine's Day?).
Grab a box of fettuccine or pappardelle for a random Wednesday night or if you've got a bit more time, serve this Instant Pot beef ragu over homemade whole grain gluten-free pasta. Toss some over cheesy polenta or a baked potato. We've given this versatile sauce now a permanent spot on our rotating list of weeknight easy Instant Pot recipes.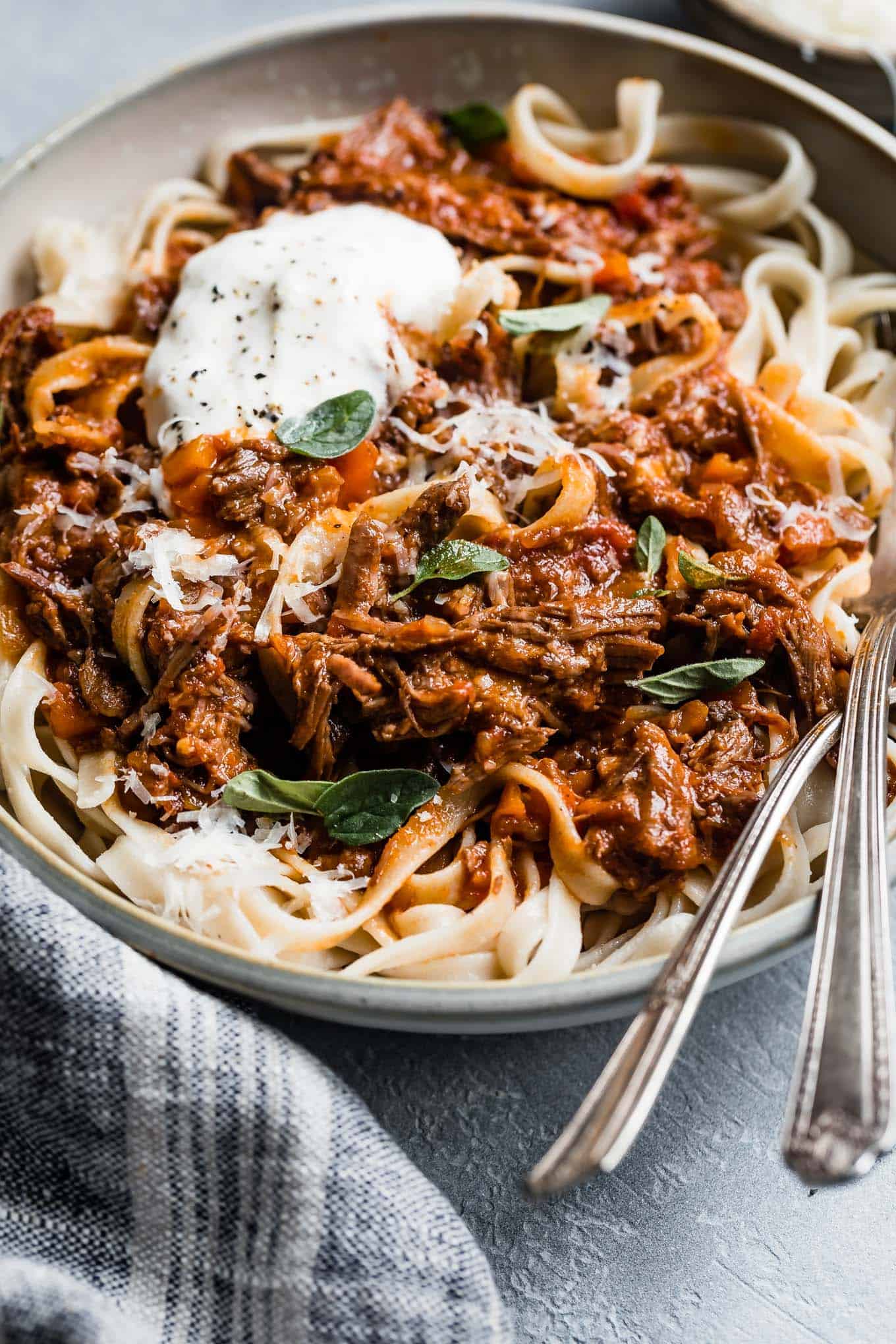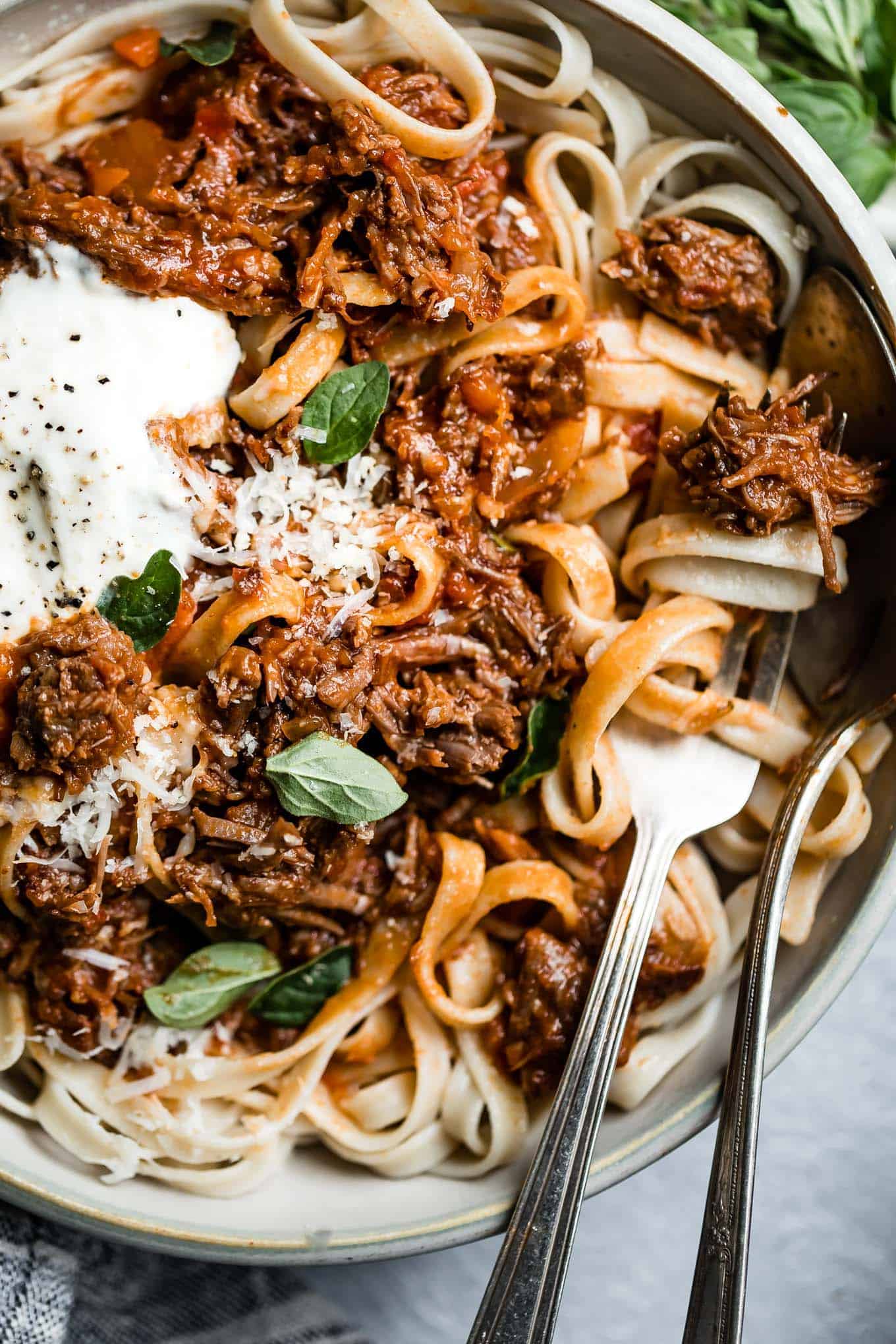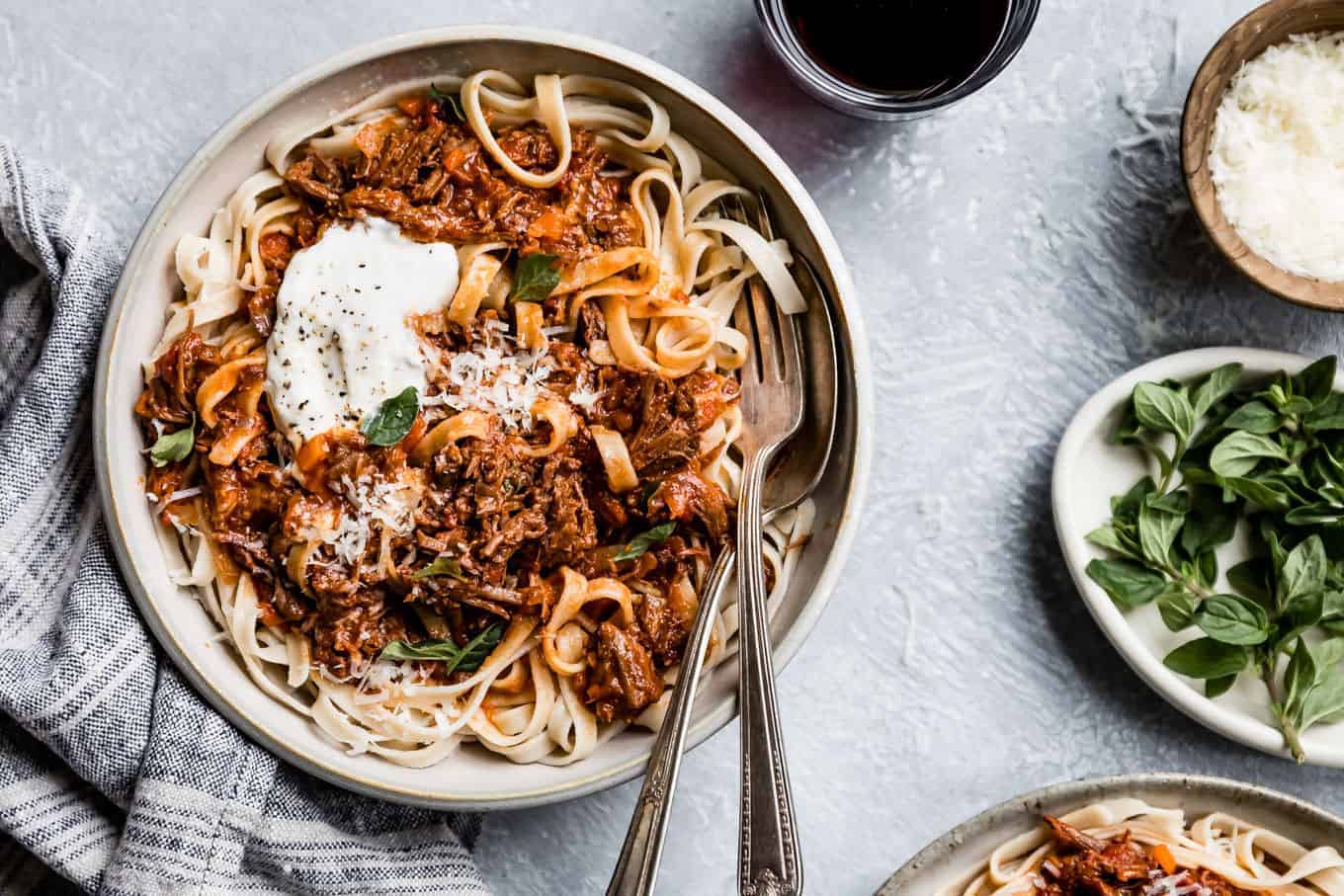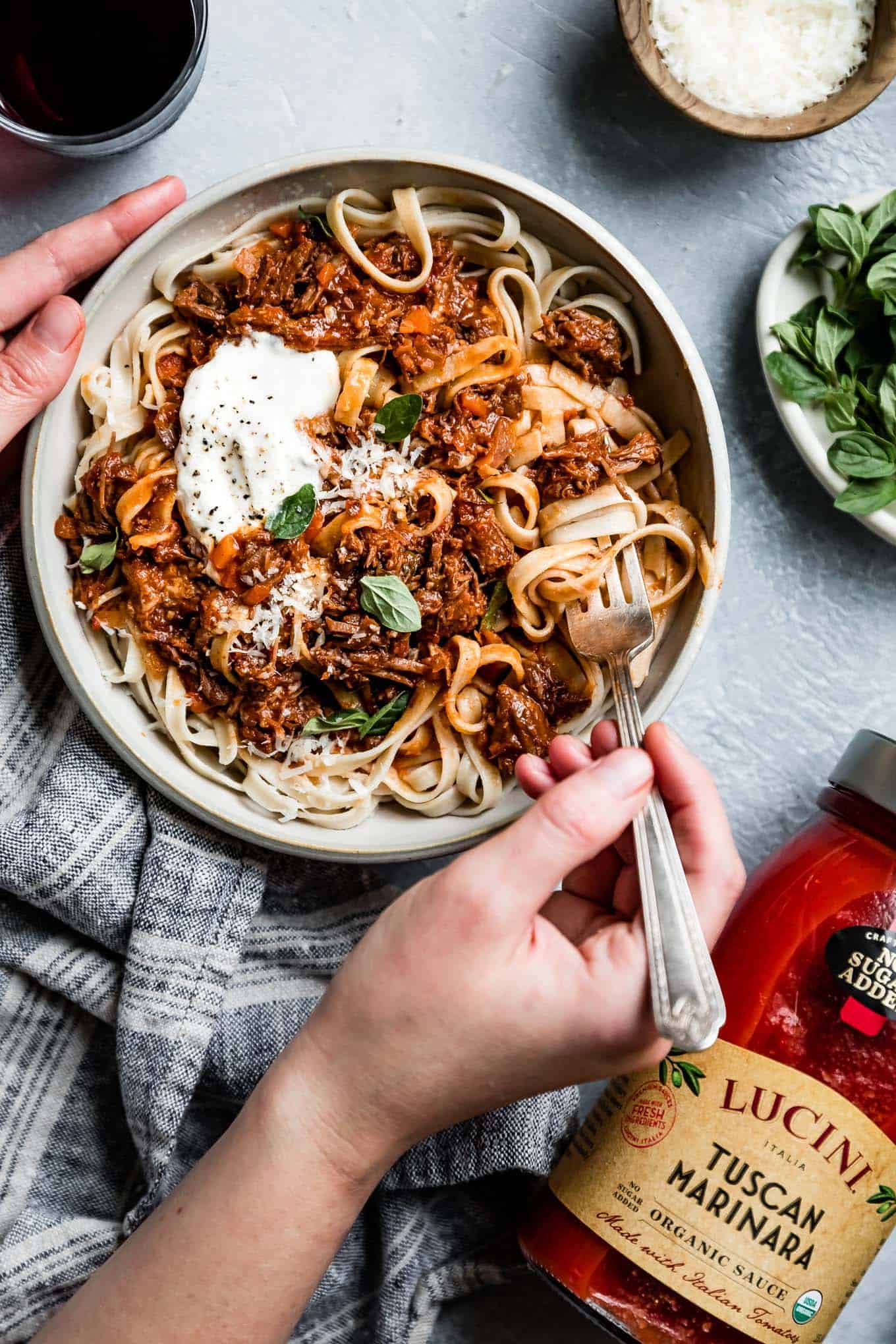 What is Ragu Sauce?
Typically, Italian Ragu is a tomato-based sauce made with substantial amounts of either ground or minced beef, pork, or veal, though any meat will do. Regionally, there are variations in the ratios, cuts, and types of meats and tomatoes used in a traditional ragu. Some have very little tomato while others insist you use ground meat.
This version uses a chuck roast stewed with a soffrito (in my case, onions, garlic, and carrots because the celery is in the sauce already), and plenty of tomato sauce. As such, this Instant Pot beef ragu is not necessarily classic to a particular region or style, but nonetheless, it's cozy and delicious.
Instant Pot Meat Sauce
When I went out to dinner last week, I left a pot of this beef ragu with pasta for Zoella and Lucas. Zoella really didn't want me to leave that night, so I checked in on them a soon after I left. Lucas texted back, "We're eating dinner. She just said, 'I'm not missing mama right now.'" Ouch, but I'm glad this beef ragu wields that kind of power over a toddler.
Disclosure: Special thanks to Lucini Italia for providing the ingredients for this recipe and sponsoring this post! And thanks to you for supporting the companies that keep Snixy Kitchen cooking!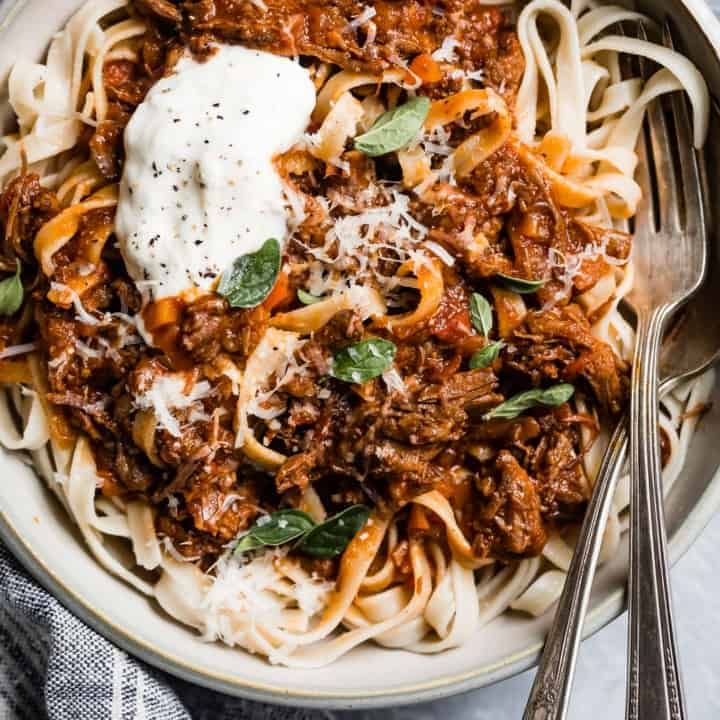 Weeknight Instant Pot Beef Ragu
Additional Time:
14 minutes
Total Time:
1 hour
9 minutes
This quick and easy weeknight Instant Pot beef ragu is made using a jar of marinara to develop rich flavors. Pot roast shreds into a comforting pasta sauce that tastes like it took hours to make! Serve over pasta, polenta, or even a baked potato.
Ingredients
2-2½ lbs beef chuck, cut into 2-3 inch cubes
2 tablespoons vegetable oil
3 cloves garlic, minced
1 small onion, finely chopped
1 medium carrot, diced
½ cup red wine
25.5oz jar Lucini organic tomato sauce (I recommend Lucini's Organic Tuscan Marinara or Spicy Tuscan - both of these are well-seasoned!)
2 bay leaves
¼ teaspoon kosher salt
¼ teaspoon pepper
For serving
1lb cooked pasta, such as penne or pappardelle (gluten-free if needed)
Freshly grated parmesan cheese
Buratta
Fresh oregano
Instructions
Turn your pressure cooker or Instant Pot to "sauté" setting and adjust the temperature to "more." Heat 1 tablespoon vegetable oil. Once hot, brown the beef on all sides, working in batches if needed, for 2 minutes per side. Transfer meat to a plate.
Add the remaining tablespoon of vegetable oil and adjust temperature to "normal." Add the onion, carrot, and garlic, and cook, stirring, until soft and beginning to turn translucent, about 3-4 minutes. Add the red wine and scrape up any brown bits from the bottom of the pot.
Add the tomato sauce, bay leaves, salt, and pepper. Clean the jar of the sauce out with ¼ cup of water and add that to the pot as well. Give it a good stir then nestle the beef back into the pot so it's fully submerged in the sauce.
Place the lid on the pressure cooker and set the pressure release valve to the steaming position. Set the pressure to "high" pressure for 50 minutes.
With a kitchen towel to avoid splatter, carefully move the pressure release valve to venting position for a manual pressure release. Once the float valve has gone down, open the lid. Set the Instant Pot to "sauté" on "normal" temperature while you shred the beef and let cook for about 10 minutes to thicken up, as desired. Taste and adjust seasoning as desired.
Spoon over cooked pasta and serve with parmesan cheese, burrata, and or fresh oregano.