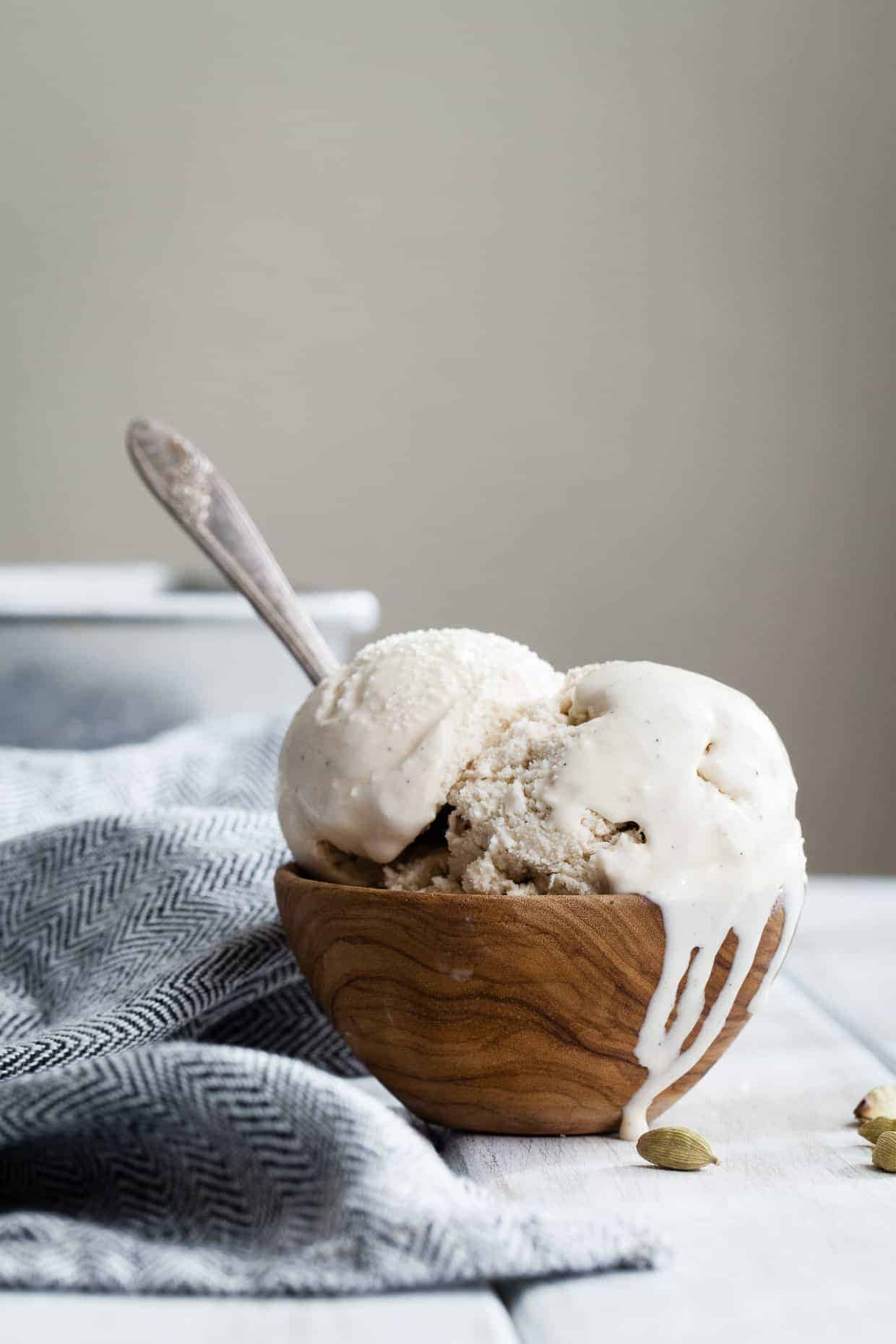 Let's dig in to the second half of the Mulled Pomegranate Cider Poached Pears with Vegan Cardamom Ice Cream & Candied Pecans recipe I started last week: the vegan cardamom ice cream. Ultra-cardamom-y ice cream in all its glory - the stuff spicy dreams are made of.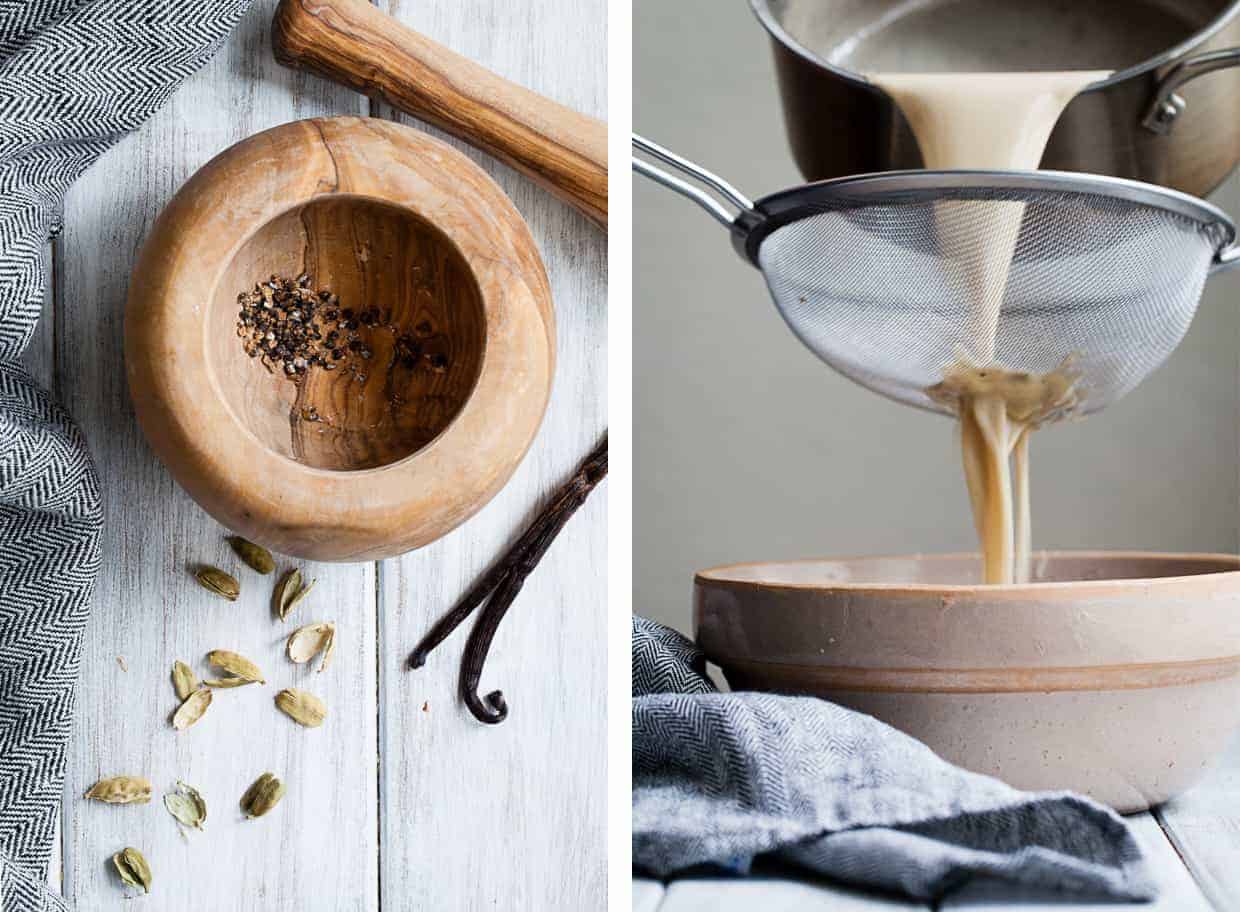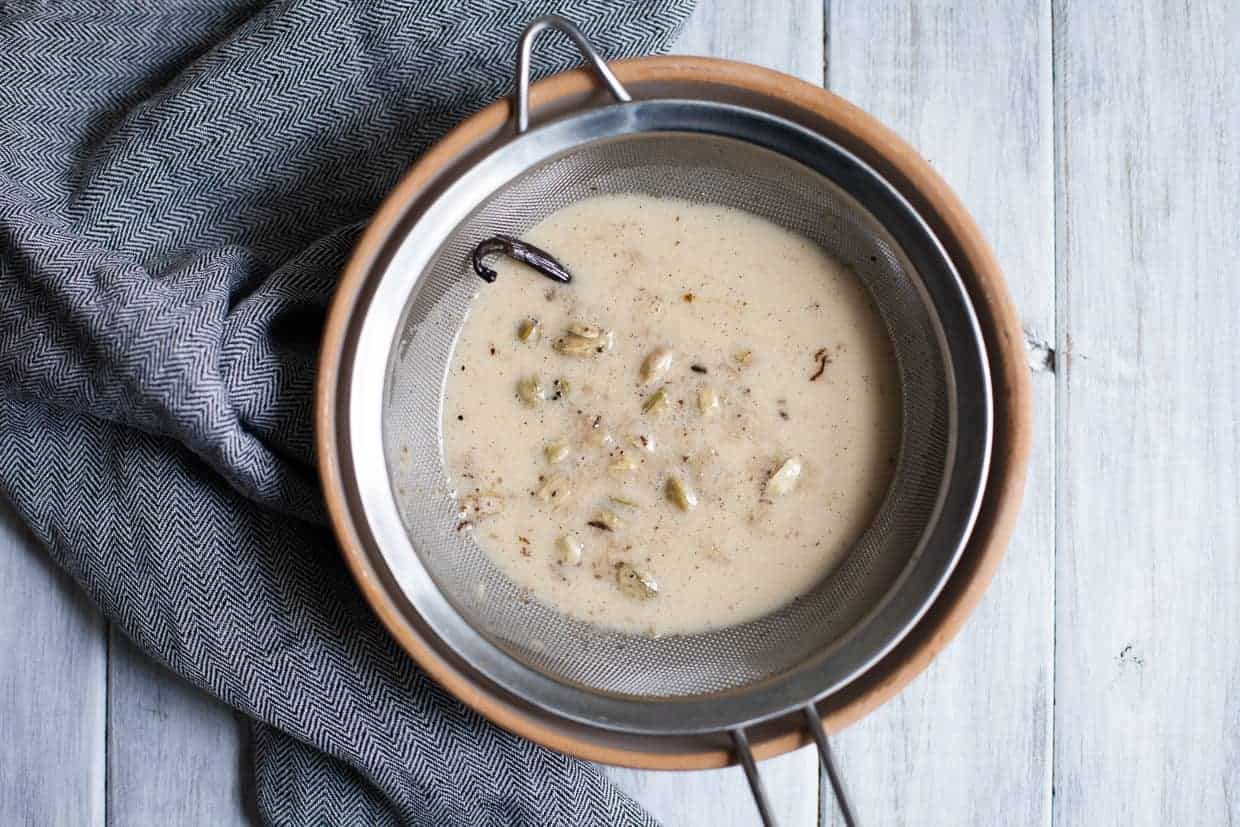 But first, an update on last week's Christmas tree-climbing cats: the soft bird ornament has been knocked from high up off the tree every day and we've had (only) one glass casualty - my beloved hippo. There are a few broken branches and the bottom now bares no ornaments, but the tree is still standing - SUCCESS!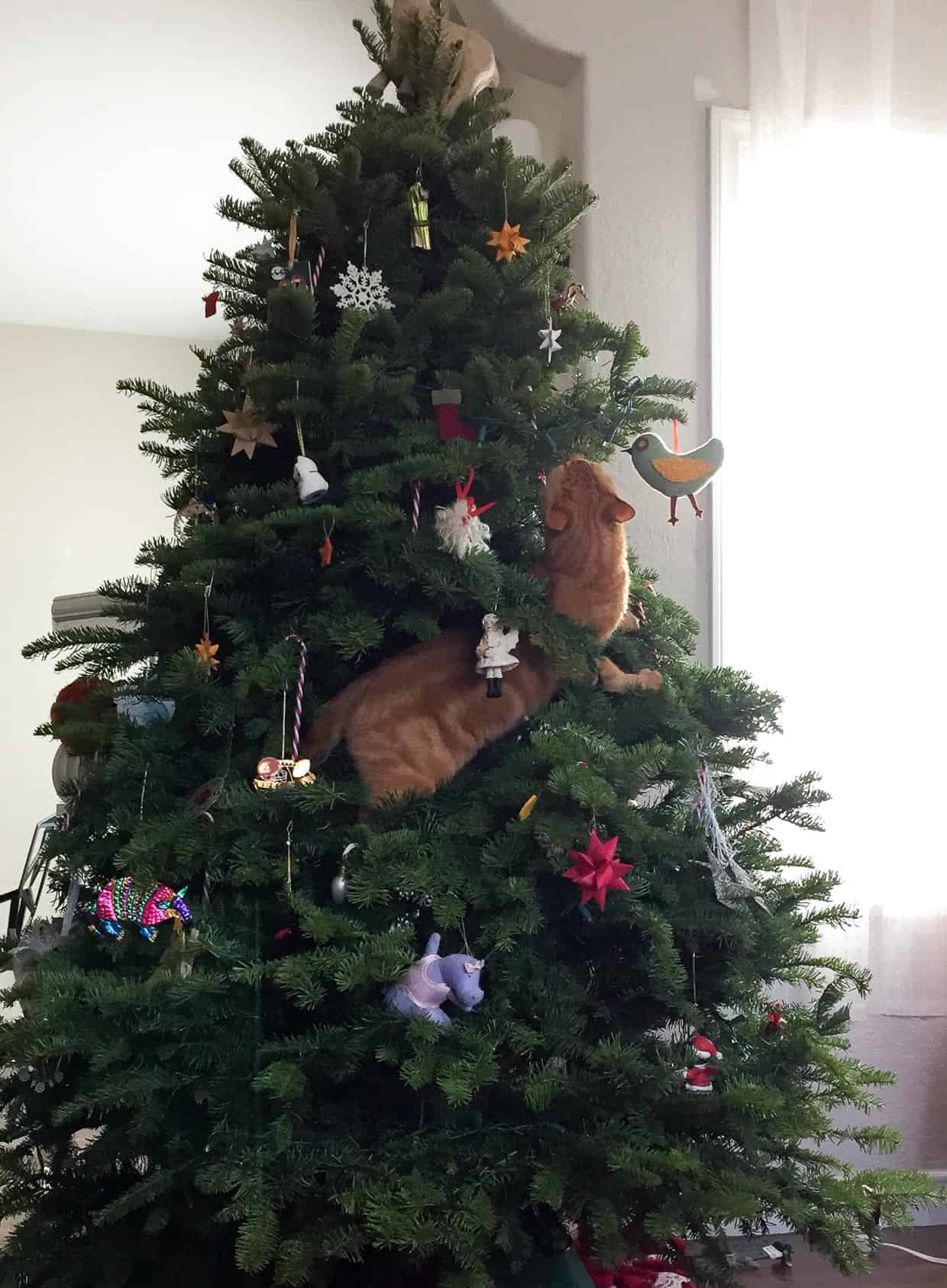 Since the cats decided to try their darndest to prepare us for parenthood, we thought the only fair payback was to practice parenthood on them.
Joke's on us though because it turns out the baby carrier is quite comfortable for a cat. So cozy that the orange guy nearly FELL ASLEEP.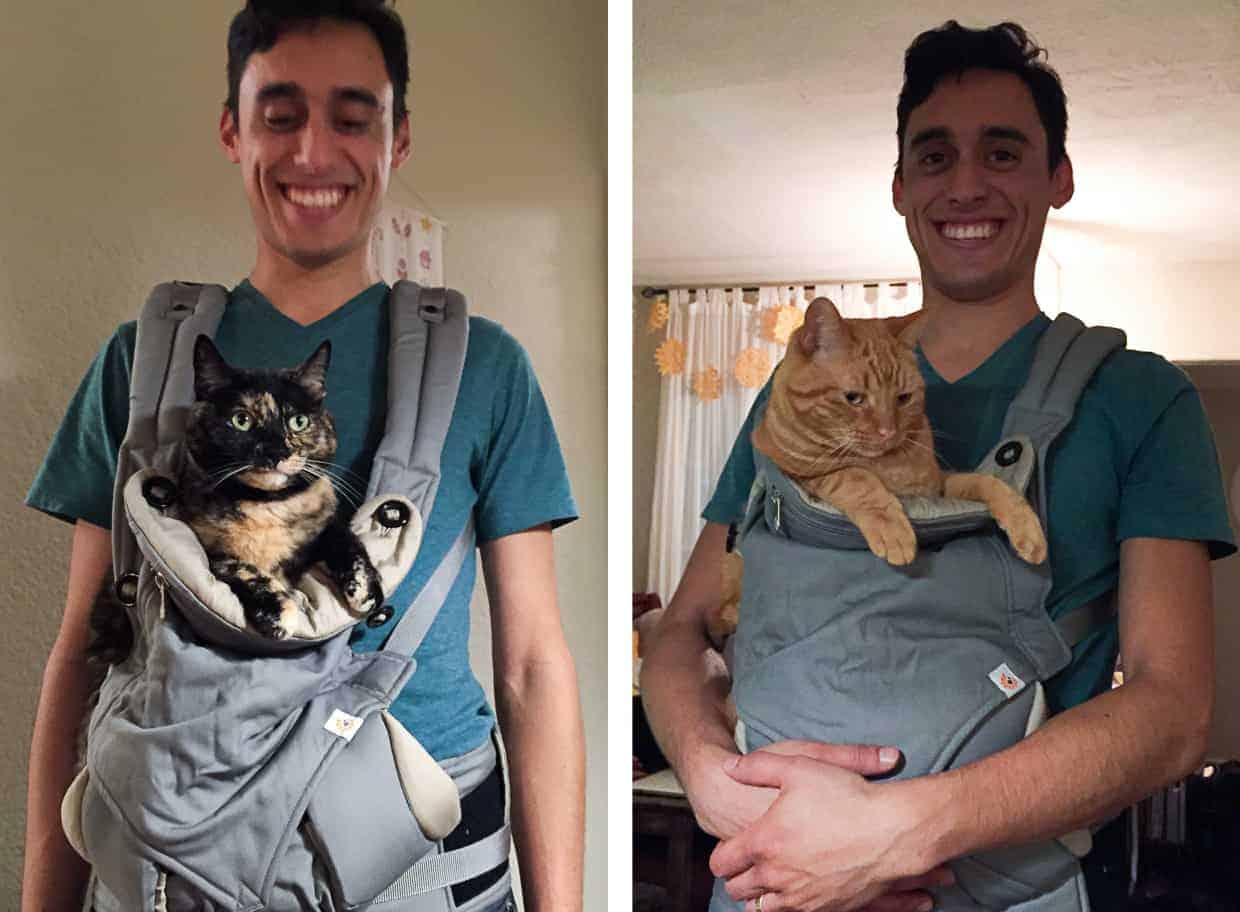 This actually happened while we scooped up this vegan cardamom ice cream for dinner guests (with mulled pomegranate cider poached pears - duh). As impressive as a sleeping cat in a baby carrier is, this cardamom ice cream still stole the show. Chuy told me he'd believe me if I told him this was non-vegan ice cream from our favorite fancy ice cream shop. For a friend who's always been a hard food critic, this compliment speaks volumes.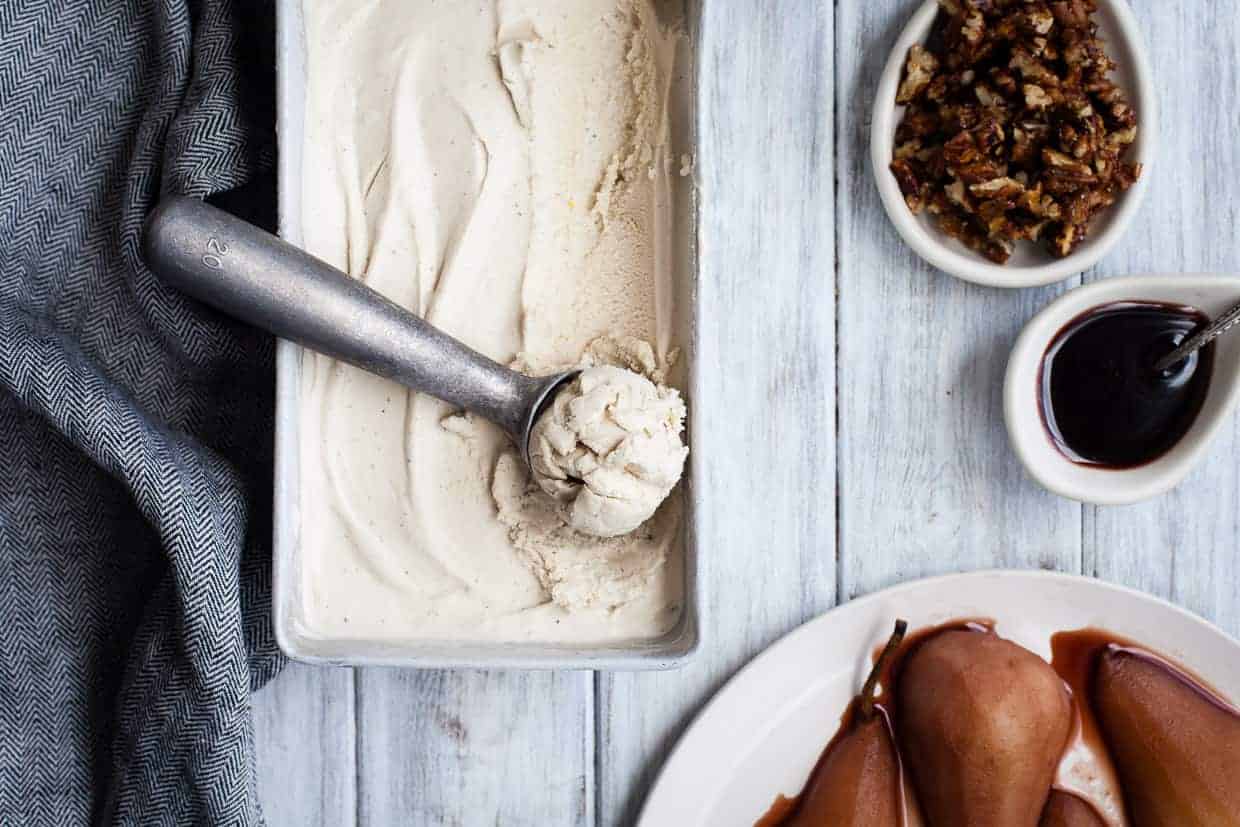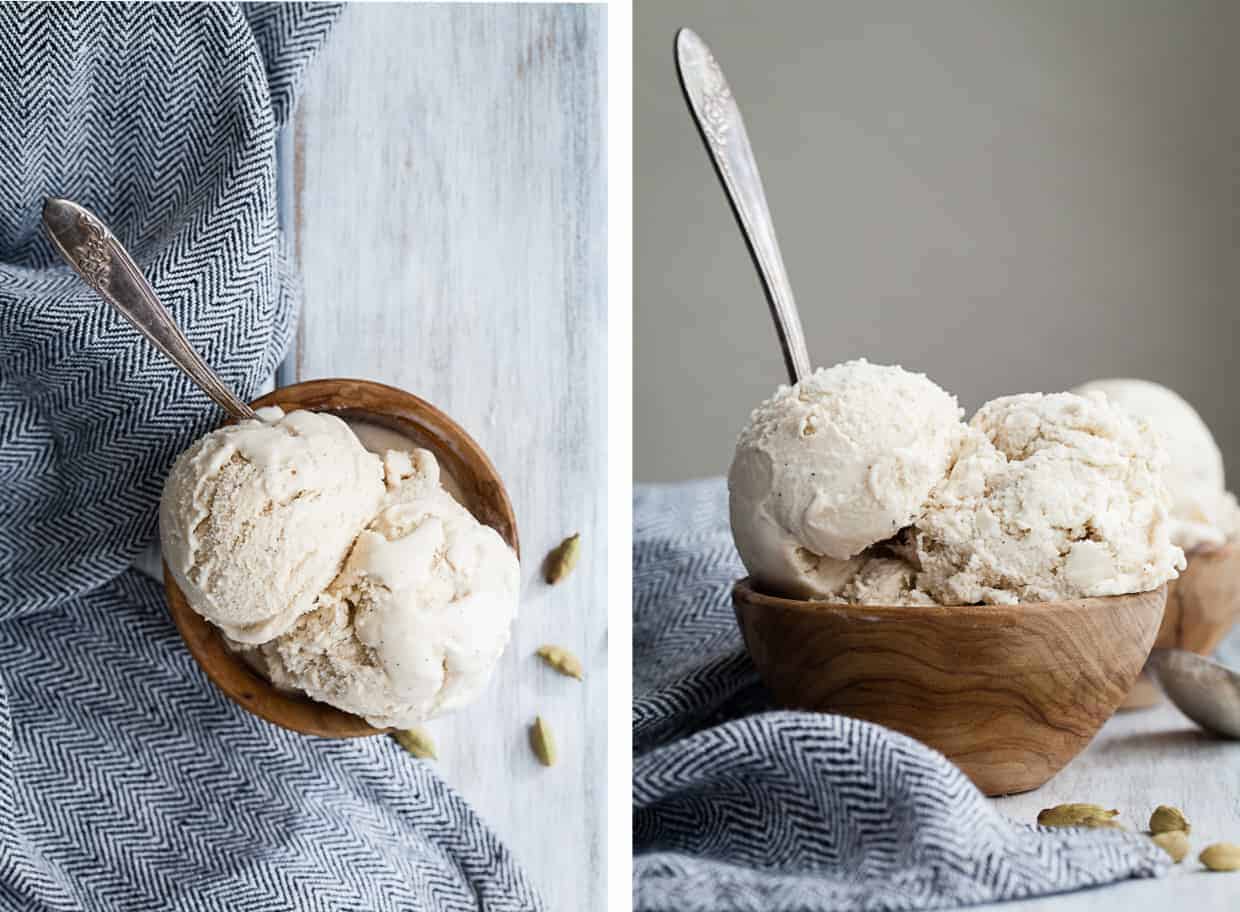 Freshly ground cardamom is an assertive aromatic spice that can often overpower your palate, but when infused into a freezing cold velvety ice cream, it packs just the right punch. Steeping the base with fresh vanilla beans enhances cardamom's floral notes. Cardamom serenades your tastebuds with every bite, masking any hint that the base of this ice cream is all coconut cream and milk.
Beyond just taste, the few tablespoons of sorghum molasses turn the texture extra creamy and luscious in a way so rare for vegan ice cream.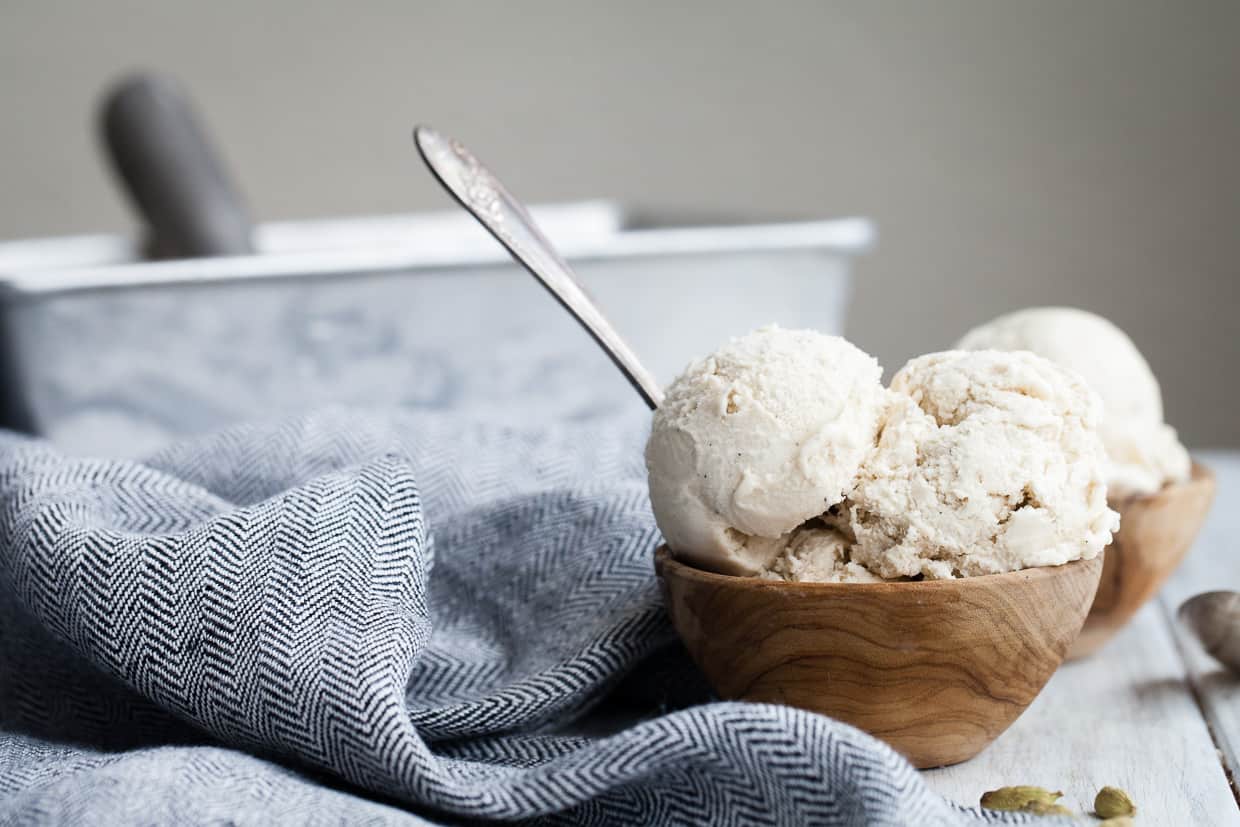 This ice cream is bold enough to be served in scoops alone, but just as easily steps back to serve as a subtle creamy break for mulled pomegranate cider poached pears. A pairing that I very much recommend, especially because both recipes require so little hands-on time with such an elegant payoff.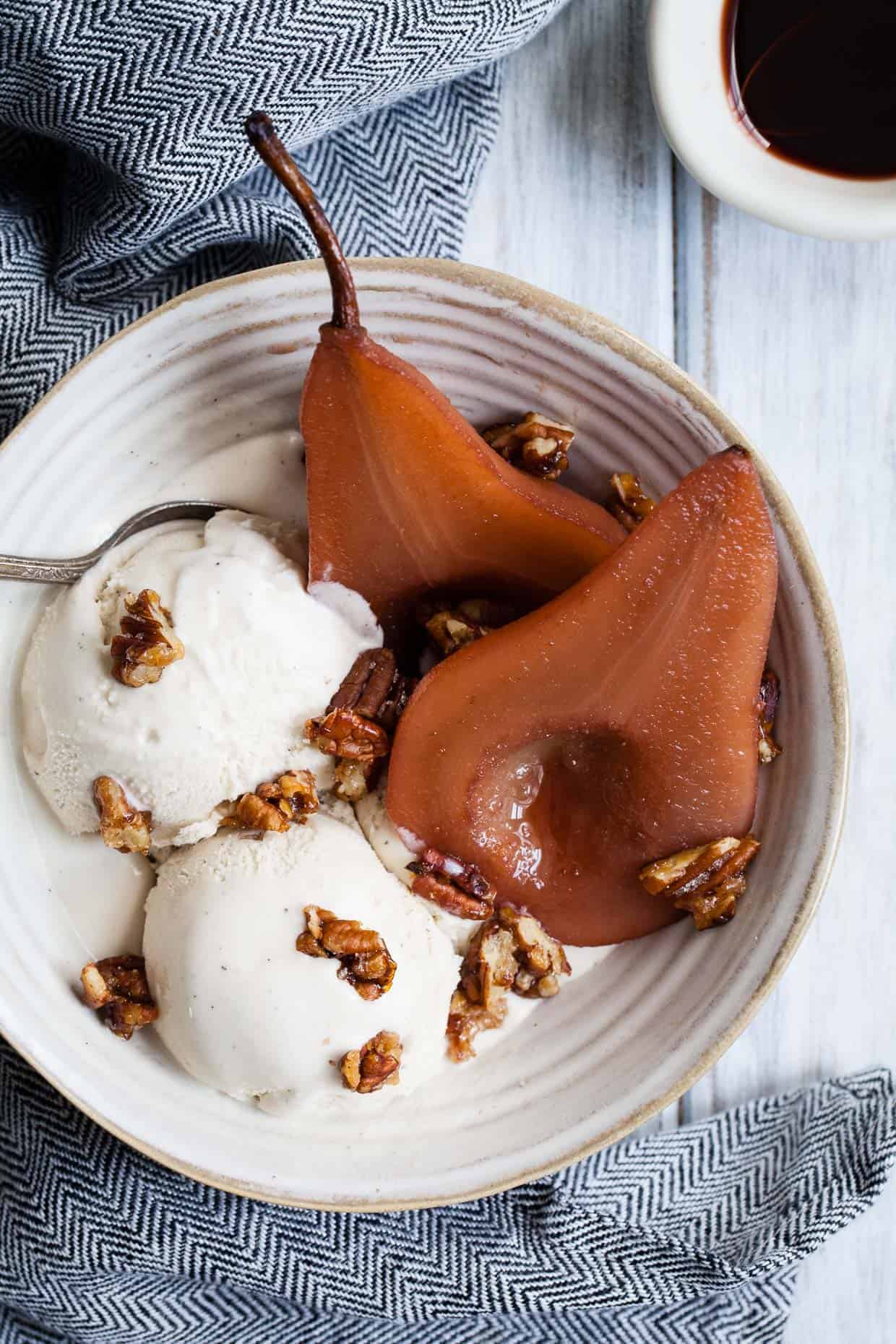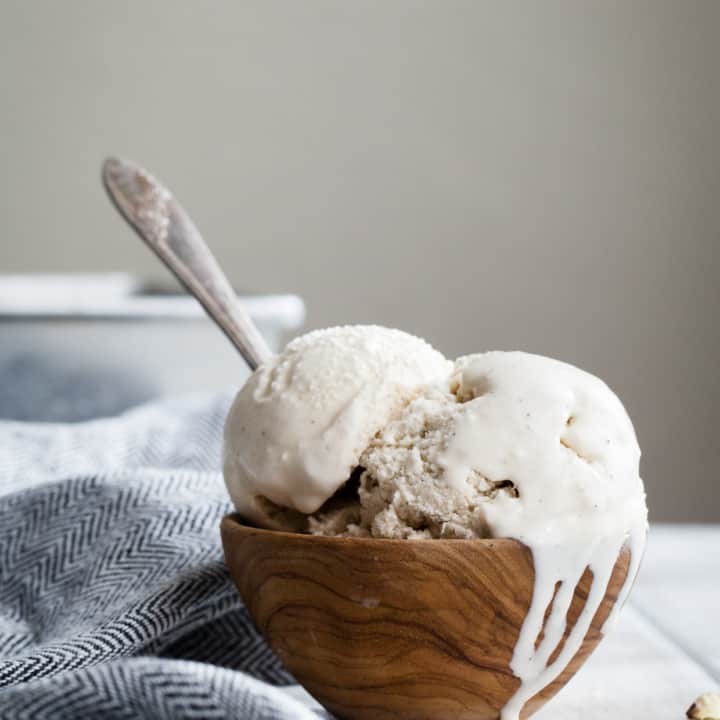 Vegan Cardamom Ice Cream
Instructions
Split the cardamom pods open and grind the seeds, reserving the pods (I grind mine in a coffee grinder, but you can also grind them by hand)
Warm coconut cream, coconut milk, sugar, corn syrup, coconut oil, ground cardamom seeds and cardamom pods, vanilla bean seeds and pod, and salt in a medium pot over medium heat, stirring occasionally. When the cream begins to simmer, remove the pot from heat. Cover and let the mixture steep for 20-30 minutes. Strain the cream through a fine mesh sieve, pressing to keep all the vanilla and cardamom seeds in the cream.
Meanwhile, prepare an ice bath by filling a large bowl with ice cubes and water.
Pour the cream base into a large 1-gallon Ziploc bag. Seal it and submerge the mixture in the ice bath until cold, about 30 minutes. (You can also skip this step by refrigerating until the mixture is cold, about 4 hours).
Pour the ice cream base into the bowl of your pre-frozen ice cream maker. Follow the directions on your ice cream maker to churn the base into ice cream, until it is the consistency of soft-serve, about 15-18 minutes.
Pack the ice cream into an air-tight storage container or a metal loaf pan, pressing a sheet of parchment paper directly against the ice cream.
Freeze until firm, at least 4 hours, but preferably overnight.
Notes
I do not recommend using the coconut cream from Trader Joe's as they seem to have updated their supplier and the new consistency is a bit oily.