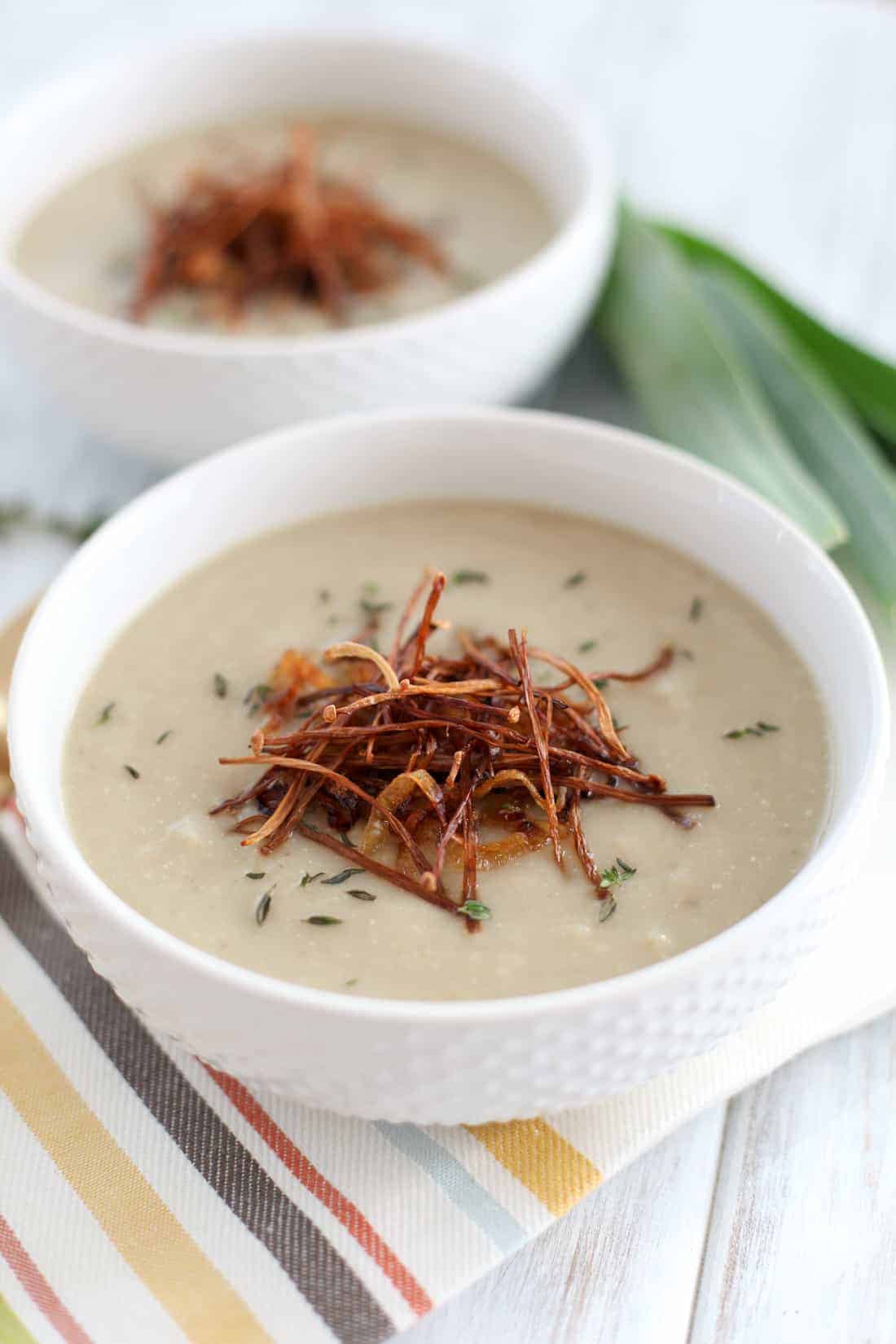 My husband will freely tell you that my obsession with bowls is getting out of hand. What used to be an enthusiasm for teeny tiny dishes now extends to bowls of all sizes. In my opinion, as long as each bowl has a specific place on the shelf and I can tell you where that place is, we're in safe territory. A bowl collector, not a bowl hoarder. Just like different outfits dress you up for specific occasions, a bowl can change the mood of the dish it holds. When my mom let me raid her bowl cupboards a few weeks ago, I learned that I come from a long-line bowl collectors; my shelf now holds a stack of bowls I inherited from my late grandmother and great grandmother. Nestled among them are these beauties. When I saw this textured white bowl on The Gouda Life, I had to know where she got it, and promptly ran right out to Target to snatch up the last two on the shelf. While this bowl doesn't have quite as rich a history, it's the perfect outfit for this clean yet playful sunchoke soup topped with caramelized shallots and enoki mushrooms.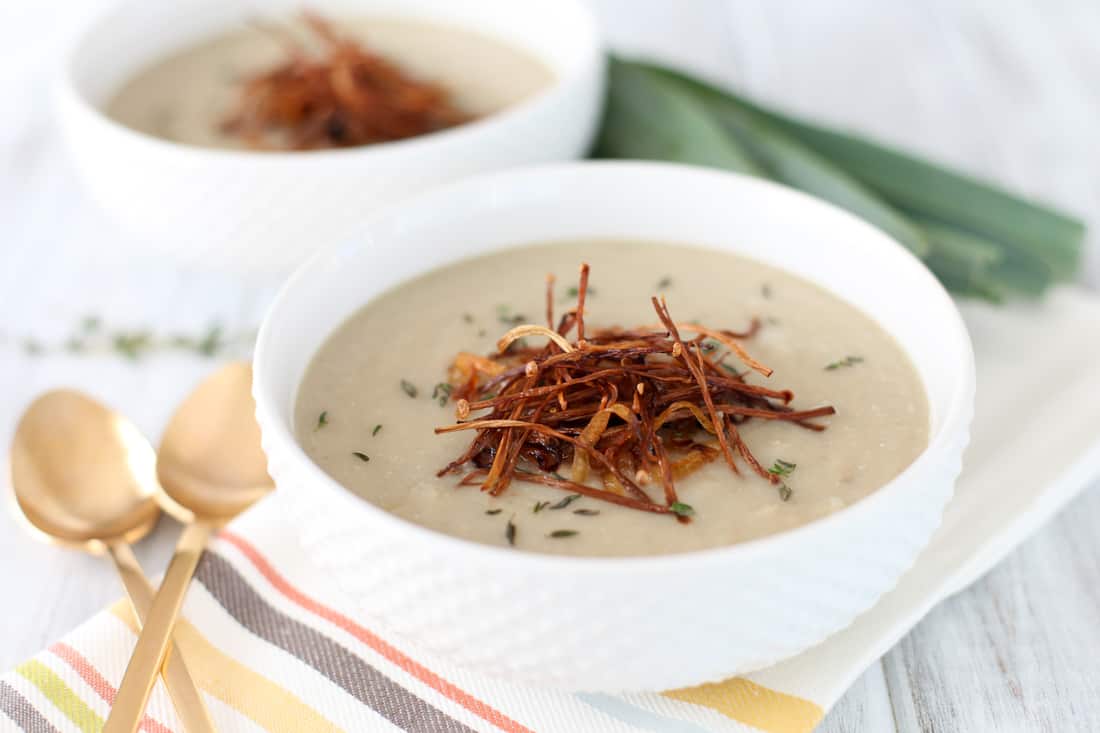 I spent all last week (and most of the weekend) gorging on sugary Valentine's Day sweets. I figured if you're anything like me, you could use a hearty soup to get your digestion back on track. Despite their unassuming appearance, sunchokes are packed with health benefits. As I filled my basket with sunchokes at the produce market, the gal beside me scrunched up nose a little bit and asked, "what are those?" These? These ugly little vegetables strengthen your immune system, remove toxins from your body, and are an excellent source of dietary fiber, iron, and potassium. Sunchokes.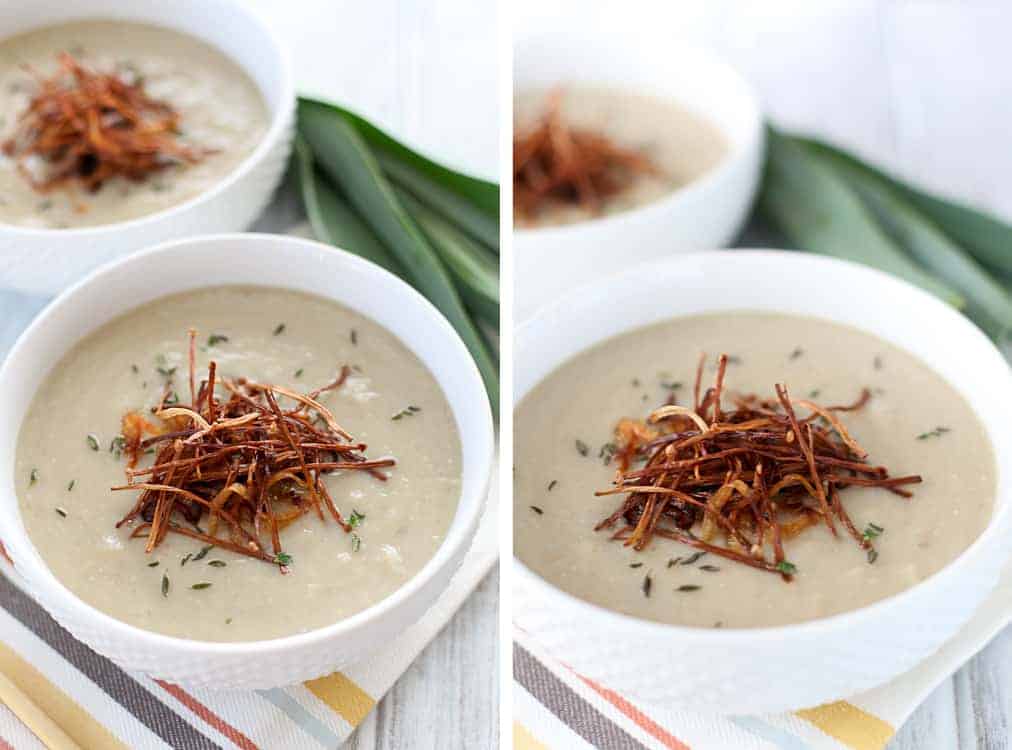 They look like ginger and a russet potato had a baby, and they share a flavor profile with one of my favorites - the artichoke. And, even though they're often referred to as Jerusalem artichokes (for reasons contested), they are not actually a type of artichoke at all. In fact, sunchokes are a species of sunflower! Although I don't think it'd have the same effect if you handed your love a bouquet of sunchokes. Well, maybe if you wrote out a recipe for sunchoke soup to go along with it.
Better yet, make the soup - I'd accept a bowl of sunchoke soup over a bouquet of sunflowers any day. Your first bite tastes like a creamy artichoke heart, and every bite after add more layers. This is not a one-note soup. The caramelized shallots offer a sweet break, while the enoki mushrooms on top add a savory roasted crunch. Let me pause to say, I love enoki mushrooms...but, until now, I've never eaten them roasted 'til crispy before. Now I love them even more. When roasted, these tall skinny mushrooms taste like salty shoestring fries...except there's no salt and they aren't fried - they're mushrooms! They pair perfectly with this soup, but even if you're not in the mood for soup, you should make these mushroom "fries" as a healthy snack - they'll blow your mind.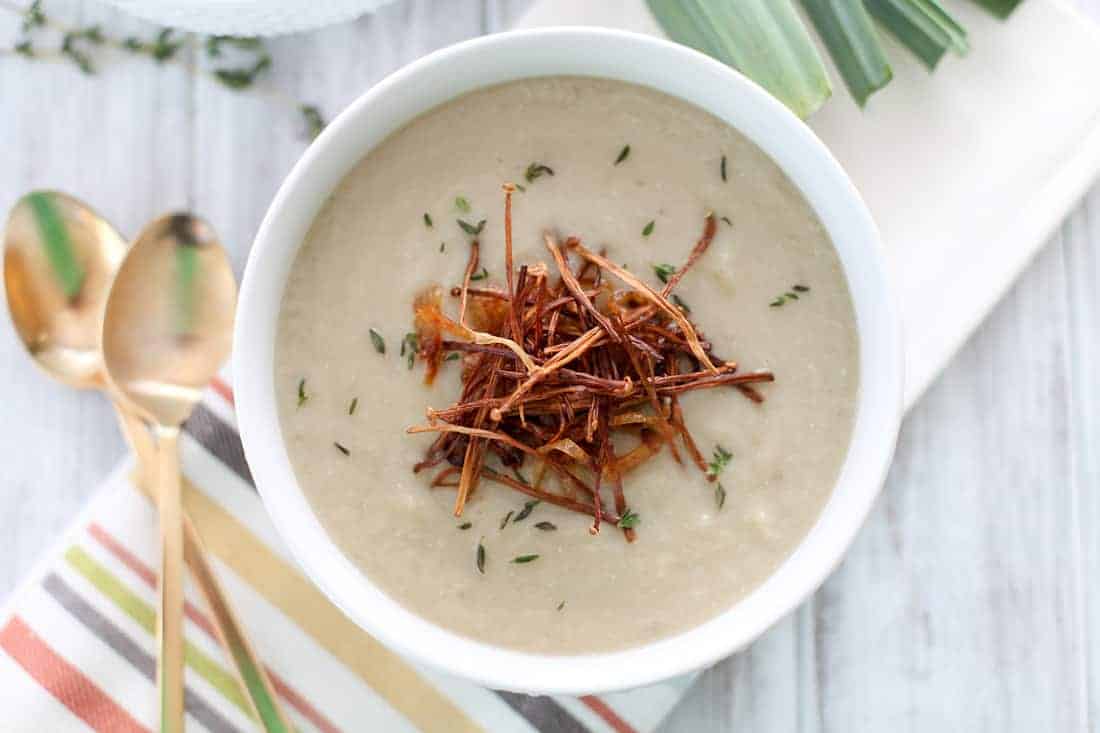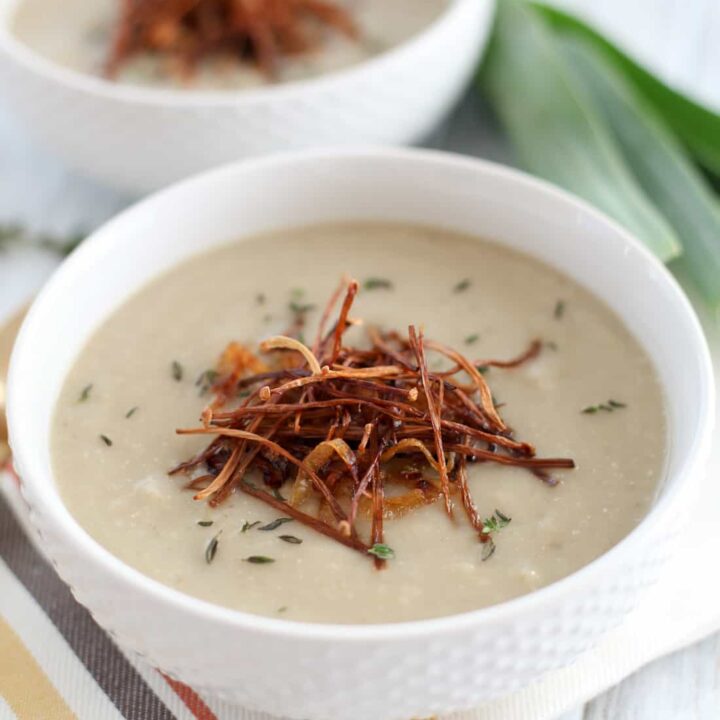 Sunchoke soup with caramelized shallots and roasted enoki mushrooms
Yield:
4 main course servings
Ingredients
Crispy Roasted Enoki Mushrooms
1 bunch of enoki mushrooms (7oz package)
1 tablespoon olive oil
Caramelized Shallots
3 cups sliced shallots (about 4-5 shallots)
2 tablespoons coconut oil
1 tablespoon olive oil
Sunchoke soup
3½ lbs sunchokes, peeled* and chopped into ½-inch pieces (*Like with potatoes, you don't have to peel them, but your soup will just turn out a bit gray. The peel actually adds nutrients though!)
1 large leek, white part only, coarsely sliced
1 large yellow onion, peeled and coarsely sliced
5 cloves garlic, peeled
1 tablespoon extra virgin olive oil
4 cups vegetable or chicken broth
4 cups unsweetened almond milk
1 teaspoon salt
1 teaspoon fresh thyme leaves
Instructions
Crispy Roasted Enoki Mushrooms
Preheat the oven to 325ºF.
Toss the enoki mushrooms in olive oil and spread them out in a thin layer on a parchment-lined baking sheet (make sure they aren't overlapping very much or they will steam instead of getting crispy).
Bake for 15 minutes and then rotate the baking sheet. Cook for another 20 minutes until golden brown and crispy. (Sometimes I cook them for a bit longer, so if yours still don't seem crispy after this much time, give them a couple more minutes).
These can be made ahead of time and stored for up to a week in an airtight container in the refrigerator. I just zapped them in the microwave for 10-15 seconds to reheat.
Caramelized Shallots
Heat the coconut oil and olive oil in a large skillet over medium-low heat.
Add the shallots and reduce heat to low. Continue cooking, stirring only every few minutes, until the shallots have browned and are just a bit crispy. Note: they'll continue to get crispy once removed from the heat.
Set aside.
Sunchoke Soup
Preheat the oven to 375ºF (or use the same preheated oven as the mushrooms and cook for a bit longer).
Toss the sunchokes, leek, onion, and garlic cloves in olive oil and spread out on a parchment-lined baking sheet. Bake (along side the mushrooms) for 20-25 minutes, until the sunchokes are soft when pierced with a fork, stirring occasionally to rotate vegetables.
Meanwhile, caramelize the shallots.
Combine the roasted vegetables, broth, almond milk, and salt in a large heavy-bottomed pot and bring to a boil.
Continue cooking for about 10 minutes, until the sunchokes are easily broken apart when pierced with a fork.
Use an immersion blender or transfer to a food processor to purée the soup until smooth.
Serve in a bowl topped with caramelized shallots, crispy roasted enoki mushrooms, and a sprinkling of fresh thyme leaves.