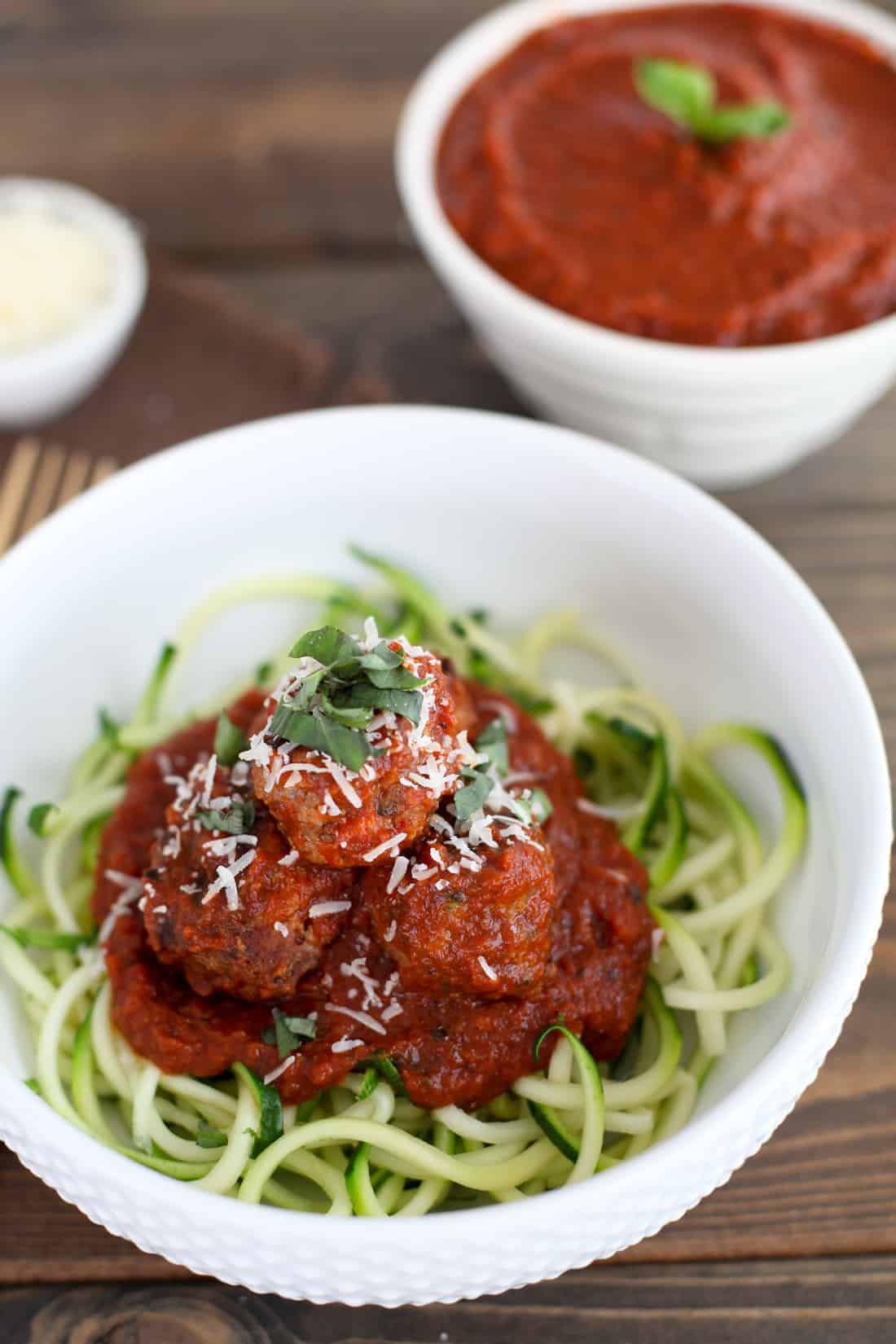 Have you spent a Friday night rolling a couple dozen miniature meatballs? While preparing 10 different healthy meals for the kids lunch box photo shoot for Lucas's new start-up OmieLife, I did just that. I can now add "lunch box food stylist" to my resume. Marble-sized food stylist to be exact - I can confidently say that I've got the skills needed to make meatballs the size of both small marbles and bigger shooter marbles. Most notably, nimble fingers. For the shoot, I made the tiniest ittiest bittiest batch of a scaled-down version of these sun-dried tomato, basil, and mozzarella turkey meatballs. Then I ate them for lunch when we were done taking their picture. Duh.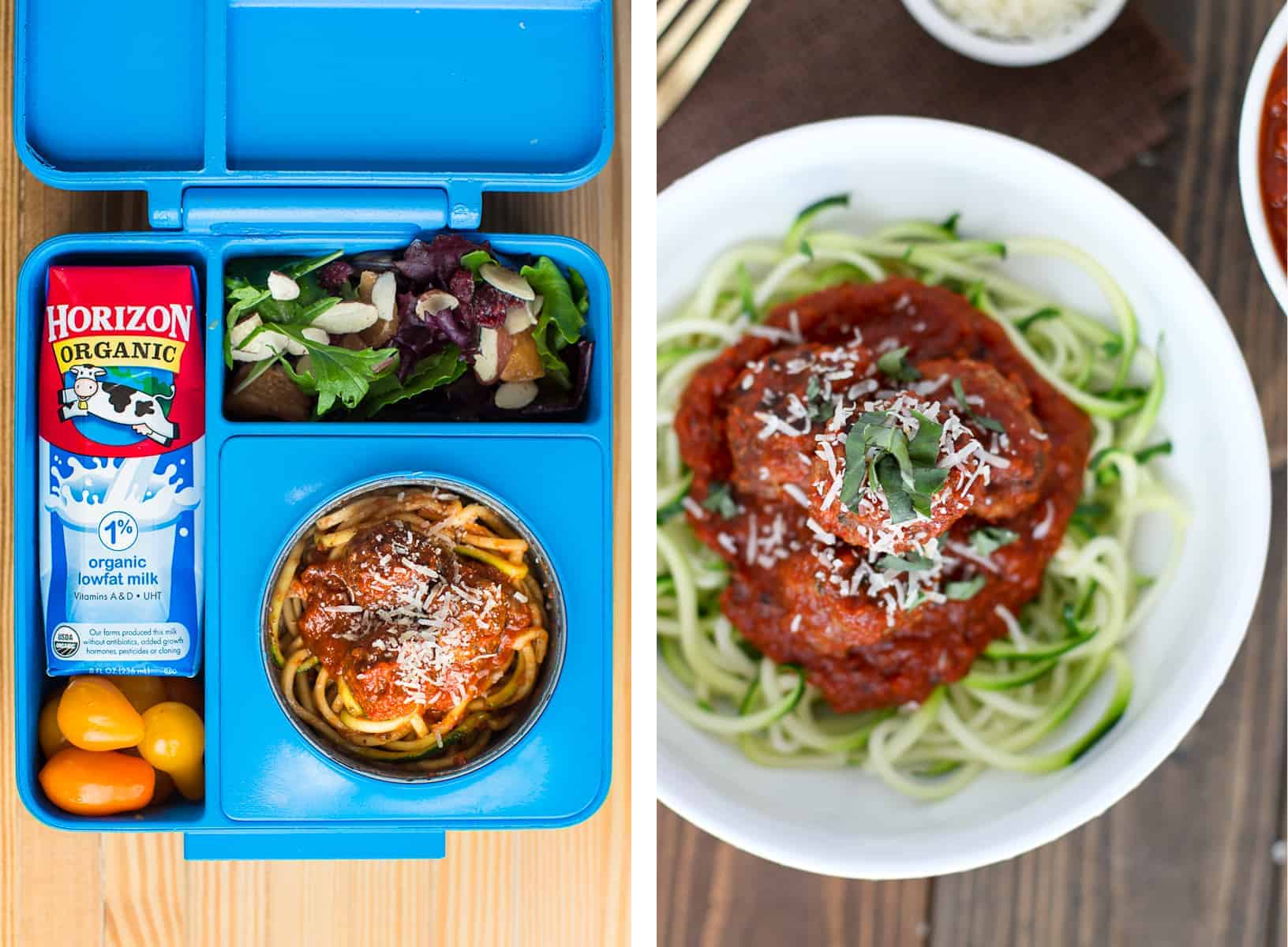 Here's the first ever sneak peek at the OmieBox prototype (photo by Eric Wolfinger). To be the first to know more details, sign up for the OmieLife mailing list here. (Can you tell I'm a proud wife?)
About these meatballs. More often than not, when a recipe calls for ground beef, we grab ground turkey (unless we're making lasagna bolognese - that's sacred space). The problem is that ground turkey, while a much leaner alternative, also lacks the fat that gives it flavor. Turkey meatballs usually have to swim in a pool of rich sauce to mask their dry texture and blandness. Even so, they certainly don't soak up the flavors as well as ground beef. I remember so vividly the night when Lucas and I blindly followed a recipe for a large batch of turkey meatballs that basically tasted like soggy warm cardboard. Tonight's sun-dried tomato, basil, and mozzarella turkey meatballs are about as far on the other end of the flavor spectrum as you can get.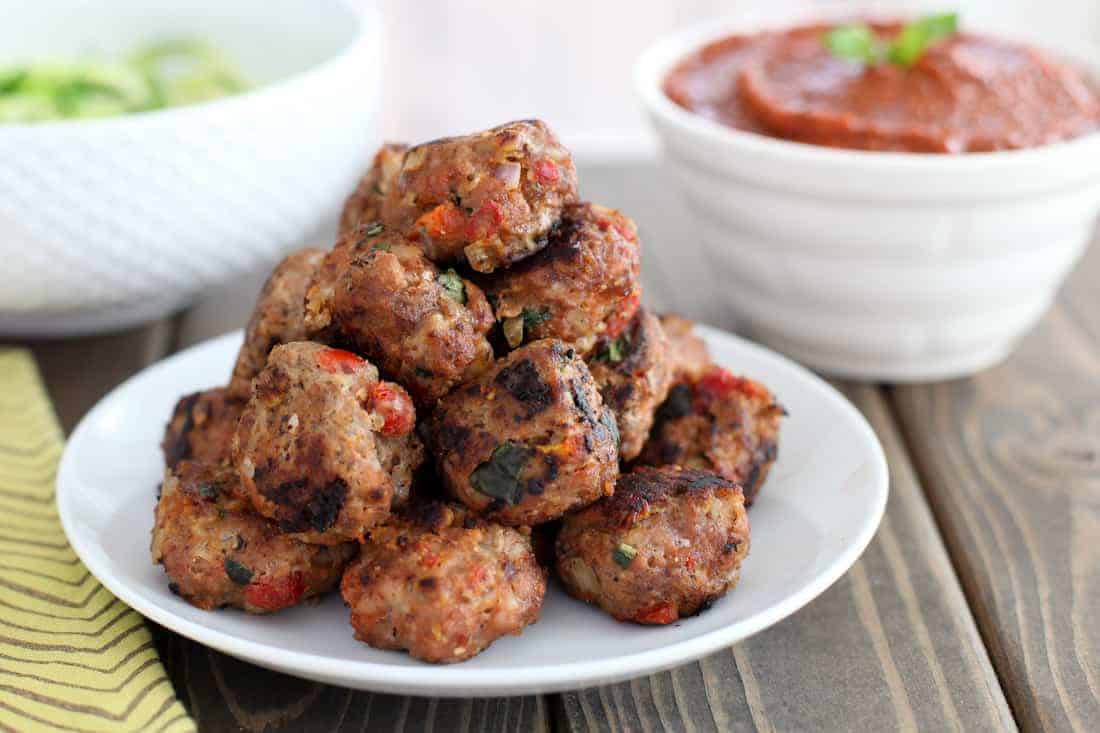 Even though they're small, these meatballs are robust. The mozzarella adds just the right amount of moisture with a bit of salt. You get a bite of sweetness from the shallot and sun-dried tomatoes. A touch of tomato paste rounds out the dark notes that harmonize with the light fresh basil. What's more? They're light and airy, gluten-free, and weigh in at only 44 calories each.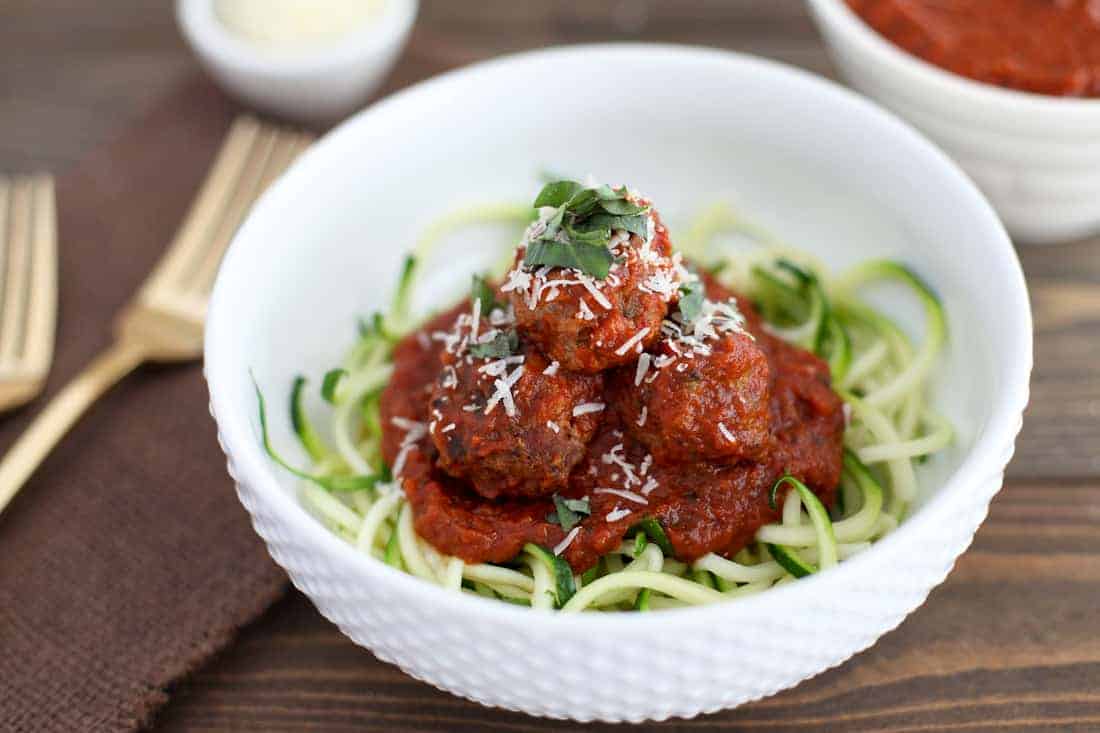 These meatballs can stand on their own - they don't need sauce. Drop a toothpick in them and you've got the perfect party snack. The sauce and zucchini spaghetti are just icing on an already yummy meatball cake. They turn the dish into a well-balanced meal that will impress all of your friends. Are you singing "on top of spaghetti, all covered with cheese, I lost my poor meatball, when somebody sneezed" too? You are now. You're welcome.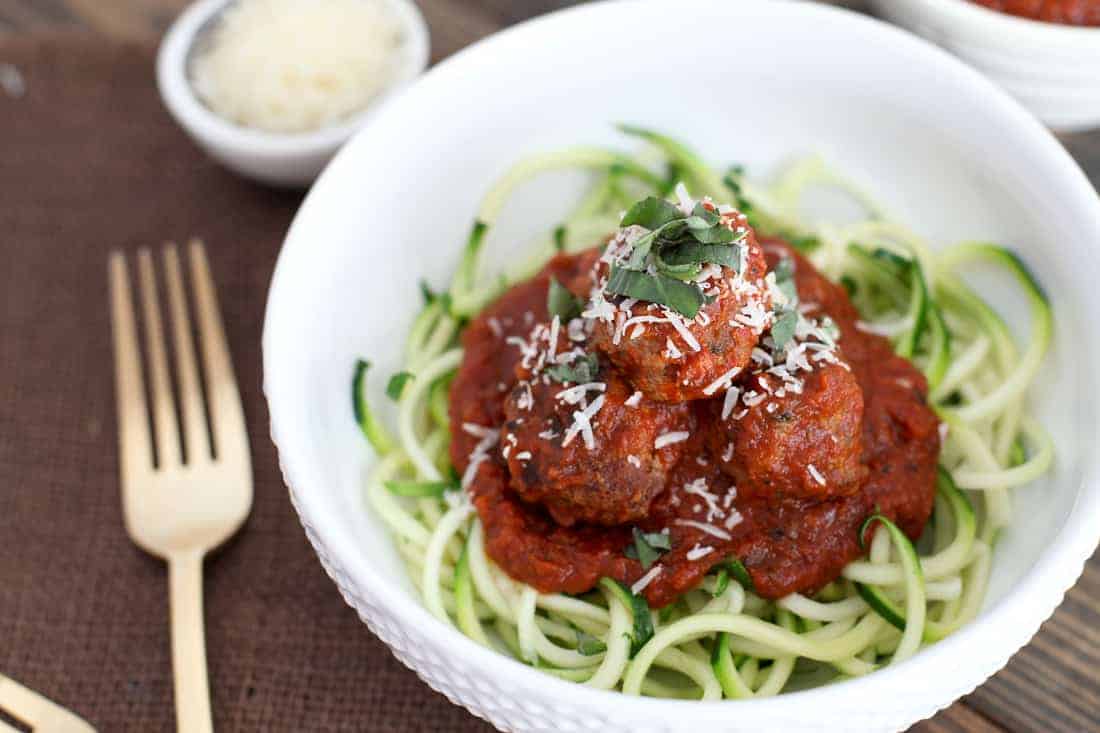 Zucchini noodles are my go-to gluten-free pasta replacement. Here's the part where I tell you again how much I love my spiralizer - you can turn your favorite vegetables into pasta in mere seconds (literally about 30 seconds...). Zucchini noodles are like the blank canvas of spiralized vegetable pastas. Like traditional dough pasta, they soak up the flavors of whatever sauce you toss on top. With these healthified meatballs and a dollop of sweet sun-dried tomato marinara on top, you're eating well tonight.
In other news, it's my last 20-something birthday today and I'm writing this post with a purring kitty on my belly. Life is good. To celebrate, Lucas and Mikey dug a pit and we're going to roast a whole pig in it this weekend. Follow me on instagram to see pictures and updates of our pig roast.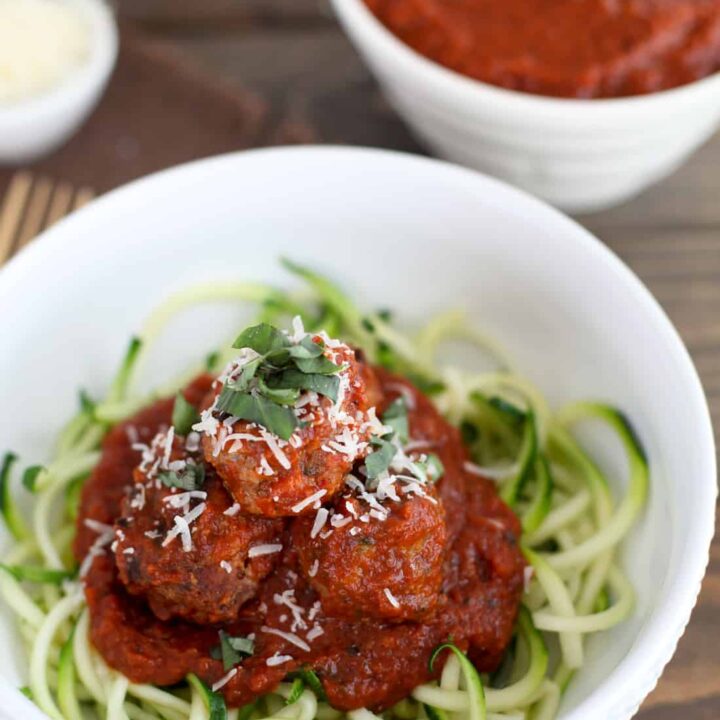 Sun-dried tomato, basil, and mozzarella turkey meatballs with zucchini spaghetti
Yield:
55-60 small 1-1.5" meatballs. Serving size: 6-8 meatballs
Ingredients
Zucchini spaghetti
5-6 medium to large zucchini
¼ cup parmesan cheese, grated, for serving (optional)
2 tablespoons chopped basil, for serving (optional)
Mozzarella Turkey Meatballs
2 pounds ground turkey
1 egg, whisked
½ cup almond flour
2 cloves garlic, minced
¾ cup shredded mozzarella cheese
4 tablespoons sun-dried tomatoes, finely chopped
3 tablespoons chopped fresh basil
1 shallot, diced
2 tablespoons tomato paste
¾ teaspoon salt
½ teaspoon freshly ground black pepper
Olive oil, for frying
Instructions
Zucchini spaghetti
Prepare zucchini : slice off the ends and cut the zucchini in half crosswise. Run the zucchini through the spiralizer on the thin noodle setting, cutting the noodles every 12-15 inches. Set aside while you prepare the meatballs according to the instructions below.
When you're done cooking the meatballs, saute the spiralized zucchini noodles in the same pan for 3-4 minutes, until just soft (you might have to do this in batches depending on the size of your skillet). Divide among serving bowls.
Top the noodles with marinara .
Mozzarella Turkey Meatballs
Combine all of the meatball ingredients except for the olive oil in a large bowl and mix together with your hands until just combined. Be careful not to over work or your meatballs will be tough. with your hands (or a cookie scoop), work the meatballs into small balls about 1"-1½" in diameter and set aside on a platter or baking sheet.
Heat a thin layer of olive oil (about 1-2 tablespoons) in a cast-iron skillet over medium heat. Note: I tested which type of pan worked best for cooking the meatballs. In the non-stick pan, the meatballs burned really quickly; In the stainless steel pan, the meatballs stuck like crazy and broke apart; In the cast-iron skillet, the meatballs browned perfectly without sticking.
Working in batches, add the meatballs to the oiled pan, about ½" apart. Cook for about 2-3 minutes, watching carefully that the meatballs don't burn. Note: the mozzarella might melt out and brown a bit and this is okay. Rotate and cook for another 2-3 minutes. Rotate one more time and cook for another 2-3 minutes, or until the meatballs are browned on the outside and just cooked in the center. Transfer the cooked meatballs to a paper towel lined plate to drain. Add more oil to the pan and repeat until you've cooked all the meatballs.
Serve on toothpicks as a party appetizer or with zucchini noodles and marinara according to the recipe above.