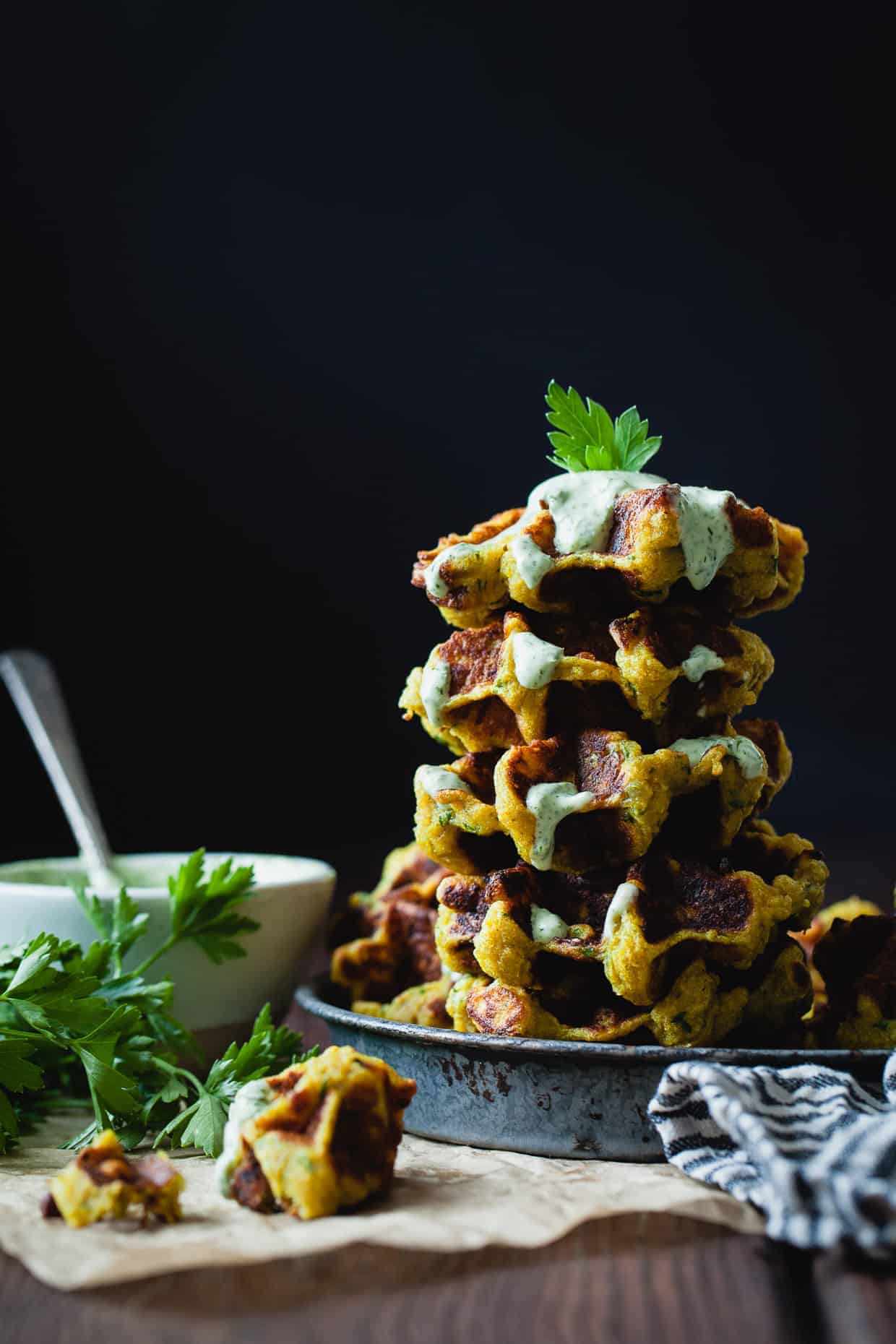 For years we've talked about houses as though we could actually buy them. "We'd totally knock down this wall" or "we'd change the counter tops first thing." Just dreaming, of course, but we could spend hours visually remodeling a house (and we have for our current rental). Finally these daydreams can turn into Pinterest boards because: WE BOUGHT A HOUSE! A stack of spaghetti squash fritters to celebrate! (Cake will come later).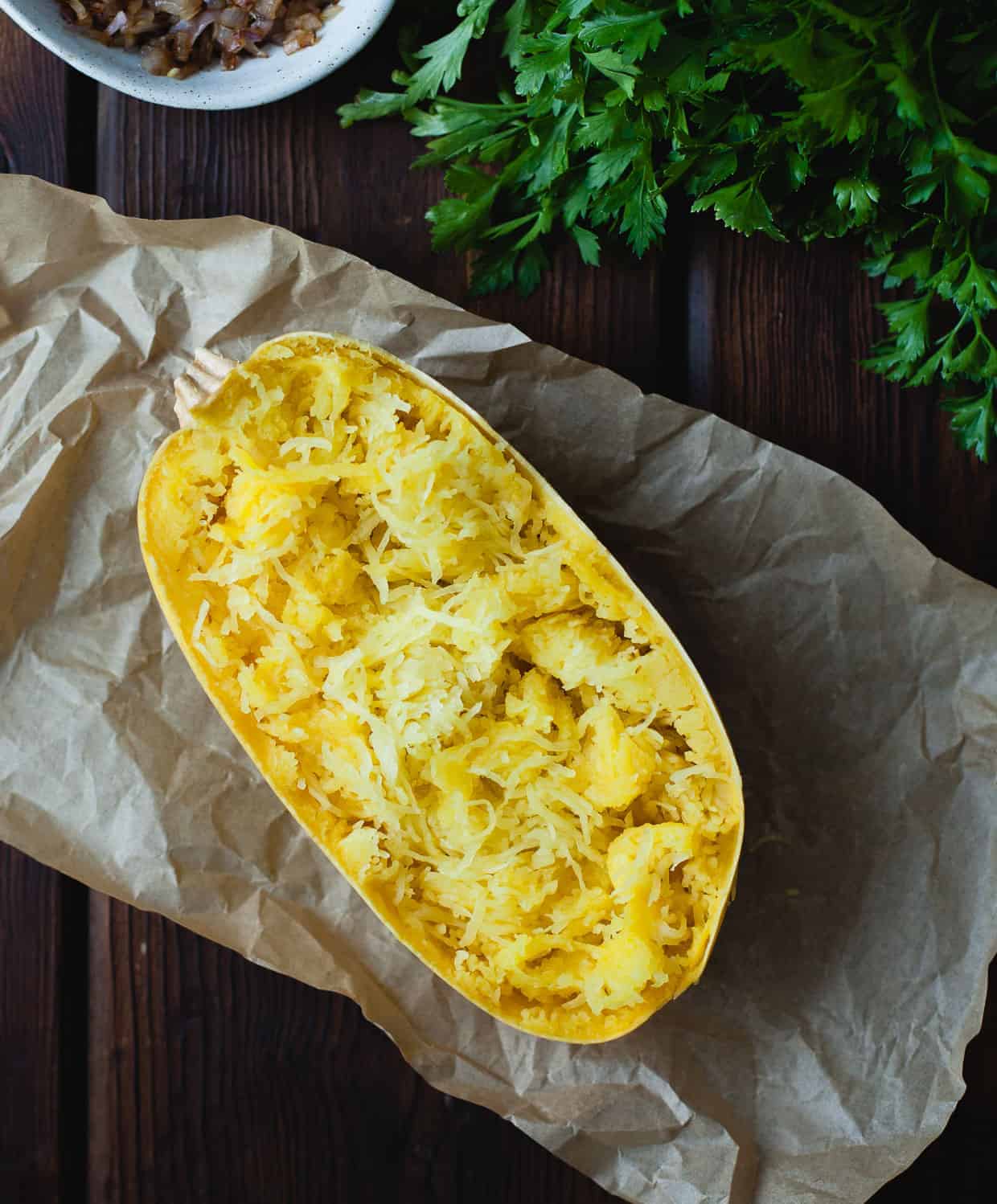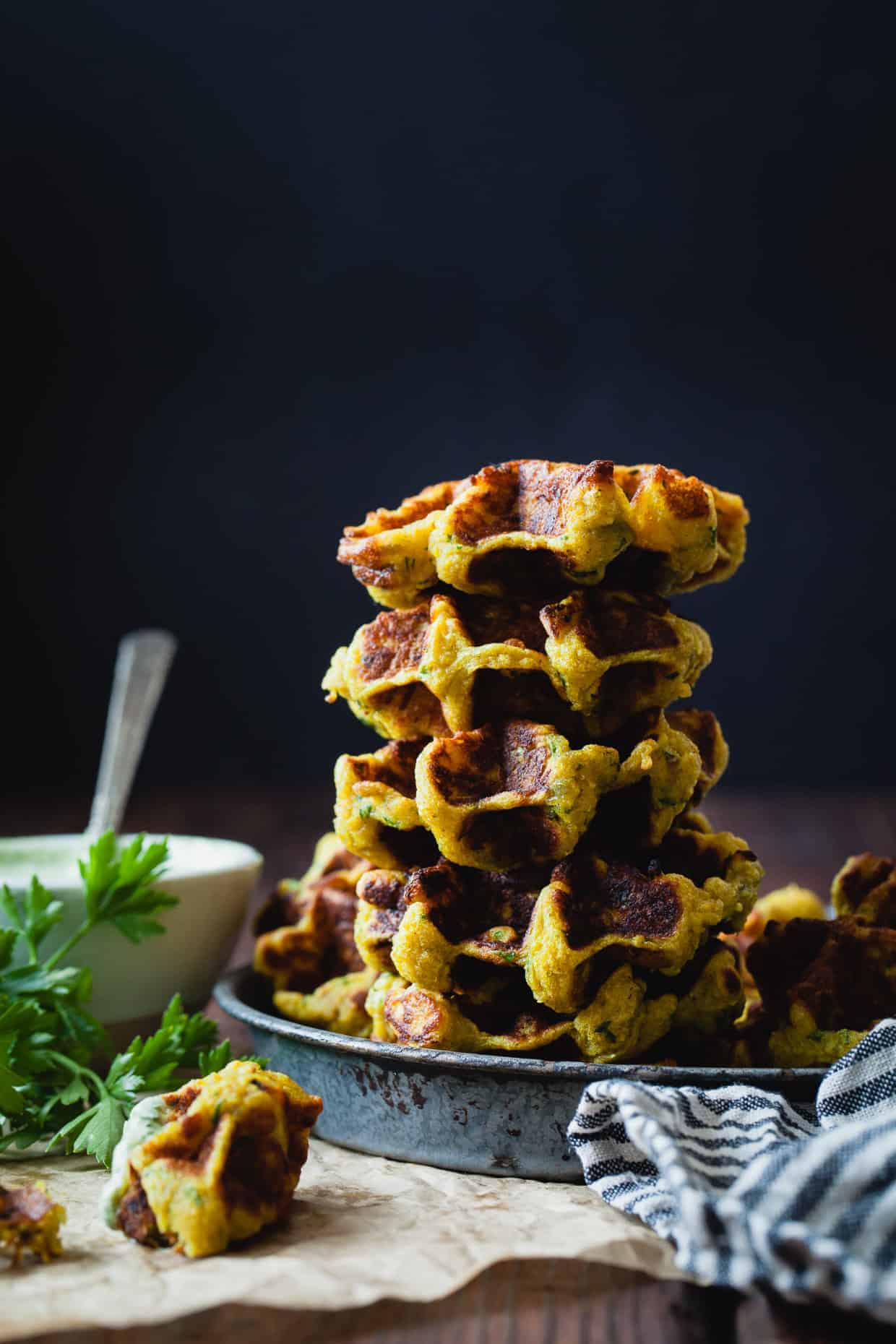 Between gathering loan paperwork and making and styling 11 recipes in 2 days for a gig with Alanna, I've been operating with a serious case of baby brain. Immediately after dropping off the stack of title documents, I had to call them to make sure I actually had Lucas sign them and didn't just turn them in blank.
After coming in second on our first two offers, our realtor kept reassuring us, "It always works out that you end up with the perfect house." And how true it is - we love this house 10x more than the first two. My favorite part? The kitchen (one and two - that's just staging, we don't get the keys until tomorrow!). That and the fact that there are seemingly 15 friendly cats that patrol our new block.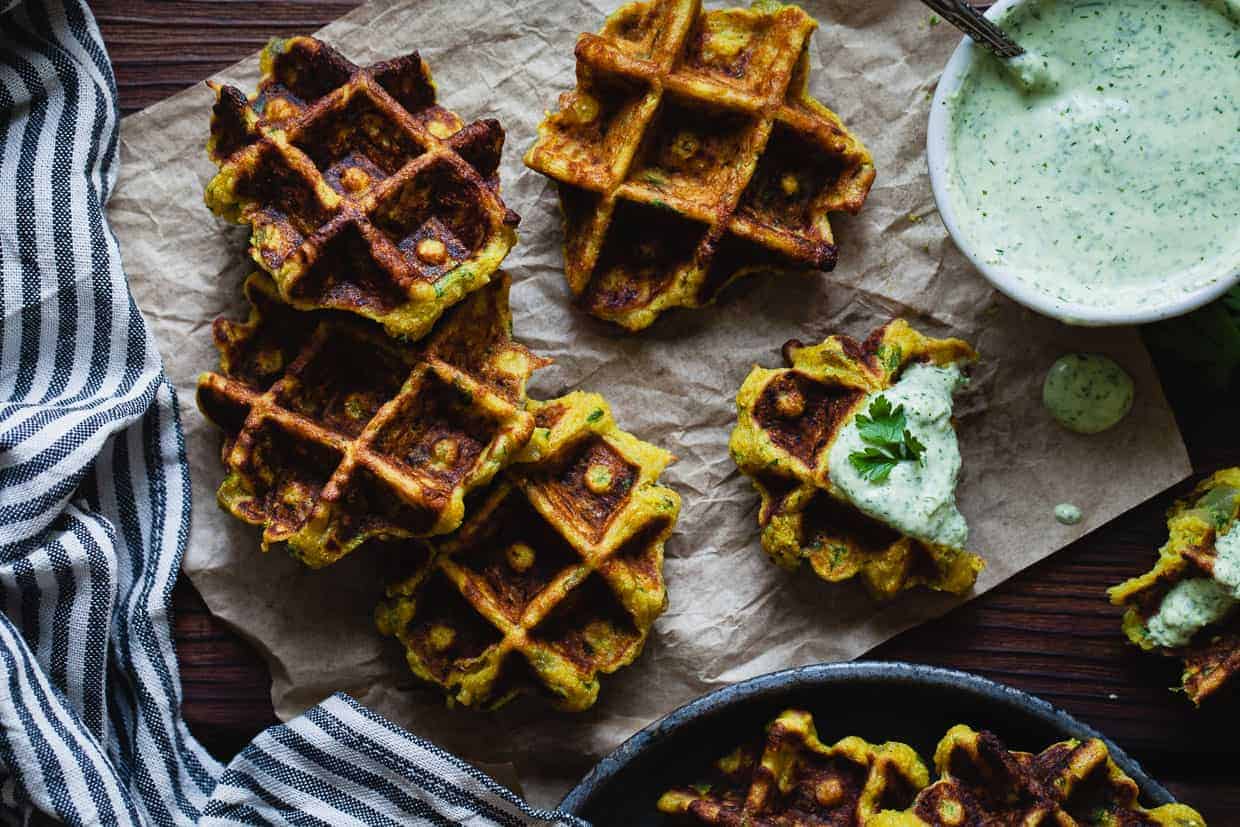 In preparing to move, we left a stack of broken down boxes from Craigslist on our deck only to wake up to rain. We live in California in a drought, but of course it rains the night we've left boxes outside.
Once I got over that hurdle, I started packing but got overwhelmed when I opened a drawer that contained: 4 small mirrors, a USB wall outlet, a can of spray paint, glittery plastic easter eggs, and a spaghetti maze of wrapping ribbons. How to you even label that box?? I'm afraid of what will happen when I open all of my kitchen cupboards.
I'm offering a few dozen fritters for anyone who wants to come purge and pack our life for us.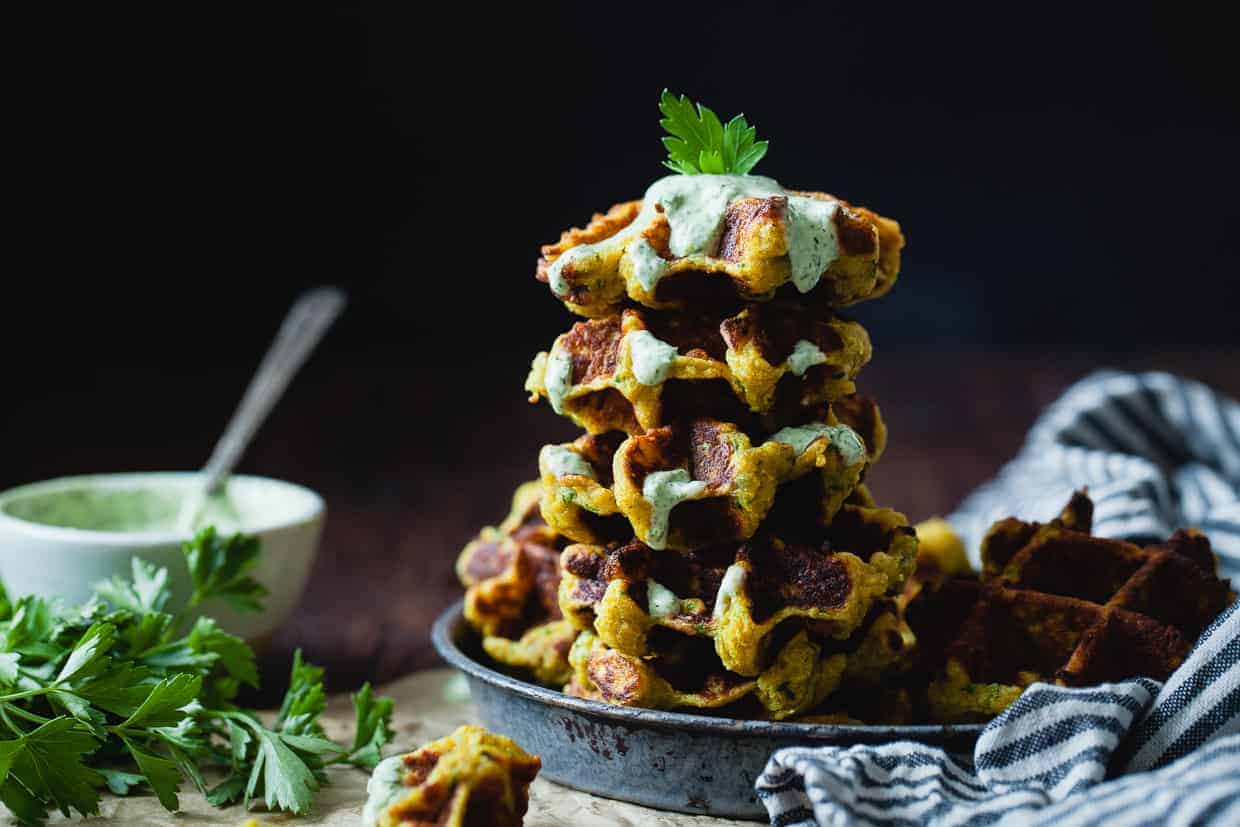 Our little #cheesebabygirl is 23 weeks along now and measuring about 11-inches long head to toe. The size of a large spaghetti squash.
These spaghetti squash fritters were inspired by the leek fritters with cilantro yogurt sauce from Yotam Ottolenghi's Plenty cookbook. A new friend made those pancake-like leek fritters for a dinner party months ago and I haven't stopped thinking about them.
To keep with the seasons, I swapped in spaghetti squash, adjusted the flavors with what I had on hand, and waffled them (because: duh). They're crispy on the outside, tender and moist on the inside, and booming with flavor. The refreshing dill sauce (or dip) makes them hard to put down. These little bite-sized fritters are a perfect snack for game day (just don't ask me what team is playing).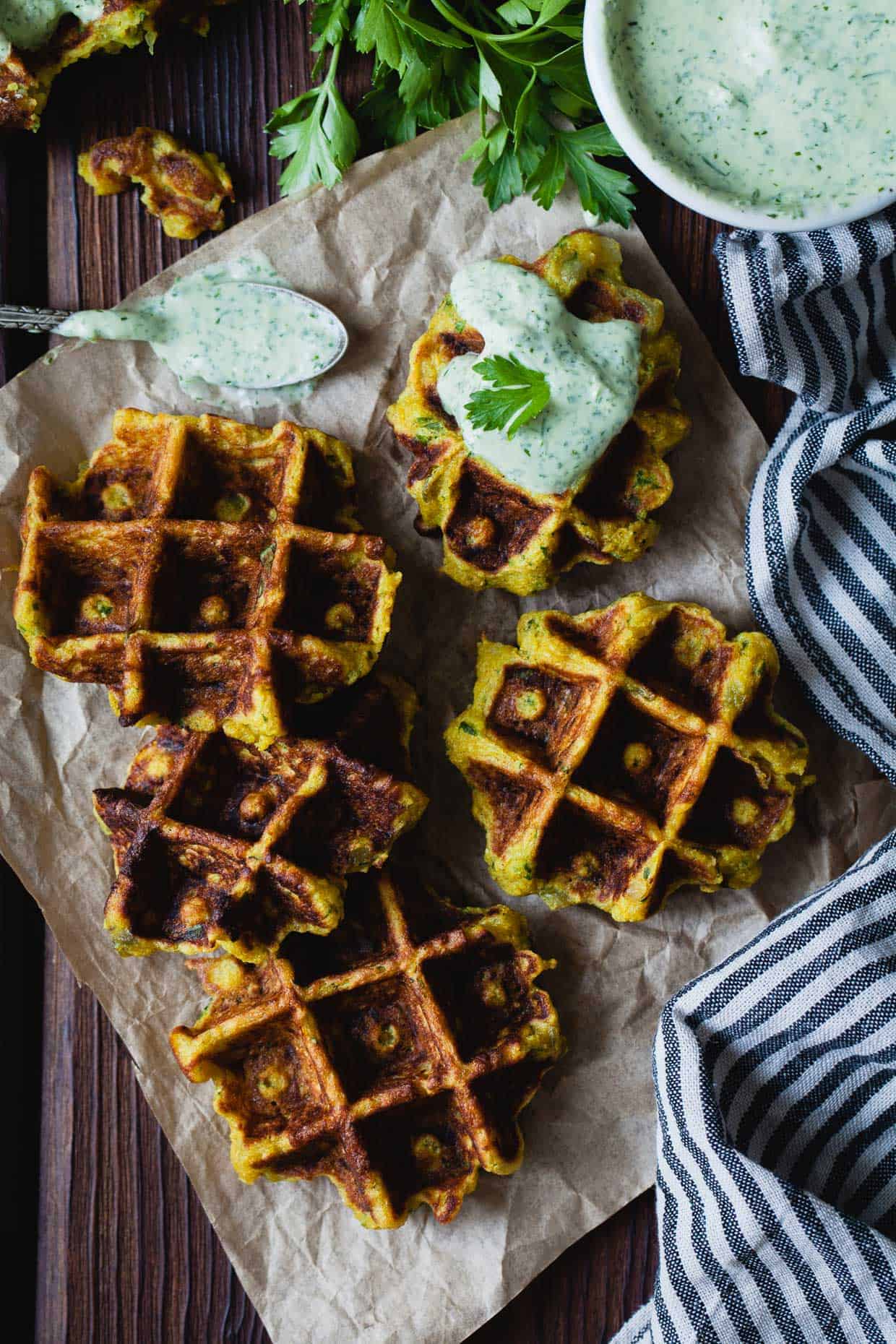 Here's an up-to-date list of the baby-by-food sizes so far. The large size jump from week 19-21 marks the point at which she's measured head to toe versus crown to rump.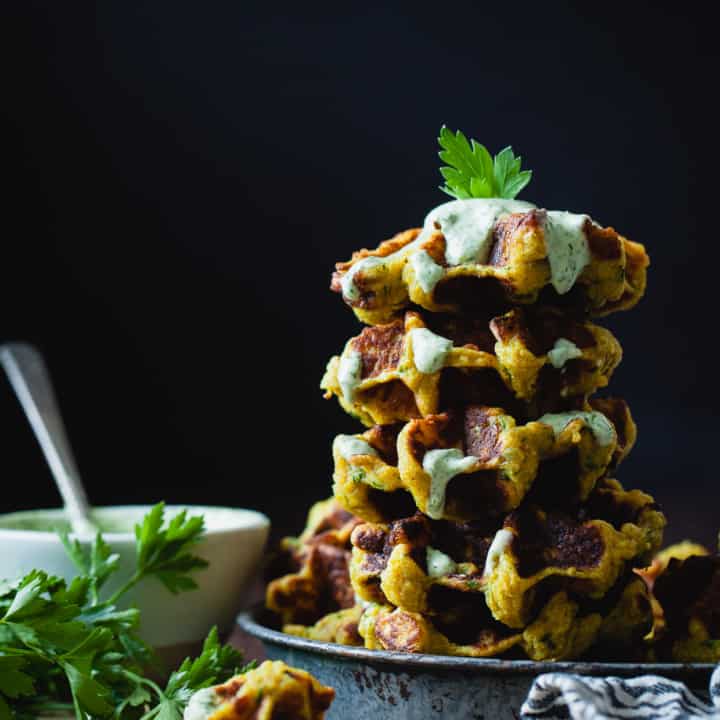 Spaghetti Squash Fritters with Dill Yogurt Sauce
Ingredients
Spaghetti Squash Fritters
1 small or ½ large spaghetti squash
2 teaspoons olive oil
3 large shallots, finely chopped
¼ cup parsley, finely chopped
½ teaspoon ground cumin
½ teaspoon turmeric
¼ teaspoon ground cinnamon
1 teaspoon sugar
½ teaspoon salt
1 egg white
1 tablespoon baking powder
1 egg
½ cup whole milk
3 tablespoons unsalted butter, melted
Dill Yogurt Sauce
¼ cup greek yogurt
¼ cup sour cream
½ cup packed parsley
2 tablespoons fresh dill
1 tablespoon fresh lemon juice
1.5 tablespoon olive oil
1 clove garlic
¼ teaspoon salt
Instructions
Spaghetti Squash Fritters
Cook the spaghetti squash. Prick the squash with a fork several times. You can roast the whole pricked squash at 375°F for about 45 minutes to an hour, until tender. Alternatively, you can wrap the pricked squash in parchment paper and microwave it for 15-20 minutes, until tender. When the squash is tender, slice it in half lengthwise and use a fork to scrape out 2 cups of filling. If the filling is super moist, let it sit in a fine mesh strainer while you cook the shallots.
Heat the olive oil in a pan and cook the chopped shallots until tender, about 5 minutes. If you're roasting the squash, you can also roast the shallot whole and then peel and chop it when it's tender.
Combine the 2 cups of squash, cooked shallots, parsley, cumin, turmeric, cinnamon, sugar, and salt in a large bowl.
In the bowl of a stand mixer fitted with a whisk attachment, by hand, or with a hand mixer, whip the egg white until soft peaks form. Gently fold the egg white into the squash mixture.
In another bowl, mix together the chickpea flour, sweet rice flour, tapioca starch, and baking powder.
Add the egg, milk, and butter to the flour and whisk to combine.
Gently add the batter to the squash mixture and stir to combine.
If using an electric waffle iron, cook small waffles according to manufacturer directions, lightly spraying the iron with canola oil.
If using a stovetop waffle iron, be sure to heat up both sides for at least 3 minutes on medium heat. Lightly spray the top and the bottom of the waffle iron with canola oil. Pour scant ¼ cup of batter into each section of the waffle iron and cook for 2-3 minutes. Flip the waffle iron and cook for another 2-3 minutes. Gently open the waffle iron to check the waffle and, if needed, continue cooking until both sides are crispy. (Every stove is slightly different, but mine is ready after 2.5 minutes both sides).
Use a chopstick to help you gently remove the waffles from the iron and transfer to a plate while you finish cooking the batter. The outsides should be crispy and the insides will be soft and moist.
If you don't want to use a waffle iron, you can cook the fritters over medium heat on a griddle. Scoop ¼ cup of batter onto the griddle and cook for 2 minutes on each side, until crispy on the outside, but still soft on the inside.
Serve waffles with dill yogurt sauce (below). Store leftovers for up to 3 days in an airtight container in the refrigerator and reheat in the toaster.
Dill Yogurt Sauce
Combine all of the ingredients in a blender or food processor and pulse until smooth.