A vibrant pesto made of roasted lemon slices, fresh mint, and toasted almonds from the Kale & Caramel cookbook - atop a bed of creamy whole milk ricotta with two topping variations. Garlicky pea and fava beans for a savory take and plump tart blackberries for a sweet bite. These pesto & ricotta tartines make the perfect midday snack!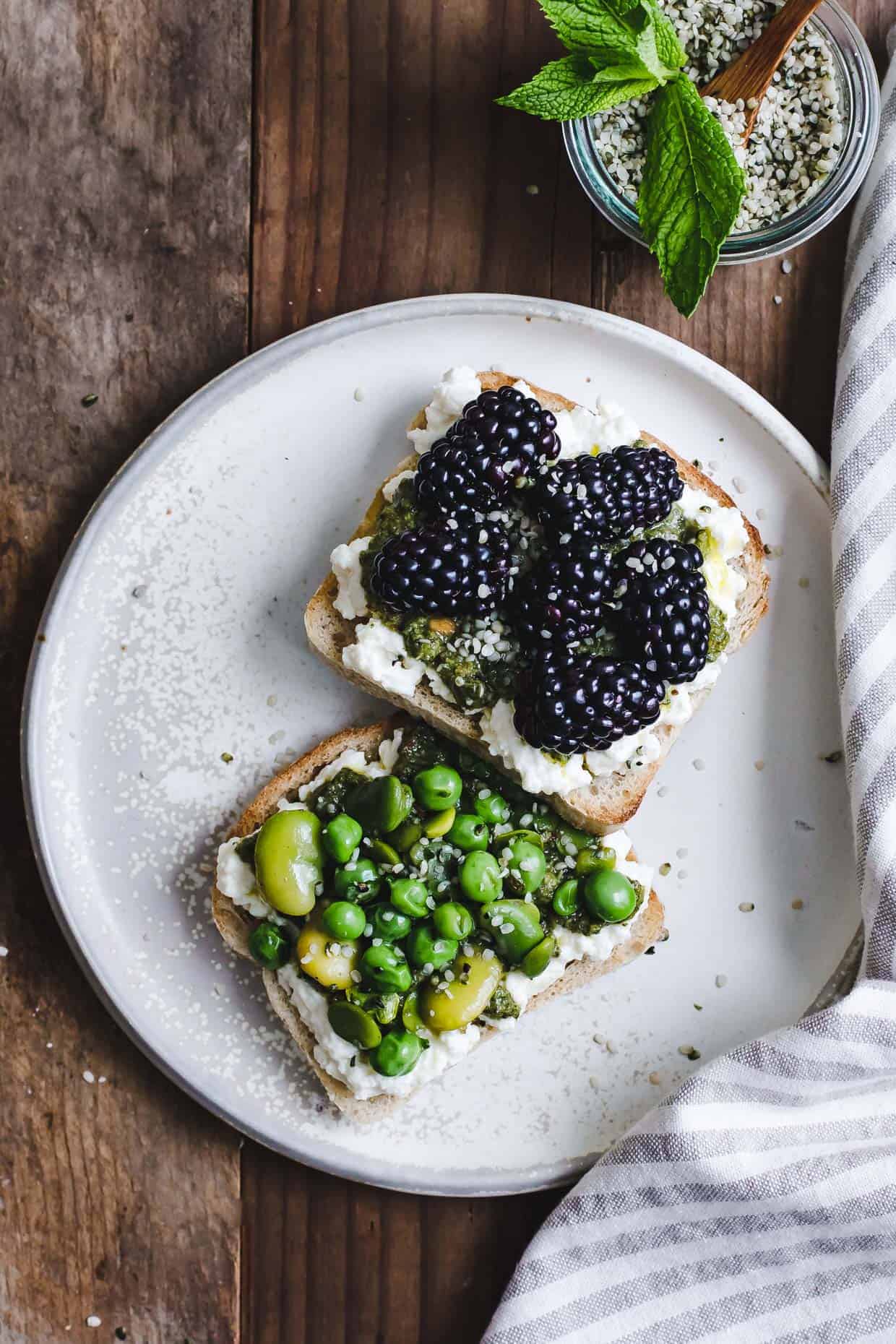 Today's post is a two-part celebration. We're celebrating my friend Lily's beautiful (like seriously unreal) cookbook Kale & Caramel: Recipes for Body, Heart, and Table. The vibrant roasted lemon mint pesto from her cookbook is the showpiece of these ricotta tartines.
Via a virtual shower of healthy snacks, we're also celebrating the newest cutest member of the A Couple Cooks team, baby Larson! Thanks to Lily, I've kept the ingredients for these roasted lemon mint pesto & ricotta tartines on hand for emergency snacking. Though truthfully, all my meals are "snacks" when I work from home...nonetheless these tartines are way more satisfying and nourishing than the handful of frozen chocolate chips I've been known to sneak.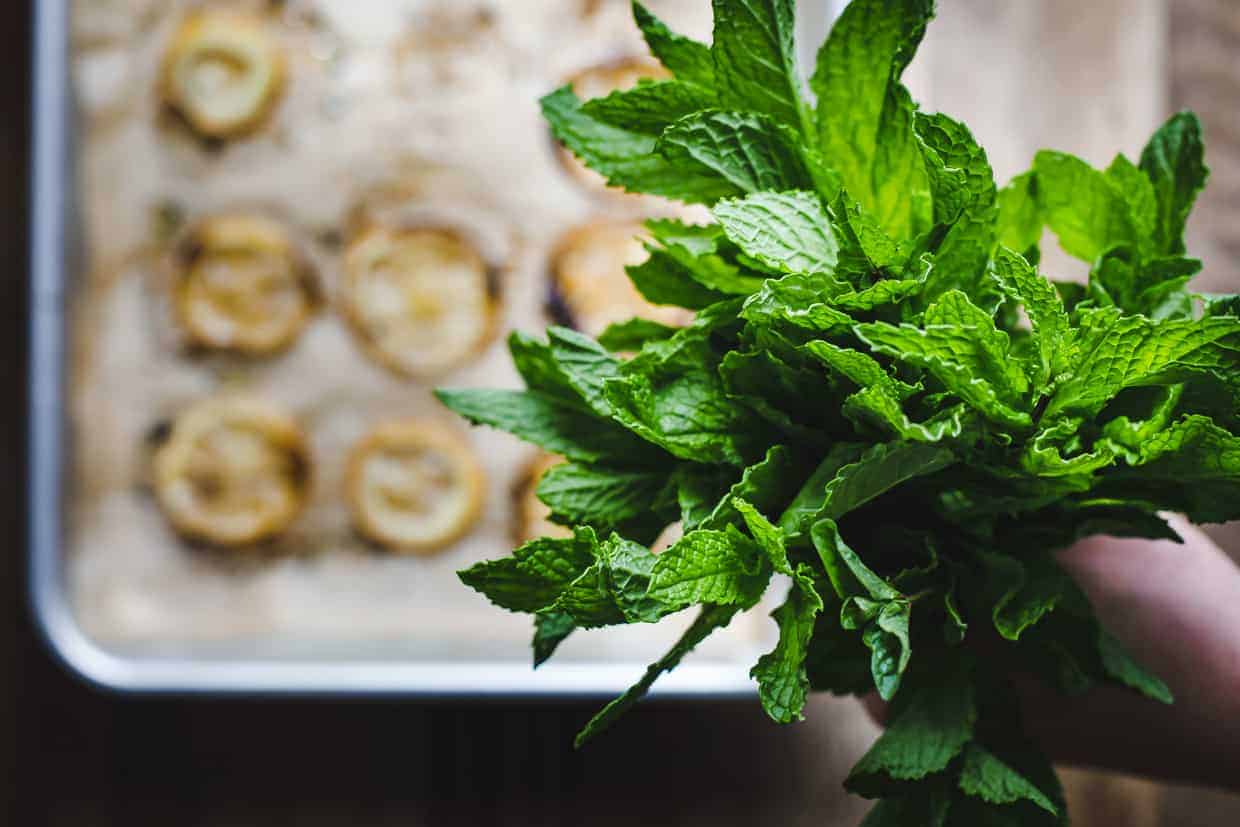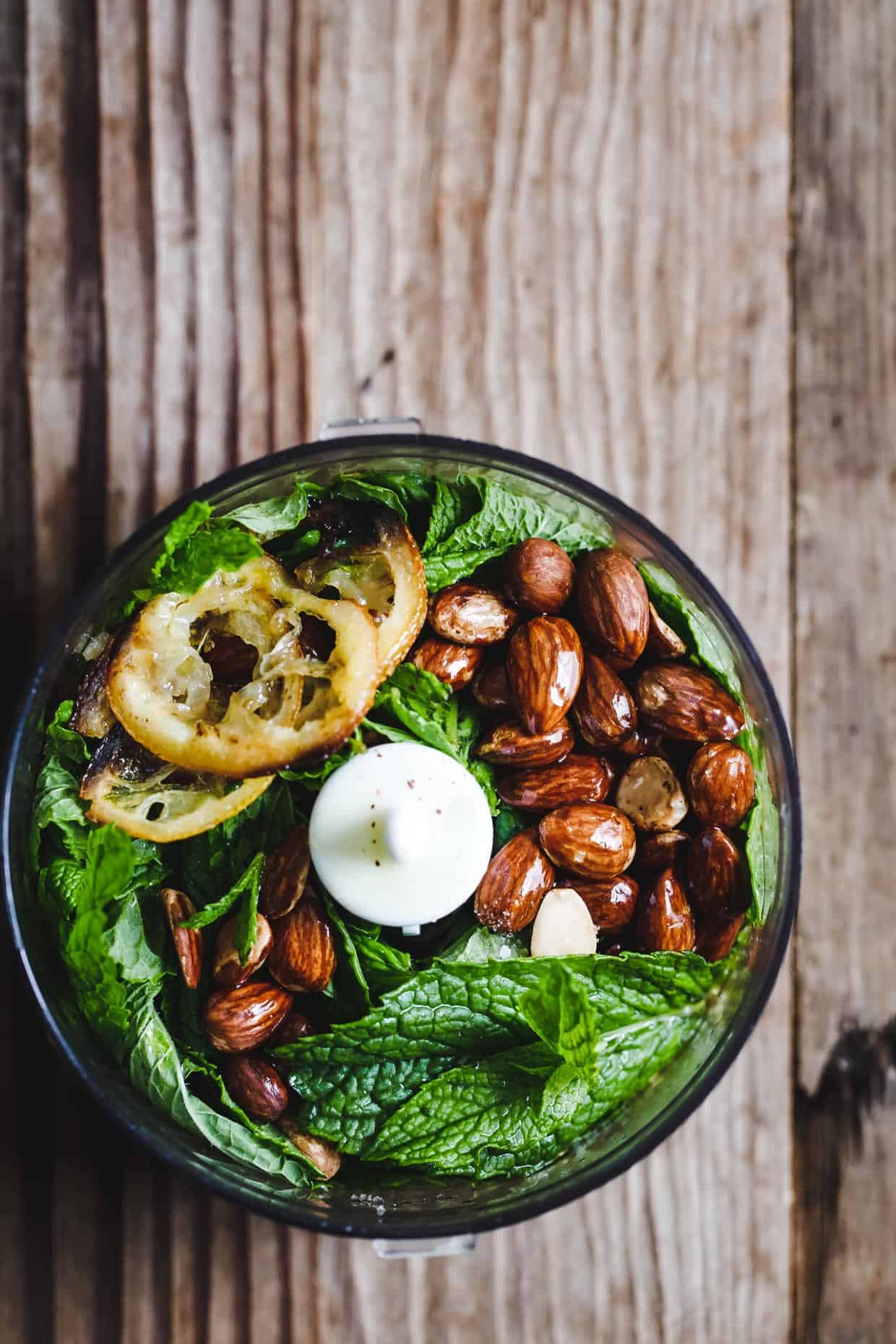 The dual celebration is even more fitting than it seems. Before I'd even met Lily IRL, we became connected at the very moment I became a parent. My contractions woke me up at 4:30am from a dream about Lily and her Modern Girl's Guide to Being an All-Natural Badass. When we spoke later that morning, she told me she was on call to be a birthing support for her close friend about a week later (whose baby's name also turned out to start with a Z like my Zoella). So in some random universe convergence, Lily and her badass guide were there to feed my spirit and give me strength as I transitioned into motherhood.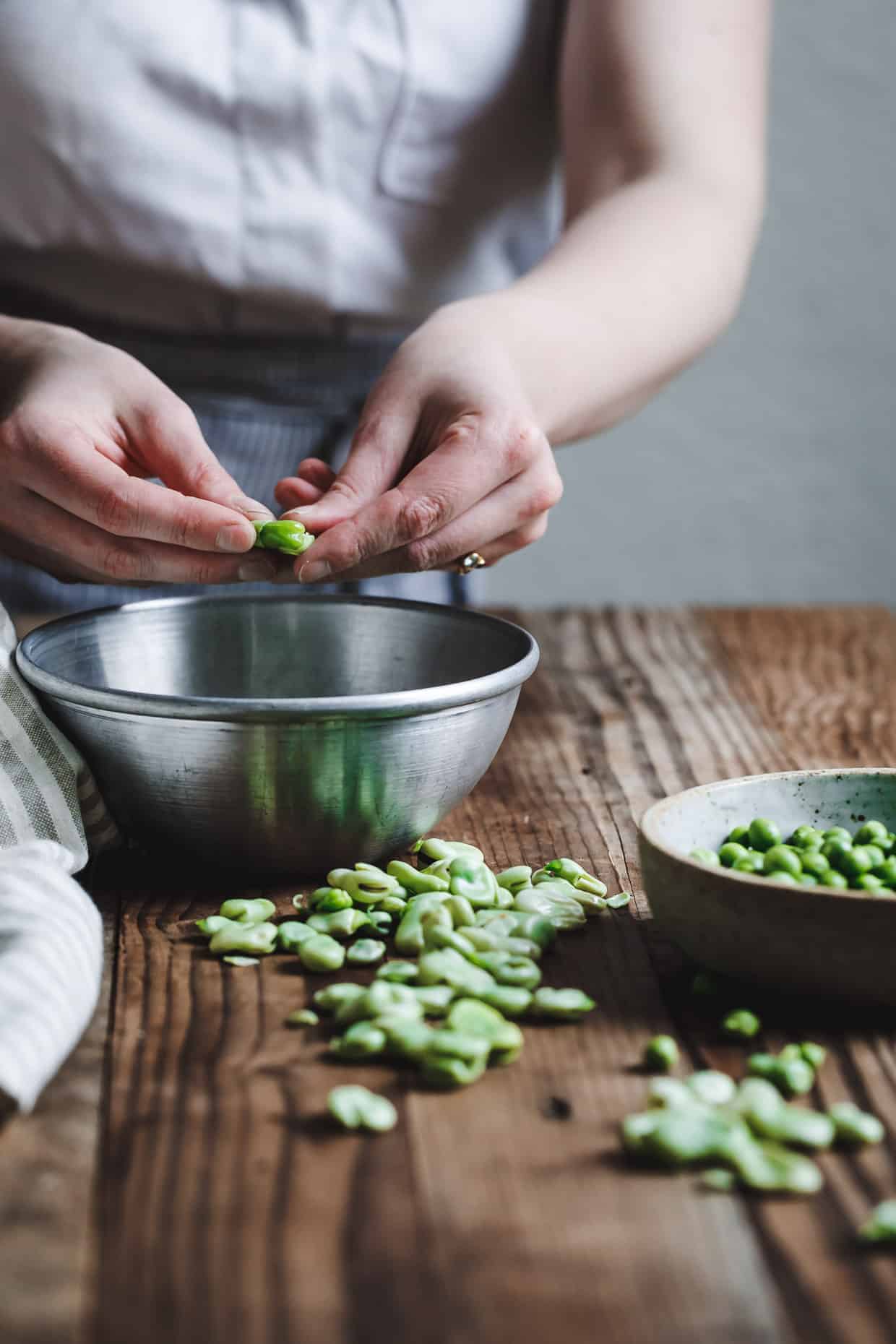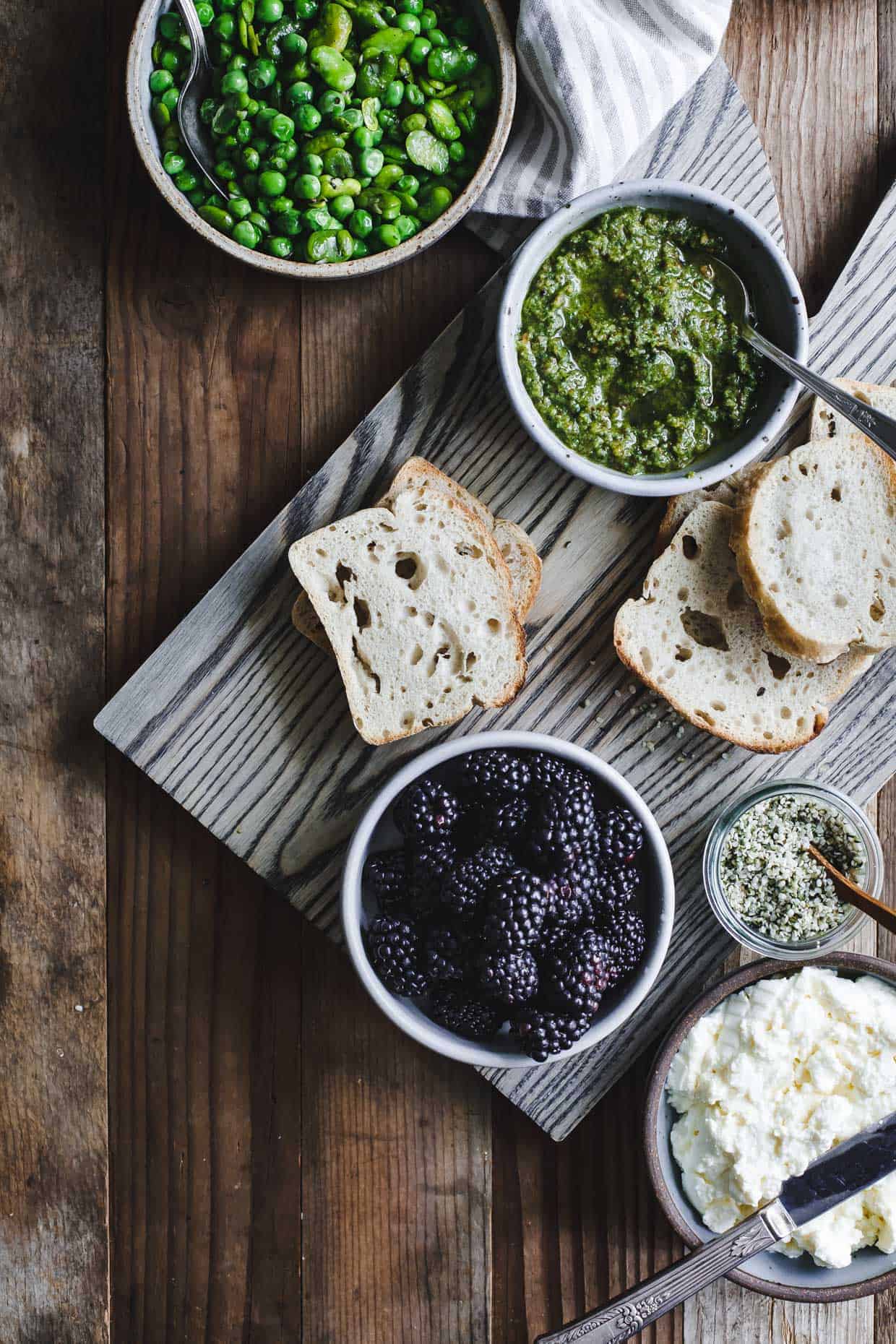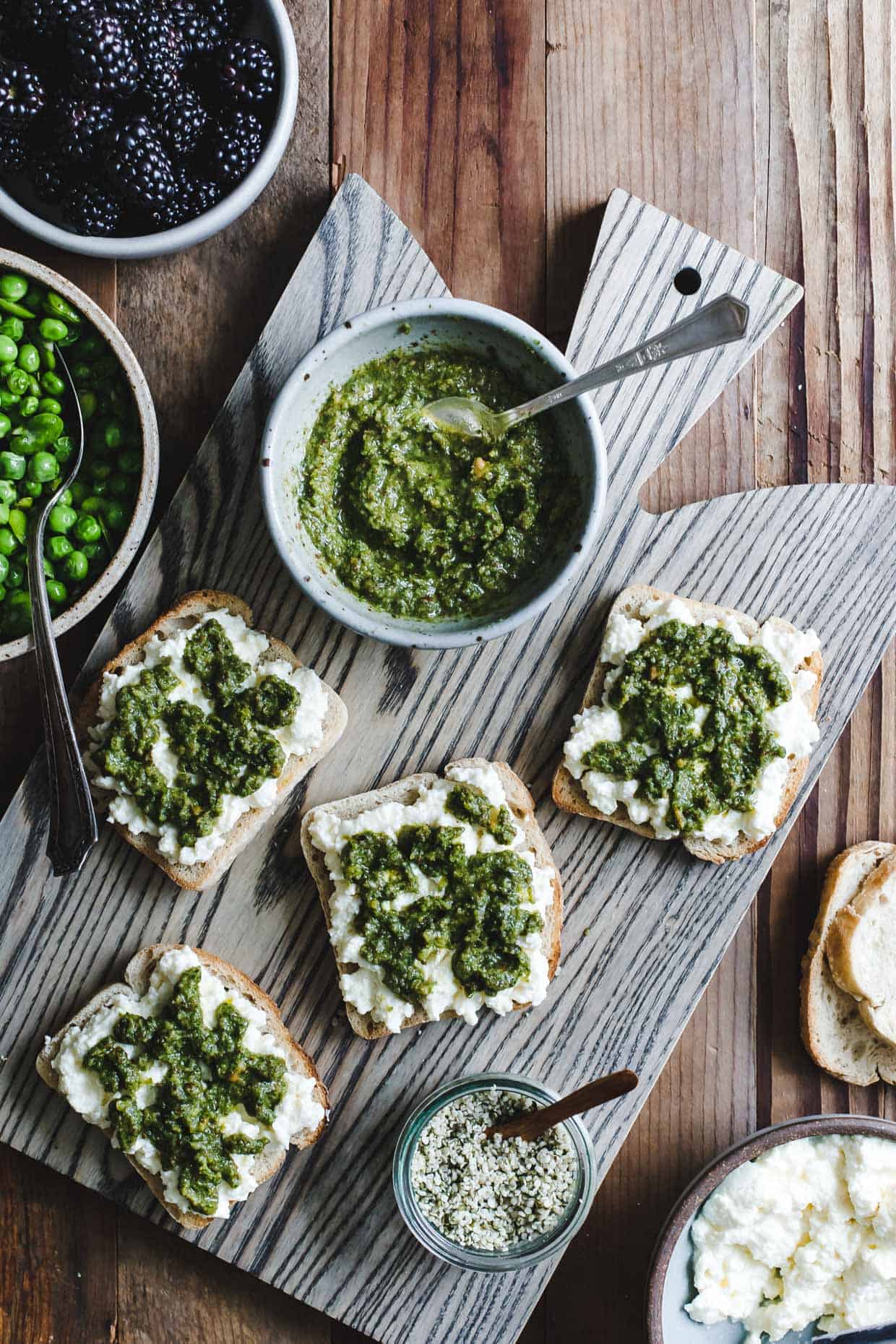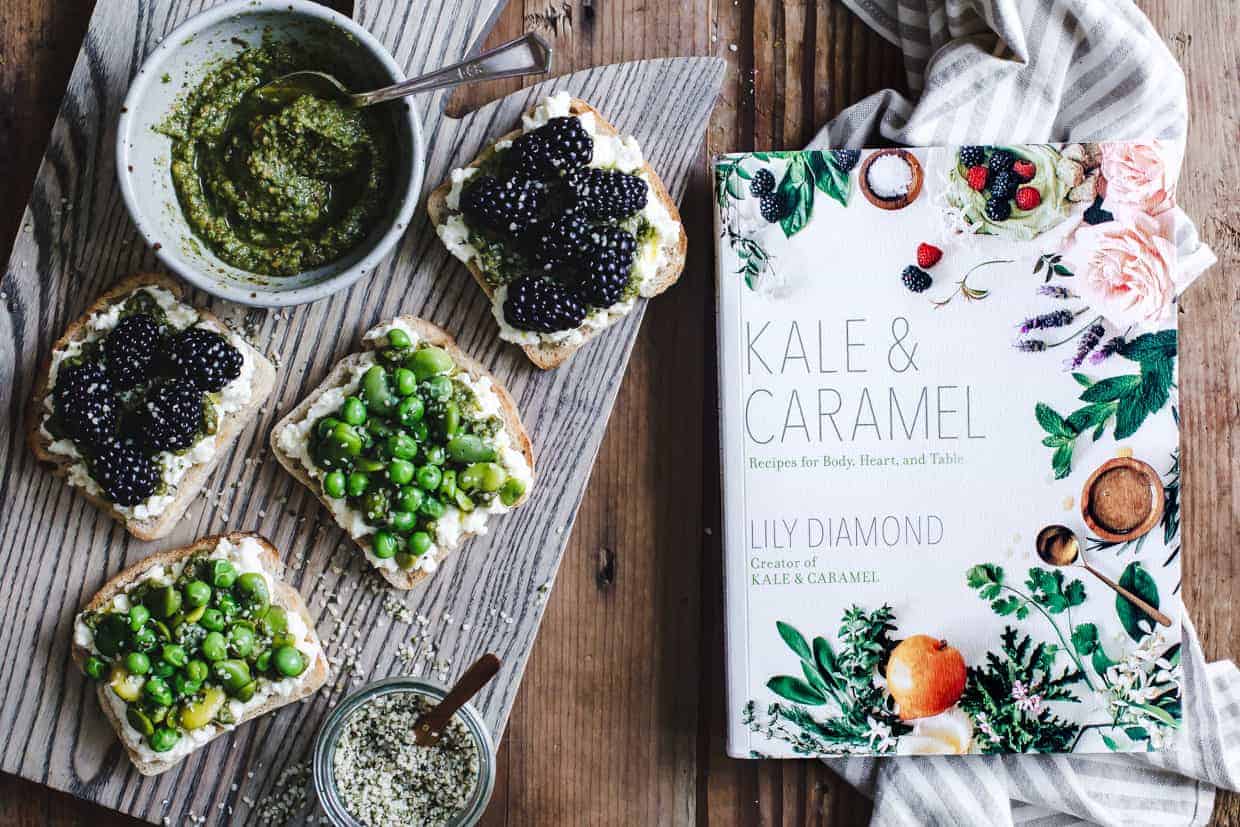 This cookbook is filled with vegetarian and vegan recipes that feed the body, mind, skin, and spirit. With aromatic herbs and flowers as the star of every chapter, Lily's food flavors are vibrant and uniquely paired. Her recipes nourish all five senses - from Mint Awakening Spritz to feed your atmosphere to Persimmon Bites with Pomegranate Molasses & Crispy Sage Leaves. After countless texts to Lily asking for her "natural remedy for (fill in the blank) skin/bodycare," she can now just reply, "I wrote you a book." A beautiful book that feels like the nightstand version of her Badass Guide. Beyond just the recipes, I find myself drawn into her raw and poetic storytelling like a compelling novel written by the sweetest friend.
With mint springing up in a giant invasive patch in my neighbor's yard and lemons still doin' their thang all around the block, this roasted lemon mint pesto was the first thing I had to make from the book. First you roast lemon slices - that right there blew my mind - until a bit caramelized, which settles the tang and brings out their sweetness. Then you blend that all up with a bouquet of fresh mint, roasted nuts, and a bit of olive oil into a bright spring pesto that pops of flavor.
Here I've left the garlic out of the pesto for the sweet blackberry pairing, but then sautéed the garlic back into the peas and fava beans for the savory version. If you're just making a savory rendition, then definitely add the garlic for that extra zing! Lily pairs the pesto with burrata (um yes) and artichokes (keep going...), which I highly recommend. Like burrata, whole milk basket ricotta adds a subtle creaminess that lets the pesto be the hero. So now you've got three tartine versions, actually.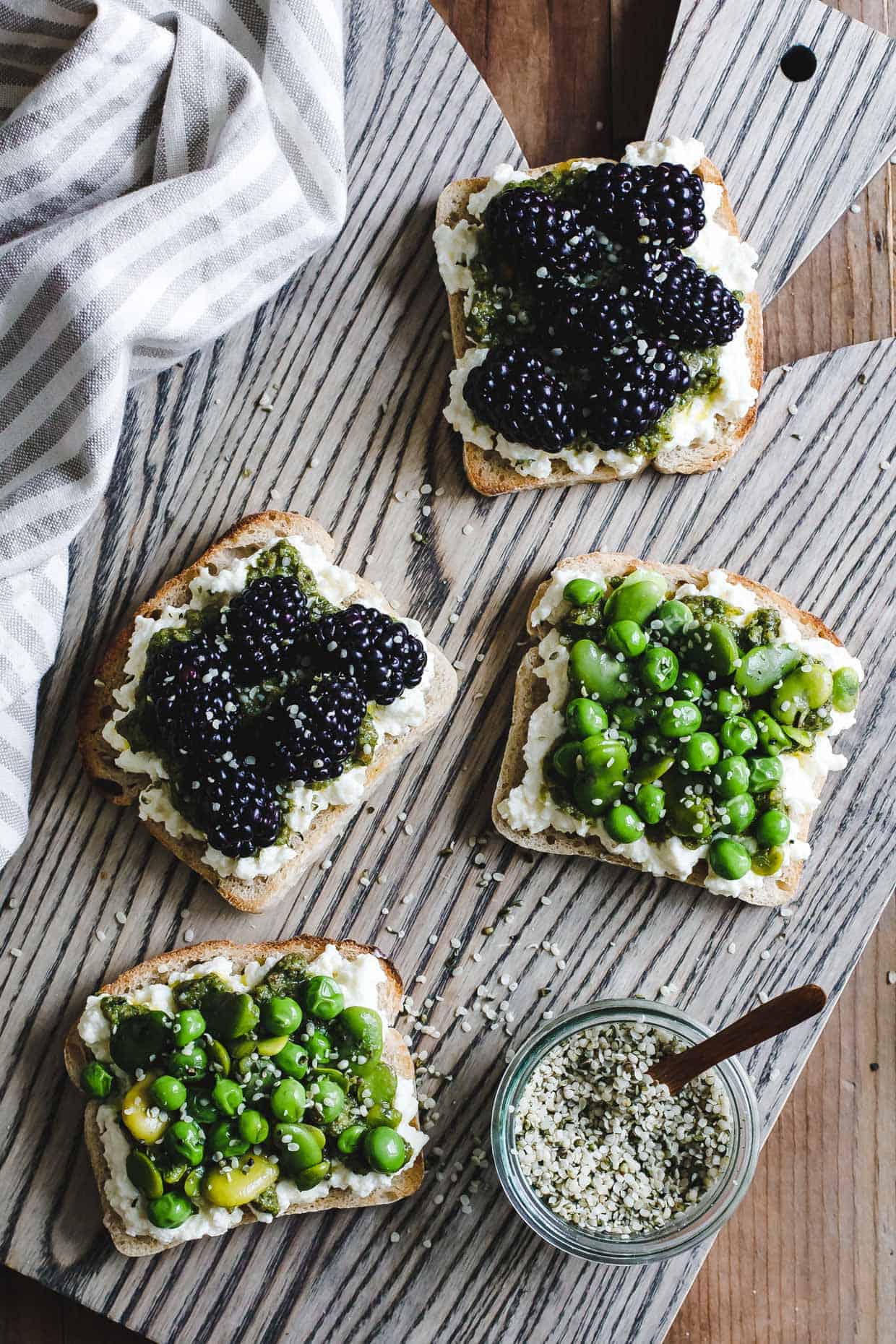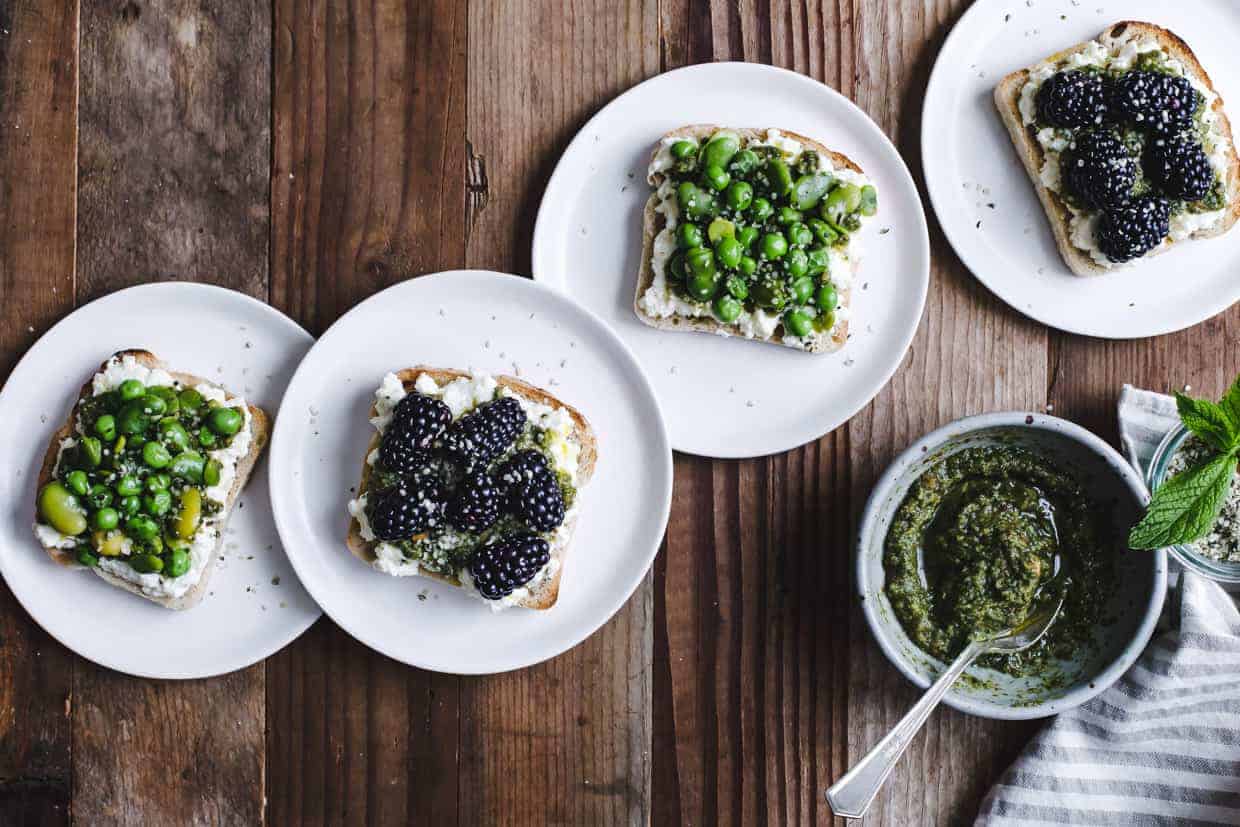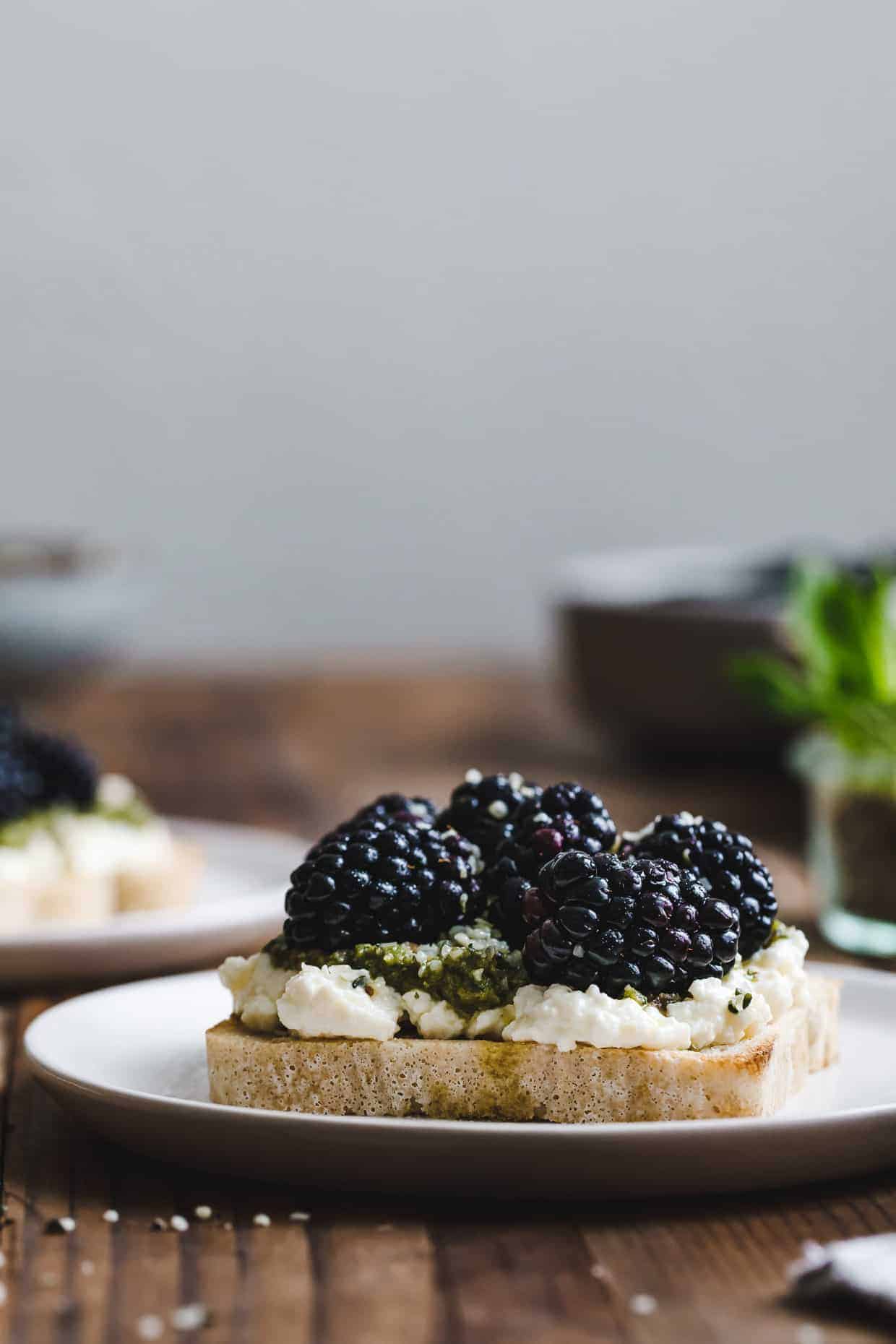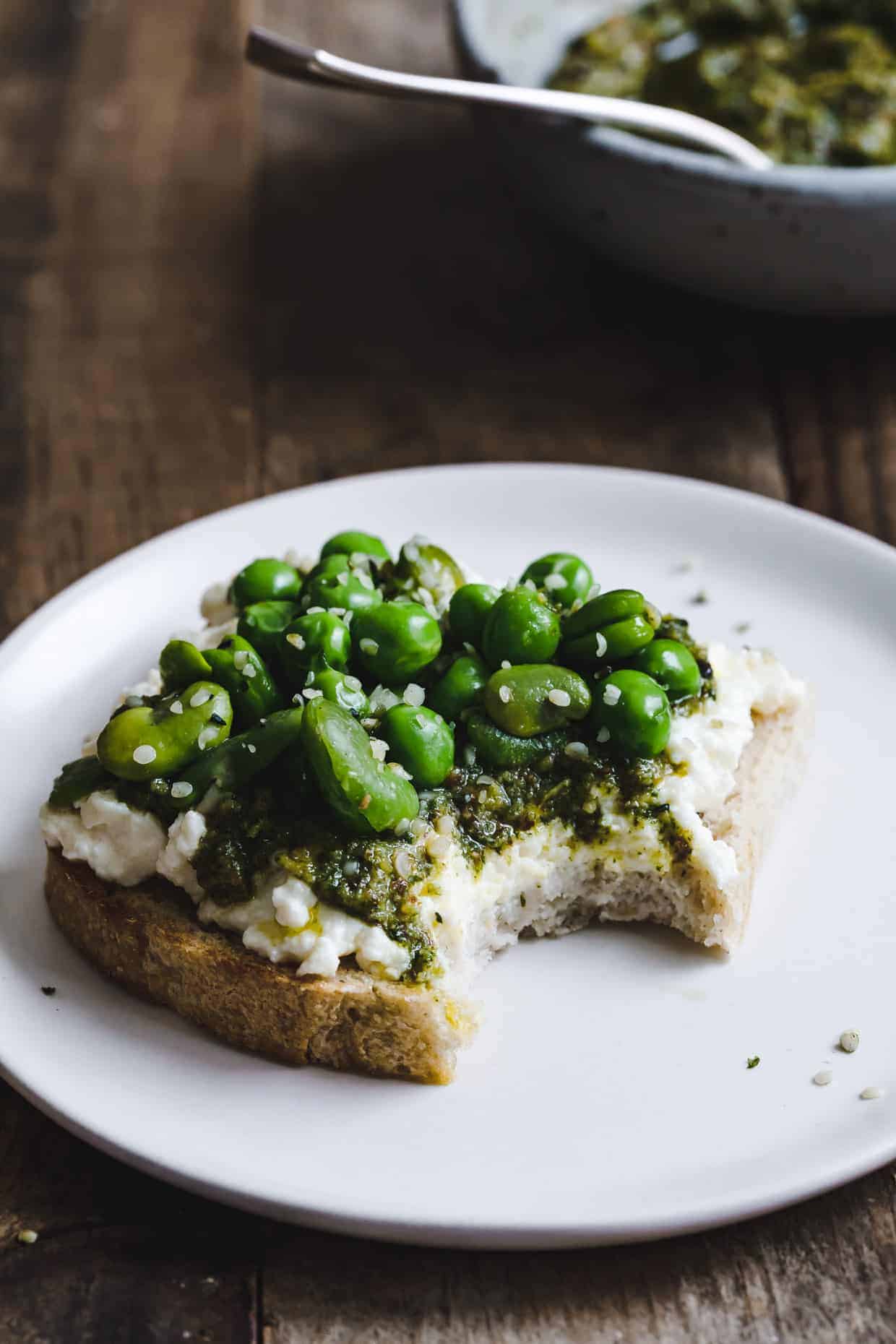 As Sonja & Alex transition into parenthood (with all the new baby smell snuggles that go along with it), a recipe Lily's book feels like just the right tune. Through cross-country phone dates with baby coo background noises, it's abundantly clear to me that Sonja is the warmest most loving mother and I am so over-the-moon that these three found each other. Baby Larson is one lucky fox who will most definitely be one well-fed kiddo.
Congrats on this new adventure, Sonja & Alex! (Check out #ACoupleAdopts to see more healthy snack inspiration in honor of this new babe!)
Roasted Lemon Mint Pesto & Ricotta Tartines, Two Ways
Ingredients
Roasted Lemon Mint Pesto
½ medium lemon, thinly sliced, and seeded (about ⅛-inch thick)
¼ cup plus 3 tablespoons olive oil, divided
1 cup fresh mint leaves, packed
¼ cup toasted almonds (or hazelnuts)
¼ teaspoon salt
Savory option: 2 garlic cloves
Ricotta Tartines
For Pea & Fava Bean Tartines*
1lb fresh English Peas
1¼ lbs Fava Beans
1 tablespoon unsalted butter
1 clove garlic, thinly sliced
For Blackberry Ricotta Tartines*
10-14 ounces fresh blackberries
Instructions
Roasted Lemon Mint Pesto
Preheat the oven to 450°F. Line a small baking sheet with parchment paper and lay the lemon slices in a single layer on the sheet. Drizzle with 1 tablespoon of the olive oil and roast for 15-17 minutes, until the juices are tacky and the lemons are beginning to caramelize.
let cool for 10 minutes, then transfer to a small food processor or blender, add the remaining ¼ cup plus 2 tablespoons olive oil, the mint, nuts, salt, and if making savory version, garlic. Blend until you have a very lightly chunky pesto.
Make the tartines
For the pea and fava bean tartines, shell the fava beans and peas into separate bowls. Blanch the fava beans in boiling water for 1 minute then transfer to an ice bath. Pop the beans out of their skins.
Melt the butter in a medium skillet over medium heat. Add garlic and cook for 1 minute until fragrant. Add the peas and beans and cook, stirring, until bright green and cooked to your liking, about 2-4 minutes. Set aside.
Spread ricotta cheese onto the toasted bread and top with pesto.
For the pea and fava bean tartines, top with warm peas and fava beans and sprinkle with hemp hearts for garnish.
For blackberry tartines, top with 5-6 blackberries and sprinkle with hemp hearts for garnish.
Notes
*These amounts of peas, beans, and blackberries will make the full 10-14 tartines. If you want to make half and half like I did, halve the ingredients!
Pesto shared with permission. Copyright © 2017 by Lily Diamond from KALE & CARAMEL: Recipes for Body, Heart, and Table published by Atria Books, a division of Simon & Schuster, Inc.