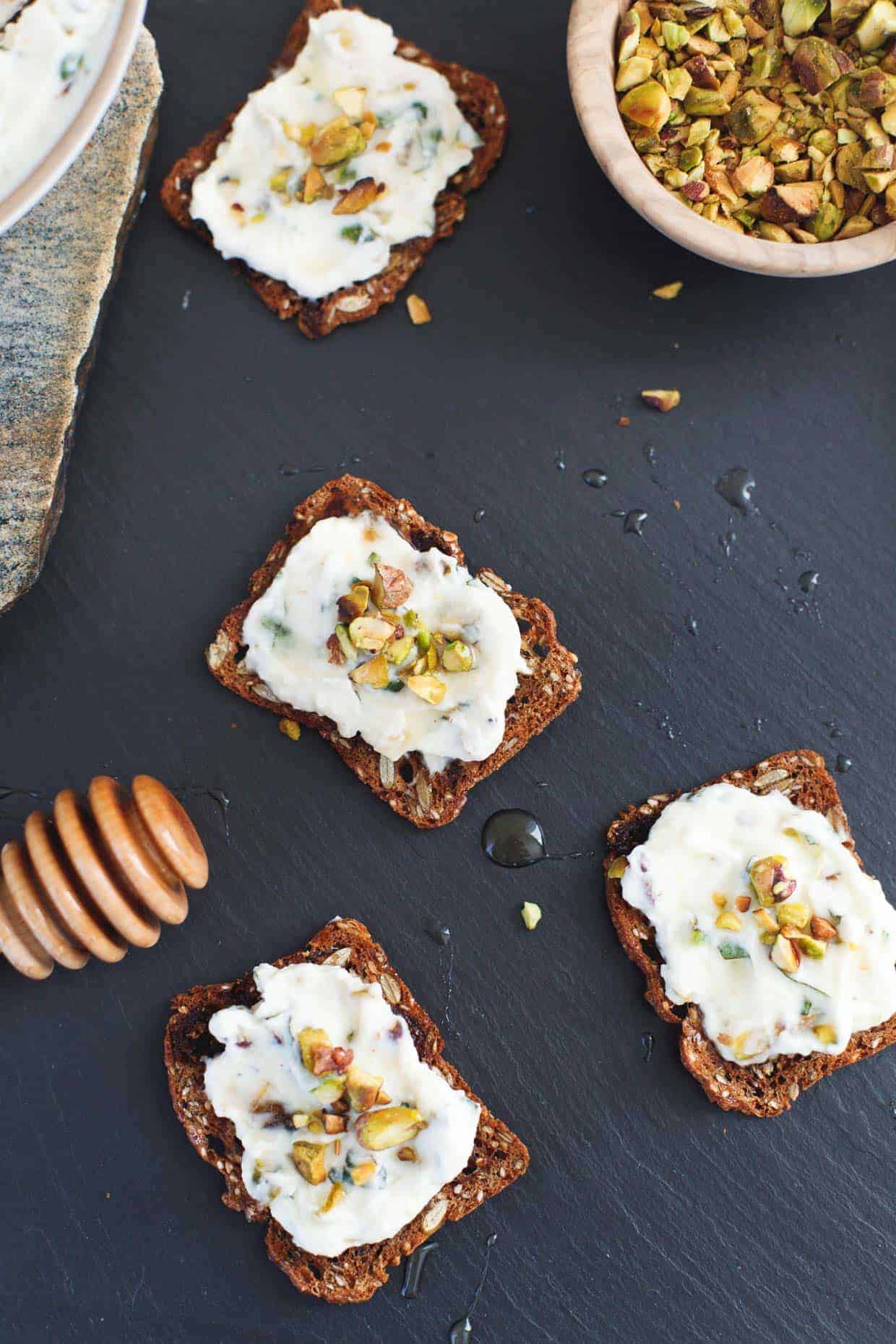 There's an insane amount of cheese in our fridge right now (best problem to have). Last week Lucas came home with teeny tiny half-wheel of fancy cheese and a box of crackers he'd picked up at the market on his way home from work. In our marriage, this gesture is the equivalent of bringing flowers and it's a sure way to win my heart. Except after the few indulgent bites it took to finish it off, I immediately complained about the single serving-size of cheese he'd teased me with and we had to make an emergency trip for more cheese. He'd awoken the dormant cheeseaholic inside of me. You don't want to see what will happen if you try taking this pistachio basil ricotta spread away from me.
While y'all are gaining your holiday weight in baked goods, I'm over here putting 10lbs of cheese straight to my hips.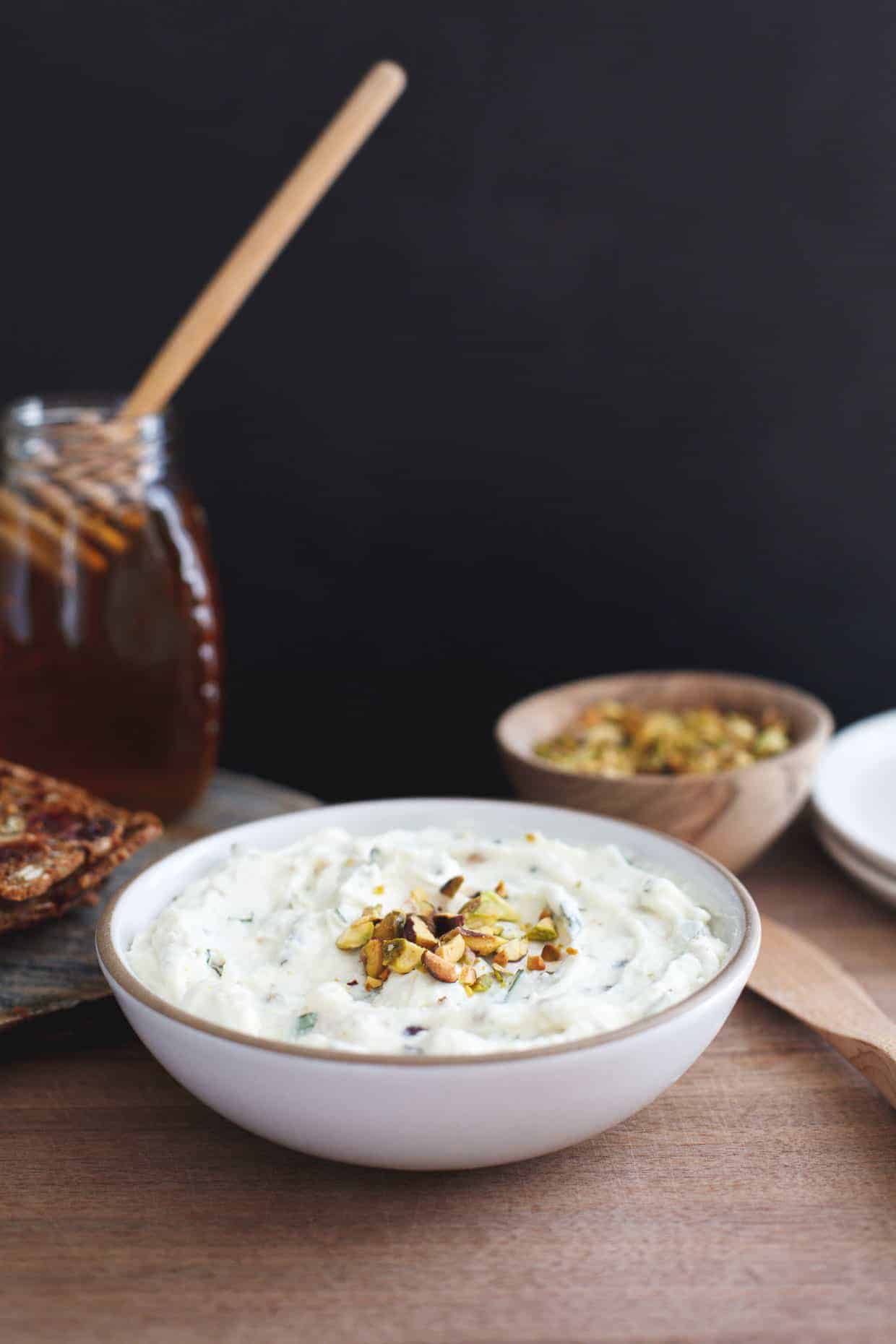 Last year, we went the whole nine yards and spent an entire day making homemade pork tamales for Christmas dinner. It was every bit worth the effort, but this year I could barely get my act together in time to finish my holiday shopping. Note: We draw names, which means I only had to buy for two people - Lucas and one other family member. It's pathetic that I'm still not done.
Just in the same way I set last year's tamale dinner plan on a whim, this year's menu came together with a single text to mom. Basically we're going the complete opposite direction of labor-intensive tamales with an appetizers-only Christmas potluck - an idea I picked up from Amanda, the inspirational gal behind Heartbeet Kitchen. We'll have 16 family and friends over, with each person bringing a holiday appetizer to share. That's SIXTEEN different bite-sized finger foods to snack on all day (and it's not even the Superbowl). Also known as: my personal heaven. They'll have to roll me to bed.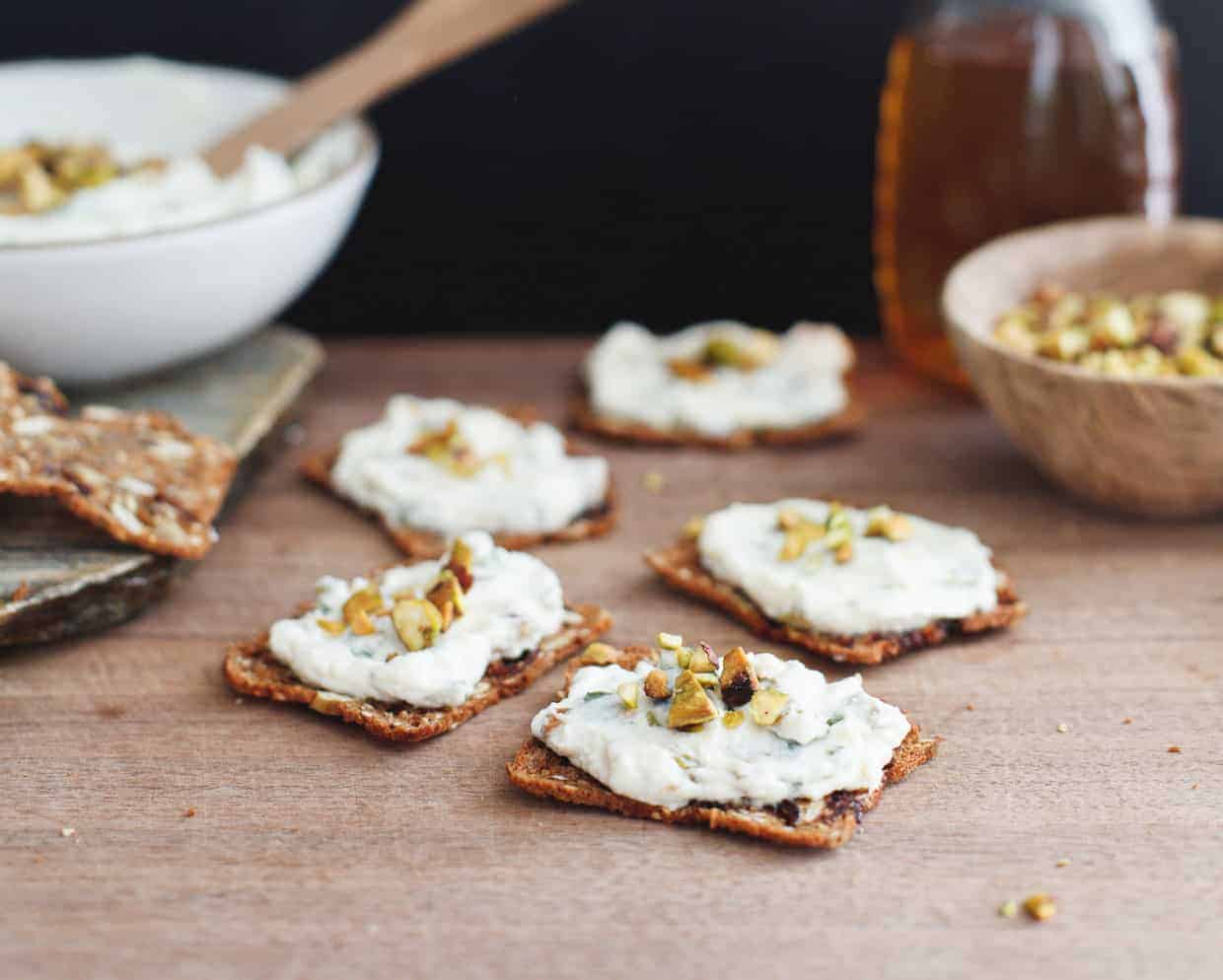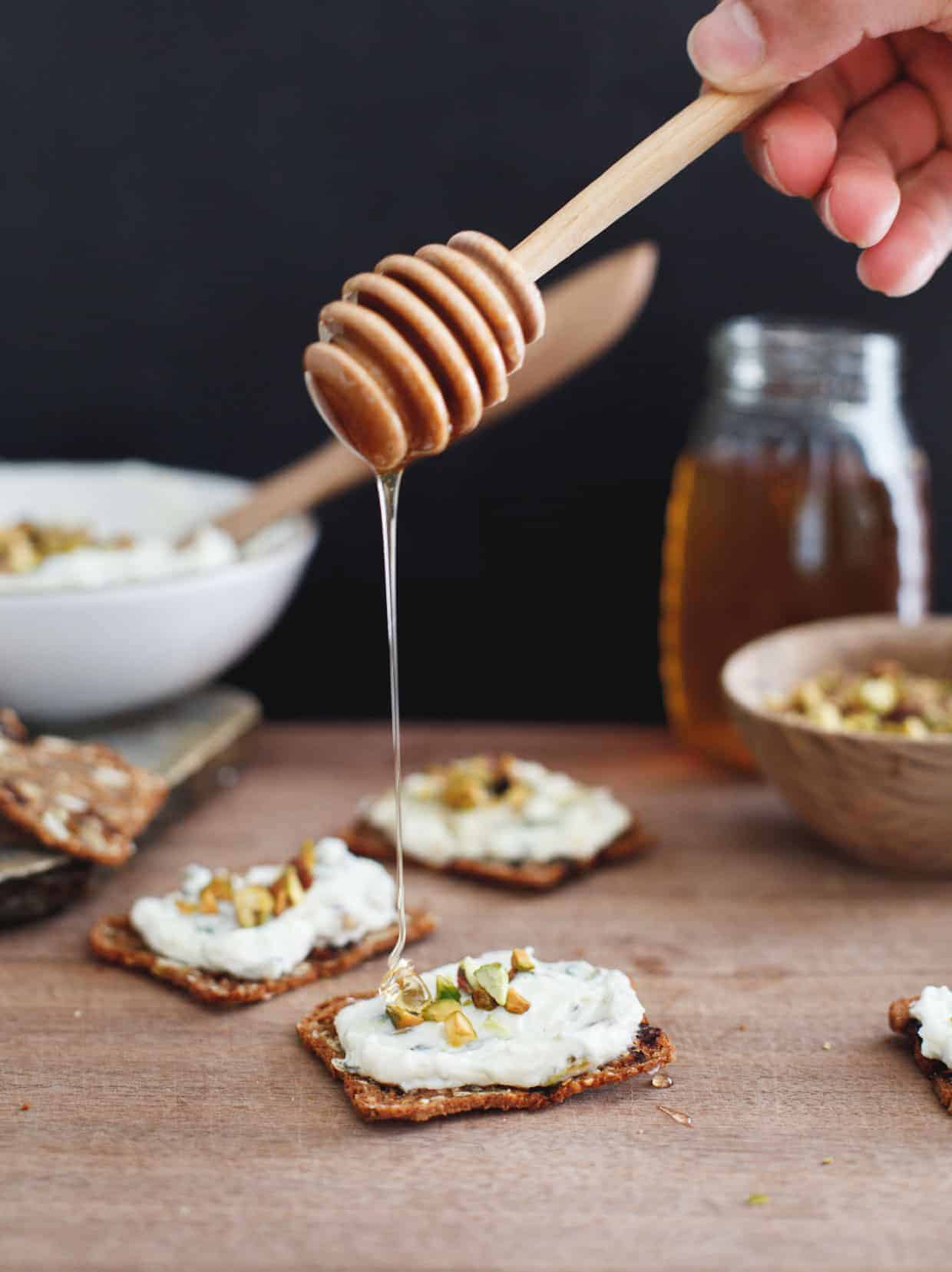 Lucas and I will be making goat cheese stuffed figs with pancetta, spinach artichoke dip stuffed mushrooms, and this super easy pistachio basil ricotta spread over gluten-free cranberry oat crisp crackers with a drizzle of honey. An artisanal whole-milk ricotta gives the spread a smooth creamier texture than low-fat or part-skim ricotta. Mixed with a dollop of mascarpone to amplify the spread's creaminess, these ricotta-topped bites are light and fresh, with a toasty pistachio crunch. Basil adds an herby savory note that simultaneously compliments the sweet honey drizzled over top.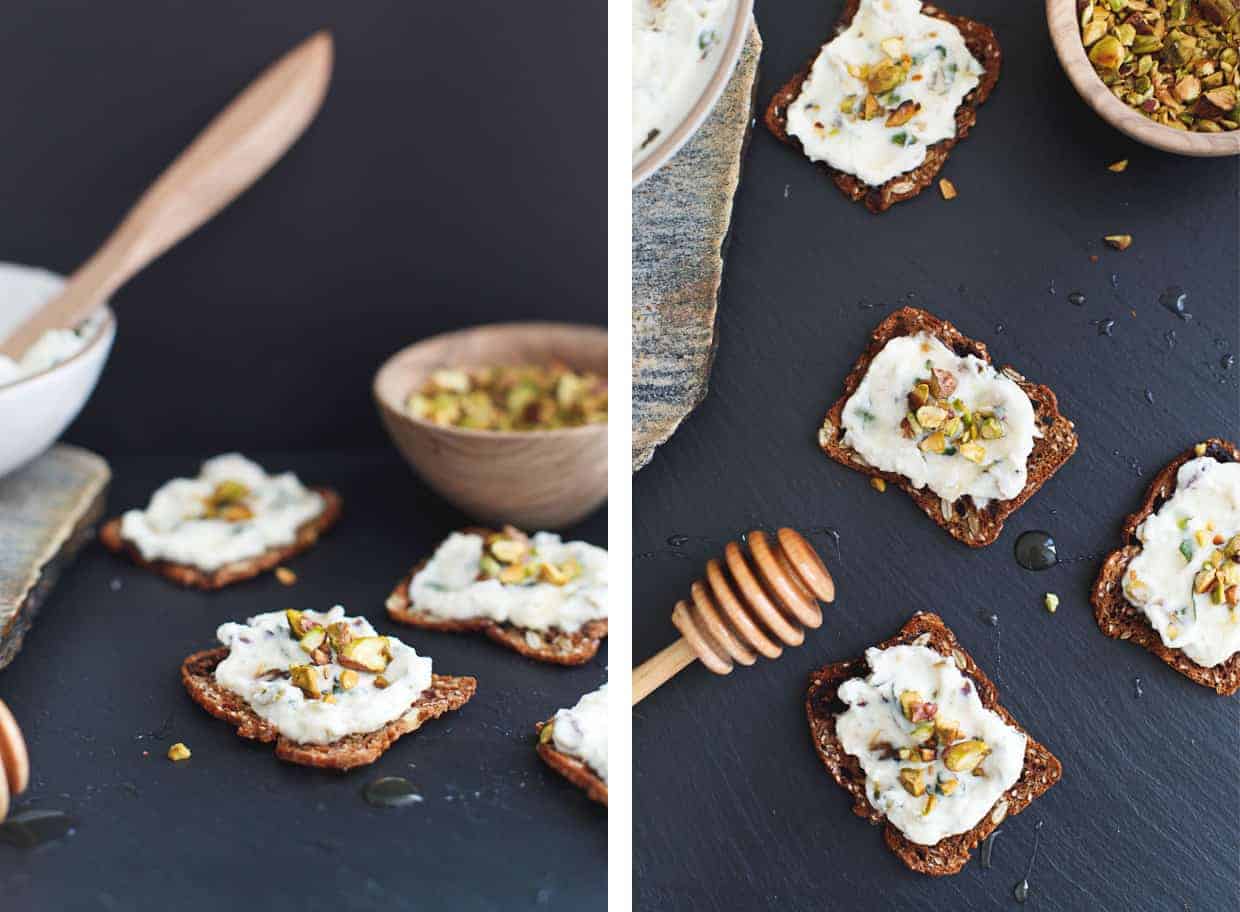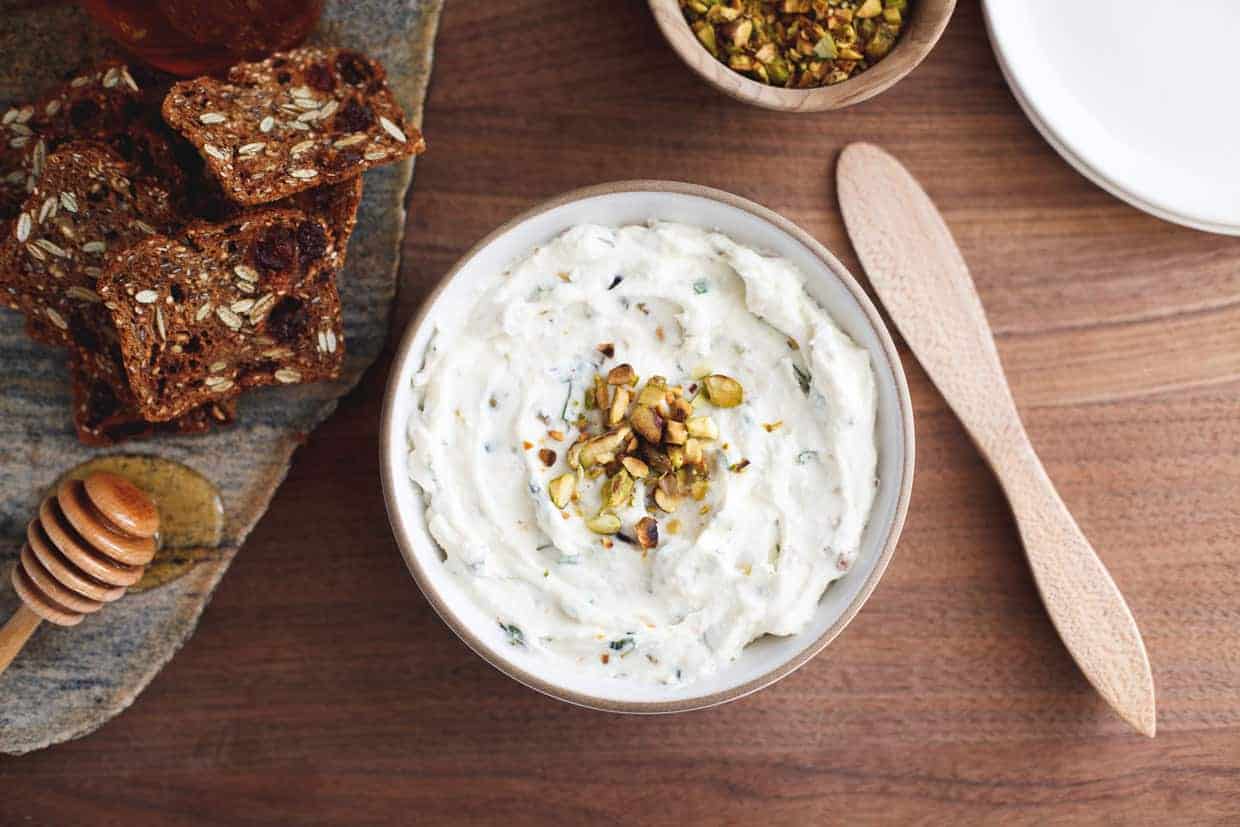 You can spread it on the crackers for a ready-made bite-sized appetizer or serve it in a bowl with a cheese spreader, a pile of crackers, and a bowl of honey on the side. Start to finish, this spread takes about 5 minutes to put together, which means you'll have plenty of time to visit with family.  Or, you know, bake/eat more cookies.
In addition to cheese, here are the desserts I'll be chowing down on for Christmas:
Wishing you a joyous and delicious holiday season! Thanks for testing my recipes, reading my stories, and leaving sweet notes - I wish I could have all of you over for our appetizers-only holiday dinner!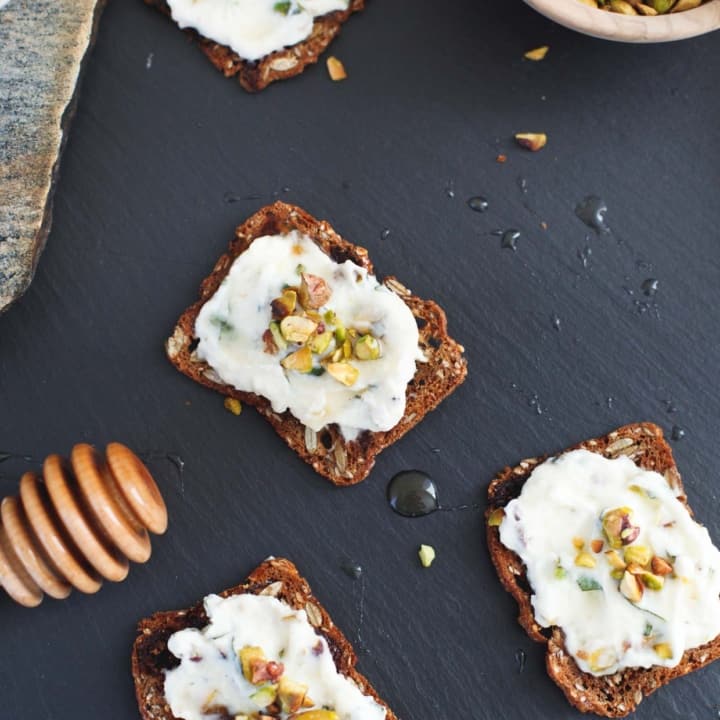 Pistachio Basil Ricotta Spread with Honey
Yield:
About 1 cup spread
Ingredients
1 tablespoon mascarpone cheese
¼ cup finely chopped toasted pistachios
3 tablespoons finely chopped fresh basil
2-3 tablespoons honey, for drizzling
Crackers, for serving
Instructions
Mix the ricotta and mascarpone together in a mixing bowl with a fork until thoroughly combined and creamy.
Fold in the pistachios and basil until evenly distributed.
Spread over crackers or toasted baguette slices with a drizzle of honey. Or serve in a bowl with a knife and crackers on the side!
Notes
*Go with a higher-fat cow's whole-milk ricotta as it has a creamier smoother texture than low-fat or part-skim ricotta. If the latter is all you can find, try adding an extra tablespoon of mascarpone to give a bit more creaminess.
Thanks for reading Snixy Kitchen! To stay up on what's coming out of my kitchen, follow me on Facebook, Instagram, Twitter, Bloglovin', Pinterest, or subscribe via e-mail to get new recipes right to your inbox.