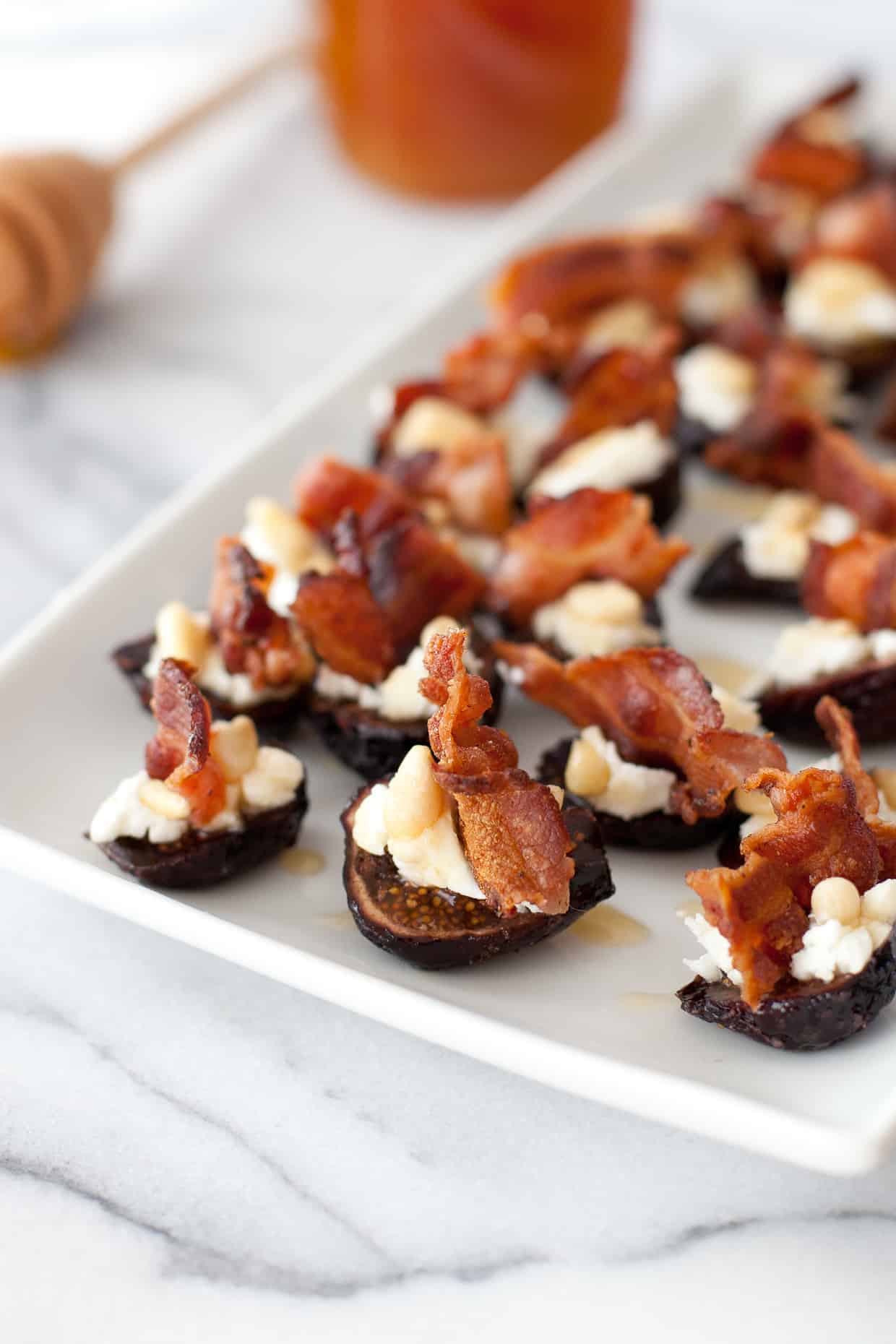 Here, have a goat cheese stuffed fig! Now that you're munching on something, I'm bursting at the seams in excitement over the news I've got - I can't contain myself. (No Mom, we're not pregnant). Snixy Kitchen is getting a remodel! A digital remodel. A make-over. A complete overhaul redesign with a custom theme built by yours truly. If you've been around since the beginning (Hi again, Mom), you may recall that my loving husband (then boyfriend) created the original theme you see today, but the one that's getting wrapped up in a pretty bow and coming your way very soon? I'm doing it myself.
Without knowing a lick of html, css, php, or javascript before embarking, I'm pulling from online classes, my awesome friends, and every online forum I can find to teach myself how to build the custom theme I want. And it's taking a serious chunk of my free time. All, actually - exactly all of it. So that's my epic excuse for why it's been so quiet around here. But you're going to shove another one of these goat cheese and pancetta stuffed figs with pine nuts and honey in your mouth and it's going to get loud again. Lots of OMGs, Mmmms, and Ahhhs, followed by "is anyone going to eat the last one? [pause 1 second for courtesy] no? Okay then, I'm eating it."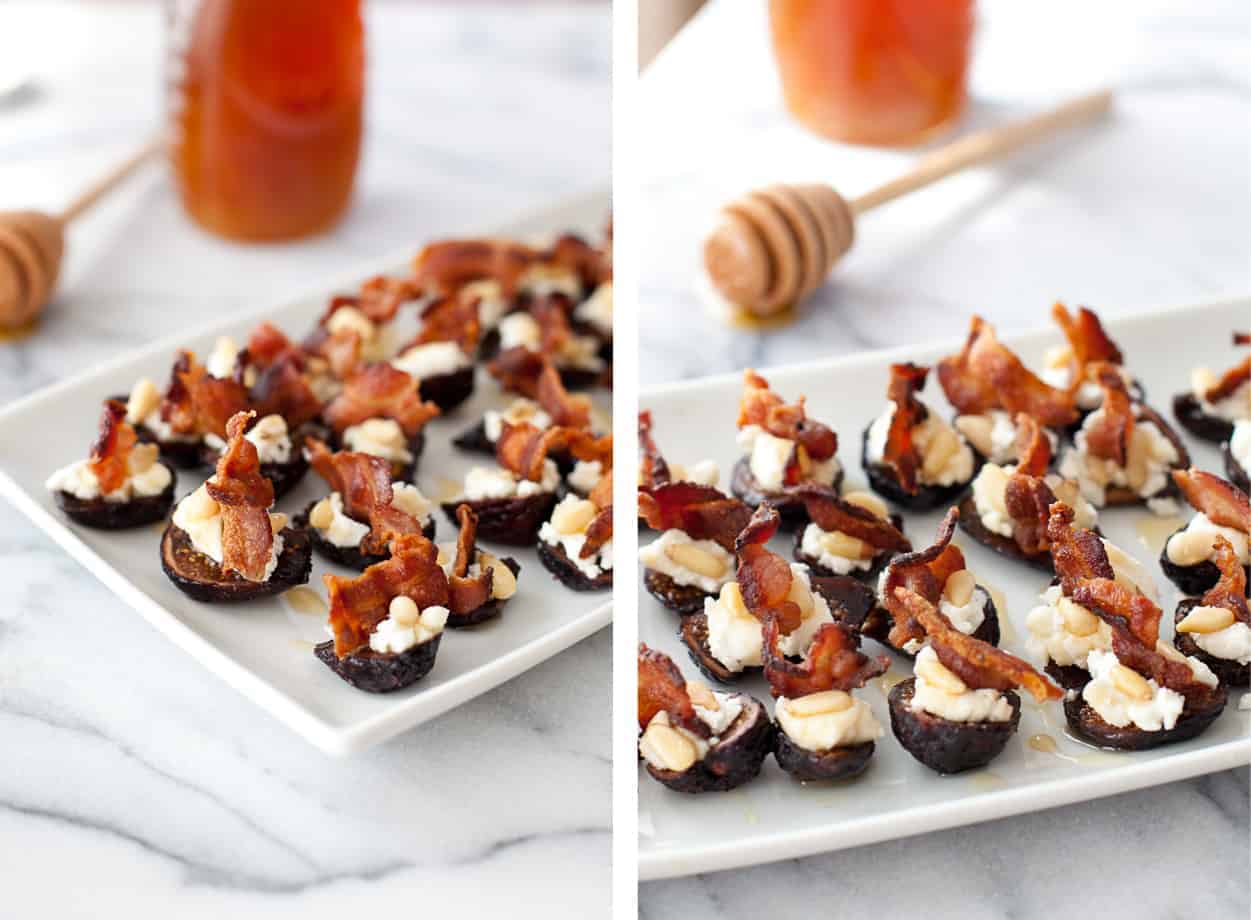 That's precisely what Spike said after popping about a dozen of these in his mouth at my birthday pig roast potluck back in March. Yeah, I know, MARCH. Here's the thing, things turned out a little less well than we'd hoped on the pig front. Namely, the pig did not cook in the ground as expected. Awkward. I'll tell you more details about the pig when I share the recipe for what I (finally) did with the leftovers last weekend. You know what wasn't a bust at the pig roast? My gluten-free carrot cupcakes and these little fig bites.
Goat cheese stuffed figs topped with pine nuts, pancetta, and a drizzle of local honey. I can't even talk about them without getting hungry. The only failure in this recipe was the failure to make more than one per person. Especially after you subtract out how many Spike ate as I moved the plate from the kitchen to the appetizer table on the back deck. You know when you're at an event where there are waiters walking around with little snacks? There's always one where you're like "woah, hold up" and then stack just as many as you can on your little cocktail napkin without looking like a savage.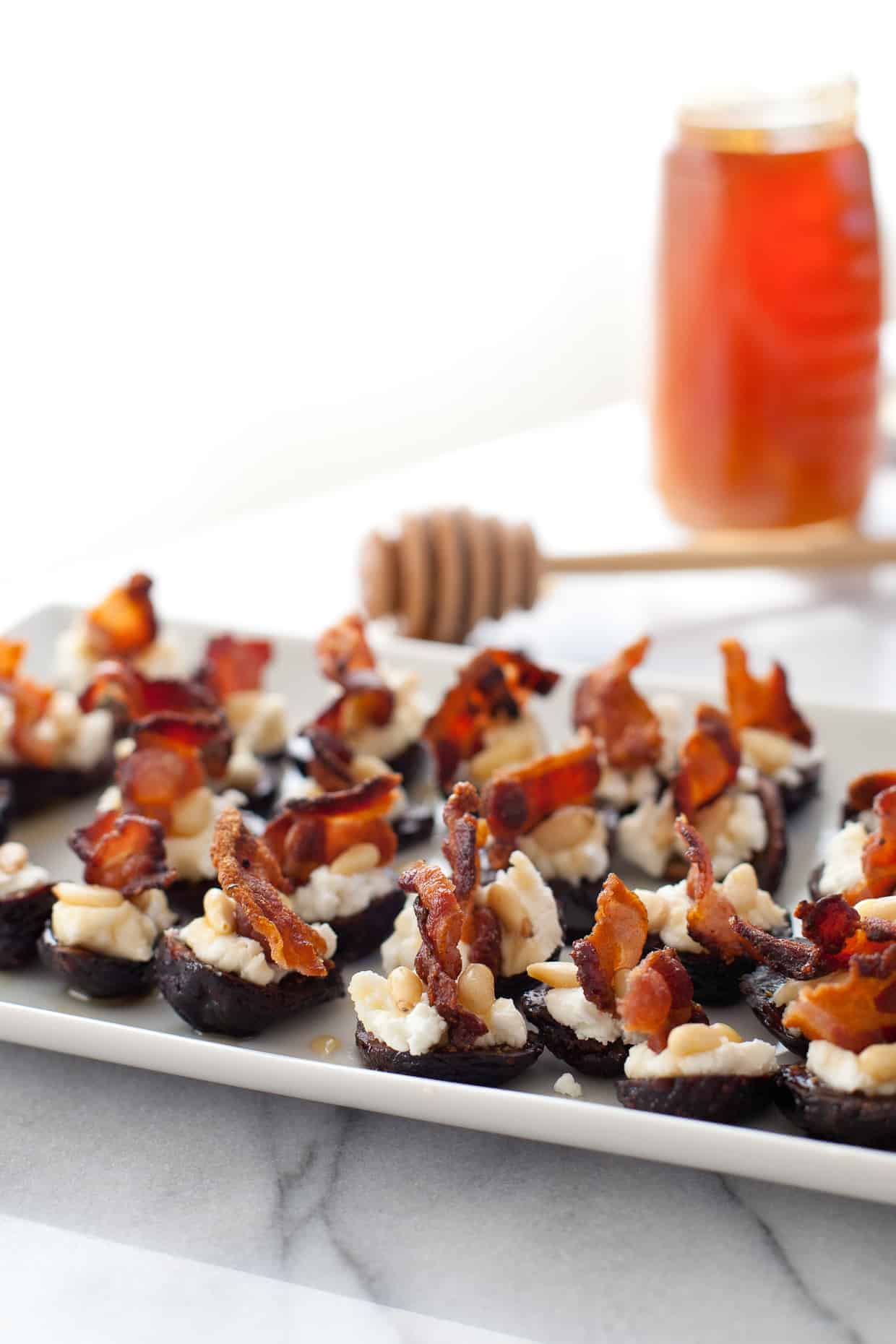 That's the feeling I get when I eat one of these fig bites. I always contemplate whether it would it be appropriate to eat the entire platter before the guests arrive. No one would ever know, right? These goat cheese stuffed figs are all at once salty, sweet, savory, creamy, and crunchy. You probably should double the recipe because somehow, once they're plated, you'll find yourself with half as many as you set out to make. There's a serious lack of self-control in this house. This is the same reason I baked only half of the dough for Lucas's birthday cookies last night; if there are 2 dozen cookies in the house, we'll eat 2 for breakfast, 3 for lunch, and 4 for dinner, plus more for snacks and dessert. Gone in one day.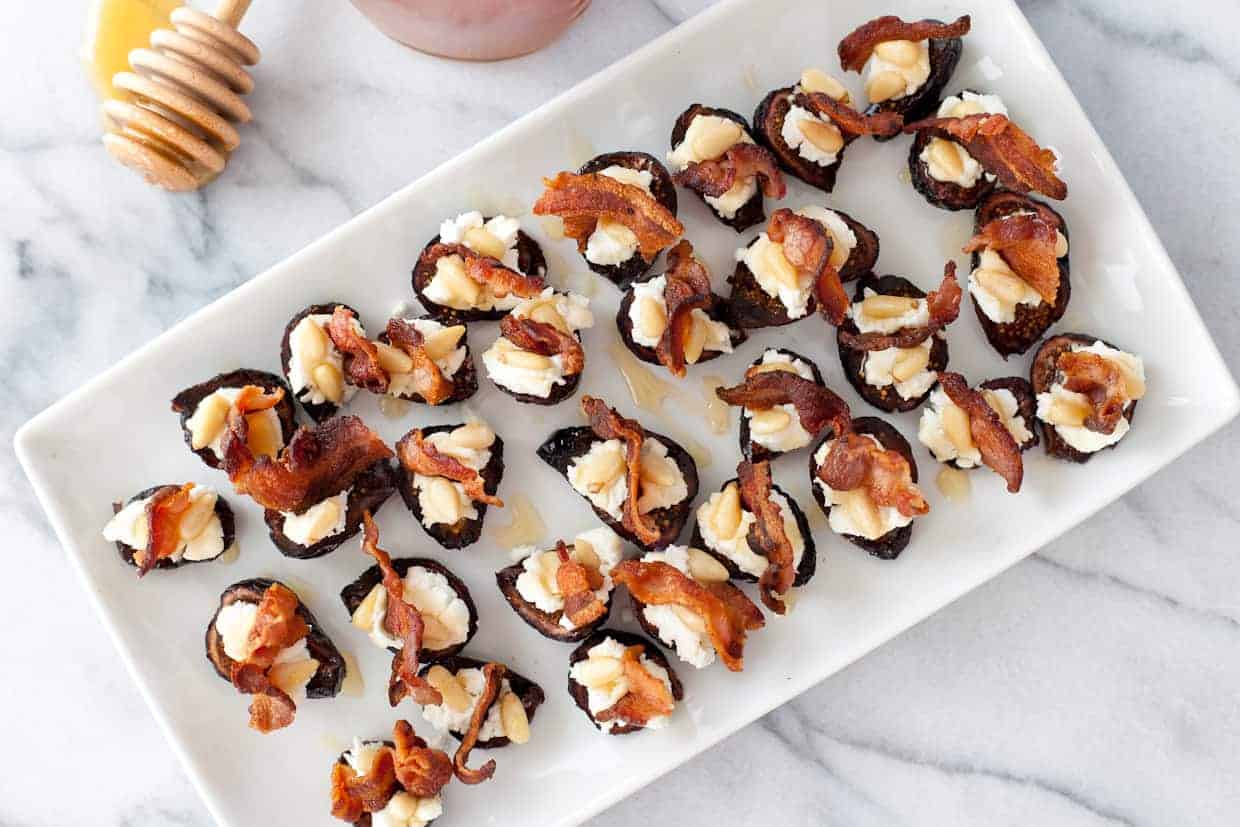 If you've got access to some fresh, ripe figs, feel free to swap them in place of the dried figs - you can't go wrong either way!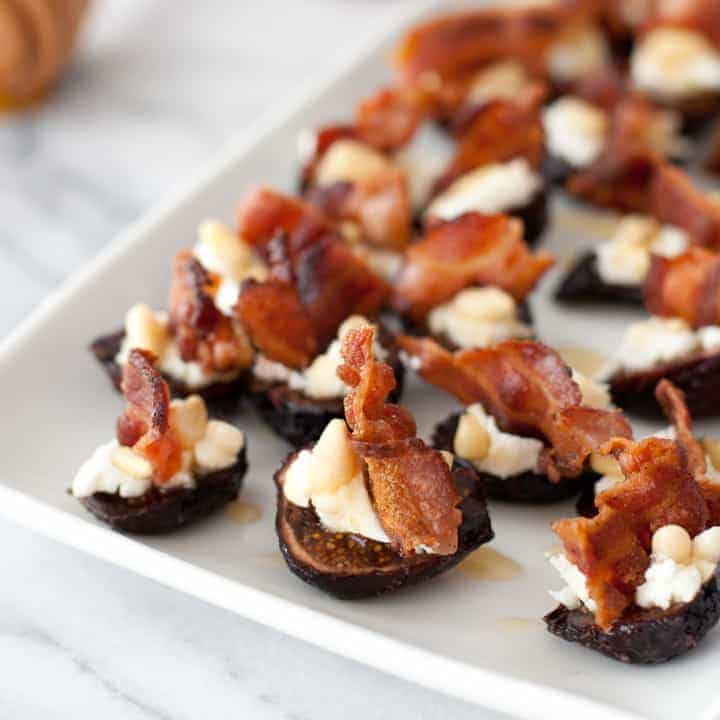 Goat cheese stuffed figs with pancetta
Ingredients
18 dried figs, sliced in half
⅓ cup pine nuts
4 slices of pancetta or bacon, cooked until crispy
1-2 tablespoons of honey, for drizzling
Instructions
Top the cut side of each fig with ½ teaspoon of goat cheese.
Press 2-3 pine nuts into the goat cheese of each fig.
Break or cut the pancetta into 1-inch long pieces and press one piece into the goat cheese of each fig.
Line the figs up on a serving platter, drizzle honey over the top of the figs, and serve. (Or eat 5 yourself, then serve;)