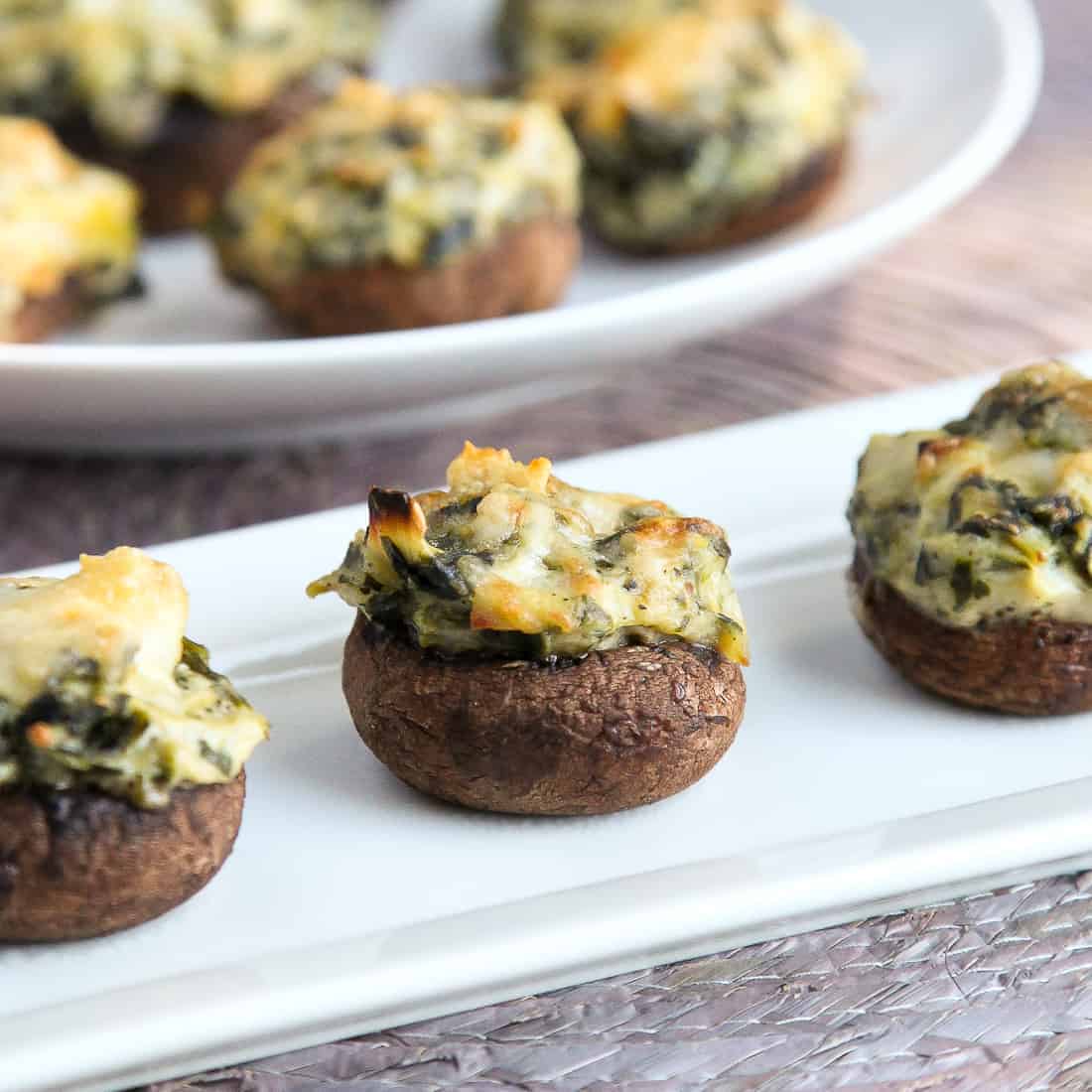 Despite attending two Pac 10 schools, I have very little interest in March Madness. I feel pretty much the same about it as I do about the Superbowl. If my friends are watching, I'm more than happy to make finger food all day and chat during commercial breaks. Except if there's a game on my birthday (which usually happens during March Madness). In which case, you mention March Madness and I'll shake my fist at you. This year, March has been a basketball-free month over here; even if my friends have gotten together for the occasion, I've been at home unpacking, sewing wedding banners, and stuffing invitations. Turns out wedding planning is a full-time job. Luckily it's right up my alley - career shift, perhaps? For all of you with your eyes glued to college ball right now, I bring you the last dish from our anniversary day of cooking, spinach artichoke dip stuffed mushrooms, which just so happen to make a perfect game day party snack.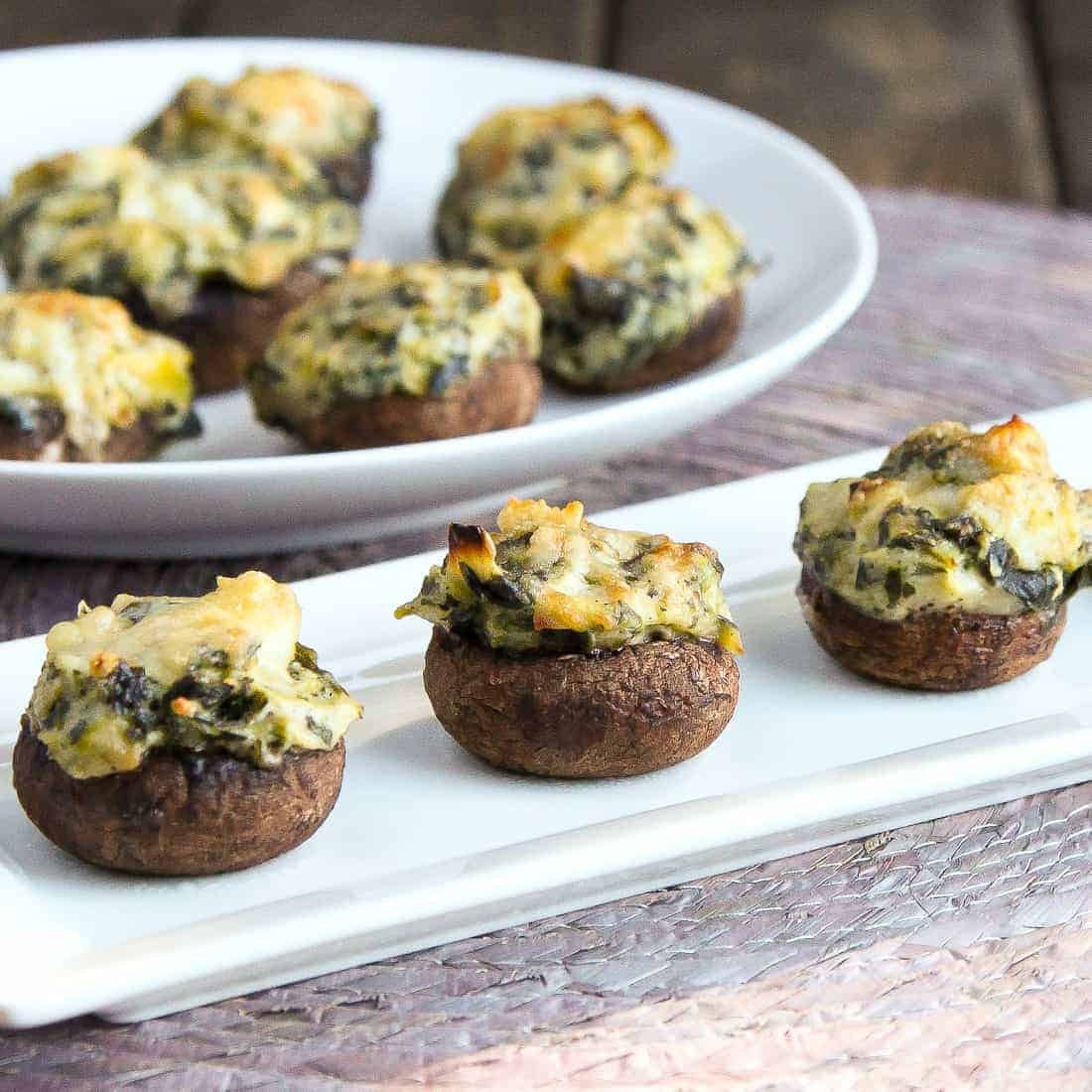 For most holidays or family get-togethers, my brother whips up a batch of his famous spinach artichoke dip. It's basically vegan, except that he uses real mayonnaise (you may recall that he eats eggs and fish...and rumor has it he's going to slowly add meat back into his diet to see what happens). His dip is always a crowd-pleaser and no one ever notices the vegan substitutions. And although it's probably just as unhealthy, I somehow don't feel nearly as guilty indulging in a huge scoopful. I used his recipe, but threw in some regular parmesan cheese and wound up with a mixture of vegan and non-vegan ingredients that tasted dynamite. We love artichokes around here and go completely nuts for mushrooms, so these little bites made a foolproof appetizer for our anniversary meal. Creamy and cheesey artichoke and spinach-filled baked mushrooms - divine!
Stay tuned to read about some of the first few dishes I whipped up in the new kitchen that, BY THE WAY, I love cooking in! Three more months of wedding planning and maybe my life will calm down enough to finally plant our own little garden in the new backyard.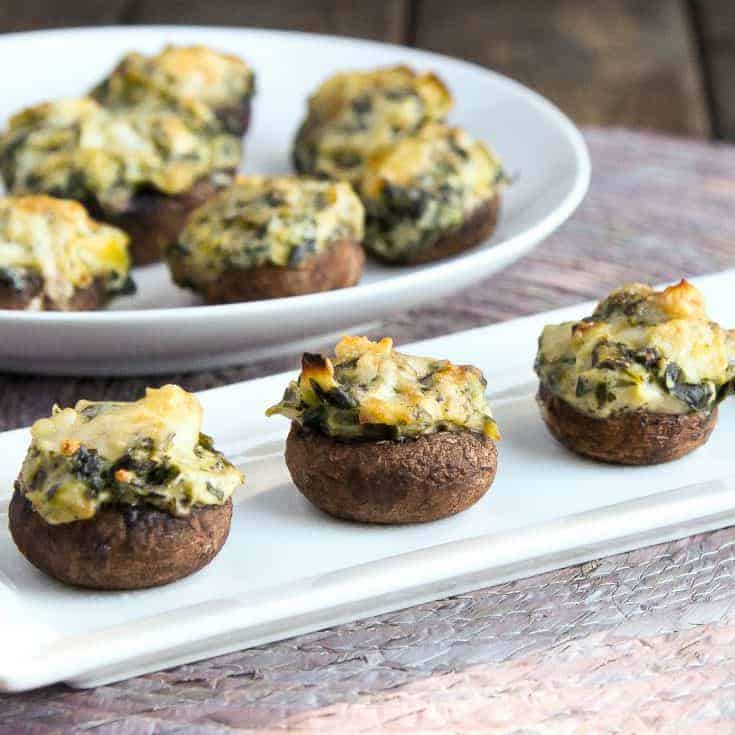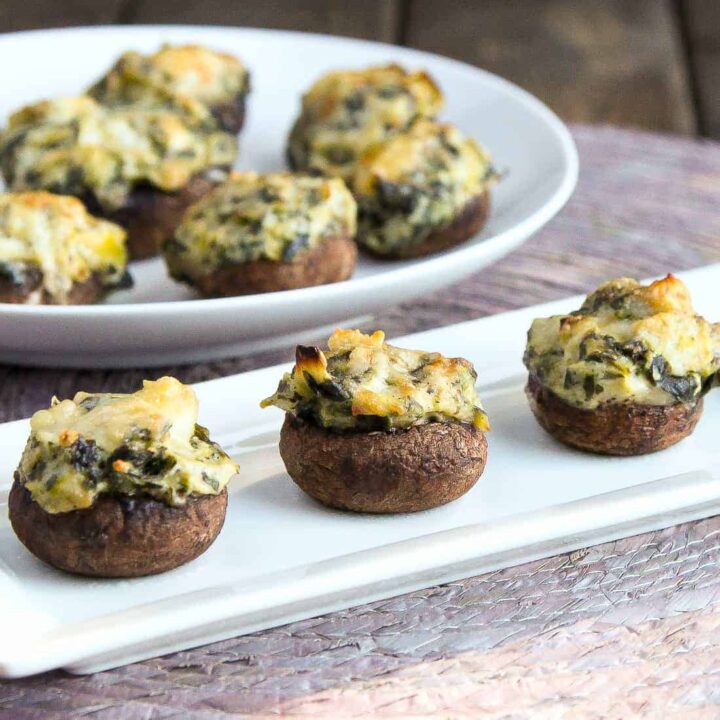 Spinach artichoke dip stuffed mushrooms
Ingredients
About 20 brown cremini mushrooms, brushed clean and stems removed
1 cup frozen spinach, thawed and drained
1 cup frozen artichoke hearts, thawed and chopped
⅓ cup vegan cream cheese (or regular, if desired)
⅛ cup vegan sour cream (or regular, if desired)
⅛ cup olive oil mayonnaise
⅔ cup parmesan cheese, grated
¼ teaspoon red pepper flakes
¼ teaspoon garlic salt
¼ teaspoon pepper
Instructions
Preheat the oven to 350ºF.
Bring the spinach, artichoke hearts, and about ½ cup of water to boil in a small saucepan, then reduce the heat and let simmer for 5 minutes.
Remove the spinach and artichoke hearts from the pan and drain thoroughly, using a paper towel if needed.
Over low heat, add spinach and artichokes back to the pan. Stir in the cream cheese, sour cream, mayonnaise, red pepper flakes, garlic salt, and pepper until completely combined. Fold in half of the parmesan cheese.
Scoop a large spoonful of the dip into each mushroom cap and arrange face up on a parchment-lined baking sheet.
Sprinkle the remaining parmesan cheese on top of each mushroom and bake for 15-20 minutes.
Turn the oven to broil and heat for 2 more minutes, or until the cheese begins to brown.
Serve immediately.