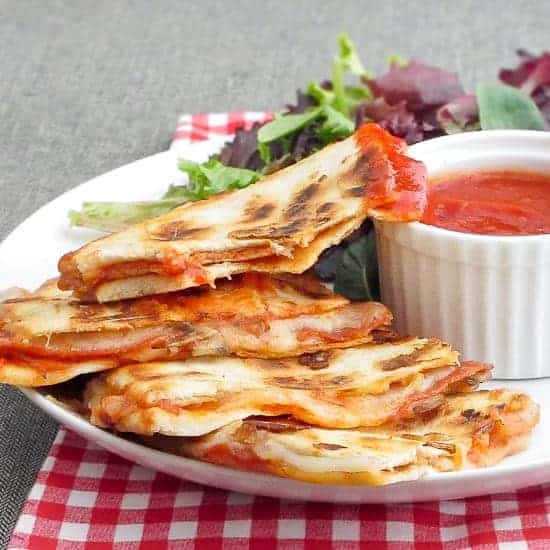 I've been holding out on you. While I have been able to squeeze in a bit of time in the kitchen, finding time to write about it is a totally different story. We got home from Whistler/Vancouver/Seattle Wednesday morning around 2:30am, only to wake up a few hours later to a jam-packed workday. The evening ended with a food-filled celebration for Chuy's birthday complete with pepperoni pizza quesadillas and gooey strawberry chocolate chip brownies prepared by yours truly.
Thursday was occupied by errands, unpacking, laundry, and re-packing, while simultaneously tending to my grad school duties before leaving for the airport at 4:30am this morning. Up in the air, again. Luckily, eating hasn't fallen by the wayside amidst all this globetrotting.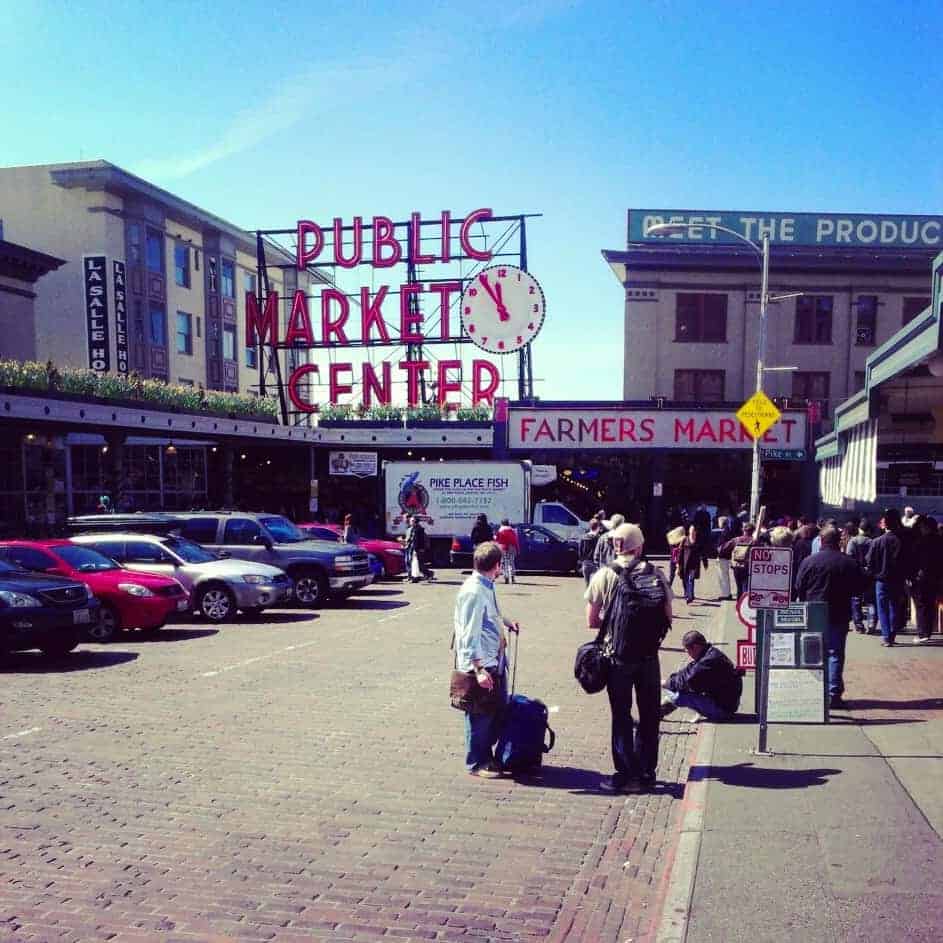 While visiting someplace new, I most look forward to dining at the local eateries. So, to keep you on the edge of your seat for these addicting birthday quesadillas, I'll update you on my travels by sharing my edible experiences. With restaurant week in full swing, we couldn't have timed our arrival to Seattle any more perfectly. My pal Alicia made reservations at one of Tom Douglas's restaurants, Dahlia Lounge, and the food was so divine that it made me forget I'd been up since 4am with only 3 hours of sleep behind me. You can't beat a fancy three-course meal that includes leek and salsa verde soup and a leg of lamb for only $15.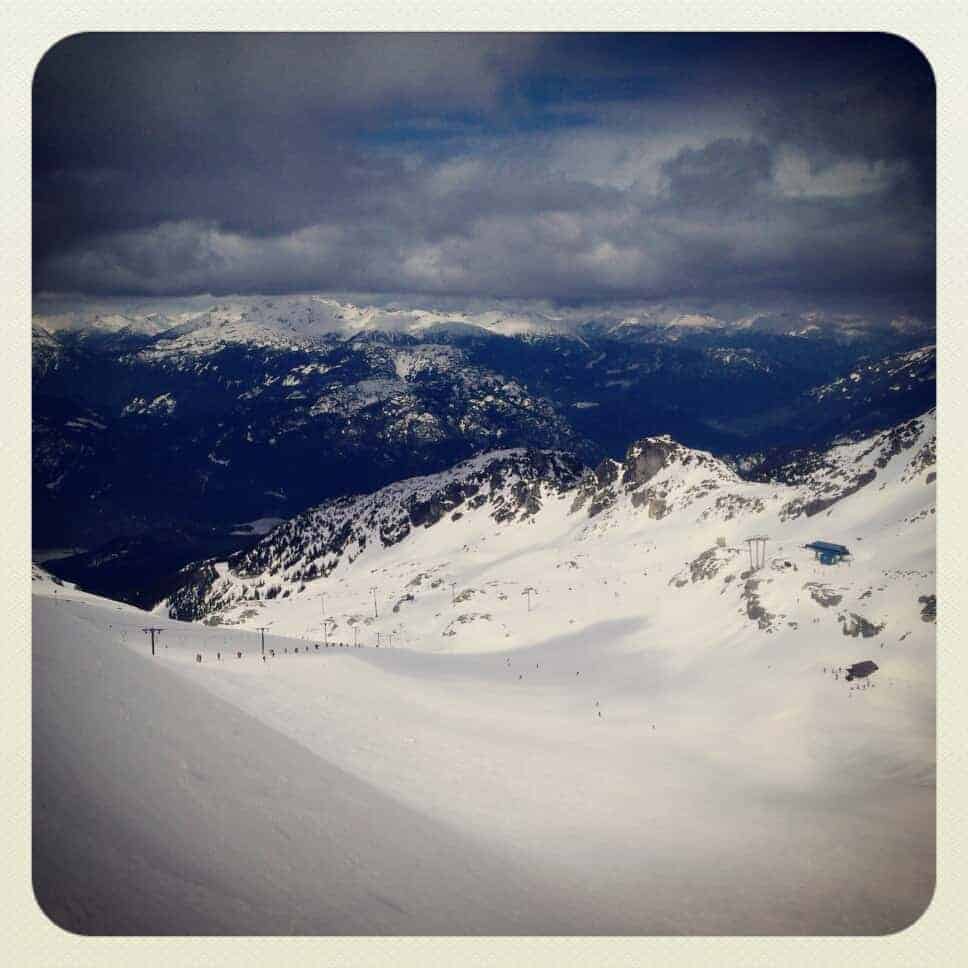 A breathtakingly scenic five-hour car ride later we arrived in Whistler only to discover that Canada + Ski Resort = pricey restaurants. Too cheap to buy a proper lunch, I survived Sunday on beef jerky and Coca Cola samples from the Telus festival happening in the village (good timing at work again?). On our last night there, I indecisively ordered two "appetizer portions" of grilled shrimp and mussels that arrived on two entrée-sized plates. And we thought Americans ate too much. Since we were paying an arm and a leg for it, I had to eat all 12 shrimp and 20 mussels - no seafood left behind!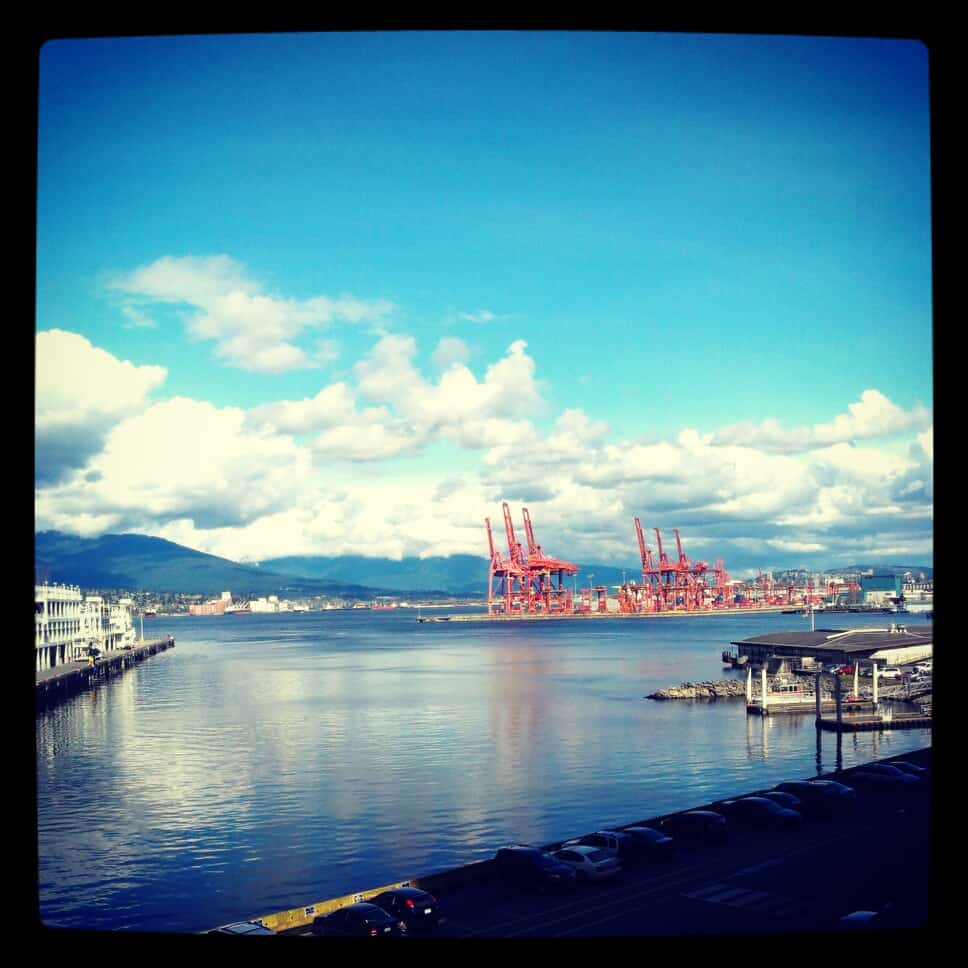 While Lucas and my parents gallivanted around town, the extent of my tourism in Vancouver included hefty meals between conference sessions. With plenty of recommendations from friends, we maximized every food hour. We hit up Diners, Drive-ins, and Dives's Fresh. Local. Wild. for seafood poutine and fried oysters, scarfed down pulled noodles and pan-fried dumplings at a Chinese noodle house, and nibbled from a tasting menu with large servings of meats and cheeses. All this in less than 24 hours. I've eaten enough to hibernate for a few months, but instead, I plan to eat twice as much in Philly.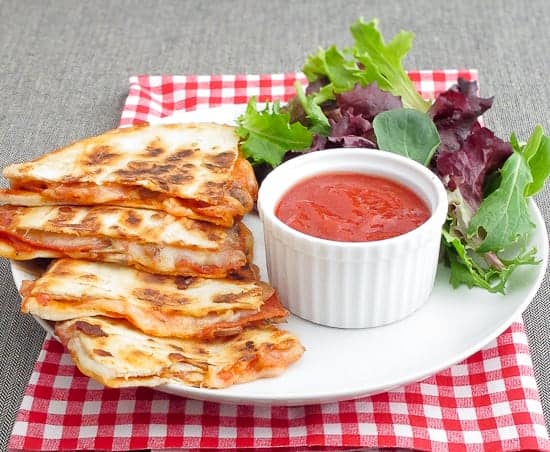 With only one free night to cook between trips, these pepperoni pizza quesadillas were a stroke of genius. Only 48 hours at home meant very little time for cooking, but I couldn't very well let Chuy starve for his birthday – what kind of friend would I be?! Baking subtracted even more from the dinner preparation time, but what's a birthday without dessert?
These cheesy tortillas tasted exactly like fresh oven-baked pizza, but required less than 10 minutes to make. Plus, they were way more fun because we got to dip them in the pizza sauce. The key ingredient to making them so mouth-watering was pan-fried high-quality pepperoni to give each bite the crispy texture reminiscent of real pizza. It was a high flavor payoff for a meal that took only a couple of minutes, and Chuy was a happy camper.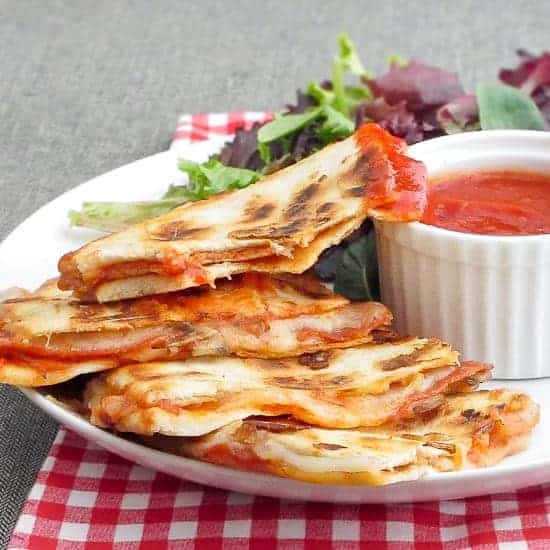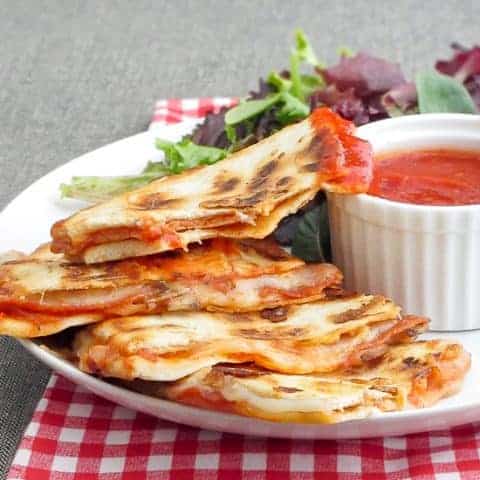 Pepperoni pizza quesadillas
Ingredients
8 flour or corn tortillas (I used Trader Joe's handmade tortillas)
8 ounces of shredded mozzarella cheese
⅓ lb pepperoni
1 16-ounce jar of pizza sauce
Optional: 1 6-ounce can of sliced black olives, 1 cup of sliced cremini mushrooms
Instructions
Heat a medium skillet over medium heat and fry the pepperoni until crisp. Transfer on a paper towel to drain.
Brush each tortilla with a thin layer of pizza sauce (so thin that if you turned it over, none would drip).
Sprinkle cheese on top of the sauce on the bottom tortilla. Top with pepperoni and other toppings, if desired. Sprinkle with another layer of cheese and place the other tortilla on top (sauce side in).
Pre-heat a medium cast-iron skilled over medium heat.
Lay quesadilla in the pan and cook for 3-5 minutes on each side, until cheese is melted and tortillas are crispy.
Slice into quarters and serve with a little bowl of pizza dipping sauce.