These tropical haupia tarts have a gluten-free buttery pine nut crust filled with a zesty line coconut cream custard and are topped with mint mangoes and a toasted pine nuts.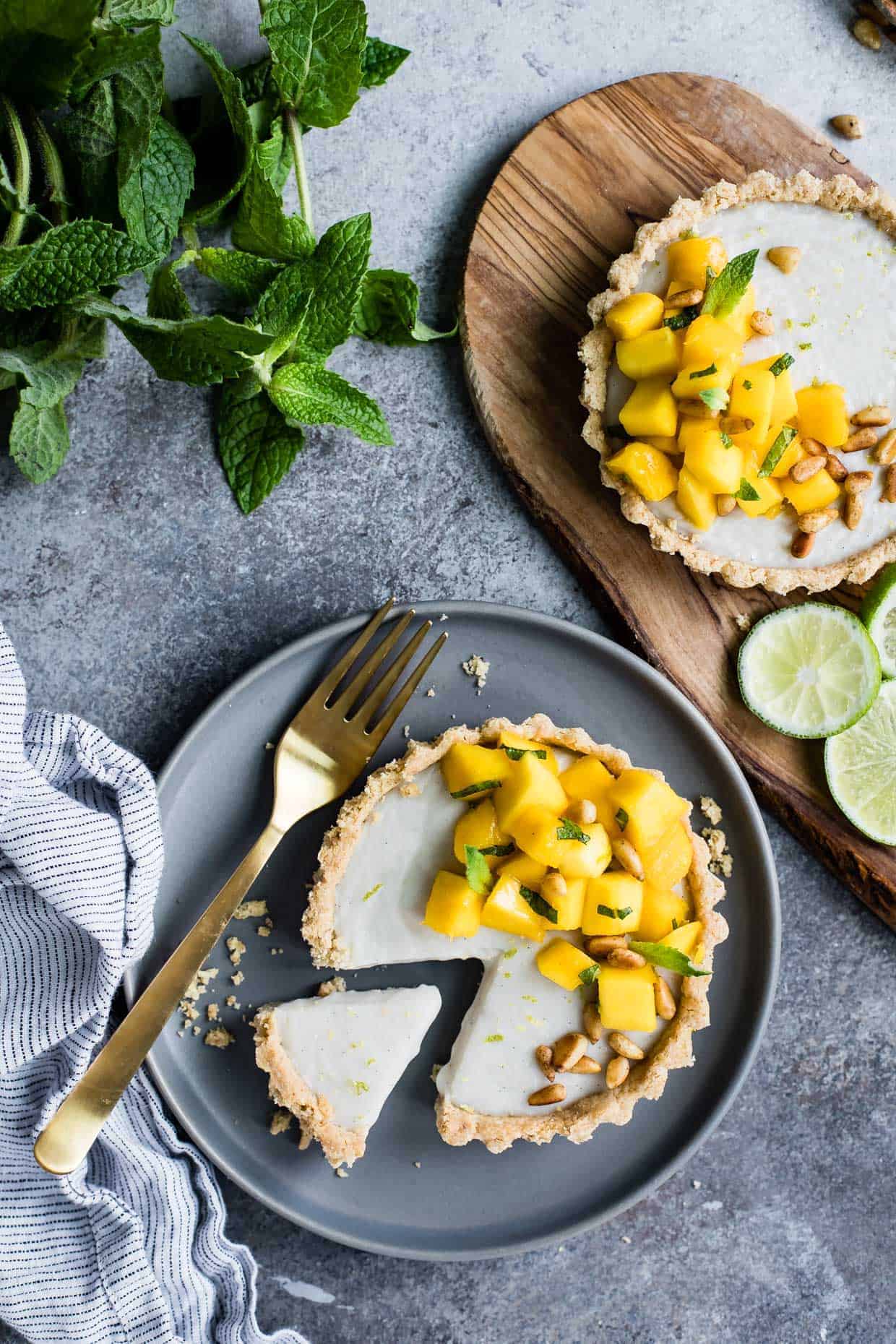 I sat down to write this post late last night - ready to gush all about these mint mango haupia tarts with pine nut crust. But then my toddler (!!) woke up crying and my brain completely shut off. It just stopped working.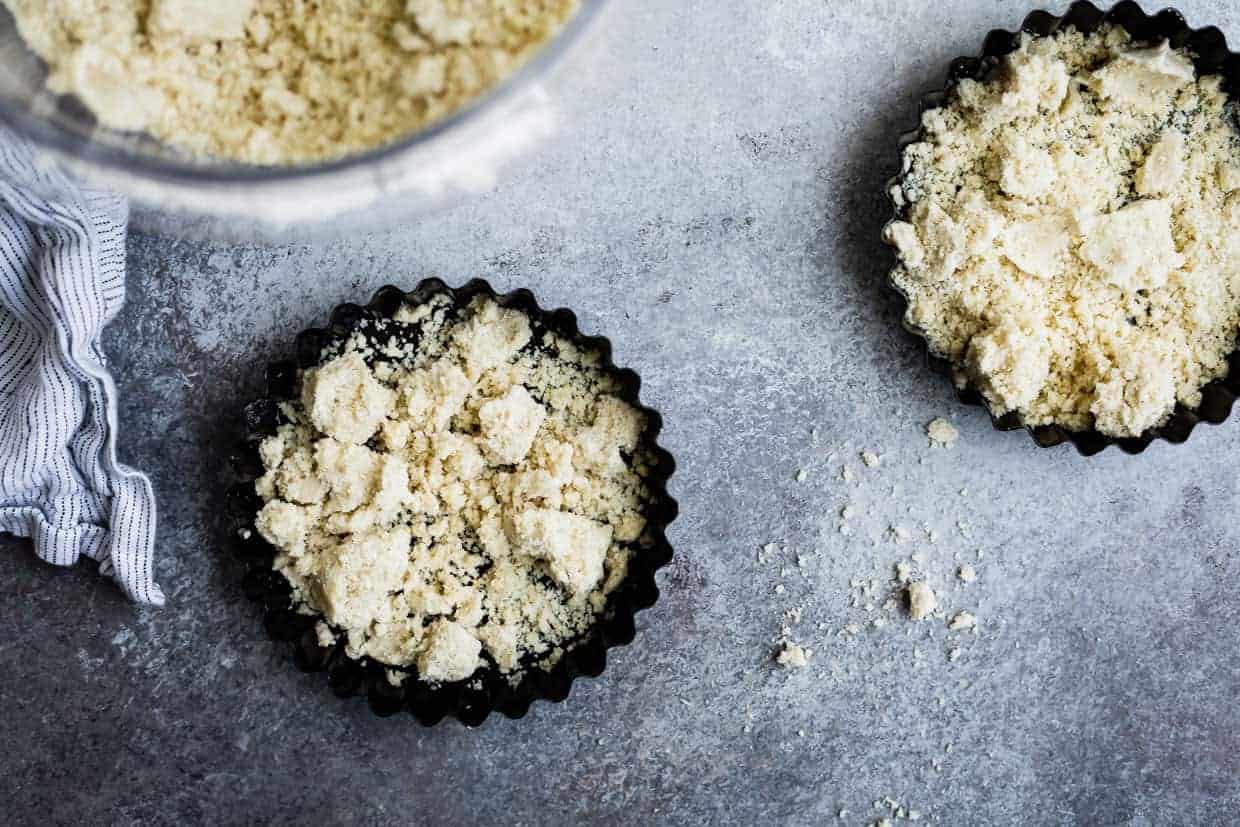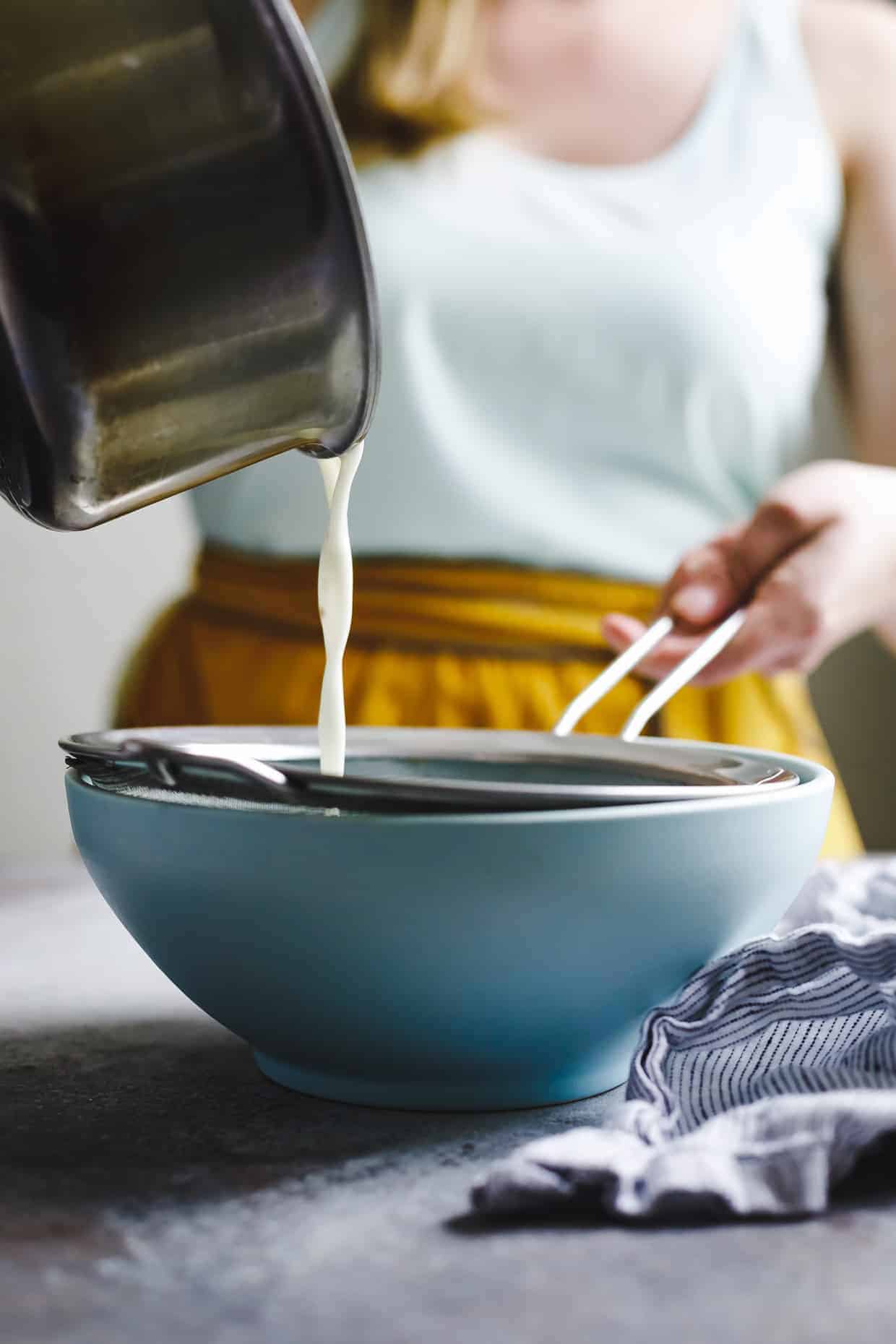 We went to Golden Gate park for Mother's Day with some friends and their brand new itty bitty baby who had the teeniest tiniest newborn cry. Her wails hardly fazed me. In fact, I got her to curl up in my arms and fall asleep, while I also held a conversation. When it's my own baby's cry, though? It pierces. It shuts down the logical thinking parts of my brain and makes it impossible to do anything else but anxiously listen to her cry (and then maybe cry as well...guys, it's not rational, I know).
I think this is why it's easier for someone else to soothe your baby. Your kid feels that anxiety and feeds on it. In contrast, my heart rate while holding baby Indy on Sunday was cool as a cucumber. The perfect rhythm for an afternoon nap.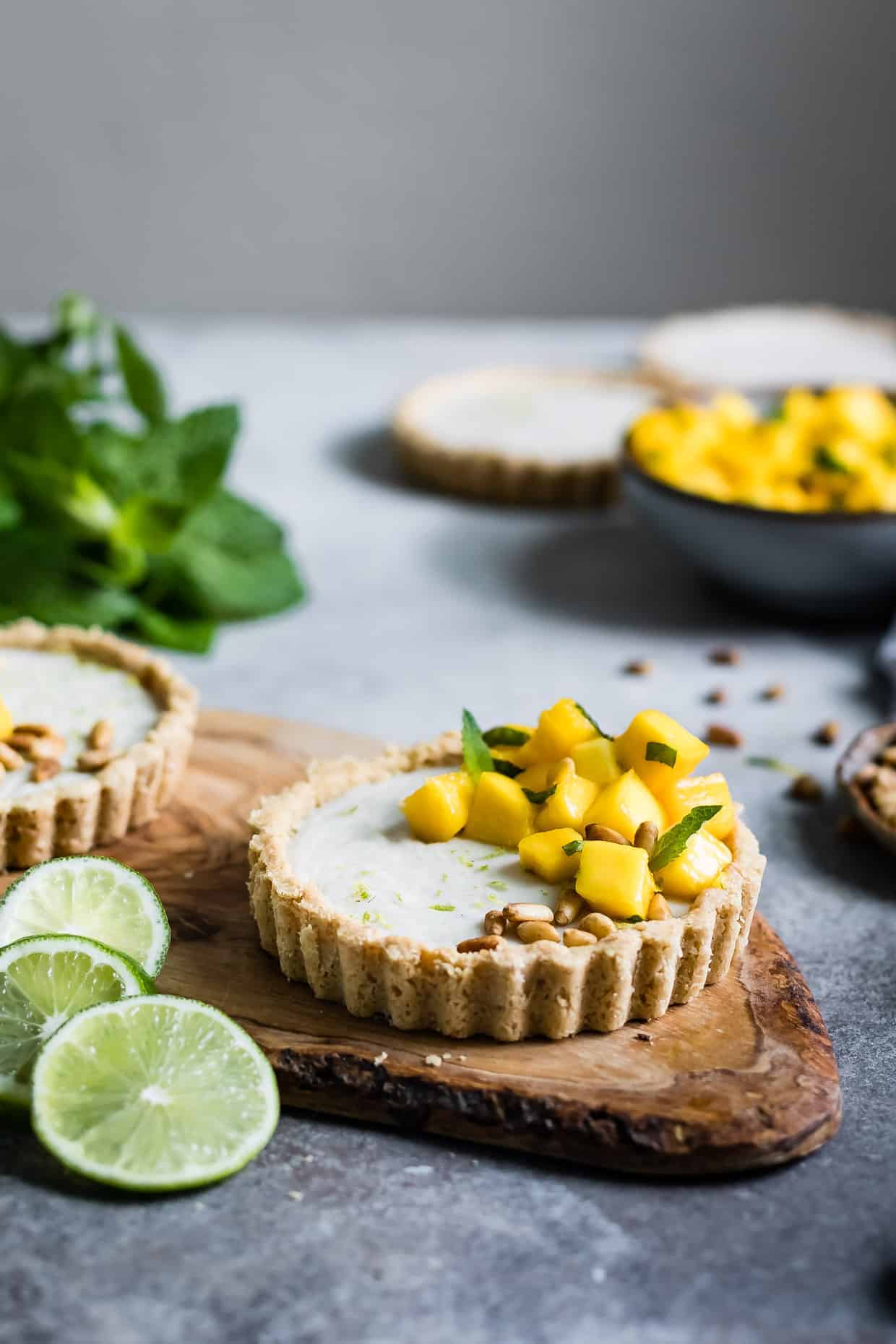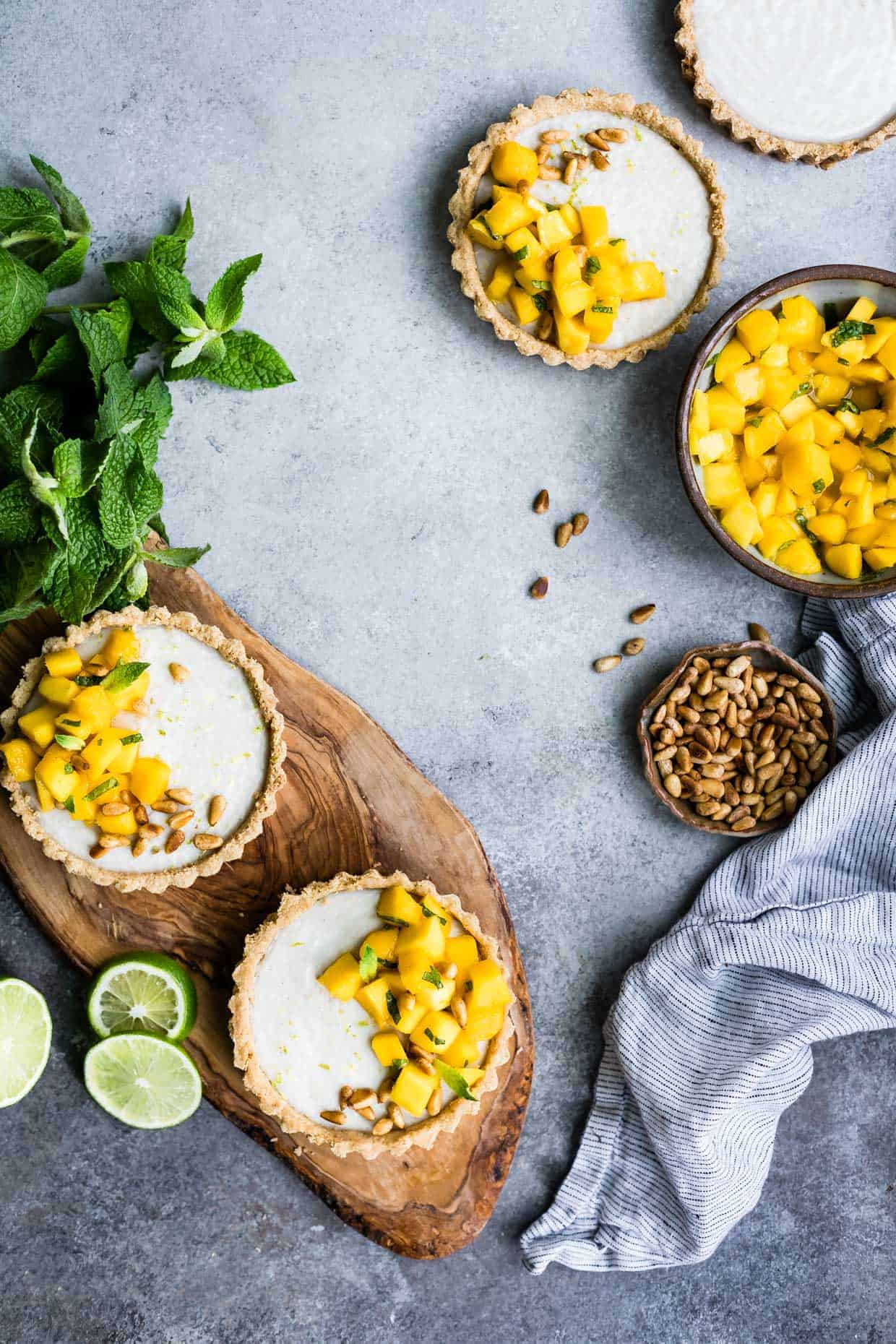 So let's try this again. These tarts seem complicated, but they're really pretty simple! The haupia filling is a Hawaiian sweet coconut cream custard that's infused with vanilla bean, thickened on the stove with a little corn starch, folded with lime zest, then chilled until firm and almost jello-like. I'm a texture person. This silky smooth texture is the tops.
I got the idea for a pine nut crust when I was making an enormous list of all the things I wanted to make (read: eat) from Irvin's cookbook. Marbled, Swirled, and Layered. Back in my early cooking days (BB: Before Blog), pine nuts were one of the four foods my friends would joke described almost all of my recipes, yet it's a miracle that I never even thought to put them in dessert before - their buttery sweet texture was made for dessert! Pine nuts give the crust a sweet nutty hint that enhance the best part of any tart crust: butter, obviously.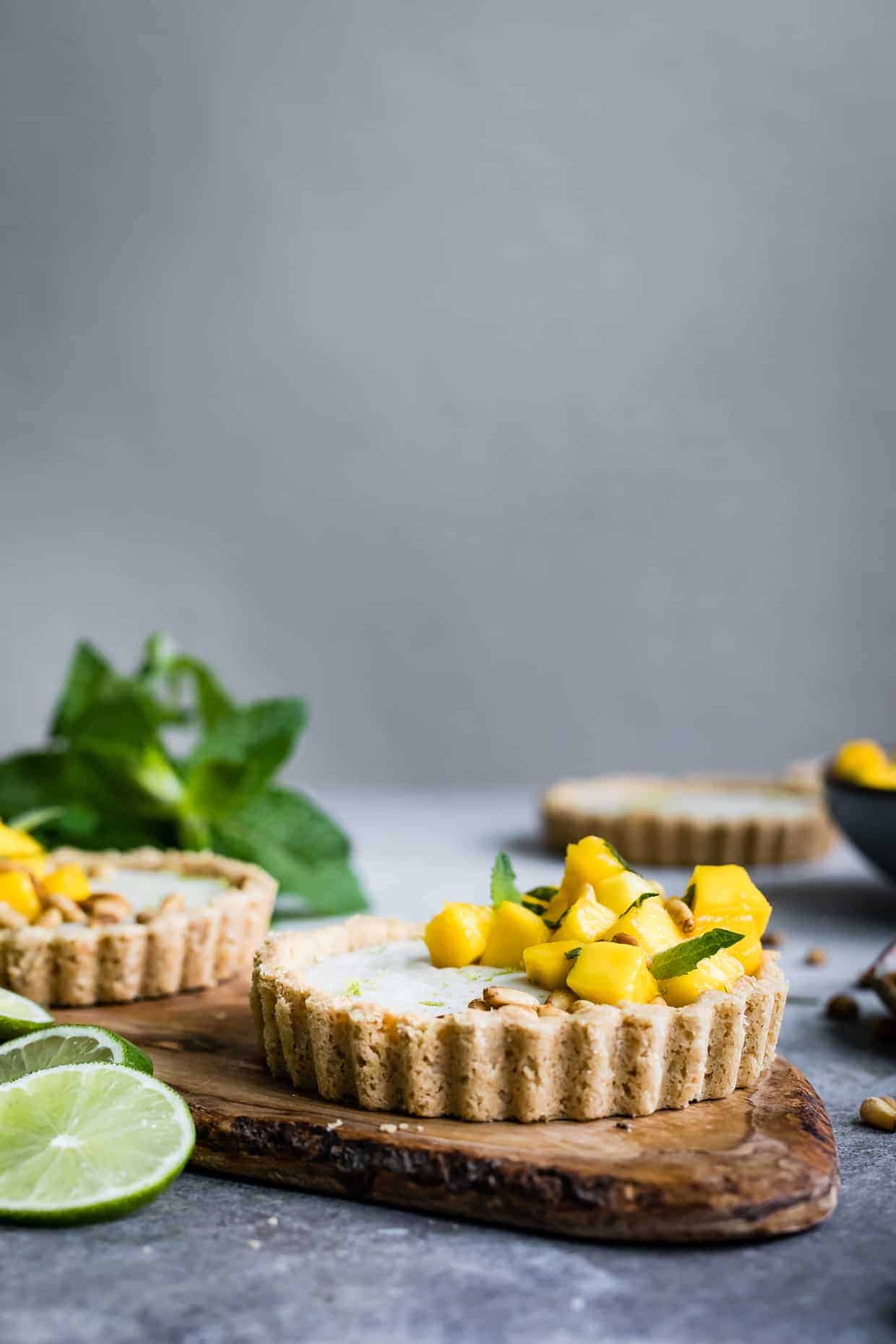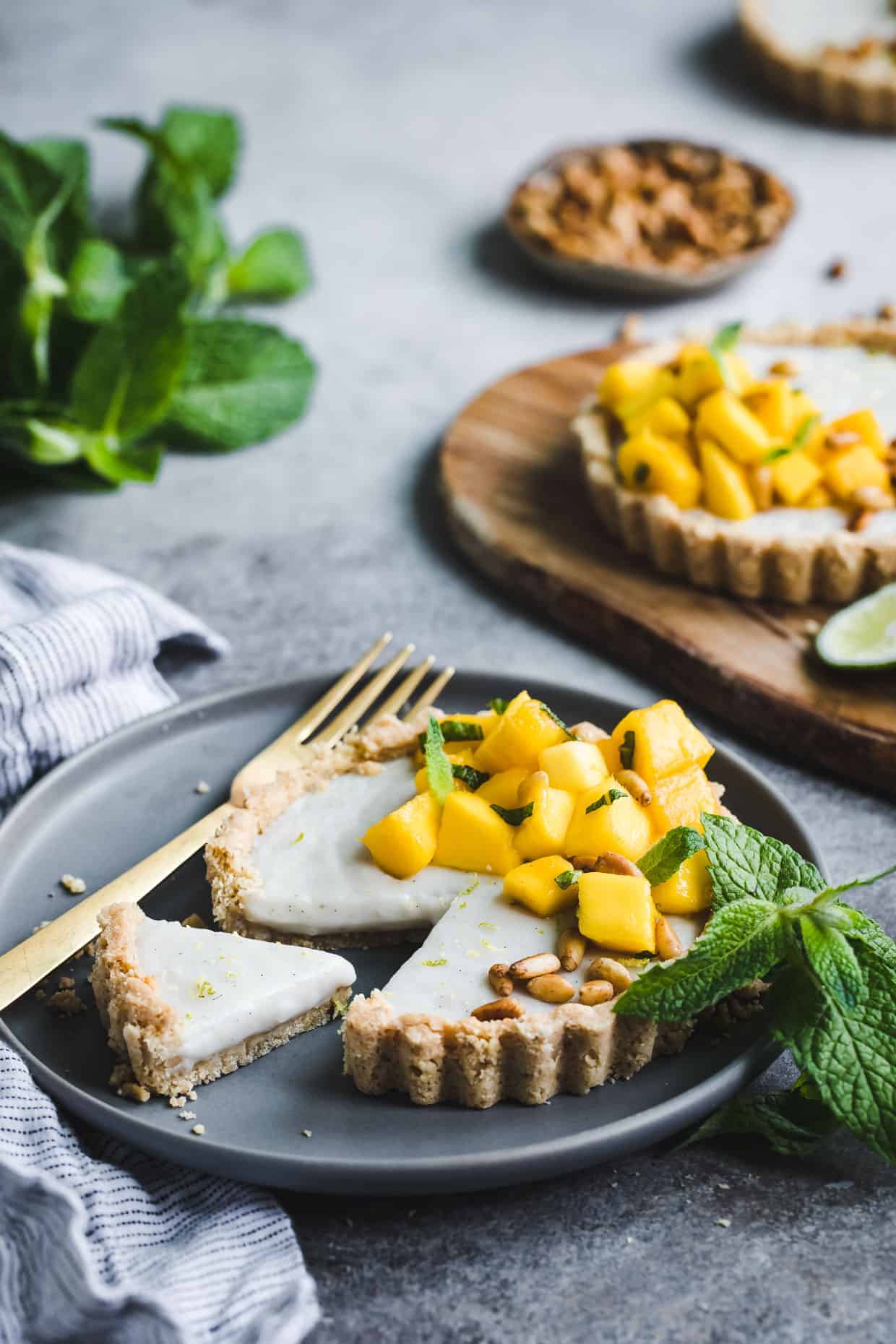 These haupia tarts are topped with mangoes tossed with mint and a few toasted pine nuts. Each bite is all at once creamy, buttery, refreshing, and tropical. I brought a few to a cocktail ladies night with Alanna, Sarah, and Carla. Then I ate the last one for breakfast this morning as a prize for getting through the night with a restless toddler and I feel pretty great about that.
Thanks for reading Snixy Kitchen! To stay up on what's coming out of my kitchen,  follow me on Facebook, Instagram, Twitter, Bloglovin', or Pinterest, or subscribe via e-mail to get new recipes right to your inbox.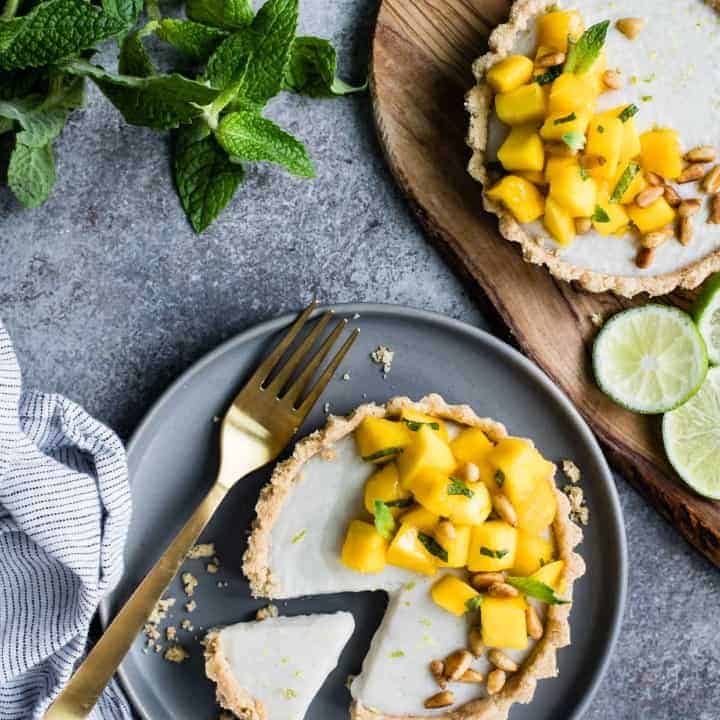 Mint Mango Haupia Tarts with Pine Nut Crust
Yield:
Four 4-inch tartlets or One 9-inch tart
Ingredients
Pine Nut Crust
⅔ cup (90g) pine nuts
½ cup + 2 tablespoons (74g) gluten-free oat flour*
¼ cup (32g) sweet rice flour (different from "white rice flour" or "brown rice flour")
2 tablespoons (16g) tapioca starch or tapioca flour
¼ cup (36g) powdered sugar
½ teaspoon kosher salt
6 tablespoons cold unsalted butter, cut into ¼-inch cubes
1 teaspoon vanilla extract
Haupia with Mint Mangos
1-⅔ cups full coconut milk (1 14.5-ounce can)
2 tablespoons coconut cream
½ vanilla bean seeds and pod
¼ cup granulated sugar
¼ teaspoon salt
2 tablespoons cornstarch
2 tablespoons water
Zest of 1 lime, divided
1 ripe mango
10 mint leaves, finely chopped
1 teaspoon honey or sugar
2 tablespoon toasted pine nuts, for serving
Instructions
Pine Nut Crust
Preheat the oven to 375°F.
Add the pine nuts, sweet rice flour, oat flour, tapioca starch, powdered sugar, and salt to the bowl of a food processor and pulse until the pine nuts are finely ground.
Add the butter and vanilla and pulse until the dough begins to form clumps and/or clumps together when pressed with your finger tips.
Divide the crust between and press the crust into four 4-inch tartlet pans or one 9 inch tart pan, starting with the edges and then pressing the bottom down.
Prick the bottoms all over with a fork and freeze for 10 minutes (or chill in the fridge for 30).
Bake the tartlets on a baking sheet for 18-22 minutes or until it just begins to turn light golden. Remove from oven and let cool.
Haupia with Mint Mangos
Meanwhile, prepare the haupia pudding. Combine the coconut milk, coconut cream, and vanilla bean seeds and pod in a small saucepan over medium-low heat. Stir until just steamy, but not yet boiling, about 4-5 minutes. Remove from heat and cover. Let steep for 15-20 minutes.
Remove the vanilla bean pods, scraping them out into the coconut milk one more time.
Stir in the sugar and salt to the coconut milk, place over medium heat and cook, whisking slowly, until the sugar dissolves and the milk begins to boil, about 3 minutes.
In a small bowl, whisk together the cornstarch and water to create a slurry. Slowly pour the slurry into the pot and cook, whisking, until the pudding thickens to the consistency of runny yogurt, about 3-4 minutes.
Fold in half of the lime zest and pour the pudding into four baked tart shells and chill in the refrigerator for at least 2 hours before removing from tart pans and topping with mint mangos.
While the haupia chills, peel and cut the mango into ½-inch cubes. Toss the mango with the mint and a teaspoon of honey or sugar and chill until ready to serve.
To serve, sprinkle remaining lime zest over the tarts and top each tart with a spoonful of mint mangos and few toasted pine nuts.
Notes
*I grind my own gluten-free oat flour by mixing gluten-free oats in a high powered blender until fine