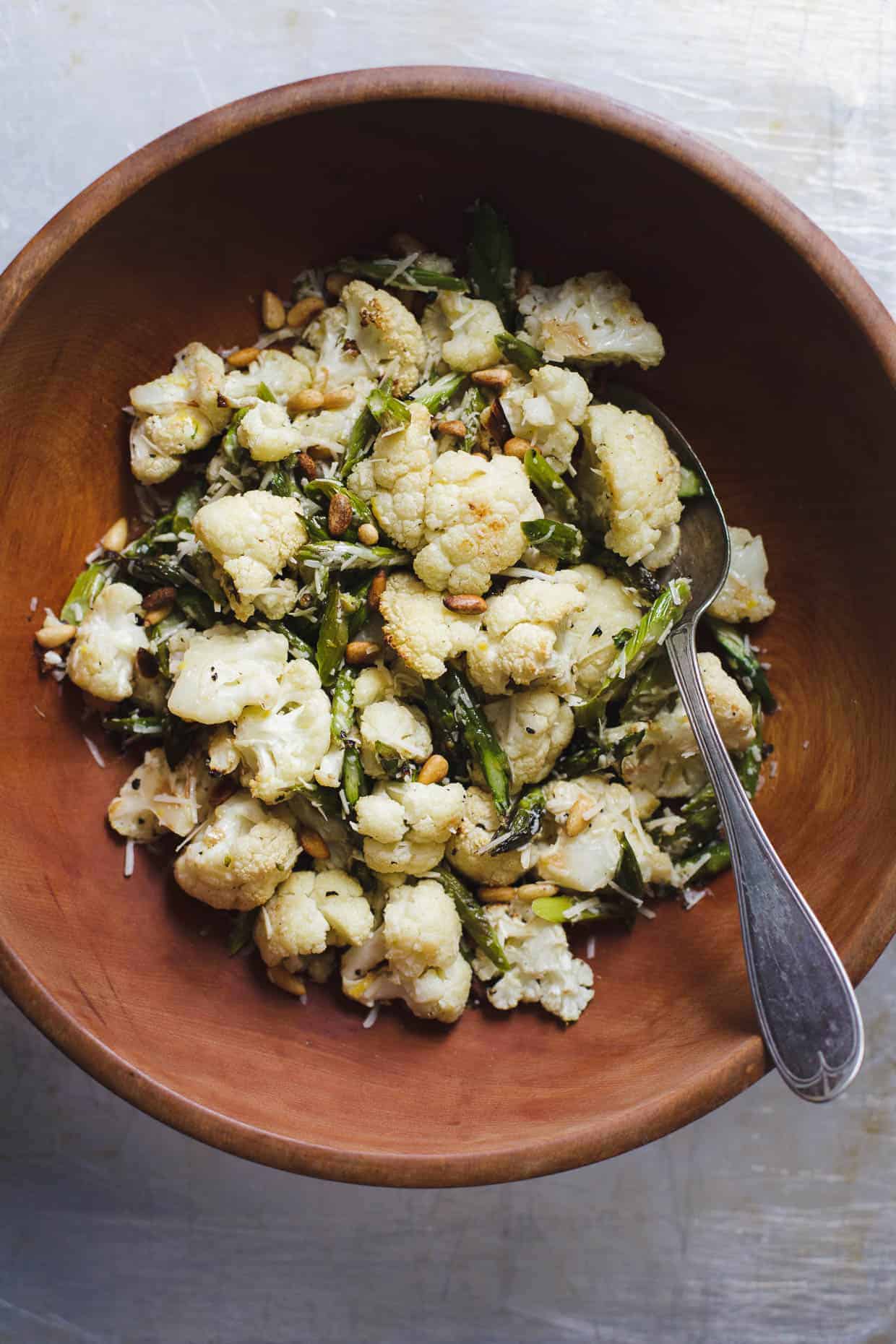 Meal planning has gone out the window of late. You can find me walking through the supermarket like a zombified hungry teenager scavenging for anything that looks and sounds appealing at that moment. If a hungry teenager liked produce more than chips and always wanted ice cream.
Instead of chaotic shopping, I like to think I'm playing a week-long game of Chopped: Tired Mama Edition. Once Lucas gets home from work, I get 30 minutes to put the random ingredients together to make a dish. This lemony roasted asparagus and cauliflower salad comes together with the things you'll find in my fridge at all times for the past month: asparagus, cauliflower, lemons, pine nuts, and parmesan. Tossed together for a perfect springtime Memorial Day potluck salad.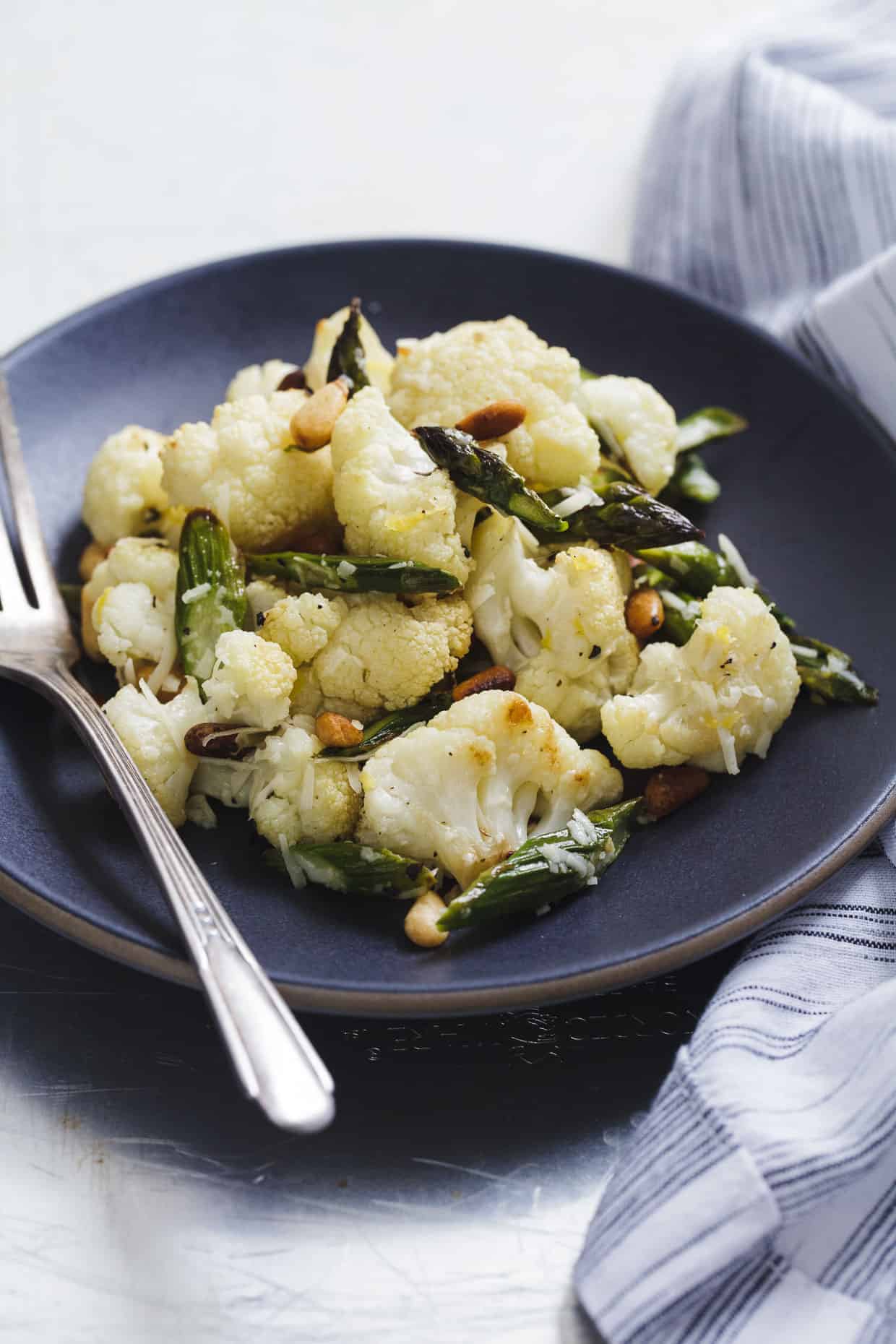 Do you all have plans for the long holiday weekend yet? Yesterday I got an Evite for a Memorial Day BBQ from someone I don't know (and who doesn't know me).
Rewind. About a month ago, I looked into joining a new mom support group. Only I couldn't figure out how much it cost without signing up, so naturally, I signed up. But when I saw the price tag and glanced over at our broken washing machine, I didn't complete the transaction, emailing the director my apologies.
She never responded and instead I've been cc'd on all e-mails from the eight women in the group organizing their various outings and even sharing stories about their kids. It's only eight people and somehow NO ONE has noticed that there's this Sarah girl on the email list who they've never met. I've emailed the director a few more times to apologize and let her know that I'm still on the list, but I continue to get at least five emails a day. (Also, it turns out I'm on the "second time moms" list...so I doubly don't belong).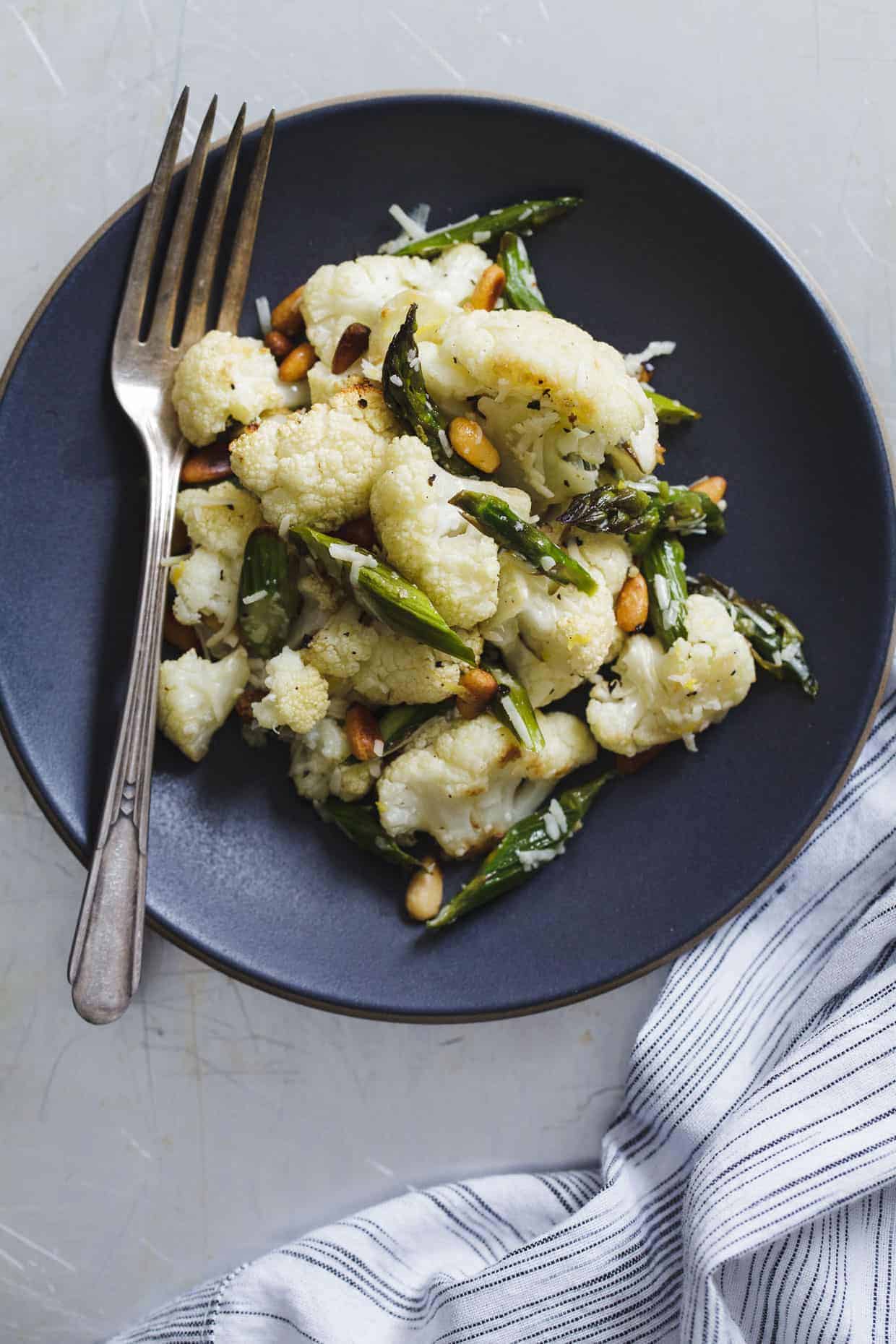 Now it's been an awkward amount of time for me to just pipe in with "Oh hey guys, you don't know me, but I've been creeping on your convo like woah. Also, Karen, brunch on Thursday sounds great - I'll be there!"
Then this party Evite came. One gal is throwing a Memorial Day BBQ for all of her friends and family and she invited me. Now I can't just blame it on people blindly "replying all" - this woman copied/pasted my e-mail from the list to her Evite...inviting me to HER HOUSE.
So I think proper etiquette is to show up with this roasted asparagus and cauliflower salad...right? I don't want to be rude.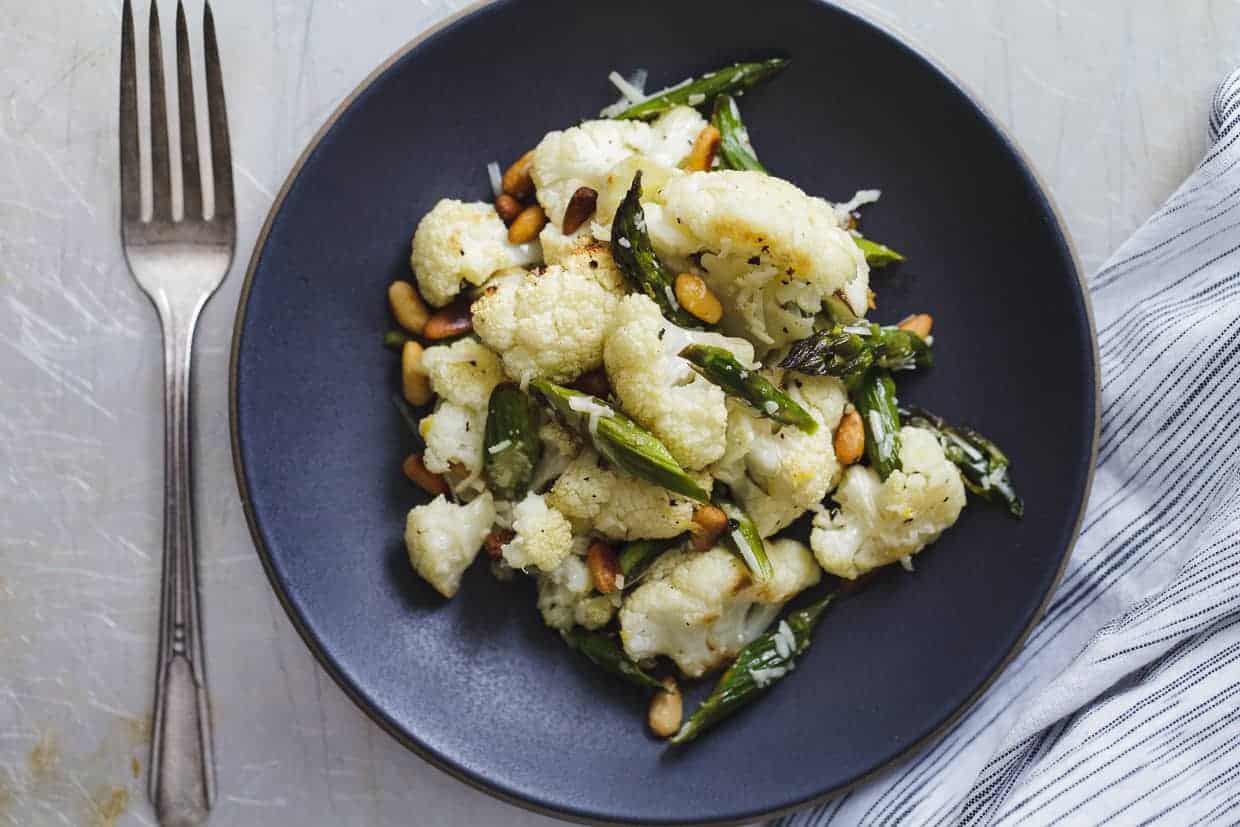 There's something nutty and magical that happens to cauliflower when it's roasted. It almost tastes like candy smothered in brown butter (where can I get that?). We threw in asparagus as an earthy springtime note and tossed it all with bright lemon juice and zest and toasty pine nuts. Then smothered the whole thing in parmesan cheese because duh. Served cold with a bit of crunch left in the veggies, this salad is refreshing and one of my favorite ways to eat asparagus (right up there with as salsa on tacos).
PS. Thank you for everyone for your outpouring of comments and emails on my last post about the new mama emotional junk - I feel so supported by you all and am grateful to know I'm in good company.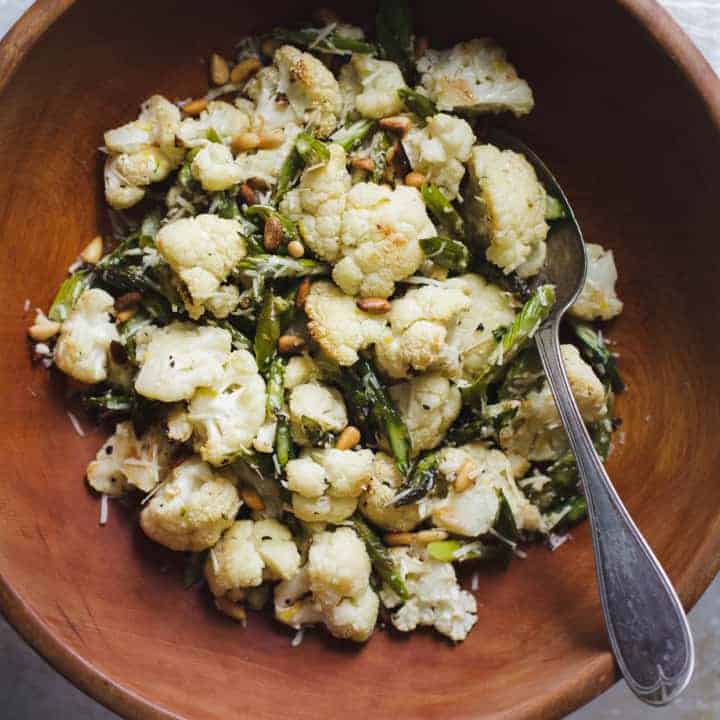 Lemony Roasted Asparagus and Cauliflower Salad
Ingredients
1lb cauliflower florets (1.5lb head)
½ lb asparagus spears, ends discarded and spears sliced diagonally into 1-inch pieces
1 tablespoon extra virgin olive oil, divided
¼ cup pine nuts, toasted
¼ cup freshly grated parmesan cheese
Juice of half lemon (about 1 tablespoon)
Zest of full lemon
Salt and pepper, to taste
Instructions
Preheat the oven to 425°F and line a baking sheet with parchment paper or a silpat mat.
Toss the cauliflower florets and cut asparagus in ½ tablespoon of olive oil. Season with a pinch of salt and pepper, and roast in the oven for 20-25 minutes, tossing halfway through, until the cauliflower begins to brown and soften (but is not mushy!).
Refrigerate until cool, about 15-20 minutes (you can either transfer it to a bowl or if you can fit the whole baking sheet in the fridge, this works faster since it's all spread out!).
Toss the roasted cauliflower & asparagus with remaining ½ tablespoon olive oil, pine nuts, parmesan, lemon juice, and lemon zest. Season to taste with salt & pepper. Serve cold or at room temperature.
Thanks for reading Snixy Kitchen! To stay up on what's coming out of my kitchen,  follow me on Facebook, Instagram, Twitter, Bloglovin', Pinterest, or subscribe via e-mail to get new recipes right to your inbox.