Halloween struts in at just the right time. With some sort of time warp, it's magically the end of October and I'm on the brink of losing my mind. Anyone else with me? I poured a scoop of cat food into the detergent slot of the washing machine at 2am last week. It's kind of like when you're driving to the grocery store, but you autopilot to work instead. Except by the time you realize it, the cat's giving you a quizzical look while you fish soggy cat food out of the washing machine. These are the times we're in. Without hesitation, I'm taking Halloween up on its offer to get silly by dressing up my food with a spooky theme.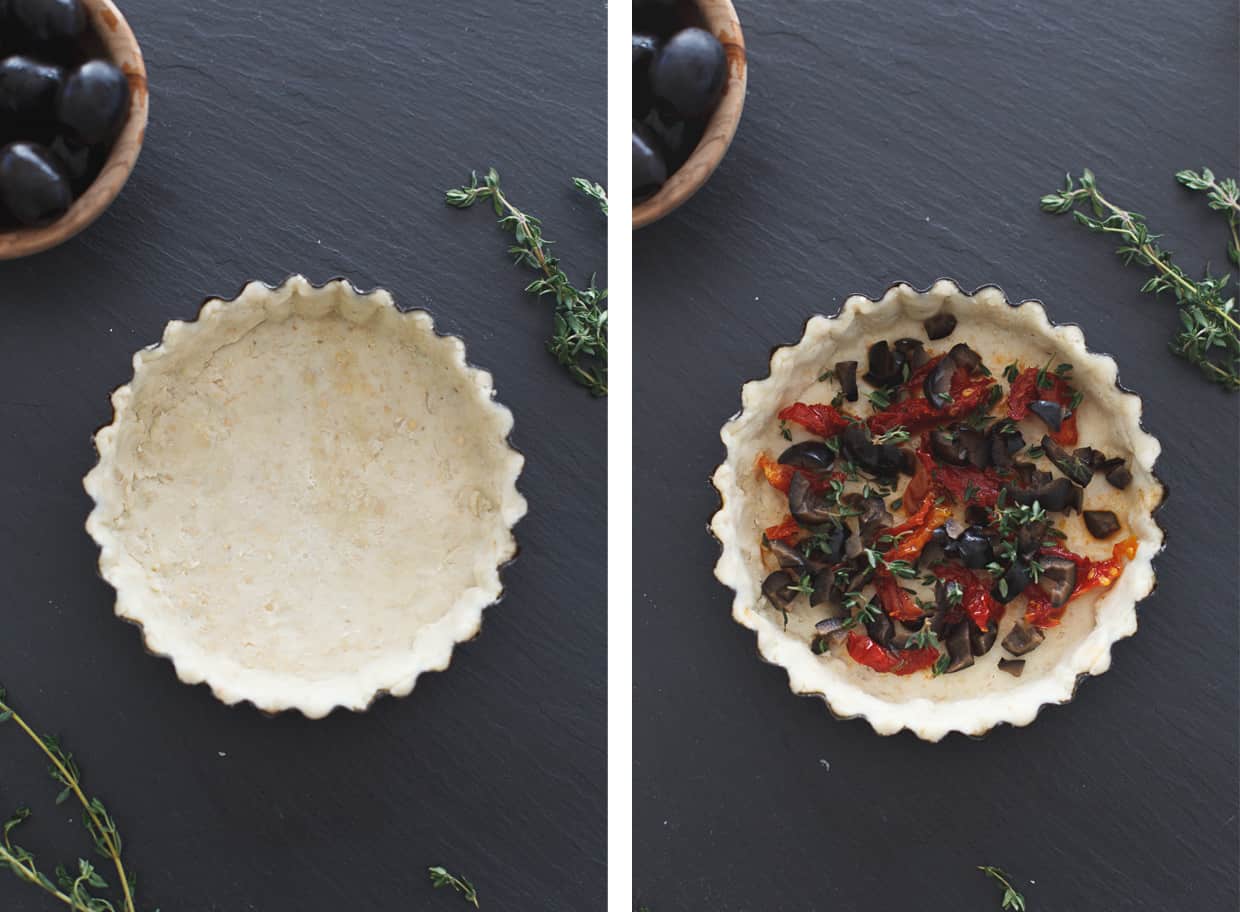 October 31st is really just an excuse to force our cats into costumes, intentionally purchase way too much of my favorite candy for only a handful of trick-or-treaters, and make frightful food. What better project for arts and crafts hour than one you get to eat at the end? That's how this savory ricotta olive tart ended up as Mr. Halloween himself - Jack Skellington. An ode to The Nightmare Before Christmas using California Ripe Olives to make his creepy happy face because there's only so much haunting I can handle.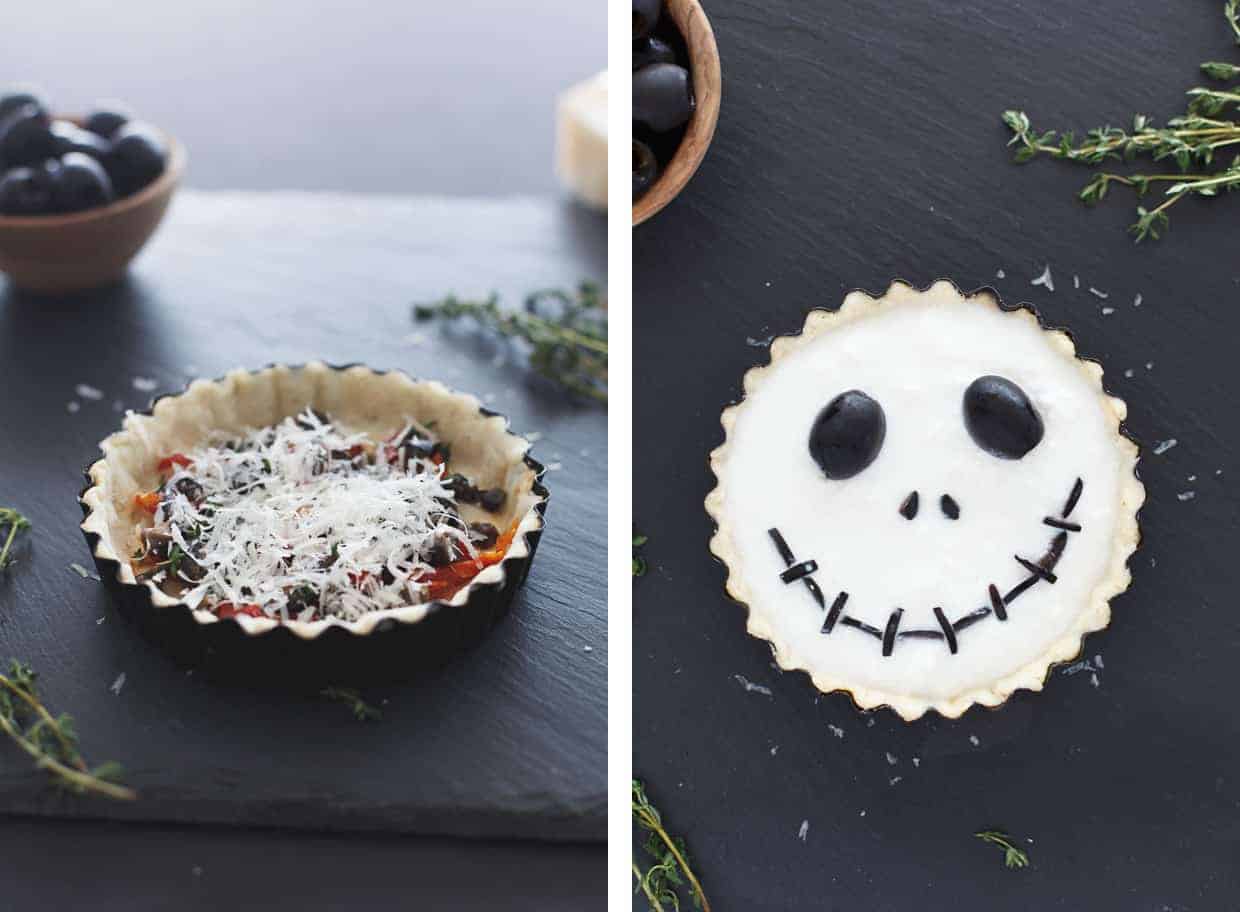 My great-grandfather grew a row of olive trees along the edge of his country property. Every year, he'd brine the olives in large buckets in his garage. As a kid, our outings to Grandma & Grandpa's house started with a trip out to the hen house to scoop up any newly laid eggs before heading to the barbed-wire fence to feed dead grass to the neighbor's horses (I'm pretty sure Grandpa planted the eggs before we came, because there never was an egg-less trip to the coop). We'd stop off at the patio for a go at using the much-too-heavy teetering fruit picker basket to harvest a few oranges, and then head inside where there'd always be a bowl of Grandpa's cured olives set out as snack.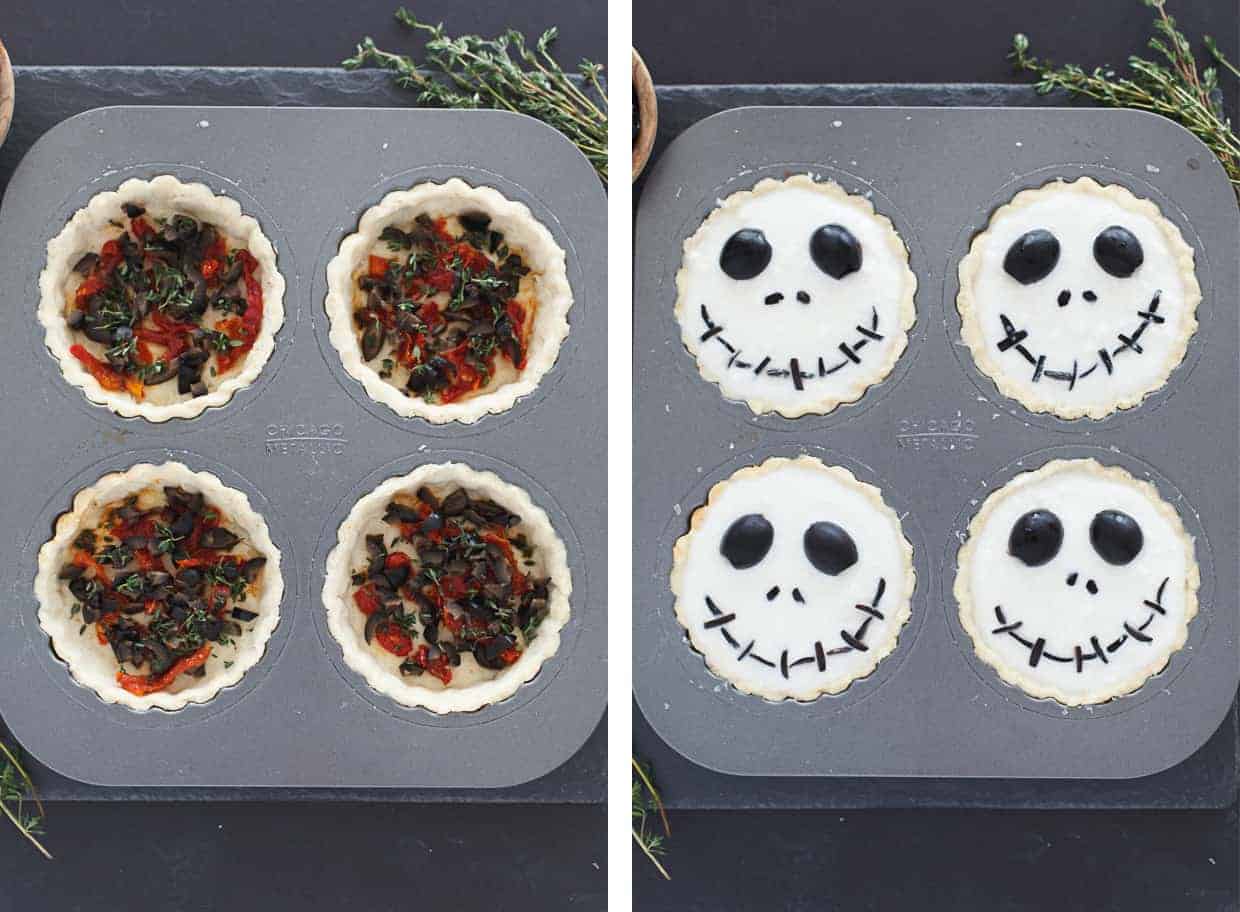 As part of the inland valley of California, the small farming community where my great-grandparents lived - just 30 minutes from where I grew up - was and still is a hub for family olive farms.
It's no surprise then that I'm an olive lover, throwing them all over everything from nachos to spaghetti. With their pitch black color, they're just the right eerie accent for my Jack Skellington tarts. Bonus: I got to pop the leftover olives on my fingertips while singing "This is Halloween, This is Halloween. Halloween! Halloween! Halloween! Halloween!" and dancing around the kitchen as the tarts baked.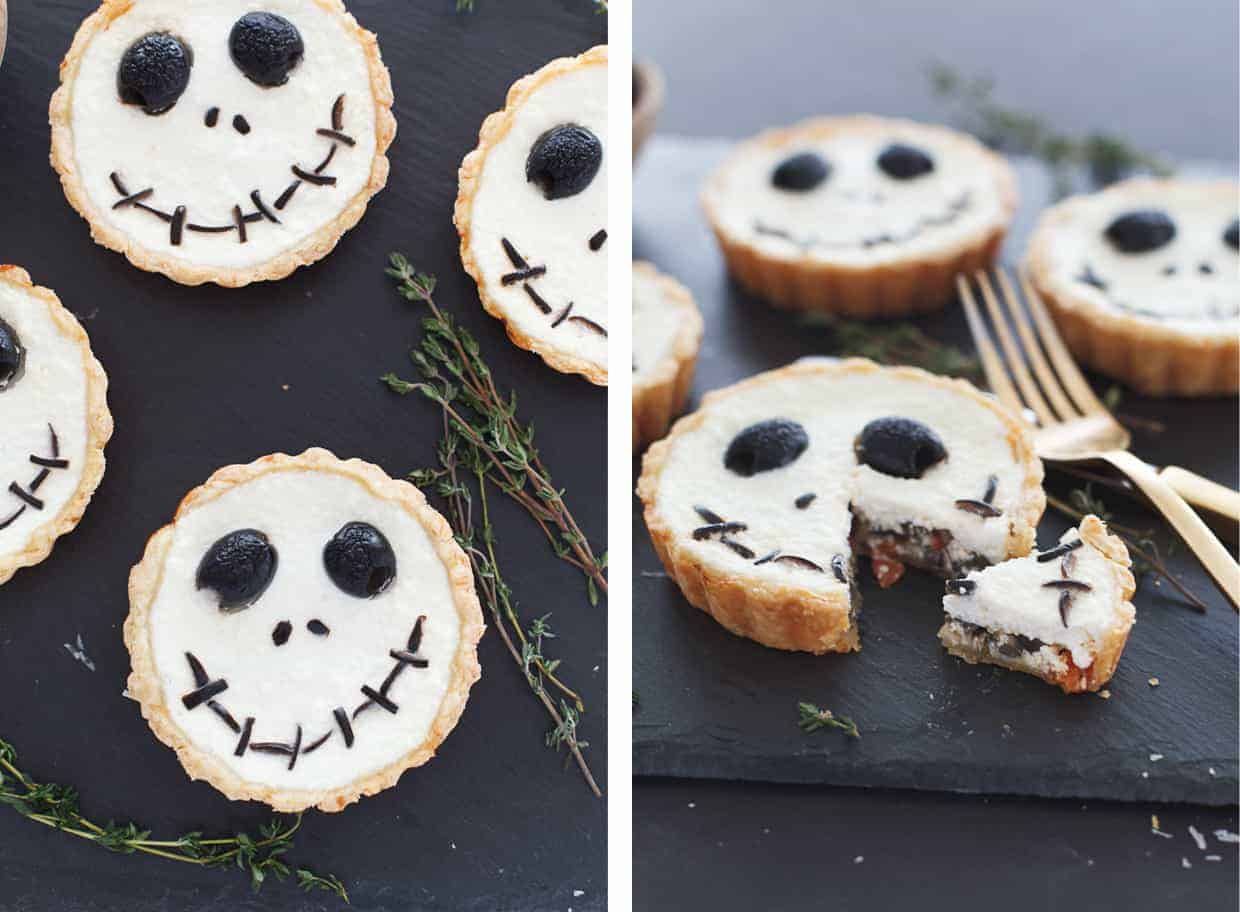 Cute-factor aside, these ricotta olive tarts are actually flavorful in their own right. We've got oil-packed sun-dried tomatoes, chopped olives, grated parmesan cheese, and fresh thyme hiding under a bed of garlic ricotta. The black olives add a salted briny element, without dominating the tart, while the sun-dried tomatoes and ricotta work to make the whole tart taste like an upscale deep-dish pizza with a flakey buttery crust. If you're looking for a Halloween party food that will please adults and kids alike, these Jack Skellington tarts fit the bill.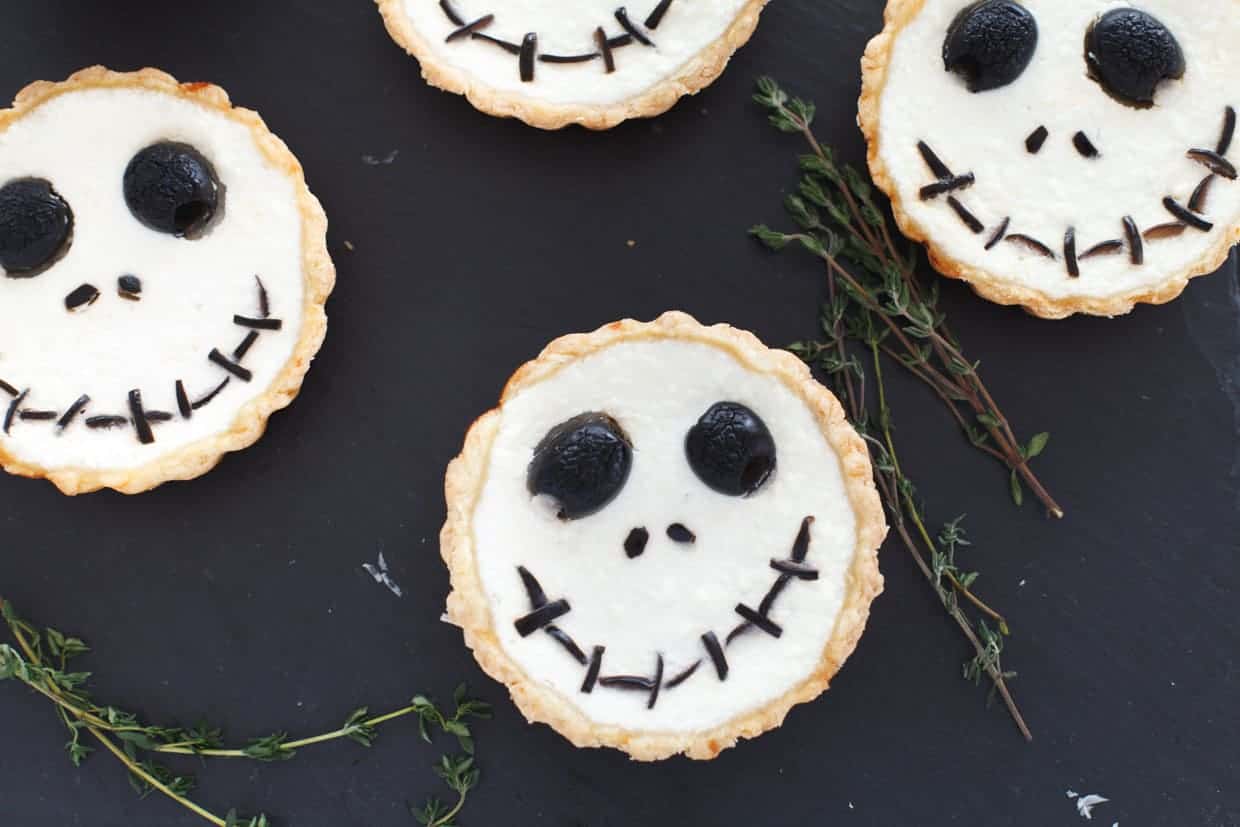 In case there ever was a question of my coolness, here's a throwback to Halloween 24 and 20 years ago respectively. At age 9 when my sewing teacher had me pick out my next project, I chose a felt Fred Flintstone costume. Obviously.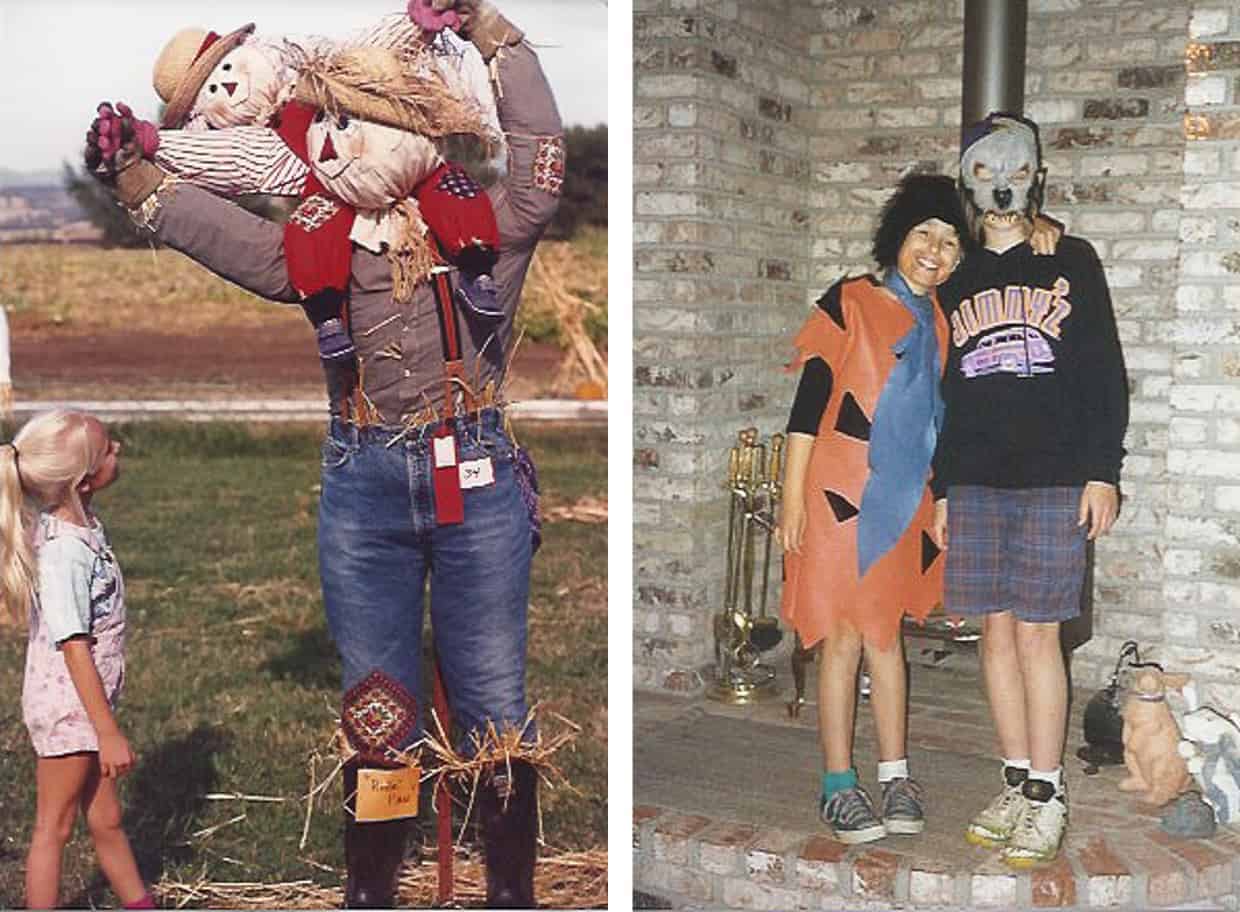 This Halloween, we're planning to set up a projector on our back deck to watch The Nightmare Before Christmas and Hocus Pocus on the big screen (with lots of blankets and space heaters).
What are your plans for Halloween Friday?
And, because I'm always looking for inspiration, what are your favorite Halloween party treats?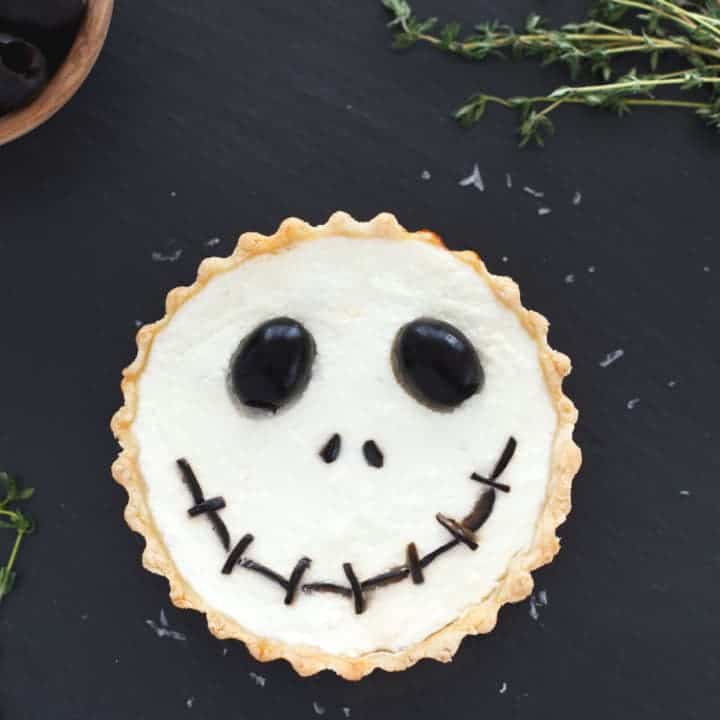 Halloween Jack Skellington Ricotta Olive Tarts
Yield:
6-8 3-4-inch tarts
Ingredients
Gluten-Free Tart Crust
½ cup sweet rice flour
¼ cup millet flour
⅓ cup oat flour (I make my own by grinding whole oats in the food processor)
3 tablespoons tapioca starch (or corn starch)
¼ teaspoon sea salt
8 tablespoons cold, unsalted butter, cut into tablespoon-sized pieces
5-7 tablespoons ice water
Filling
1 can black olives
3-4 tablespoons julienned sun-dried tomatoes, from a jar packed in oil
2-3 teaspoons fresh thyme leaves
3 tablespoons freshly grated parmesan cheese
1½ cups ricotta cheese
¼ cup + 2 tablespoons greek yogurt
3 egg whites
3 cloves garlic, minced
½ teaspoon kosher salt
Instructions
Crust
Whisk together the sweet rice flour, millet flour, oat flour, tapioca starch, and salt in a large bowl.
Add the butter and mix with your hands, breaking up the butter until the largest pieces are about the size of a pea.
One tablespoon at a time, dribble in the ice water, combining each time, until the dough holds together when pinched with your fingers.
Divide the dough into 6-8 pieces, depending on the size of your tartlets. Roll each piece into a ball and flatten into a disc. Wrap each disc with plastic and refrigerate for 30 minutes.
Preheat the oven to 400ºF.
Roll out each piece of dough between two pieces of wax paper or parchment paper, sprinkled with millet flour until it's a circle 1 inch bigger than your mini tart pan all the way around.
Peel off one piece of the parchment paper and flip the crust into the tart pan, parchment side up. Peel the second piece of parchment paper off and use your fingers to press the dough into the tartlet pan. Repeat until you've rolled out each mini tart. If your tart pan only holds 4, like mine, then you can work in batches.
Filling
Thinly slice 6 black olives lengthwise into paper thin strips for the mouth, and cut 12-14 ovals for the nose, using a paring knife. Set aside.
Chop 3-4 tablespoons of the black olives and divide them among each tart.
Place 3-5 strips of julienned sun-dried tomatoes on top of each tart.
Sprinkle about ¼ teaspoon of fresh thyme leaves onto each tart, and divide & sprinkle the parmesan cheese among the tarts.
Bake the tarts for 12 minutes, until the crust is lightly cooked.
Meanwhile, whisk together the ricotta, greek yogurt, egg whites, garlic, and salt.
Once the tarts come out of the oven, divide the ricotta filling among each tart, filling each one to the top.
Place two whole black olives for the eyes and two small olive ovals for the nose onto each tart. Delicately create a criss-cross mouth (as pictured) using the paper thin olive strips. Tip: I used chopsticks to make it easier to place the olives.
Bake each tart for 20-25 minutes, or until the ricotta filling is set. Depending on the size of your mini tart pans, start checking for doneness around 15 minutes. Serve warm.
To reheat, bake on 400°F for 7 minutes.