Last updated on April 8th, 2019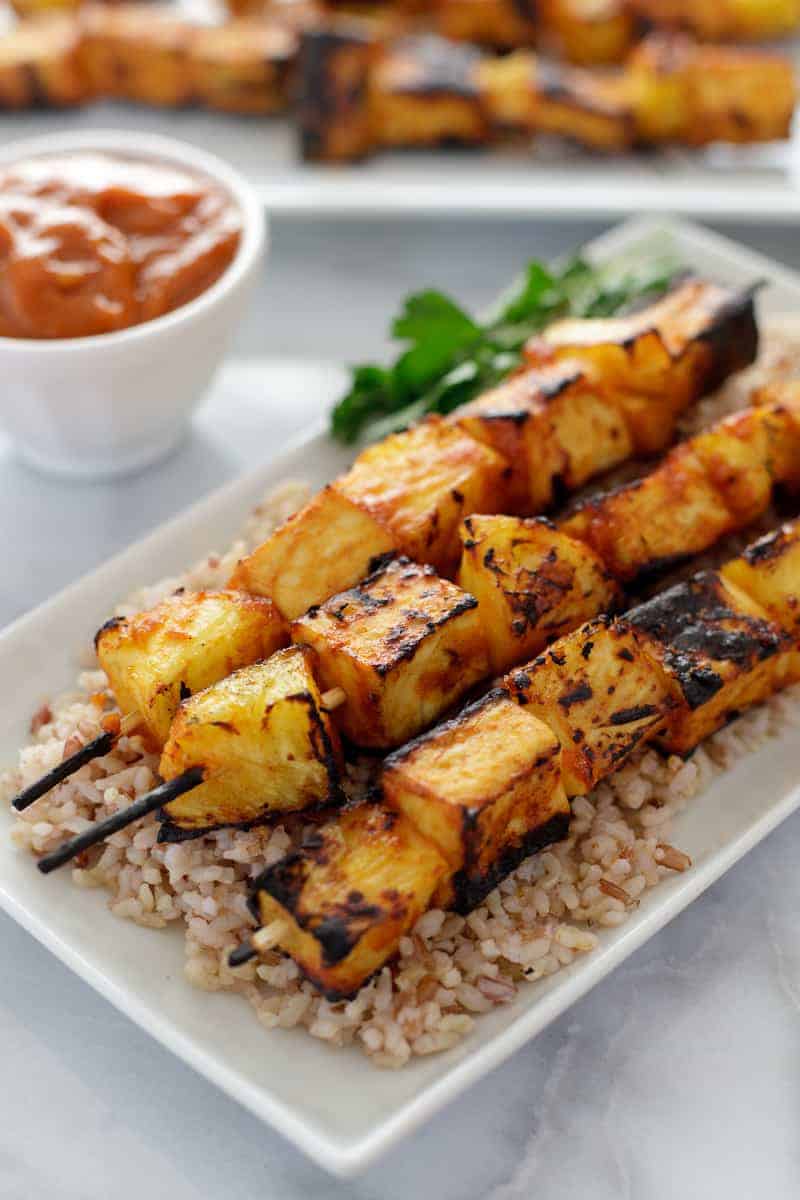 When it feels like summer in the Bay Area, you need to grab on and relish in it as much as possible until it inevitably disappears behind the fog again. With a sunny holiday weekend approaching, there's no better way to celebrate than by lighting up the grill. And when your husband goes out to get mesquite lump charcoal for your birthday pig roast and winds up coming home with 120 pounds of it because "it was such a good price," grilling is the only option when the sun is shining bright. So with our warm pre-summer May, we tossed some juicy pineapple and tofu chunks onto skewers and called our friends over for an impromptu grill-sesh. To add a bit of heat to balance out the sweetness, I brushed the pineapple tofu skewers with a spicy mango BBQ sauce.
**This recipe post is sponsored by Hodo Soy, a Bay Area based tofu company, but please rest-assured that all opinions expressed here are 100% my own. In fact, Hodo Soy was already my go-to tofu brand before we even connected for this partnership (just ask my food-loving friends who have had to hear me demand they go buy the "tofu in the yellow package"  – I'm looking at you, Supriya;)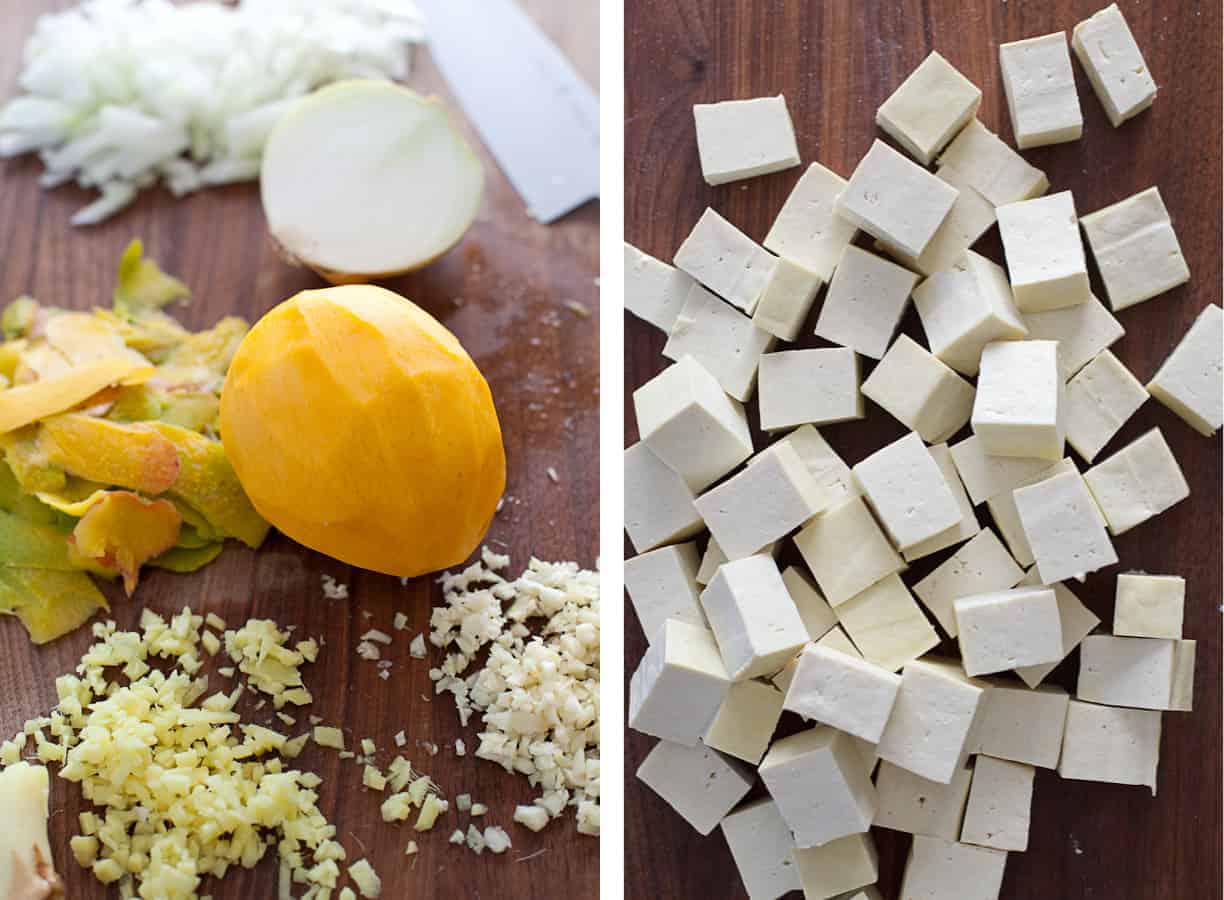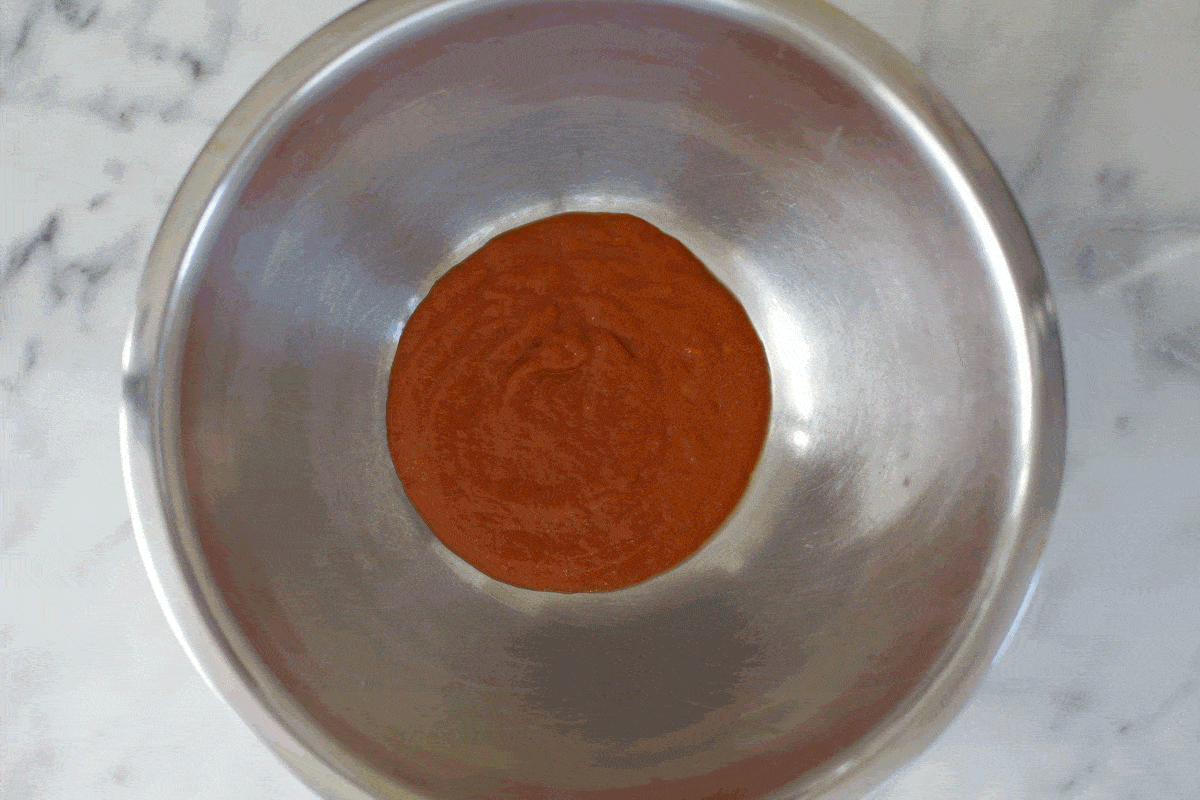 As non-vegetarians, we actually cook tofu far more often than we do meat; it's so easy and quick to cook that it's become a weekly staple. We used to buy whatever random extra-firm tofu we found at the market, then spend 30 minutes balancing the blender on top of a cookbook on top of a plate on top of the tofu to drain it (I guess it probably would have behooved us to buy a tofu press, but this was a far more impressive kitchen stunt). Inevitably, it'd never be that firm and, even while carefully cooking the tofu separate from the veggies, it'd still crumble during the sauté.
When Hodo Soy's artisanal organic tofu popped up on the shelves of our local produce market, we grabbed a pack just to see what it was about, and we've never gone back. Here's the part where I assure you this is no joke: you need this tofu in your life. In their mission statement, Hodo Soy says their products "will forever change the way you know tofu," and they mean it.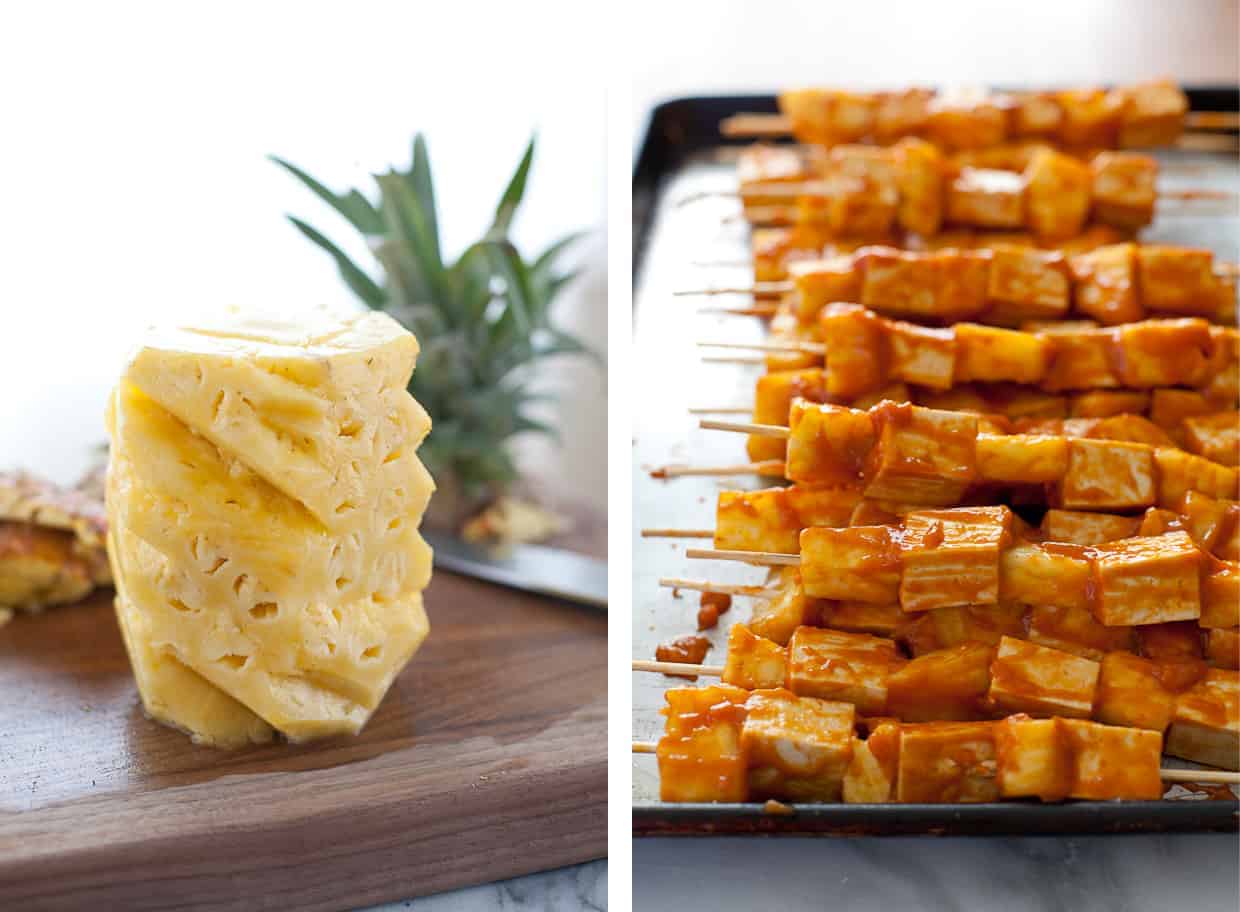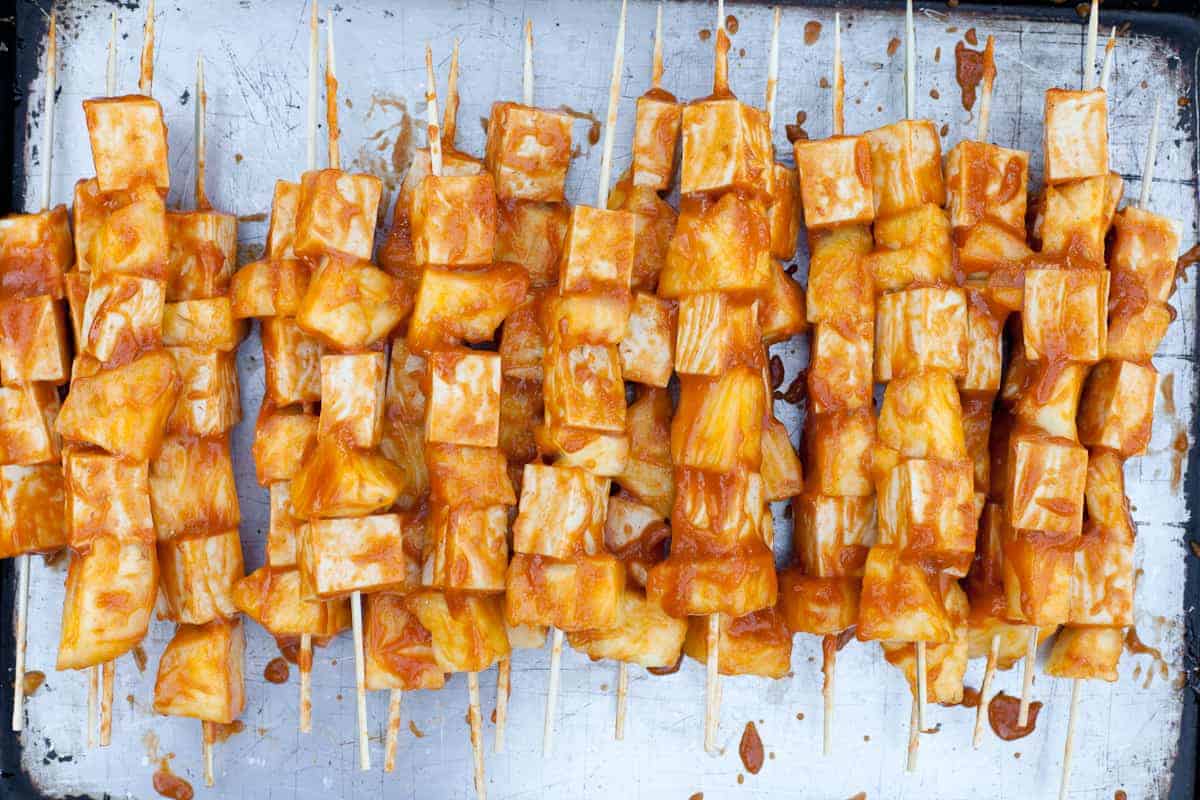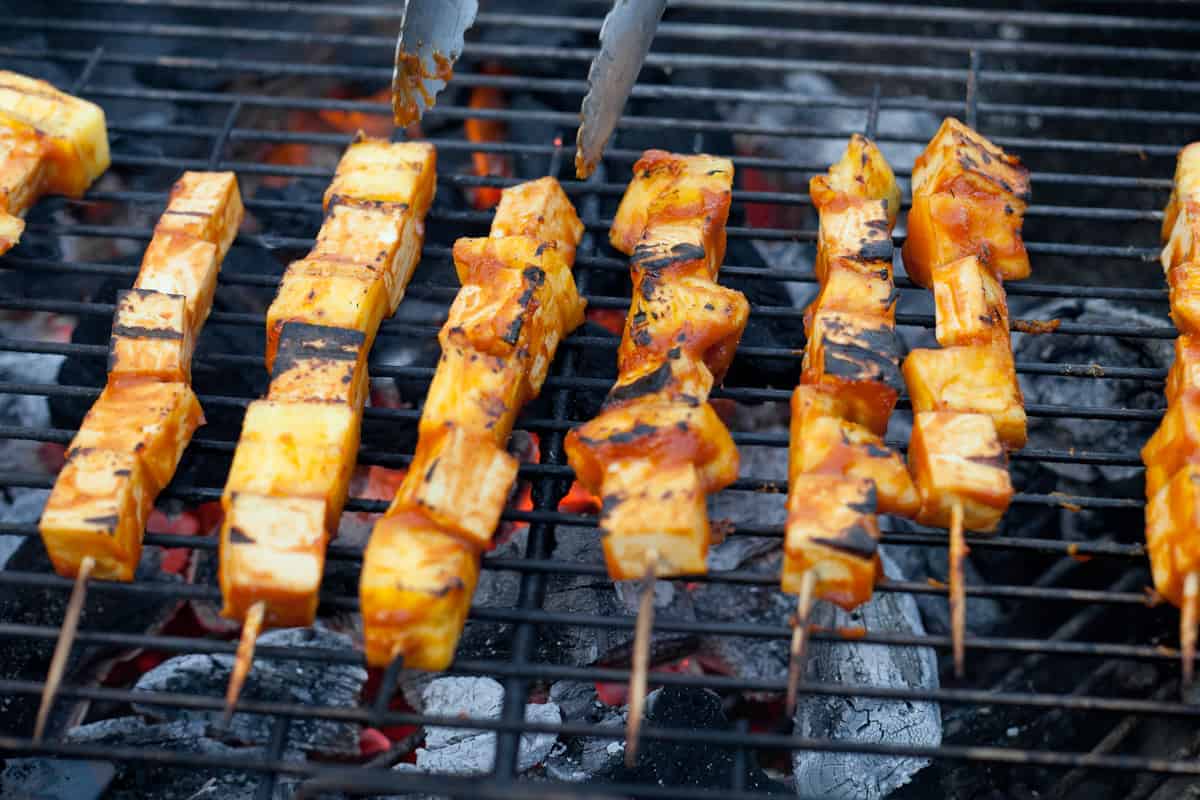 While on our honeymoon in Kyoto, we stopped off for lunch at this beautiful restaurant called Shoraian in Arashiyama, an area we were told is known for their tofu. Yes, I realize we still haven't figured out how to winnow down our 1,100 photos into a digestible chunk for you yet, but here's one from that quaint tofu spot.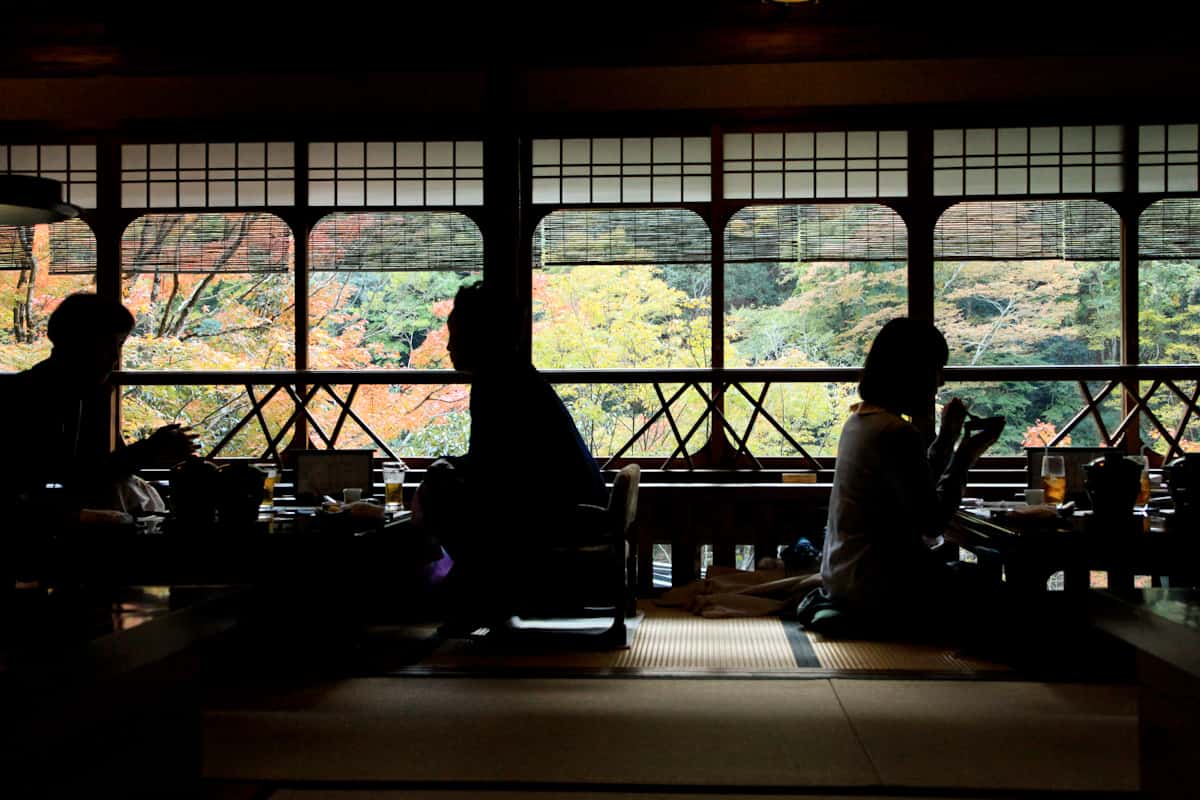 I'm not even sure what we ate, but each piece of tofu had unique and robust flavors that I'd never experienced from the water-soaked packs of tofu I normally prepared back home. The Hodo Soy tofu has the same distinguishable flavors; it's not just a bland blank canvas, but offers a subtle depth of its own that melds well with lots of dishes and bumps up the complexity of your meal.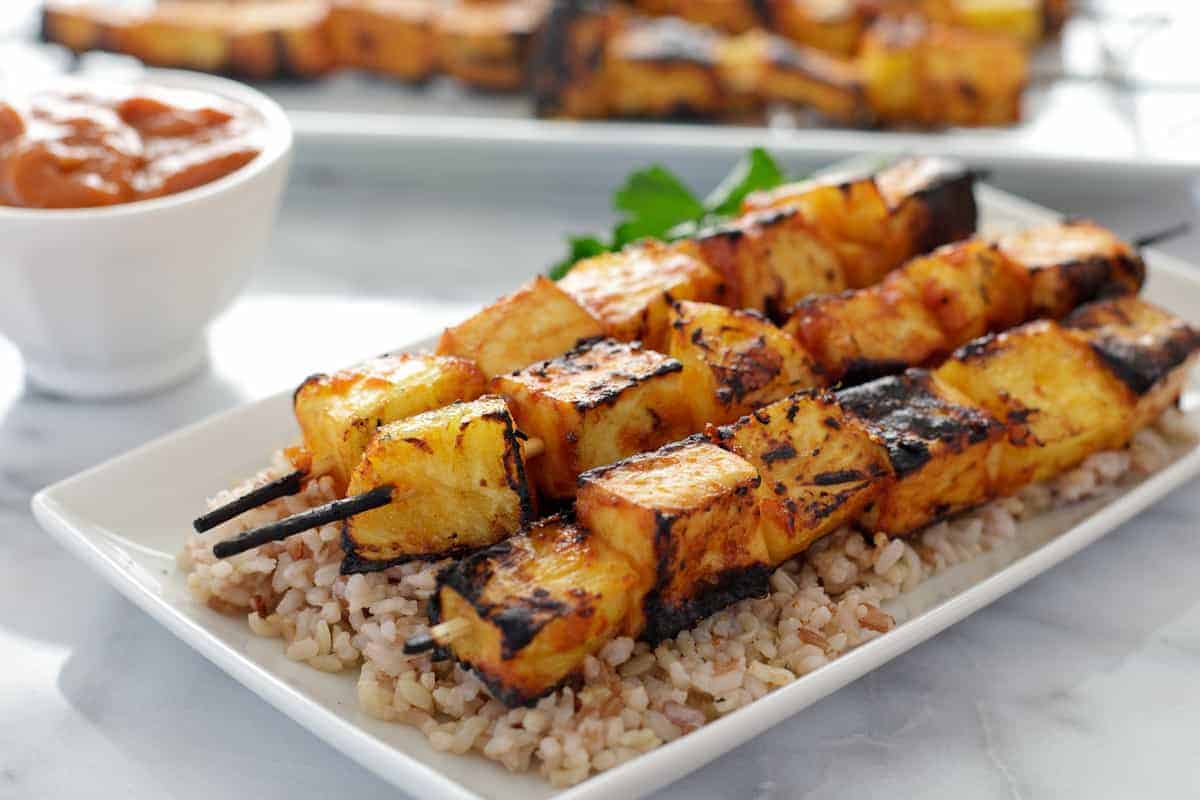 That's just the icing on the cake, but here's what I love most about Hodo Soy's artisan tofu: It doesn't come soaked in water that requires you to attempt a circus act to press it out before you can start cooking. This means a lot of things: 1) as I mentioned, it means that you can actually taste the light nuttiness of the tofu – the flavors aren't getting muffled by bland tofu-water, and 2) it means that the texture is far superior. It's smooth yet firm and doesn't break apart while being kicked around in a stir-fry pan or when tossed on the grill. Just think of all the new tofu possibilities! Obviously, I'm a bit of a fan girl.
I feel so honored to have been invited down to tour their Oakland beanery to learn all about their tofu-making craft a couple of weeks ago. I already bought and cooked up their tofu weekly, but when I discovered they were located basically in my backyard, I got that much more excited about supporting a local company. At the beanery, they produce their own high-protein soymilk from organic, non-GMO, US-grown, whole soybeans. The run off from the soymilk gets sent out to local farms as animal feed. What happens next is fascinating.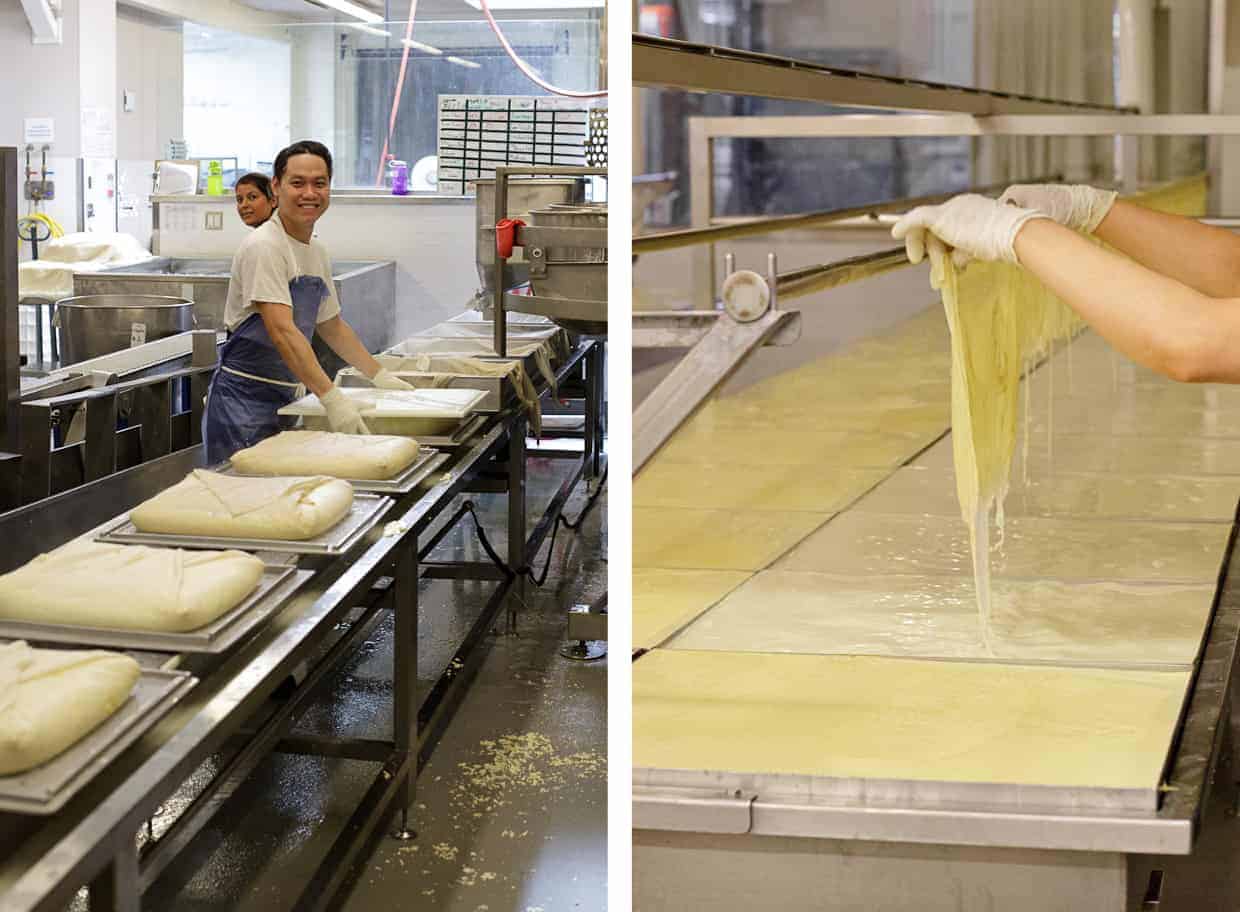 The soymilk then gets divided – some of it heads over to large trays to turn into yuba and the rest gets mixed with the coagulant in a large vat to make tofu. Before the samples Hodo gave me, I'd never actually tried yuba. Yuba, also known as bean curd sheets, is thin sheets of soy that rise to the top of the trays of heated soymilk; one by one, someone carefully cuts around the edge and hangs it up to dry, then repeats with a second layer until it's ready to be packaged. Mesmerized, I could watch her do this all day. The yuba sheets can be cut into strips for a gluten-free pasta, or even used for wraps or spring rolls.
The tofu-making process goes much faster – after being mixed with the coagulant, the soymilk quickly turns into tofu curds that get hand-wrapped in a delicate cloth, machine-pressed until nice and firm, and hand-sliced for packaging.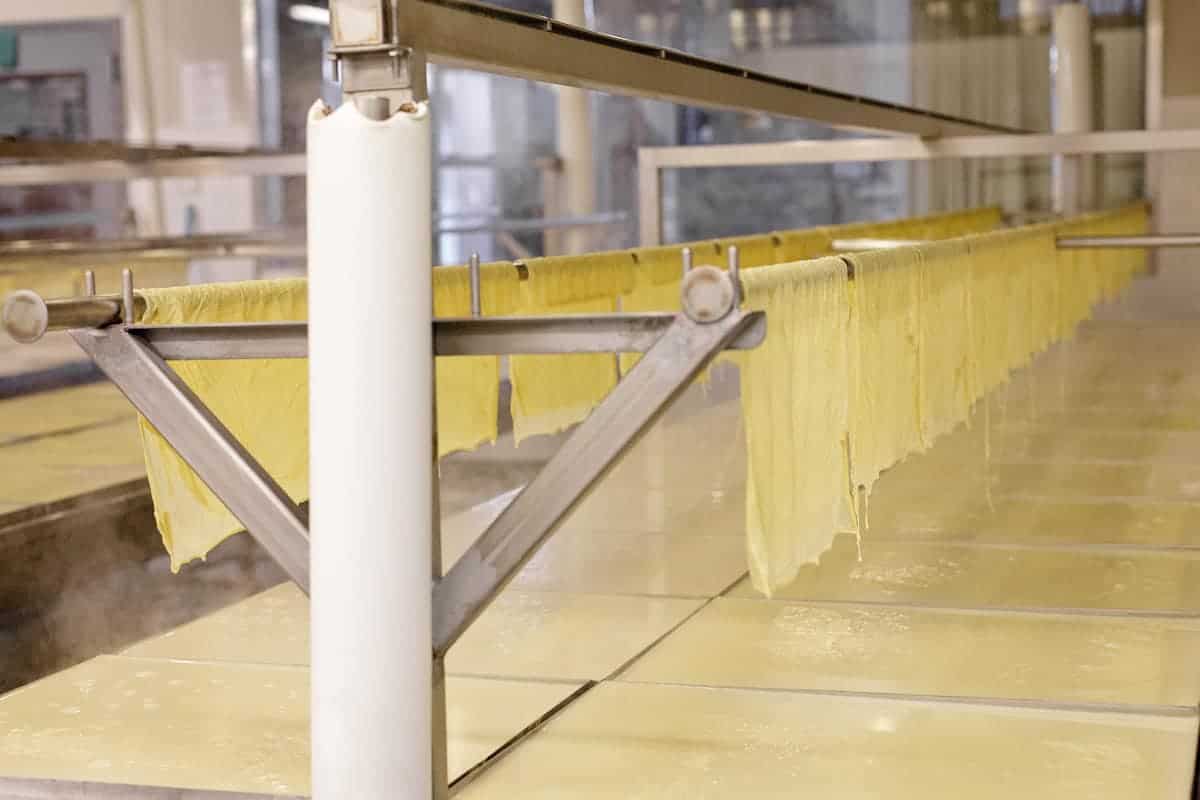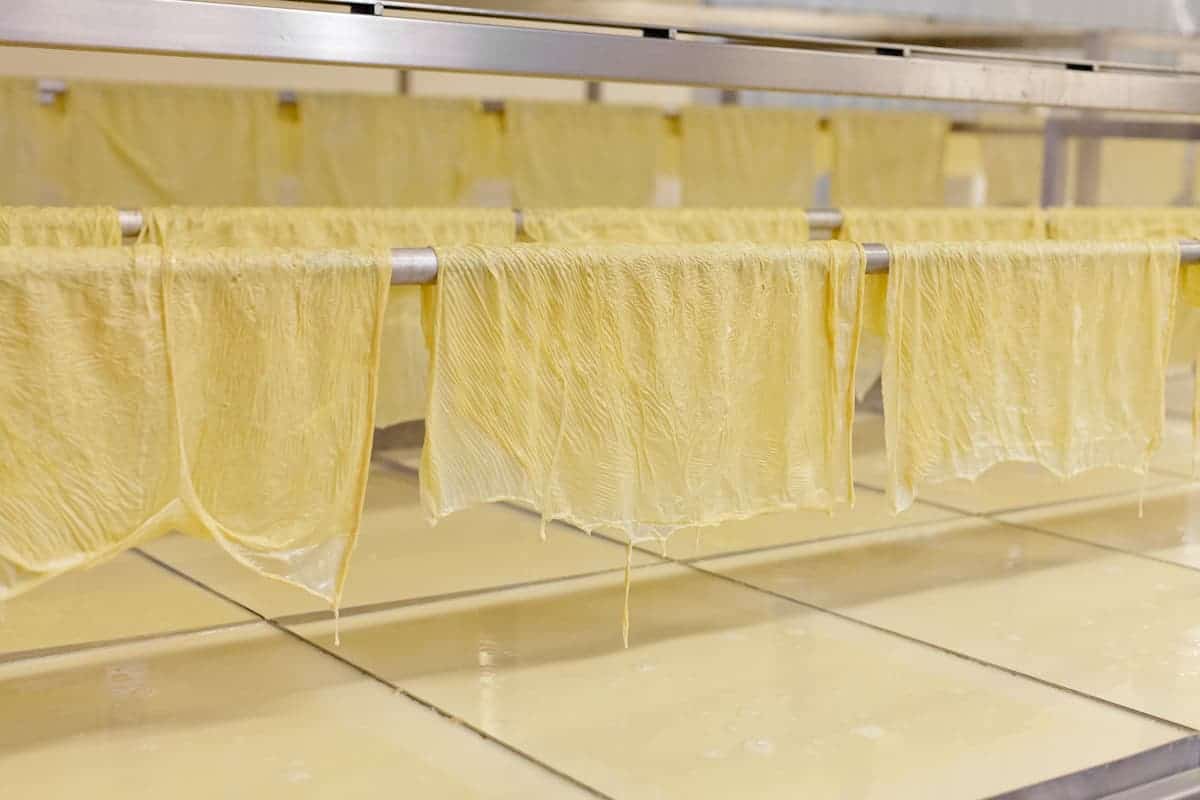 In addition to the extra firm tofu and yuba noodles, they also create a line of ready-to-eat tofu meals that are quite addicting. My favorite of this line is the two different kinds of prepared sesame yuba noodles that are perfect mixed up with some steamed veggies and rice for a healthy high-protein 10-minute meal. Right now, you can find Hodo Soy in grocery stores and restaurants all over the Bay Area, and in parts of Sacramento, San Diego, and Seattle. If you're beyond the Bay, you can still experience their tofu in the new Tofu Sofritas that is being introduced in Chipotle's nationwide (kinda a big deal, right?!). I'm a little sad to only just have discovered yuba noodles – where have you been all my life, yuba? Or at least all my gluten-free life! You can expect a Snixy Kitchen original yuba noodle recipe in your future.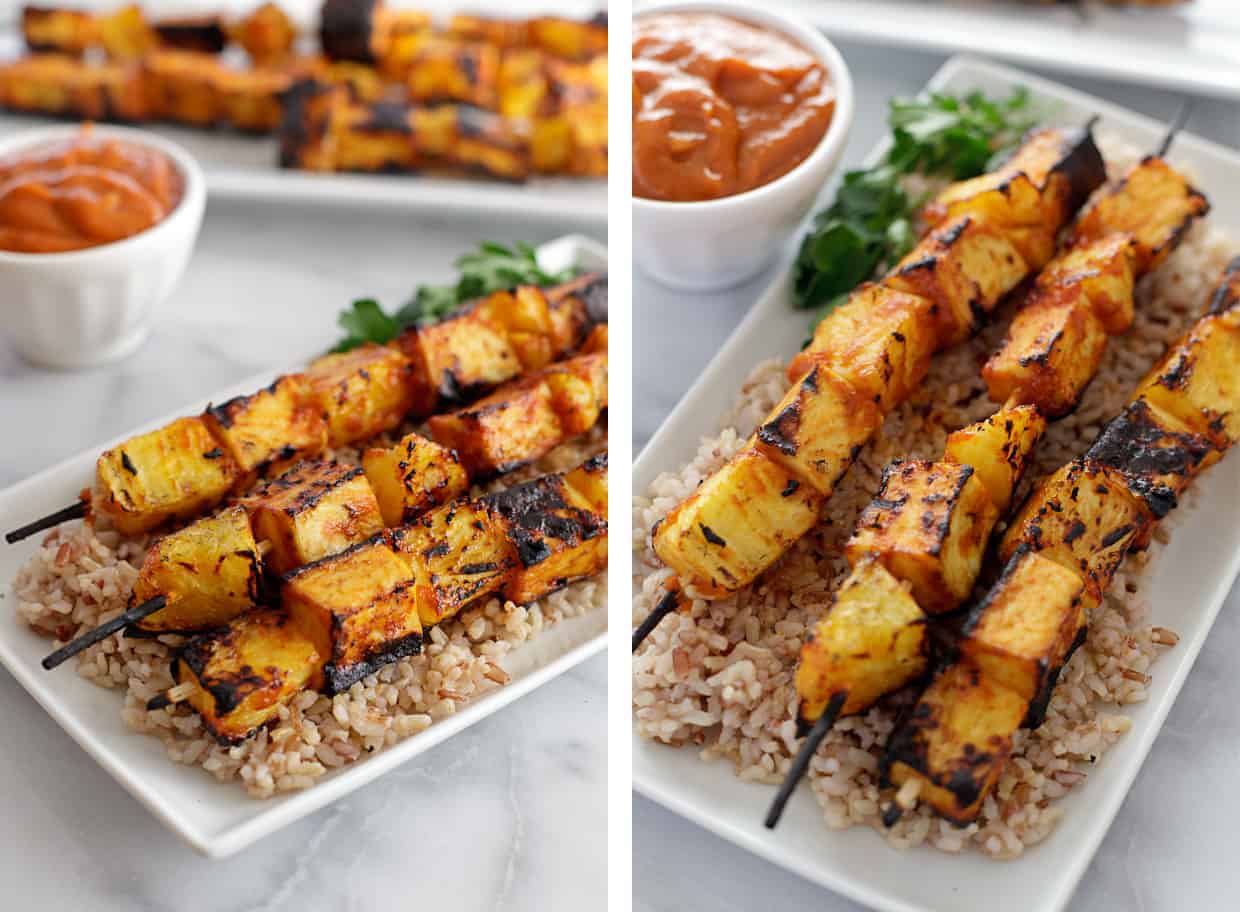 For now, let's talk about these skewers. This recipe was my first time grilling tofu and I was so nervous that I bought two extra packs of tofu just in case I messed it up and had to make a second completely different dinner. My gut was right though – the grilled tofu skewers turned out light and fluffy on the inside with crispy charred grill-marks on the outside. Paired with sweet grilled pineapple and a spicy ginger mango BBQ sauce, and your mouth jumps from savory to sweet to spicy in the most refreshing way. Even when served over brown rice with a side of grilled veggies and yuba noodles, the four of us still went through 1½ pounds of tofu and an entire pineapple. The smoky skewers reminded me of all the flavors I love about Hawaii in bite-sized chunks.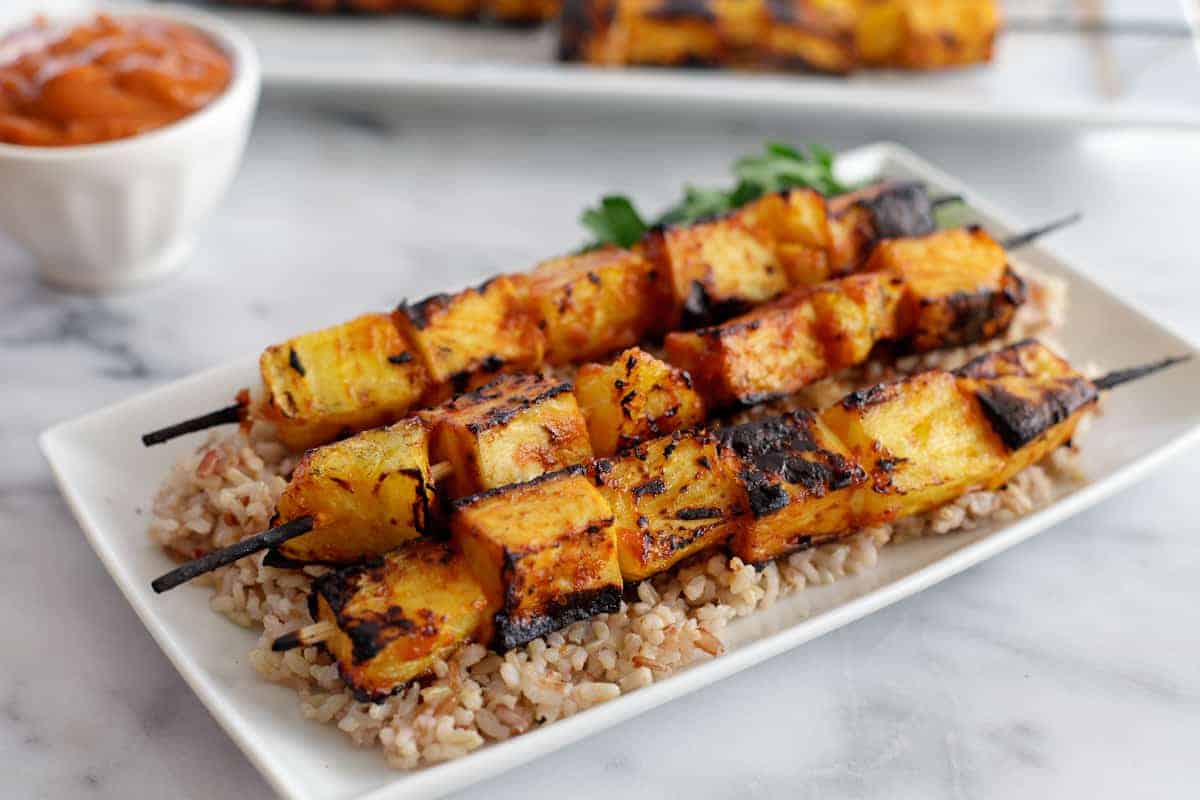 Whenever we get together with friends to BBQ, we always struggle with vegetarian options that extend beyond just a boatload of grilled veggies ("what do you mean you don't want to eat this entire zucchini as your meal?"). I'm thrilled to have come up with a BBQ recipe that will please meat-eaters and vegetarians alike. Rather than trying to be healthier by opting for chicken over burgers, I'm showing up with these pineapple tofu skewers from now on.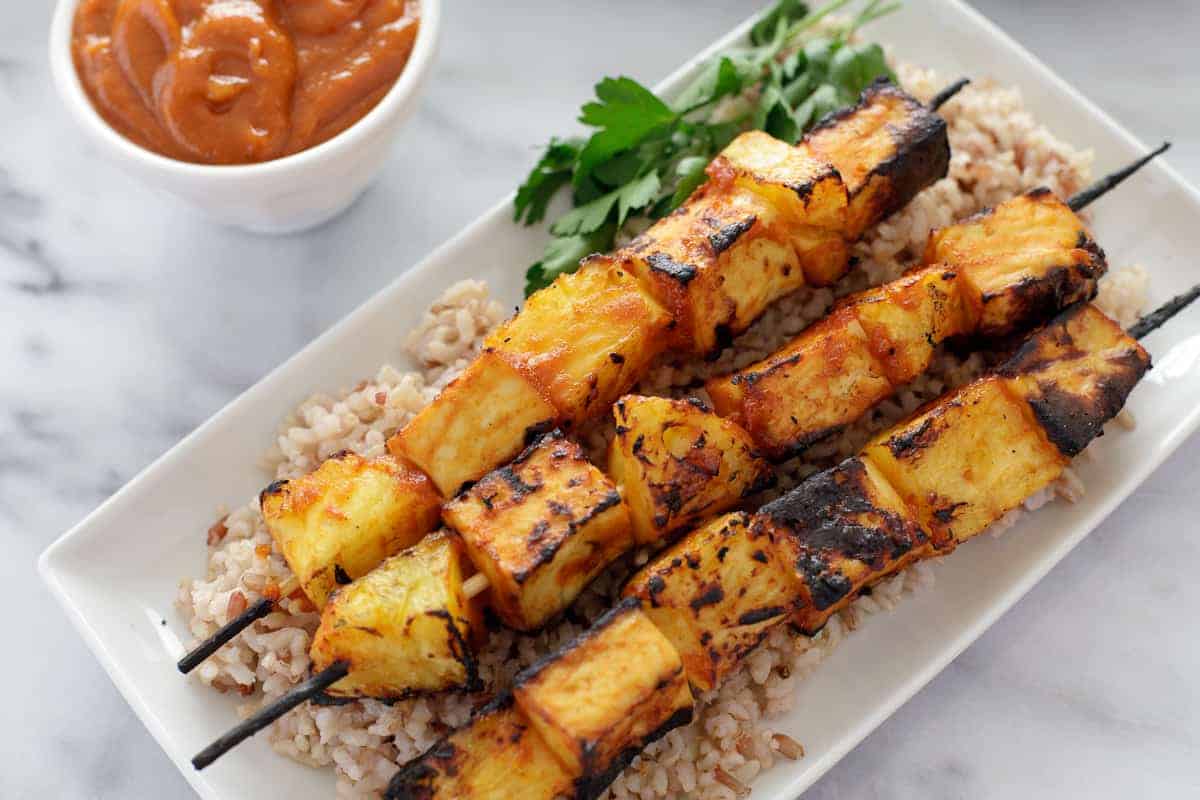 Light and Healthy Memorial Day Meal Plan:
If you're lighting up the grill this memorial day weekend, Hodo Soy has a bunch of great vegetarian and non-vegetarian tofu-based recipes on their website and pinterest page to check out. To help you round out your BBQ, I've picked two of their refreshing recipes that would pair with my pineapple tofu skewers to share with you.
Finger-food appetizer: Mango, roasted eggplant and tofu lettuce cups
Salad starter: Kale, hijiki, and yuba salad
Main course: Grilled pineapple tofu skewers with spicy mango BBQ sauce (*recipe at the very bottom of post)

Mango, roasted eggplant and tofu lettuce cups
Yields:
4 main servings or 8 appetizer servings
Ingredients
Roasted Eggplant & Tofu
1 small eggplant, peeled, diced into ⅜ inch cubes
½ cup + 2 tablespoons extra virgin olive oil, divided
1½ teaspoons kosher salt, divided
1 cup Hodo firm tofu, diced into ⅜ inch cubes
Vinaigrette
2 tablespoons rice vinegar
½ clove garlic, minced
½ teaspoon sesame oil
Juice and zest of 1 lime
½ teaspoon Aleppo pepper, crushed (you can substitute a pinch of paprika and a pinch of cayenne if you can't find this)
½ teaspoon kosher salt
Lettuce Cups
1 yellow honey mango (Atoulfo), peeled and diced into ⅜-inch cubes
1 teaspoon basil, cut into long thin strips
½ cup cilantro stems, chopped (optional for people like me:)
1 teaspoon green onions, chopped
1 head butter lettuce, hearts only
Instructions
Preheat the oven to 400ºF.
Toss the eggplant cubes with ½ cup of the olive oil and 1 teaspoon of salt. Transfer to a parchment-lined baking sheet and roast for 35 minutes until golden brown.
Toss the tofu cubes with the remaining 2 tablespoons of olive oil and ½ teaspoon of salt. Transfer to a parchment-lined baking sheet and roast for 35 minutes until golden brown. You can cook the eggplant and tofu together if your baking sheets can fit side by side.
Whisk the vinaigrette ingredients together.
Toss the chopped mango, herbs, and cooled tofu and eggplant with the vinaigrette. Fill the lettuce cups with the tofu salad and serve.
Kale, hijiki, and yuba salad
Ingredients
¼ cup toasted sesame oil
2-inch piece fresh ginger, peeled thinly julienned
2 tablespoons liquid aminos
½ cup dried hijiki, soaked in water for 10 minutes and drained
1 bunch lacinato kale, ribs removed, then shredded
½ small head of red lettuce, shredded
1 small carrot, shredded
3 tablespoons sesame seeds, toasted
3 oz Hodo yuba, cut into thin strips
Instructions
Bring the sesame oil and ginger to a sizzle in a sauce pan over medium heat. Transfer to a small bowl and whisk in the liquid aminos.
Using the same pan, toss in drained hijiki and cook for one minute. Set aside to cool.
In a large bowl, toss the finely shredded kale, cabbage, and carrots with ginger sauce, cooled hijiki, and yuba strips.
Just before serving, toss in sesame seeds. Serve at room temperature.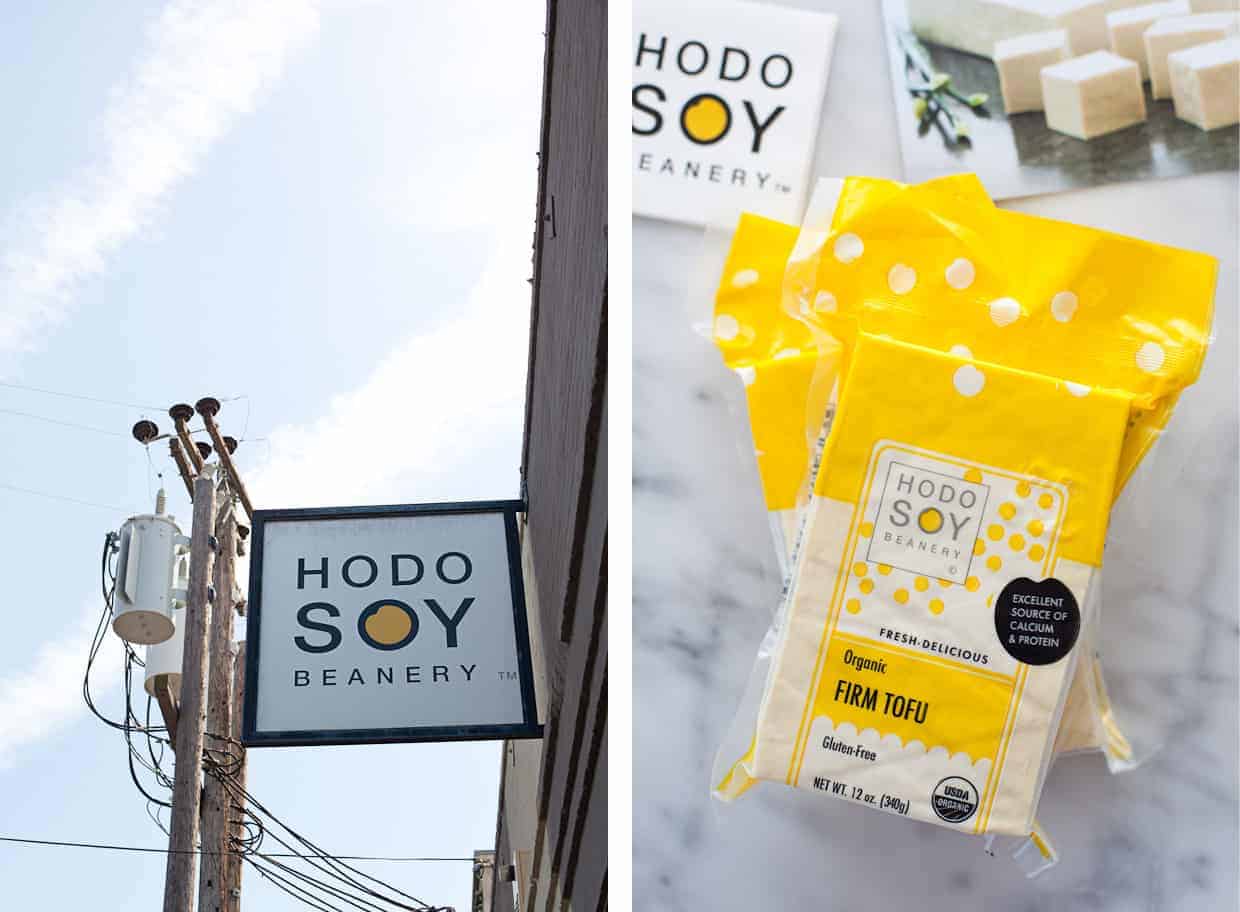 Hodo Soy Tofu Giveaway
The awesome people at Hodo Soy have offered to give TWO lucky Bay Area Snixy Kitchen readers a tofu prize pack of their own! One grand-prize winner will receive their choice of any 5 products, which can be mixed and matched to their liking. One runner up will get their choice of any 3 products. Like I said – trust me, you want this tofu in your life.
This giveaway is now closed. Congratulations to Dane & Sandy for winning the giveaway!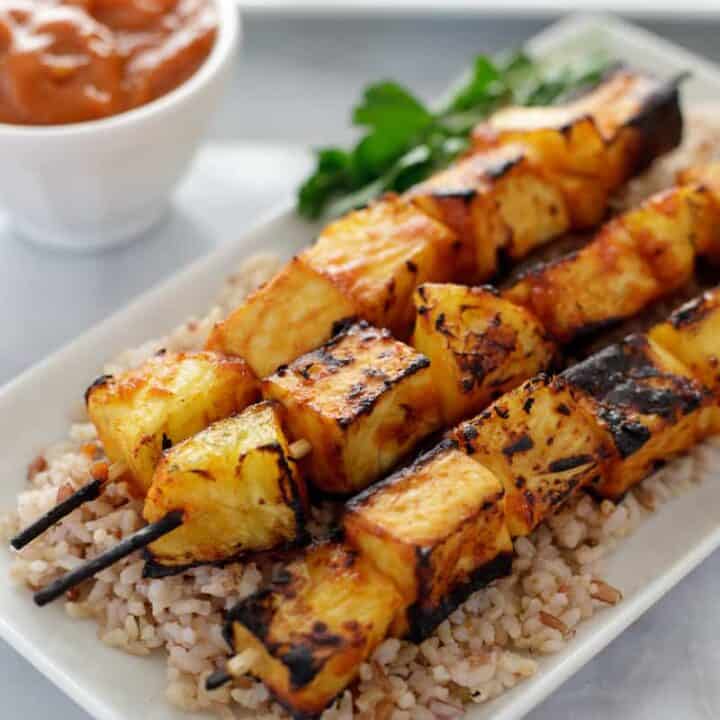 Grilled pineapple tofu skewers with spicy mango BBQ sauce
Yield:
18-20 skewers, 4 servings
Ingredients
Spicy mango BBQ sauce
1 teaspoon olive oil
2 garlic cloves, minced
¼ small yellow onion, diced
1 tablespoon ginger, minced
2 tablespoons apple cider vinegar
2½ tablespoons honey
¼ cup + 1 tablespoon good-quality ketchup
2 teaspoons Sriracha or chili paste
1½ tablespoons tamari sauce
½ mango pureed
Zest and juice of ¼ of an orange
Skewers
2 blocks of Hodo Soy's extra firm tofu (1½ pounds), cut into 1-inch cubes
1 large pineapple, skin and core removed, cut into 1-inch cubes
Optional: 1 cup brown rice, cooked according to package
Instructions
Spicy mango BBQ Sauce
Heat the olive oil in a large pan over medium heat. Add the onion and cook until translucent, about 2 minutes.
Add the ginger and cook for 1 minute. Add the garlic and cook until just fragrant, about 1-2 minutes.
Add the rest of the ingredients to the pan and cook, stirring, until it just begins to boil.
Optional: transfer to a blender and purée until smooth. Set aside, covered.
Skewers
Toss the tofu cubes with half of the sauce, and refrigerate for 20 minutes.
Prepare the grill for low to medium direct heat.
Add the pineapple cubes to the tofu and toss to coat.
Thread the pineapple and tofu onto kabobs, alternating until there are 3 of each per skewer.
Use a pastry brush to spread any remaining sauce from the tofu bowl over the skewers.
Grill for 3-4 minutes, then flip and grill for another 3-4 minutes, or until nicely charred on both side to your liking. (If working in batches, make sure you have foil to keep the cooked ones warm while you finish).
Brush the skewers with the remaining bbq sauce.
Serve warm over brown rice.