These gluten-free fried fish tacos have a tangy sweet orange cabbage slaw and spicy chipotle cream sauce. Rice flour tempura batter makes a crispy golden fried fish! Learn what kind of fish makes the best baja fish tacos, how to select sustainable seafood, and how to make chipotle cream sauce!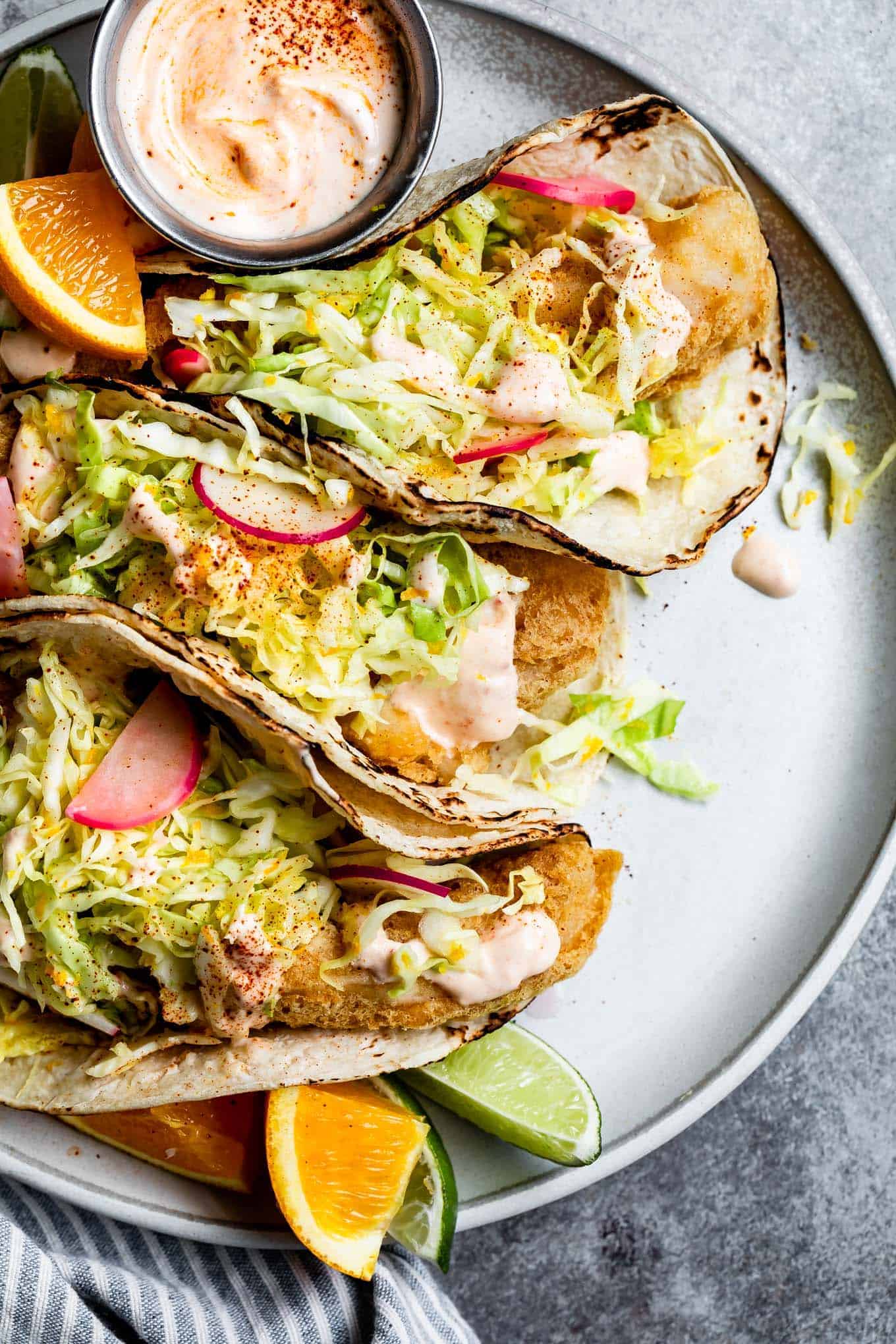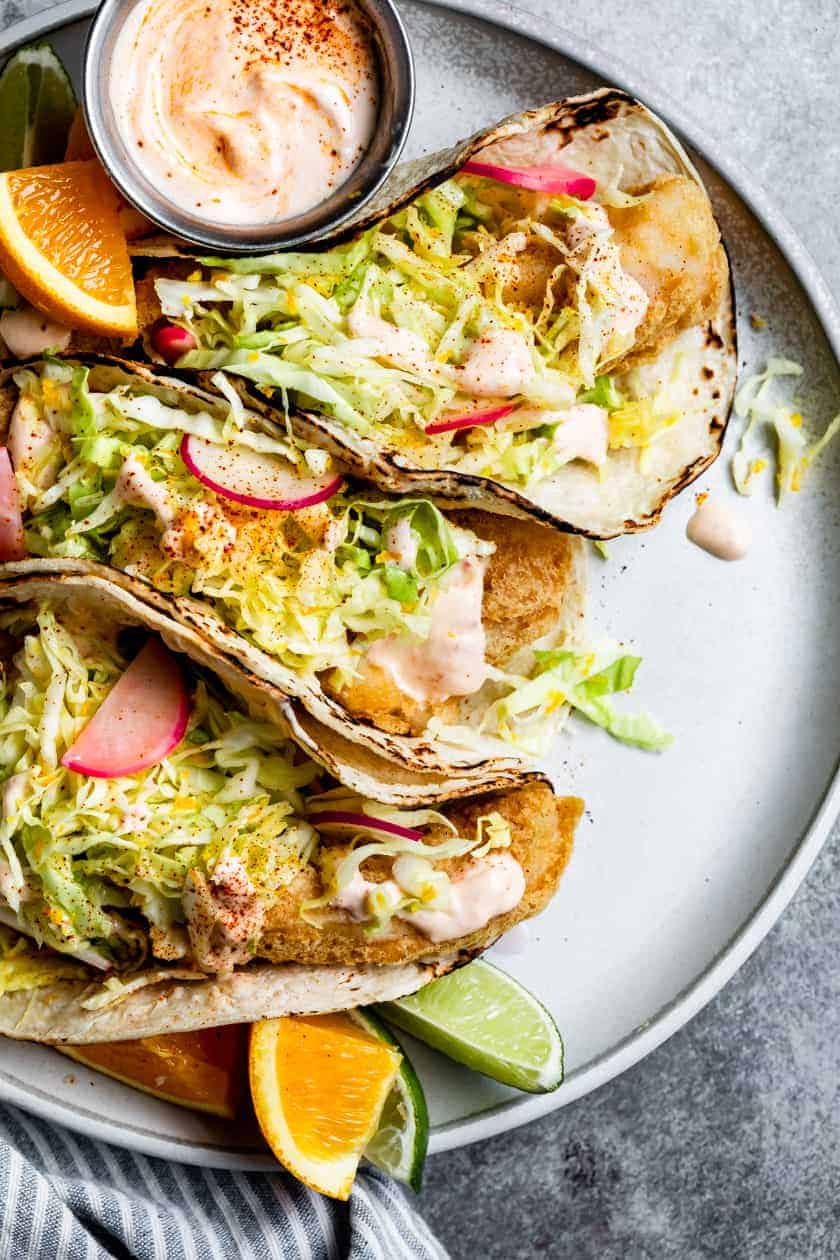 Tonight during our snacky clean-out-the-fridge dinner, Zoella (3) turned to Lucas with intensity, "DADDY...are you thinking what I'm thinking?"
He replied sarcastically, "Probably not..."
Still, she continued, "Do you want to make a TIARA?!"
First of all, I'm the crafty one, why didn't she ask me? Second, nope. 100% definitely not thinking what you're thinking, kid. He was standing in front of the fridge thinking about what he wanted for dinner.
We both wished we had these gluten-free baja fish tacos instead of sad fridge leftovers. 100%.
I'm continuing my partnership with Safeway again this year, joining them on a Northern California blogger tour to inspire recipes that show off some of their California-based products and initiatives that you might not already know about. You can find all the recipes inspired by these tours here.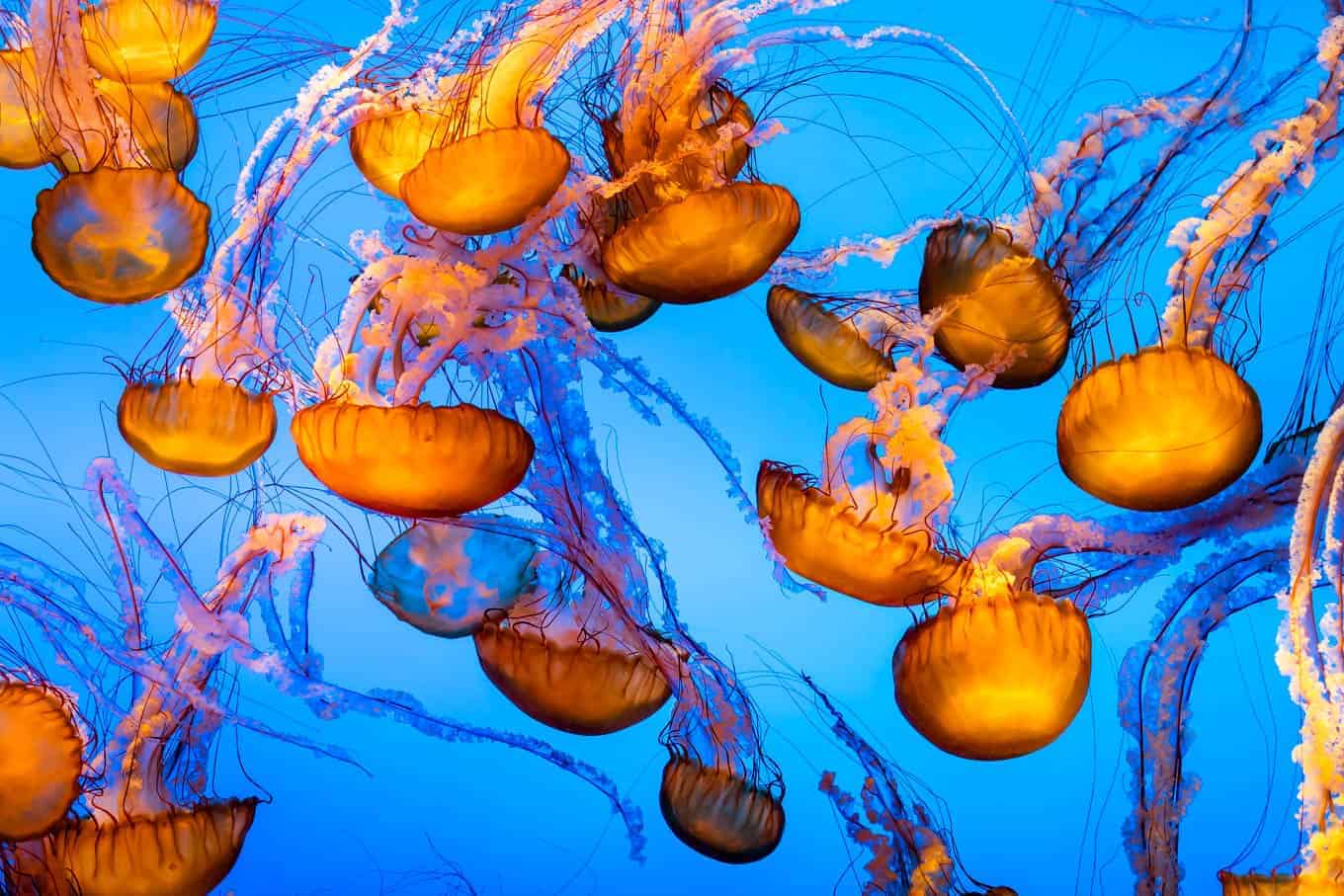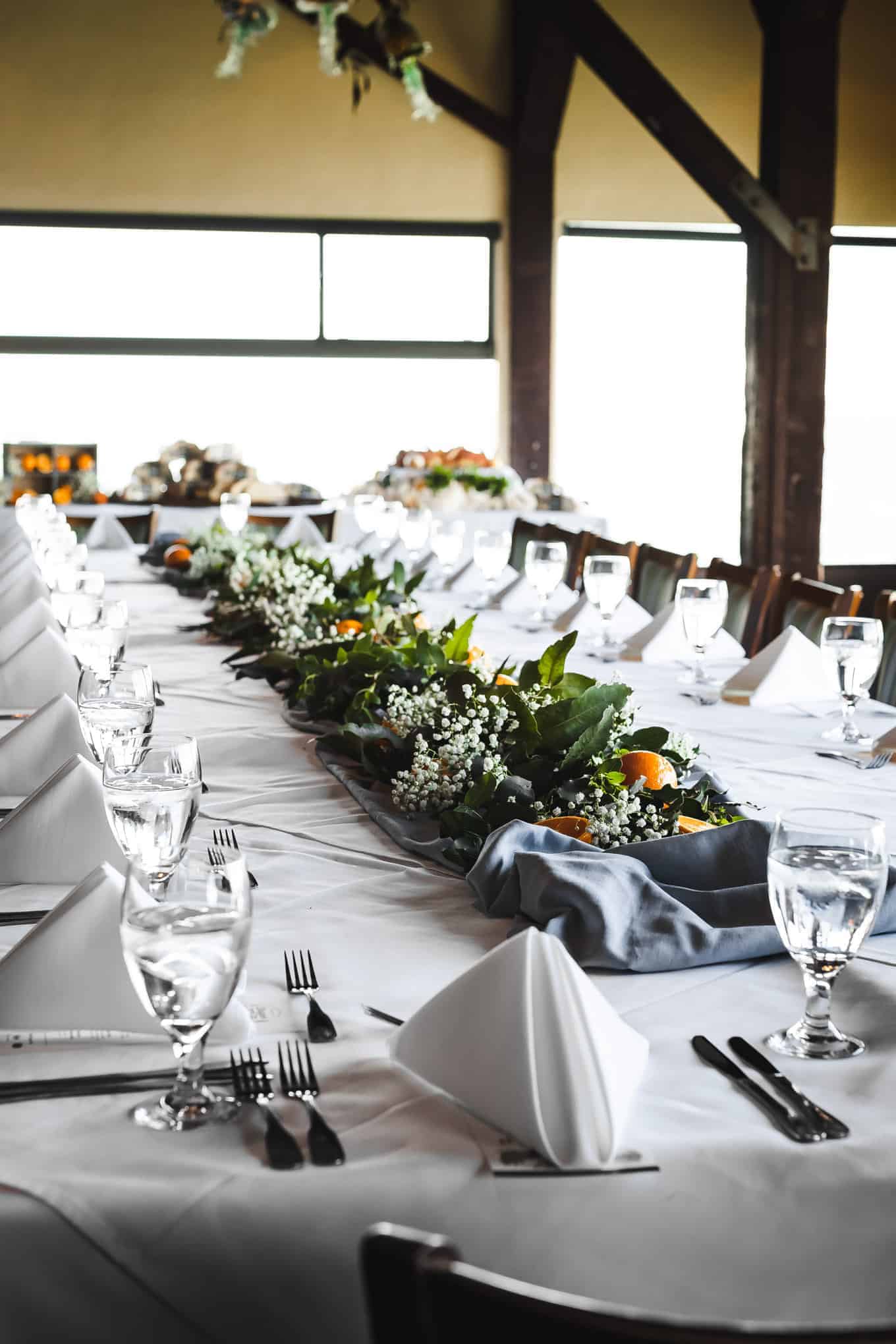 Last month, they invited me an a few other bloggers on a behind-the-scenes tour of the Monterey Bay Aquarium led by Seafood Watch to learn about sustainable seafood. Inspired by our aquarium tour and lunch at The Fish Hopper featuring Monterey Bay Seafood of Lucamerica, Vintage Sweets, and The Rustik Oven, I've made gluten-free baja fish tacos with orange cabbage slaw and chipotle cream sauce.
These tacos mark the transition to early Spring.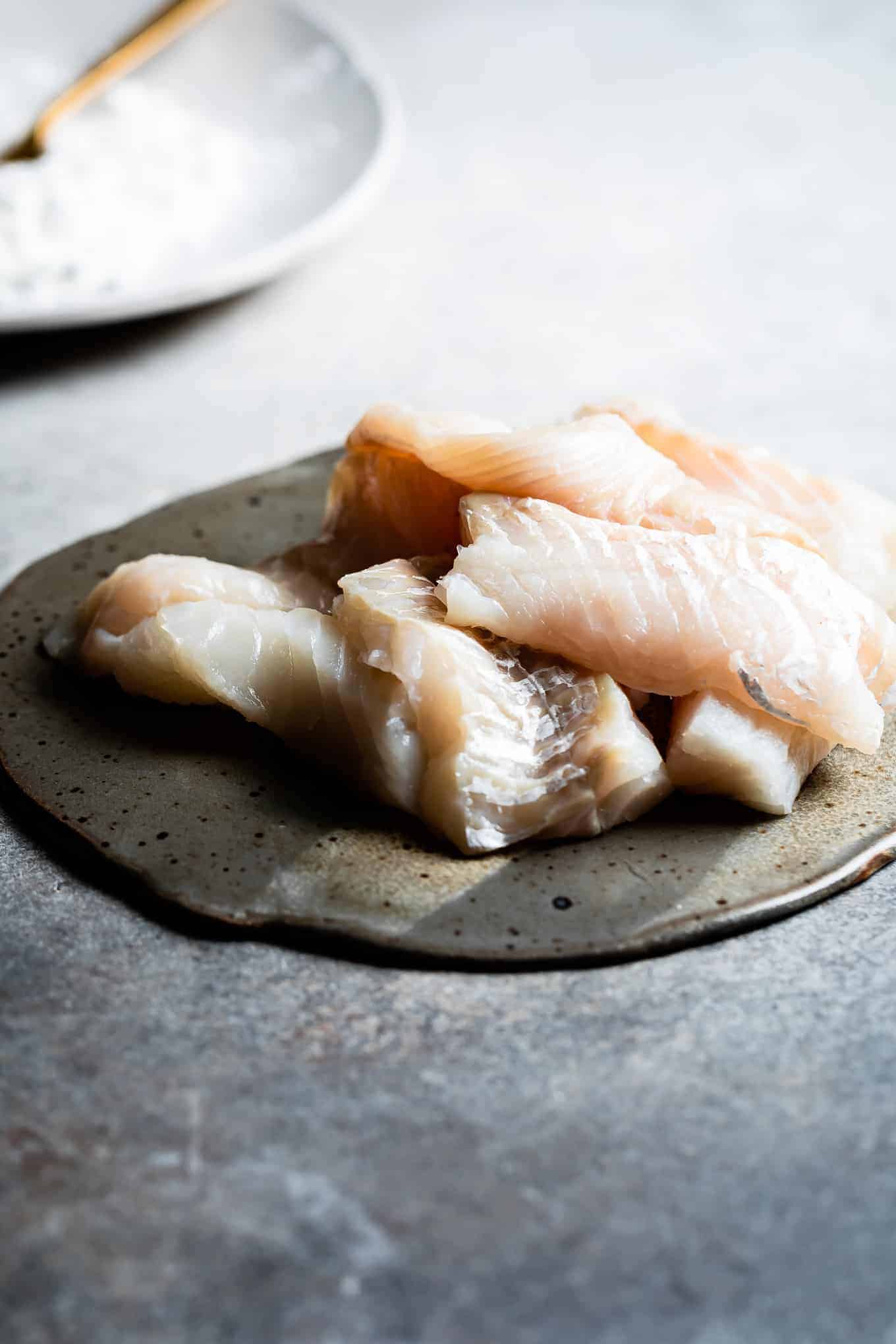 What is Sustainable Seafood?
As some of you may already know, the seafood choices we make can have destructive impacts on the ocean's ecosystem and the long-term vitality of seafood. Choosing sustainable seafood can help protect the health of our oceans and fishing communities, while ensuring the future supply of seafood.
By just making better seafood choices, we can help keep our oceans healthy. That means choosing seafood that isn't overfished nor fished/farmed in a way that is environmentally destructive.
To help us make those choices, the Monterey Bay Aquarium started their Seafood Watch program that rates the sustainability of different seafood. For years, I've carried around one of their foldable seafood guides in my wallet, but now you can get all that information in a free interactive app. The app will give you a traffic light sustainability rating based on species, source, and how it's fished or farmed. Green = best choices, yellow = good alternatives, red = avoid.
So how does Safeway fare on seafood sustainability? Safeway made a commitment to sell only sustainable seafood. Their seafood provider, Monterey Bay Seafood, is a Seafood Watch Industry Collaborator that supports them with environmentally responsible recommendations.
You can rest assured that all the seafood you can find at Safeway – from fresh to frozen to shelf-stable – is rated in the top two categories, yellow or green. 100% of their seafood comes from responsible and traceable sources. You can read more about Safeway's Responsible Seafood Program in partnership with FishWise.
What Kind of Fish to use for Baja Fish Tacos?
For baja fish tacos that you dip in batter and fry, you want a mild firm white fish. One with plenty of moisture that won't dry out or fall apart when cooked.
There are several of fish species you can select, but my top choice is wild alaskan cod. I'm looking for a fish that is both sustainable in my area (California) and the perfect texture for fish tacos. You want the outside of your fish crispy and golden while the inside, buttery and smooth. Other sustainable fish for baja fish tacos: mahi mahi, rockfish, or snapper (check your local Seafood Watch guide to see what's sustainable where you live!).
On the opposite end of the spectrum, I tested half a batch of this gluten-free fried fish with tilapia filets and, let me tell you, it doesn't hold a candle to the cod.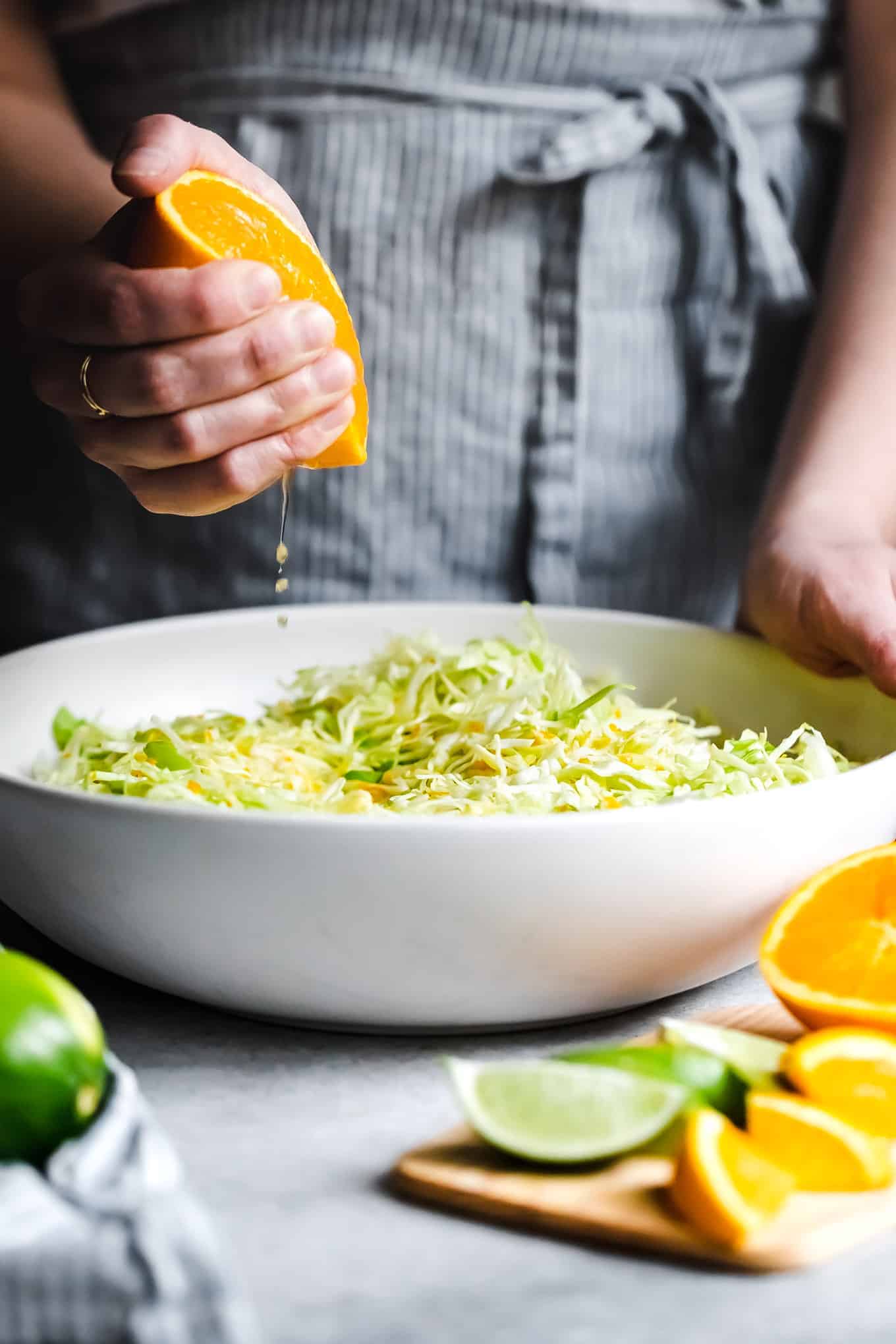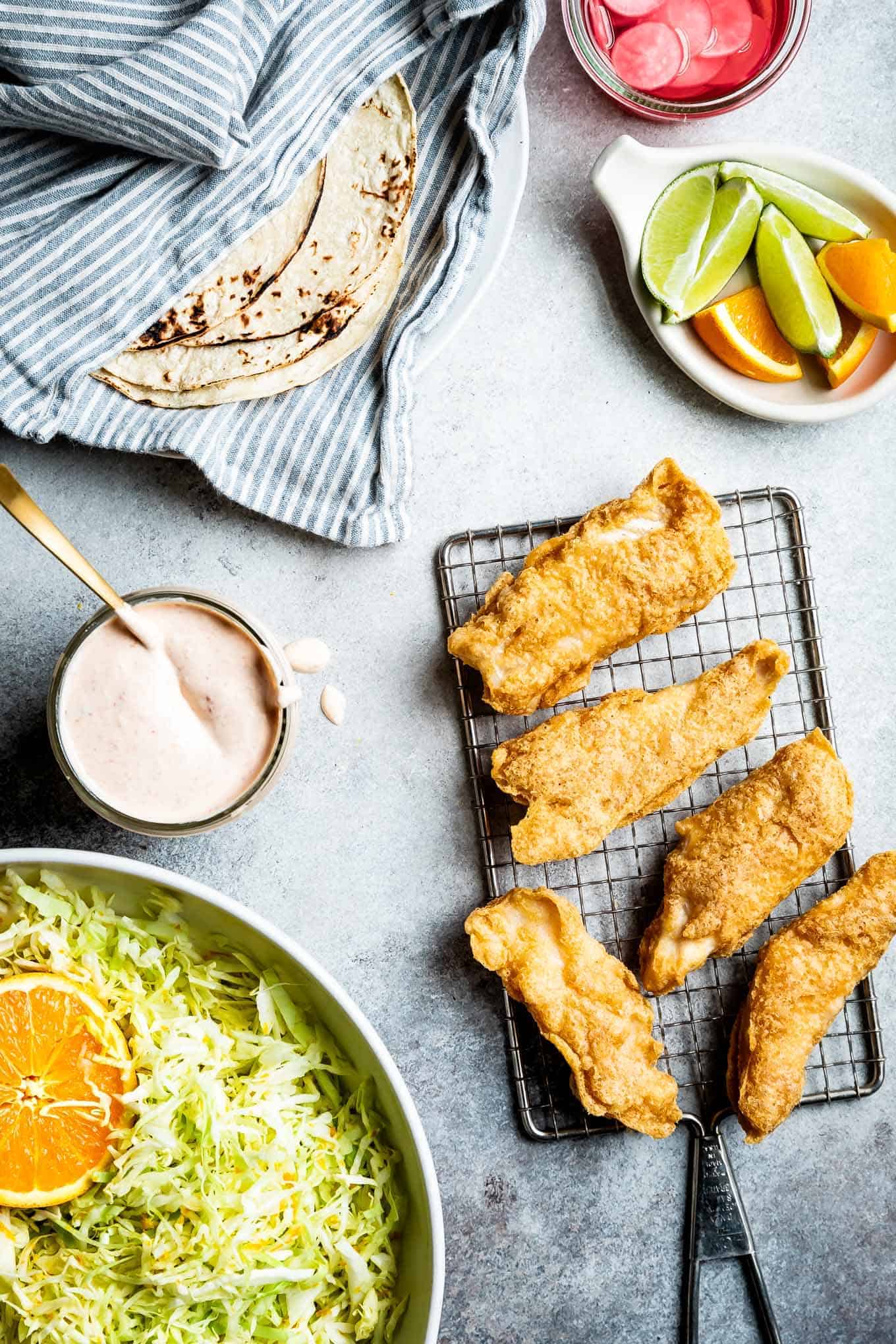 What to put on a baja fish taco?
A baja fish taco typically consists of battered fried fish, a thick cream sauce, and crisp tangy cabbage slaw all folded up in a corn tortilla. Flavorful baja fish tacos need some heat and lots of lime juice. Simple and fresh.
For this orange cabbage slaw, I used the zest and juice of Vintage Sweets heirloom naval oranges. These oranges come from trees that are 50-100 years old. Their fruit perfectly balances the sweetness and acidity so the oranges pop with brightness.
Baja Fish Taco Recipe: Gluten-Free Fish Batter
To make gluten-free fish batter, I start with my gluten-free tempura recipe. Rice flour makes the perfect gluten-free fish batter for these baja fish tacos. It fries up light and crisp with a neutral taste.
For the gluten-free fish breading, I first dredge the fish in flour before dipping it into the batter. This makes sure you get a thick even layer of batter that will actually stick to the slick fish.
Since the fish is so mild, I gave the batter a little extra flair with some seasoning - paprika, garlic powder, and a little more salt - to make sure the fried fish was super flavorful on its own.
Baja Fish Taco Sauce: Chipotle Cream Sauce
The cream sauce will make or break your baja fish tacos. It should be tangy with a bit of a kick. When I first made these baja fish tacos, my sauce was mild - some lime juice, garlic, and jalapeno mixed in with the sour cream and mayo. Something was missing from that first sauce. I wanted a salsa roja to make all the flavors pop, but making another component? No thanks.
Instead, adding in some chipotle chiles in adobo to the make a chipotle cream sauce gives these tacos loads of flavor with a little heat. If you like things a little spicier, feel free to add more chiles.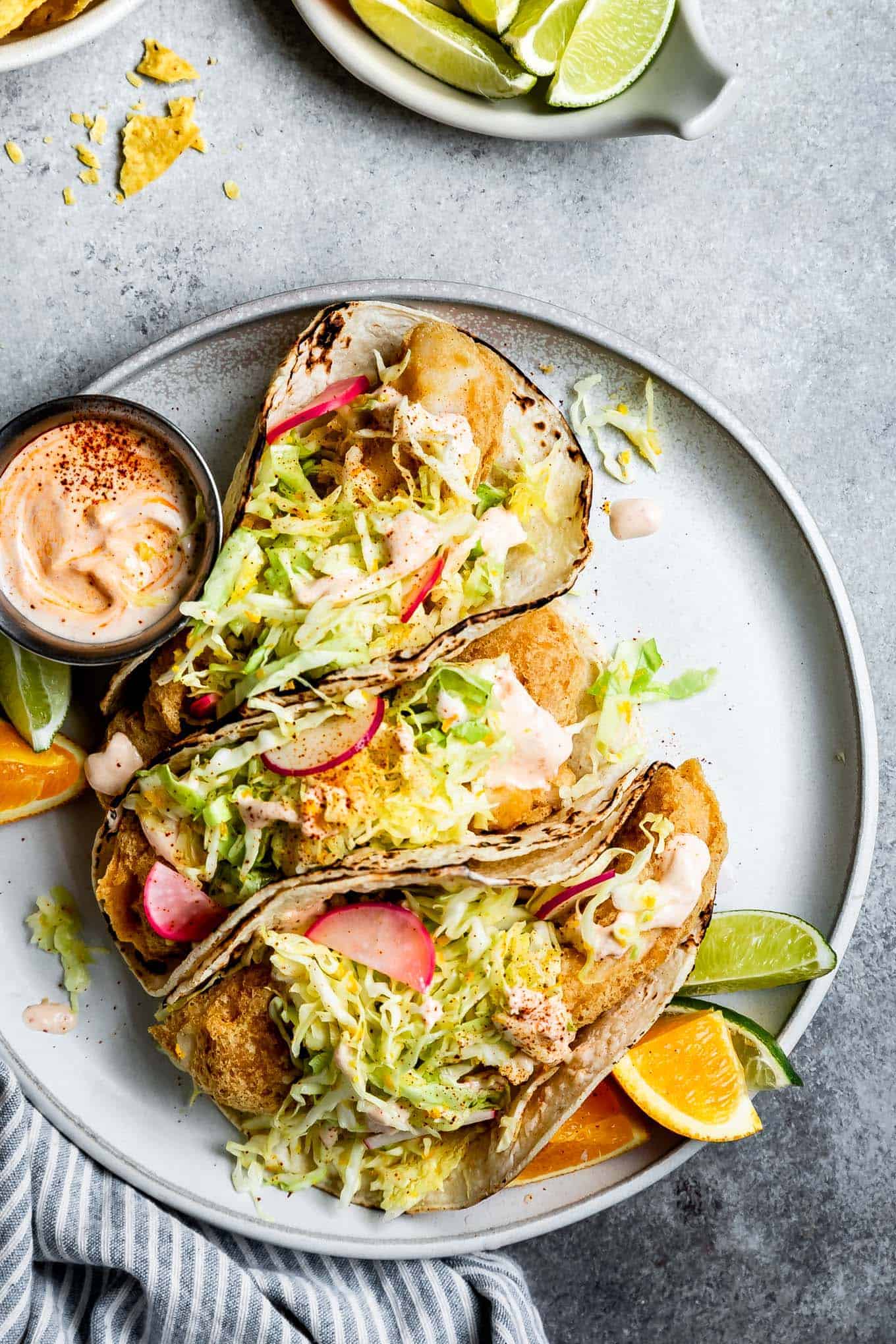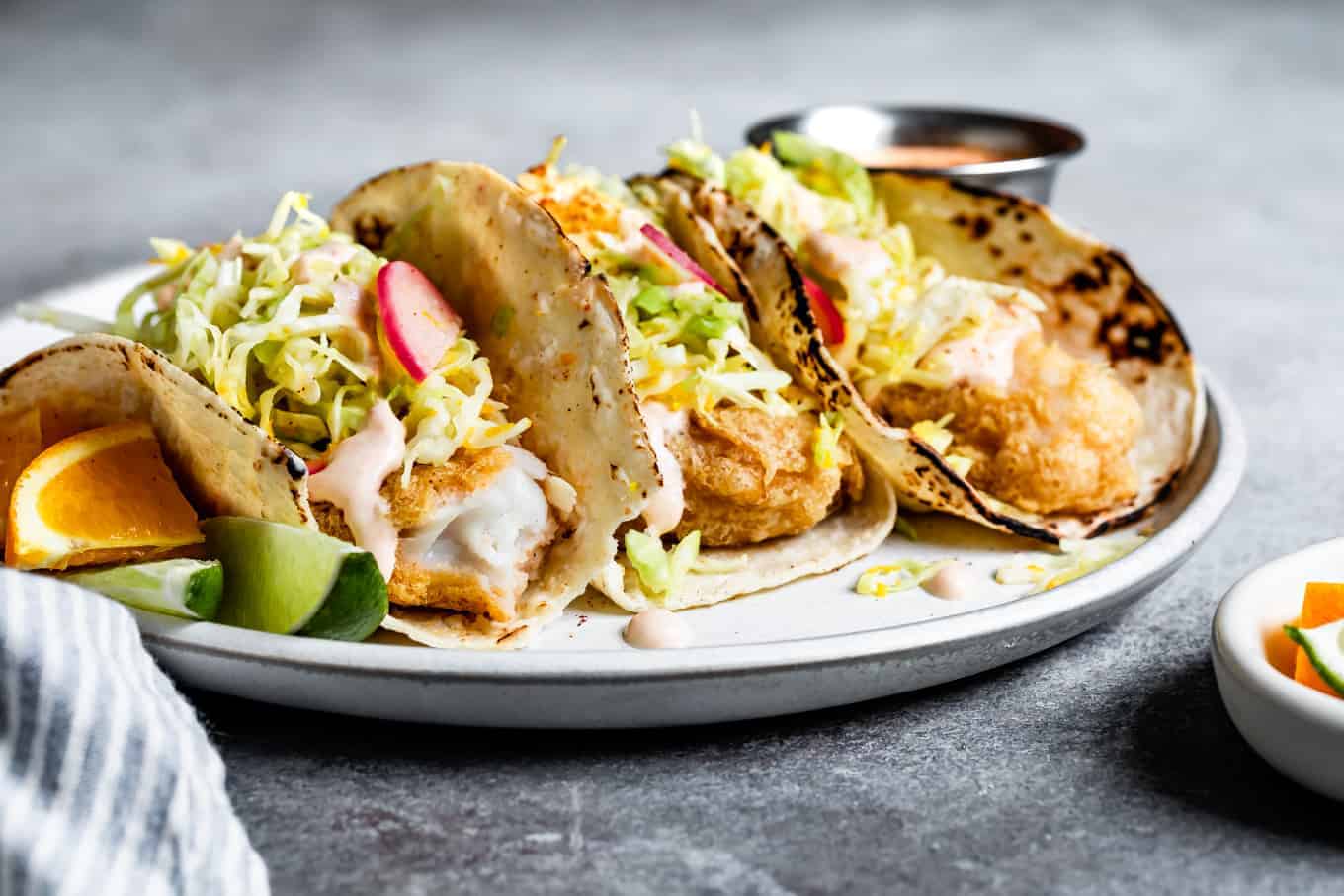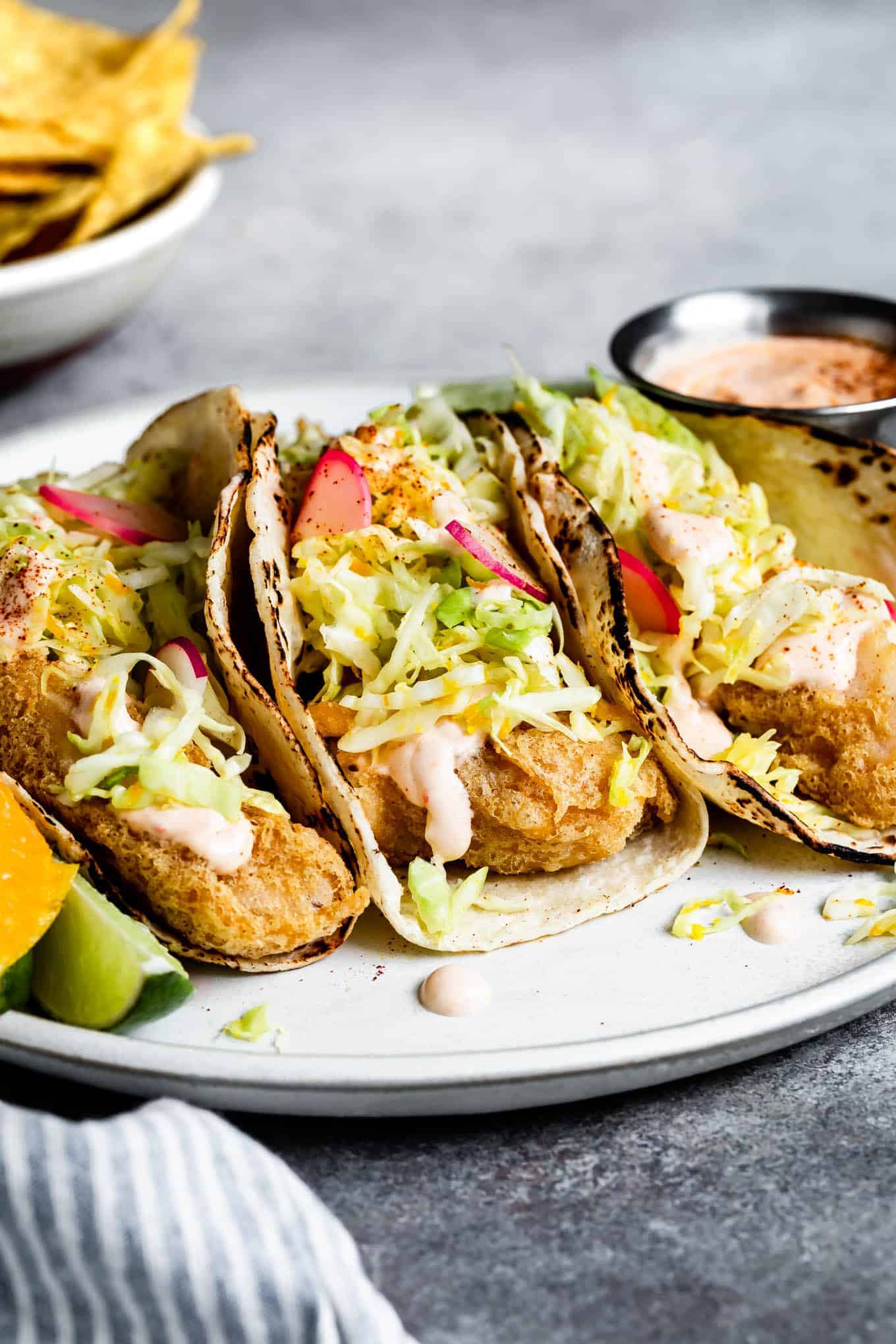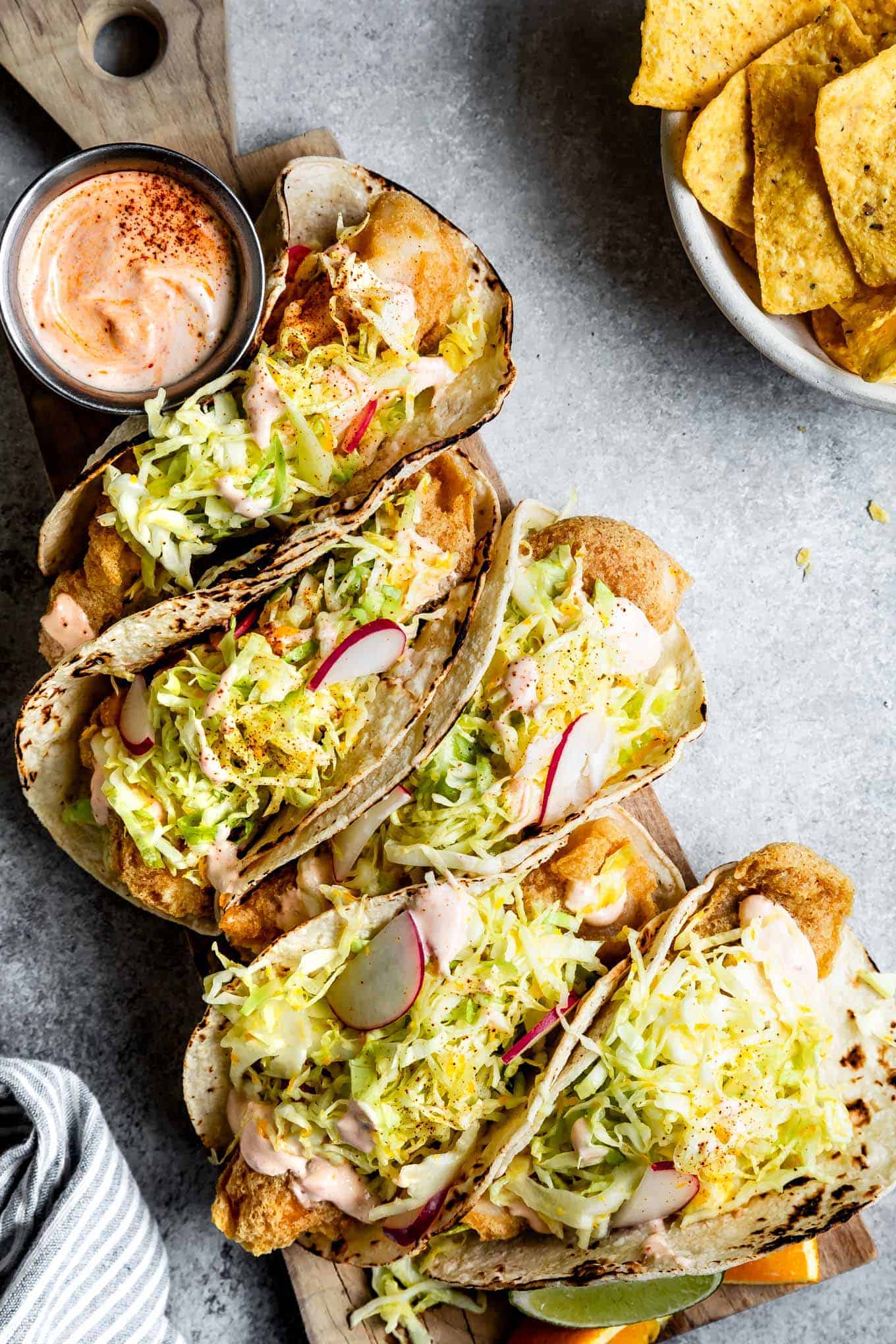 How to Reheat Gluten-Free Fried Fish?
Most people will say: You don't. Usually when we plan seafood for dinner, we do so on a day when we don't need/want leftovers. But here I was, taking pictures of these gluten-free fried fish tacos in the middle of the day. I wasn't going to serve them until dinner that night.
Whatever you do, don't try to microwave fried fish. Microwaving fried food is the quickest way to ruin that crisp breading.
Instead, reheat the fried fish on a wire rack in the oven - fish stick style. Place a wire baking rack on top of a baking sheet and spread your fish out on the rack. Bake at 350°F for 10-12 minutes, flipping the fish once halfway through. This will keep your fried fish crispy, just the way you intended.
Disclosure: Special thanks to Safeway for providing the ingredients for this recipe and sponsoring this post! And thanks to you for supporting the companies that keep Snixy Kitchen cooking!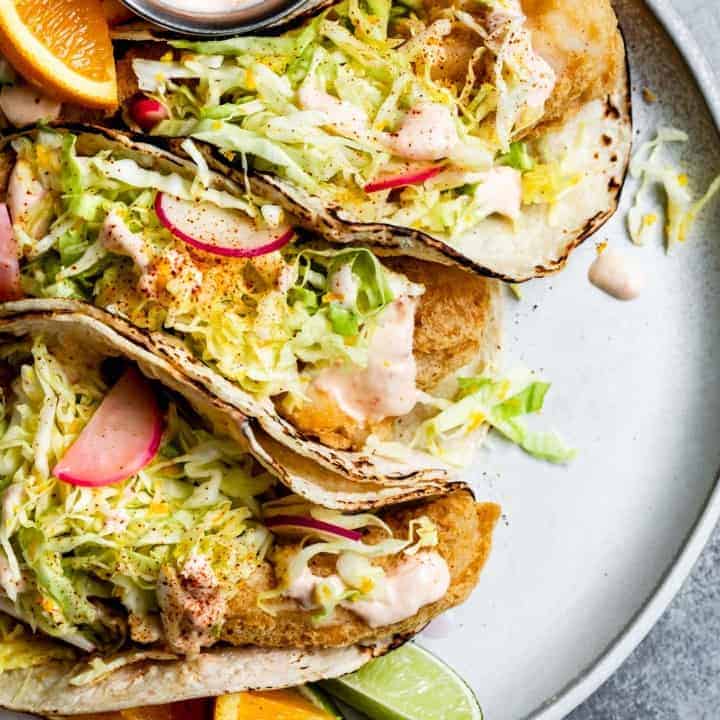 Gluten-Free Baja Fish Tacos with Chipotle Cream Sauce
Yield:
4 servings (10-12 tacos)
These gluten-free fried fish tacos have a tangy sweet orange cabbage slaw and spicy chipotle cream sauce. Rice flour tempura batter makes a crispy golden fried fish! Learn what kind of fish makes the best baja fish tacos, how to select sustainable seafood, and how to make chipotle cream sauce!
Ingredients
Gluten-Free Fried Fish
1½lbs firm white fish fillet, such as cod, rockfish, or tilapia (I recommend cod)
3-4 cups vegetable oil, for frying
2 teaspoon kosher salt
2 teaspoons paprika
1 teaspoon garlic powder
½ teaspoon baking soda
2 large egg yolks, room temp
1½ cups cold seltzer water, plus more as needed
Chipotle Baja Cream
½ cup sour cream
½ cup mayonnaise (*see note)
1½ tablespoons fresh lime juice
1 tablespoon chipotle pepper in adobo, chopped
½ teaspoon chopped garlic clove
¼ teaspoon kosher salt
Orange Slaw
4 cups shredded or thinly shaved green cabbage (about 1 small green cabbage)
Zest from 1 orange
6 tablespoons fresh orange juice (from 1-2 oranges)
1½ tablespoons fresh lime juice
1 tablespoon olive oil
1 teaspoon honey
¼ teaspoon kosher salt
For Serving
10-12 corn tortillas
5 small radishes, halved and thinly sliced (optionally quick pickled, below)
Optional: cilantro, lime and orange wedges
Optional quick-pickled radishes
¼ cup boiling water
1 teaspoon kosher salt
1 teaspoon sugar
¼ cup rice vinegar
Instructions
Begin by making the chipotle baja cream. Mix all the ingredients for the chipotle baja cream to a food processor or blender until smooth. Transfer to a bowl and chill until ready to serve.
Prepare the orange slaw. Toss all the ingredients together in a medium bowl and chill until ready to serve. Note: The longer the slaw marinates, the softer it will become as the cabbage will release some liquid. If you like it on the crunchier side, make it only up to an hour in advance. In my opinion, the citrus flavors get even stronger as it sits, so it will still be delicious up to a day as leftovers.
If you're pickling the radishes, stir the salt and sugar into the boiling water in a jar until dissolved. Stir in the rice vinegar, then add your sliced radishes and let sit for at least 20 minutes while you fry the fish. Pickled radishes keep for a few days in the fridge. The longer the radishes sit, the more pickled they'll become.
Cut the fish into strips about 3-4 inches long by ¾-1½ inch(es) wide. Put ½ cup of rice flour on a plate and dredge the each piece of fish in the flour. Set aside while you prepare the batter.
Heat 1 to 1½ inches of oil in a large pot over medium-high heat until it reaches 350°F. Adjust the heat to keep the oil at 350°F (I clip a candy thermometer to the pot while I fry). Set a paper towel-lined wire rack near the stove.
Whisk together the remaining 2 cups white rice flour, salt, paprika, garlic powder, and baking soda in a large mixing bowl. In a small mixing bowl or measuring cup, whisk together egg yolk and seltzer water until smooth and fizzy. Pour the egg and water into the flour and mix gently with a fork until just combined. Don't over mix - It is okay if there are still some dry clumps, but just make sure to mix in the flour from the bottom of the bowl. If your batter seems too thick and clumpy, add 1-2 tablespoons more seltzer water as needed and gently mix. You want the batter to be thick enough that it sticks to the fish in a thin layer.
Working three at a time (more or less depending on the size of your pot), dip a piece of dredged fish into the batter, making sure to coat the fish in batter. Gently shake off any excess batter. Drop the fish in the oil (being careful not to burn yourself) and fry for 2-3 minutes, turning gently with a spoon until crispy and golden. Use a slotted spoon to transfer each piece of fish to the paper-towel lined wire rack. Repeat with remaining fish.
Lightly char the tortillas directly over a medium-low flame, flipping once, or warm each tortilla in a dry pan until just pliable, about one minute on each side.
Fill the tacos! Place a piece or two of fish in each tortilla. Top with a drizzle of chipotle baja cream, a small handful of orange cabbage slaw, and pickled (or raw) radishes. Garnish with cilantro, if you desire.