Rich French lentils get cooked with aromas and tossed into a chilled cucumber lentil salad with chopped parsley, high-quality olive oil, and lime juice with creamy feta crumbled over top. The perfect potluck salad, side dish for a barbecue, or make-ahead weekday lunch.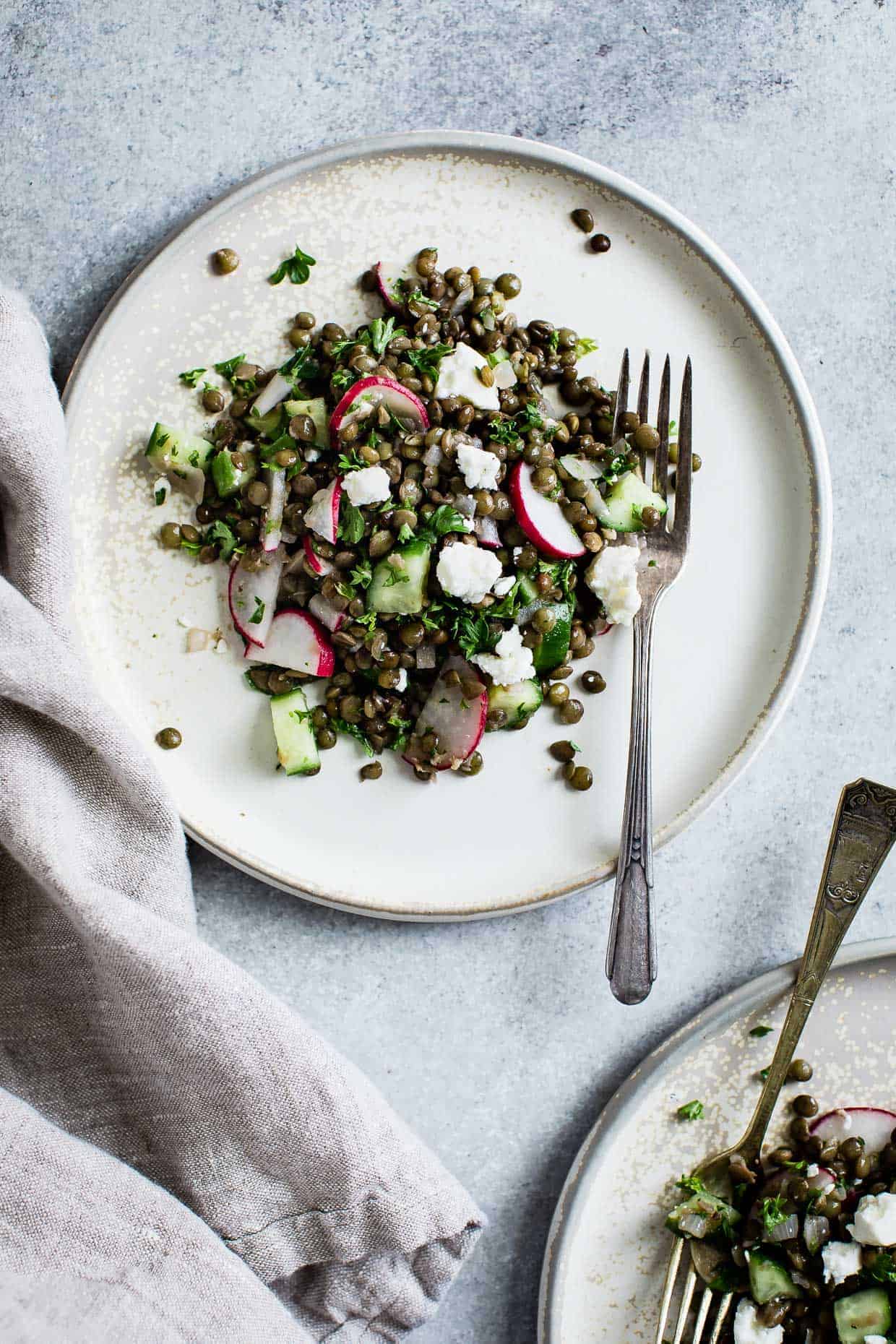 Whenever I've got an all-day shoot and need quick fuel, I always grab the same pre-packaged lentil salad. It's prepared locally and sold at nearly all the markets I frequent. This cucumber lentil salad with feta shared here is my interpretation of that salad, except with my own vegetable medley and way more feta (necessary).
Let me tell you about the two crucial components of this salad - lentils & feta - that also tie into some NEWS! (No, it's not another baby or a cookbook).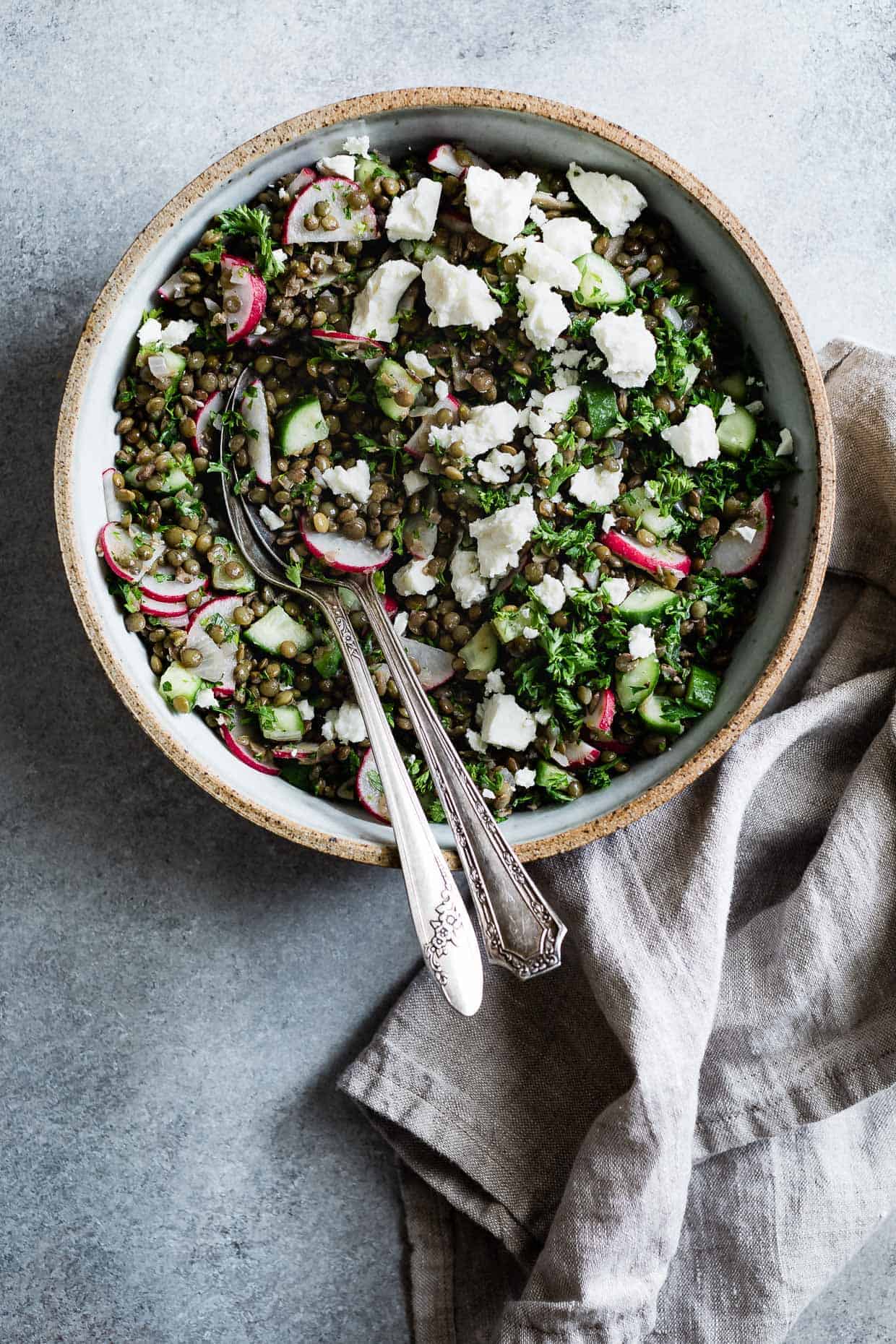 For the first test of this at-home version, I filled a bulk bag with "large green lentils" only to disappointingly discover that they didn't hold their shape when cooked through. The salad was tasty, but the lentils were a big ugly beige-y brown mess. So if you want your salad to dress to impress, French green lentils are where it's at. They're more petite and, in part because they take less time to cook, they hold their shape better. The result is a rich lentil with less of the earthy mouthfeel you get from other lentils. This gives them the ideal aesthetic, texture, and flavor combo for this cucumber lentil salad.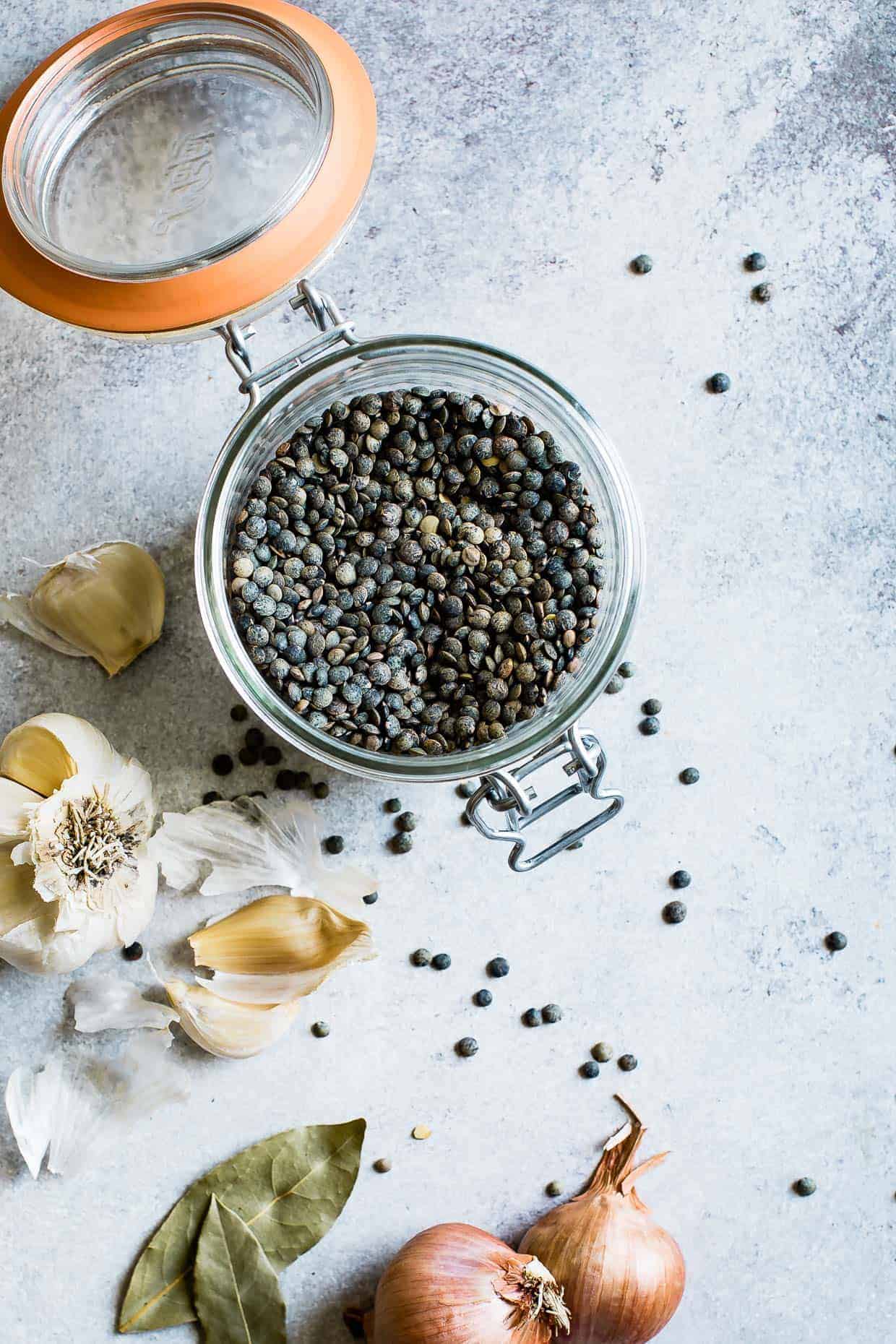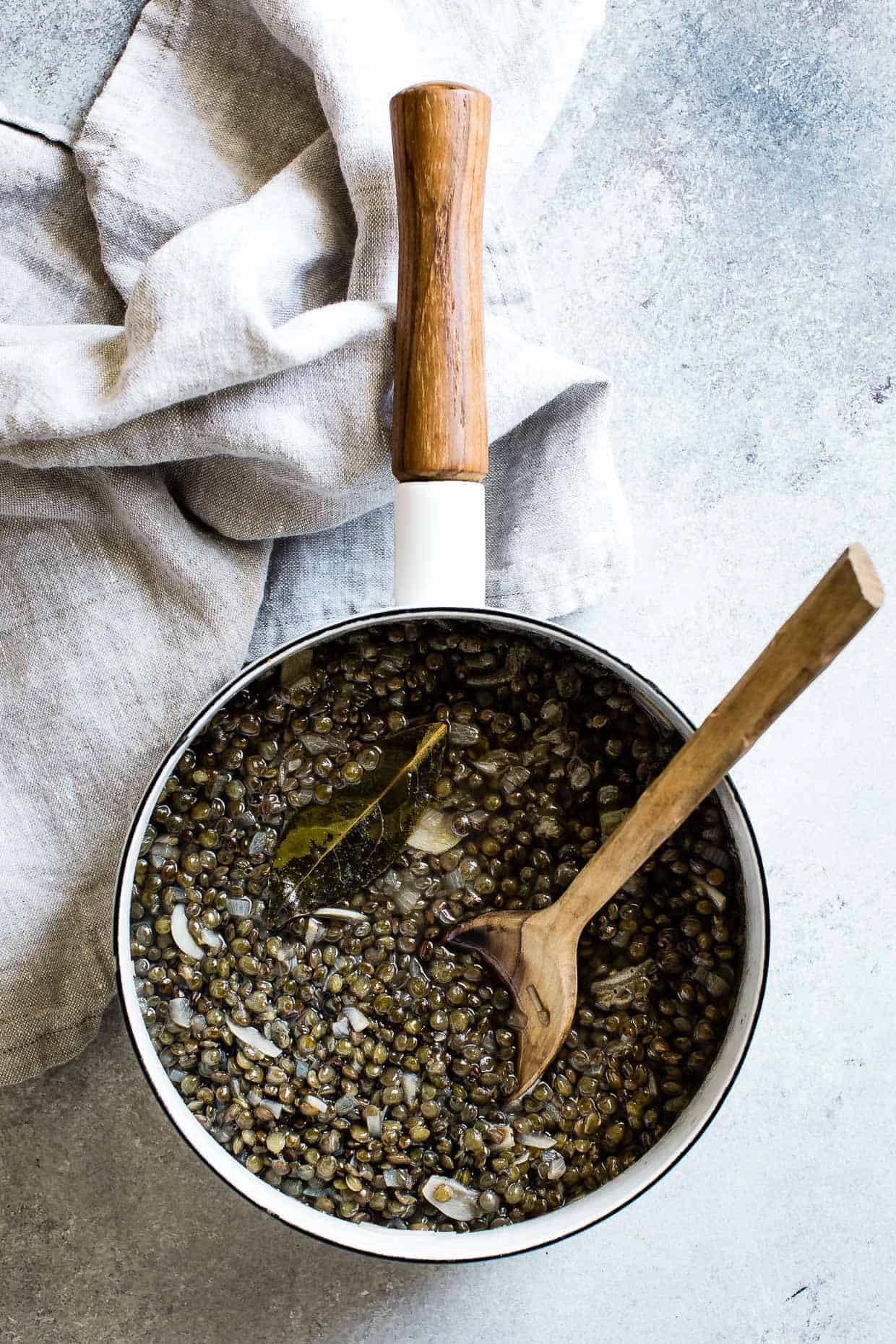 While the French lentils are the backbone to this salad, the feta is the icing that gives it a creamy tang to tie it all together. Not just any feta, I'm partial to French feta. It's more mild and creamy, almost like a chevré, but with a better crumble. Before discovering French feta, I thought I wasn't a fan. I didn't hate feta - I'd eat it - I just didn't prefer it or buy it. Now? Well now I've always got a block on hand.
In sum: French lentils + French feta = a perfect match. Extra feta. Once you've got that power couple, just add in a little salt, lime juice, parsley and your favorite raw or blanched veggies for a salad to get you through a busy work week (it'll last several days and taste even better as it mingles in the fridge!).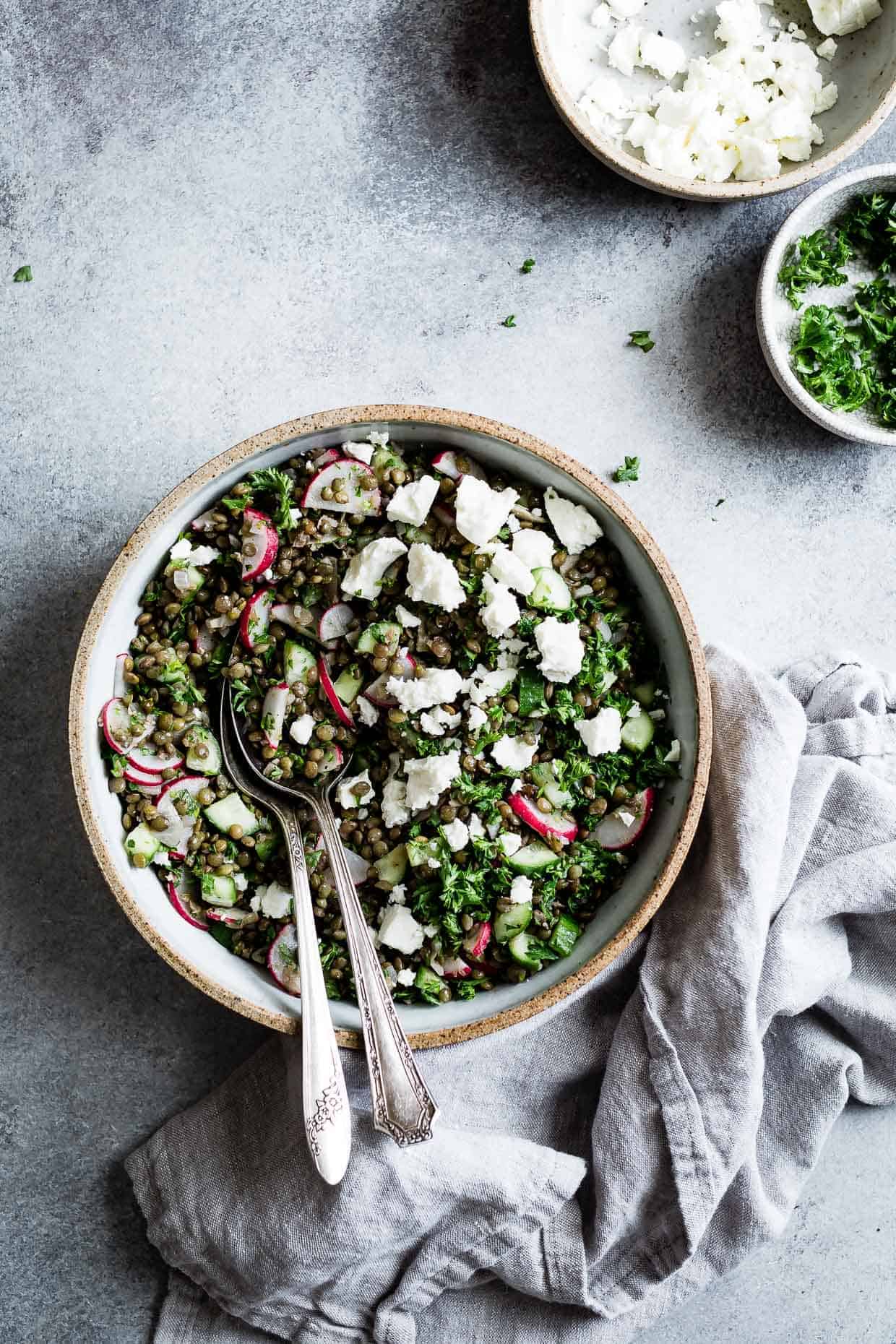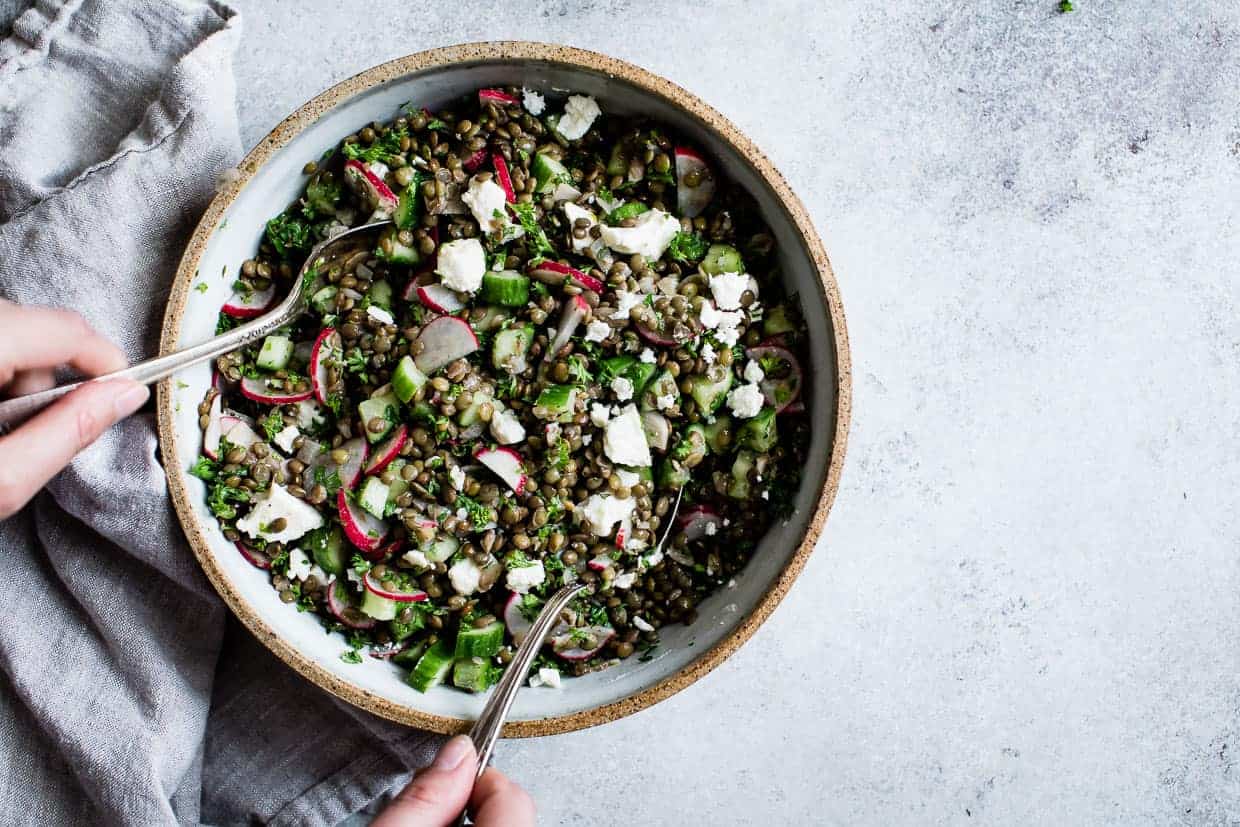 It turns out I dig what the French are laying down. Which is a good thing too because......drumroll......
WE JUST BOOKED FLIGHTS TO EUROPE!
More specifically, Paris and Lisbon. Lucas has a conference in Lisbon in November, so Zo and I are tagging along and adding on a stopover in Paris on either end for fun. My parents will meet us for a few nights in Lisbon and the second half of our Paris stay, so hopefully we'll even get a couple dinners out just the two of us after the kid goes to bed.
Lucas has never been to Europe and the last time I was there was 15 years ago on an organized high school trip across Spain and France. Surely Paris will seem exactly the same in my thirties with a toddler in tow as it did when I was a high school senior.
Among three dozen teenagers, Chad and I were the lone French students on that trip. All our friends spoke (high school level) Spanish all through Spain and we proudly geared up for our role as full-time translators once we crossed the border into France. Except nearly everyone we spoke to in French, replied to us in English. Womp womp. My last French lesson was 14 years ago, so I don't imagine I'll fare any better this time around.
Back then our parents signed permission slips so we could order sangria at dinner and go to the discotheque past our curfew. Come to think of it, this trip will basically be the same - asking my parents for permission to go out on the town past toddler bedtime while they babysit.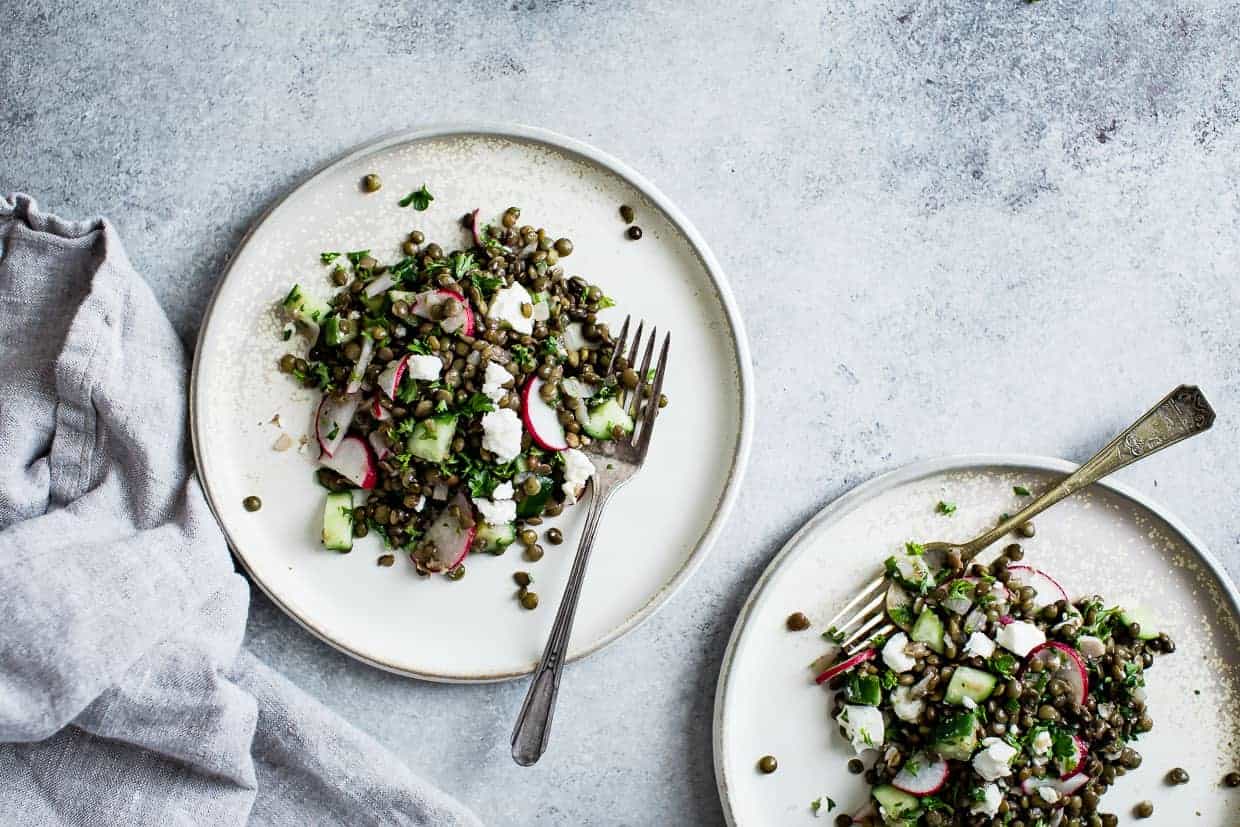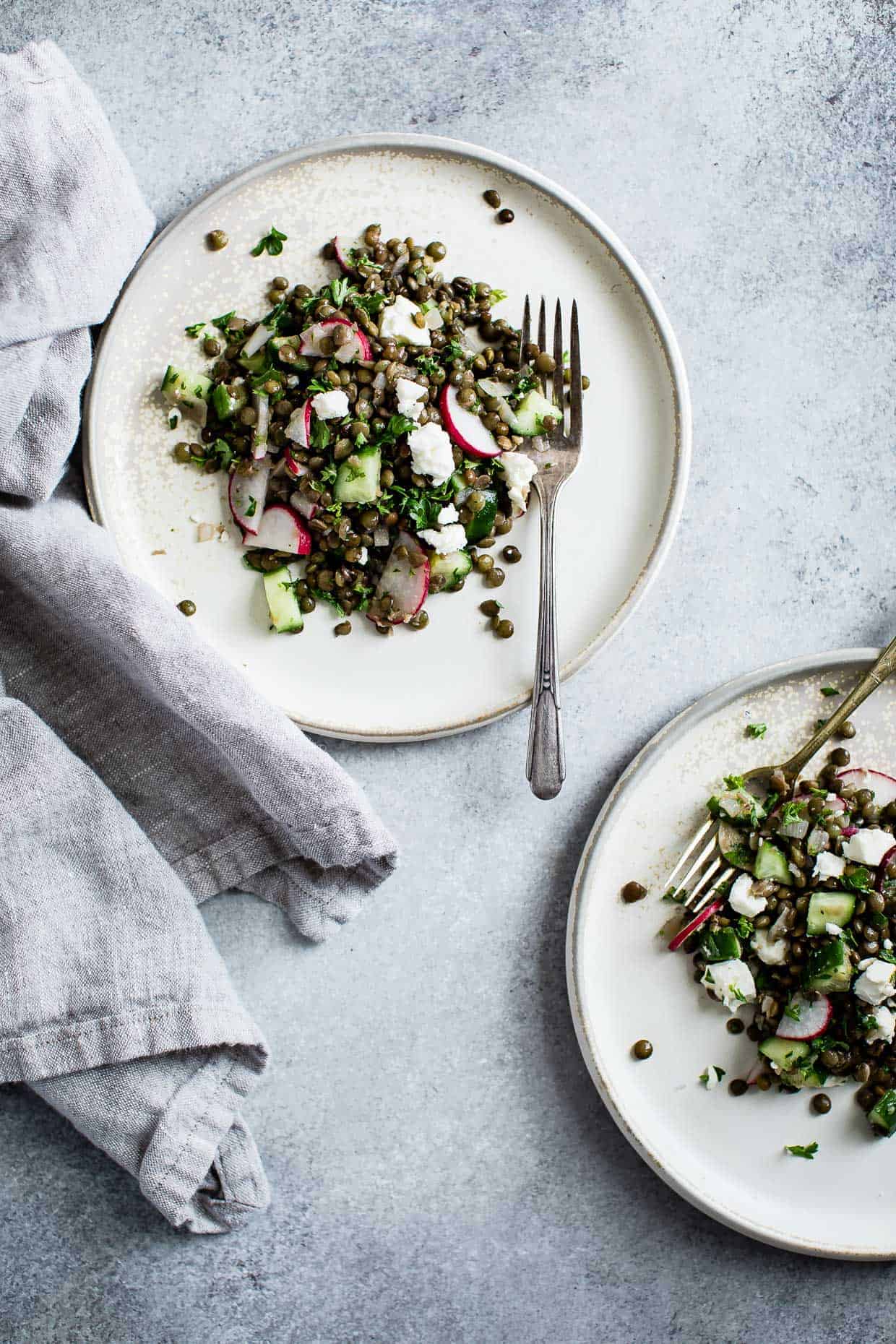 Now I'd love to hear all of your tips, secrets, and hidden gems for either Paris or Lisbon! Important things like:
What should we do, see, eat? (Both toddler-friendly places and fancy date night spots)
Europe travel tips?
What's the best way to entertain an almost 2-year-old on a 10 hour flight? (One listicle I read suggested bubble wrap. I thought I'd bring that, maybe a roll of tinfoil, and a set of tambourines. Sounds good, right?)
How crazy are we to bring a stroller through the congested streets of Le Marais and the hilly blocks of Lisbon?
How do we get our kid to not be terrified of the shower between now and our shower-only apartment stays?
Pro tips for dining out in either place with a toddler?
On second thought, we've probably got that last one covered: Zoella once pulled a tablecloth off at a restaurant, so I'm sure it'll be fiiiine (joking - please help).
One things certain: I'll be packing this cucumber lentil salad as our plane food.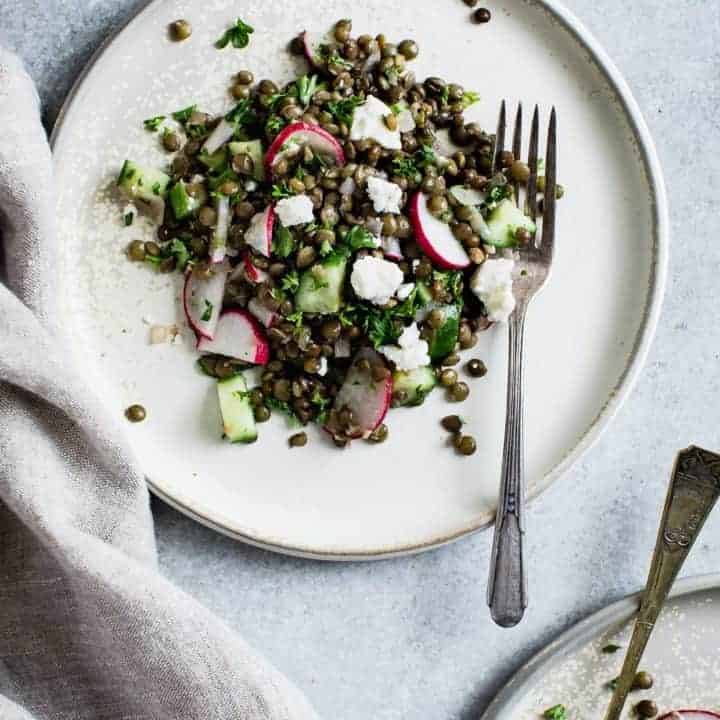 Cucumber Lentil Salad with Feta
Ingredients
2 teaspoons extra virgin olive oil
2 small shallots, finely chopped
2 cloves garlic, thinly sliced
1 cup French style green lentils, rinsed and picked over
3 cups water
2 bay leaves
¼ teaspoon freshly ground pepper
2 Persian cucumbers, quartered lengthwise then sliced ¼-inch thick
6 small breakfast radishes, halved then thinly sliced
¼ cup + 2 tablespoons finely chopped curly leaf parsley
3 tablespoons fresh lime juice (1-2 limes)
2 tablespoons extra virgin olive oil
½ teaspoon white wine vinegar or apple cider vinegar
½-1 teaspoon salt, to taste
2½ ounces French feta, crumbled
Instructions
Heat the olive oil in a medium saucepan over medium-high heat. Add the chopped shallot and cook, stirring, until the shallot begins to soften, 2-3 minutes. Add the garlic slices and cook for another 30 seconds.
Add the lentils, water, bay leaf, and pepper. Bring to a rapid simmer over high heat then reduce to low and let gently simmer, uncovered, for 20-30 minutes, or until the lentils are soft but not yet falling apart. Add more water as needed to make sure the lentils are always submerged.
Drain the lentils and transfer to a medium bowl, removing the bay leaves. Refrigerate until completely cool (I cook mine the night before).
When the lentils are cool, add the chopped cucumbers, radishes, and parsley. Toss in the lime juice, olive oil, vinegar, and ½ teaspoon salt. Taste and adjust salt and pepper to your liking.
Serve with feta crumbled over the top or tossed into the salad.
Notes
Salad will keep for 3-4 days in the refrigerator, tasting even more delicious as it sits!