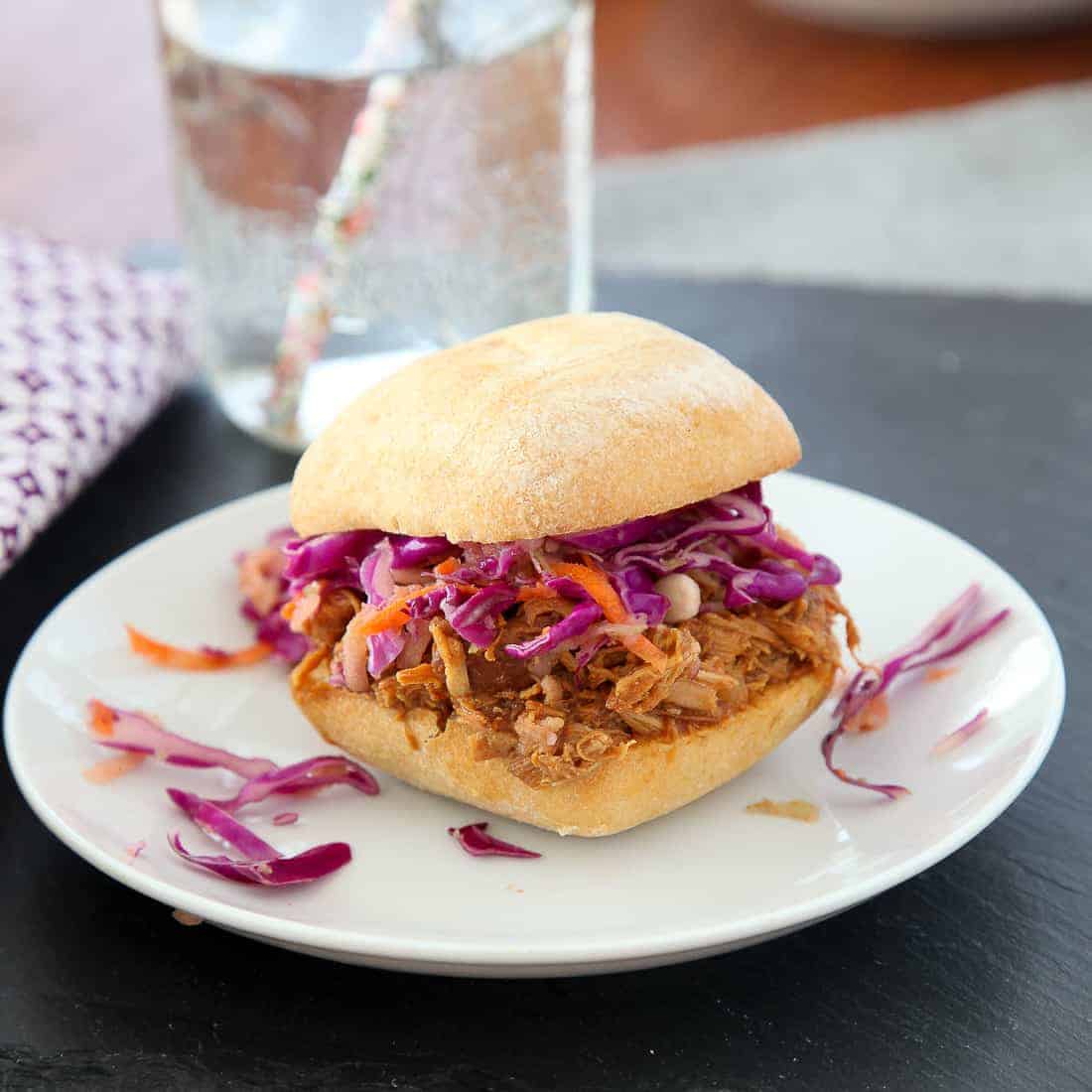 Since we're back in the US now, I thought I'd share a recipe that screams "America!" And what's more American than Coca Cola, amiright? Really, I made these sliders the week before we left, but I've been saving the recipe. To be honest, besides my fresh fruit breakfasts, I hardly missed our standard American fare while abroad. Not even close to the amount I miss Japanese food now that we're back in the states. Especially the wagashi confectionaries - I'm dreaming of mochi 24/7. Stay tuned for some remakes of the sweet treats we ate in Japan.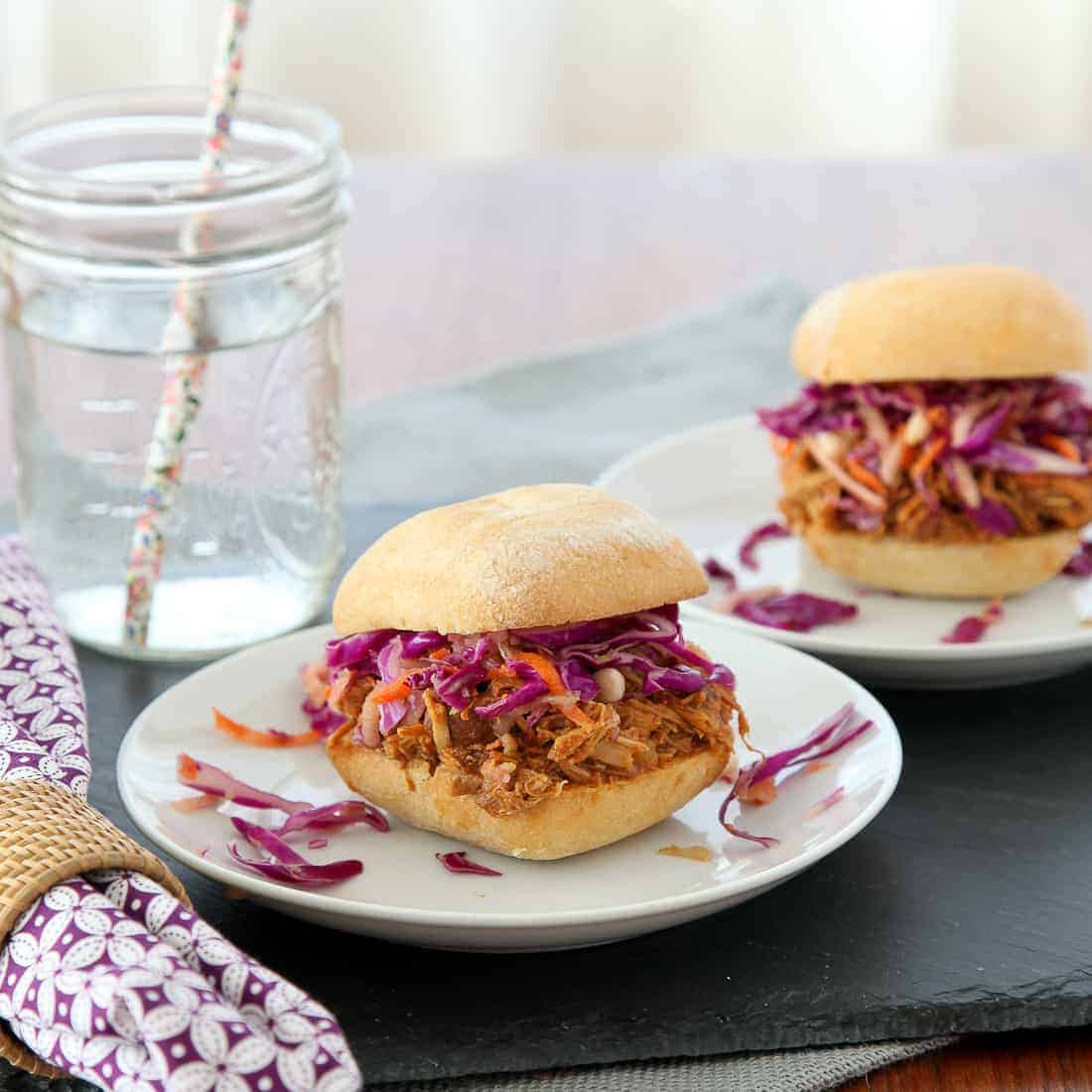 The week leading up to the trip, I had no time for fancy cooking. Instead, I spent my time working toward my self-inflicted writing deadline and packing as efficiently as possible. Packing is an art form - it takes a lot of commitment  to refrain from throwing every clothing item I've worn in the past 5 years into an enormous suitcase (aka any item of clothing I might possibly want to wear in the next two weeks; really, who can predict that?!). Anyone who's seen me pack for a short weekend trip to Chico would know that the fact that I fit 17 days worth of clothing into a carry-on suitcase would agree that this was an impressive feat. Bragging aside, as I mentioned, this stunt took time, which meant a crock pot recipe that required very little hands-on cooking was fitting for the occasion.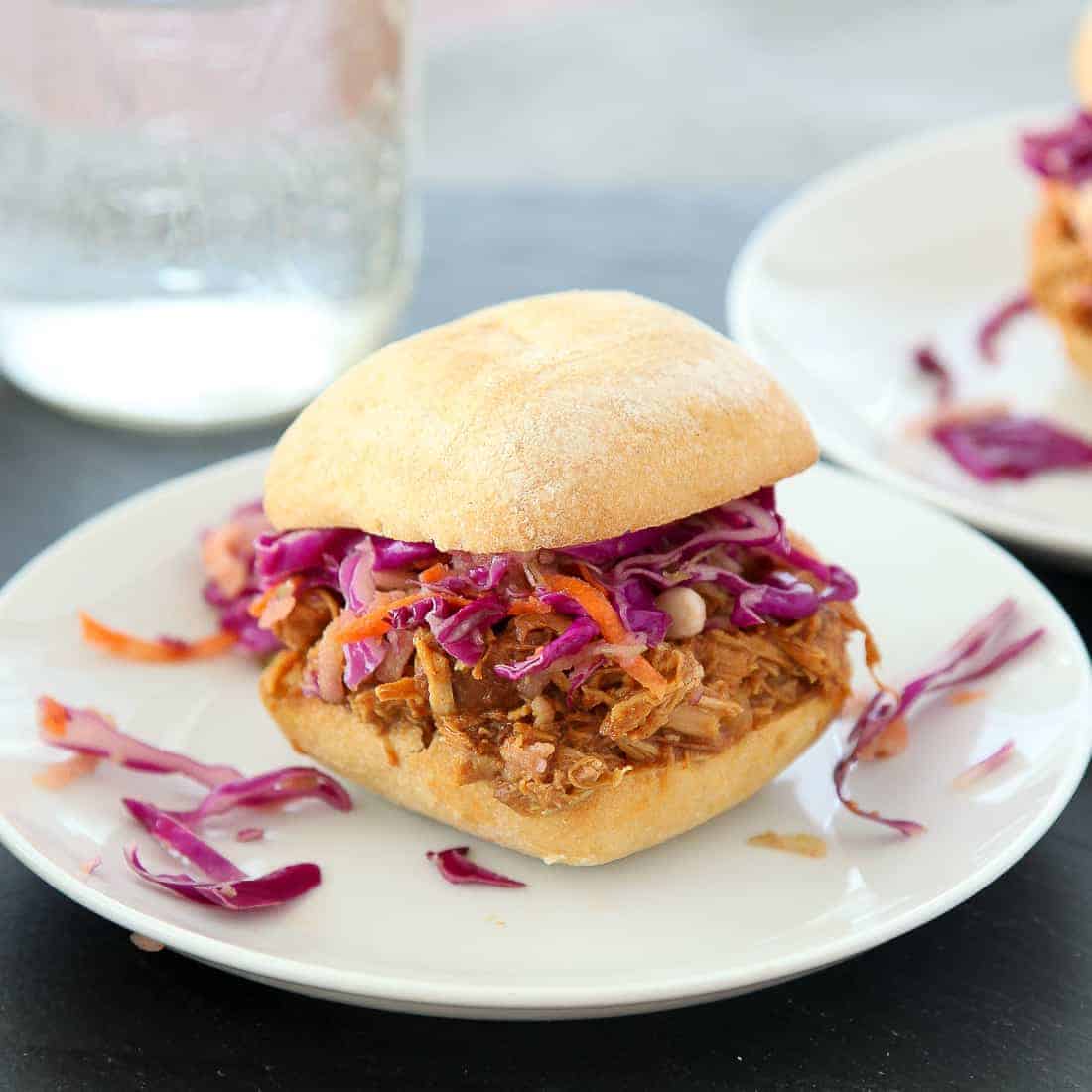 We'd seen a recipe for Dr. Pepper ribs before, so why couldn't I swap out the ribs for boneless chicken? And when I couldn't find good-quality Dr. Pepper, why couldn't I use Mexican Coke instead? So what if the only common thread was spices and soda, I was sure it'd work. I first came up with this recipe a couple of months ago on a night my dad, who was working in SF at the time, was supposed to joining us for dinner. His taste buds are easiest to please when the meal has meat, so I figured a good football-watching slider would do the trick. Only he didn't end up joining us for dinner because he complained of traffic on the Bay Bridge (I'm totally guilt-tripping you for this, Dad). His loss!
After several hours in the crock pot, the chicken shredded to a super juicy, sweet, and spicy sandwich topping. Toss in some apple cole slaw and you'll ask for seconds. And thirds. Now that the weather is getting cold and rainy again, I think I'll pull out the slow cooker for round 3 of this recipe.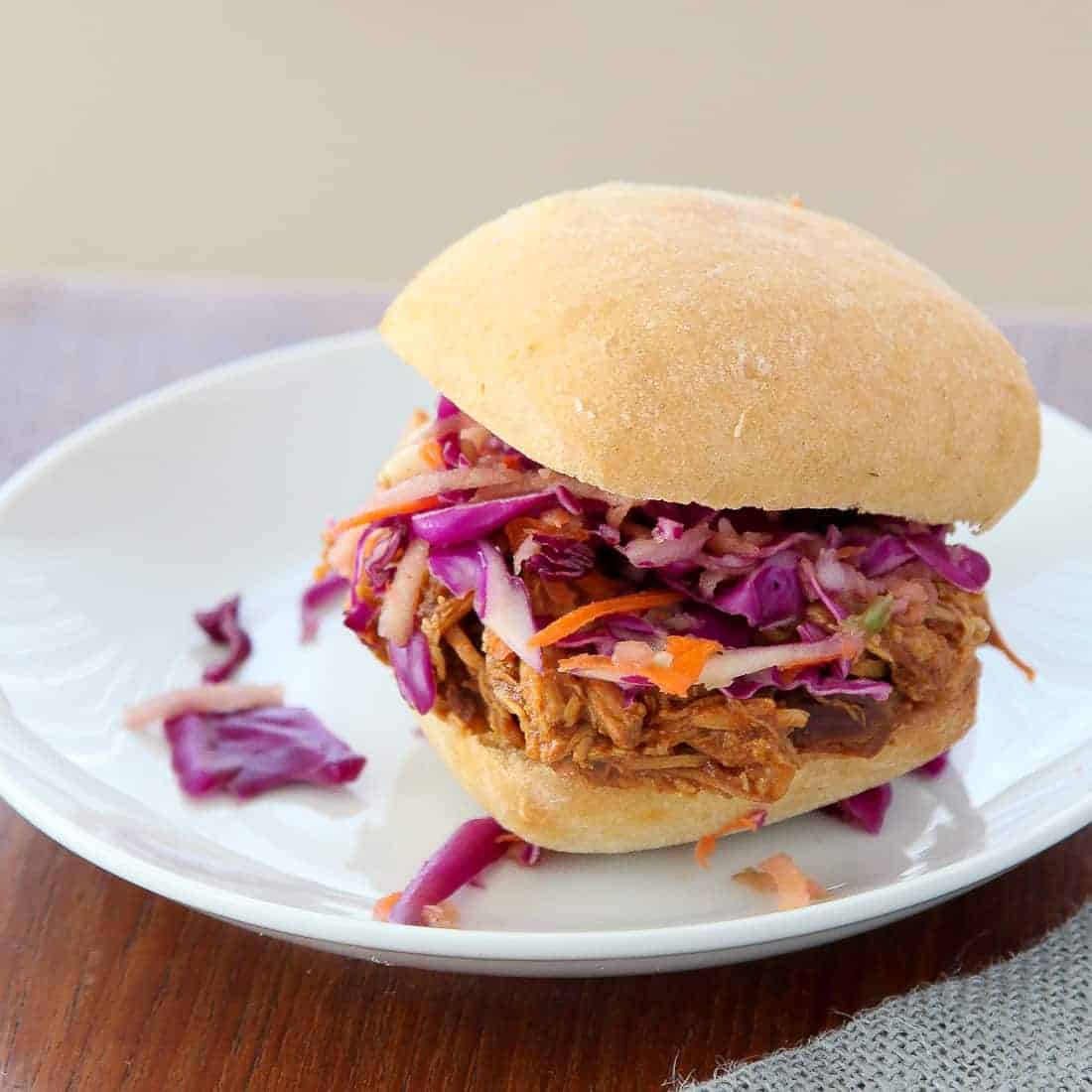 I'm itching to share about all the fantastically addicting food we ate in Taipei, Tokyo, and Kyoto - from fresh wasabi to fish skin to barracuda to fried green tea mochi - but we've barely had time to unpack our luggage, do laundry, spread our souvenirs (read: pretty prop dishes) across the dining room table, and reorient the kitties after 3½ weeks away. While loading our trip pictures on the computer late last night, I discovered that we snapped over 2,500 photos!! Hopefully this weekend we'll have time to weed through them and pick out our favorites. After we do that, I promise to devote a post (or more?) to pictures, food, and recommendations.
I should also acknowledge that I still owe a wedding photo post...a little late. Maybe now that the only thing I have to do is write my darn dissertation, I'll make good on my promises. (Is there ever a point in your life when you feel like "oh I have so much time to do everything I want to do!"?). Since I seem to be taking my sweet time, here's a sneak preview from our trip to Saihō-ji Temple in Kyoto.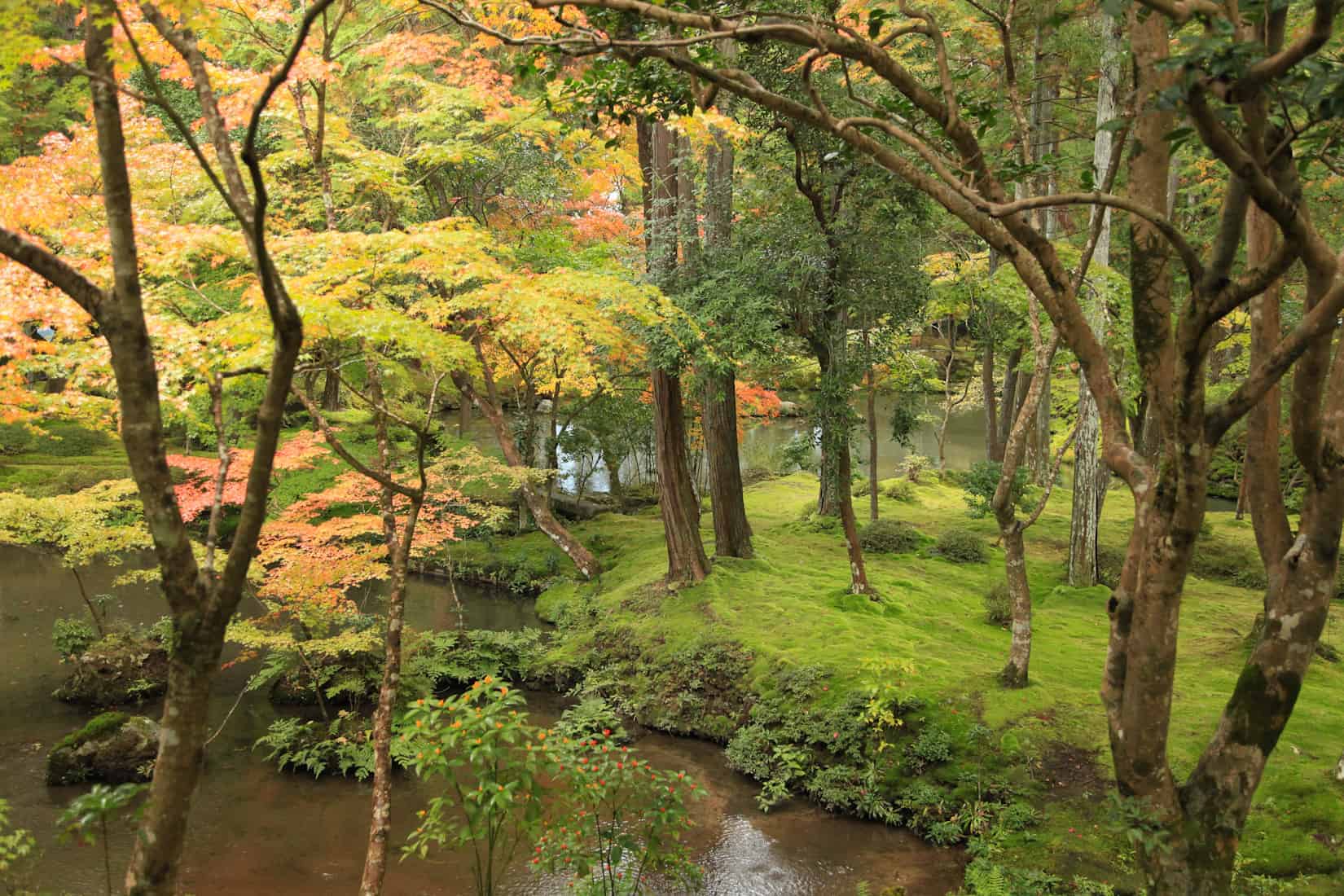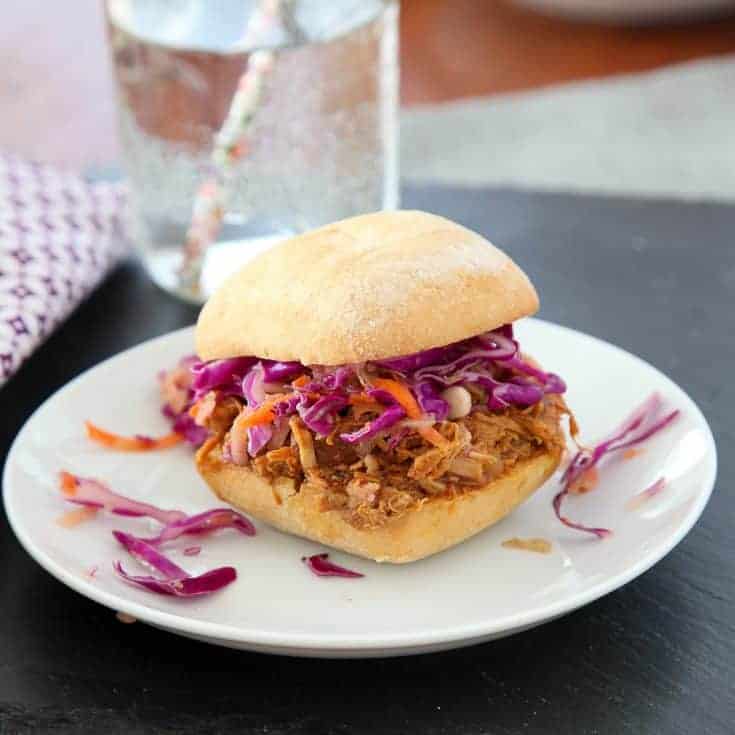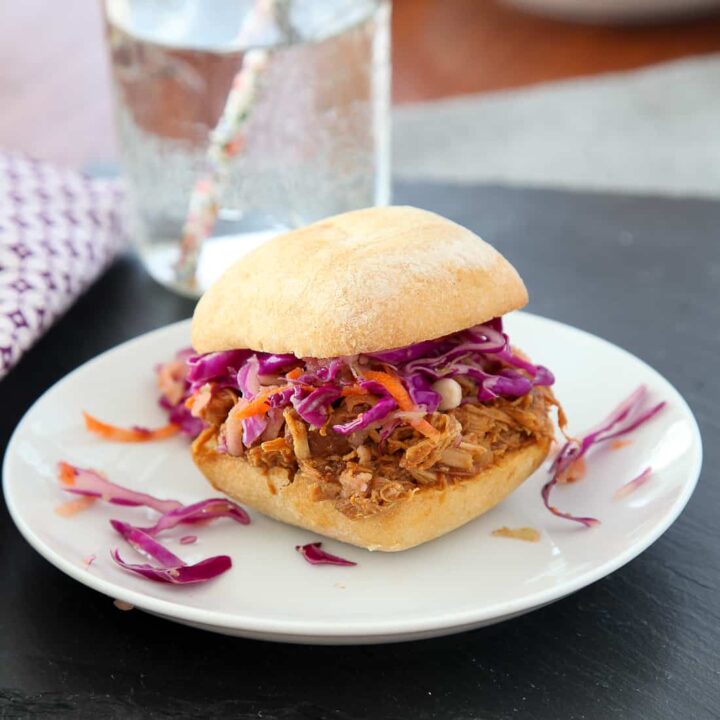 Coca Cola pulled chicken sliders
Ingredients
Coca Cola pulled chicken sliders
3 pounds boneless skinless chicken breasts and thighs (I used about half breasts and half thighs)
2½ cups Mexican Coca Cola
1 cup and 2 tablespoons ketchup
½ cup yellow mustard
⅓ cup apple cider vinegar
3 tablespoons molasses
4 teaspoons chipotle chili powder
¾ teaspoon cayenne pepper
Salt & pepper, to taste
Apple cabbage slaw (recipe below)
Apple cabbage slaw
½ small head purple cabbage, shredded
1 granny smith apple, shredded
3 stalks of celery, shredded
1 large carrot, shredded
¼ jalapeño, diced
¼ cup of pine nuts
¼ cup dried cherries (optional)
2 teaspoons apple cider vinegar
1 tablespoon olive oil mayonnaise
Pinch cayenne
Salt & pepper, to taste
Instructions
Coca Cola pulled chicken sliders
Mix together the coke, ketchup, mustard, vinegar, molasses, chili powder, and cayenne in the bowl of a slow cooker.
Add the chicken to the slow cooker.
Cook on low heat for 5-6 hours, or until the chicken is cooked through and easily shreds.
Strain the chicken over a bowl to remove excess liquid (I didn't press it or force it to strain, I just used the colander to quickly remove some of the extra liquid). Add about a cup of the strained liquid back to the chicken to keep it moist.
Add salt & pepper, to taste.
Serve on sandwich rolls with cole slaw. (I used gluten-free sandwich rolls, which I find at both of the major grocery store chains - Safeway & Lucky - in our area).
Apple cabbage slaw
Mix all the ingredients in a large bowl and toss to combine.
Add salt & pepper, to taste.
Let rest in the refrigerator for an hour.
Serve on sliders with coca cola pulled chicken. Eat any remaining slaw as a side dish:)