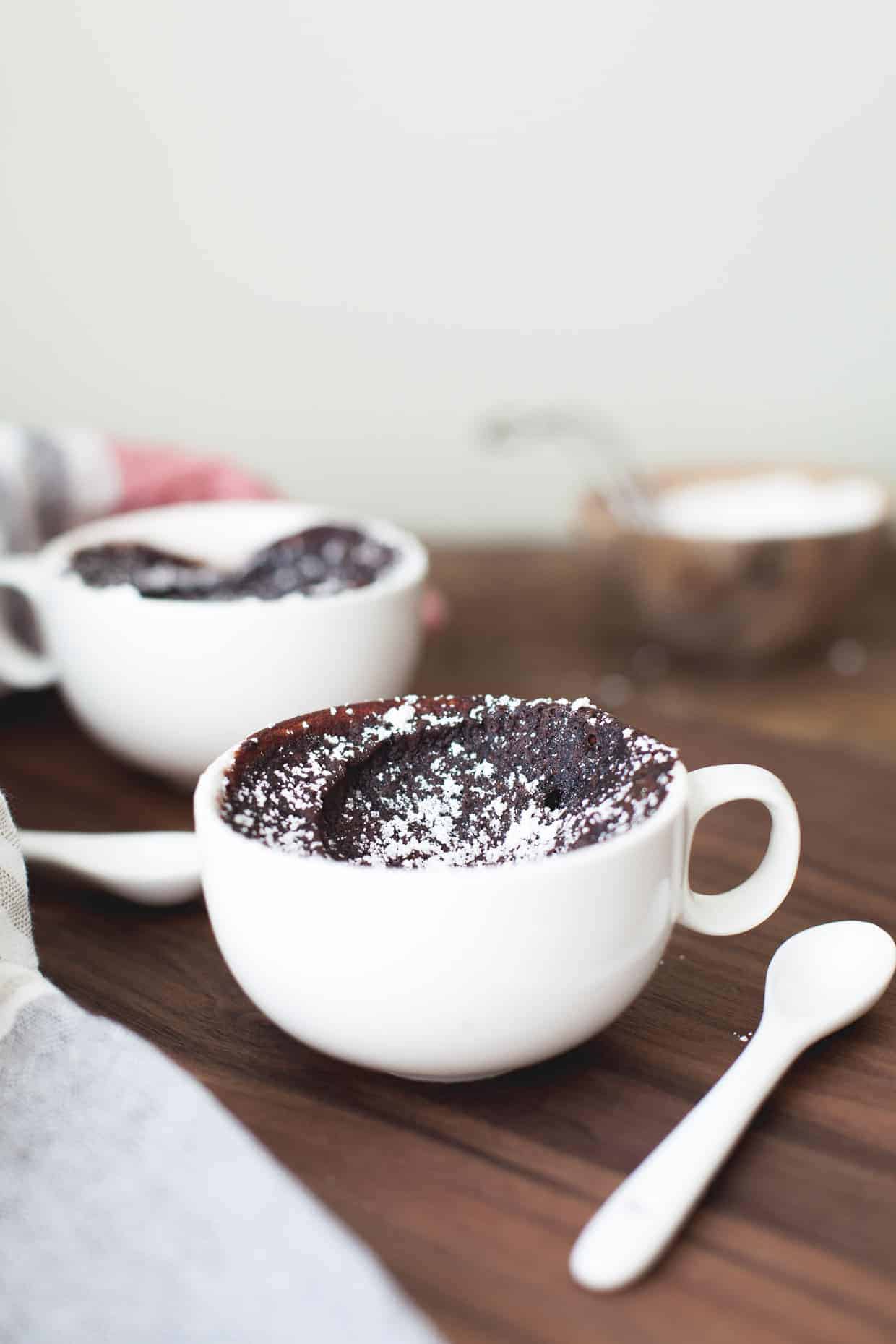 Among many important life lessons, my parents instilled in me one fundamental truth: dessert follows dinner. No sooner do I finish my last bite of dinner than I crave something sweet to wash it down. Tonight I'll be making my second batch of these chocolate mochi mug cakes. This sweet tooth is programmed into my genes.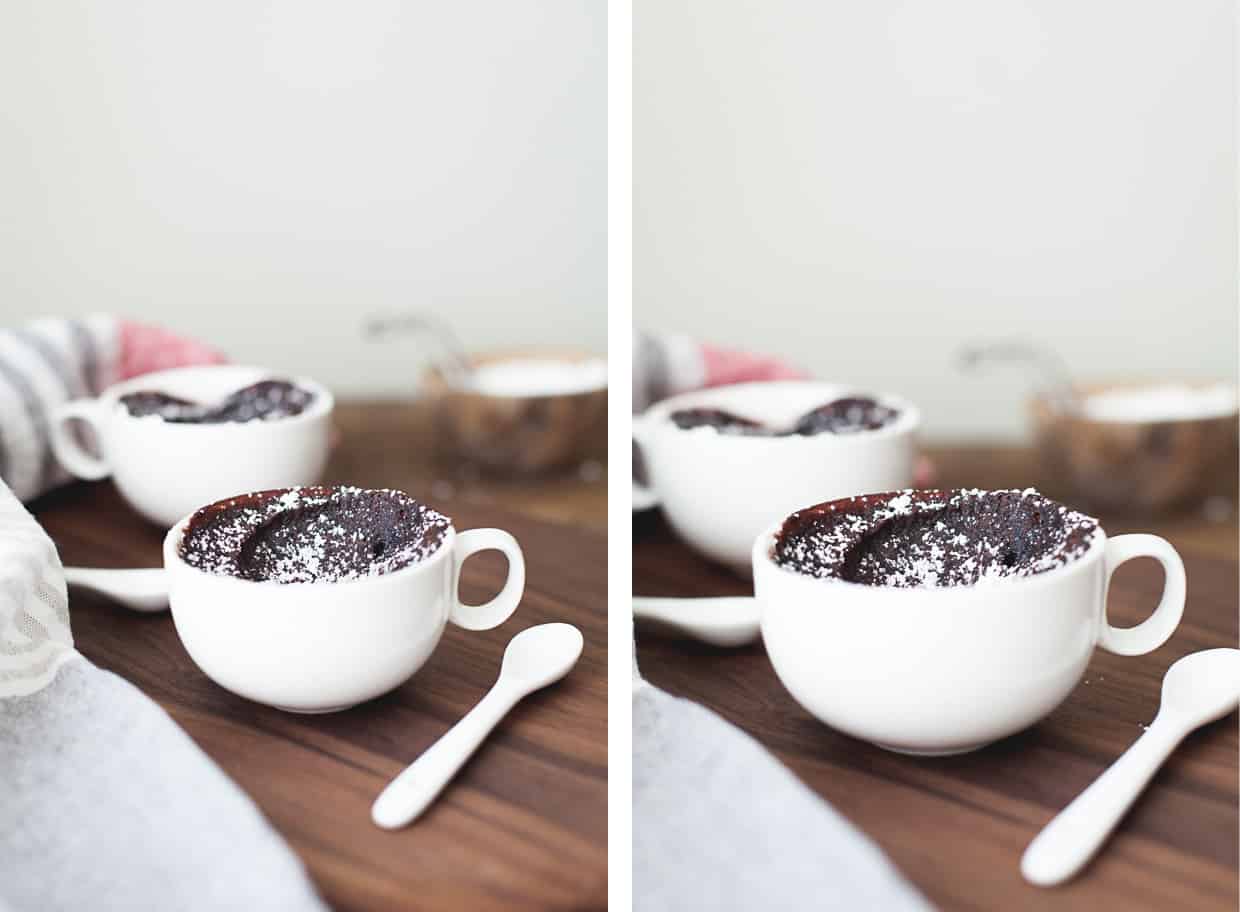 Mind you, my mom tried hard to feed me a balanced meal, but the odds were stacked against her. While my dad loved steak and potatoes, I hated steak. So much that I'd covertly drop chewed up pieces of meat under my chair for the dog, trying to hurry my way to the ice cream portion of the meal. I'm a role model for picky children everywhere. But guys, can you really blame me? Dessert is awesome.
Just last week while visiting my parents, I glanced over to find my dad sitting in his recliner with a big smile on his face, spooning ice cream out of oversized jar of Nutella. No shame. He announced that he'd read about it online - "when the Nutella jar is almost empty, you fill it with ice cream to create a sundae so nothing goes to waste." I suspect he's been using Pinterest on his iPad.
(Don't tell anyone that I was secretly envious he'd thought of it first.)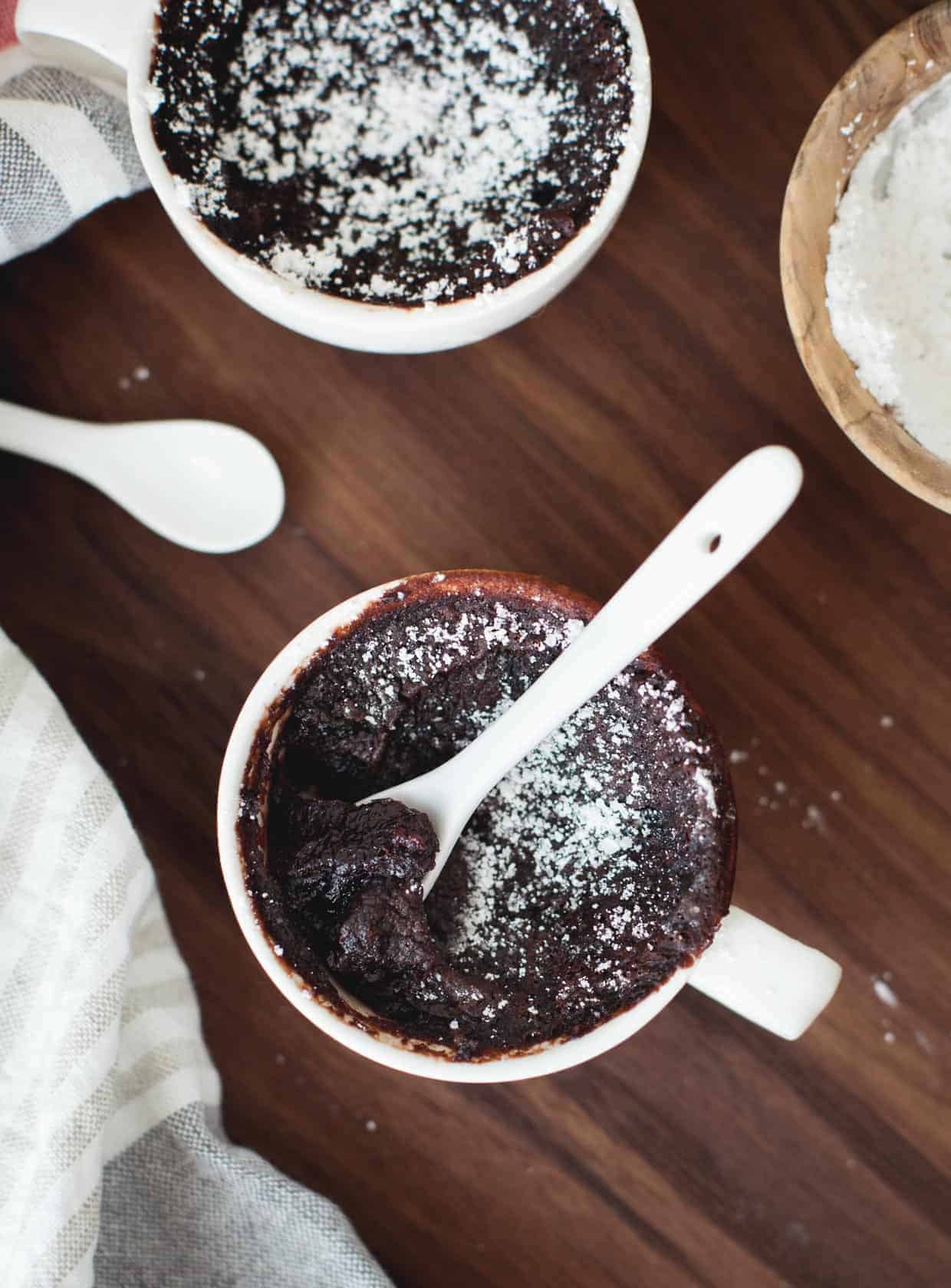 A few weeks ago, my blogger friend Jennifer of Kirbie's Cravings sent me a copy of her new cookbook, 5-Minute Mug Cakes and now I'll never have an excuse for skipping dessert again (Thanks Jennifer!). I'm a huge fan of desserts that satisfy your sweet tooth cravings in just minutes (and don't require filling an old Nutella jar up with ice cream).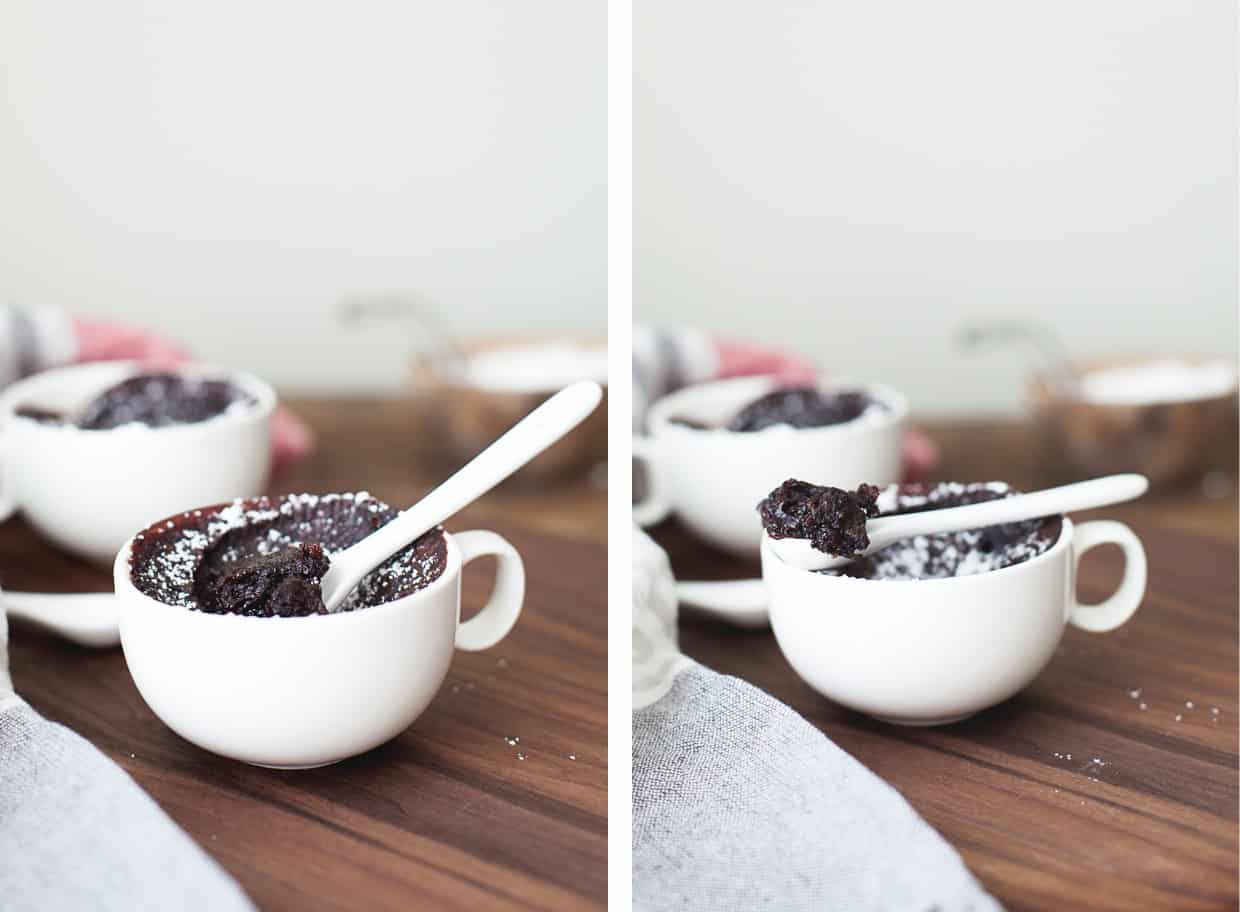 It's no surprise that this chocolate mochi mug cake is the first one from her gluten-free section to catch my eye. To give you a clear picture of how deep my love of mochi runs, the three things we currently stockpile in our house are toilet paper, paper towels, and bags of sweet rice flour (for making mochi).
Last year, I baked a 3-layer mochi cake with chocolate mochi, matcha mochi, and vanilla mochi. It took forever, but tasted like heaven. This chocolate mochi mug cake version takes 3 minutes start to finish and tastes just as decadent. You don't find lots of chocolate in Japanese desserts, but this marriage produces a moist rich chocolate cake that's similar in density to a brownie, but incredibly stretchy and chewy.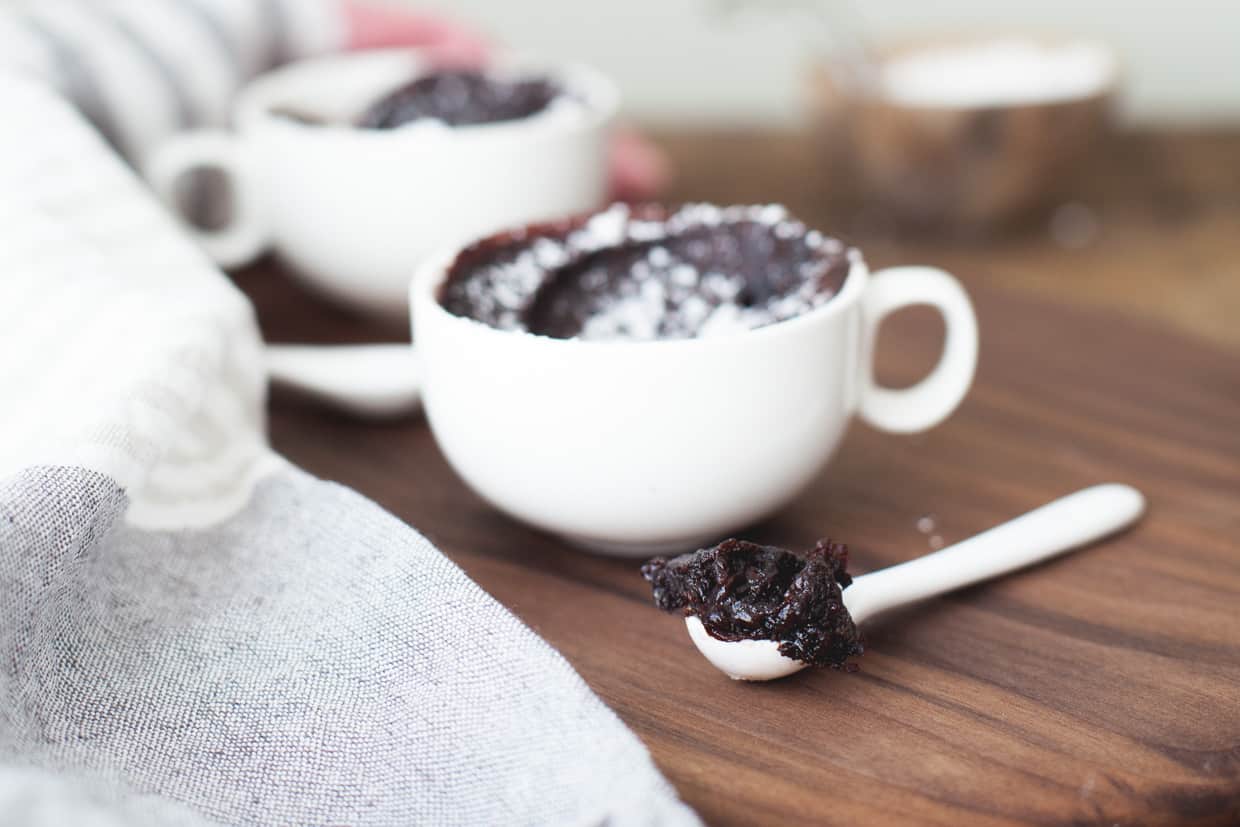 I've been down for the count with a persistent cough for the past week. On the up side, it comes with a gravelly voice that makes everything I say come across super sexy. "Do you want to eat this mug cake, honey?" suddenly sounds so seductive. I bet you want to eat it now too, right?
Thanks for reading Snixy Kitchen! To stay up on what's coming out of my kitchen, follow me on Facebook, Instagram, Twitter, Bloglovin', Pinterest, or subscribe via e-mail to get new recipes right to your inbox.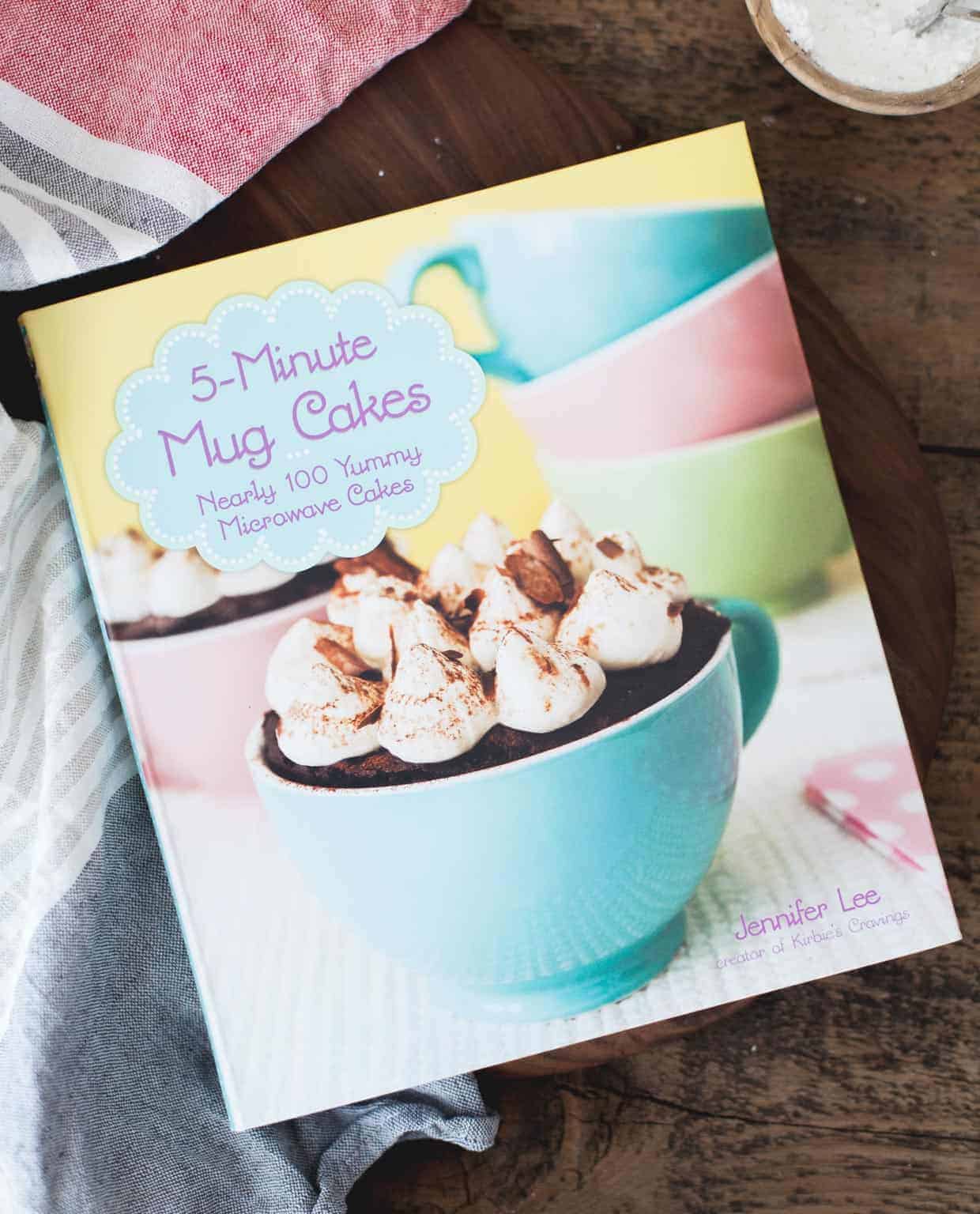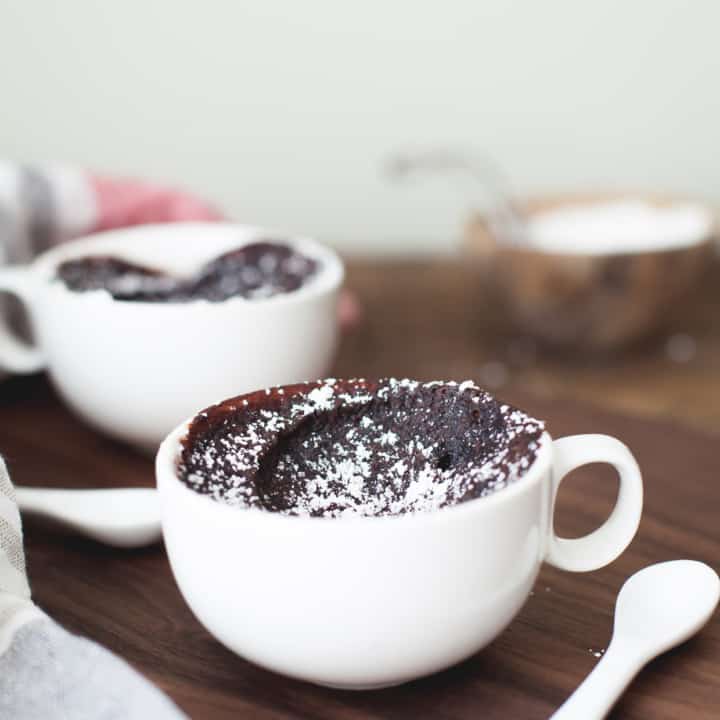 Chocolate Mochi Mug Cake
Ingredients
1 tablespoon sugar
⅛ teaspoon baking powder
½ tablespoon vegetable oil
2 tablespoons non-fat milk (or soy milk)
Optional: powdered sugar for sprinkling on top
Instructions
Whisk together all of the dry ingredients in a medium microwave safe mug (I used a 4-ounce tea cup in the photos above and it just reaches the very top, so I'd recommend using 4-ounces or larger).
Add the wet ingredients and use a fork or a small whisk to mix until the batter is smooth.
Cook in the microwave for 1 minute. If the cake is not done, heat an additional 15 seconds. Sprinkle with powdered sugar and serve immediately.