In this chamomile honeycomb ice cream, imagine a sweet floral-infused ice cream with bits of homemade honeycomb candy crunching throughout.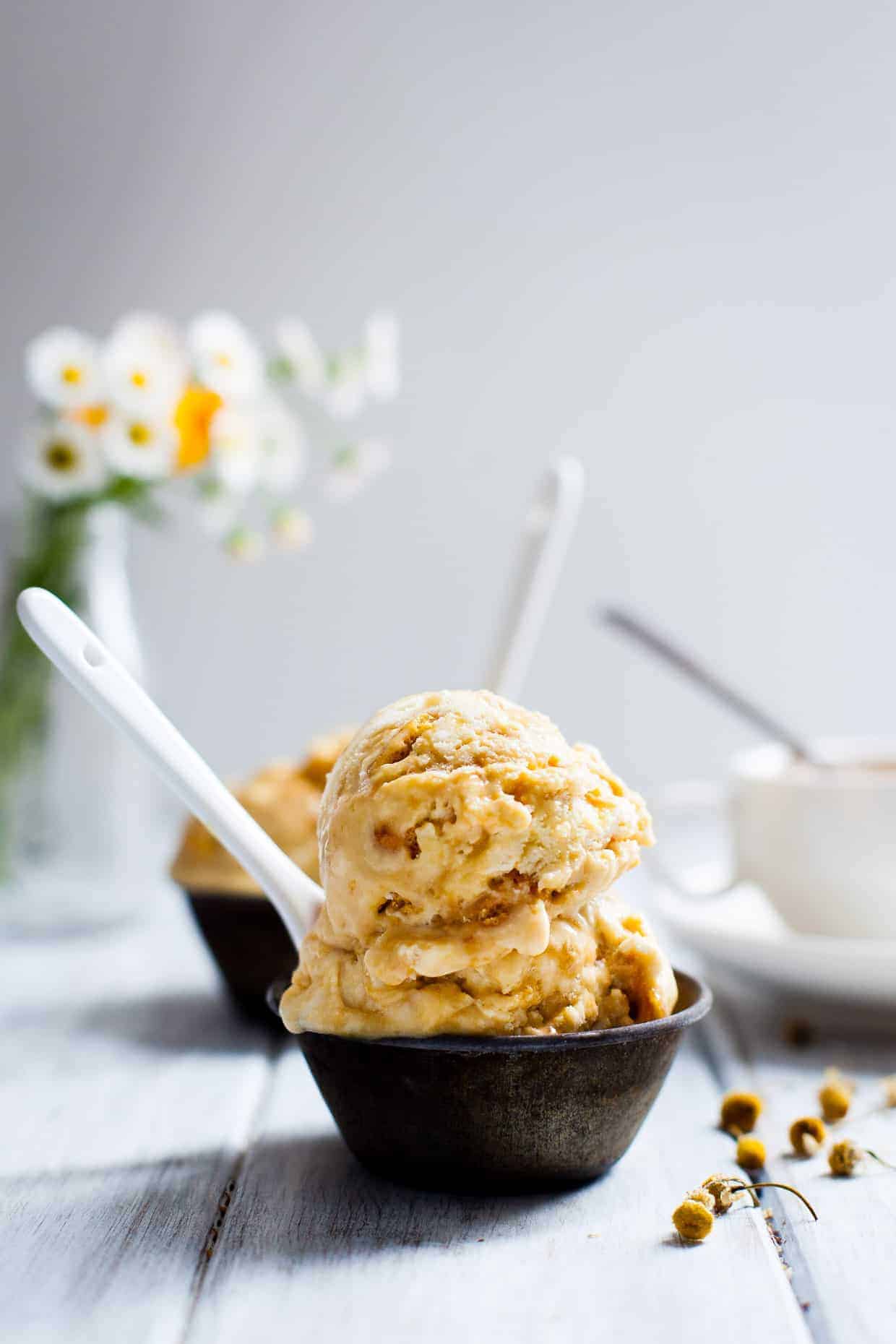 With two walls of windows in the dining room and a heat wave the day I shot these photos, the scoops turned to ice cream soup in 1-2-3 snaps. Yes, I just called 81°F a heat wave - a notable 30° cooler than the day we got married - but without AC, this kind of temperature warrants opening all the doors and shooting chamomile honeycomb ice cream in your skivvies. (Oh hey there neighbors!)
(They can't actually see through our sheer curtains in the sun.) (I checked.)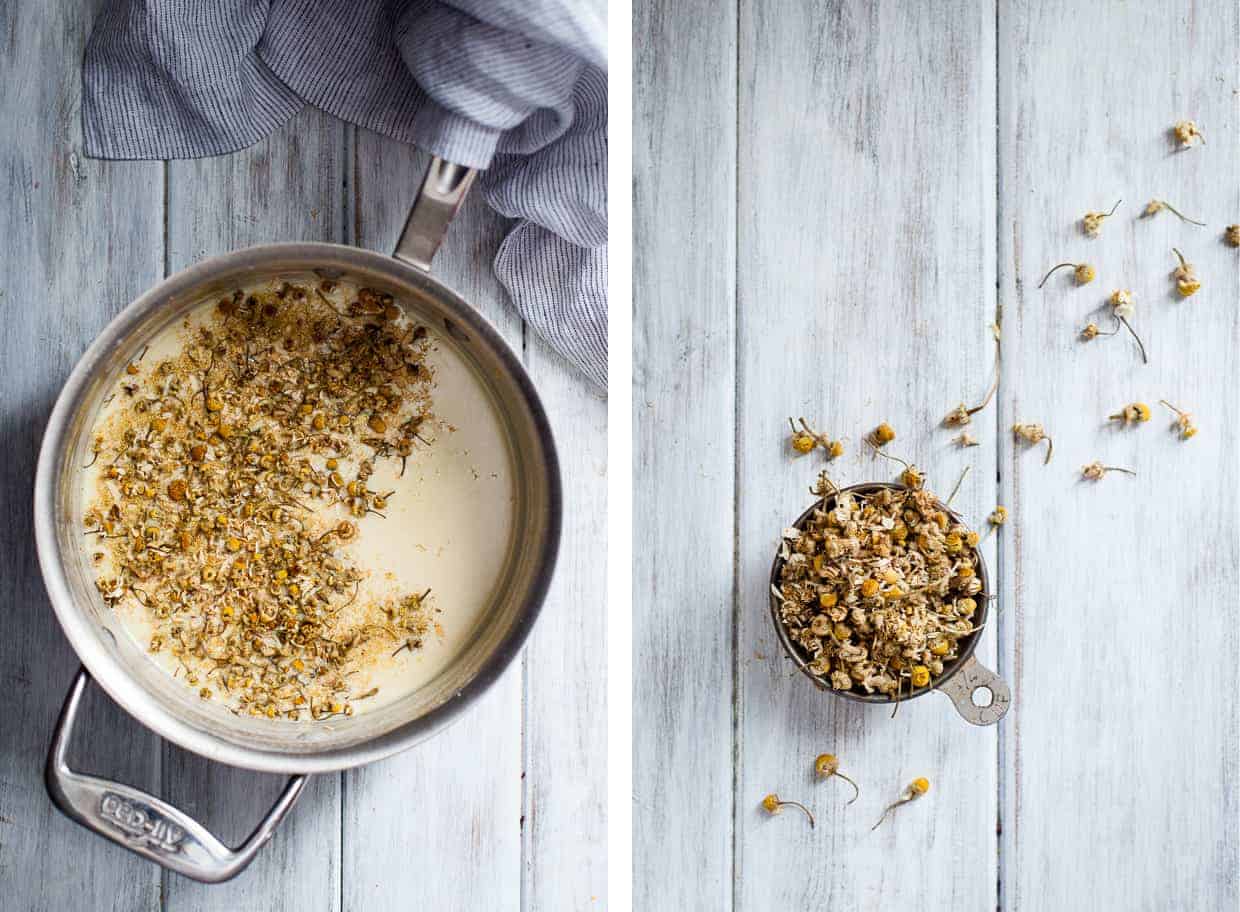 Let's be real - this complaining is most definitely a thinly veiled brag about our easy breezy California weather. I know we're spoiled - just not when I'm trying to take pictures of ice cream. For that, I'd prefer a walk-in freezer with natural light. Someone patent this idea quick.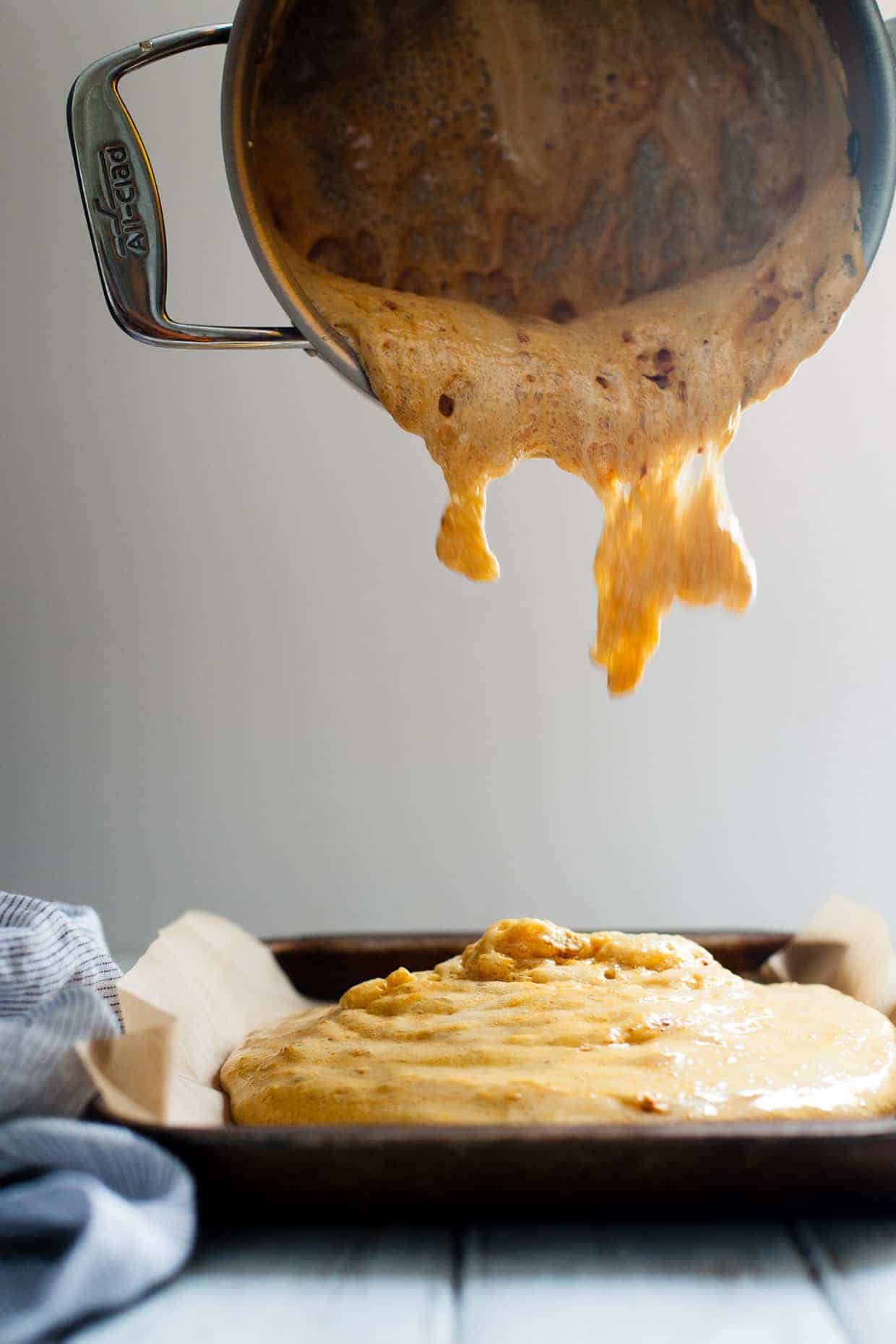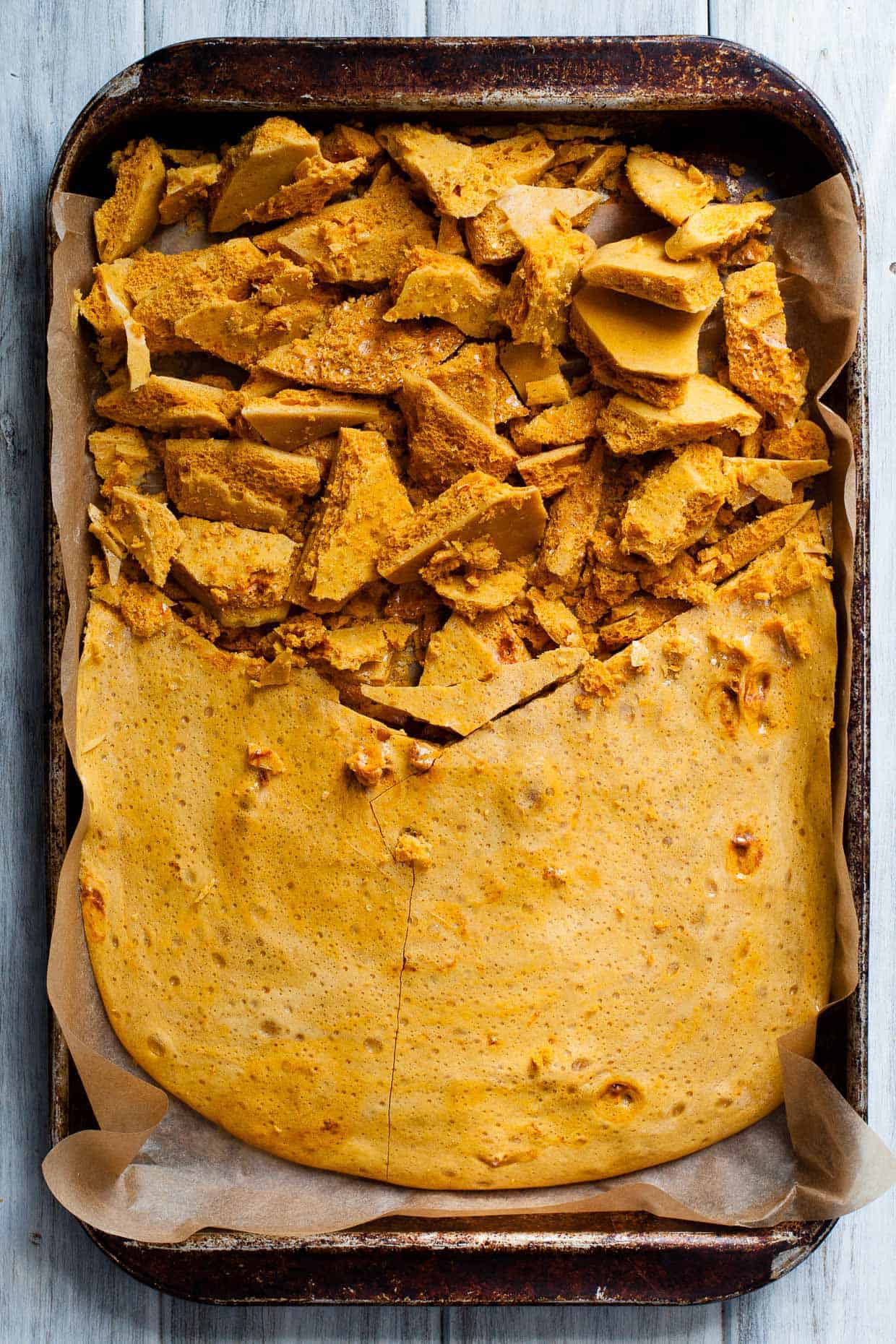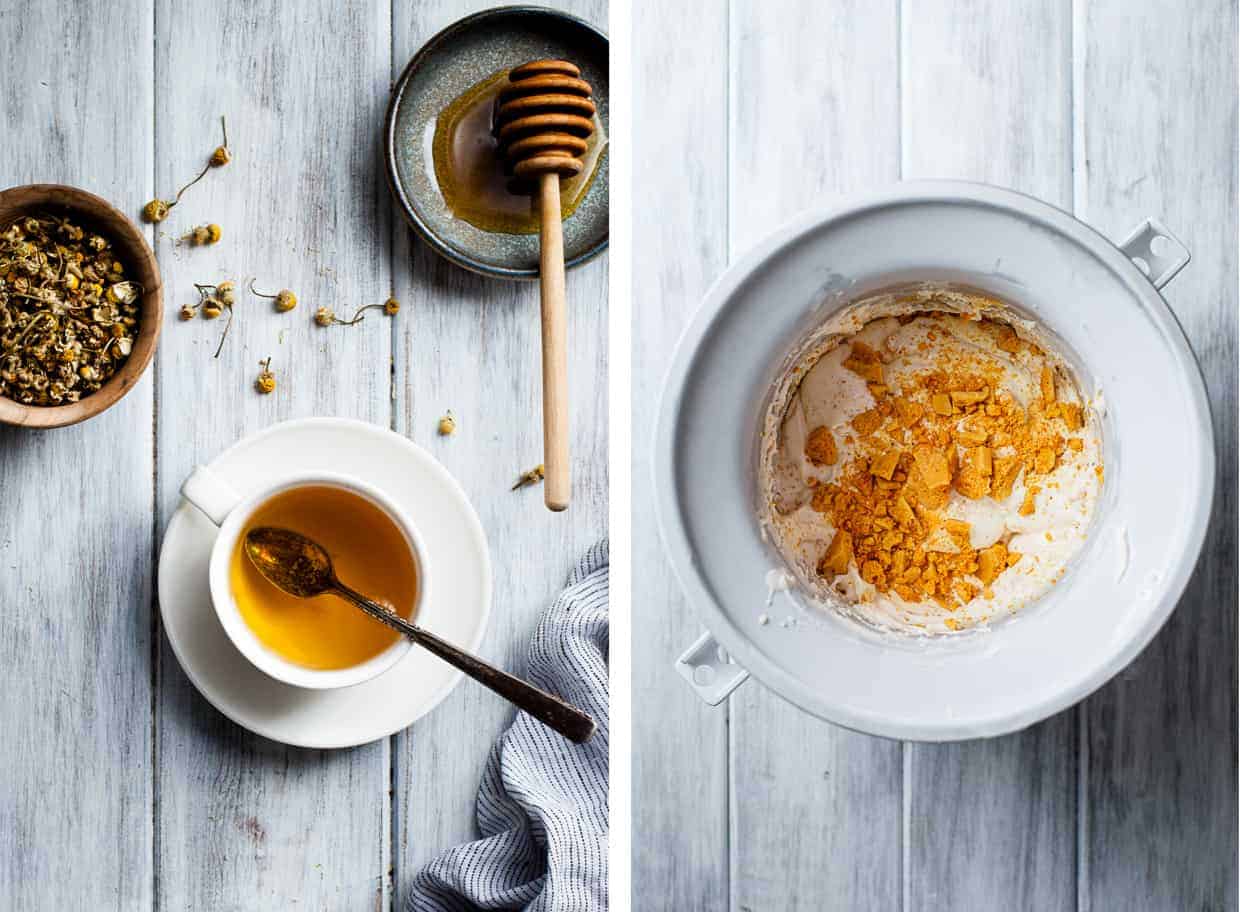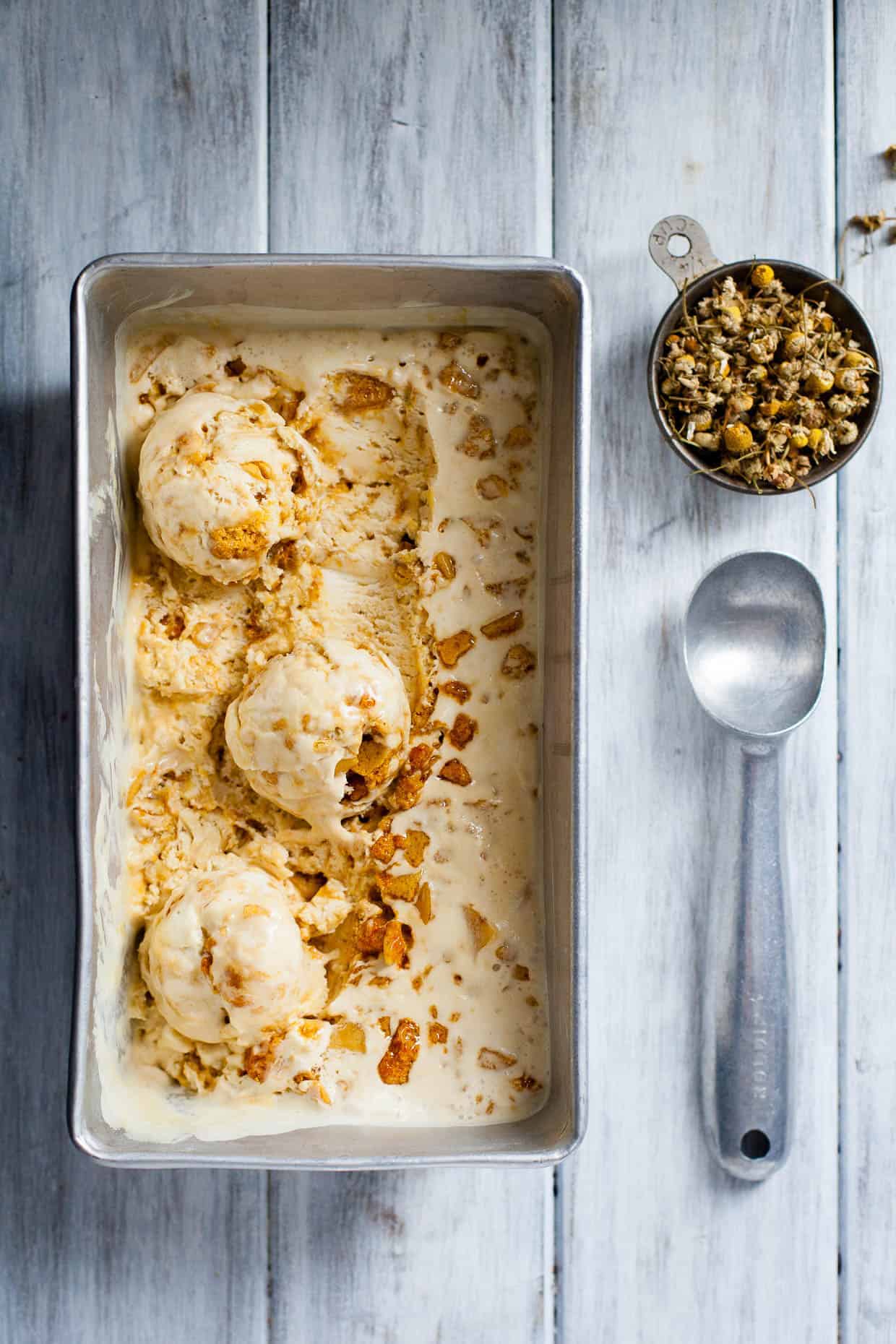 Honeycomb Ice Cream
After refreezing the ice cream for an hour (and reluctantly putting pants on), I invited our neighbors over for scoops. Have you ever seen little kids eat ice cream? They take their sweet time - a strategy that generally serves them well by dragging out the ice cream enjoyment even longer. With melty ice cream and a hot day though, this painfully slow nibbling approach means they'll get one, maybe two, bites of ice cream in before it melts.
And that's exactly what happened. I looked over just as I sat down with my own scoop to find Rosa (4 years old) drinking her ice cream. Across the table her 1½ year old brother followed suit. When ice cream melts, it's basically a milkshake, right? I guess I should have served it with straws instead of spoons. (Or straw spoons?)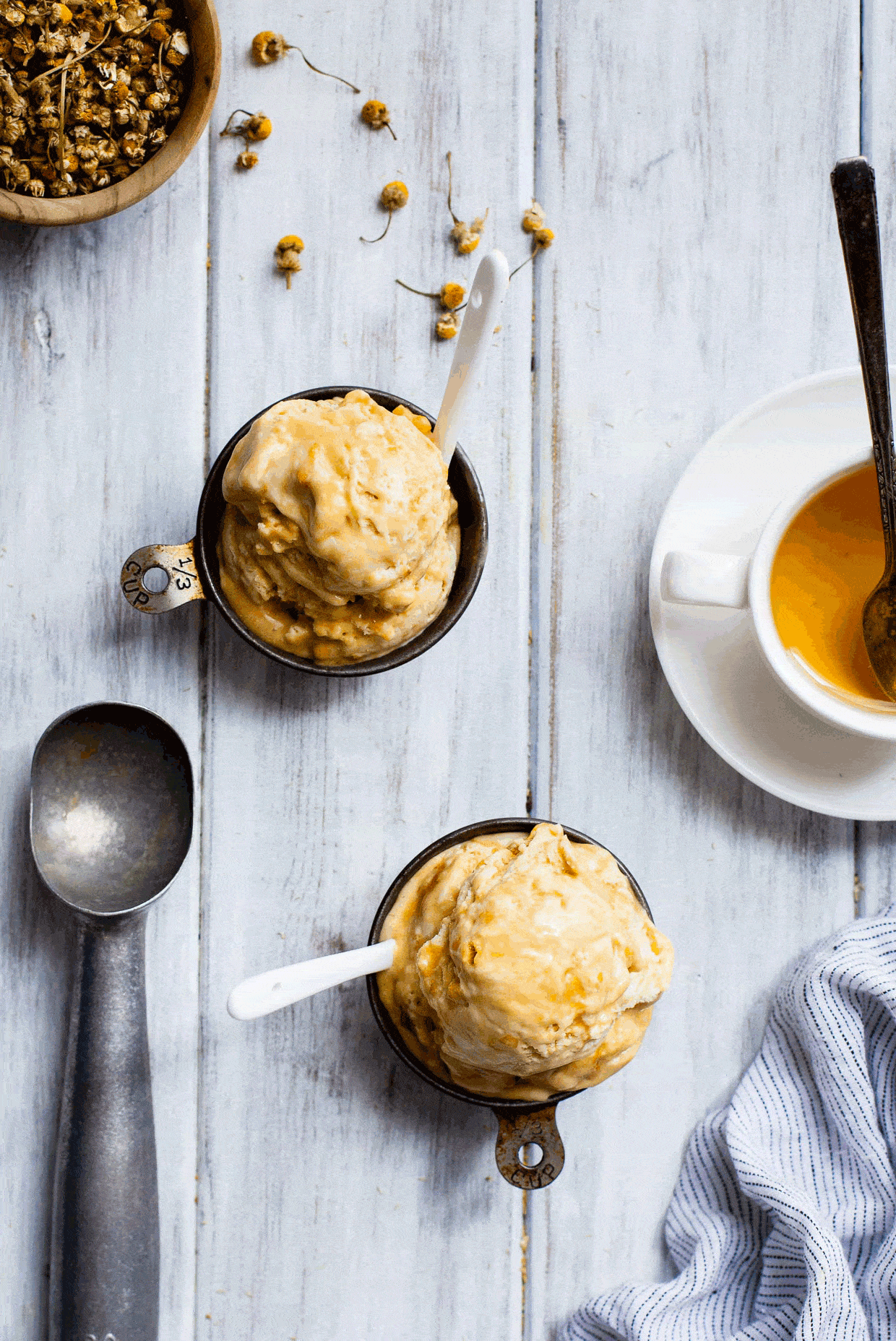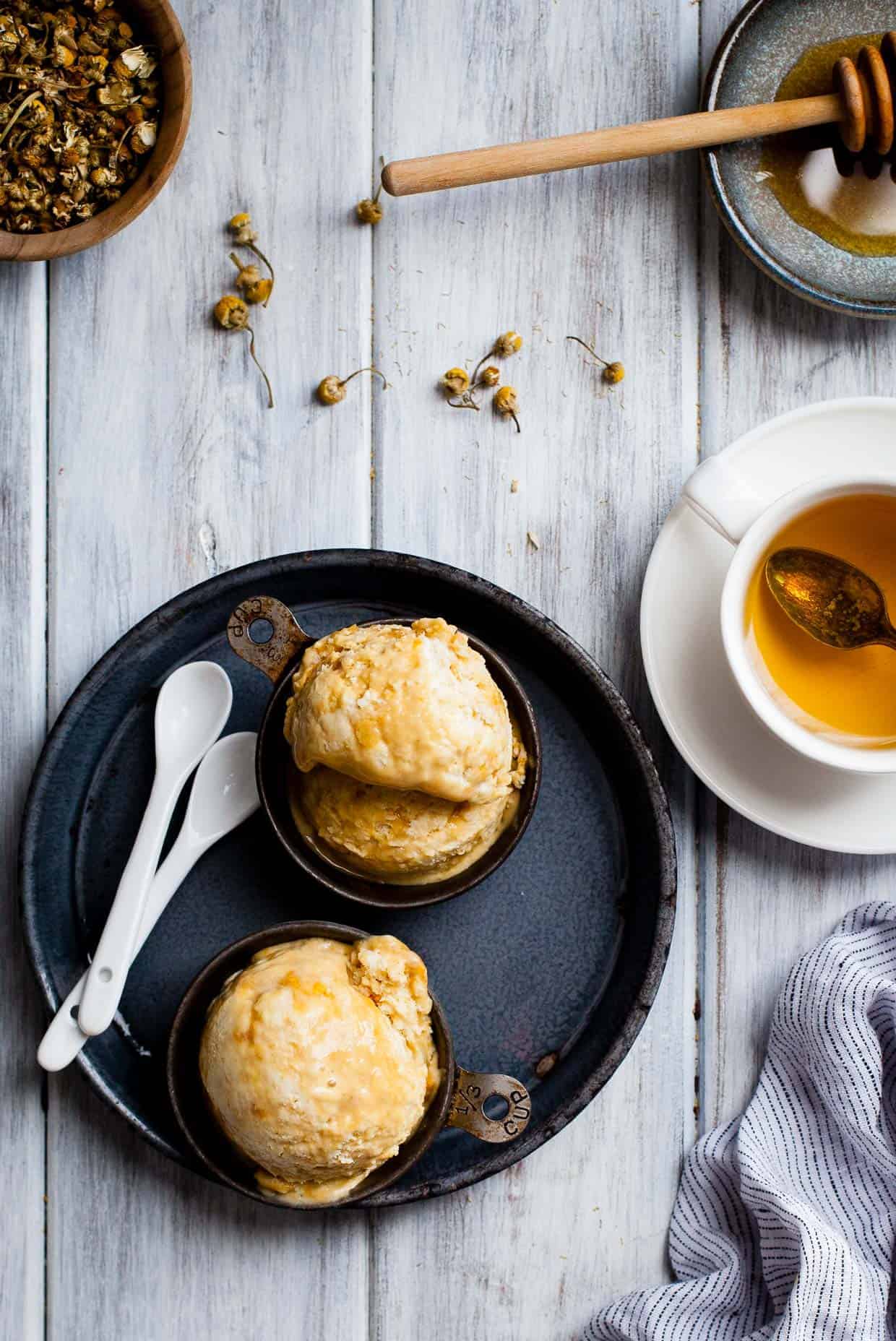 How to Make Honeycomb Ice Cream
Imagine a sweet floral ice cream with bits of honeycomb crunching throughout. In this honeycomb ice cream, the smooth chamomile flavor punches through the sweet honeyed candy to have a shining moment while the honeycomb bits adds a dose of crunch to keep things dramatic.
To make the chamomile ice cream, infuse the cream with chamomile tea. Strain and chill the ice cream base then churn it into ice cream. Meanwhile, make some magic honeycomb candy to break up into the ice cream
When I made this vegan strawberry coconut chocolate chip ice cream, I thought no other ice cream could ever compare. Then I made this chamomile honeycomb ice cream and now I'm pretty sure 2015 has two ice cream flavor mascots. I'm also pretty sure I have an ice cream obsession.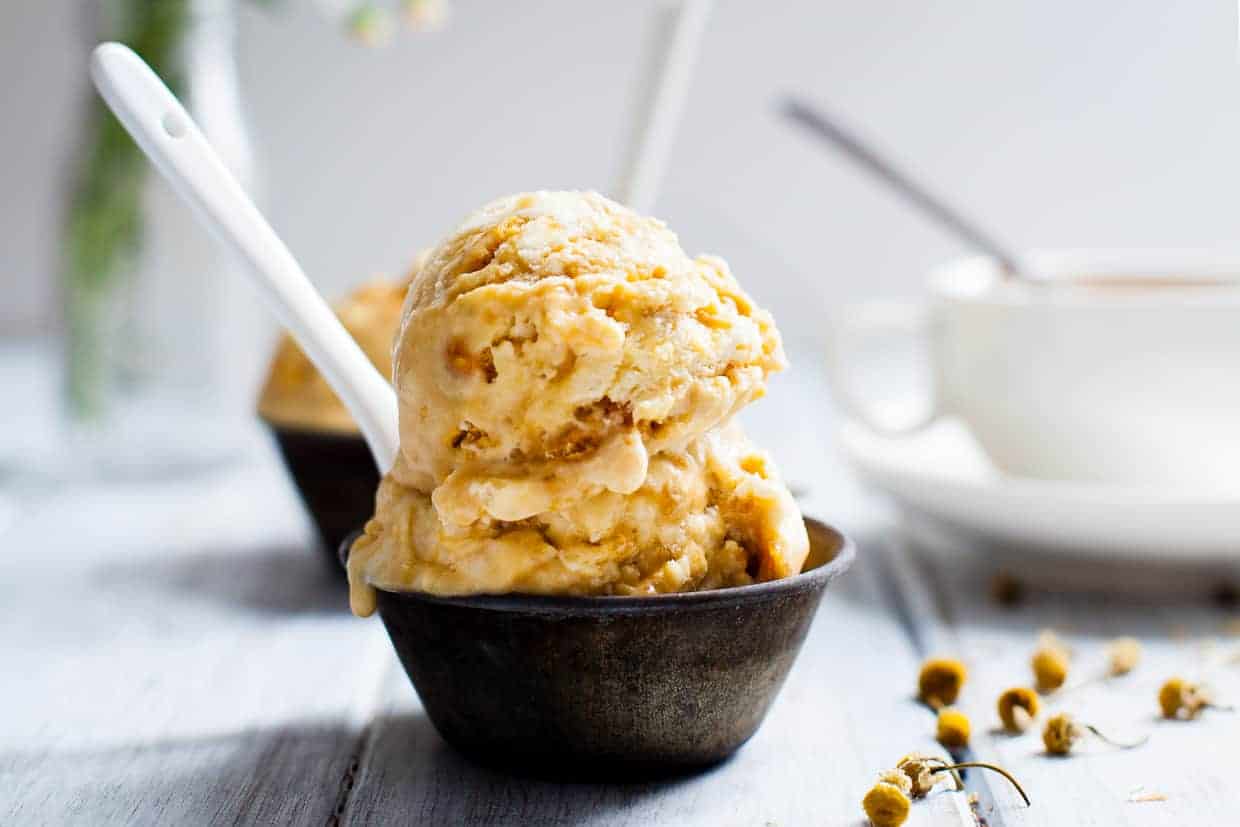 Floral Ice Cream
This chamomile honeycomb ice cream is part of an edible flowers virtual potluck, just in time for spring blossoms. Fortunately it's virtual or surely I'd have shown up in my underwear with dessert soup instead.
When Renee invited me to join the potluck, I immediately started eating wild flowers from my backyard. Just to break the ice. Then I worked on two recipes in tandem because decisions paralyze me. So that's how these hibiscus strawberry curd tarts came about. And now I'm considering infusing all my desserts with blooms from here on out.
Hop on over to see what edible flower recipes this group of inspiring bloggers brought to the potluck.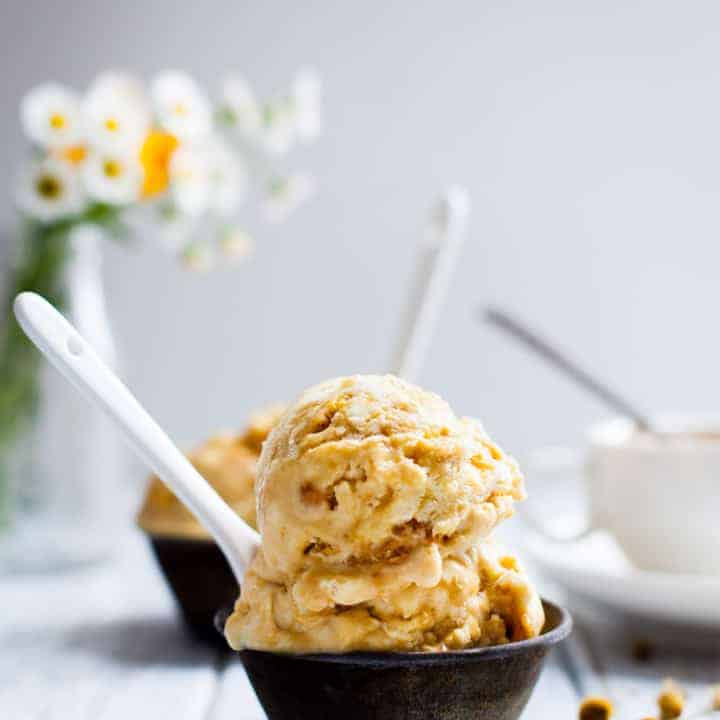 Chamomile Honeycomb Ice Cream
Imagine a sweet floral ice cream with bits of honeycomb crunching throughout. In this honeycomb ice cream, the smooth chamomile flavor punches through the sweet honeyed candy to have a shining moment while the honeycomb bits adds a dose of crunch to keep things dramatic. 
Ingredients
Honeycomb
1½ cup sugar
¼ cup + 2 tablespoons water
3 tablespoons honey
3 tablespoons light corn syrup
¼ teaspoon koshersalt
1 tablespoon baking soda, sifted
Chamomile Honeycomb Ice Cream
2 cups whole milk
1 tablespoon + 1 teaspoon tapioca starch (or corn starch)
1½ ounces (3 tablespoons) cream cheese, room temperature
⅛ teaspoon salt
1¼ cup heavy cream
½ cup sugar
2 tablespoons light corn syrup
1 tablespoon honey
1 teaspoon lemon zest
⅓ cup dried chamomile
1 cup honeycomb pieces (recipe above)
Instructions
Honeycomb
Line a small baking sheet with parchment paper.
Combine the sugar, water, honey, corn syrup, and salt in a medium heavy saucepan, stirring just to combine.
Bring it to a boil over medium high heat and cook, without stirring, until it reads 296°F on a candy thermometer.
Remove the saucepan from heat and quickly but carefully stir in the baking soda (the sugar will bubble up rapidly).
Pour the bubbling sugar onto the lined baking sheet and let set completely while you make the ice cream, about an hour.
When it's completely cool, break honeycomb into pieces no larger than ½-inch. The honeycomb will keep in a plastic bag for a few days.
Chamomile Honeycomb Ice Cream
Whisk 3 tablespoons of milk with the tapioca starch in a small bowl until smooth. Set aside.
In a small bowl, whisk cream cheese and salt until smooth and creamy.
In a medium saucepan, combine remaining milk, heavy cream, sugar, corn syrup, honey, and lemon zest and bring it to a boil over medium-high heat. Let it boil for 4 minutes.
Remove from heat and stir in dried chamomile. Cover and let steep for 20 minutes.
Meanwhile, prepare an ice bath by filling a large bowl with ice cubes and water.
Strain the milk through a fine mesh sieve lined with a cheese cloth, squeezing all the liquid through. Return the strained milk to the saucepan.
Give the corn starch slurry one last whisk to make sure it's completely incorporated. Slowly whisk the corn starch slurry into the hot milk saucepan and bring it back to a boil over medium-high heat.
Cook, stirring, until it thickens until it lightly coats the back of a wooden spoon, about 1-2 minutes.
Slowly pour a cup of the hot milk into the cream cheese bowl and mix until smooth. Pour the cream cheese mixture into the saucepan and whisk until completely smooth.
Pour the ice cream base into a large 1-gallon Ziploc bag. Seal it and submerge the mixture in the ice bath until cold, about 30 minutes.
Pour the ice cream base into the bowl of your pre-frozen ice cream maker. Follow the directions on your ice cream maker to churn the base into ice cream, until it is the consistency of soft-serve, about 15-20 minutes.
Add the honeycomb pieces and churn just until evenly incorporated throughout, 1 more minute.
Pack the ice cream into an air-tight storage container or a metal loaf pan, pressing a sheet of parchment paper directly against the ice cream.
Freeze until firm and the honeycomb has softened, at least 4 hours, but preferably overnight.
Notes
Honeycomb adapted from Lollipop Love, ice cream base adapted from Jeni's Splendid Ice Creams at Home.