Make-ahead healthy carrot cake baked oatmeal with walnuts, dried cranberries, and dried tart cherries. Serve drizzled with maple cream cheese glaze for a crowd-pleasing hearty breakfast that tastes like cake. This recipe is made in partnership with Diamond Nuts.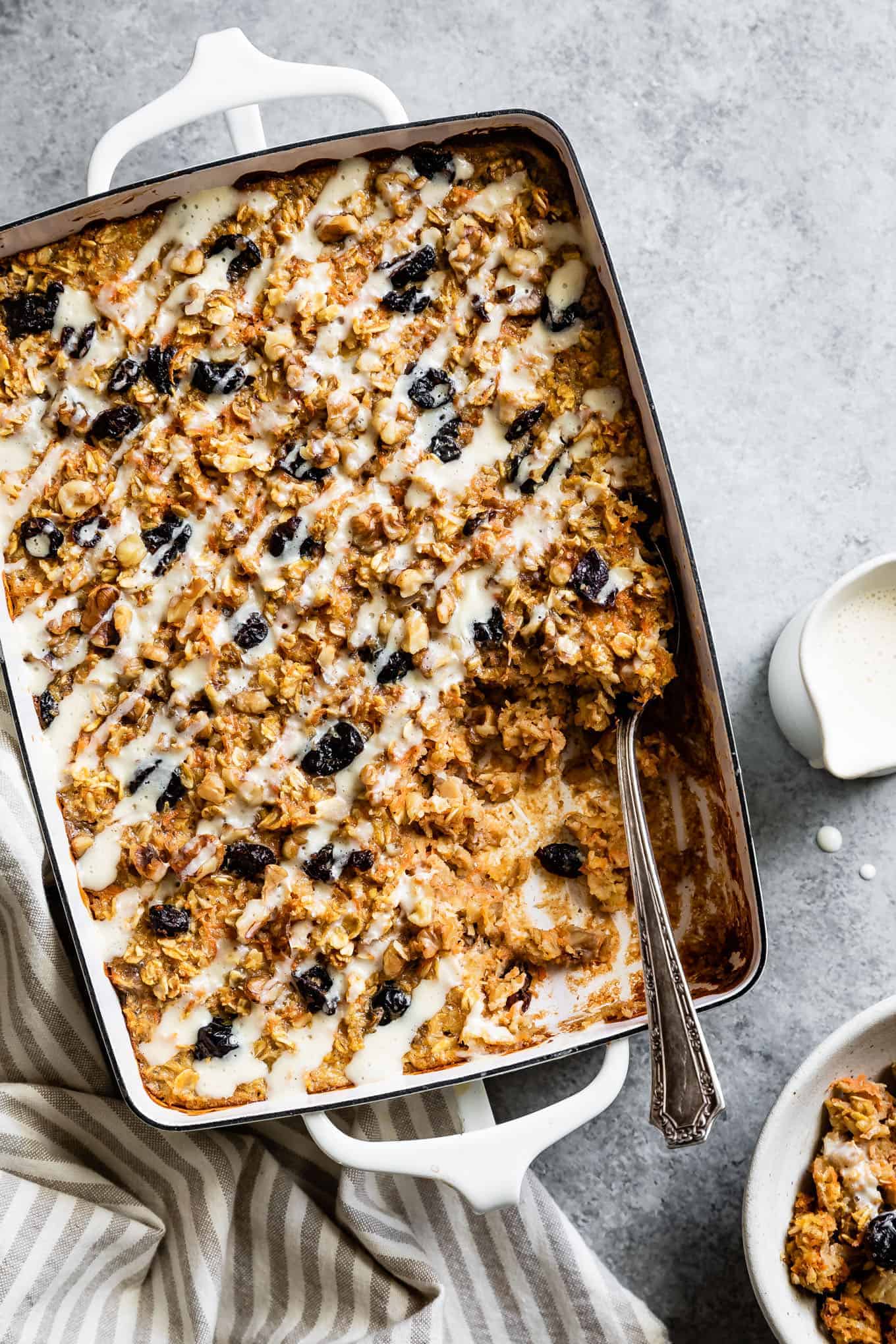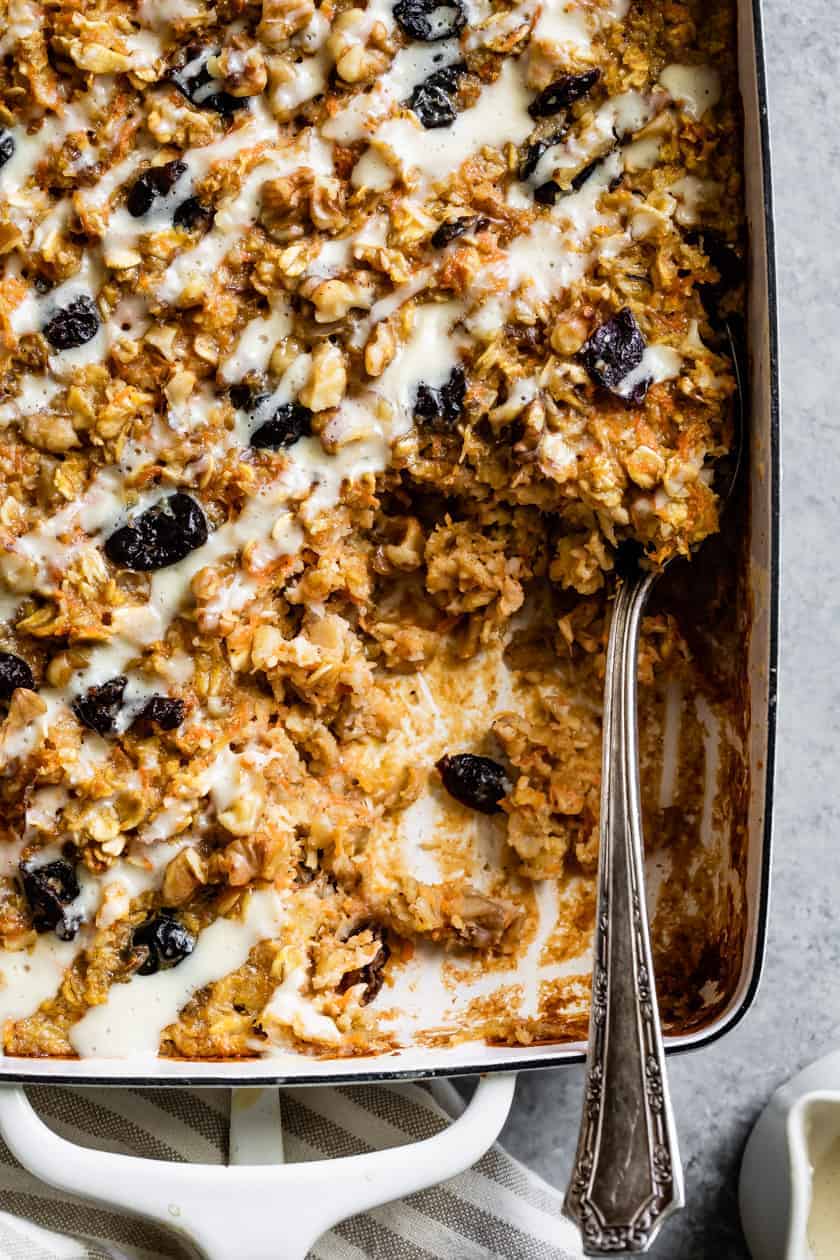 Zoella (3) asked to call her daycare teacher last night to tell her she was eating homemade sushi with tofu and tempura asparagus for dinner. For as adventurous an eater this kid is, she eats one thing - and one thing only - for breakfast.
Every morning.
Baby oatmeal with a splash of applesauce. We've tried mixing it up - maybe a little yogurt - but still, she requests baby oatmeal. Her pediatrician assured me it's fortified and rather healthy, so if that's what she wants, why not!
Last week though, Zoella woke me up at my bedside by getting really close to my sleeping face and enthusiastically whispering, "Mama, we ate all your cake for breakfast!" Then she made exactly the hands-on-cheeks shocked emoji face in real life.
She hadn't eaten cake.
She'd eaten this carrot cake baked oatmeal. The night before I'd convinced her (with very little persuasion) that it was an oatmeal cake. Order of words matters here. Cake-inspired oatmeal v. oatmeal cake! It's definitely cake-inspired oatmeal, but if calling it oatmeal cake makes her feel like she's broken all the rules before 9am, then so be it. She's eating veggies for breakfast now, so joke's on her.
She's abandoned her routine and requested I make oatmeal cake every week for breakfast instead of her beloved baby oatmeal.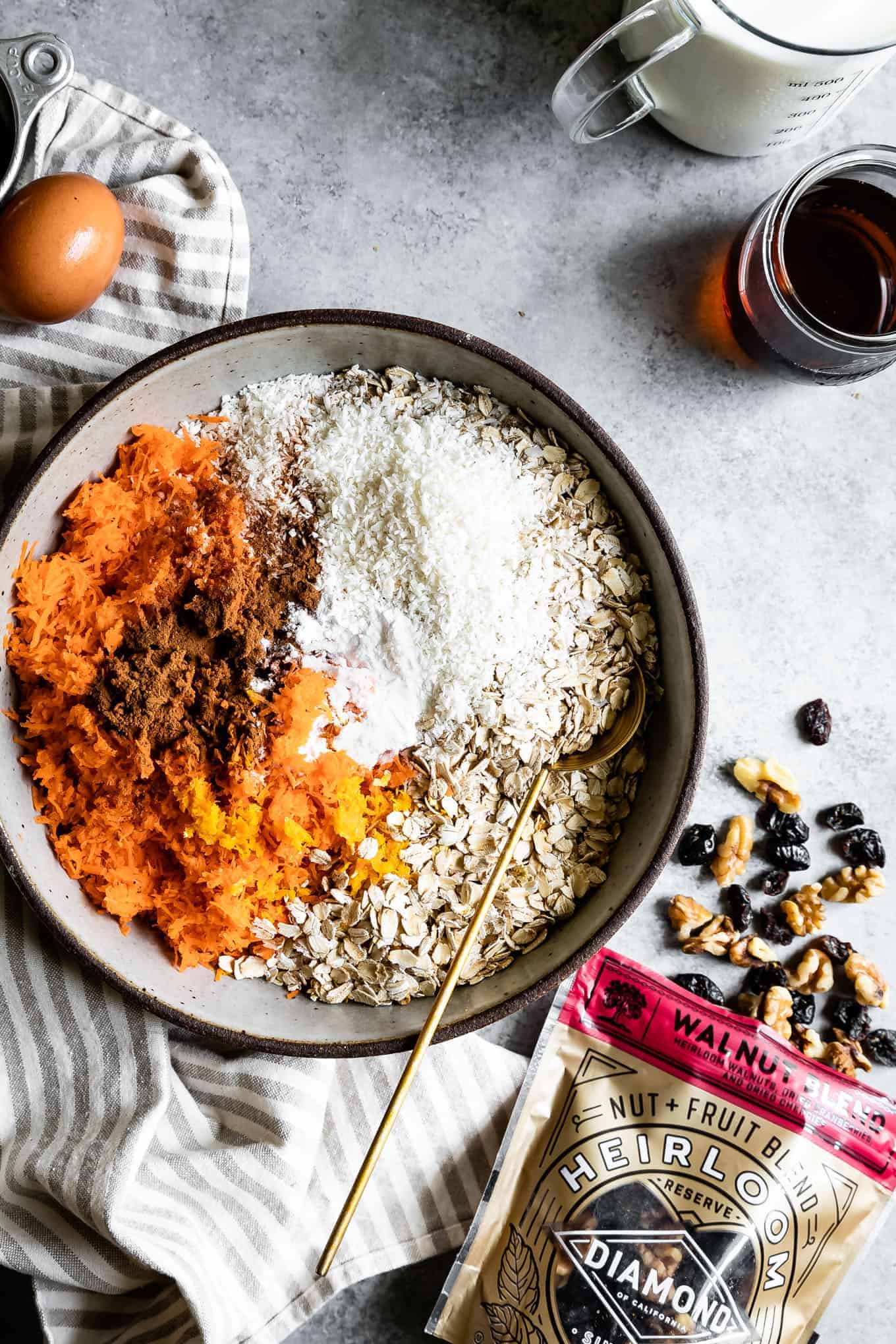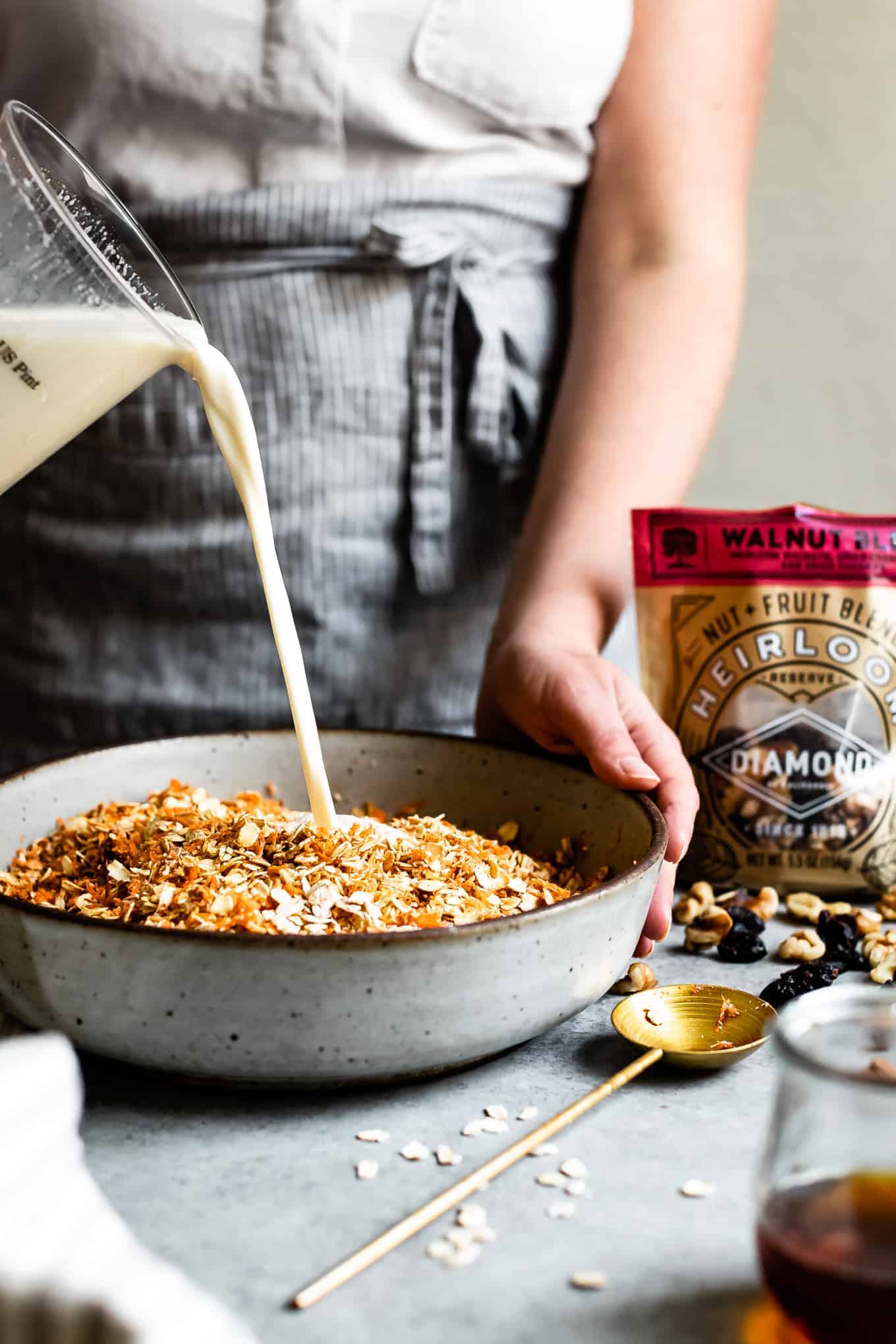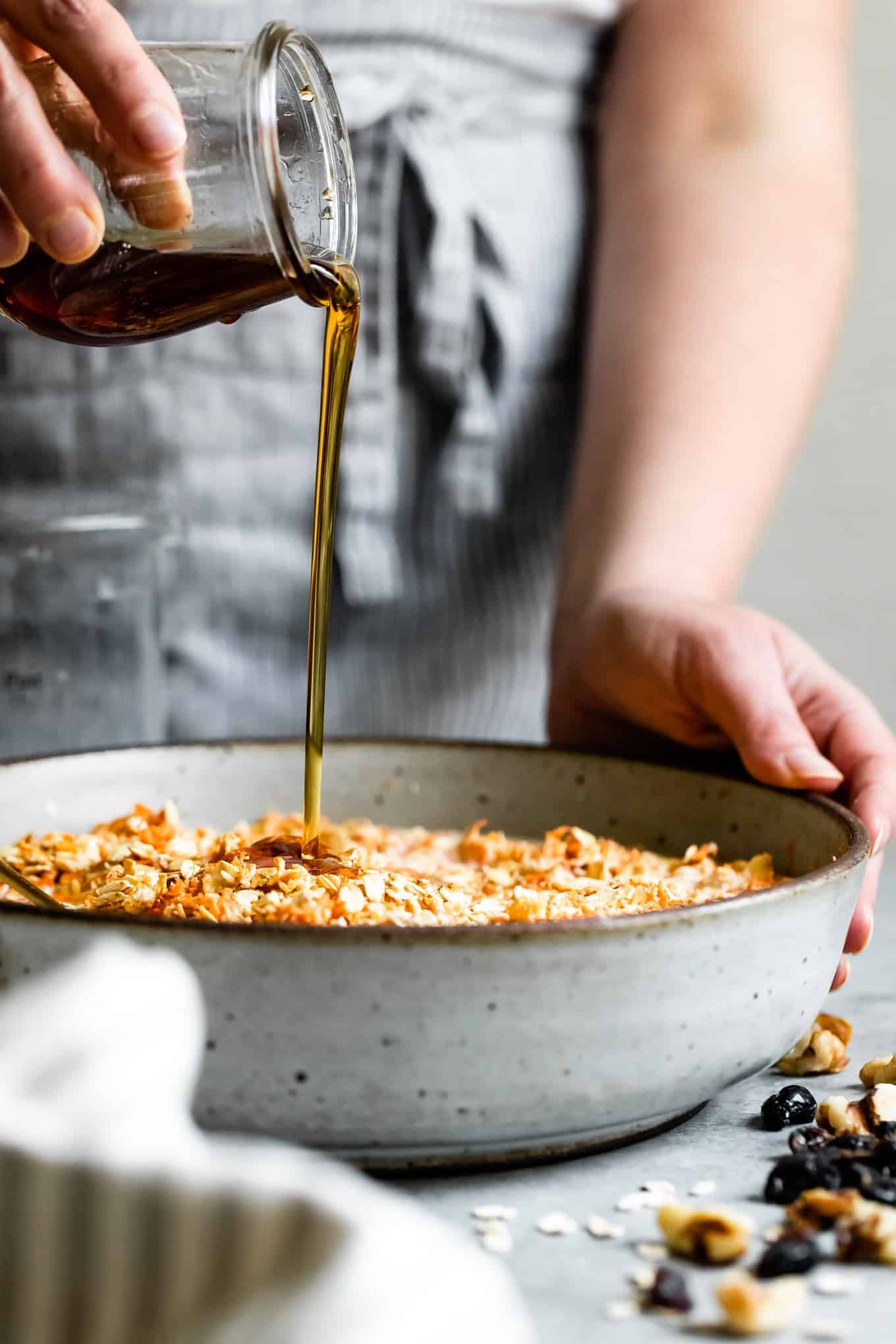 Baked Oatmeal Recipe: Carrot Cake Oatmeal
This comforting carrot cake baked oatmeal breakfast recipe is the fifth in a year-long partnership with Diamond Nuts. Here's what I've made so far:
Now I've made this carrot walnut cake oatmeal using their heirloom nut and fruit walnut blend. This baked oatmeal recipe is the perfect dish for Spring brunch entertaining. Just toss it all together in a bowl then bake until set.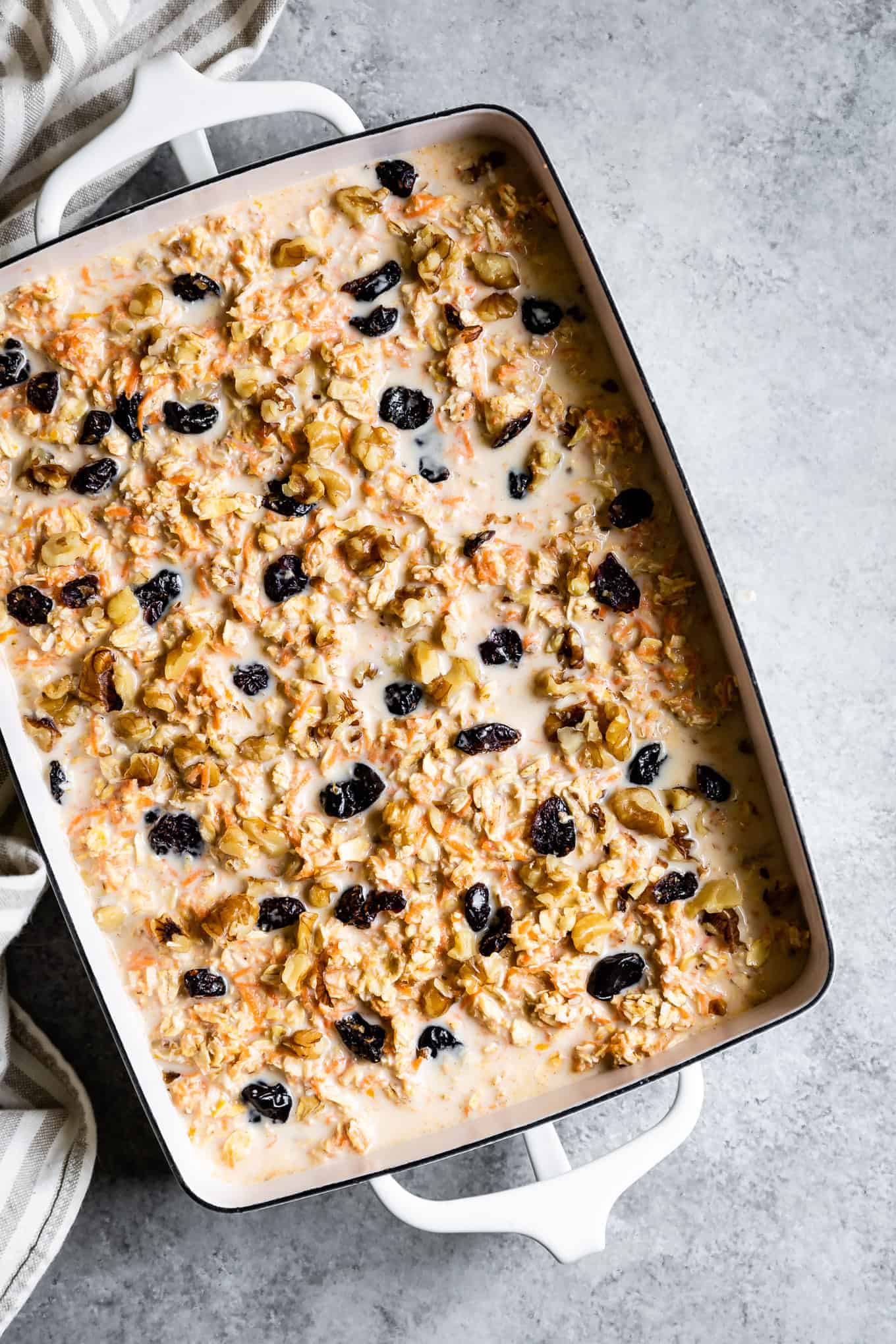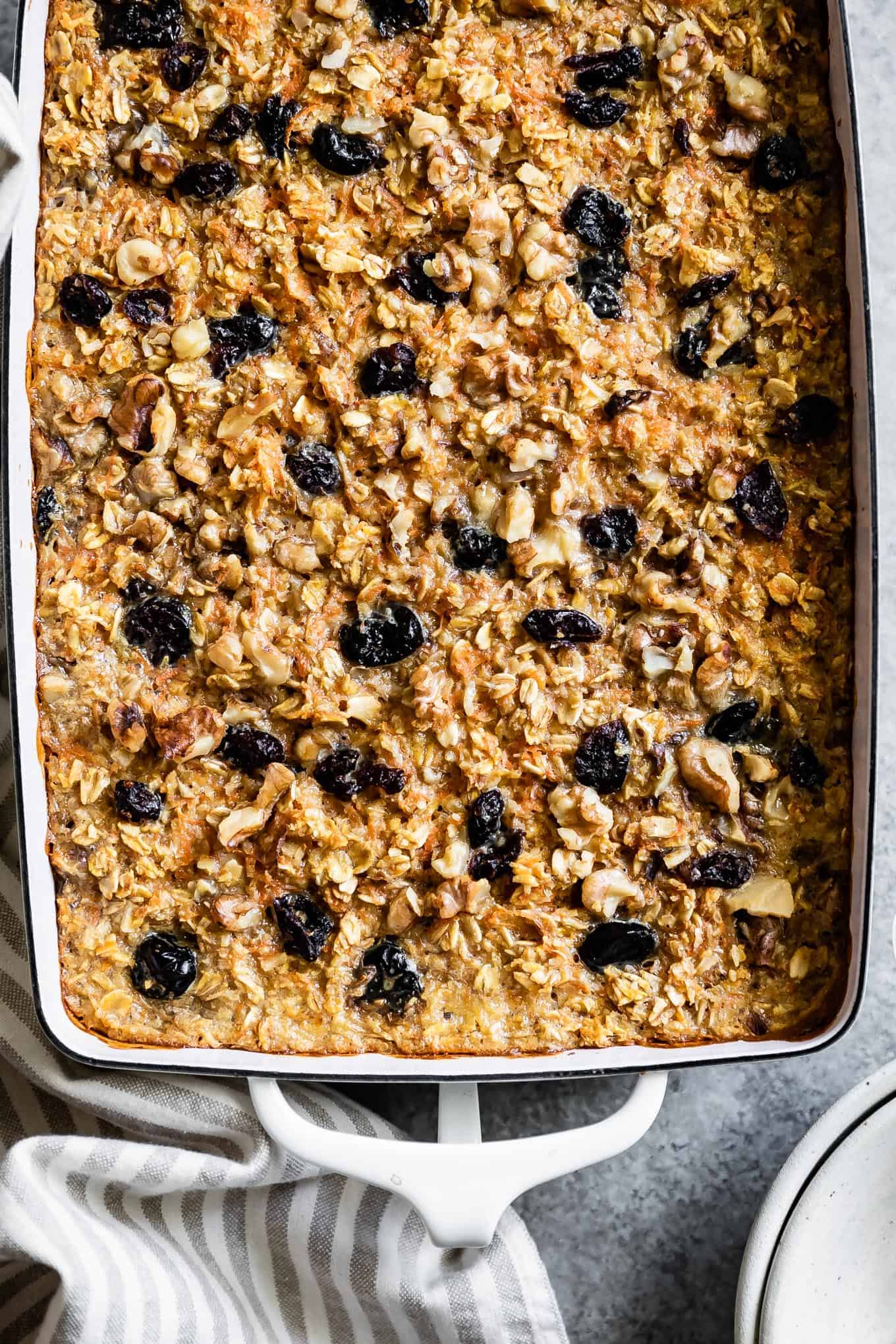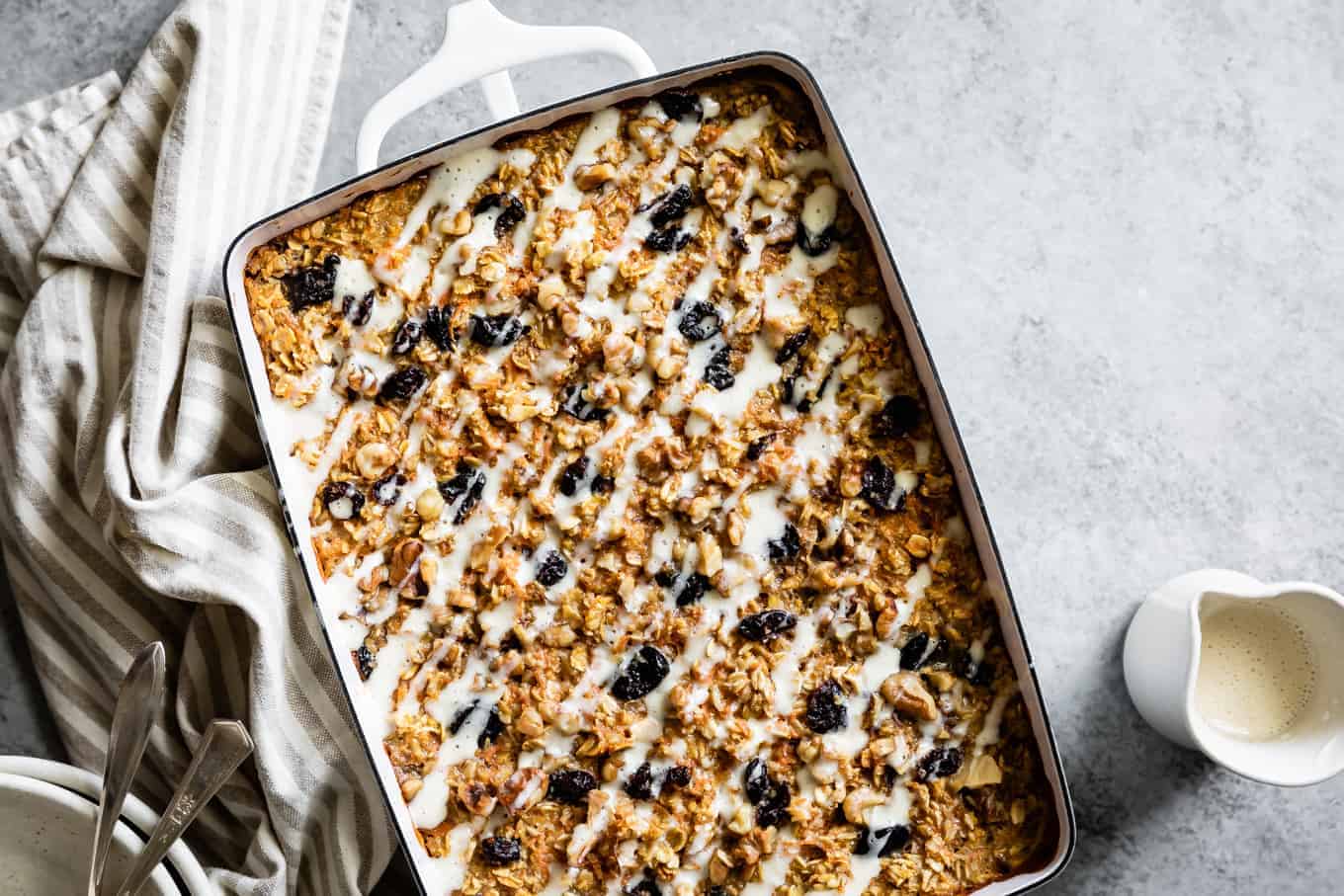 Healthy Baked Oatmeal
To make a healthy carrot cake oatmeal, I've used maple syrup as the sweetener in both the oatmeal and the glaze. With dried cranberries and cherries adding additional sweetness, I've added just enough maple syrup to round out the flavors.
Fiber-filled rolled oats make a baked oatmeal hearty breakfast with walnuts adding protein to keep you feeling full longer.
What's more, this healthy baked oatmeal is filled with carrots and shredded coconut. You'll want to use unsweetened shredded coconut and finely grate to carrots so they bake smooth into the cake without a stringy texture.
Nuts & Fruit in Baked Oatmeal
To add pops of flavor and texture to this baked oatmeal, I've used Diamond Nuts' heirloom nut and fruit walnut blend. The blend has walnuts mixed with dried cranberries and cherries and added here, they transform the oatmeal.
There are people who have strong feelings about whether dried fruit belongs in carrot cake, but in this baked oatmeal breakfast version, the dried fruit absolutely belongs. While the warm melty cranberries and cherries add pops of sweetness, toasty walnuts balance it out with savory crunch. Together they enhance both the texture and flavor of the oatmeal.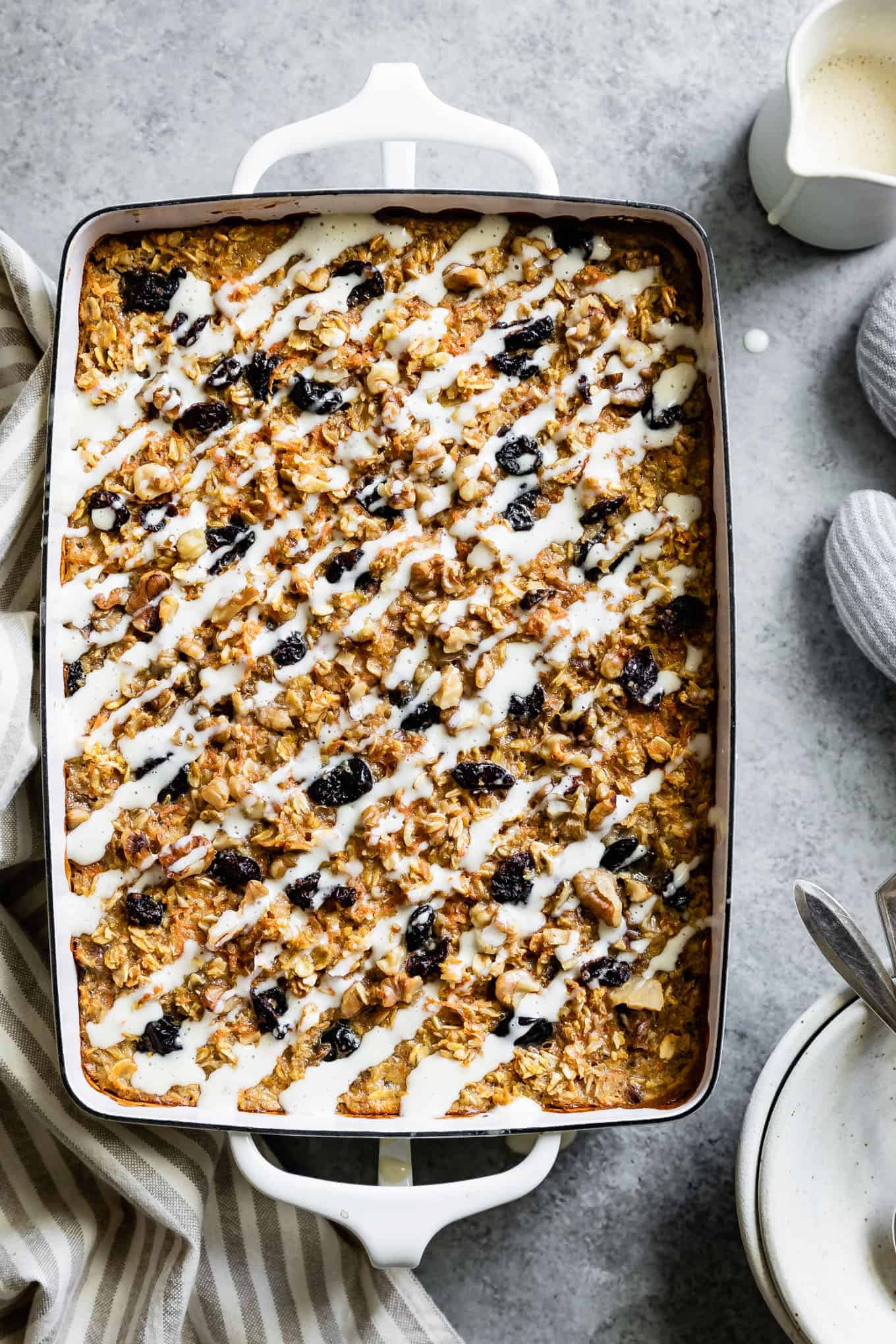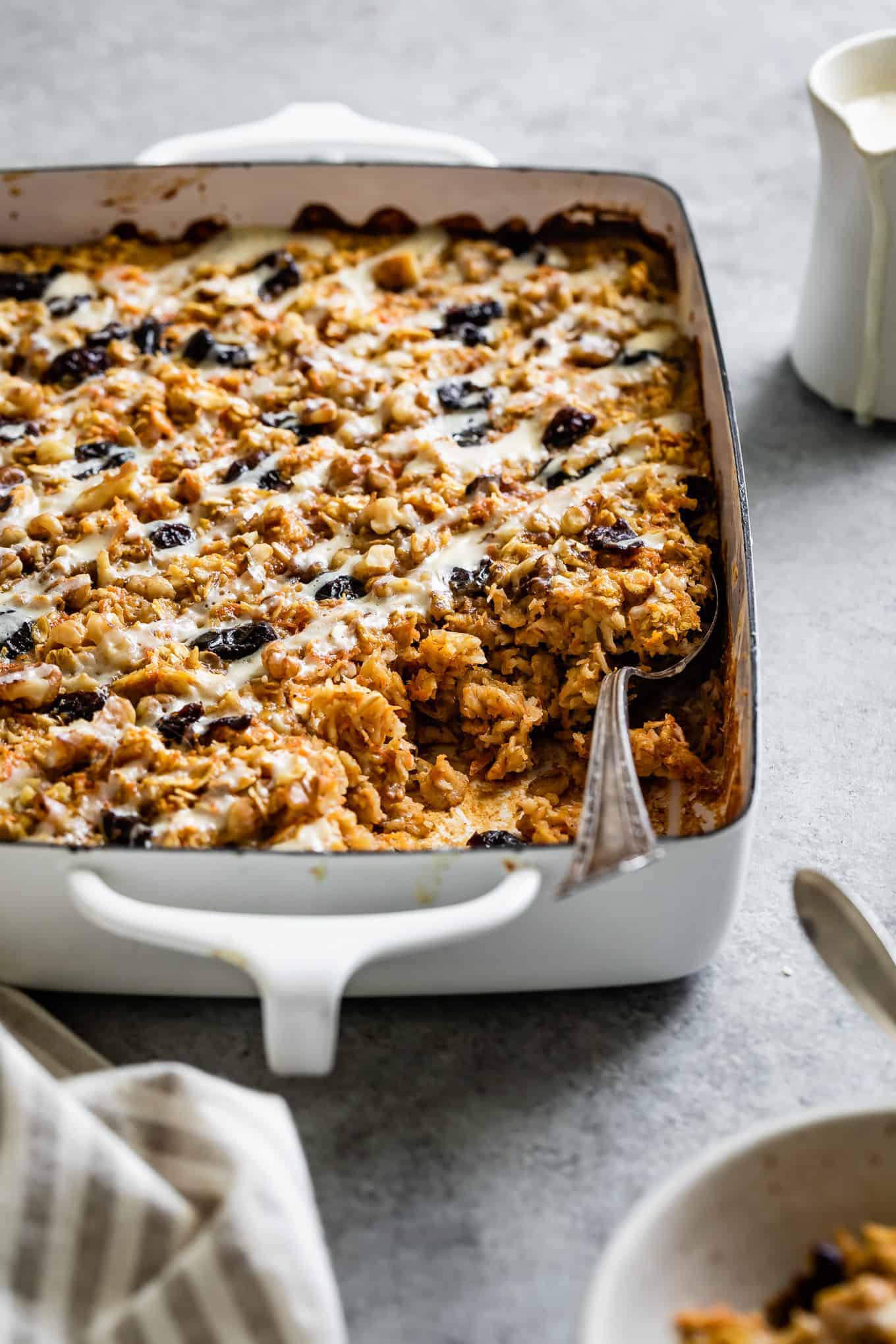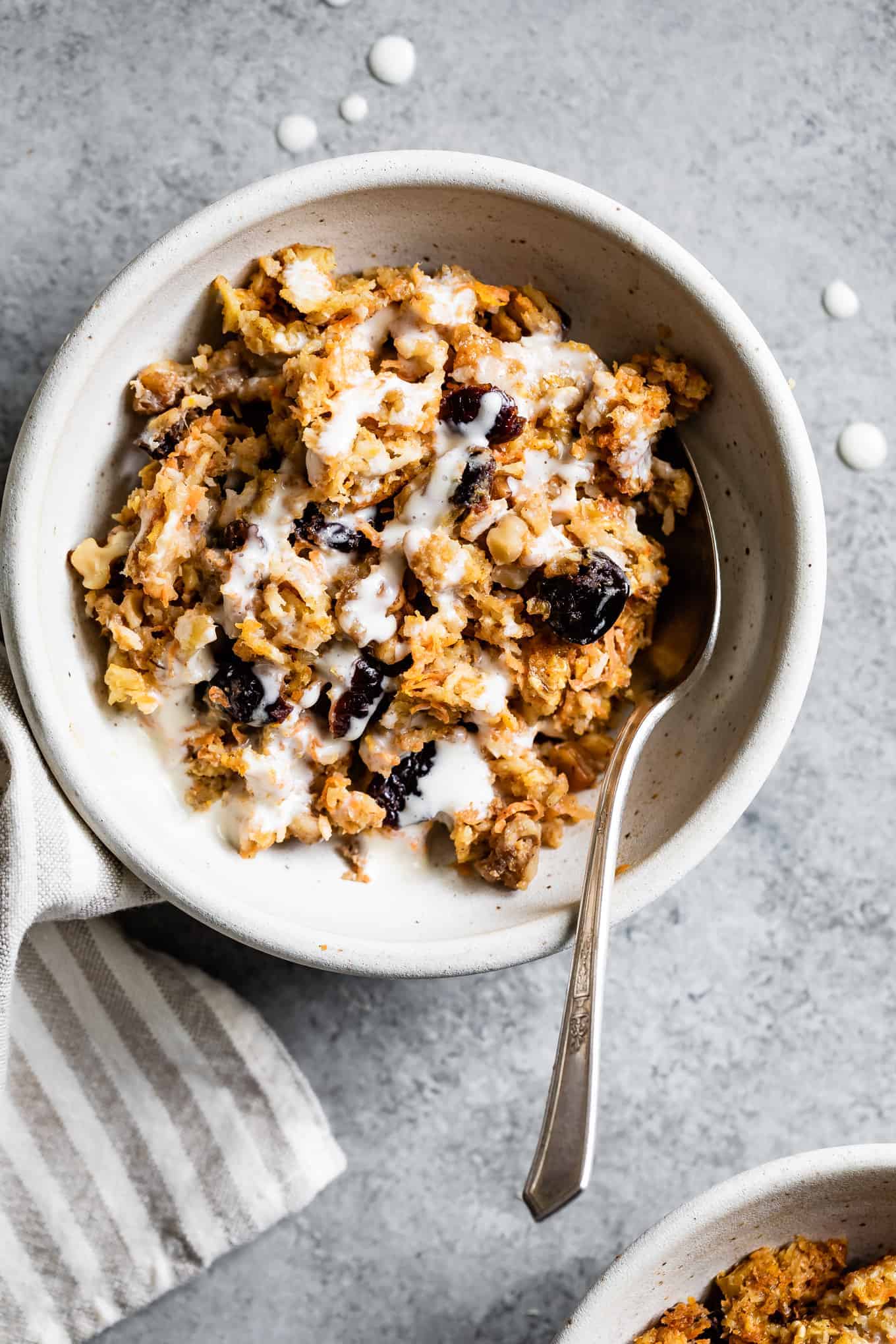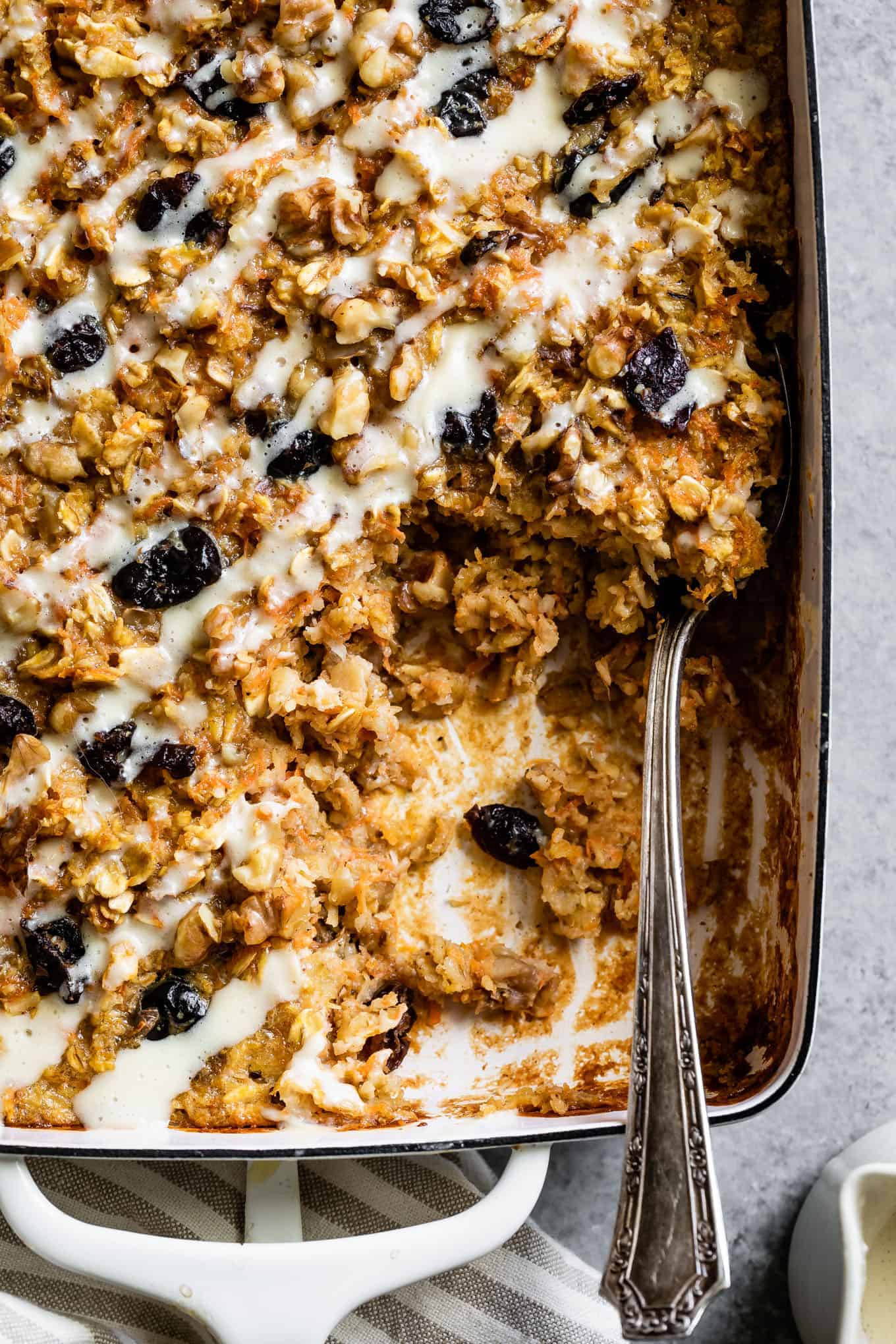 Maple Cream Cheese Glaze
There's something I feel very passionate about and it's that carrot cake must have cream cheese frosting. Just like red velvet, carrot cake should have no other frosting than cream cheese frosting.
In this baked oatmeal rendition, frosting would take this out of the realm of healthy. This is breakfast, after all (not that that's ever stopped me).
So I've transformed the topping into a maple cream cheese glaze. The cream cheese glaze is essential. Equal parts tangy and and sweet, it's what makes this baked oatmeal actually taste quintessentially like carrot cake.
Now you, too, can have oatmeal cake for breakfast. Go ahead and start your day feeling like a rebel breaking all the rules, when really you're eating a filling nutritious serving of lightly sweetened oatmeal with veggies.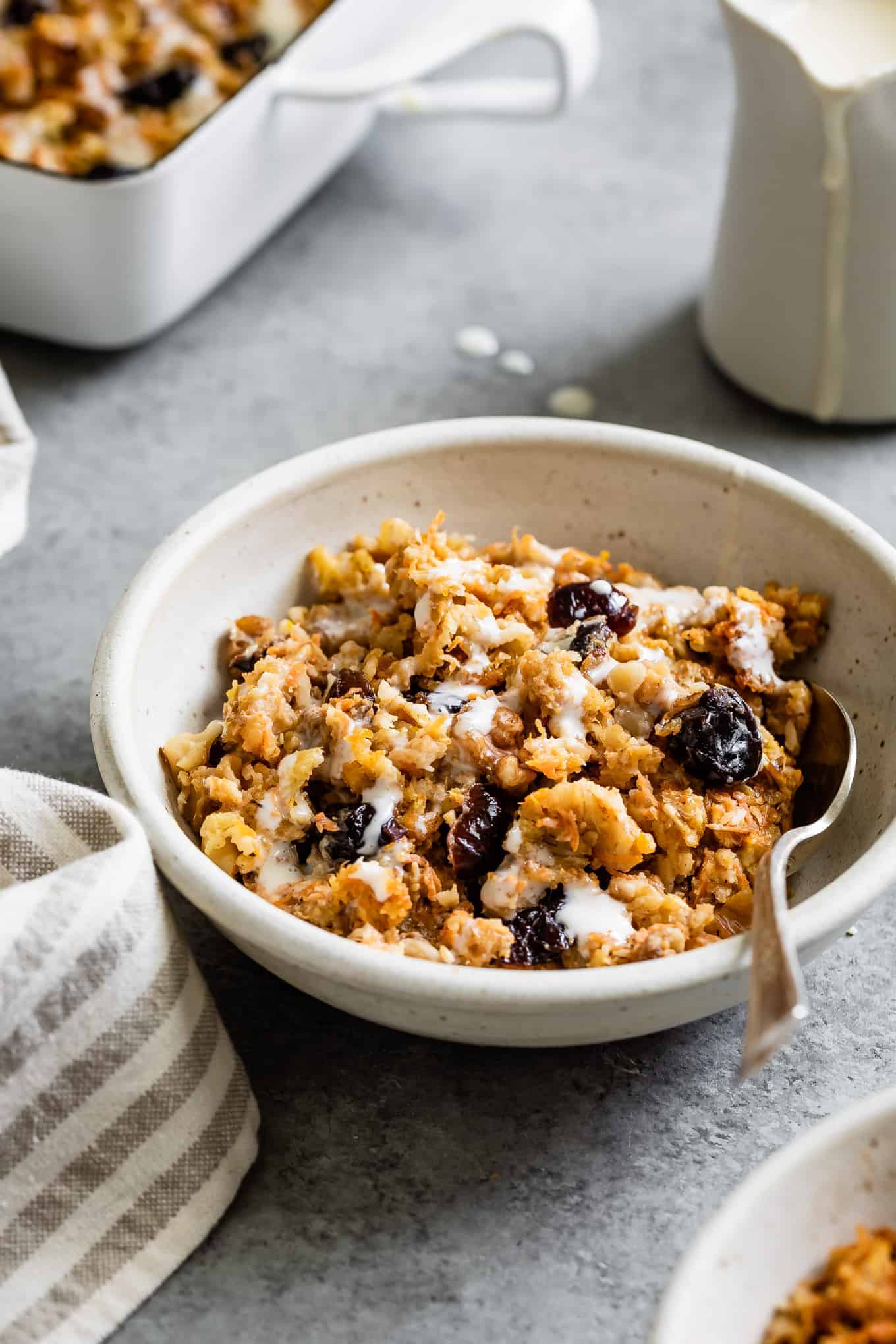 Disclosure: Special thanks to Diamond Nuts for providing the ingredients for this recipe and sponsoring this post! And thanks to you for supporting the companies that keep Snixy Kitchen cooking!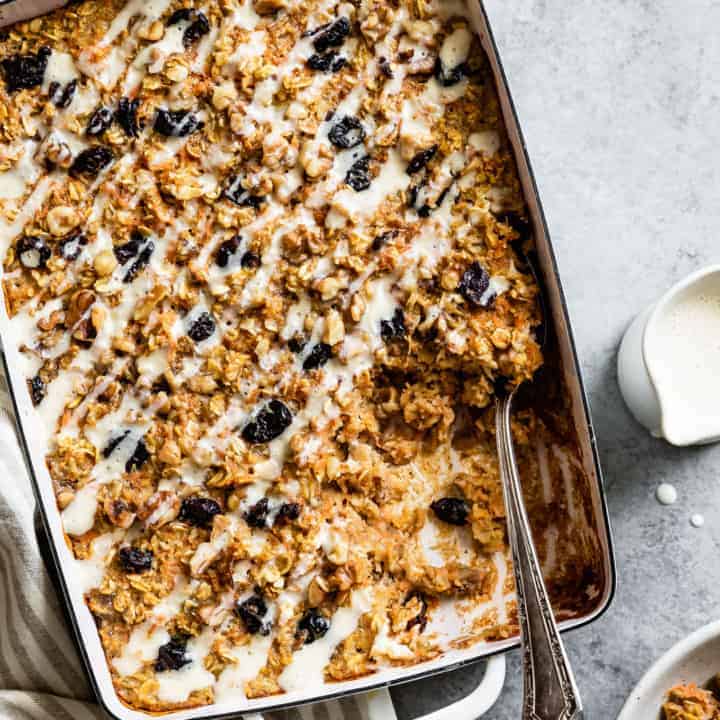 Carrot Cake Baked Oatmeal with Maple Cream Cheese Glaze
Yield:
1 8-9-inch square or 7x11 pan, 6 servings
Make-ahead healthy carrot cake baked oatmeal with walnuts, dried cranberries, and dried tart cherries. Serve drizzled with maple cream cheese glaze for a crowd-pleasing hearty breakfast that tastes like cake.
Ingredients
Carrot Cake Baked Oatmeal
Maple Cream Cheese Glaze
2 ounces cream cheese, room temperature
1½ tablespoons maple syrup
1½ tablespoons whole milk
¼ teaspoon pure vanilla extract
Instructions
Grease a 8 or 9-inch square (or 7x11) baking pan with a thin layer of coconut oil and preheat the oven to 375°F.
In a large bowl, combine the oats, coconut, shredded carrot, orange zest, baking powder cinnamon, nutmeg, and salt. Use your hands to rub the mixture together to evenly disperse the zest and shredded carrots.
In a measuring cup or separate bowl whisk together the milk, eggs, maple syrup, and vanilla. Pour this over the oats and toss to combine.
Spread half of the oats mixture into the prepared baking pan. Sprinkle with half of the nut and fruit blend, breaking up the large walnut pieces with your fingers as you go. Spread with the remaining oats mixture on top of the fruit and nut blend. Then top with remaining fruit and nut blend. Bake for 40 minutes until set and beginning to brown.
Meanwhile prepare the maple cream cheese glaze. Combine the cream cheese, maple syrup, milk, and vanilla in a small food processor and pulse until smooth. Alternatively you can do this by slowly working the liquid into the cream cheese with a rubber spatula against a small bowl until smooth.
Serve warm drizzled with maple cream cheese glaze. Store any leftovers covered in foil or in an airtight container in the fridge for up to 5 days. Reheat to serve.