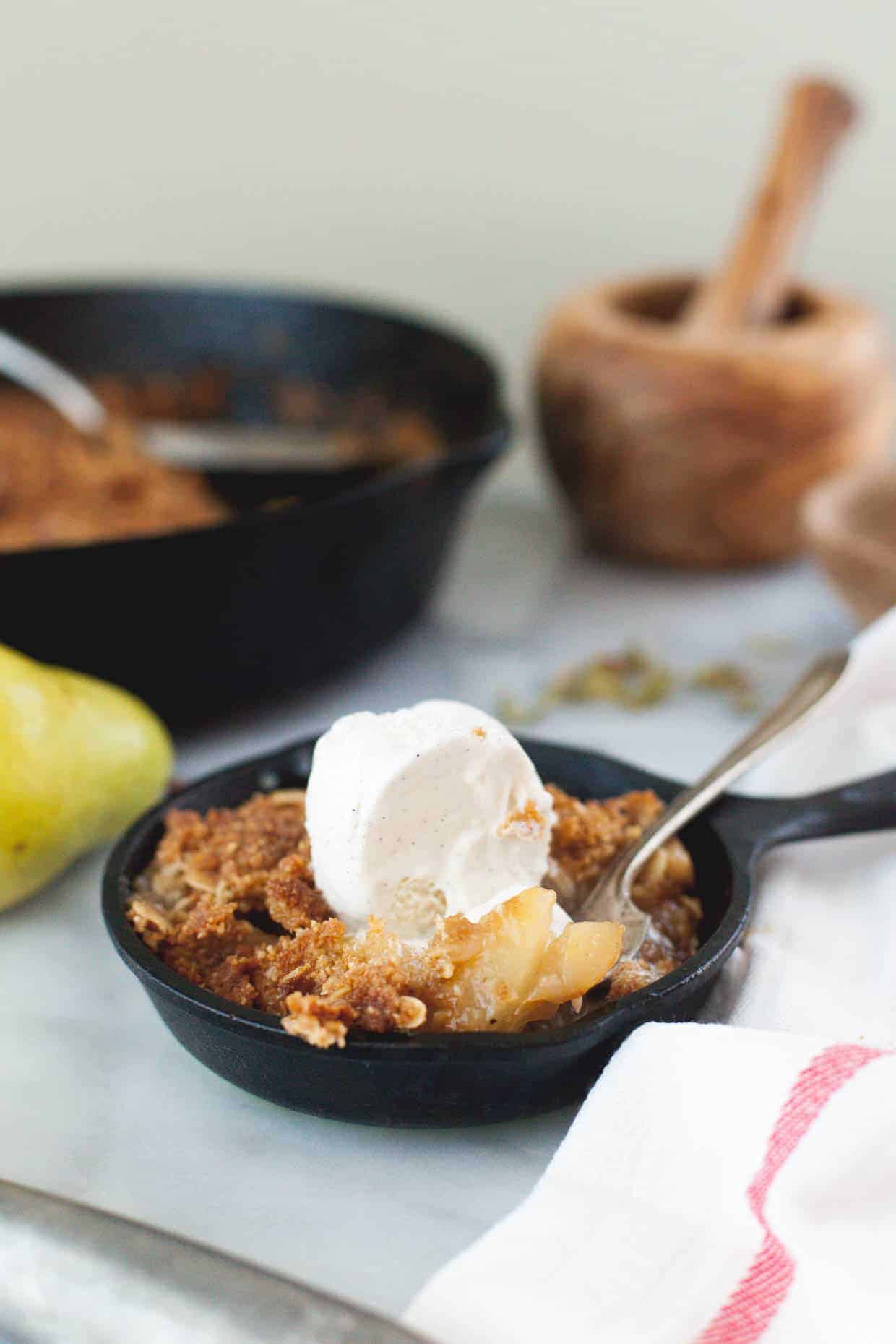 All of the women in my extended family gather around the dining table for a rowdy game of Taboo over dessert every Thanksgiving. Picking your team is serious business - my mom has two sisters and between the three of them, the odds are high that you'll end up on a team where the entire sand timer is spent hysterically laughing with a bit fat zero on the scoreboard. As a competitive Taboo player, I spend the afternoon gauging their silly score (this is totally a real measurement) and tallying glasses of wine. Game face. You guys, I kick butt at Taboo. My secret power?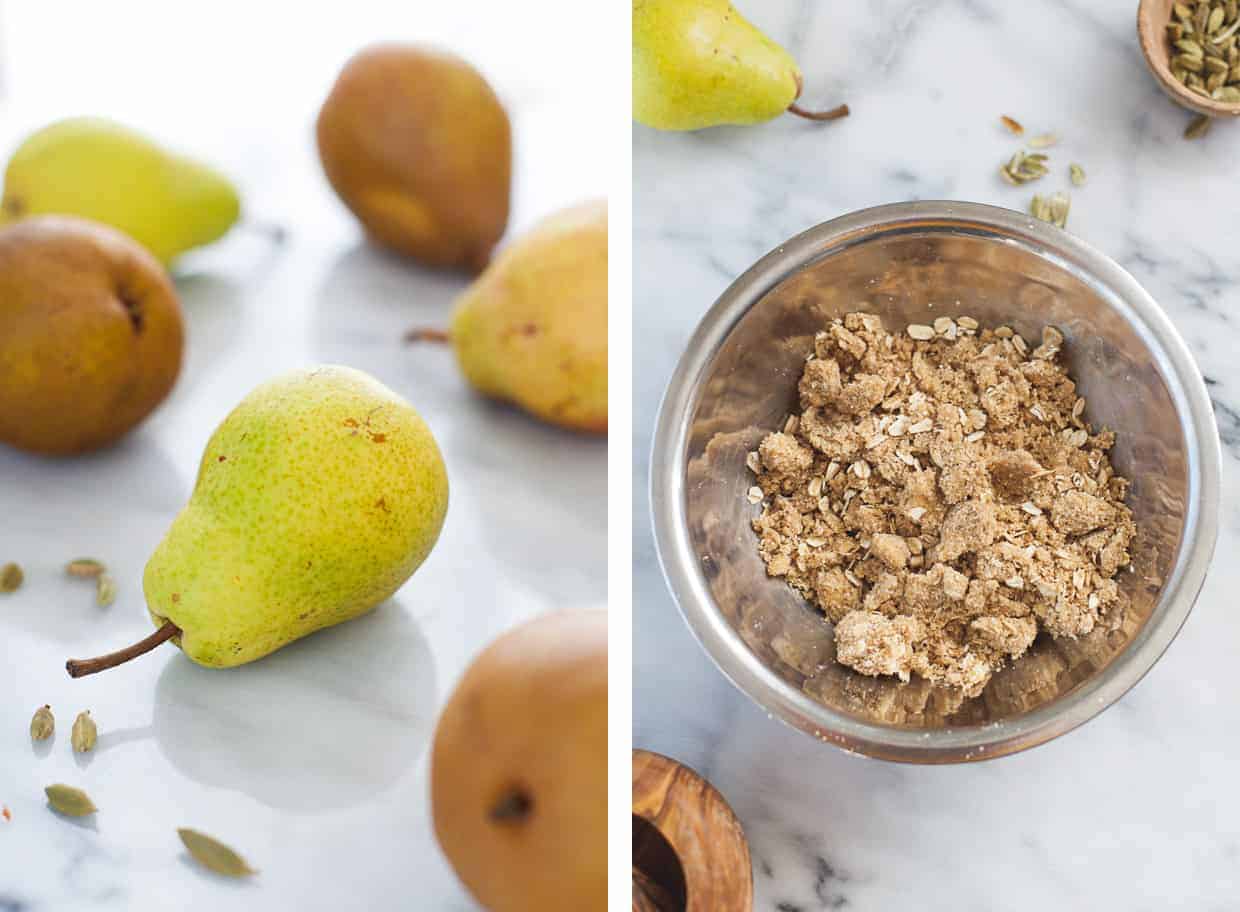 I forget words. ALL. THE. TIME in my day to day life.
In the course of spending an afternoon with me, there will be at least half a dozen times where I stumble over the word I'm trying to say and instead have to describe it to you with ten other words until you can tell me what's on the tip of my tongue. You might call it annoying, but I like to think of it as Taboo training in real life - I'm BUILT for this game. Or at least the clue-giving part. I'm a terrible guesser.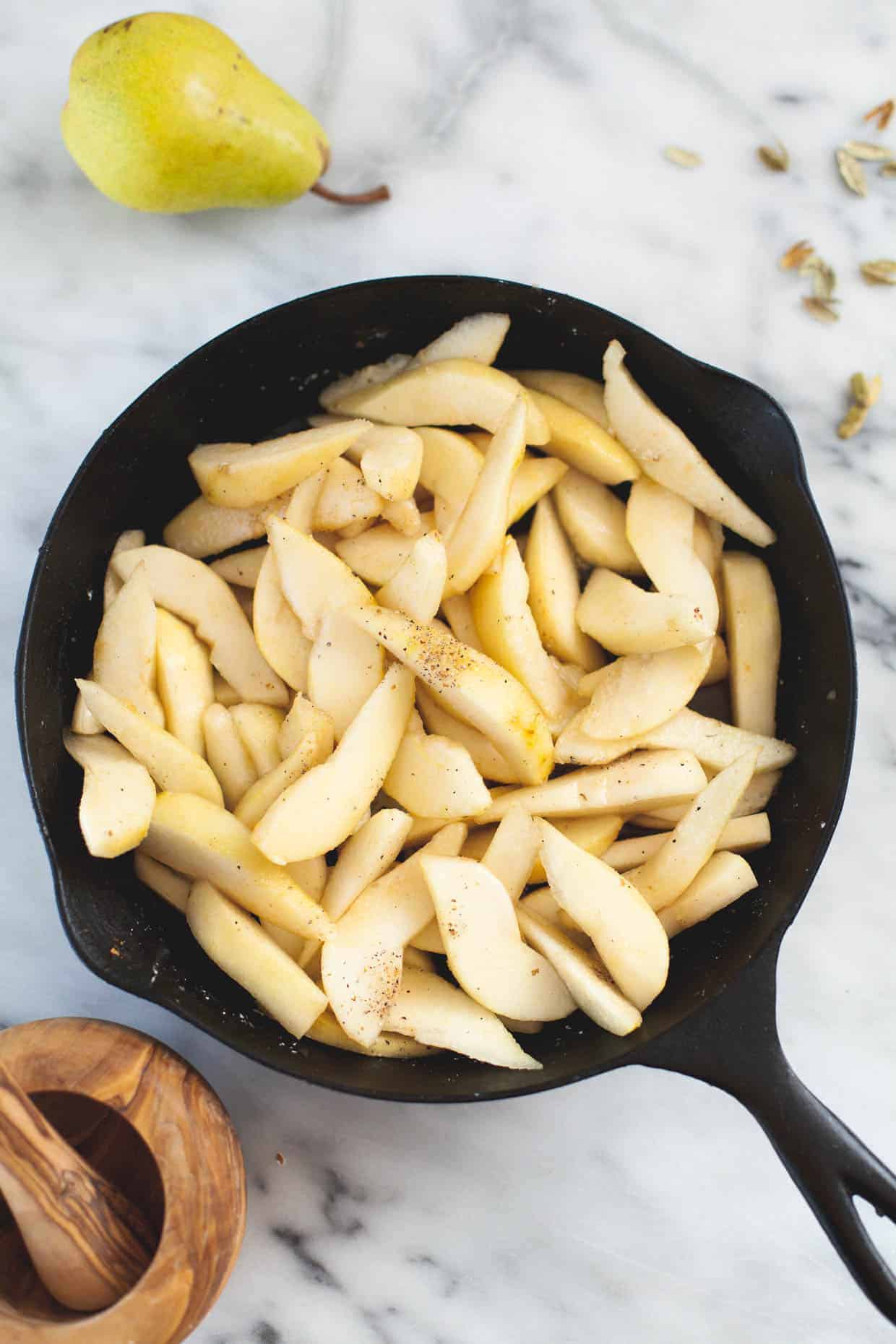 Best if I demonstrate. I'll give you clues to the secret ingredients that makes this cardamom pear crisp extra special - you guess. First word/phrase: I partnered with the Grain Foods Foundation to bring you this family holiday dessert featuring this grain. Some people eat it for breakfast as a warm dish sprinkled with a bit of sugar, nuts, and berries. Others bake it into _<blank>_ raisin cookies. What's the grain?
Great. Second word/phrase: I used some of that grain, but then I also ground it up into a thin powder. Instead of all-purpose _<blank> _, I now have _<blank> _ _<blank>_.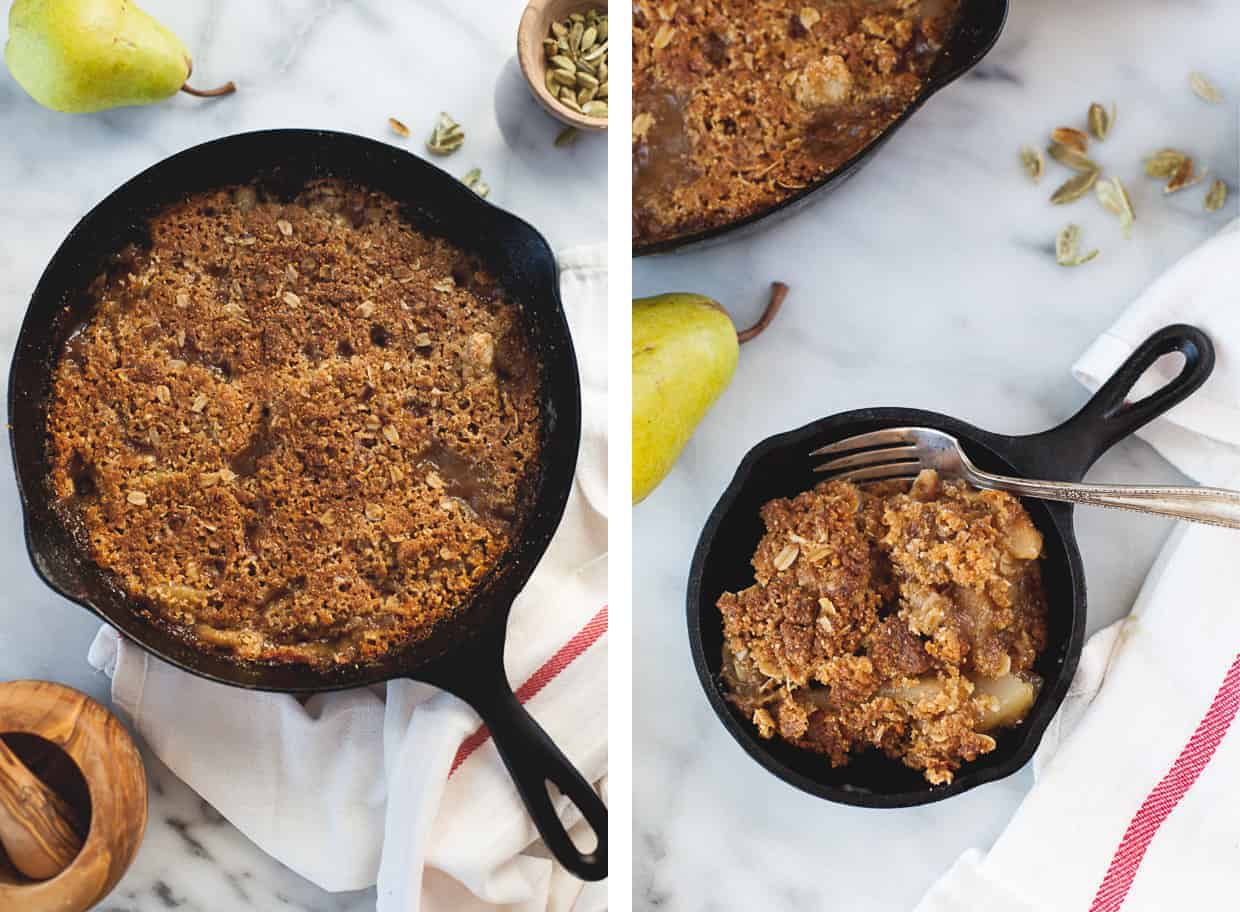 Did you guess OATS and OAT FLOUR? I hope so. Taboo is hard when I can't judge whether you're following my thought process. And lonely.
While experimenting with milling an array of uncommon grains, beans, and seed flours with Phi and Alanna a couple of Sundays ago, I got inspired to grind all of the grains in my kitchen.
The easiest of which is oats. Unlike some of the harder grains that demand a grain mill and lots of time, oats are simple. They only ask for a few pulses in a blender or food processor to transform into powdery soft flour that's full of protein and fiber. With this cardamom pear crisp, there's no need to sift the oat flour after grinding it since we're mixing it all up with some whole rolled oats for a textured topping.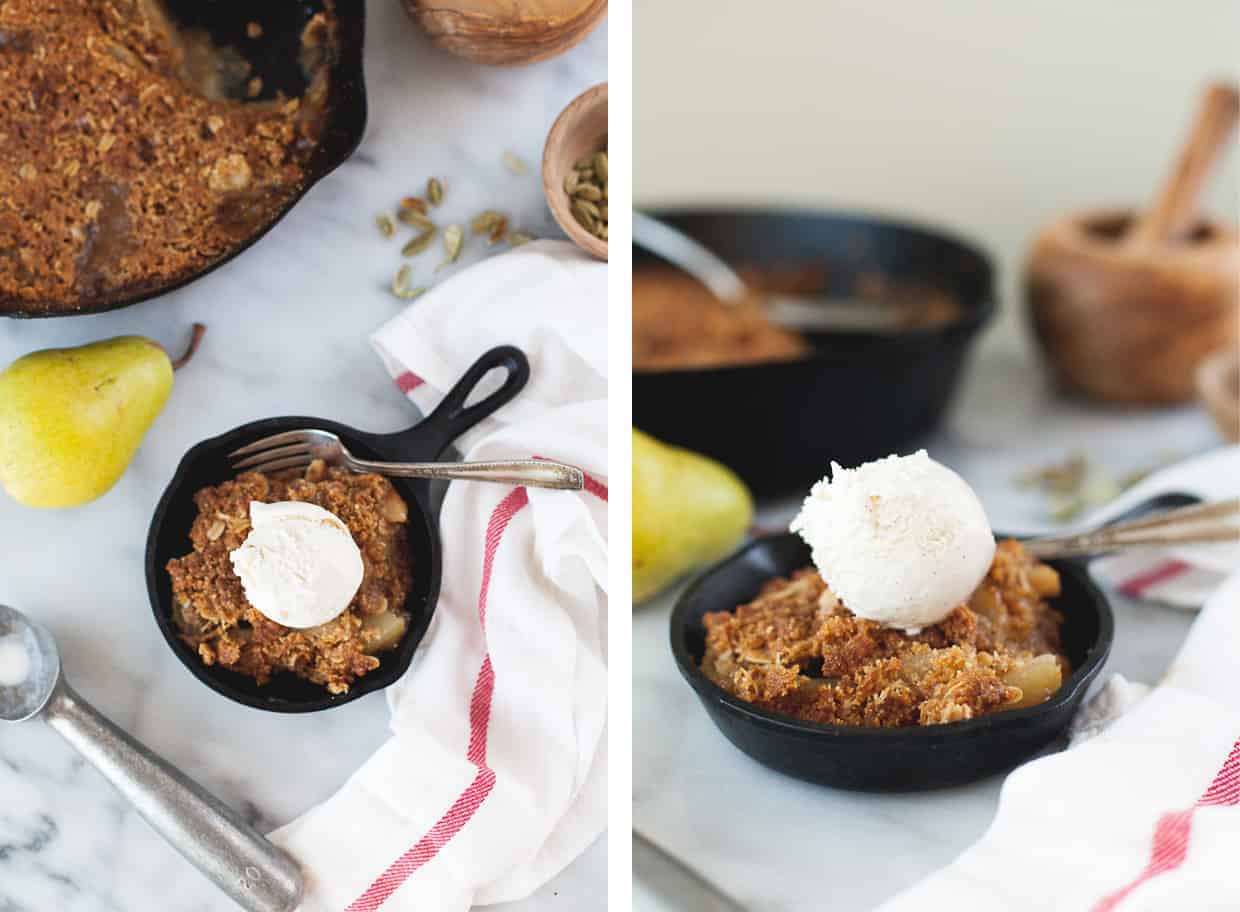 This warm pear dessert recipe is a fall spin on the peach crisp my mom makes with her backyard harvest every summer. When I called up my mom to ask for her famous family recipe, she replied, "I think I just use the one from Joy of Cooking." Womp womp. Then she texted me a few minutes later to tell me she adds walnuts. And whole oats. THAT'S more like it.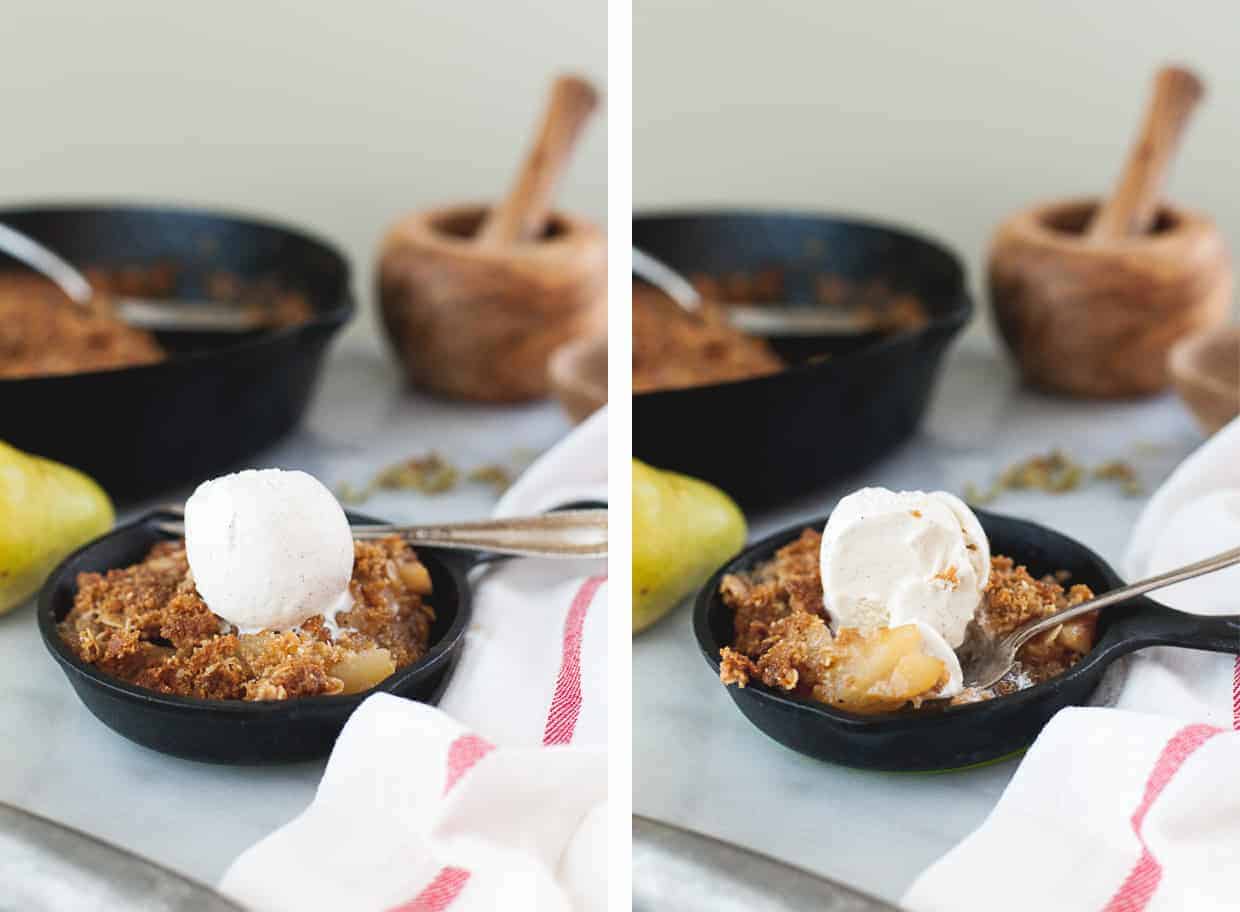 To celebrate the versatility of oats, I swapped out all the flour for oat flour, added almond meal, and gave my mom's family recipe a holiday make-over with the fall fruit of my affection: pears. The result was a much thinner topping than mom's, but just as crispy and nearly caramel-like. Cloaked in a cardamom blanket, the warm sweetened pears spill out the sides of the buttery oat crumble. Top it with a scoop of ice cream - you won't regret it.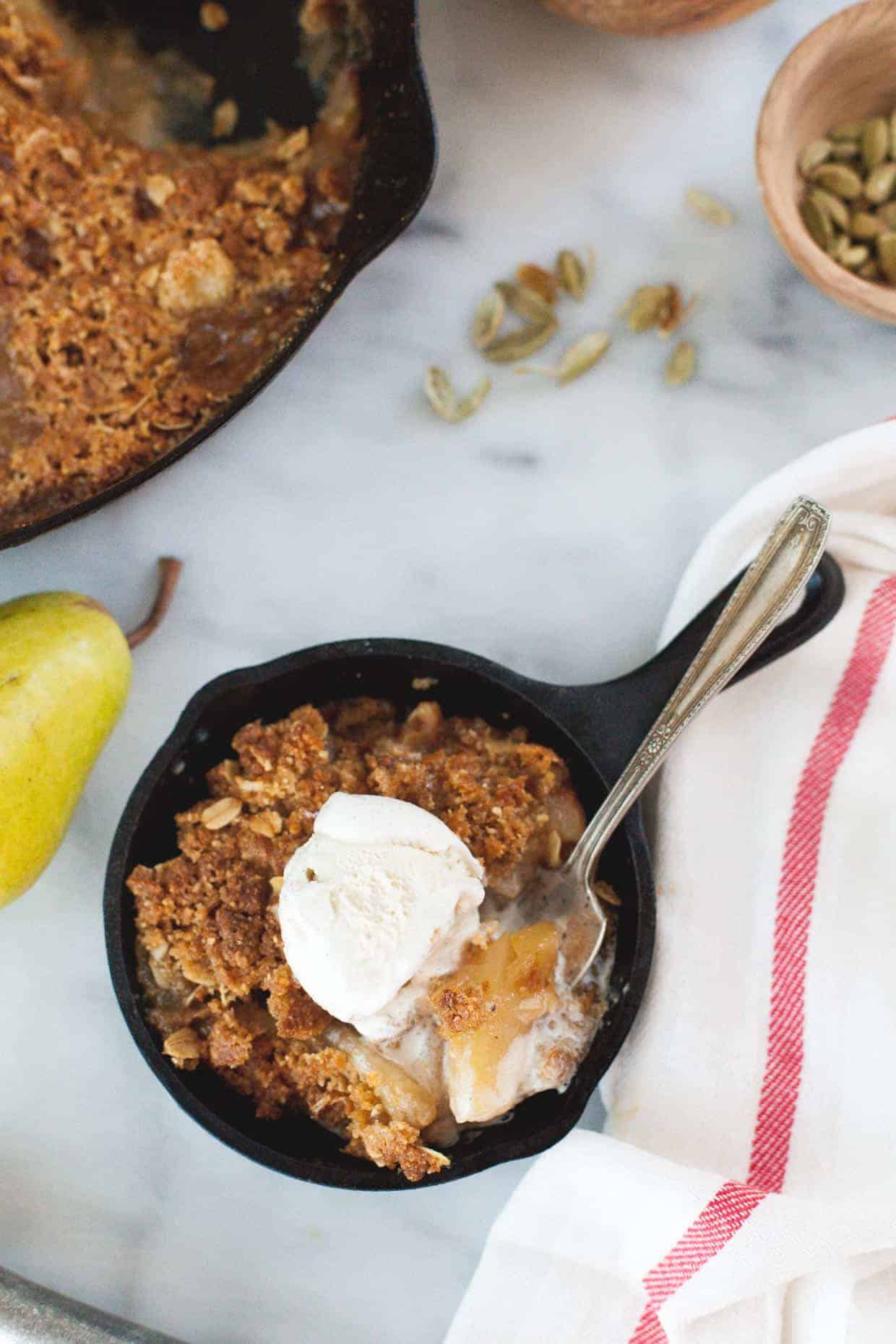 Added bonus: whole grains like oats are said to be good for cognitive health, so eating this dessert will make you a stronger Taboo player. That's science. Find other holiday recipes with whole grains at Grains for your Brains.
What are your favorite recipes with oats or oat flour?
What holiday desserts will you be serving this year?
Thanks for reading Snixy Kitchen! To stay up on what's coming out of my kitchen,  follow me on Facebook, Instagram, Twitter, Bloglovin', or Pinterest, or subscribe via e-mail to get new recipes right to your inbox.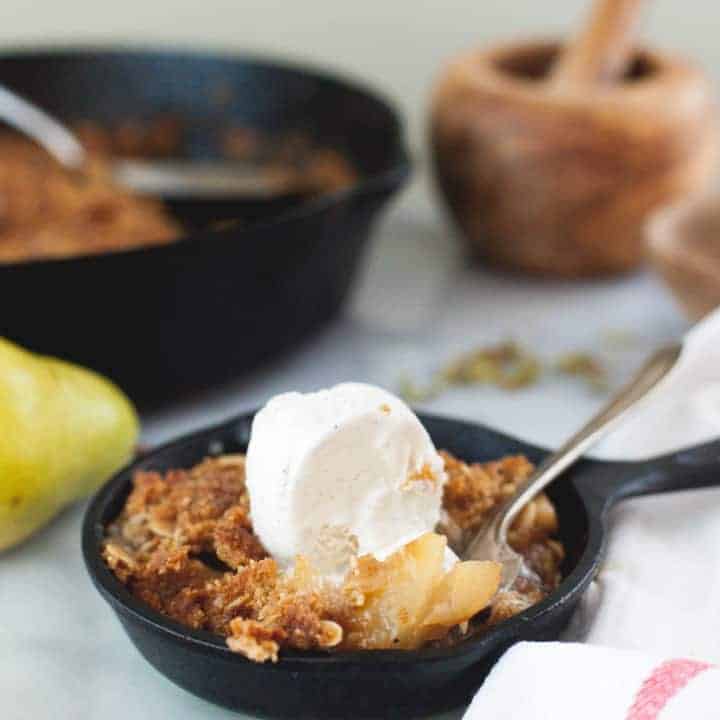 Cardamom Pear Crisp
Ingredients
Cardamom Oat Crisp Topping
¼ cup rolled oats
½ cup oat flour (I create my own by grinding rolled oats in my food processor or blender)
¼ cup almond meal or almond flour
4 tablespoons dark brown sugar
4 tablespoons sugar
⅛ teaspoon freshly ground cardamom (from about 2-3 pods - I grind mine in a coffee maker)
4 tablespoons cold unsalted butter, cubed
Cardamom Pear Filling
1 tablespoon unsalted butter
5 pears, peeled and sliced into ¼ inch thick slices (I used an mixture of Bartlett, Bosc, and Comice pears to get a combination of soft, crisp, and sweet)
2 tablespoons dark brown sugar
¼ teaspoon freshly ground cardamom from 4-6 pods)
2 teaspoons corn starch
¼ teaspoon vanilla extract
Juice of 1 lemon
Pinch of salt
Instructions
Cardamom Oat Crisp Topping
Preheat the oven to 375°F.
For the crisp topping: Combine the rolled oats, oat flour, almond meal, dark brown sugar, sugar, and ground cardamom in a medium mixing bowl.
Add the cubed butter and use your hands to combine until the butter is no bigger than the size of a pea and parts of the crumble clump together when pinched. Set aside.
Cardamom Pear Filling
Melt the butter in a large cast-iron skillet over medium heat.
Add the sliced pears, dark brown sugar, ground cardamom, corn starch, vanilla extract, lemon juice, and salt to the melted butter in the cast-iron skillet, tossing to evenly combine.
Cook over medium heat, stirring, until the pears begin to soften, about 5-7 minutes.
Evenly sprinkle the clumpy crumble over the top of the pears and put the skillet in the pre-heated oven for 25-30 minutes, or until the pears are soft and the topping is golden brown. Don't worry if the topping looks moist when it first comes out of the oven, as it cools, it will crisp up!
Remove from the oven and let cool for 5 minutes before serving. Top with ice cream!
**Disclosure: This recipe post is sponsored by the Grain Foods Foundation, but please rest-assured that all opinions expressed here are 100% my own. Thank you for supporting the companies that keep Snixy Kitchen baking!