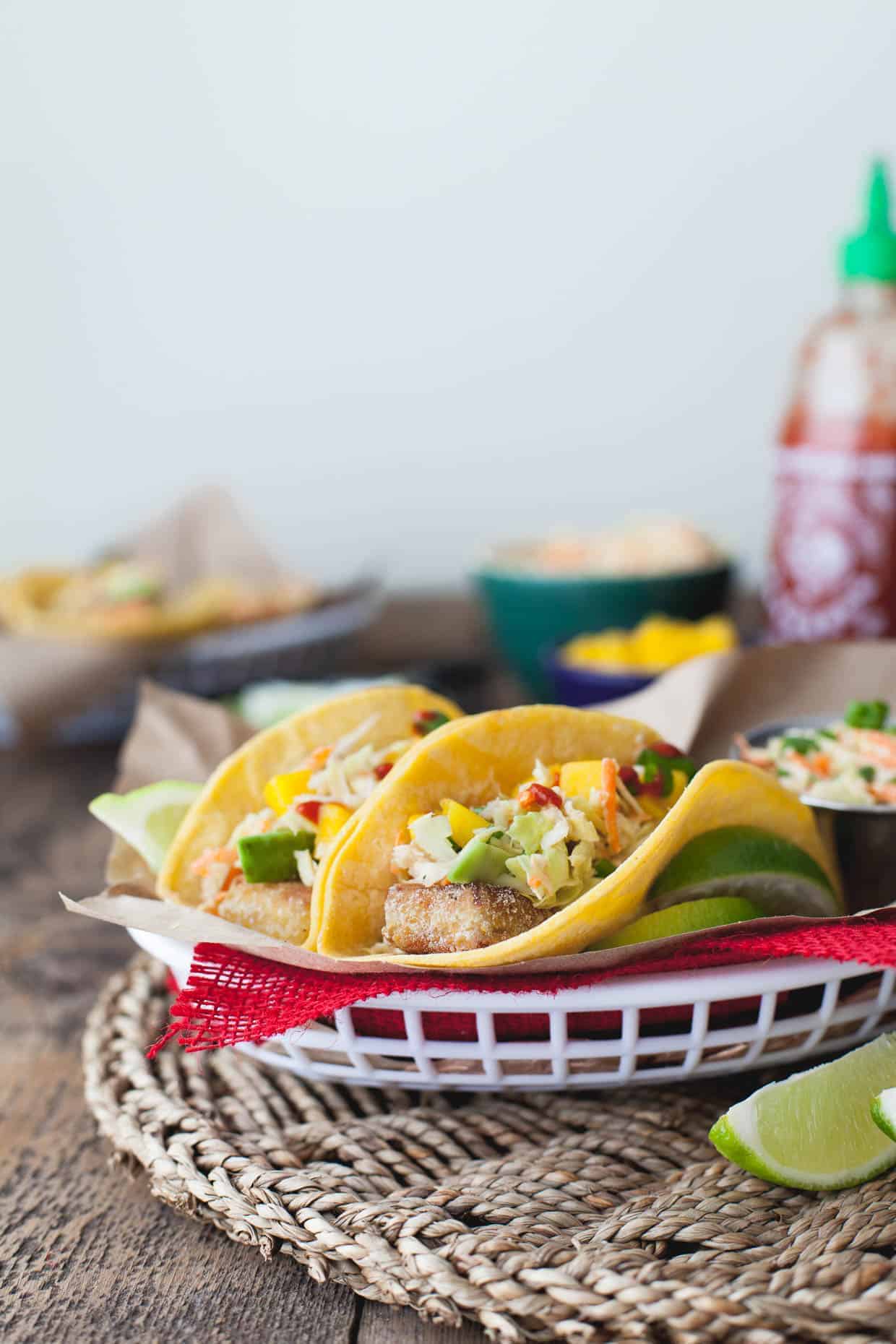 These Buttermilk Fried Tofu Tacos are for those days you really need comfort food. Like Monday, for example. The day after Lucas left for China. The day the freshly hung front dining room curtains ripped out of the wall. Before we point fingers, it's not Lucas's fault. He rushed to get my double curtain rod up minutes before he had to leave, and in the process, discovered that our landlord hadn't put the previous brace in a stud. Lucas quickly threw a drywall screw in, worried it wouldn't hold. Guess what? It didn't hold.
No problem, though. I'm handy.
My first job was in construction. Me - the girl who can't stand getting dirty. My dad used to build custom homes, and the (super unfair) family rule during high school was that, unless I found another job, I had to spend summers working for him. Most of the time this meant walking circles around the construction site, hurling scraps into the dumpster. (Do you know how hot it is in Chico in the summer? I'll give you a hint: It was 110°F at our wedding in June).
Occasionally I'd get more construction responsibility. When he built the house across the street - where we got married - I got to nail down the slats on the three-story staircase. (I'd like it noted that the house is still standing). Then one day, my dad came back from a trip to the lumber yard to find his employee had put me on the second-story roof with a nail gun to secure the rafters.
The next summer he got me an office job at the window company.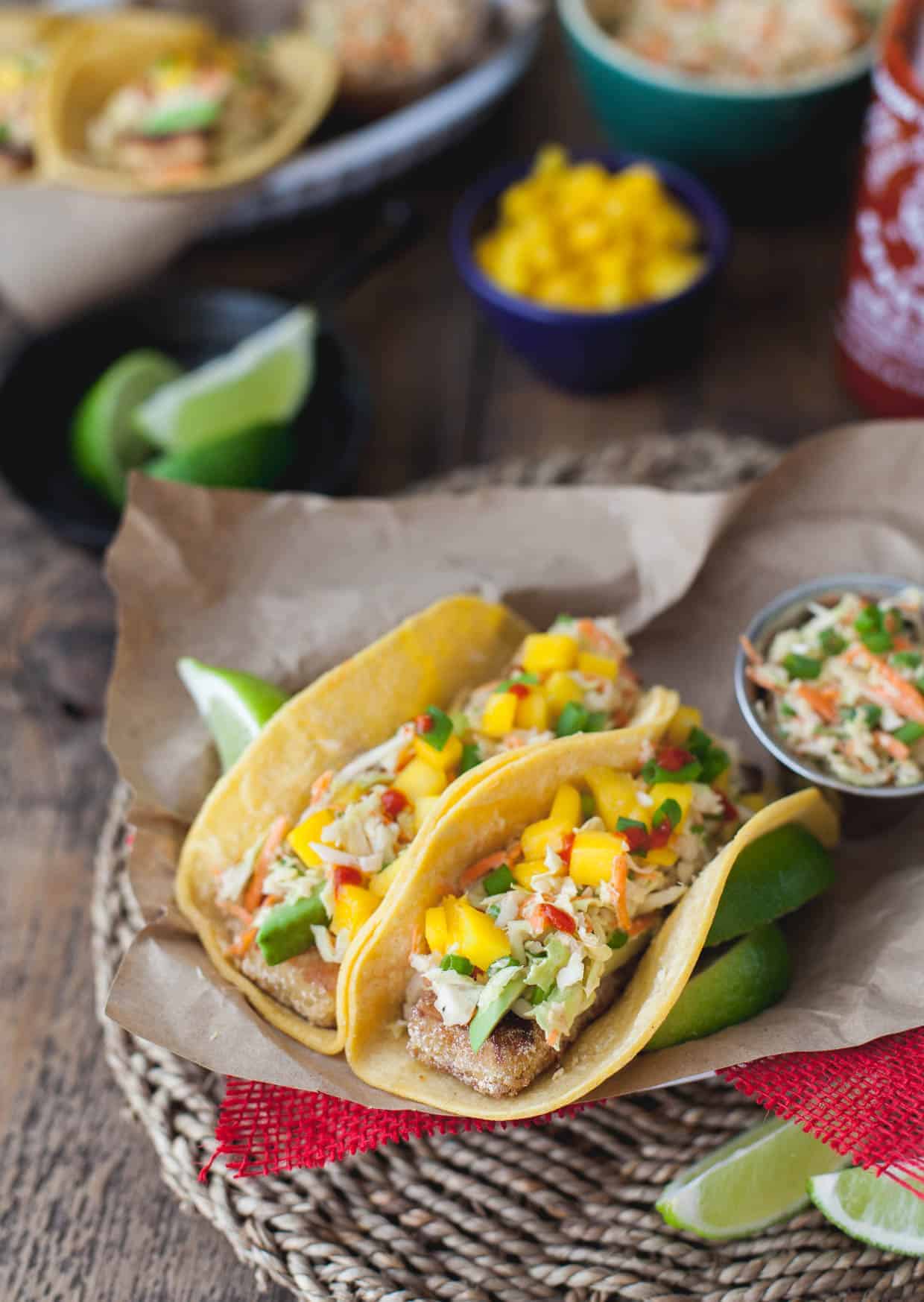 What I'm trying to say is: my dad made sure I left for college more than qualified to hang up a fallen curtain rod. Among my dorm essentials: a roll of quarters, a shower caddy, a clothes hamper, and a cordless drill.
So with toggle bolts and wallboard anchors in hand, I spent half an hour unintentionally making the relatively small holes from the ripped out drywall screws SO MUCH BIGGER (they just. kept. getting. worse! Like when you're trying to pop a small, but persistent pimple). When I gave up on the gaping holes, I drilled two more holes into the wall only to miss the stud once again. After all that, you better believe I hung that curtain rod. Want to know how?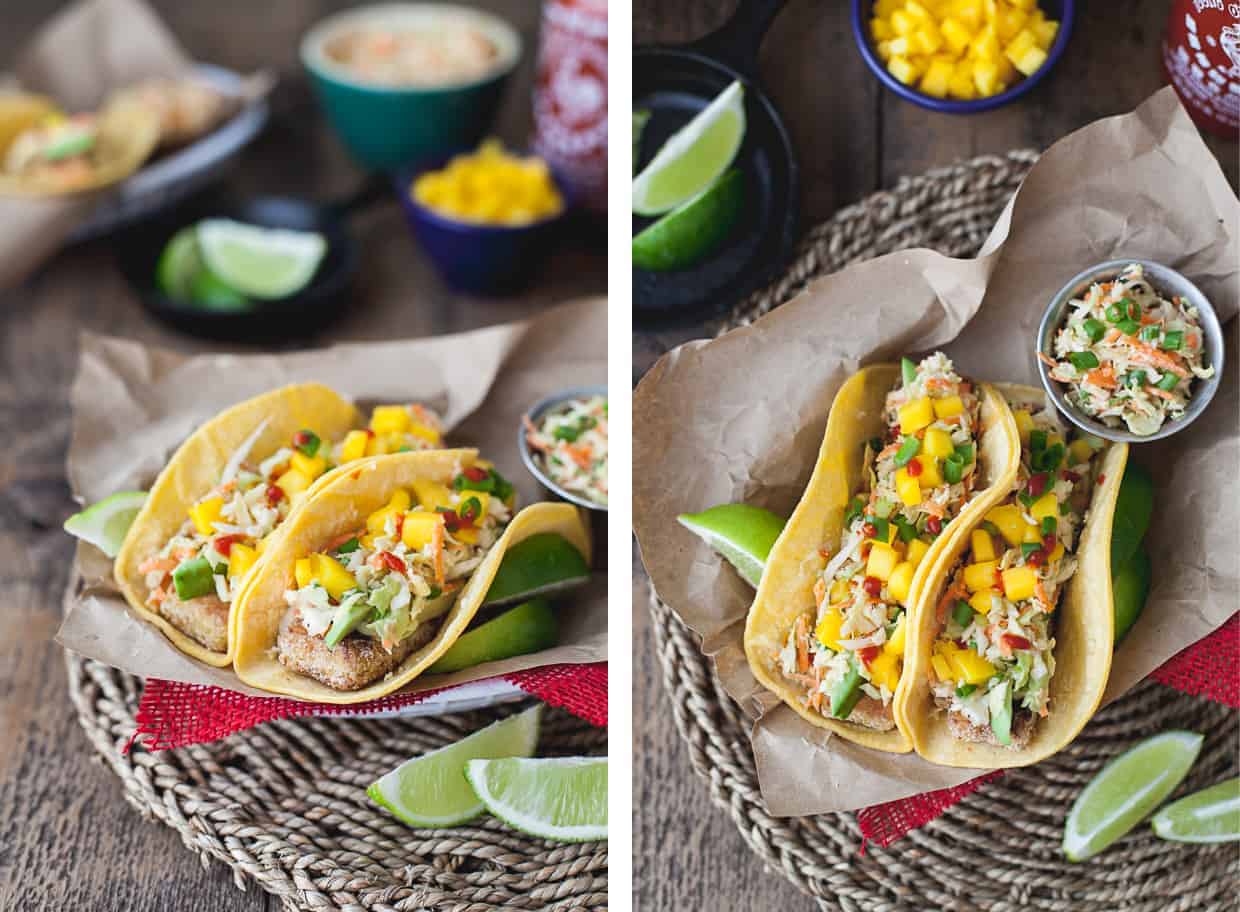 I called my neighbor Dave - the carpenter.
At least I've got one thing going for me: I can make a killer taco. When Lucas texted me "my wife's so handy" later that day I'm going to assume he was talking about my taco-making skills. Because these tacos are all that and a bag of chips. I shared this batch over lunch with Lila, who had to watch me spend 20 minutes taking pictures of them, but didn't complain at all because these tacos made up for every minute.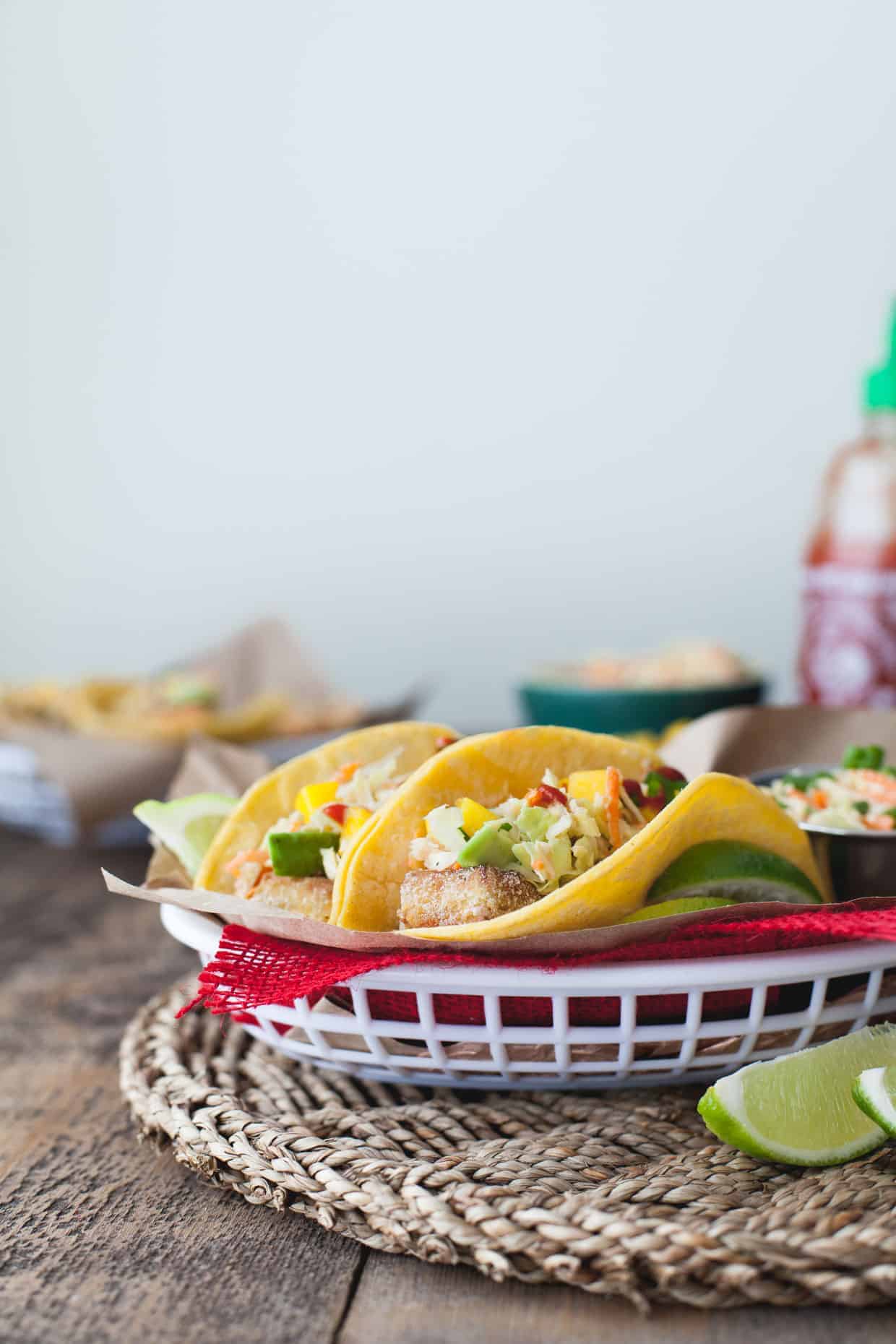 When firm tofu takes a buttermilk bath, it turns into a soft creamy texture that melts in contrast to the crispy fried shell. Topped with a lime jalapeno yogurt slaw to add a spicy tart crunch, these tacos taste like an upgraded baja fish taco. Except so much better because the buttermilk brine makes the tofu juicy. Chopped avocados and sweet mangos balance it all out to make a taco that's crispy, crunchy, creamy, juicy, spicy, tart, sweet, and fresh all at once. Tacos that'll make you forget your curtains are on the ground. 
Thanks for reading Snixy Kitchen! To stay up on what's coming out of my kitchen, follow me on Facebook, Instagram, Twitter, Bloglovin', Pinterest, or subscribe via e-mail to get new recipes right to your inbox.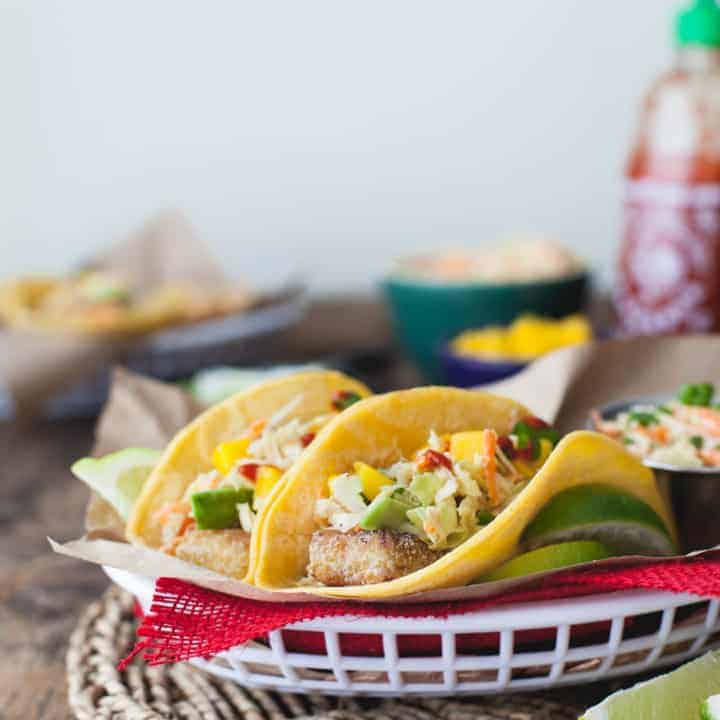 Buttermilk Fried Tofu Tacos with Jalapeno Lime Yogurt Cabbage Slaw
Ingredients
Tacos
12 ounce block of extra firm tofu, sliced lengthwise into 8 thin strips
1 mango, peeled and diced
1 avocado, sliced
8 corn tortillas
Sriracha, for serving
2-4 tablespoon vegetable oil (or safflower oil) for pan frying
Buttermilk Brine
1 cup buttermilk
1 tablespoon fresh lime juice
¼ teaspoon Sriracha
½ teaspoon salt
Breading*
¼ cup + 2 tablespoons brown rice flour
2 tablespoons millet flour
1 tablespoon corn starch
1½ tablespoons nutritional yeast
½ teaspoon salt
¼ teaspoon pepper
Jalapeno Lime Yogurt Cabbage Slaw
1 small head green cabbage, shredded
1 large carrot, shredded
¾ jalapeno, minced
¼ cup chopped scallions
¼ cup greek yogurt
3½ tablespoons fresh lime juice
1½ tablespoons honey
½ teaspoon paprika
Salt and pepper, to taste
Instructions
Mix all the ingredients of the buttermilk brine together in a medium mixing bowl. Place the tofu strips into the buttermilk bath, covering completely. Let sit for 30 minutes, while you prepare the breading and slaw.
Whisk together all the ingredients for the breading in a medium bowl and set aside.
In a large mixing bowl, toss the shredded cabbage, shredded carrot, minced jalapeno, and scallions. Add the yogurt, lime juice, honey, paprika, and salt & pepper. Toss well to completely combine. Taste and adjust salt and pepper. If you prefer spicier, add the last ¼ of the jalapeno, minced. Cover and refrigerate while you fry the tofu.
One piece at a time, take the tofu out of the buttermilk and dip it in the breading, gently tossing to cover the tofu completely with a thick coat of flour. Transfer to a plate while you prepare the rest.
Bring 2 tablespoons of oil to simmer over medium high heat in a cast-iron skillet. Working in batches if needed, add the tofu to the pan and fry until lightly golden brown, about 2-3 minutes. Use tongs to gently flip the tofu and fry until the other side is lightly golden brown, an additional 2-3 minutes. Transfer to a paper towel-lined plate to drain. Repeat until you've fried all the tofu.
Heat your corn tortillas in a dry non-stick pan for 1 minute on each side (or in the microwave).
Fill your tacos with 1 slice of fried tofu, avocado slices, slaw, and chopped mango. Top with a few drops of Sriracha, to taste.
Notes
*Substitute brown rice, millet flour, and corn starch with ½ cup all-purpose flour for non-gluten-free version