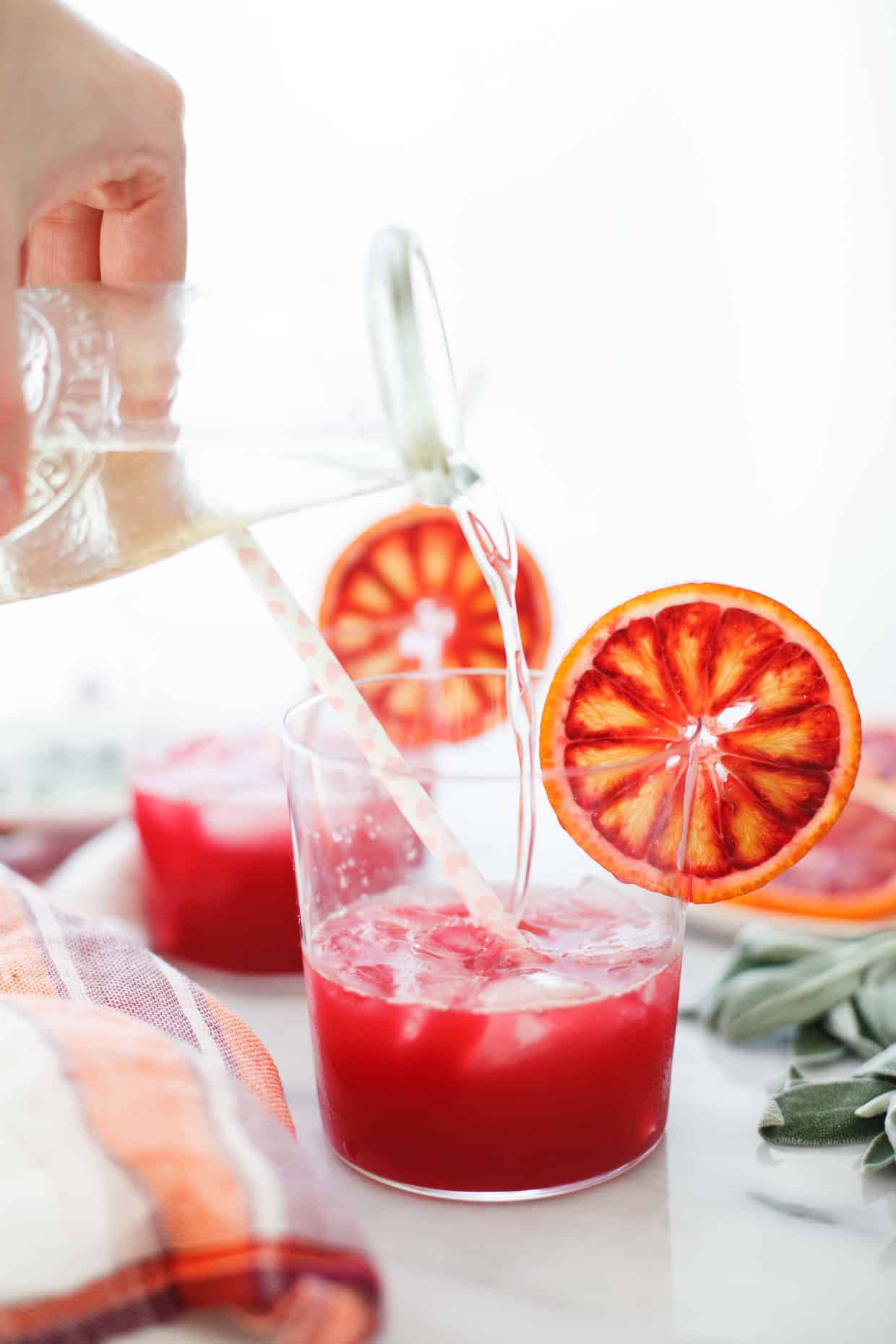 Our glassware cabinet is filled with mason jars and a few mismatched Ikea glasses that haven't broken yet. The great thing about mason jars is that they're virtually indestructible - if only I had a dollar for every time my slippery fingers dropped a glass in the sink. The paper-thin glasses holding this blood orange and sage sparkling soda are on the exact opposite end of the spectrum; dangerously lighter than disposable plastic crystal cut cups, they threaten to crumble if you grab just a little too firmly.
My non-rational side couldn't resist their delicacy, so I bought a pair and immediately filled them with something lovely before I had a chance to crush them with my superhuman grip.
Don't expect to see them again. There's a reason I can't have nice things.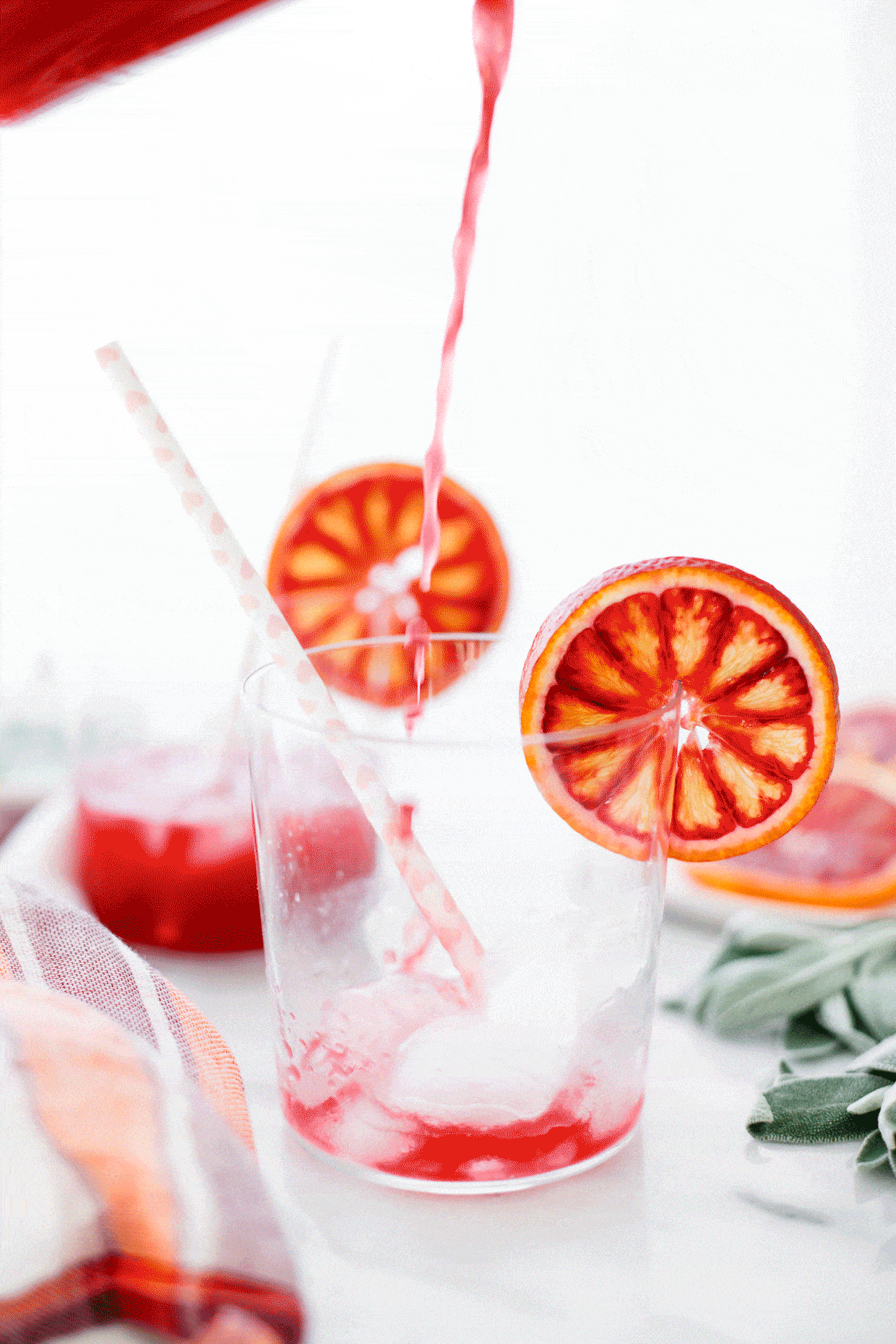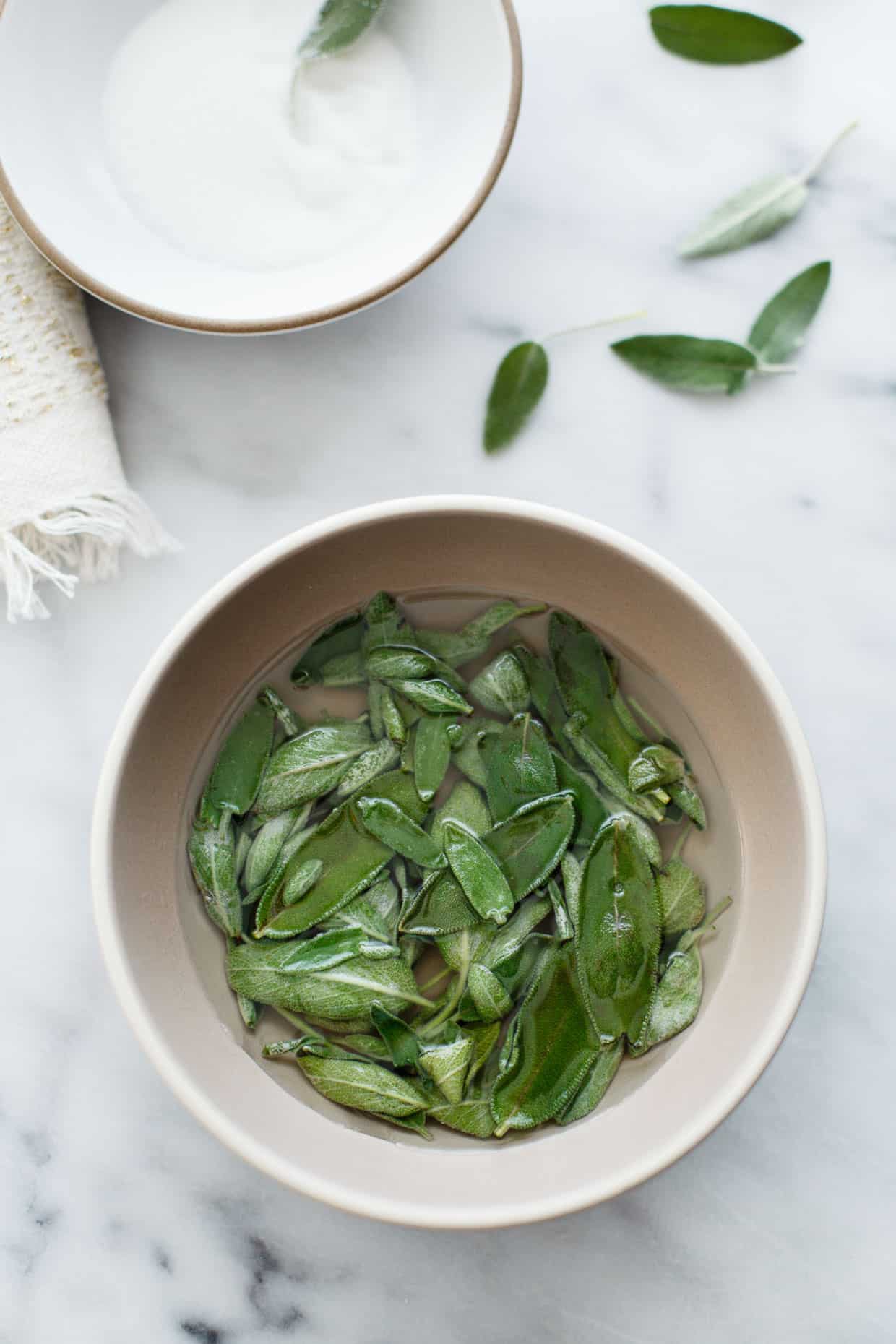 As an inexplicably clumsy person, I'm breaking all the rules drinking something so crimson in such a fragile glass. Back in high school, I earned a reputation for spilling food and drinks all over my best friend's carpet. If it could stain, I'd instantly turn into a bumbling oaf. After one too many Hawaiian Punch puddles on her bedroom floor (and bed), her parents bought me a sippy cup and banned me from taking drinks out of the kitchen without it. And they weren't joking.
To this day, I drink water out of a lidded cup with a straw and still manage to spill it down my shirt.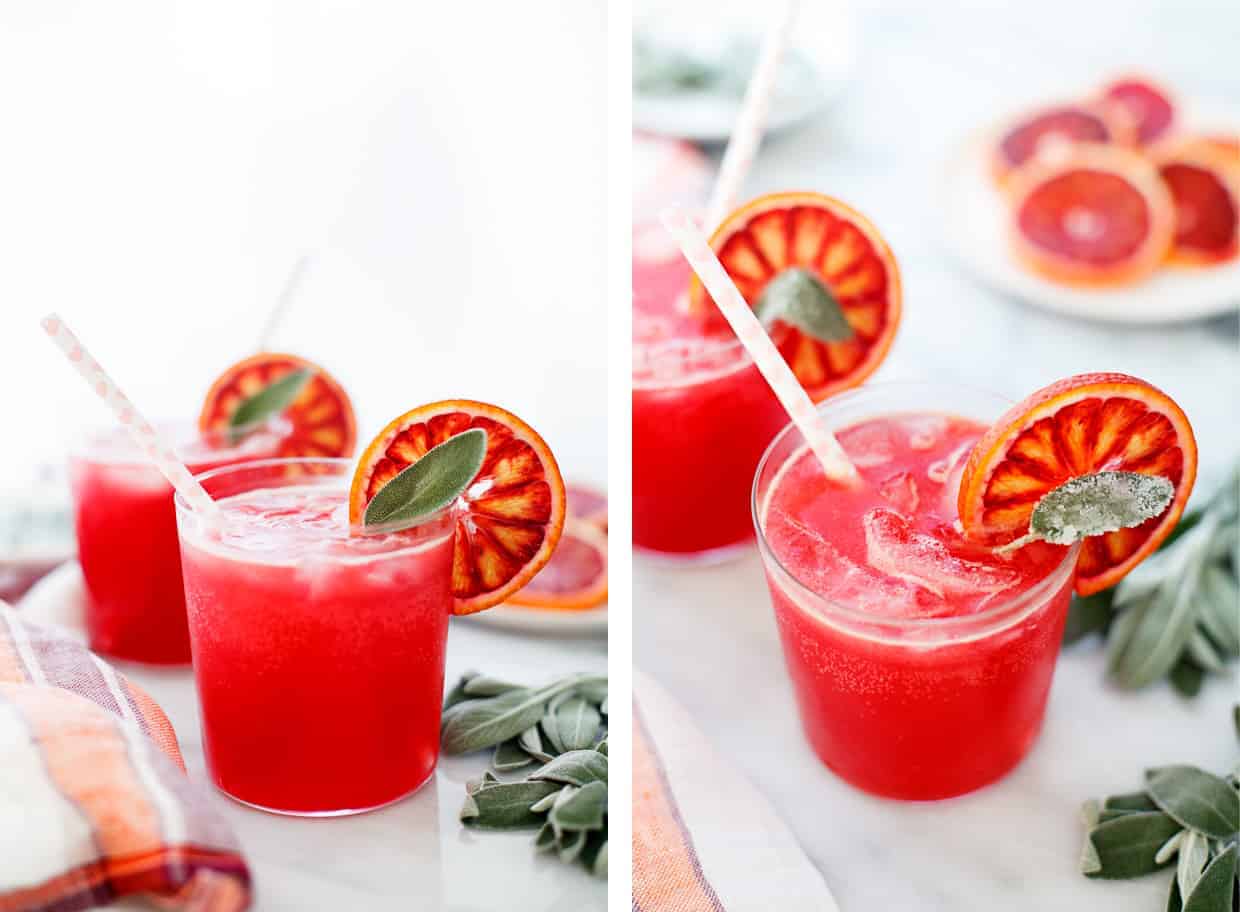 While this vibrant red soda looks a whole lot like Hawaiian punch, I assure you it's way more grown up and ambrosial. This is no youthful sippy cup soda. This deserves a delicate cup (with a straw so I don't actually have to pick it up). It's bright and tart, with a bit of bubbly. The sage simple syrup softens each sip with an unexpected earthy sweetness. To finish it off, I candied the sage from the simple syrup as an aromatic garnish.
Dear Fruit, meet your new best friend Sage. (Scroll down for the recipe)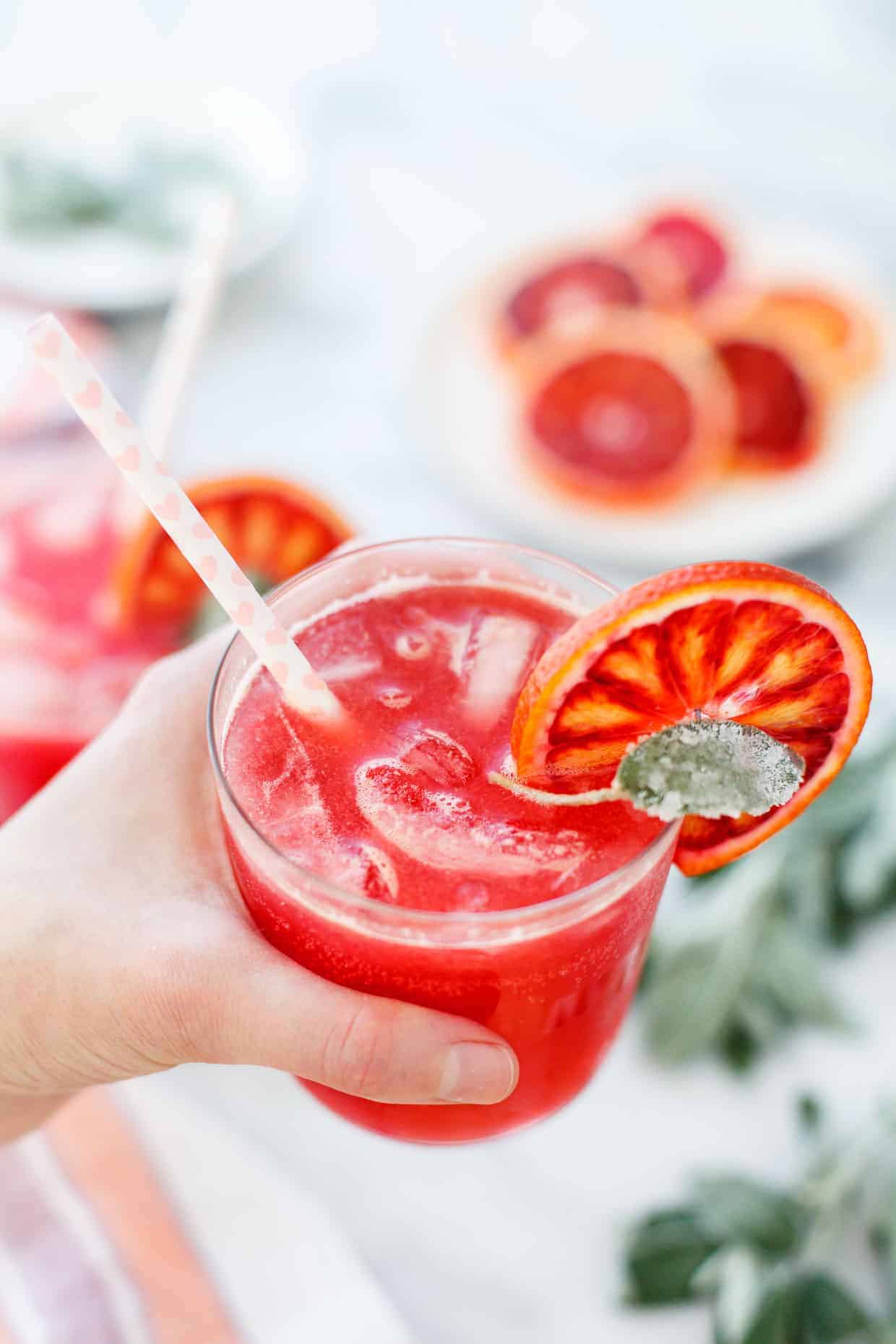 Thanks for reading Snixy Kitchen! To stay up on what's coming out of my kitchen, follow me on Facebook, Instagram, Twitter, Bloglovin', Pinterest, or subscribe via e-mail to get new recipes right to your inbox.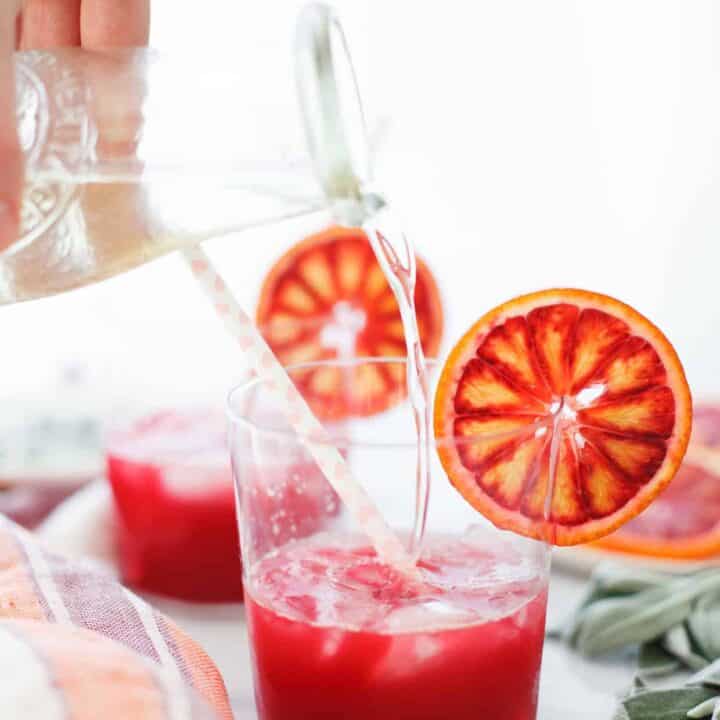 Blood Orange and Sage Sparkling Soda
Ingredients
¼ cup sugar, plus more for candied sage garnish (optional)
¼ cup water
¼ cup fresh sage
1 cup ice
1 cup freshly squeezed blood orange juice (from about 4-5 blood oranges)
1 cup seltzer water
Instructions
In a small pot, stir together the sugar and water. Heat over medium-high heat until the sugar just dissolves, about 5 minutes.
Remove from heat and stir in the fresh sage. Steep for 15-20 minutes.
Strain the sage simple syrup into a small cup, reserving the sage to candy as a garnish (optional).
(Optional). One piece at a time, dip a soaked leaf of sage in a small bowl of sugar, covering both sides of the leaf with sugar. Transfer to a plate to dry. (It takes a few hours to harden, so if you're hoping to have this as a garnish, prepare the sage simple syrup in advance).
Divide the ice between two cups.
Pour ½ cup of freshly squeezed blood orange juice into each glass.
Pour 2-3 tablespoons of sage simple syrup into each glass (you can always add more, depending on how sweet you like it).
Top off each glass with ½ cup of seltzer water.
Garnish with candied sage and a blood orange slice.