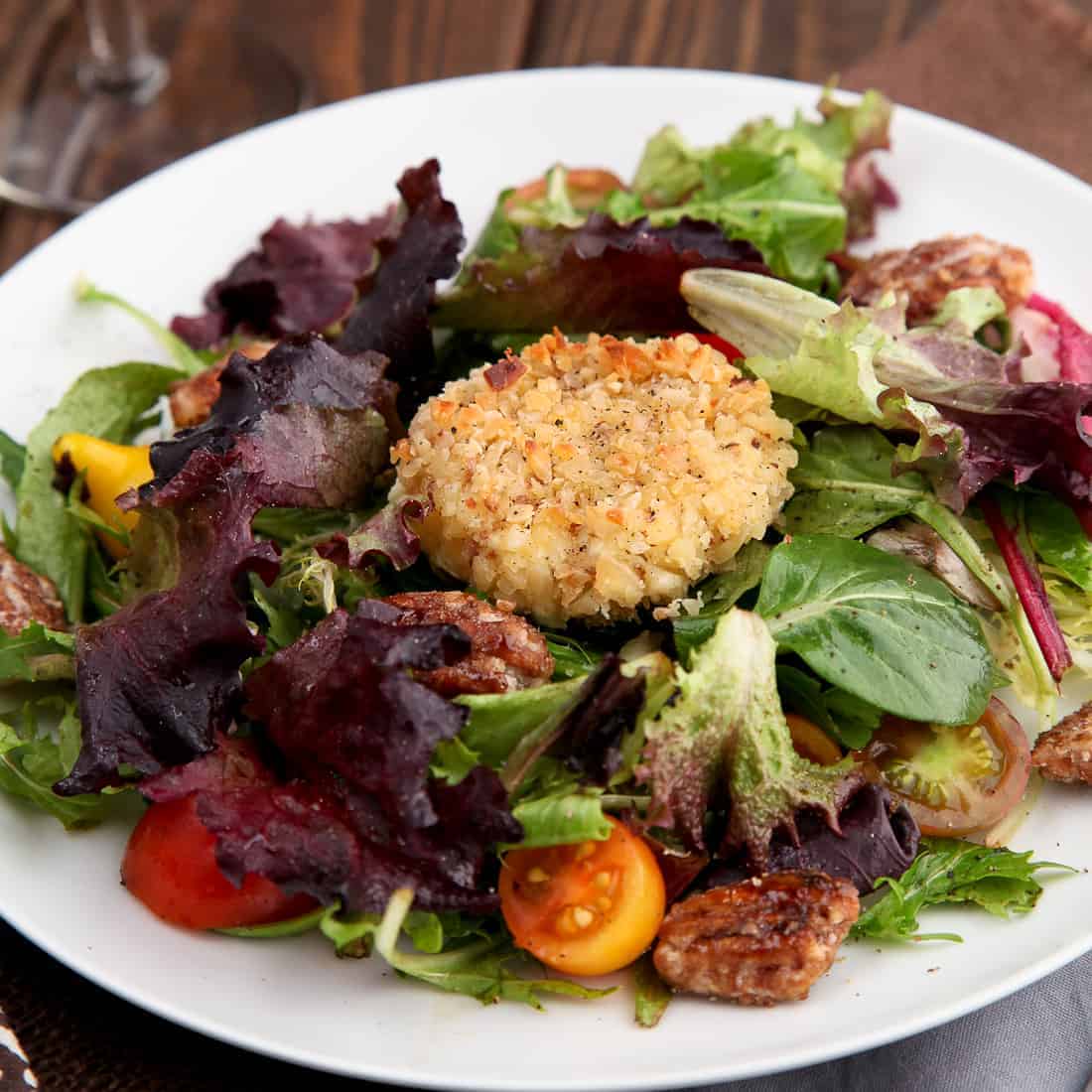 My elementary school soul mate got married few weeks ago. The kind of soul mate that pretends to taste the broccoli you're eating just by holding your hand. You know, the kind that will spend all recess walking in circles with you around the roots of the giant oak tree in the school yard secretly passing you Cheetos so the other girls don't see and ask for some too. The normal kind of elementary school soul mate.
With Lucas in China, I brought my mom as my date. One of the groom's friends apparently overlooked the diamond on my finger and spent the evening calling me his very best friend with lots of awkward hugs. When he pulled me out to the dance floor, I dragged my mom out there with me. Problem solved. Until Michael Jackson turned to Marvin Gaye and this persistent fellow cut in on my slow dance with mom.  She didn't even put up a fight! She just sat down and spent the next four minutes laughing hysterically as I writhed in pain. Just as the song ended and my inebriated friend finished gushing about his new-found love for me, I spit out, "I'm engaged." And with that, Mom and I called it a night, giggling the whole way home.
We met my brother's girlfriend and her cousin for dinner the next evening, and when the waiter came to greet us, I could barely make eye contact. My touchy-feely best friend from the wedding was standing two feet from me asking for my drink order. When we'd all placed our orders without any acknowledgment of the night before, mom couldn't contain herself any longer. With a giddy grin she asked, "did you have fun last night?" Zoom in on his face turning fire engine red, "oh...heh...heh...you were there?" Super. Uncomfortable. Getmeoutofhere. And you know what? Hurtful. I thought I made a pretty stellar best friend the night before and he just forgets me less than 24 hours later? Who does that? Honestly.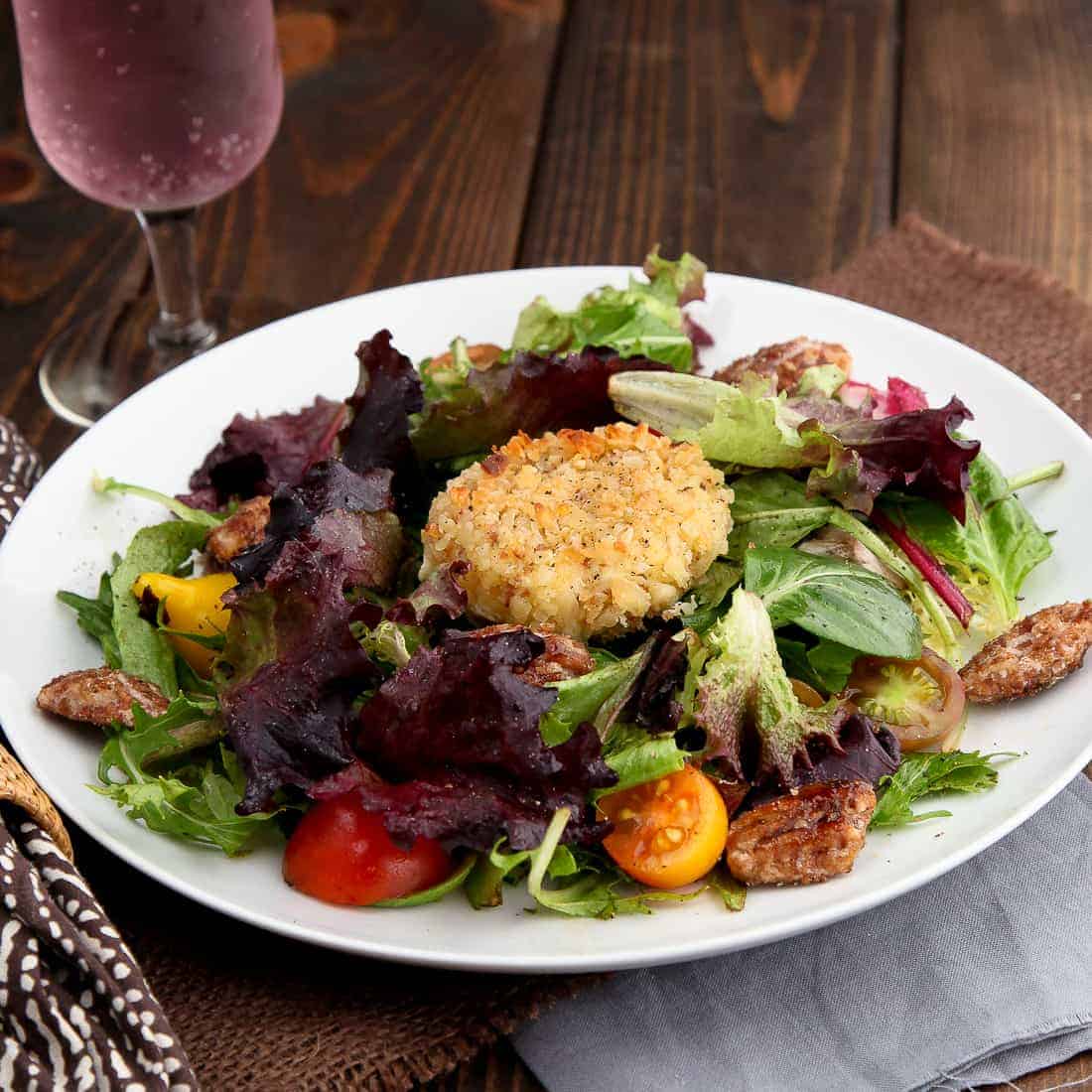 So what if you substituted the gorgonzola crumbles on my salad for  warm almond crusted goat cheese? I'm still hurt...Oh wait. Hold the phone. This goat cheese is phenomenal. I'll forgive you. Even if you hadn't just bought my mom a glass of "I'm sorry you had to put up with me" wine. Totally unnecessary. The goat cheese redeemed you. This stuff is powerful.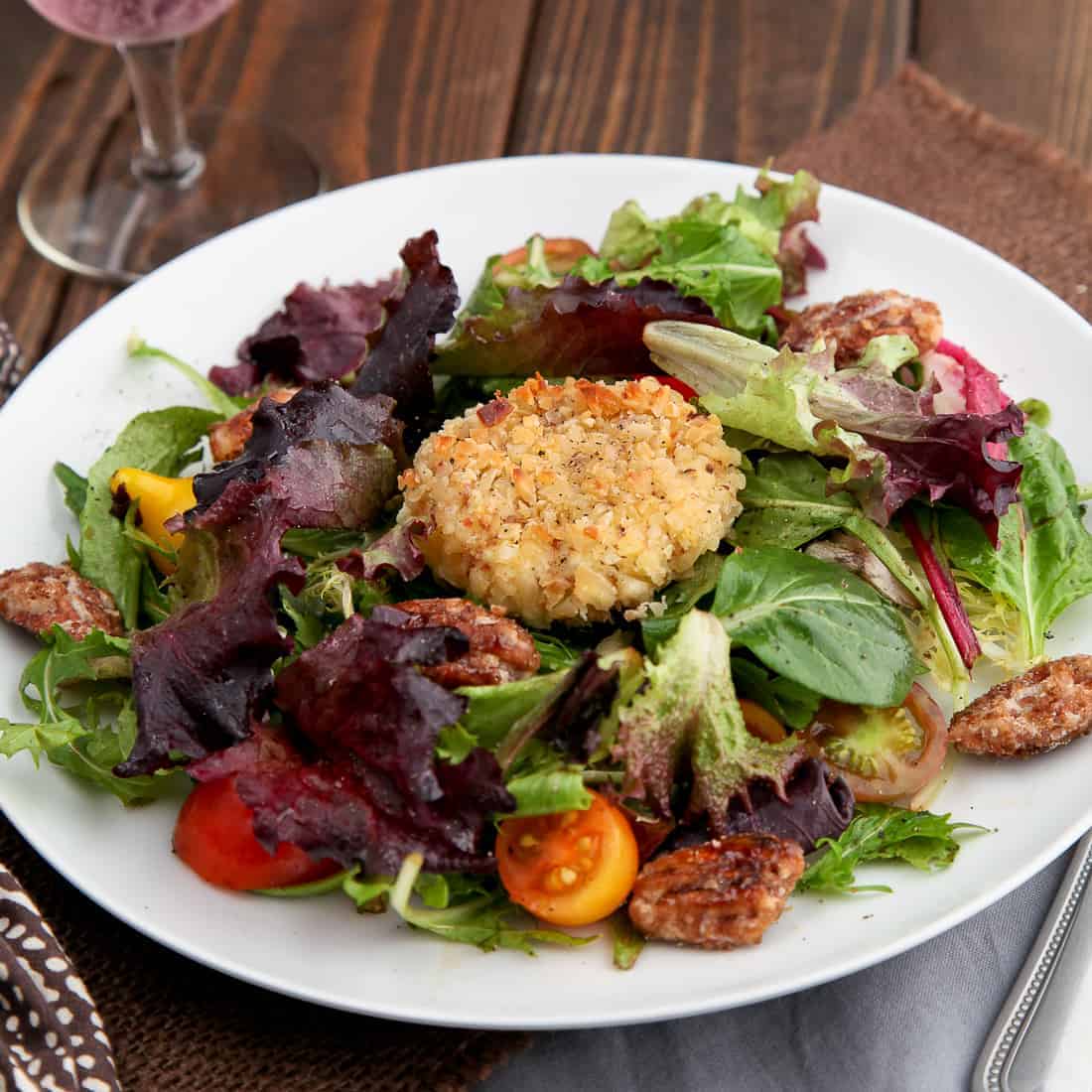 Naturally, the next time we had company for dinner I had to make my own almond crusted baked goat cheese rounds. And about five bites into the salad, Alex shouted "Woah, goat cheese?! Dang, this salad is GOOD!" A spontaneously delayed reaction to his first taste of the killer medallion of hot cheese. A crispy almond shell a with smooth warm goat cheese center that melts in your mouth. So crazy good that it's dangerously easy to eat half a log of cheese all by yourself. Add mixed greens, candied pecans, and cherry tomatoes and your taste buds will do somersaults and cartwheels with every forkful.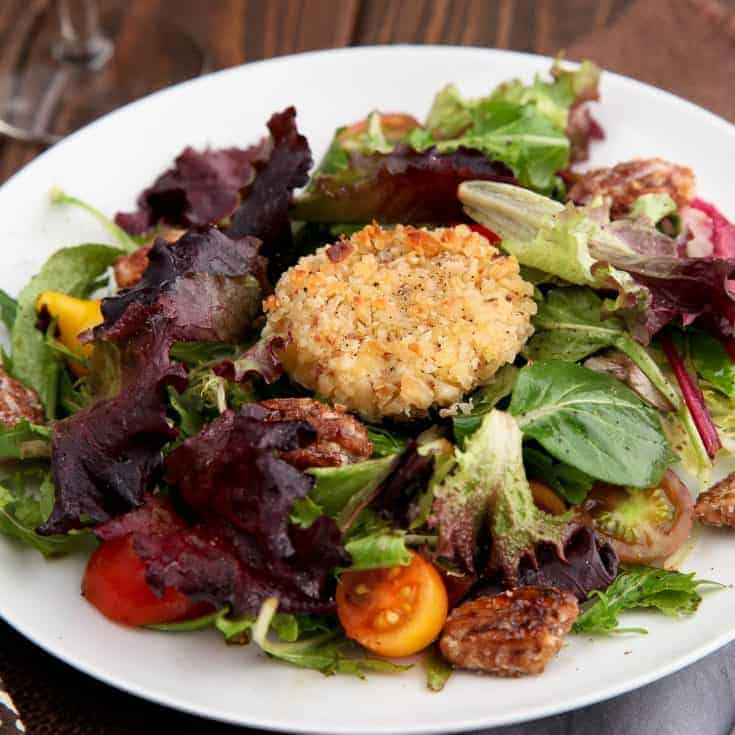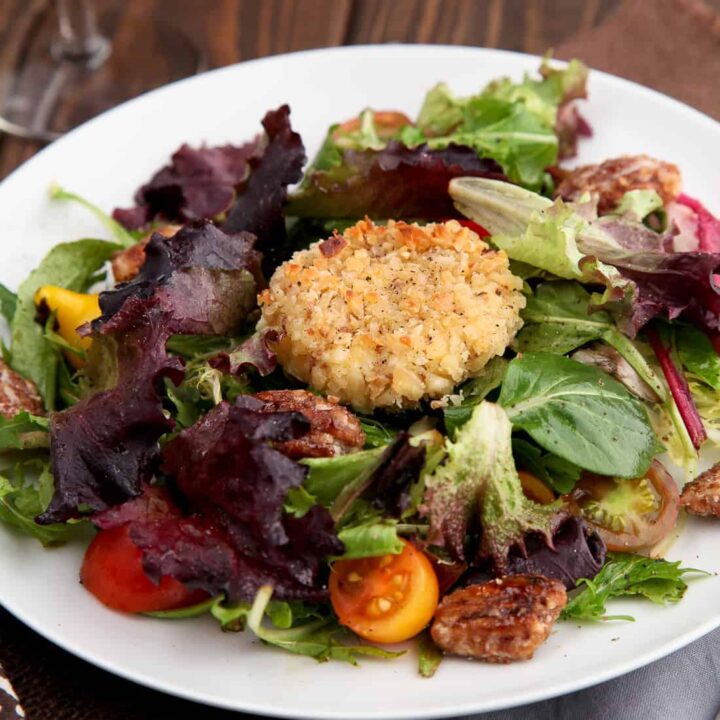 Almond crusted baked goat cheese medallions
Baked goat cheese medallions encrusted with almonds - perfect served warm over salad greens!
Ingredients
1 6-ounce log of chilled goat cheese, sliced into 6 rounds
1 egg
1 tablespoon water
½ cup almond meal
½ cup sliced almonds, coarsely chopped by hand or with a food processor
Instructions
Preheat the oven to 350ºF.
Whisk together the egg and water.
Spread the almond meal over a plate, and coat each goat cheese round with almond meal.
Dip each round in the egg wash and then roll in the chopped almonds to coat.
Place each round on a parchment-lined baking dish.
Bake for 10 minutes. Turn the over to broil, and broil on the top rack for 2-3 minutes, until the almonds turn golden brown.
Serve over mixed greens (preferably with candied pecans, tomatoes, and a balsamic vinaigrette).