The thing about living only a short drive from your parents is that when it's time for a visit, you can just throw your whole closet & kitchen into the car and go. Yeah, I said kitchen. Since I got a KitchenAid stand mixer long before my mom upgraded her 70's-era JCPenny stand mixer (from their wedding), I'd go so far as to pack up my KitchenAid stand mixer along with about 10 different flours for all our holiday baking (also - how else could we make blackberry basil ice cream?).
But really - is it any different than my brother bringing home his skis and boots? My hobbies require proper equipment.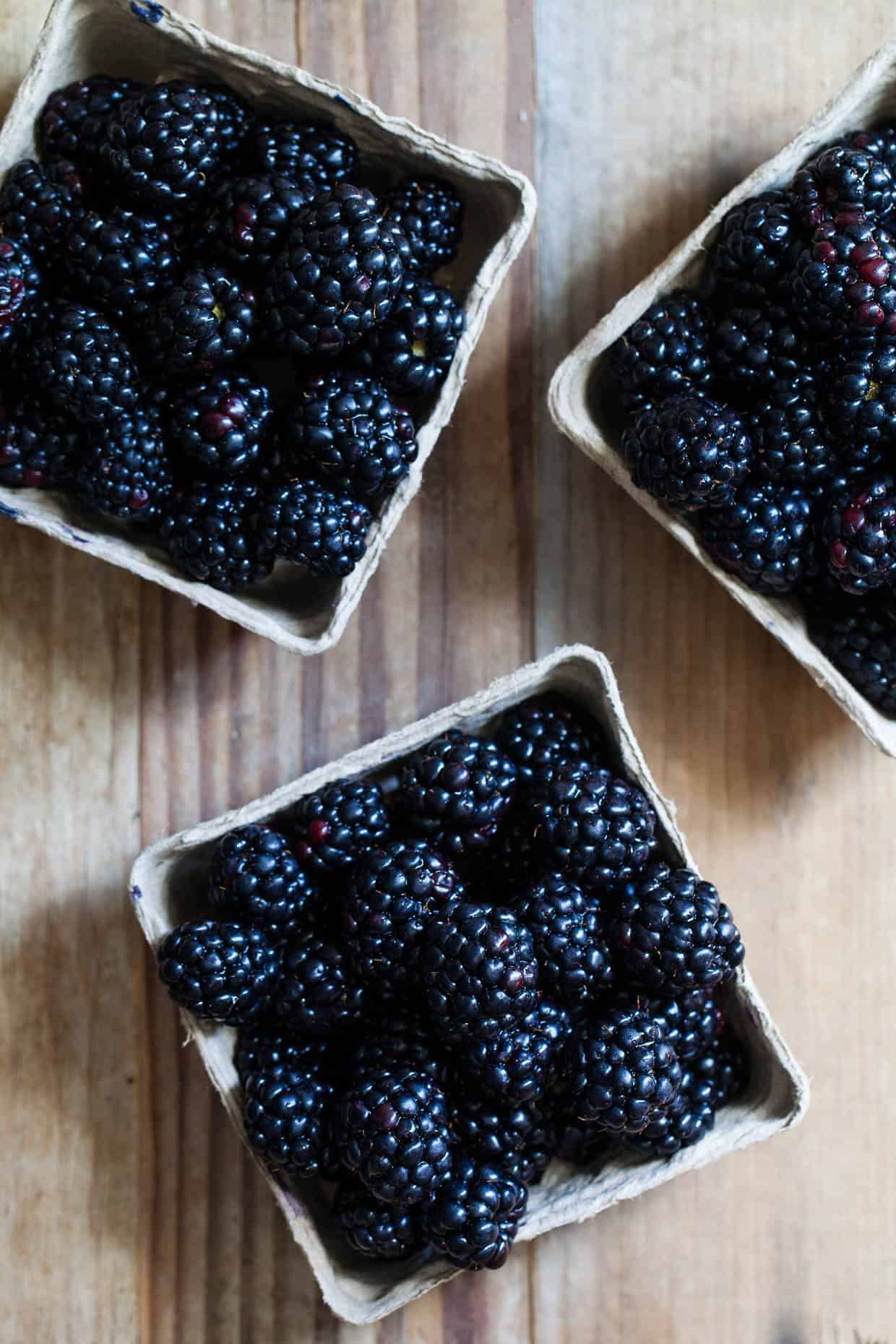 Fortunately, my mom finally got herself a KitchenAid stand mixer complete with the ice cream maker attachment this year, so I look a little less ridiculous when I show up for the holidays (stay tuned for your chance to win your own KitchenAid stand mixer and ice cream maker at the bottom of this post).
Homemade ice cream is a tradition for every summer gathering in my family - one that involves a vintage wooden ice cream maker, crushed ice with salt, and a loud churning noise that hums as the soundtrack for the party. Many hours later, we'd end up with vanilla "ice cream" that really was more like soft serve than ice cream, and had a distinct non-ice creamy flavor all on its own. For nostalgia's sake, I loved it, but it definitely wasn't the creamy scoopable homemade ice cream we make now.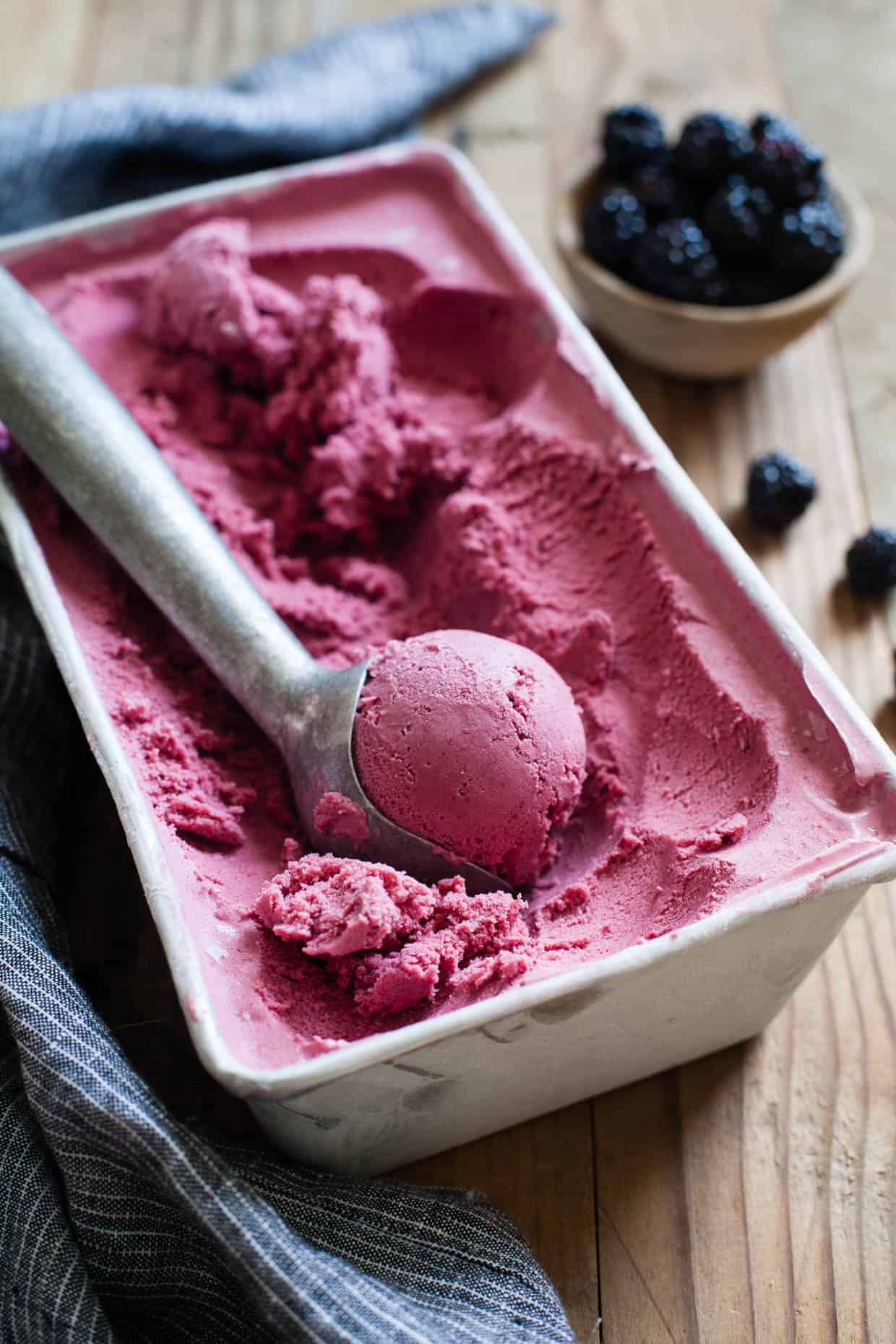 For the first family gathering of the summer a couple of weeks ago, my mom finally pulled out her new KitchenAid ice cream maker. She wanted to use up her apricots, so I wrote up a recipe for apricot lavender ice cream. She made that batch and was so into it that she went to town, making two more flavors totally on her own with the same ice cream base.
I brought chocolate cupcakes to the party and they were (rightfully) totally upstaged by her trio of summery ice creams. Watch out - my mom might open up an ice cream parlor from her kitchen. If you've got a good base, you can throw your choice of flavor profiles on top and trust it's gonna be good.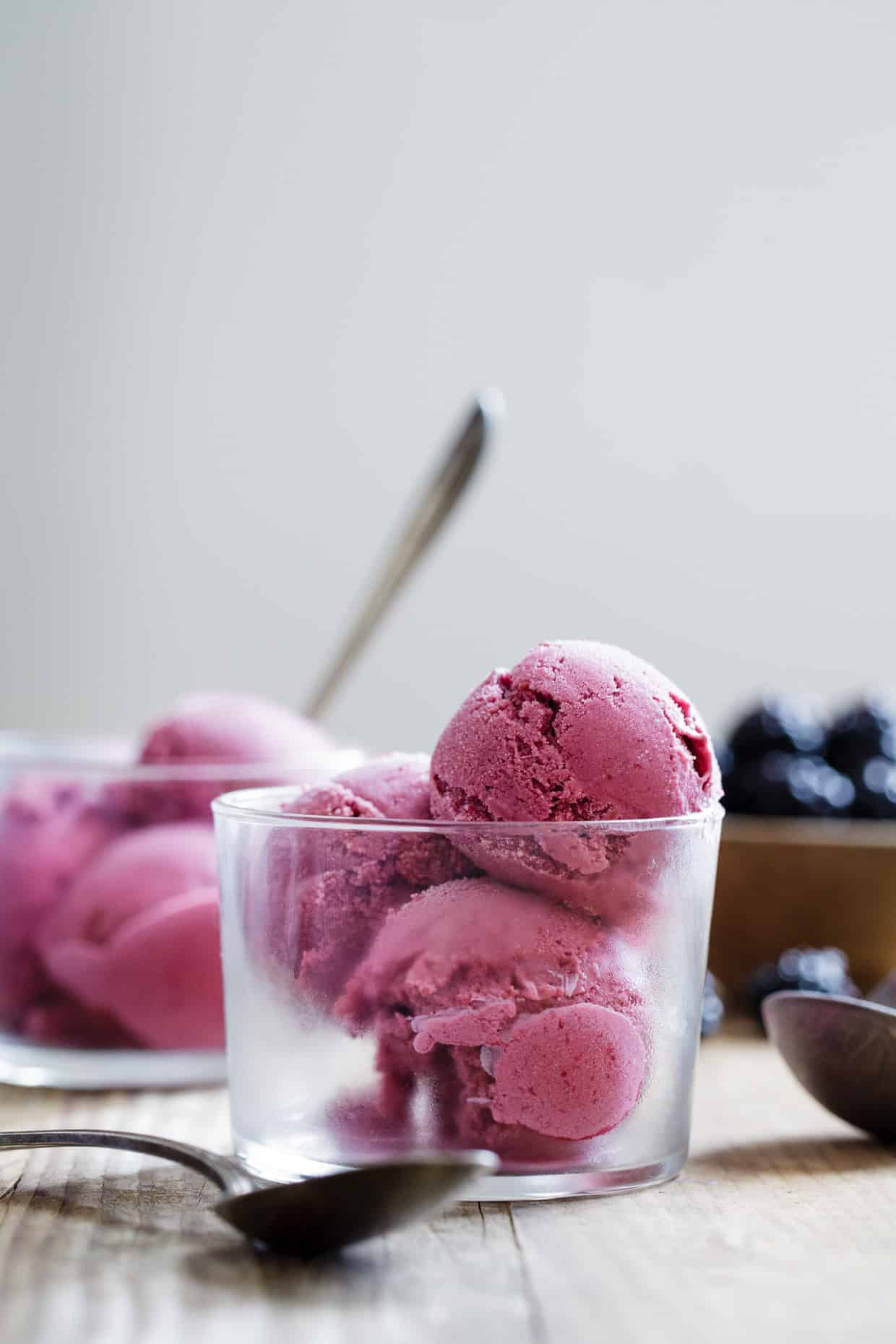 Lately I've been all about this vegan coconut cream base. It's so insanely creamy, no one will suspect it's dairy free. When I gave Lucas a bite of this blackberry basil ice cream this is what happened:
Lucas: Yeessss! Woah, so creamy.
Me: And you can't even taste the coconut, right?
Lucas: Wait - this is vegan?!
+10 points for this ice cream.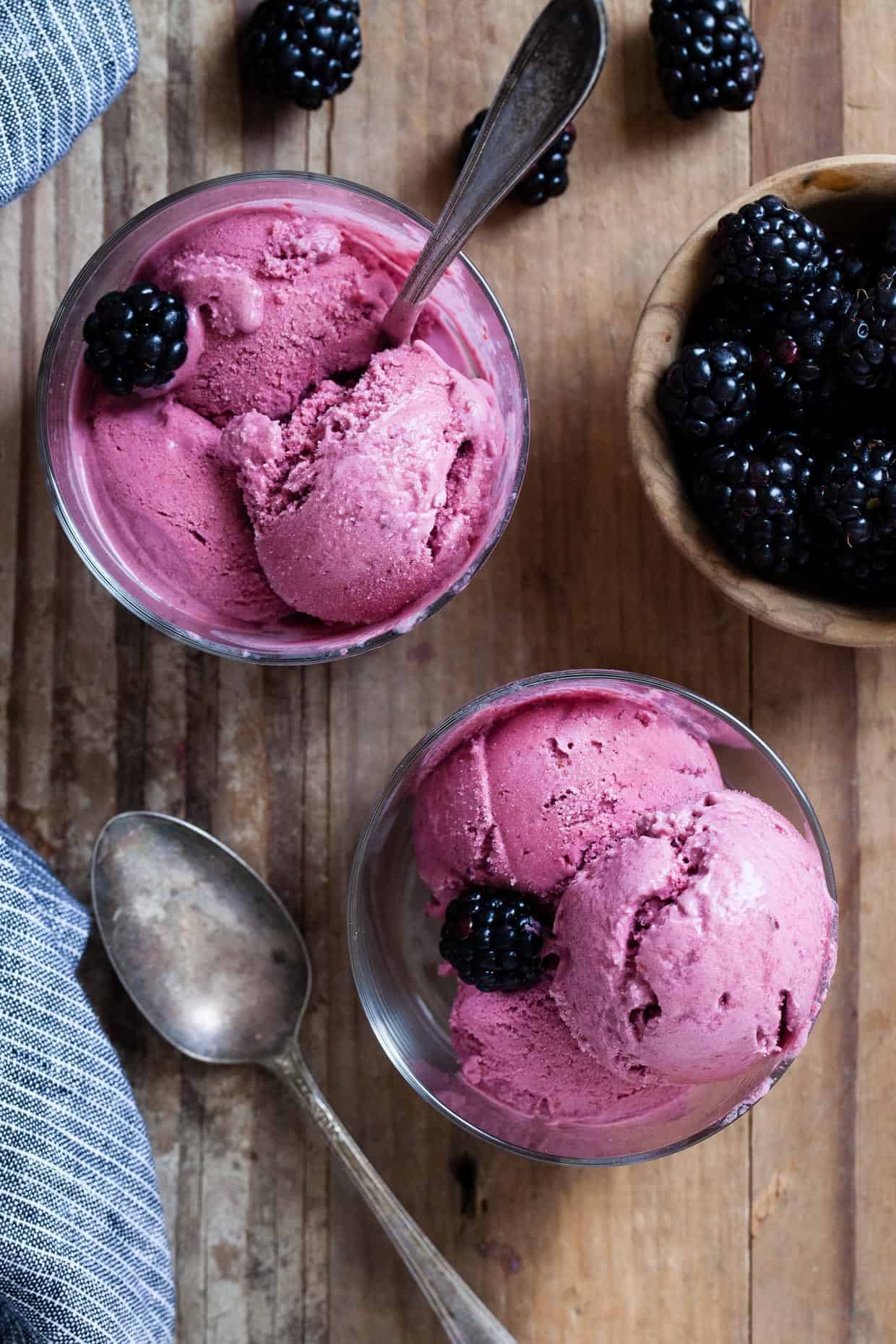 This variation pairs ripe blackberries with a sweet and slightly bitter herby basil hint to offset the sweet summer berries. The basil is infused into the coconut cream and strained, with a few leaves blended in with the blackberries. If you're like me, you might find yourself eating 6 small scoops for lunch (followed by three cookies from Alanna's upcoming cookbook). This is my summer diet.
Here are 6 more ice cream recipes to make this summer: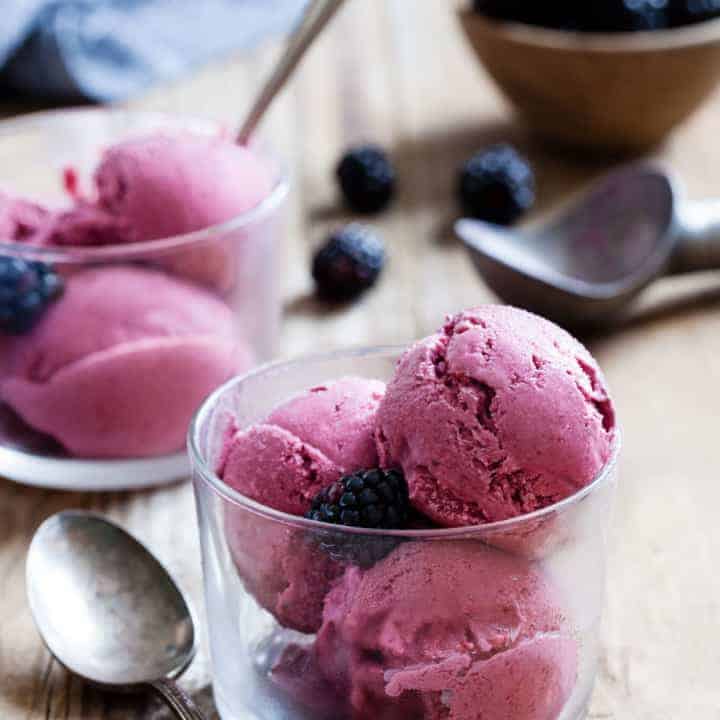 Vegan Blackberry Basil Ice Cream
Instructions
Place the blackberries in a blender and set aside while you infuse the coconut cream with basil.
Warm the coconut cream, coconut milk, sugar, basil, corn syrup, and coconut oil in a medium pot over medium heat, stirring occasionally. When the cream begins to simmer, remove the pot from heat. Cover and let the mixture steep for 20 minutes.
Meanwhile, prepare an ice bath by filling a large bowl with ice cubes and water.
Strain the mixture, pressing as much liquid out of the basil leaves as possible. Add ½ tablespoon of the strained basil to the blender with the blackberries and purée until completely smooth. If your purée still has seeds in it, press the purée through a fine-mesh sieve (a high-powered blender will pulverize the seeds).
Pour the cream into the blender with the blackberries and pulse until combined.
Pour the puréed mixture into a large 1-gallon Ziploc bag. Seal it and submerge the mixture in the ice bath until cold, about 30 minutes.
Pour the blackberry ice cream base into the bowl of your pre-frozen ice cream maker. Follow the directions on your ice cream maker to churn the base into ice cream, until it is the consistency of soft-serve, about 18 minutes.
Pack the ice cream into an air-tight storage container or a metal loaf pan, pressing a sheet of parchment paper directly against the ice cream.
Freeze until firm, at least 4 hours, but preferably overnight.
Notes
I do not recommend using the coconut cream from Trader Joe's as they seem to have updated their supplier and the new consistency is a bit oily.

Disclosure: I was not compensated to write this post. KitchenAid is generously providing the KitchenAid stand mixer and ice cream maker attachment for one reader. As always, the opinions expressed here are solely my own.