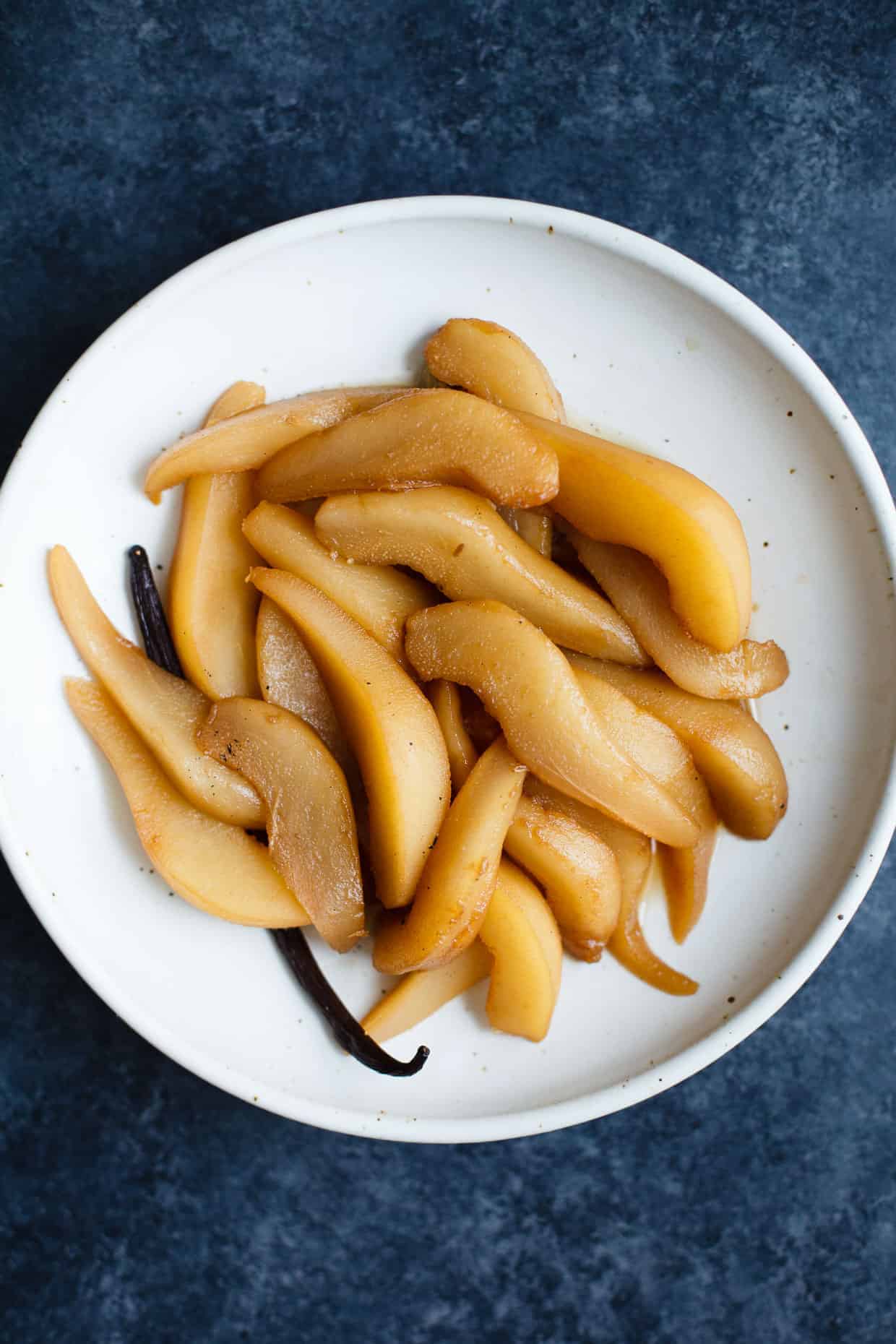 Last week I promised I'd share the sweet variation of my amaranth waffles next, but then I made the most ridiculous (and delicious) waffles that it was just too much to share in one post without cueing major eye rolls: gluten-free sweet amaranth waffles with spiced chai poached pears, chai pear syrup, and candied popped amaranth. So let's take it one step at a time and do what I did in real life: poach the pears and reduce the pear syrup ahead of time in preparation for epic waffles. We'll waffle again soon.
With a vengeance.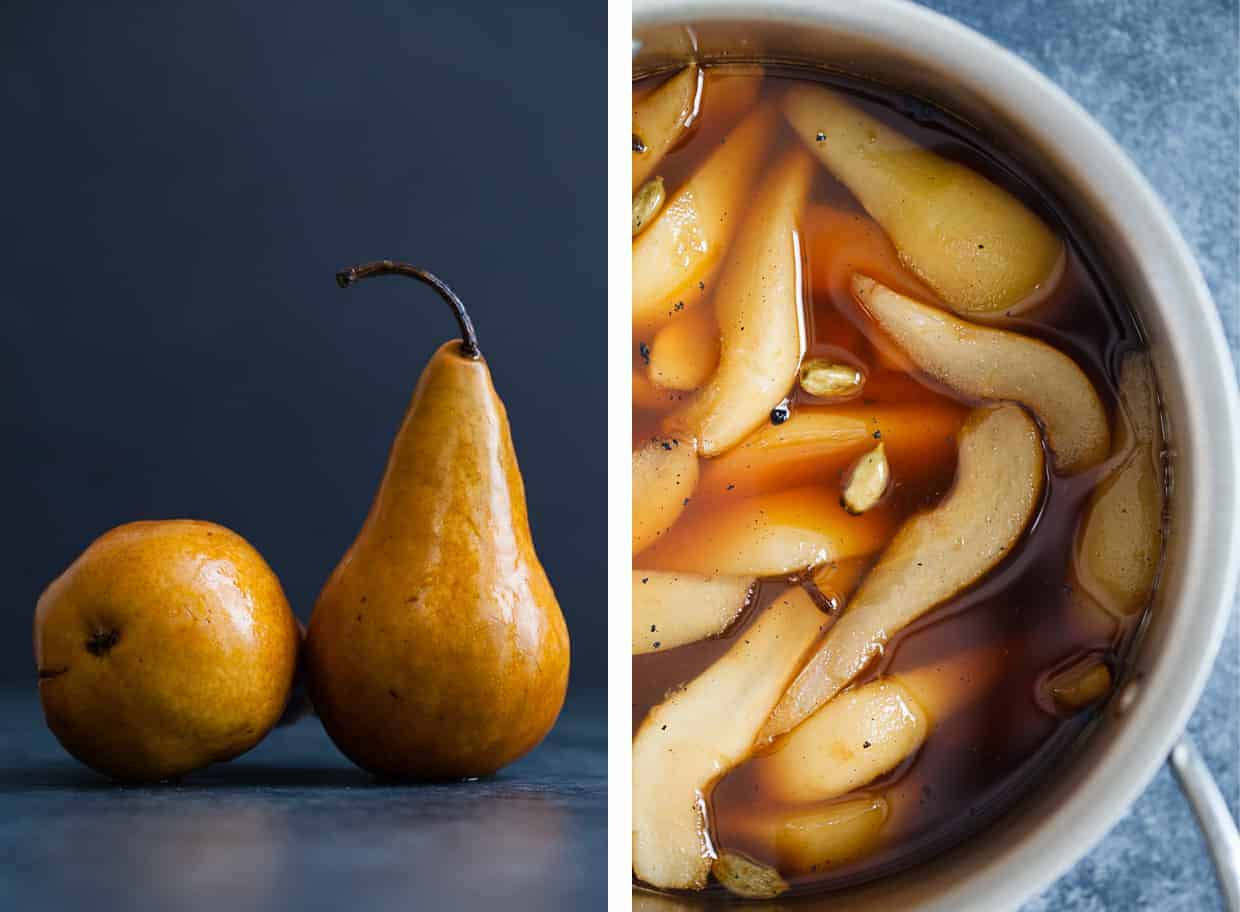 On the day her cookbook shipped, Alanna showed up at my house with a FULL tart just for me boxed up with the sweetest thank you card. It was her big day and she was bringing me presents?! What is this insanity? Pears poached in smoky lapsang souchong tea nestled in a delicate custard bundled up in a chestnut crust. It was insane delicious with hints of banana notes and I ate the whole thing.
Inspired by her use of tea instead of wine to poach the pears, I mulled these spiced chai poached pear slices as the topping for my sweet amaranth waffle variation (coming soon!). With a balance of traditional masala chai aromatics - from ginger to cinnamon to fennel seed to black peppercorns - these pears are spicy and roasty and sweet and warm and I want to put them on all the fall things.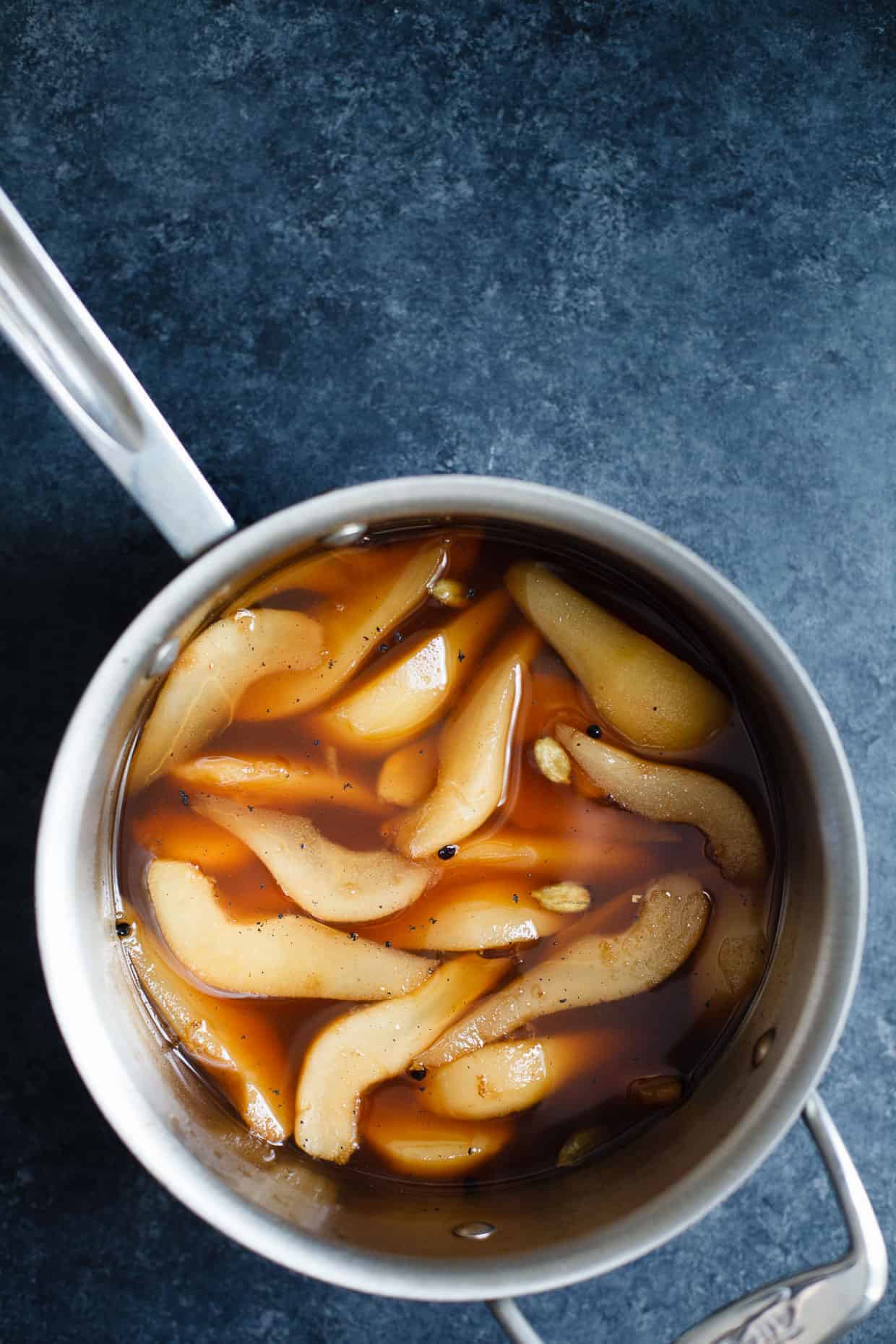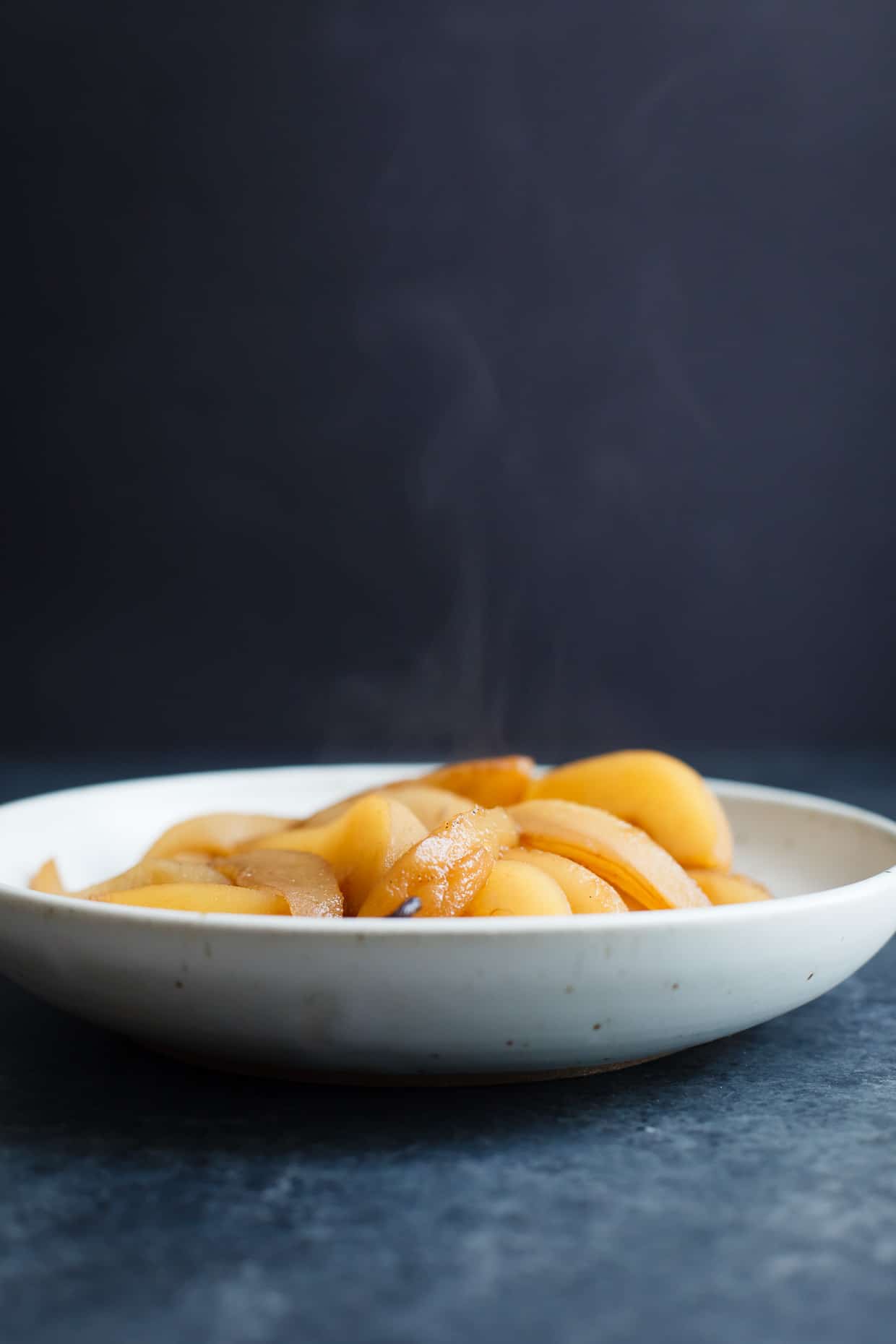 As I was typing up the recipe a second ago, Lucas came in the room and said, "I like how you're sitting there alone smiling at yourself right now, Sarah."
These pears are so damn good that the mere thought of them - pears brewing in black tea with vanilla beans, ginger, cardamom, etc. - MAKES ME SMILE when no one is watching.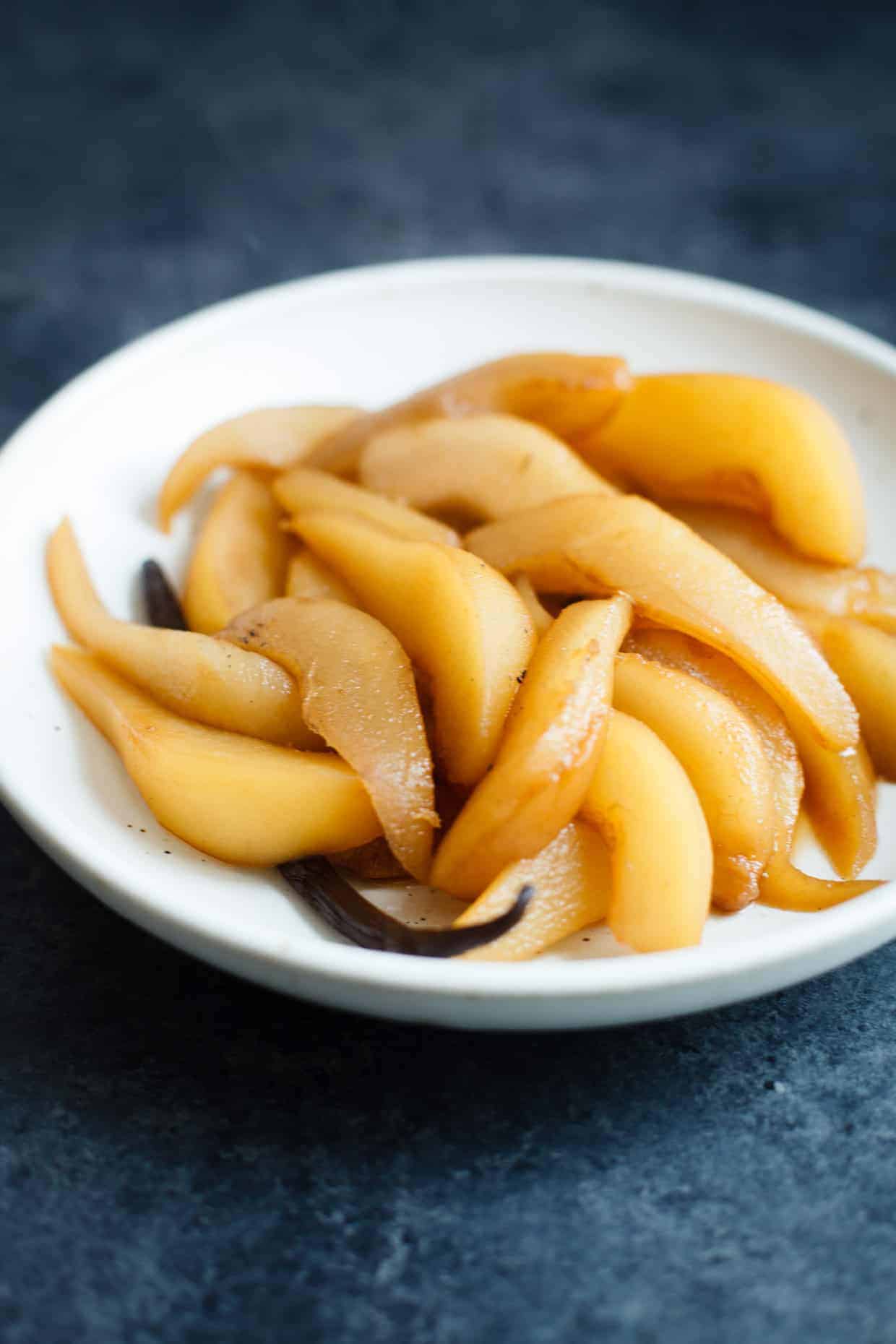 While you could certainly poach the pears whole or halved, I sliced them before poaching to deeply infuse each bite with spice. When the pears were fragrant and soft, I ladled them out and reduced the poaching liquid into a chai pear syrup that is - dare I say - better than honey or maple syrup. Serve the pears atop waffles or yogurt or vegan vanilla bean ice cream or even vanilla bean haupia. Then douse it all in a drizzle of chai pear syrup.
I highly recommend stacking the pears up with crispy amaranth waffles. Todd and I made lettuce wraps and scheduled the post for next week though, so we'll prep pears, then lettuce wraps, THEN waffles. We will get to the waffles, though, I promise. And they're so worth the wait.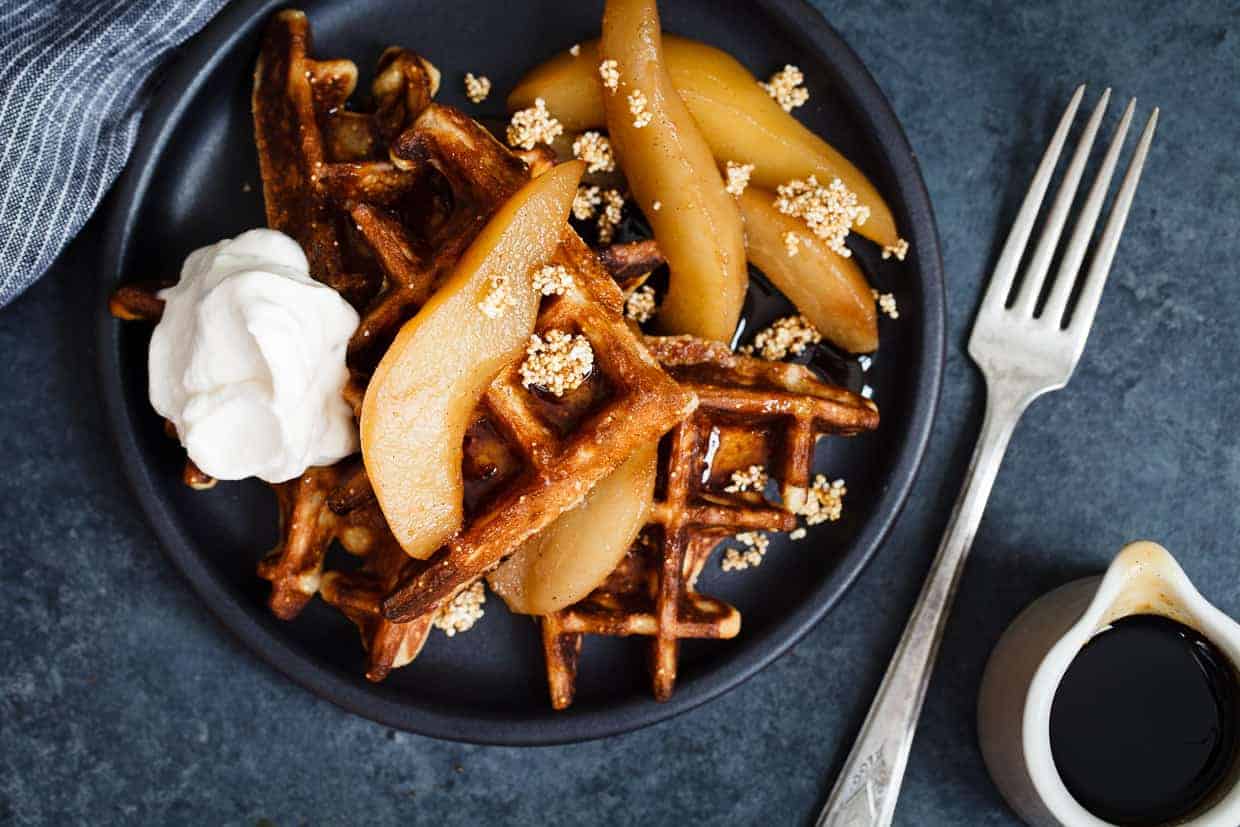 Thanks for reading Snixy Kitchen! To stay up on what's coming out of my kitchen, follow me on Facebook, Instagram, Twitter, Bloglovin', Pinterest, or subscribe via e-mail to get new recipes right to your inbox.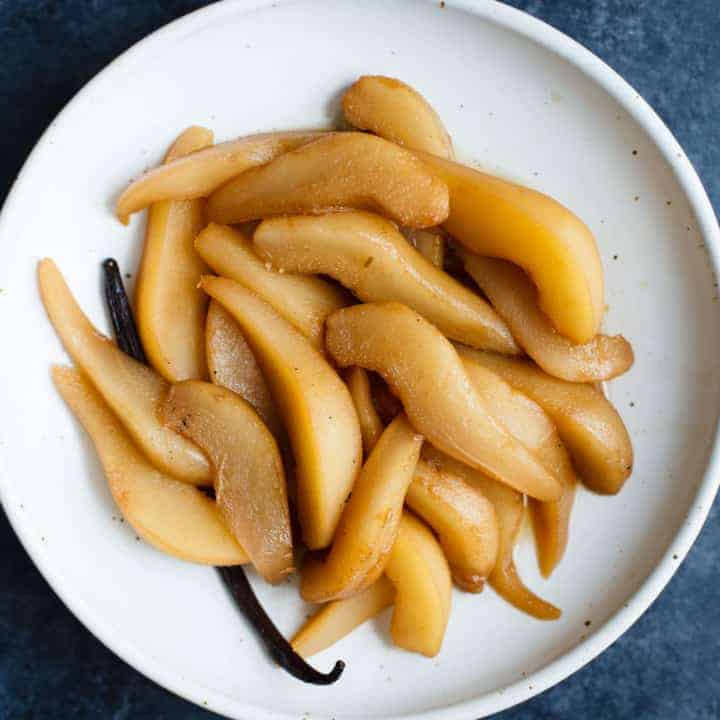 Spiced Chai Poached Pears & Pear Syrup
Yield:
4-6 servings of poached pear topping and ⅓ cup syrup
Ingredients
3 cups water
½ cup sugar, divided
2 black tea bags (I used breakfast tea)
1 vanilla bean pod, sliced and scraped
3 dime-sized slices ginger
3 cardamom pods, smashed
1 cinnamon stick
3 whole cloves
¼ teaspoon whole peppercorns
⅛ teaspoon whole fennel seeds
2 pears, peeled, cored, and sliced into eighths
Instructions
Combine water, ¼ cup plus 2 tablespoons sugar, black tea bags, vanilla bean seeds and pod, and all spices in a large pot and heat over medium heat and bring to a boil.
Add the pear slices and reduce heat to medium low. Cook for 15 minutes until the pears are soft when pricked with a fork. Remove pears with a slotted spoon and set aside.
Add remaining 2 tablespoons of sugar and increase heat to medium-high and cook, stirring, until it syrup thickens, about 3-5 min.*
Strain syrup into a heat-proof bowl or pitcher to serve alongside the pears.
Serve pears and pear syrup on top of sweet waffles (recipe coming!), yogurt, your favorite vanilla ice cream, or with a dollop of whipped cream.
Notes
The poached pears will keep in the fridge for up to 5 days.
*I used a stainless steel pot on a gas burner, but one reader said it took her longer to reduce the pear syrup. If this happens to you, try adding an additional tablespoon of sugar and increasing the heat slightly - it will eventually reduce! Also, if you doubled the recipe, the syrup will most definitely take more like 10-15 minutes to reduce.