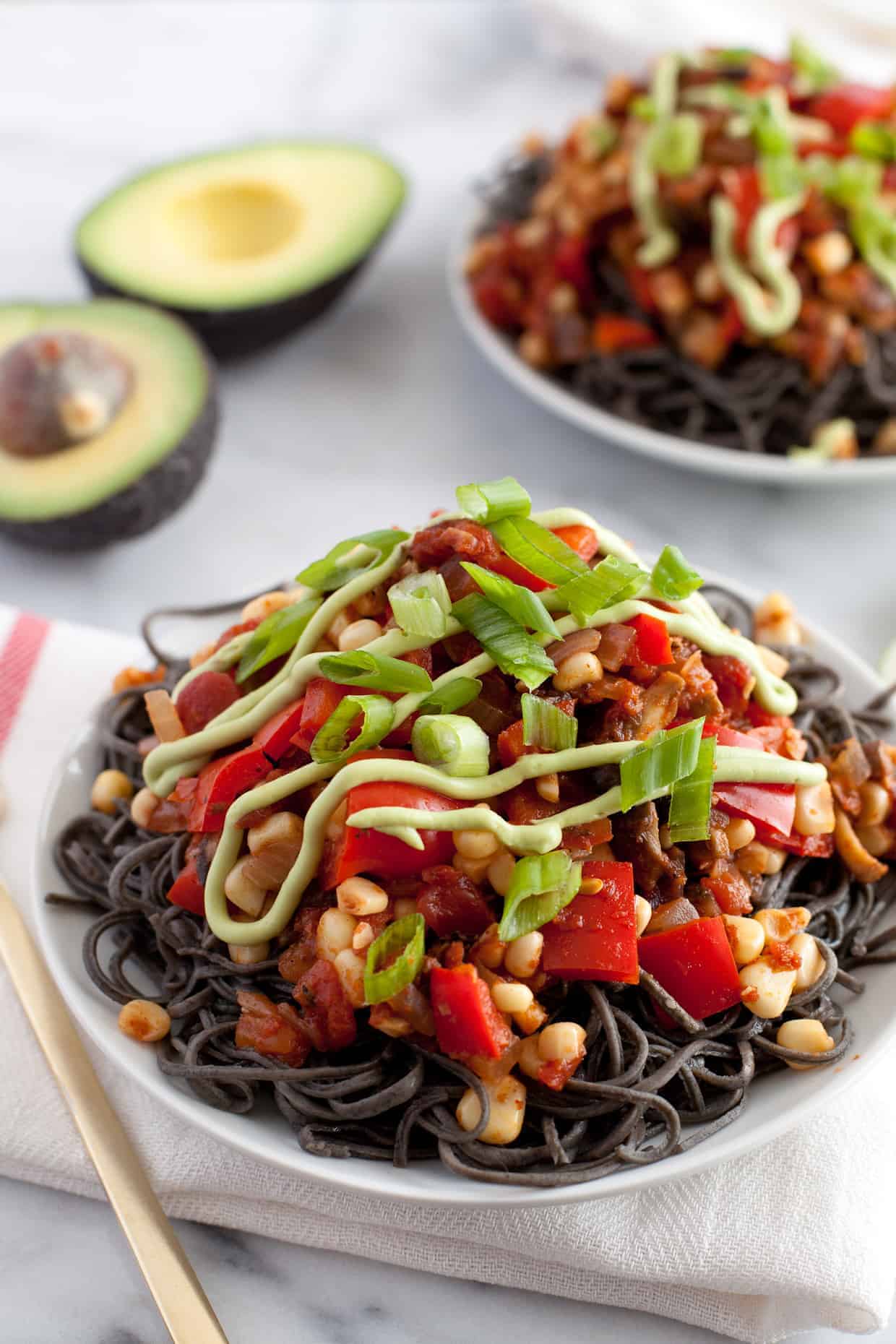 Are you way too busy to cook and just need a quick and healthy meal for your weekly rotation? Us too. With Lucas's Kickstarter launching in 3 weeks and my obsession with optimizing my upcoming blog makeover, our weekly meal planning has been a life saver. Without it, we'd both forget to think about dinner until our growling stomachs reminded us around 7:30 or 8pm when it's much too late to figure something out, go to the market, and cook. Which means we either end up going out to dinner or shredding cheese between whatever gluten-free bread or tortillas we have in the fridge. When in doubt, melt cheese. With meal planning, though, we get to eat things like this Southwestern black bean spaghetti in barely no time.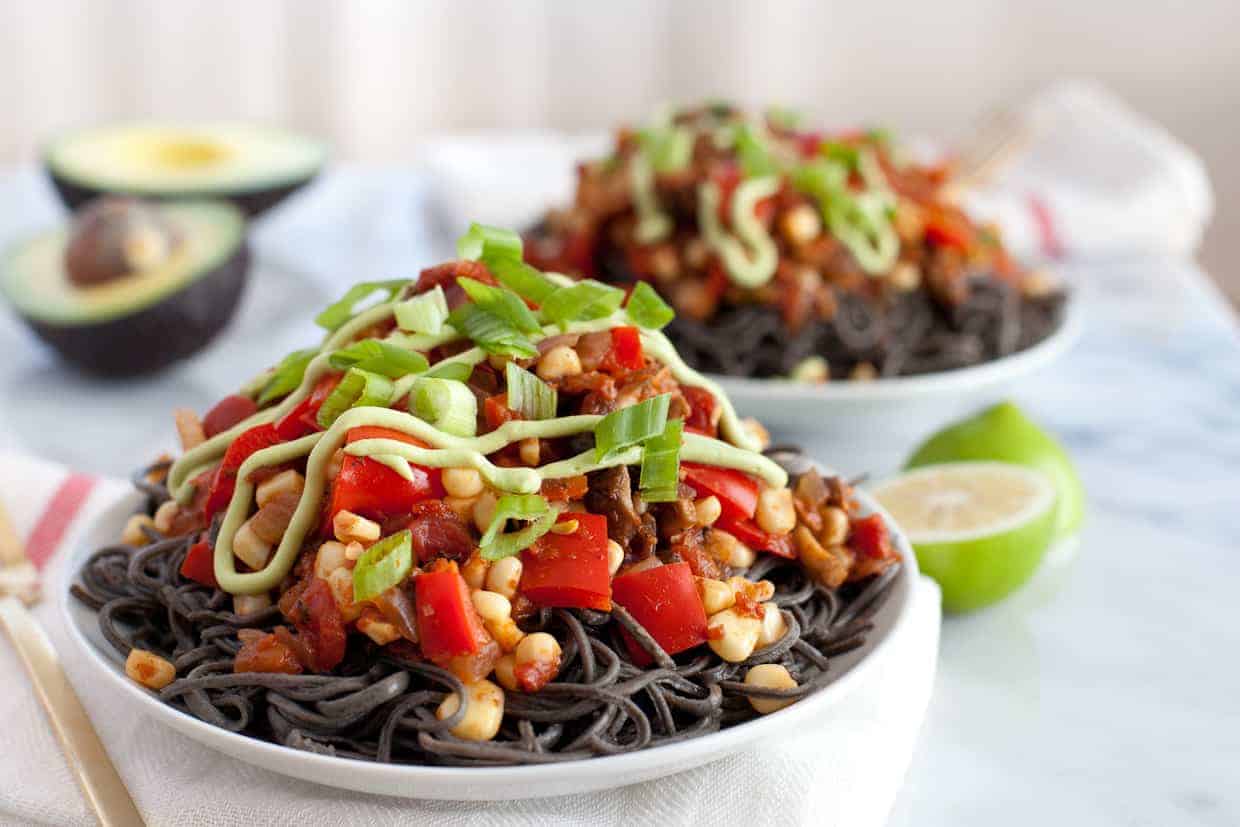 Pause for husband brag. Lucas has been up until 2 or 3am the past few weeks, toiling over all the details that go into kicking off a three-person start-up. And - drum roll please - the OmieLife website is live today! Their first product, OmieBox, is a kid's lunchbox that allows parents to pack hot or cold food in the same box.
If you've got a kid in school, or even just know and love a kid, please check it out and pass it along to all your friends. And their friends. And everyone in your contacts list. Even the random Tom, Dick or Harry you have no idea who they are or how they got in your contacts list. Make it a chain letter - "Forward to 20 people in the next 20 minutes or [insert something horrible] will happen." Too extreme? Just think, you could send a steaming bowl of this Southwestern black bean spaghetti to school and it'd still be warm at lunch time!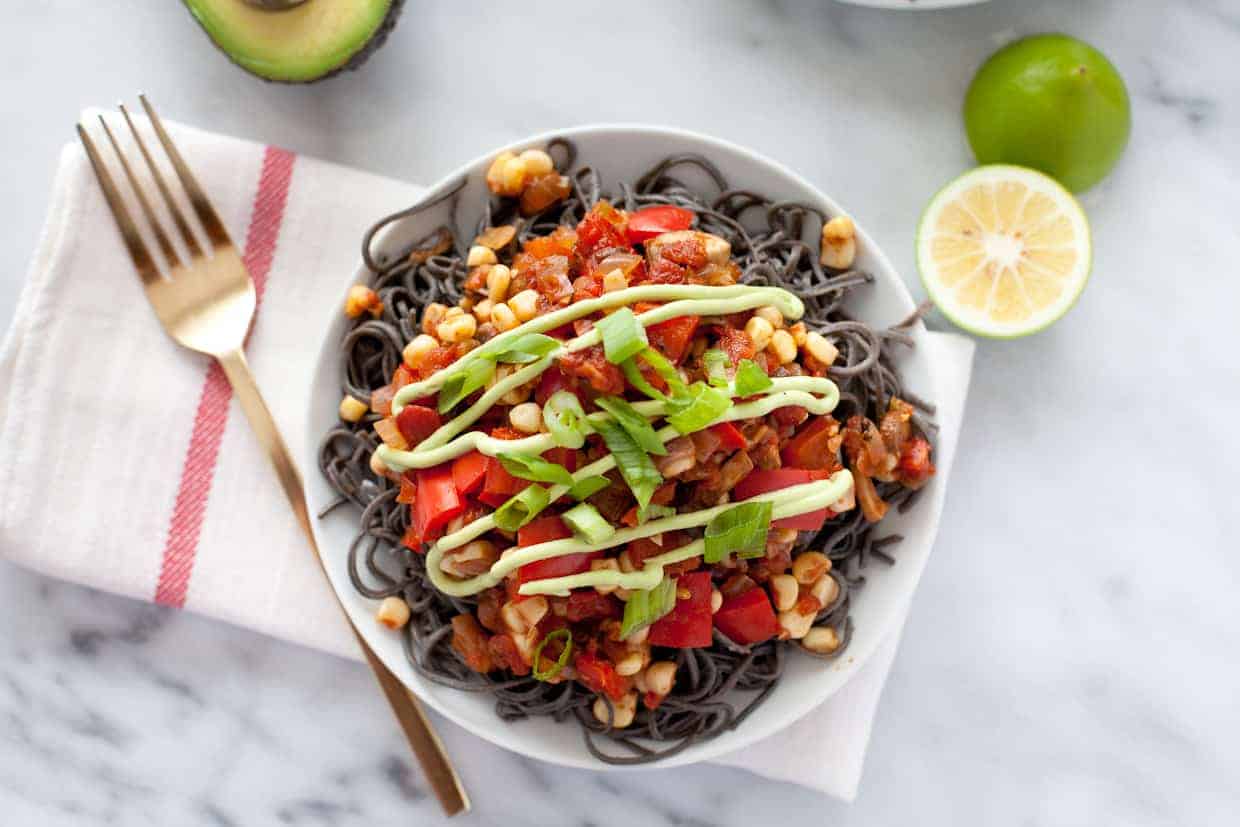 Resume talking about this spicy spaghetti. This is the dish that guarantees to get you out of your rut of the same old 30-minute weeknight meals. Even when you need something quick, why not spice things up a bit? Literally. Grab the cayenne, paprika, cumin, oregano, salt, pepper, and toss it in. Along with their mung bean pasta, Explore Asian sent me a bag of their organic gluten-free black bean noodles a few weeks ago, and I instantly knew I wanted to turn it into a Southwestern spaghetti. Since the black bean noodle flavor is so mild, you can easily sub in your favorite pasta or rice, adding some black beans to the party.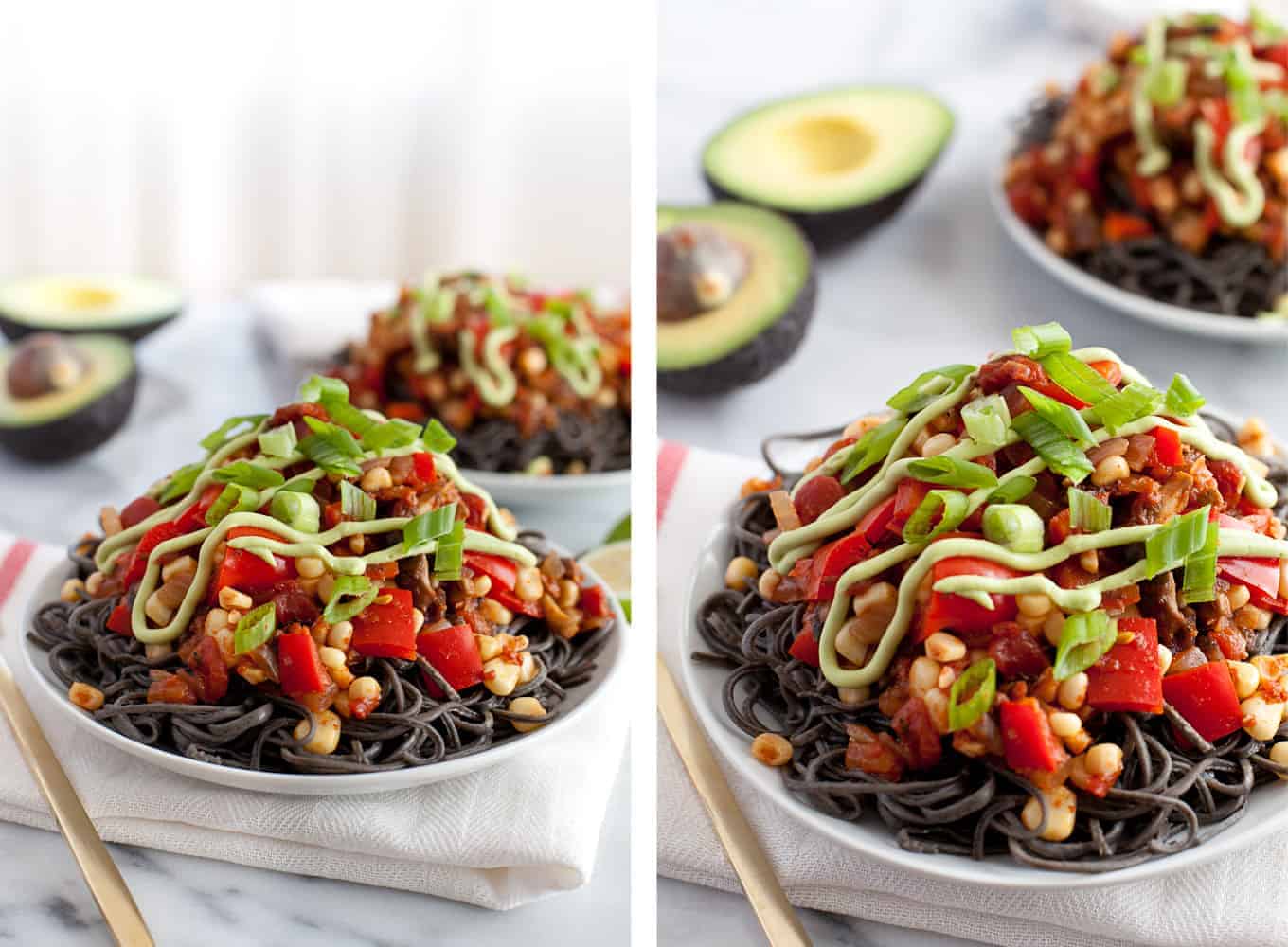 I packed Southwestern platter with fresh corn, bell peppers, onion, mushrooms, and roasted tomatoes - heavy on the spices and drizzled with a skinny greek yogurt avocado crema that mimics sour cream. Except you don't need to feel one ounce of regret when you dip your spoon into the giant dollop of avocado crema you load on top (Thanks to Chris @ Shared Appetite for the healthy avocado crema idea!). We pulled on our black bean chili stuffed peppers recipe to create a perfectly seasoned sauce for this Southwestern spaghetti. Simultaneously spicy, fresh, and cool, this is a dish that everyone can love.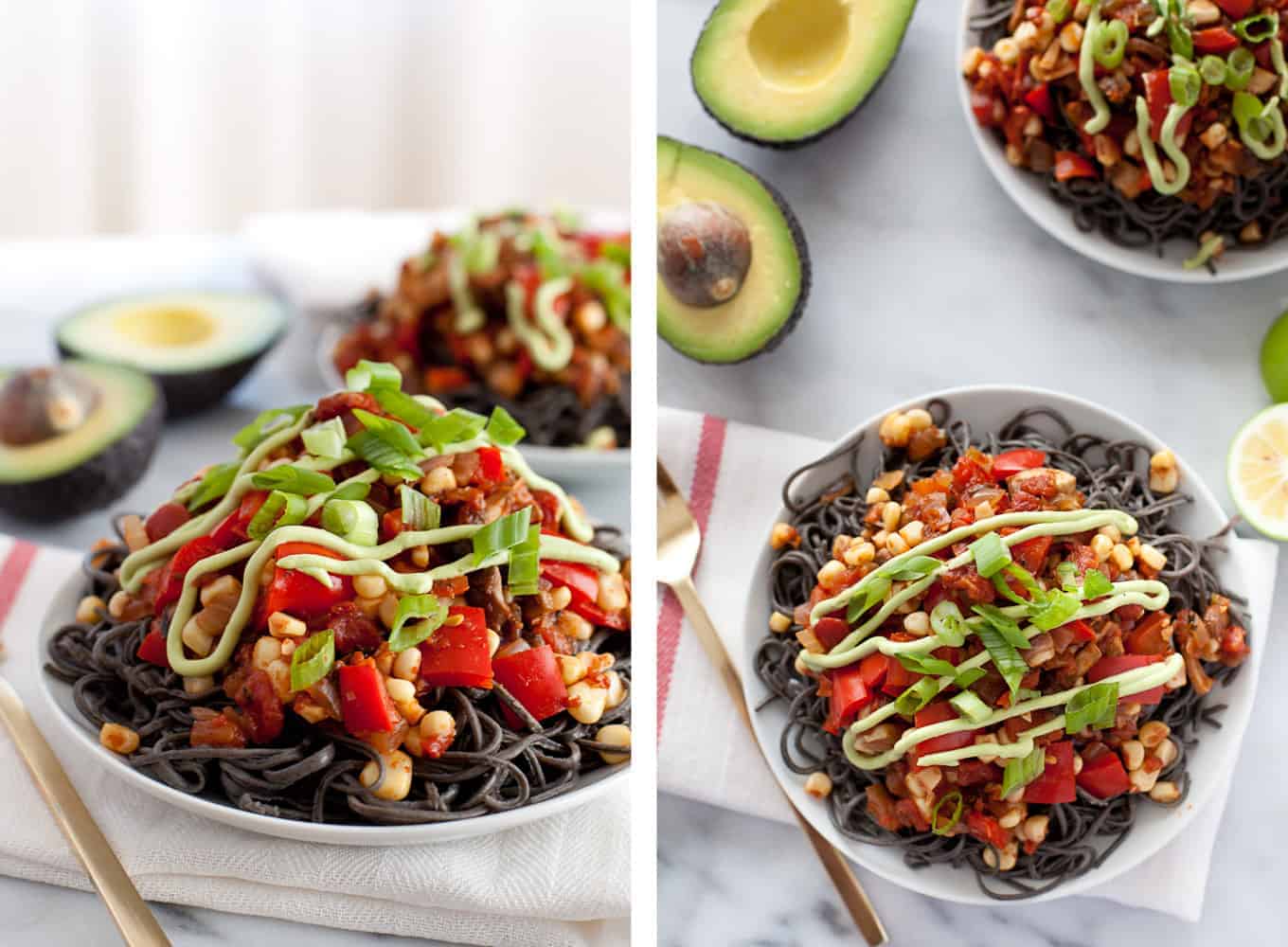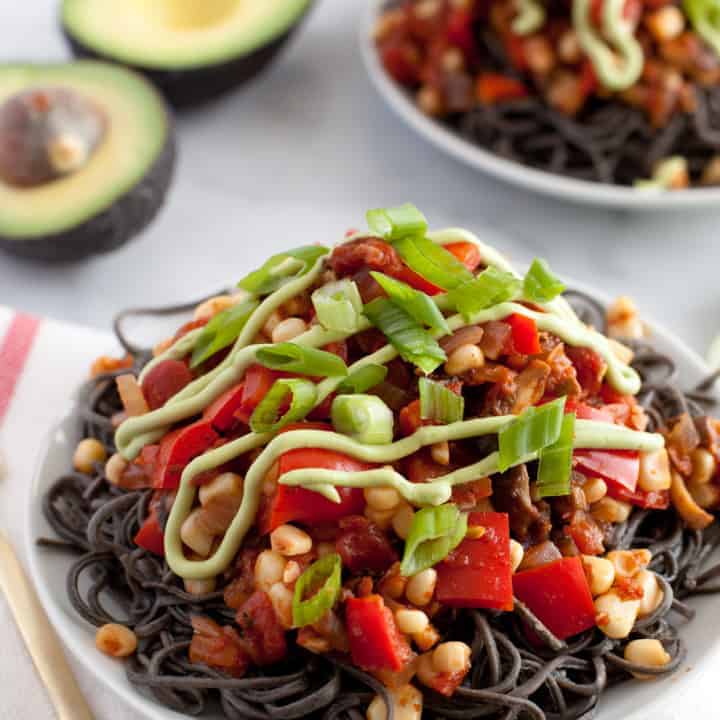 Southwestern black bean spaghetti & avocado crema
Ingredients
Spaghetti
1 tablespoon olive oil
¾ small red onion, finely chopped
½ jalapeño pepper, ribs & seeds removed and minced (for spicy, add the whole jalapeño)
3 cups cremini mushrooms, finely chopped
2 cloves garlic, minced
2 ears fresh sweet corn, boiled and cut off the cob
1 red bell pepper, ribs & seeds removed and chopped into ½-inch pieces
1 14.5-ounce can diced fire-roasted tomatoes
½ teaspoon paprika
½ tablespoon chili powder
½ teaspoon cumin
½ teaspoon oregano
Pinch of cayenne
1 teaspoon salt
½ cup chopped green onions
Avocado crema (recipe below)
Optional: ½ cup of shredded monterey jack and a lime, for serving.
Optional: 1 can of black beans, drained and rinsed (If you're opting for rice or regular pasta, I'd recommend throwing in some black beans!)
Avocado crema (recipe slightly adapted from [url href="http://sharedappetite.com/" target="_blank"]Shared Appetite[/url])
1 ripe avocado
½ cup greek yogurt
2 tablespoons freshly squeezed lemon juice
1 large clove garlic
3 tablespoons extra virgin olive oil
¼ teaspoon kosher salt
¼ teaspoon freshly ground pepper, or to taste.
Instructions
Spaghetti
Bring a pot of water to boil to cook the noodles.
Prepare the avocado crema (recipe below).
Heat the olive oil over medium heat in a large skillet. Add the onion and cook for a few minutes until it softens.
Add mushrooms, jalapeño, and garlic and cook a few minutes until the mushrooms begin to sweat.
Add the corn, bell pepper, fire-roasted tomatoes, black beans (optional), paprika, chili powder, cumin, oregano, cayenne, and salt, and cook for about 4-5 minutes, until the water from the tomatoes begins to cook off and the sauce thickens a bit. Taste and adjust seasoning to taste.
Meanwhile, cook the noodles according to the package directions.
Divide the noodles between 4 plates, top with sauce, and drizzle with avocado crema. Sprinkle fresh green onions and monterey jack (optional) on top. Serve with lime wedges.
Avocado Crema
Toss all the ingredients in the food processor and blend until smooth. (Yup, that's all!). You'll likely have leftover crema that you can dip chips in too!