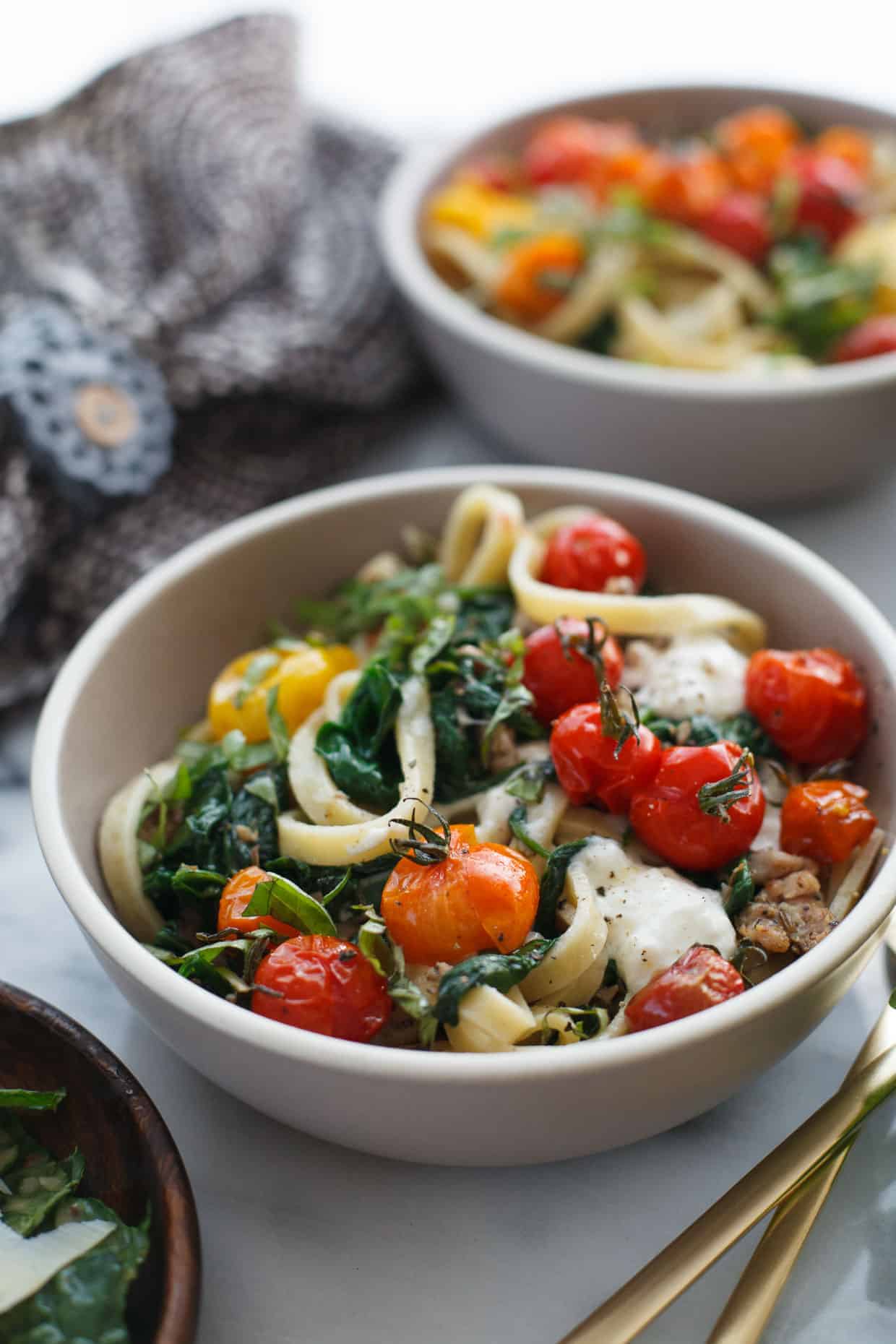 This wasn't supposed to be today. No - today was supposed to be a two-part dessert to use up our fruiting meyer lemon tree. Then sometimes things just happen. Things like your fall wardrobe barely fitting coupled with the realization that the last three recipes you've shared were desserts. And as you photograph ice cream sandwiches and cupcakes, you start to believe it's possible you've only eaten sweets for a month straight.
While it may seem I survive on sugar and fruit - and that was probably true for most of high school - I promise that's not what's going on here. We eat cheese too. Buttery melt-in-your mouth burrata cheese dotted over caprese fettuccine with roasted heirloom tomatoes, spiced Italian chicken sausage, and a bundle of wilted spinach tossed in.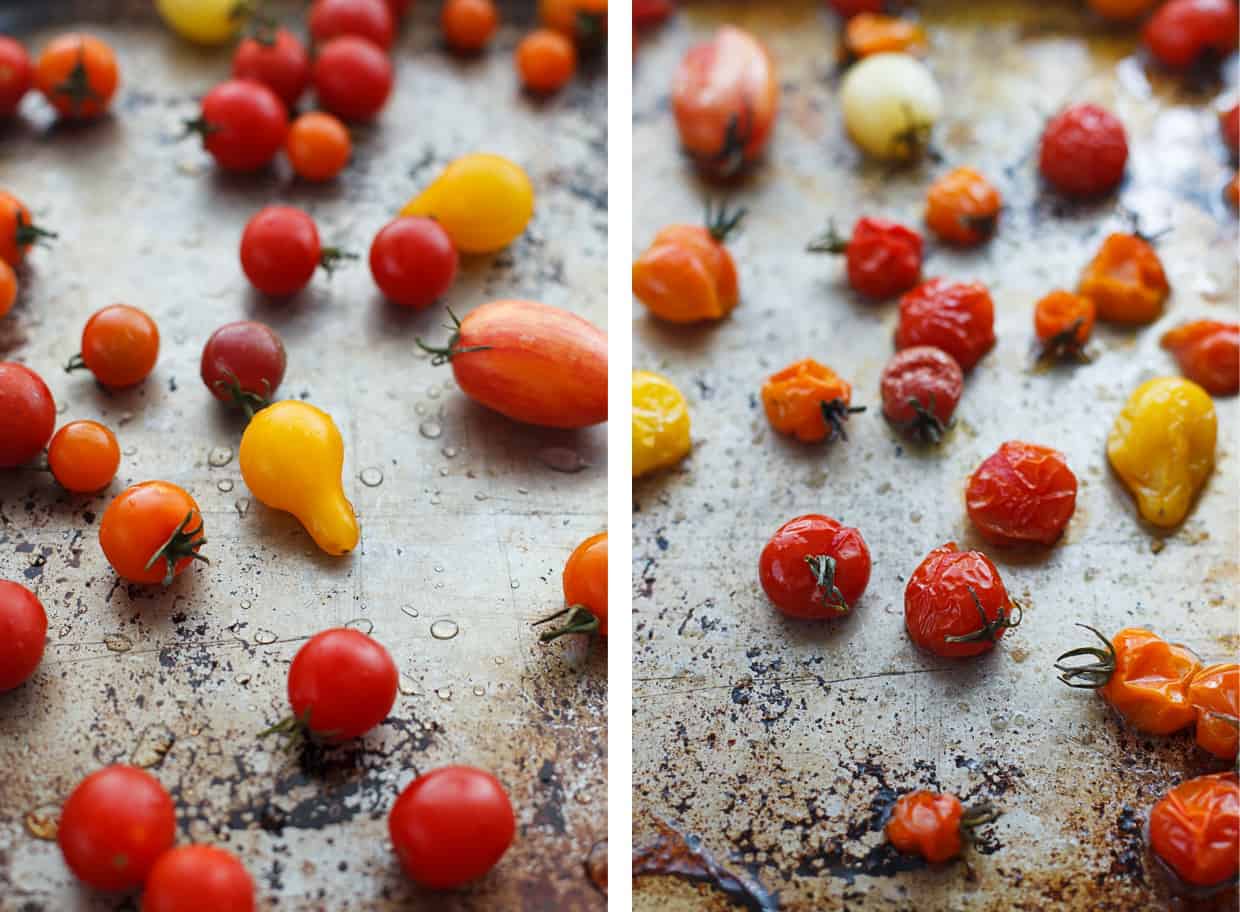 Remember when you threw a fit because your parents wouldn't buy you a pony? Even though you responsibly cleared a spot in the corner of the yard where he'd obviously be able to live with proper fencing. Or when they told you you'd have to wait until you were 18 to get a big trampoline - even though you had a swimming pool and what fun is a swimming pool if you can't jump from the trampoline into the deep end?? (Okay, so maybe the no trampoline-thing was a wise choice for the kids who sent their friend to the ER with a gash on her face after they convinced her to jump from the counter bar to the couch - don't worry about the coffee table.)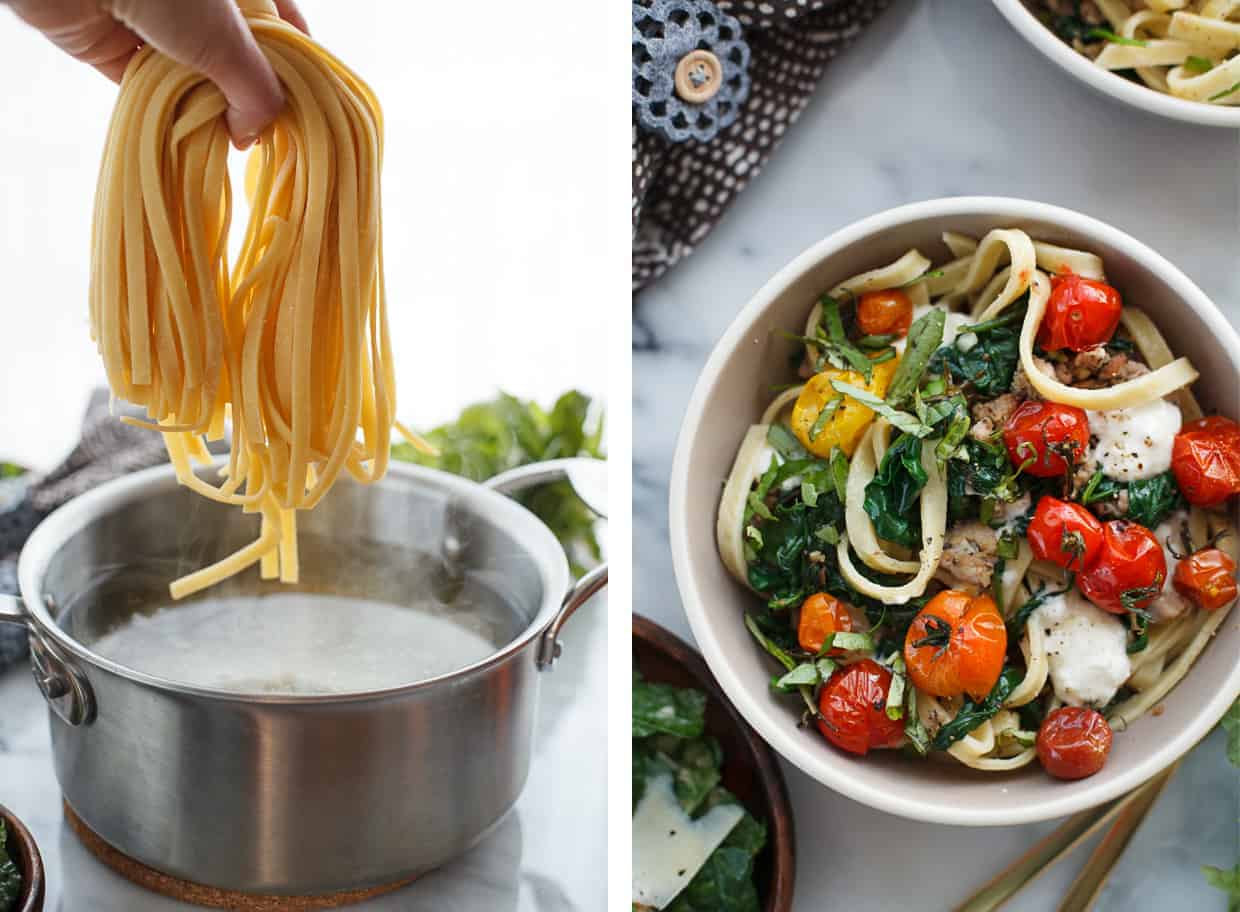 Annnnyway - That trampoline-pony feeling. That I-need-this-so-bad-it-hurts feeling is precisely how I felt about the 6-piece KitchenAid Pasta Excellence set the instant I got my KitchenAid stand mixer. For a year, we borrowed our landlord's hand pasta crank - likely giving it more use than its last 10 years. In our cramped cottage-like in-law, we'd roll out fresh pasta across our tired coffee table, sprawling platters of fresh ravioli over the couches and smearing flour on every surface of the apartment.
That went on once a week until the Christmas Lucas convinced my family to go in on the holy grail of pasta-making tools with him. Imagine walking downstairs on Christmas morning to find a pony jumping on a trampoline under the tree (just go with it).
The impetus for his gift was probably 10% selfishly wanting to encourage more fresh melt-in-your-mouth pasta and 90% being fed up with adding vacuuming to the post-dinner clean-up.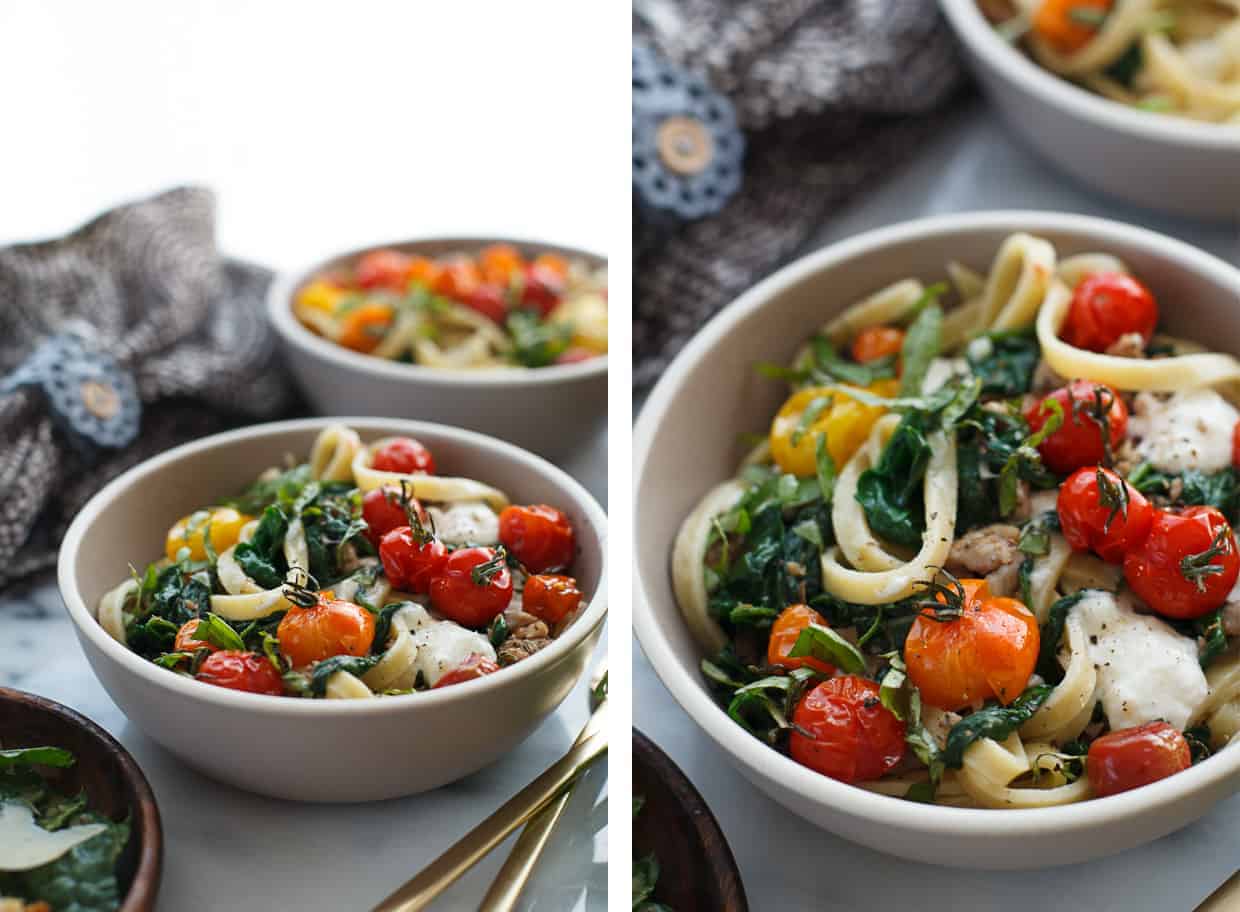 All this to say: fresh pasta is bar none the number one food I miss since switching to a gluten-free diet. Despite relentlessly testing the limits with fresh pasta, it also always puts me flat on my back in a dark room with a screaming migraine. (My current self says "#worthit!", but aching self would adamantly disagree).
The boxed gluten-free pastas work wonders in baked mac and cheese that prefer a bit of texture, but they just don't hold a candle to the silky smoothness of fresh homemade fettuccine. My hungry friend Angi has made me pinky promise I'll dust off the pasta maker attachments next week and get to work turning pasta gluten-free in my own kitchen, but until then, I finally found a fresh gluten-free fettuccine by Cappello's that is making me a preeeetty happy camper (and it cooks in 45 seconds!).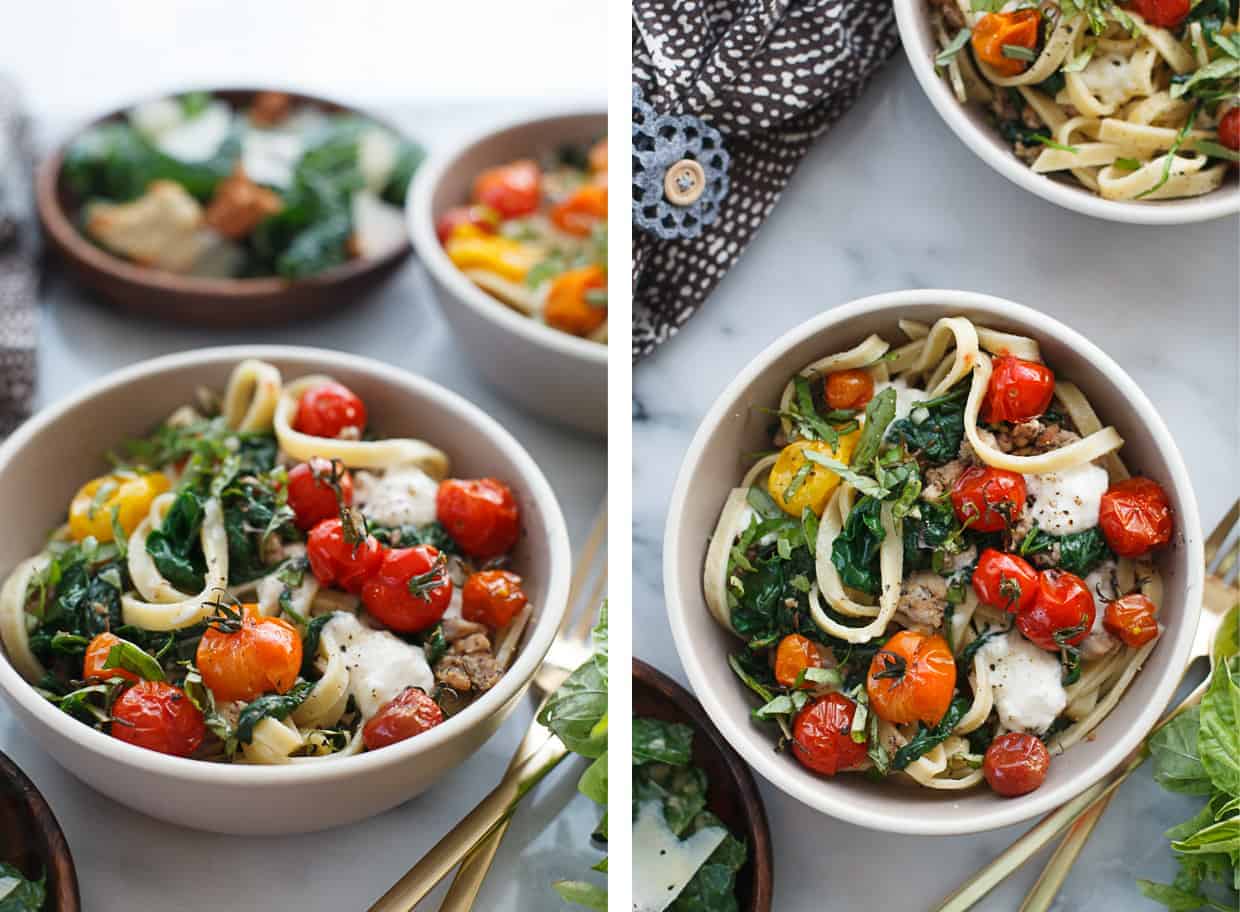 You haven't had enough caprese salad yet this summer have you? I didn't think so. Sweet roasted fall-season heirloom cherry tomatoes split open from the blistering heat, and together with the creamy burrata, snake their way through the bowl, saucing every noodle. If ever there was a cheese meant for pasta, this is it. The spiced italian chicken sausage and a healthy serving of roasted garlic cut the sweet creaminess with a salty bite, and the spinach and basil freshen it all up.
Alternate title: A caprese salad's sultry love affair with fresh fettuccine.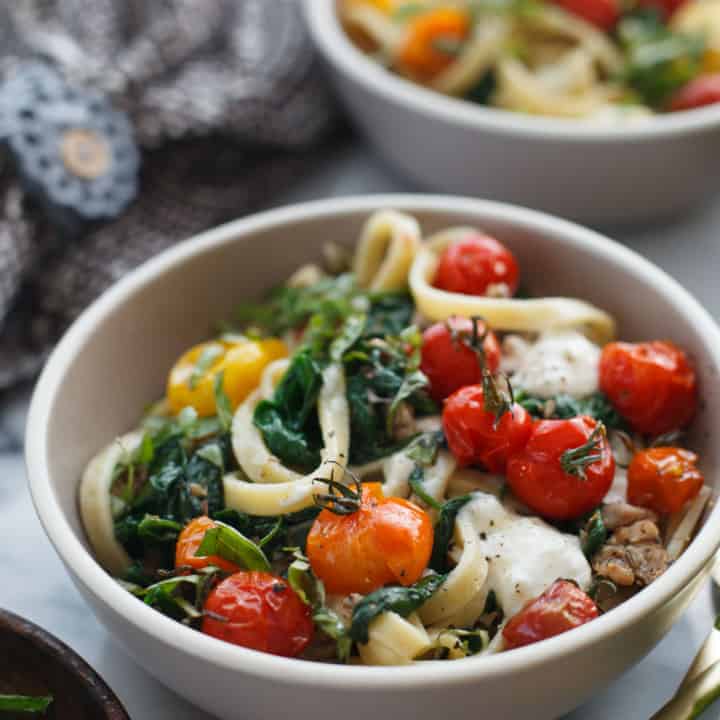 Caprese fettuccine with chicken sausage
Ingredients
1-½ cups heirloom cherry tomatoes
1 tablespoon olive oil, divided
2-3 medium cloves of garlic (not peeled)
1 fresh medium Italian chicken sausage
3-4 cups fresh spinach
Pinch of red pepper flakes
Salt & pepper, to taste
2-4 ounces burrata cheese
6-8 large leaves basil, sliced thin
Instructions
Preheat the oven to 400°F.
Place the tomatoes and garlic cloves on a parchment-lined baking sheet and toss with 1 teaspoon of olive oil and about ¼ teaspoon of salt. Roast the tomatoes and garlic for 10-15 minutes, tossing halfway through.
While the tomatoes roast, bring a medium pot of water to boil.
Heat the remaining 2 teaspoons of olive oil over medium-high heat in a large skillet.
Removing the sausage from its casing, cook the sausage, breaking it into bite-sized chunks, until nearly cooked through. Add the fresh spinach and red pepper flakes, and cook, stirring, until the spinach melts and the sausage is completely cooked. Season to taste with salt and pepper.
When it's done roasting, remove the garlic cloves from their peel, by pinching it slightly from the top. Chop the garlic and toss it with the sausage and spinach.
Once the water is boiling, cook the pasta according to its directions, until al dente.
Toss the cooked and drained pasta with the sausage, spinach, and garlic.
Divide the pasta and sausage between two bowls, and cover it with roasted cherry tomatoes. Dot with creamy burrata cheese and sprinkle fresh basil on top.