A layered tart that bridges the seasons with a tangy spring rhubarb "curd" and late winter tart candy kumquats all nestled in a crumbly white chocolate gluten-free crust with a white chocolate drizzle to finish. Slightly adapted from Marbled, Swirled, And Layered by Irvin Lin, this tart will be the centerpiece of any dinner party.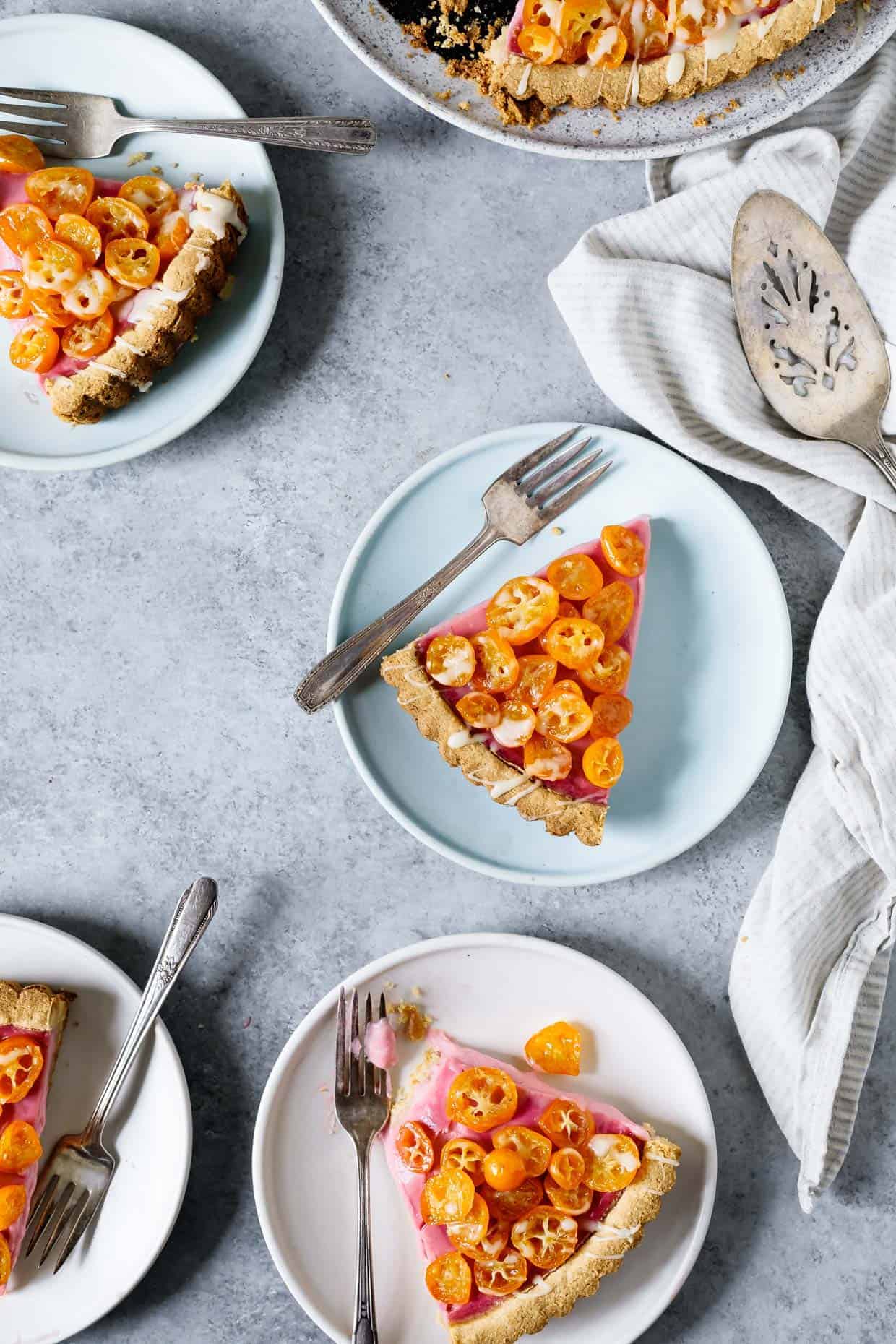 When people ask, I tell them I go to bed between 12am and 1am. But that's only because I'm ashamed to tell them that it's really between 1:30am and 2:30am (and last night: 3:30am). Usually I'm working, sometimes I'm wrapped up in an episode of Big Little Lies, sometimes I'm reading my friends' cookbooks cover to cover, scribbling down pages of recipe titles I can't wait to try (which I guess can also technically count as working...?). In the case of Irvin's Marbled, Swirled, & Layered, I've got a list so long I'll be baking every day for the next year. This rhubarb white chocolate tart with candied kumquats comes first, bridging the seasons between winter kumquats and spring rhubarb just in time for Easter.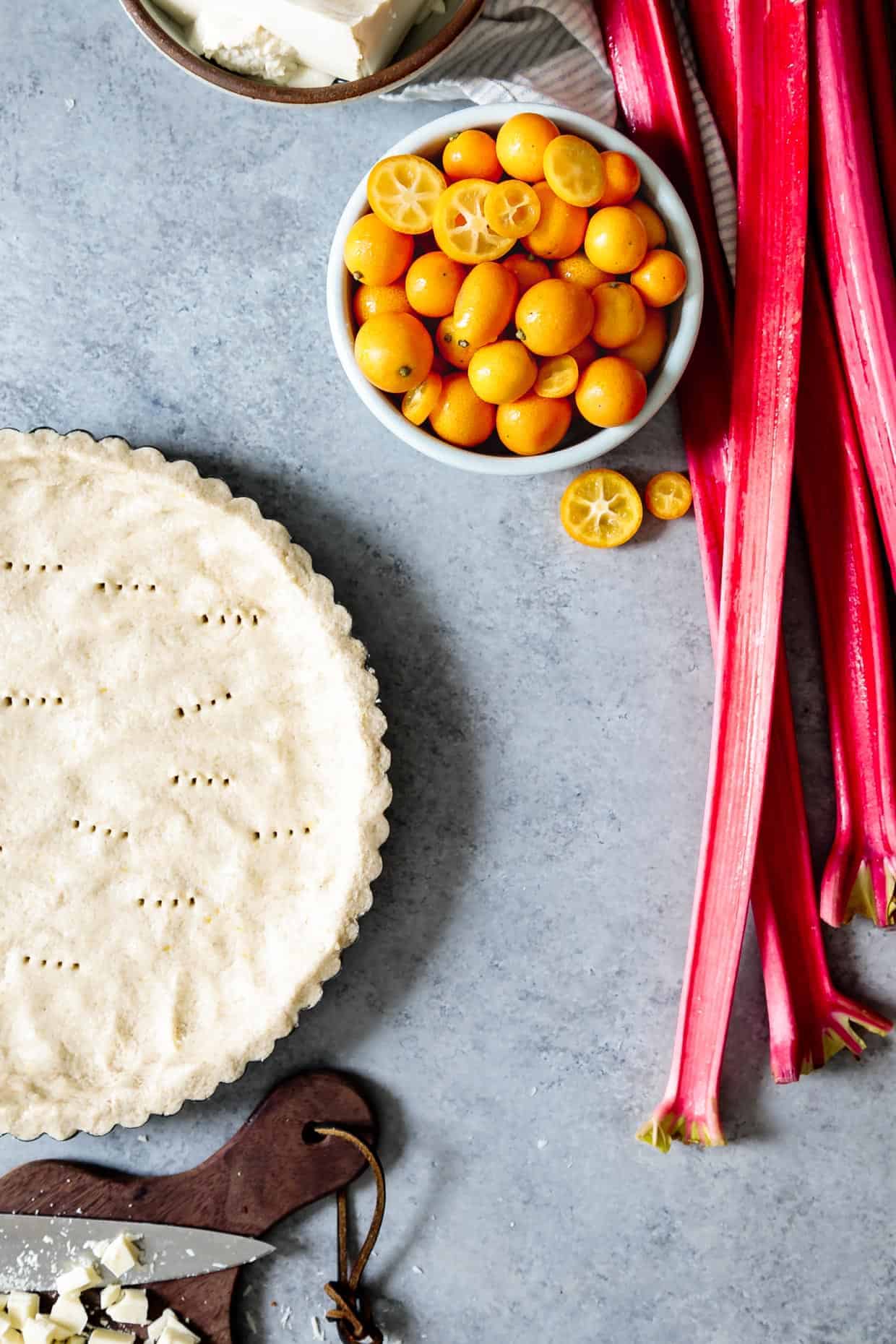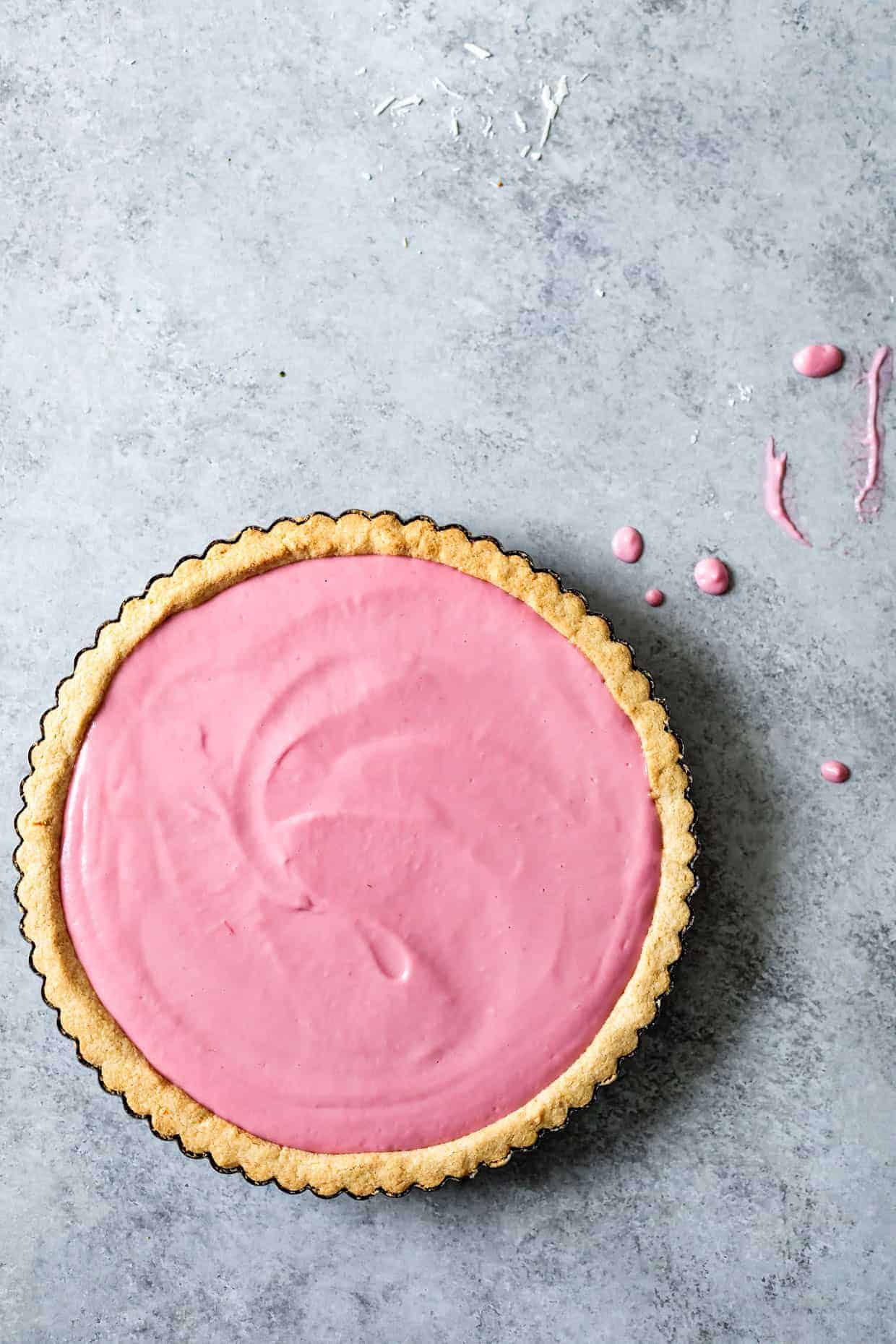 Last Thursday our power went out in the middle of dinner - baby at her high chair with spaghetti sauce conditioning her hair. With only one easily accessible flashlight and our phones at 30% battery life, we weren't the most prepared. (Note to self: put flashlights where you can find them when you have no lights. Also charge your phone.) Actually, before we found the flashlight, we finished dinner, lit with a scented Anthropologie candle.
Once the kid had taken her candlelit bath and was snuggled up in her crib with a headlamp night light, I plopped across our bed pretending to relax - just for a moment. I even adamantly told Lucas that NO I was definitely not going to bed at 9pm when he asked.
But that's exactly what I did. I'm not sure I've ever gone to bed at 9pm in my entire history of going to bed. But it was pitch black and, as I learned during the planned middle of the day power outage earlier in the week, all the things I want to do when the power is out, involve power.
When Zoella woke me up at 7am I realized that I'm just not a morning person. Period. It has no bearing on my bedtime. So I stayed up until 2:30am the next night without guilt.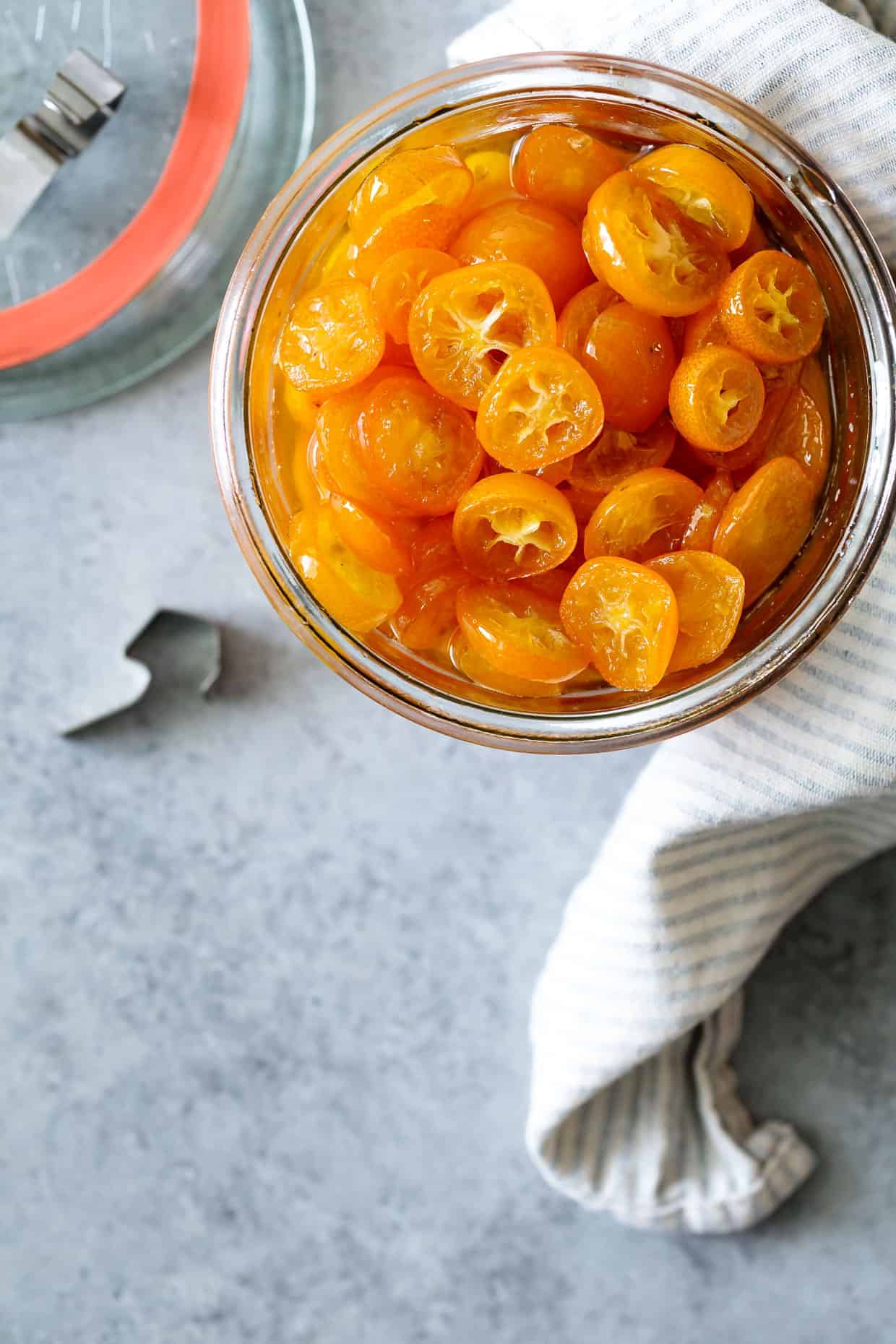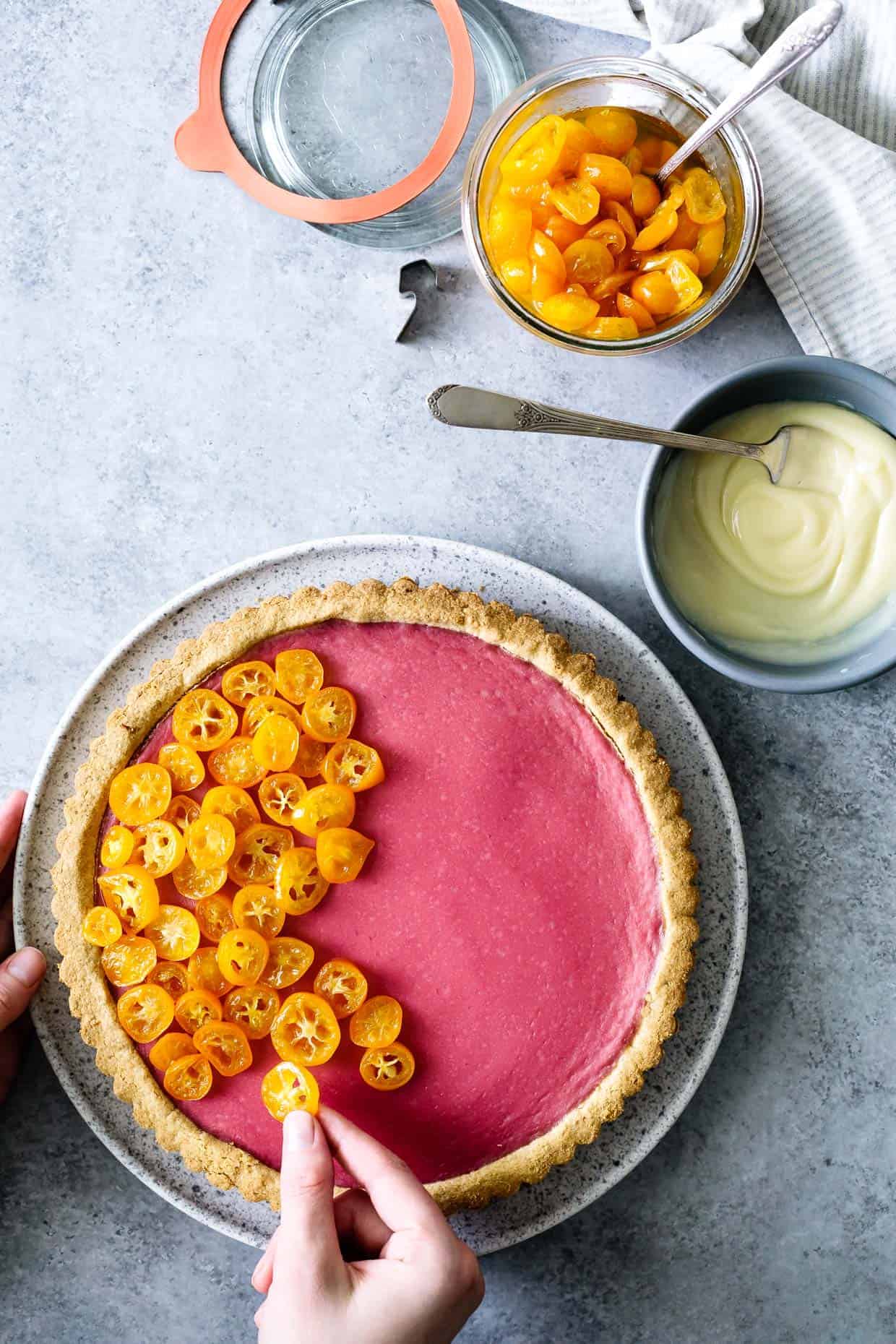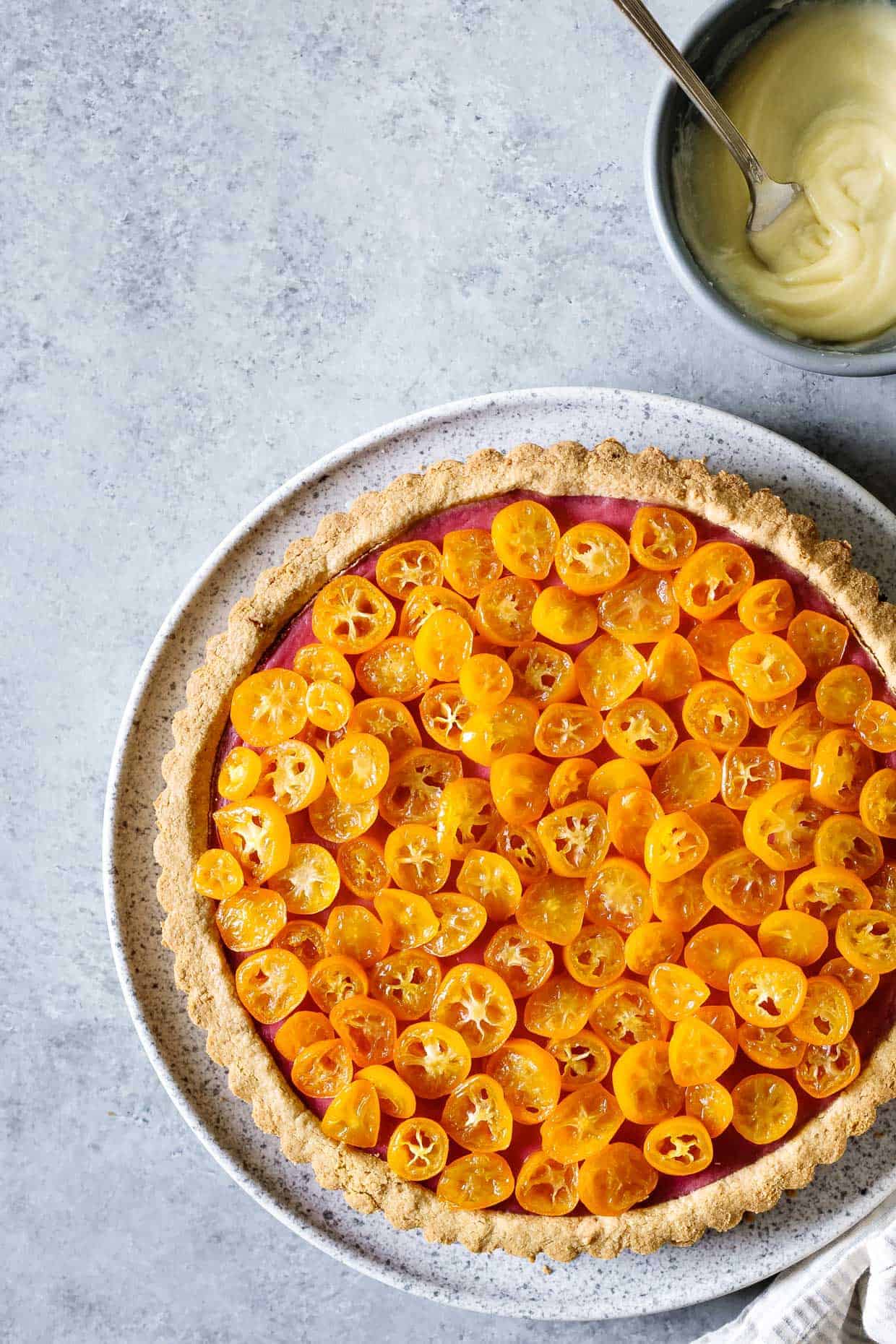 You would too if you had a copy of Marbled, Swirled, and Layered on your nightstand (in fact, make that happen). When Irvin's cookbook showed up earlier this winter, I tore it open and started my mile-long dessert wish list that included all of his rhubarb ditties (of which there is a glaring lack of on my blog thus far).
Irvin filled this masterpiece with recipes that combine unique flavors as layers, swirls, or marbles. Things like hazelnut-cocoa linzer cookies with blackberry-mint jam, slow roasted strawberry bay leaf cream pie, lemon match yeasted waffles with rosemary maple syrup. And then every recipe is coupled with multiple variations that will make you get up out of bed at 1am to bake. (Show of hands, who else had the oven on at 1:30am yesterday?).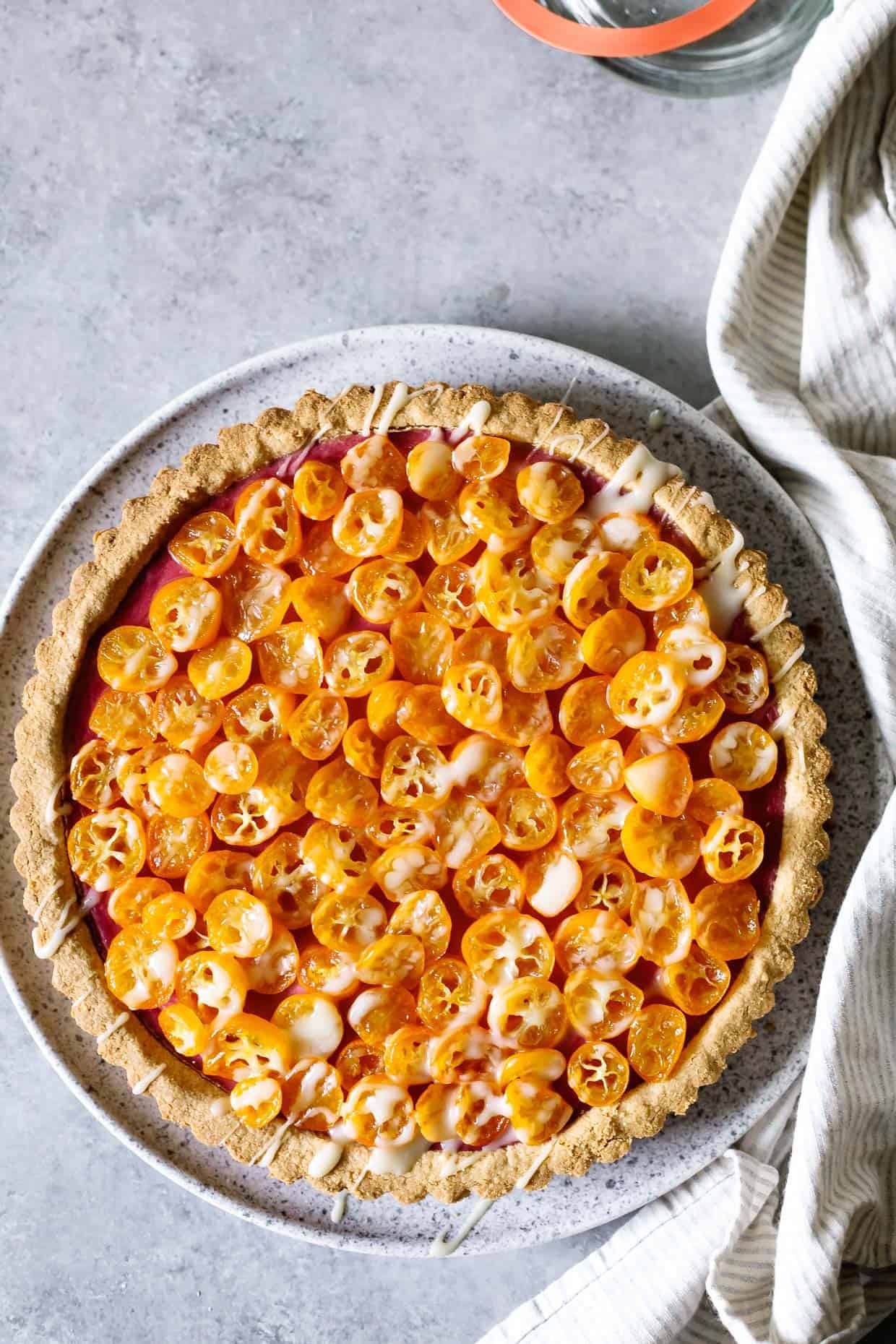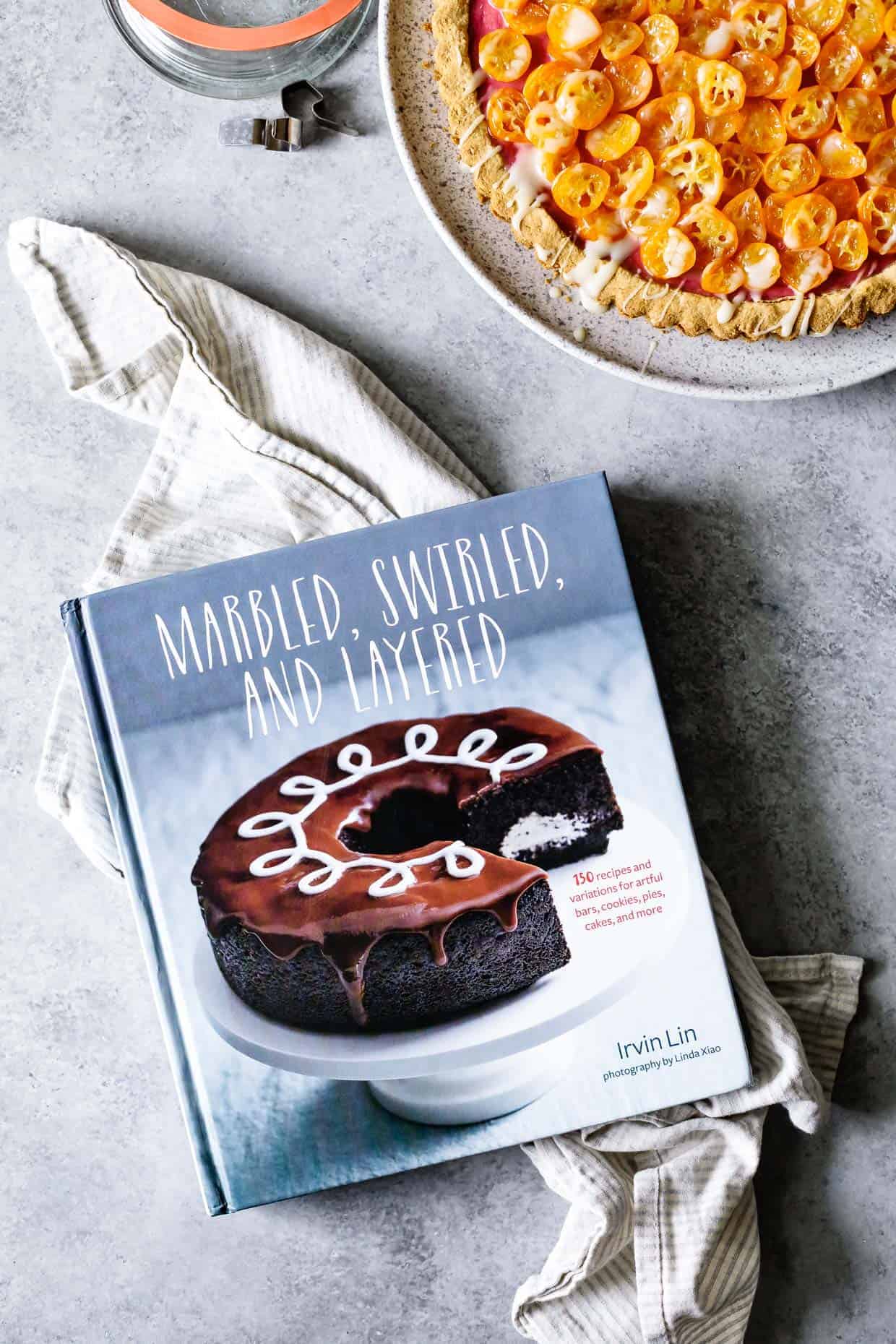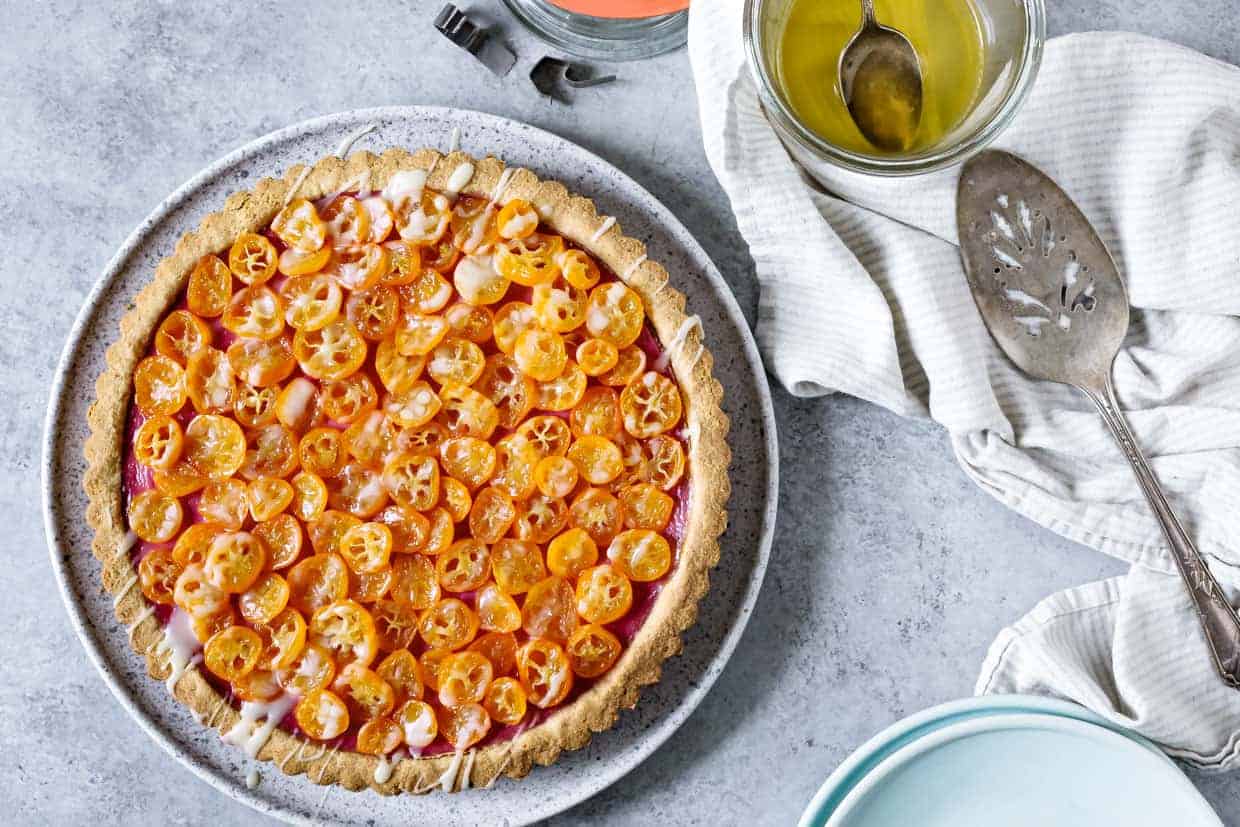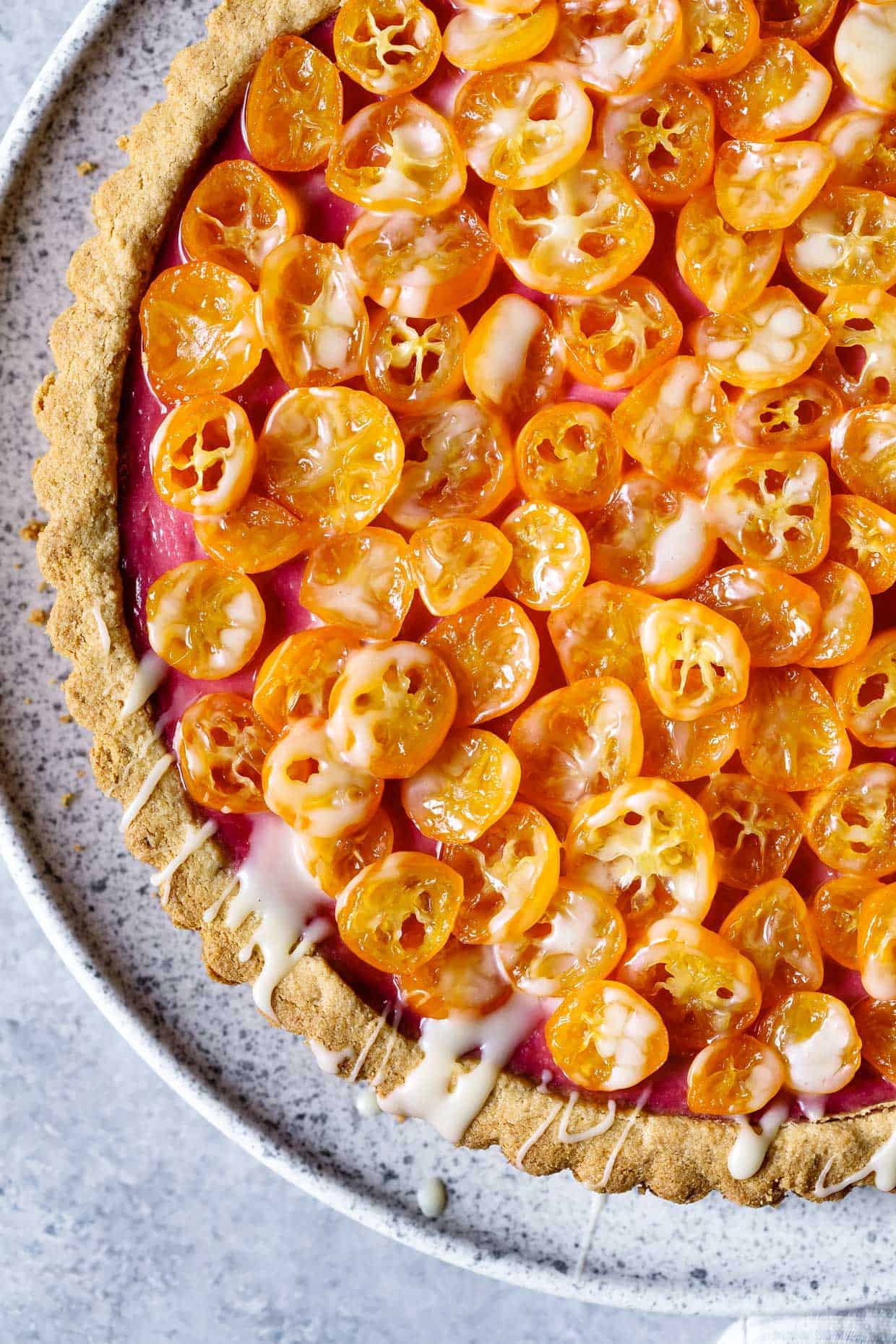 Among all the recipes, this rhubarb white chocolate tart with candied kumquats charmed me the most. With both rhubarb and kumquat, it bridges seasons, with short, but magical overlap that perfectly maps to Easter this year. Looks alone, it's layered with pastel pink custard, sunny citrus, and a white drizzle that all feels very Easter-y!
I rebelled against the recipe and sliced my kumquats in rounds (versus halves as Irvin did) to change things up, but also because I got a particularly seedy bunch of fruit.
The rhubarb "curd" retains it's pale pink hue with a secret ingredient - one you've seen used here before for vegan desserts, but never for this reason. In this case, Irvin swaps in silken tofu for the traditional egg yolks that would normally muddy the color. It's genius because the baking masks the flavor of the tofu so you're left with a tangy curd that's silky smooth and is the perfect match for tart candied kumquats. The white chocolate drizzle adds a subtle creamy note that tones down the punchy sour kumquats.
If the Easter Bunny demanded dessert like Santa, this would for sure be her choice.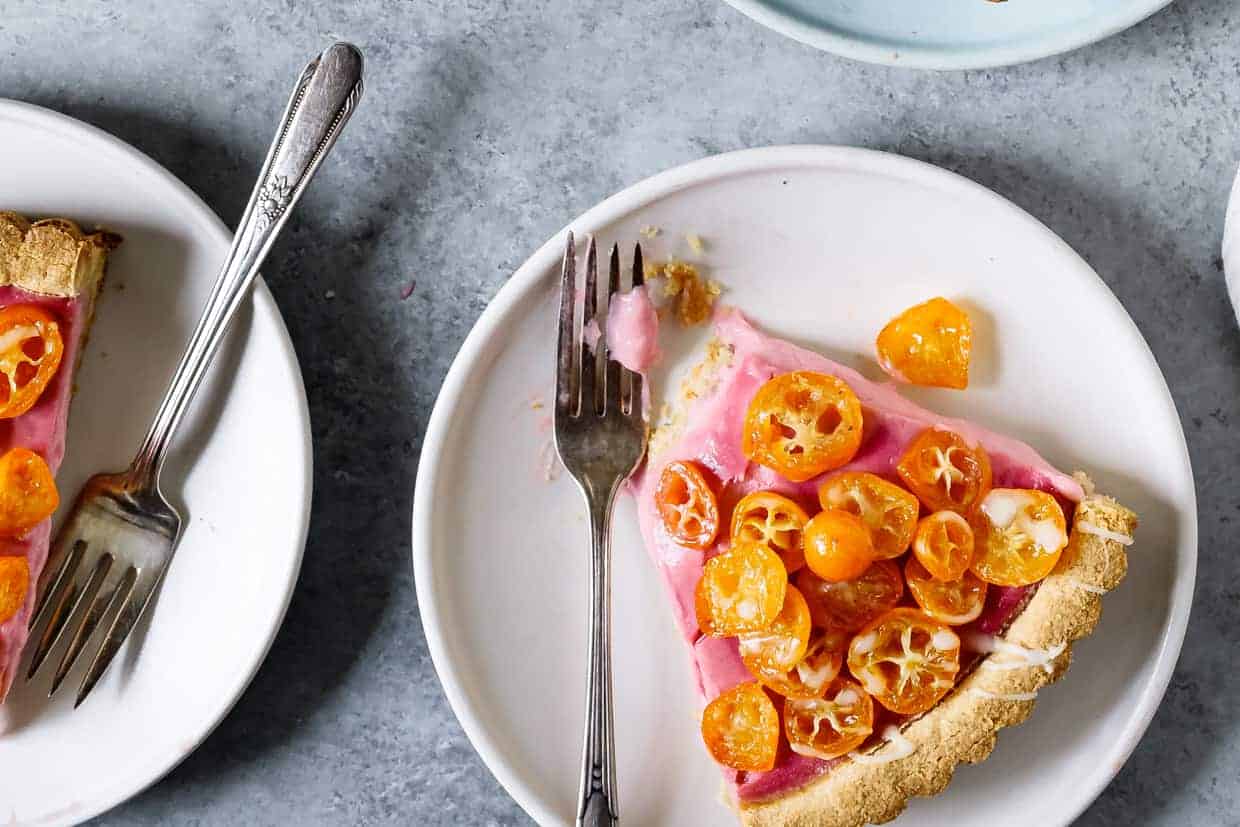 Thanks for reading Snixy Kitchen! To stay up on what's coming out of my kitchen, follow me on Facebook, Instagram, Twitter, Bloglovin', or Pinterest, or subscribe via e-mail to get new recipes right to your inbox.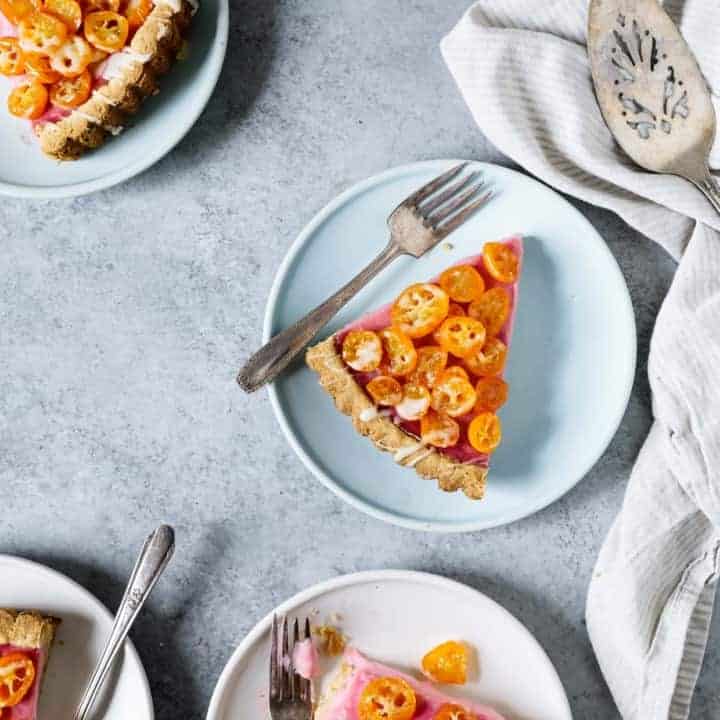 Rhubarb White Chocolate Tart with Candied Kumquats (gluten-free)
Ingredients
Gluten-Free White Chocolate Crust
¾ cup +2 tablespoons (105g) almond flour
¾ cup +2 tablespoons (140g) sweet rice flour (different from "white rice flour" or "brown rice flour")
¾ cup + 1 tablespoon (96g) gluten-free oat flour*
2.5 tablespoons (18g) tapioca starch
3 ounces white chocolate, chopped into ¼-inch chunks
¾ cup unsalted butter, room temperature
¼ cup + 2 tablespoons (75g) cane sugar
¼ teaspoon kosher salt
Zest of 1 lemon
1 tablespoon fresh lemon juice
Rhubarb Filling
1½ pounds fresh or frozen rhubarb (I used 5-6 stalks), cut into ½-inch chunks.
1 cup (200g) cane sugar
½ cup (30g) cornstarch
1½ cups silken tofu
¼ cup unsalted butter
¼ teaspoon kosher salt
Candied Kumquats**
1½ cups (½ pound) kumquats, sliced ⅛-inch thick, seeds removed
¾ cups (150g) sugar
½ cup water
White Chocolate Drizzle
2 ounces white chocolate, chopped into ¼-inch chunks
1 tablespoon heavy cream
1 teaspoon kumquat sugar syrup (from the candied kumquats)
Instructions
Gluten-Free White Chocolate Crust
Preheat the oven to 350°F.
Sift together the almond flour, sweet rice flour, oat flour, and tapioca starch in a medium bowl and set aside.
Place the white chocolate in a microwave-safe bowl and microwave for 30 seconds. Stir, then microwave for 30 seconds more. Stir until melted and completely smooth. If it still is not completely melted, microwave for another 15 seconds at a time, being careful not to scorch it.
Place the butter, sugar, salt, lemon zest, and lemon juice in the bowl of a stand mixer fitted with a paddle attachment. Mix on low speed to cream the ingredients together. Raise to medium speed and mix until the butter absorbs most of the liquid and sugar and no longer slides around (or only a little bit!).
Add the melted white chocolate and beat to incorporate.
Add the dry ingredients and mix until a dough forms. Press the dough into a 10-inch round tart pan with a removable bottom, making sure to cover the entire bottom and sides about ⅛-1/4 inch thick, discarding any leftover dough, if you have any (or bake it into a mini tart like I did). Prick the bottom all over with a fork.
Place the tart pan on a rimmed baking sheet and bake for about 20-24 minutes, or until the edges of the crust start to turn golden brown. Let cool on a wire rack.
Rhubarb Filling
Place the rhubarb in a large pot with the sugar and corn starch and cook over medium-high heat, stirring constantly, until the rhubarb has fallen apart and the puree has thickened, about 10 minutes.
Pour the hot rhubarb into a food processor or blender and add the tofu, butter, and salt. Blend until smooth.
Pour the rhubarb filling into the baked tart shell and bake until set and the center just barely jiggles, about 30-35 minutes. Let cool completely.
Candied Kumquats
In a small saucepan, bring the sugar and water to boil over medium heat, stirring to dissolve the sugar.. Reduce heat to a simmer and add the kumquats. and cook until the kumquats are translucent, about 4-5 minutes. Transfer kumquats and syrup to a jar and let cool completely.
Assemble the tart
Strain the kumquats, reserving their liquid, and arrange them in a single overlapping layer over the top of the tart.
Place the remaining white chocolate in a microwave-safe bowl and microwave for 30 seconds. Stir, then microwave for 30 seconds more. Stir until melted and completely smooth. If it still is not completely melted, microwave for another 15 seconds at a time, being careful not to scorch it.
Add the cream and a teaspoon of the kumquat syrup to the white chocolate, stirring to incorporate.
Use a spoon to drizzle the white chocolate over the tart.
Chill the tart for at least 1 hour before serving.
Notes
*I grind my own oat flour by pulsing gluten-free oats in a food processor or blender and sifting out any large pieces.
**Optional: If you can't find kumquats, you can top the tart with sliced strawberries and drizzle the chocolate over the berries.
Slightly Adapted from Marbled, Swirled, and Layered by Irvin Lin (shared with permission)