Last updated on June 29th, 2020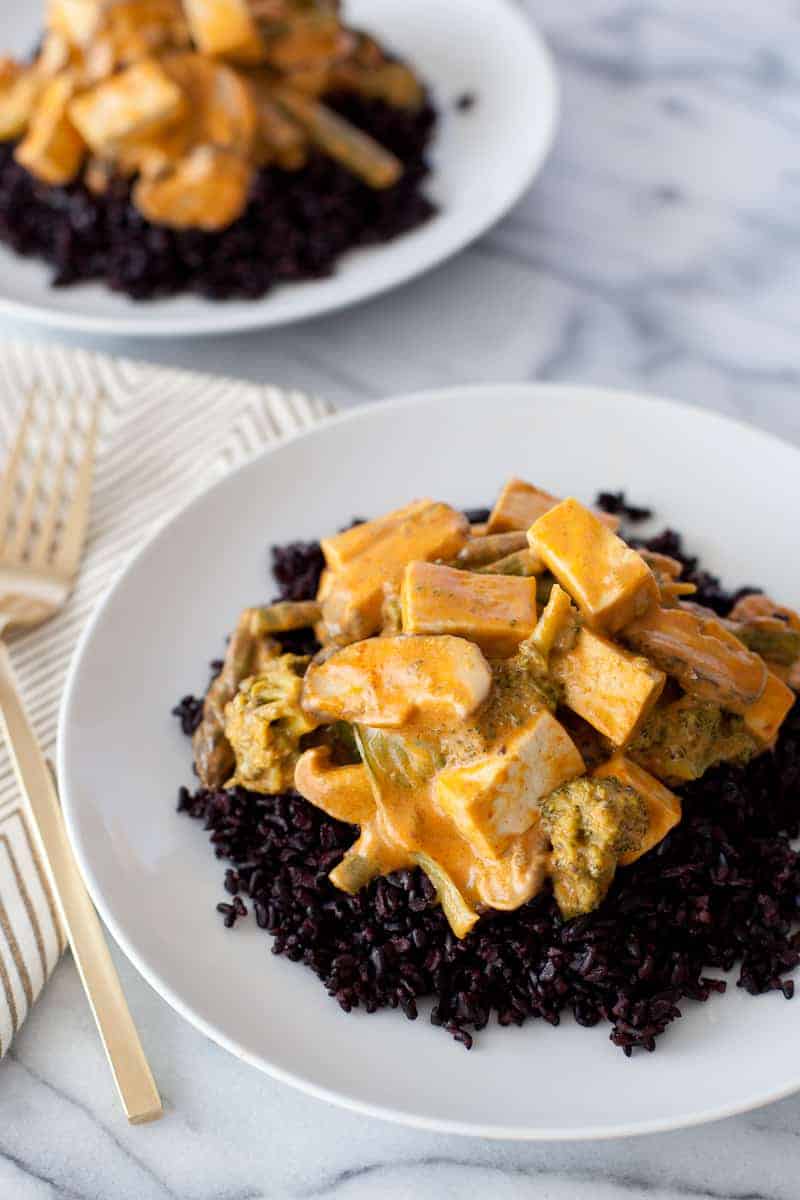 You know that feeling when you look in the back of your closet and find a forgotten favorite shirt that fell off a hanger and has been buried in a dark corner for several months? A) How could I have forgotten that beloved shirt? And B) Woo! It's like Christmas in May and I'm never taking this shirt off, not even to shower. Also C) It totally fits me better now that I've got these awesome white pants that match it. That feeling. That's the one that I got with this recipe. To be honest, I think much has to do with the recipe improvements I made on the second go around (namely crab –> tofu). Plus, if you look at those pictures of the pile of slop from the prior version (see below the jump), it's pretty clear why we shoved it in the back of the recipe box and forgot about it for over two years. And boy am I glad we dug into the archives for this vegetable & tofu Thai curry.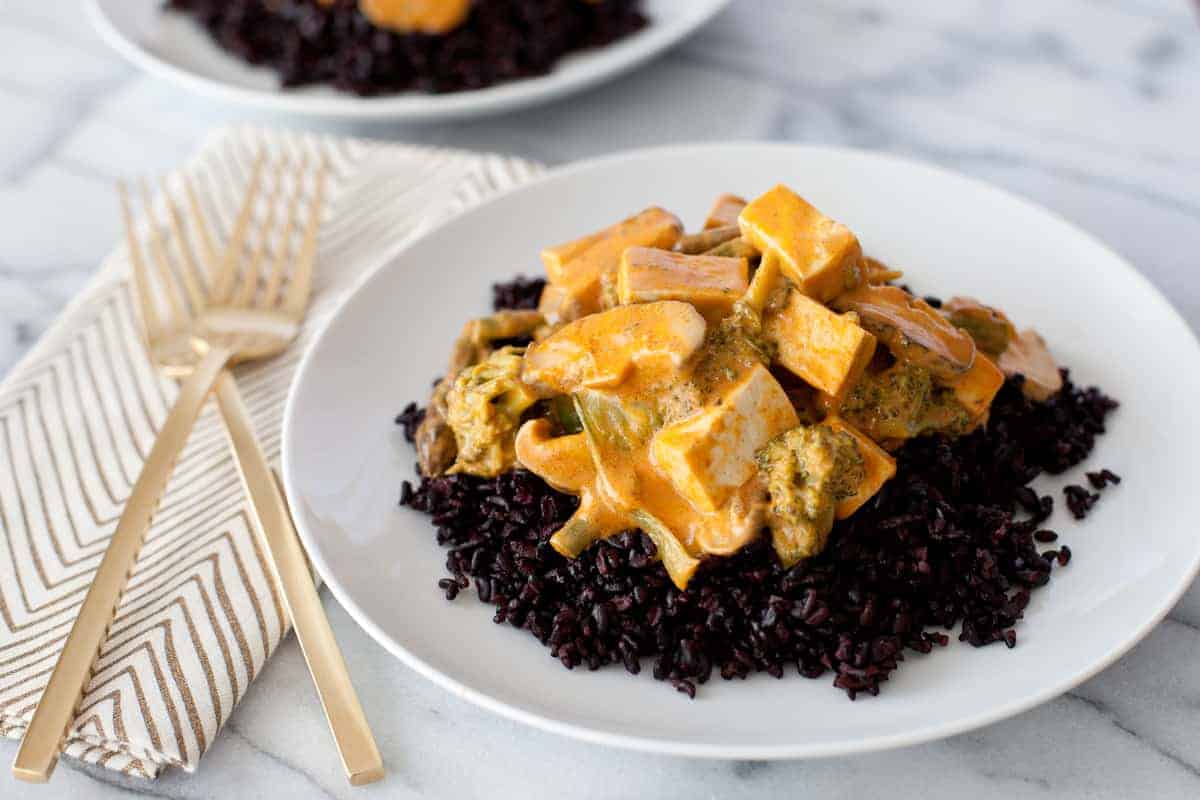 Here's what changed: This recipe used to have crab in the title – it was meant to be the star of the dish in my first iteration, but as you'll see from my description below, it got lost in the curry. My cousin who sent me in the crab direction later commented with a laugh that I was supposed to use much less curry (whoops!). This time around, I was also much too lazy to go through the process of cooking and cracking a whole crab again; patience is not one of my strong suits. I'm not the person you hand a tangled necklace chain to; It'll be a disaster where I end up looking like a cat with ball of string. Only no one's having fun. This time around I tossed in some of the extra firm Hodo Soy tofu I used in my BBQ pineapple tofu skewers. The tofu simultaneously soaked up the curry's strong flavors, while still letting it's own nuttiness shine through.
The other change I made was swapping in brown sugar for palm sugar, which only happened because our palm sugar had gone bad and I didn't feel like buying more of something we rarely used; the results were just as delightful. I also added broccoli and mushrooms because: yum! My dad got served the leftovers when he came for lunch the next day and, without knowing it had tofu, declared it delicious – a HUGE hurdle for a guy who won't eat sushi because it weirds him out. Sarah, the tastebud trickster.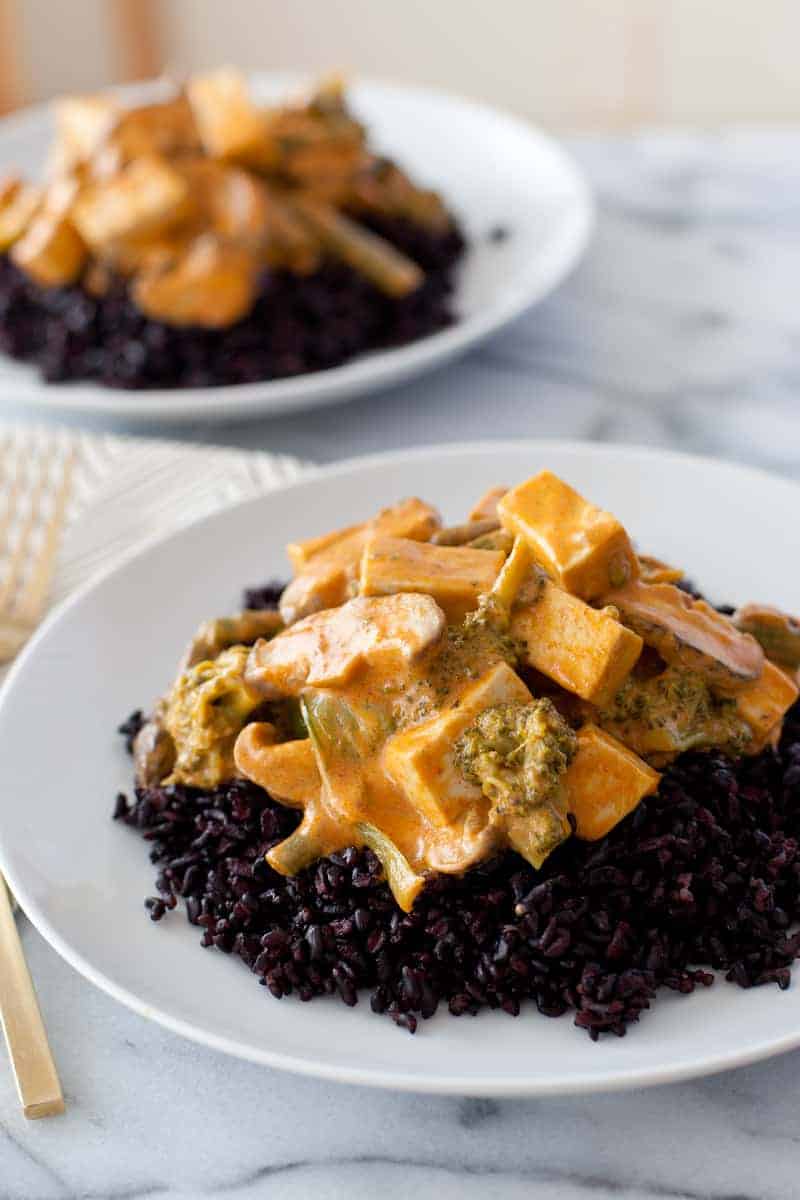 A week later, I hauled my rice cooker over to our old neighborhood to make the curry with our German friends. Only we used chicken instead because Cordula worried tofu would be hard to sell to the kids. Oh, kids, you're missing out! There's deep feeling of community I get from cooking with friends in their kitchen. They had a Russian friend visiting from Germany, and I felt a heightened need to impress her. Cordula and her friend were in charge of taking the recipe shopping list along with them to the market in search of each ingredient. Their German roots are only relevant here because I received several S.O.S. shopping texts, "what are spears??" We had a good laugh about that one, then a victory text with a picture of all the loot. If you're trying to impress a Russian from Germany, this is the dish that'll do it.
This Thai curry is layered – sweet, salty, spicy, with stand-out notes from the asparagus and tofu. I spooned it over forbidden rice because it's our new favorite and is filled with tons of antioxidants. Feel free to use your favorite rice instead! Also, what's nice about this dish is that you can sub in whatever vegetables you want. Don't like mushrooms? No problem. Have a red bell pepper that's slowly shriveling and ready to be cooked? The more the merrier! We'll have a vegetable party in this wok.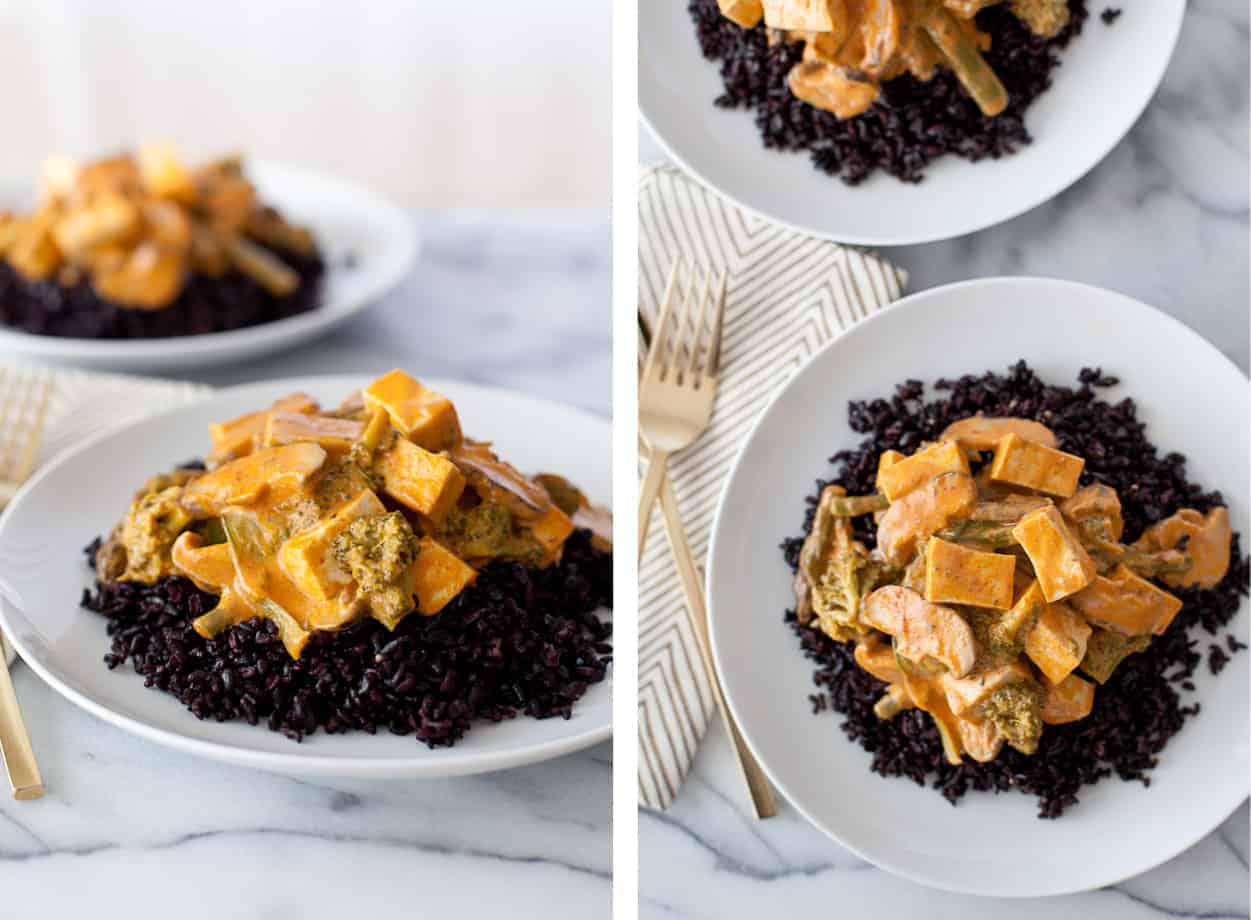 Original post from February 29, 2012:
Another fun fact that I learned at my cousin's farm is that kaffir lime leaves are the key ingredient to making Thai food. He so casually asked me if I wanted some kaffir lime leaves, and I responded with a blank stare, "some what?" He went on to tell us how one of his favorite dishes is fresh crab with Thai curry cooked with these little leaves from his balcony. I took some because I'm always down for trying new things, but to be honest, I'd never even had Thai curry before – or at least not that I could remember. Recall that I'm not that great with spice, so Thai food is typically lower on my list of preferred cuisines while dining out. Lucas, on the other hand, loves Thai food, so I decided to pull a couple of these mysterious leaves from my freezer and give it a whirl.
At the last minute, I sought Scott's advice, since I really had no clue what Thai curry was supposed to taste like; I joked that I wouldn't actually know whether my dish turned out, only whether or not I liked it. I apparently went to the right place because it turns out he's taken Thai cooking classes, and he gave me the run-down, along with a link to his culinary teacher's Thai recipe blog. The basic principle of Thai curry, he said, is that there's harmony between spicy, sweet, and salty flavors, mostly done "to taste." Cooking something to taste isn't easy when you're not actually sure what it's supposed to taste like. For those of you who are also a bit unfamiliar with Thai curry, I've attempted to create measurements for what I wound up putting in my wok, but keep in mind that you can adjust the amount of curry sauce (spice), palm sugar (sweet), or fish sauce (salty) to your liking.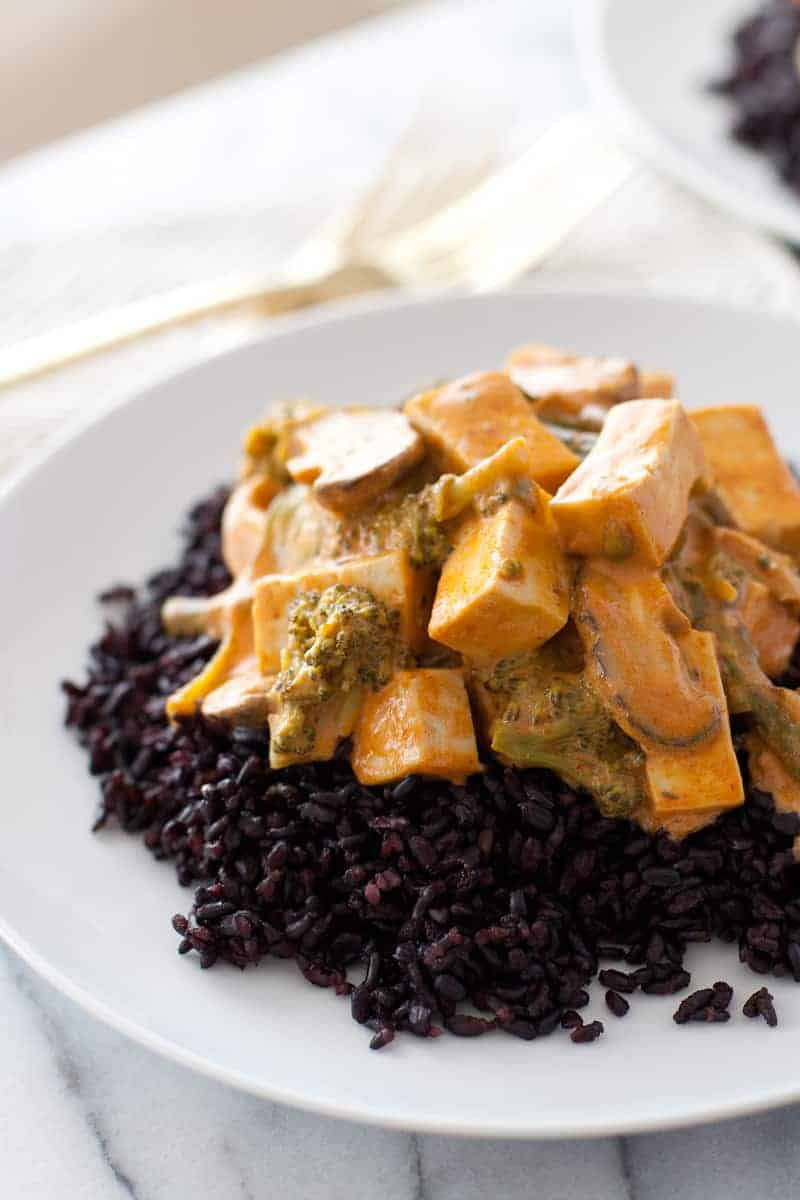 After prepping my ingredients, I made a quick trip to the market down the street to pick up some palm sugar (my last minute switch in recipes after chatting with Scott left me unprepared). In my absence, my sleeping kitties came to life and snagged some bok choy off the counter to feast on the floor. I came home to half eaten cabbage pieces strewn about the living room and two very very very sweet and innocent looking rascals. So far, I've discovered that my cats like rice cakes, bok choy, and seltzer water. At least they're healthy eaters? (Update: The cats still love bok choy, but Arti's new favorite is kale. All kale, all the time).
A few minutes after pulling the crab out of the pot of boiling water, I turned around to find Aioli on the counter inspecting the crustacean. I've considered naming my blog Cooking with Cats, but thought people might get the wrong idea. The crab ended up being quite a bit of work, especially because I don't own a meat mallet or nut cracker to pry open the tough shell. Lucas later asked what on earth his hammer was doing in the dish drainer. Since I am no expert, I will direct you to an incredibly compressive pictorial how-to on preparing crabs. Compared to the cost and time it took to get the meat from the shell, it didn't stand out much against the curry's overpowering flavors. In future iterations, I would probably leave the crab out (sorry Scott!). Or maybe, I'll put it on the side and use the curry as a dipping sauce. Regardless, I will be making this Thai curry again. (Update 2 years later: Note to self: make more notes or you'll forget).
Photo Comparison: My life motto is all about growing and learning, so in that spirit here's a before and after shot from the original post in February 2012 to today's recipe rewind two years later. We shot the original with a point-and-shoot, using a make-shift light diffuser. We reshot this recipe with a Canon 5d Mark II with a 50mm f/1.4 lens. This is not just an issue of "oh, that's a crappy photo," but this is a lesson in food styling to make blob-like food look yummy. I don't think it's even a question which one looks more appetizing (hint: it's not the one that looks like velveeta).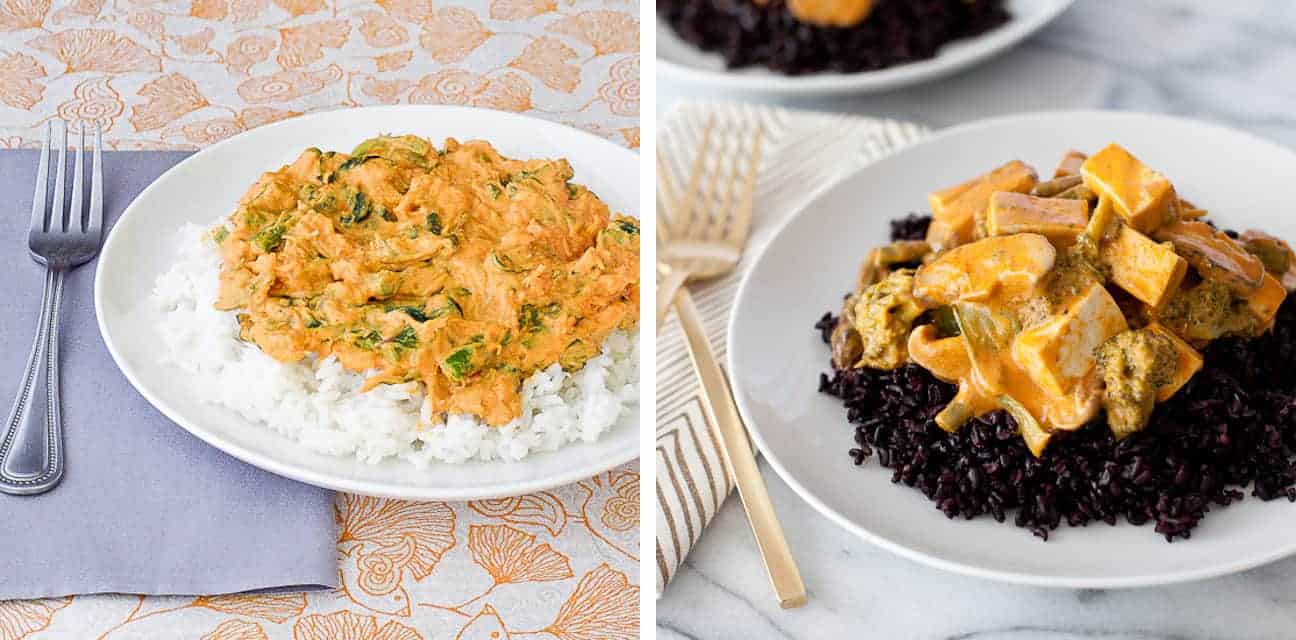 February 2012 May 2014
Check out previous Recipe Rewinds here: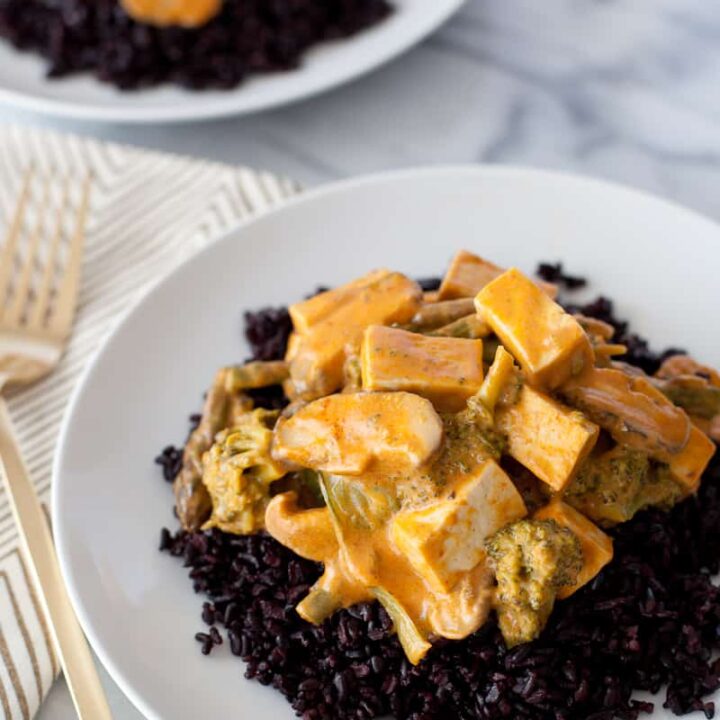 Vegetable & tofu Thai curry
Ingredients
2 (14.5) ounce cans of coconut milk, undisturbed
4 - 6 heaping tablespoons of red curry paste
3 kaffir lime leaves, whole (or, if you can't find them, try substituting 3 tablespoons of fresh lime juice plus 1½ teaspoons grated lime peel)
½ pound of asparagus spears, bottom ends discarded and spears cut into 1-inch long pieces
1-2 cups chopped broccoli florets
12 ounces of organic extra firm tofu, cut into bite-sized cubes
3 baby bok choy, ripped into individual leaves
2-3 cups sliced shiitake mushrooms
¾ teaspoon fish sauce, or to taste (vegetarian option: keep some homemade vegan "fish sauce" on hand!)
2 tablespoons brown sugar, or to taste
1/8 teaspoon cayenne pepper
4 servings of cooked rice, for serving (we serve it over forbidden black rice because it's our favorite, but it'd also be yummy over white or brown rice if you can't find forbidden rice).
Instructions
Be sure not to shake the can of coconut milk, so the fat remains on the top. Scoop the thick cream of the top third of each can into a medium pan or wok and heat over medium high heat. Cook until smooth and bubbly and the oil starts to separate from the cream.
Add the curry paste to the pan and fry for a few minutes to release the aromas.
Pour in the remaining coconut milk and bring to a boil. Add kaffir lime leaves and simmer about 8 minutes uncovered.
Add the asparagus, broccoli, and tofu, and simmer for 2-3 minutes. Add the bok choy and mushrooms, and cook for about 2 more minutes.
Season with brown sugar and fish sauce, tasting between each addition to get the flavors you desire. Continue cooking until vegetables are cooked to your liking.
Add the cayenne pepper, and cook another minute.
Remove the kaffir lime leaves and serve immediately over steamed rice.