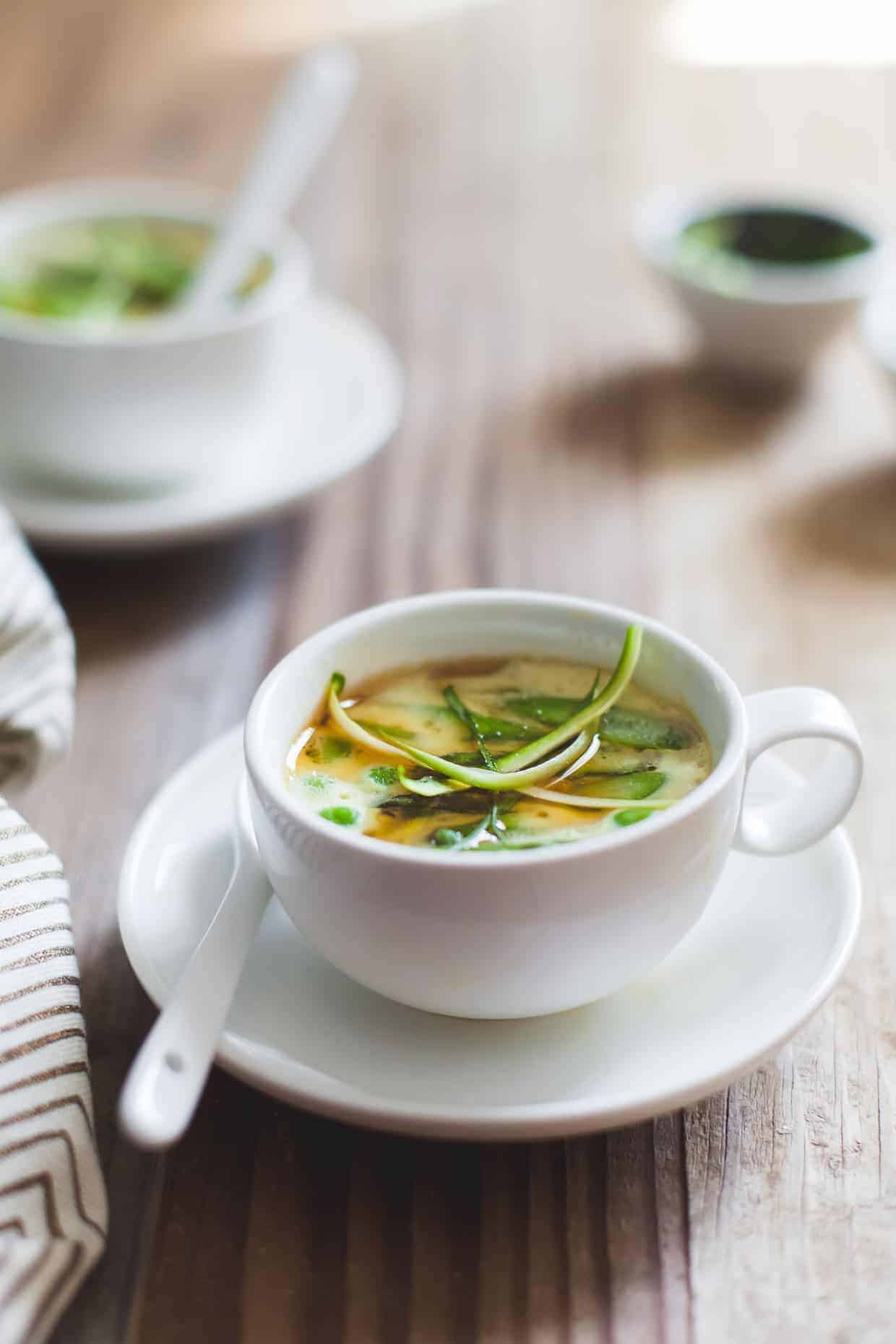 Eggs are one of the only staples we keep on hand in our fridge. Well, that and cheese. With our ever-rotating drawer of fresh vegetables, we've got everything on hand to make these speedy parmesan steamed egg custards at all times. If the apocalypse comes and we get trapped in the house, don't worry, we'll have eggs. Eggs sprinkled with buried in cheese.
I wouldn't put it past me to just melt cheese on top of a fried egg and call it lunch (maybe add an avocado). In college, one of my "specialties" was a slab of thawed boneless skinless chicken breast "grilled" on the George Foreman with a slice of cheddar cheese melted on top and a sprinkling of seasoned pepper to make it look like it was more than just cheese melted on a rubbery chicken breast.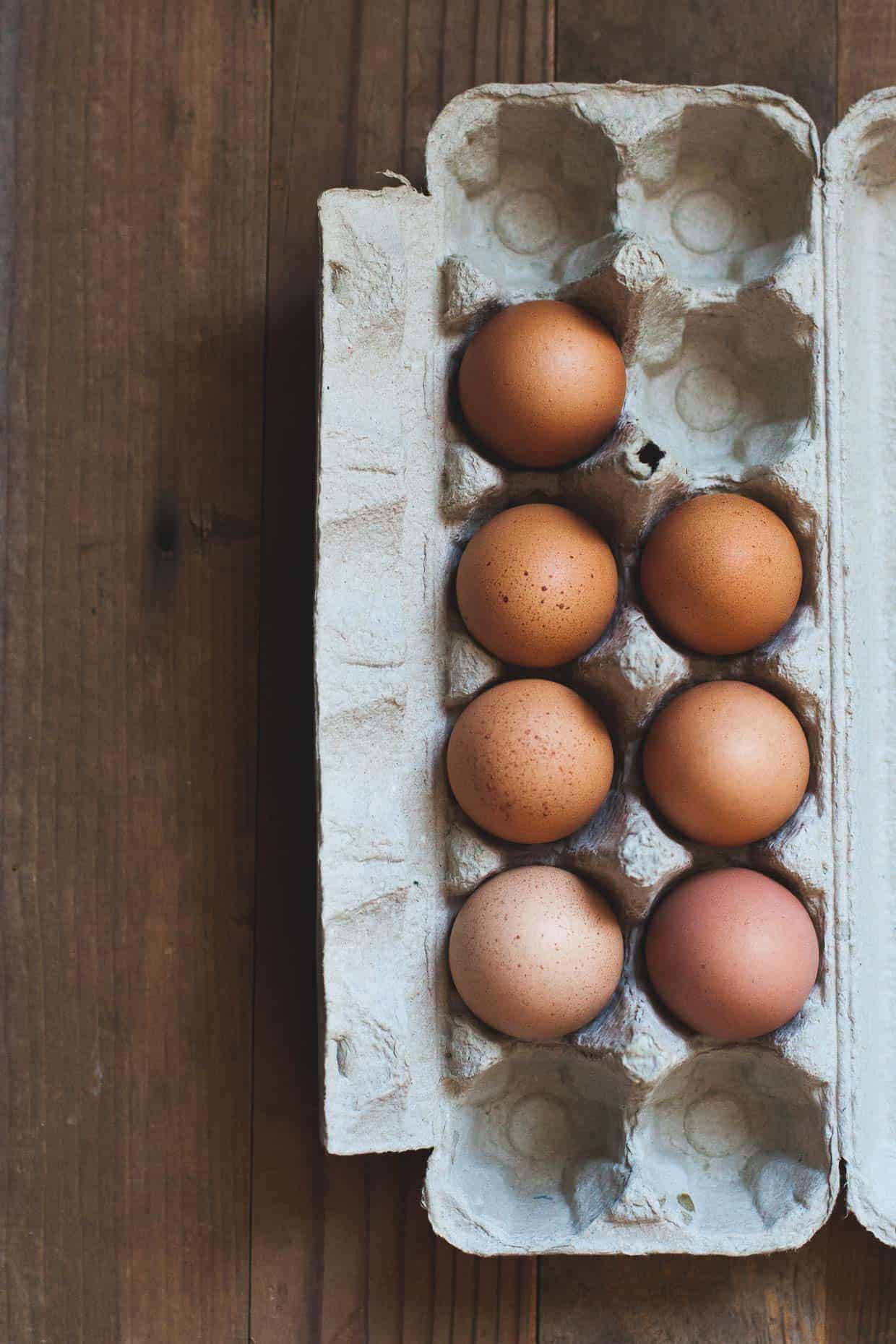 Don't worry - this isn't a recipe for cheese melted on top of an egg (even though: yum). We're getting fancy now, stirring the cheese into an egg custard and plopping in a few fresh veggies. Brunch definitely doesn't get much easier than these no-fuss steamed eggs. When slowly steamed with broth and freshly grated parmesan cheese, the eggs become smooth and creamy like a savory custard.
This dish is inspired by the mushi mono (steamed dish) from the nine-course kaiseki meal Lucas and Angi took me to for my birthday a few weeks ago. The egg custard (chawan-mushi) that night was steamed with asari clam, Italian salted pork, and a few dainty vegetables. Plus the silkiest eggs I've ever eaten.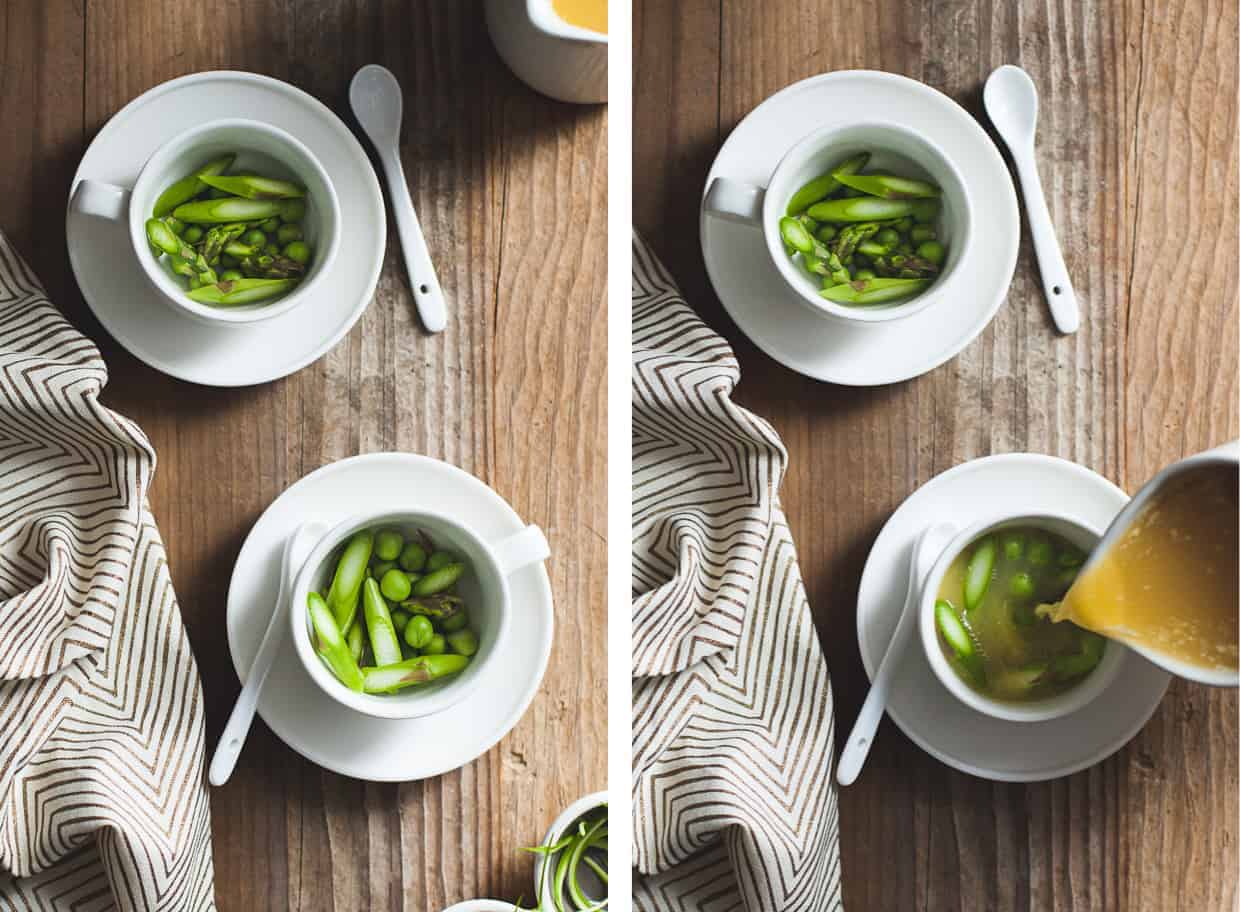 When I realized Easter was coming up way too soon and I had only chestnut flour pasta and wild rice crackers on the docket, Alanna suggested I turn to The Perfect Egg for inspiration. Back in mid-March, I had the pleasure of celebrating the launch of Spoon Fork Bacon's new book - The Perfect Egg - over an eggy brunch at the Williams-Sonoma test kitchen with Alanna, Pang, and Ana. The book is filled to the brim with eggs in every preparation imaginable and pages of gorgeous eggy photos that are out on permanent display in my cookbook stand.
Now if there's an apocalypse, I can make egg clouds, a creamy lemon curd tart, or poached yolk stuffed ravioli (with a parsley leaf pressed into the dough!). Between that and Lucas's Boy Scout training, our house is the place to go if the world ends, guys.
The version Jenny & Teri share in their book is similar to the Japanese chawanmushi from my birthday dinner with some dashi, soy sauce, and mirin. For my Easter brunch, I took the method from their book, and added what I had on hand: vegetable broth, freshly grated parmesan cheese, and spring vegetables.
If shelling peas isn't your thing, you can feel free to use whatever fresh vegetables you've got on hand, or leave out the vegetables all together. No matter what you do, these custards take only about 5 minutes of hands on time - leaving you free to spend the rest of your Sunday morning hiding eggs (or, in my case, shopping at the Alameda Point Antiques Faire).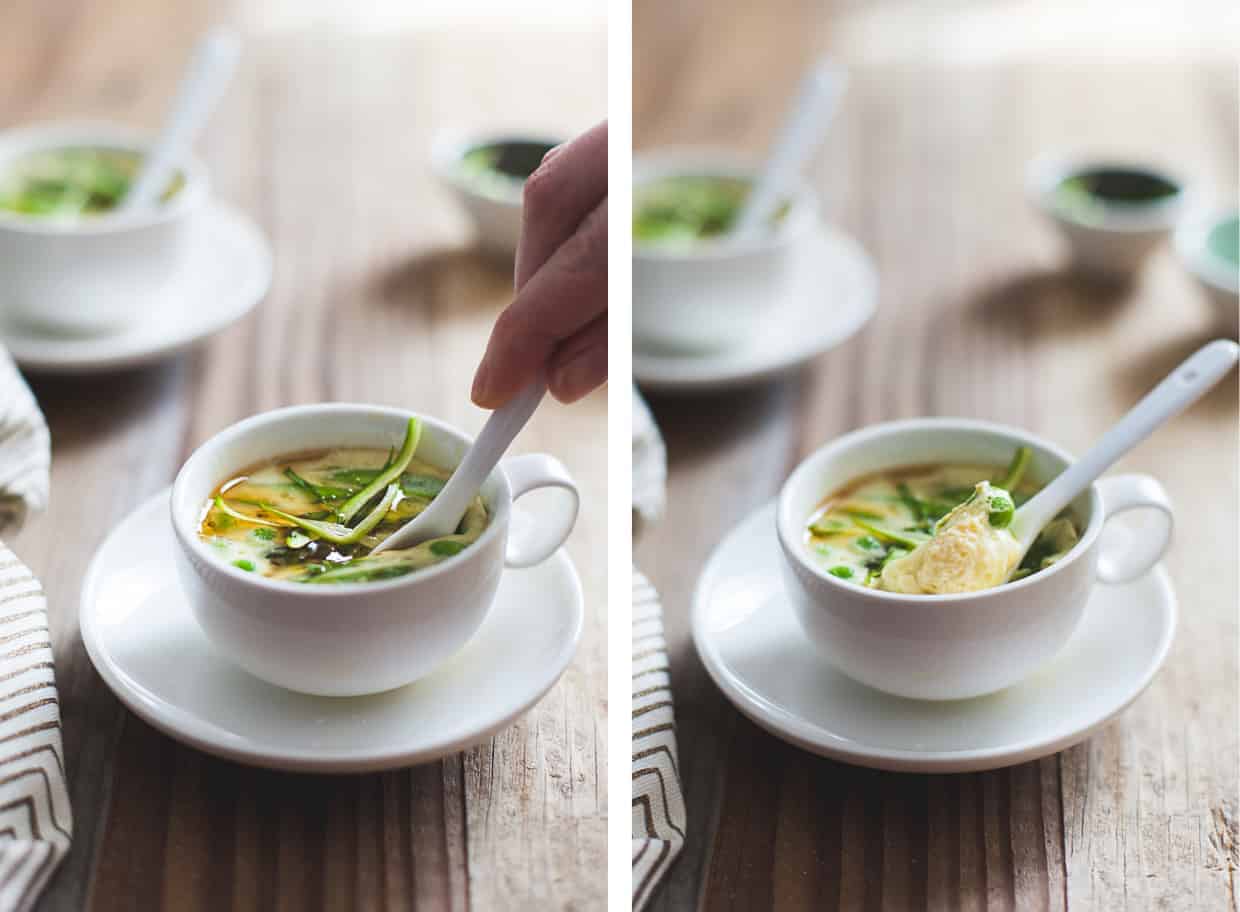 Thanks for reading Snixy Kitchen! To stay up on what's coming out of my kitchen, follow me on Facebook, Instagram, Twitter, Bloglovin', Pinterest, or subscribe via e-mail to get new recipes right to your inbox.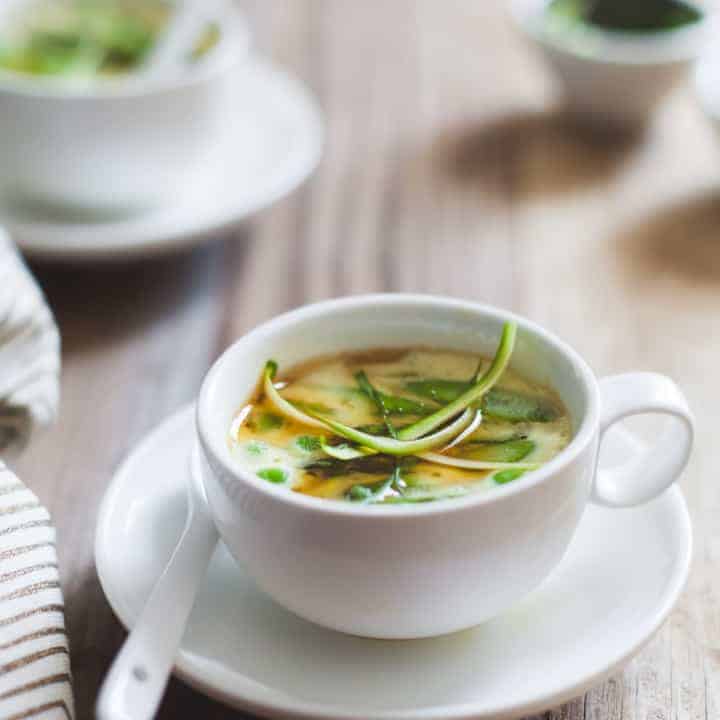 Parmesan Steamed Egg Custard with Asparagus and Peas
Ingredients
4 eggs
¼ cup freshly grated parmesan cheese
2 spears of asparagus, thinly sliced diagonally
2-3 tablespoons English peas (from about 8-10 pea pods)
½ teaspoon salt, plus another pinch
Pinch pepper
For serving
1 green onion, cut into thin strips
Optional: 1 strip of shaved asparagus, cut into thin strips
Optional: 1 teaspoon sesame oil
Instructions
Place a steamer rack inside a large pot and add about an inch of water so that the water is just below the rack. Bring the water to boil over medium high heat. Reduce to a simmer.
In a medium bowl, gently whisk egg in one direction to avoid making air bubbles. Tip: I use a fork and a chopstick to gently mix the egg.
Let the whisked eggs slowly pour through a fine metal sieve into another bowl.
Slowly pour the broth into the mixed eggs and gently stir to combine. Add the parmesan cheese and half of the salt and stir to combine.
Toss the asparagus and peas in the other ¼-teaspoon of salt and a pinch of pepper then line four 6-ounce ramekins with a layer of vegetables.
Pour the egg mixture over the vegetables and use a spoon to scoop off any bubbles (or you'll end up with little bubble craters on top of your smooth eggs).
Cover the ramekins with foil and set them in the prepared pot with the lid on for 12-14 minutes, until set.
Serve with 1 splash of sesame oil, and garnish with bit of green onion and shaved asparagus.