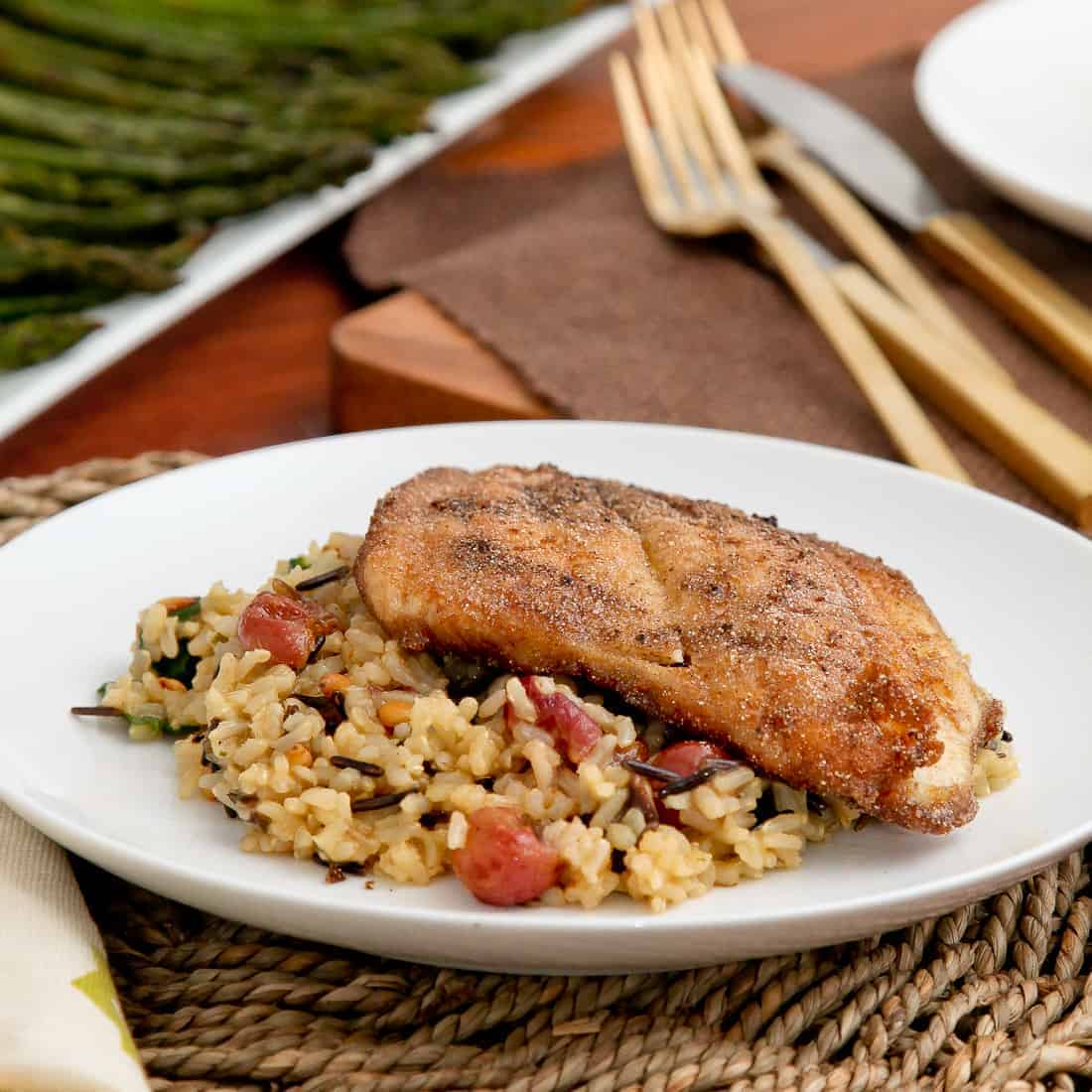 I've been in a rut with my dissertation lately. When you're in a rut, you reflect. Reflect on what's keeping you from making the progress that you need. Then maybe you can figure out how to get over that and just write your little heart out. And I think I've discovered a few things about myself that have been seriously getting in my way (I've also got a feeling I'm not alone on these): 1) I don't like to start a project unless I can finish it. Or at least make significant noticeable progress. When I leave something unfinished, it makes me anxious. So when I look at this mound of data and the many many pages I need to write about it, my silly brain says, "well, I can't finish it today, so why even start?" A surefire way to make sure you never ever finish it. Yes, that logic is ridiculous, but guess what? It's super easy to fall for. Guys, it's a trap!
2) I'm a perfectionist. Don't sound the alarms - this isn't news. The hindrance comes when the data I planned on collecting didn't turn out the way I'd outlined...because, you know, classroom-based data never does. That's precisely the thing that makes classrooms interesting sites to study. But then there's an overwhelming sense of wanting to throw out the year's worth of data to start over. Which seriously conflicts with my goal of just finishing the dang thing.
So then what happens when you're not feeling productive on your dissertation? You tell yourself you can't do anything else until you make progress. Things like creating new dishes for your blog, eating, and putting on pants fall by the wayside. How can you possibly find time to put on pants if you haven't finished your proposal?! And you don't deserve lunch if you can't even bust out this paragraph. But you do deserve snacks. It's always snack break time. No, no time to prepare something - only time for the food you can put directly from the cabinet or fridge into your mouth. Alright, if I finish this paragraph, I can have some popcorn. Oh heck, I need popcorn to finish this paragraph.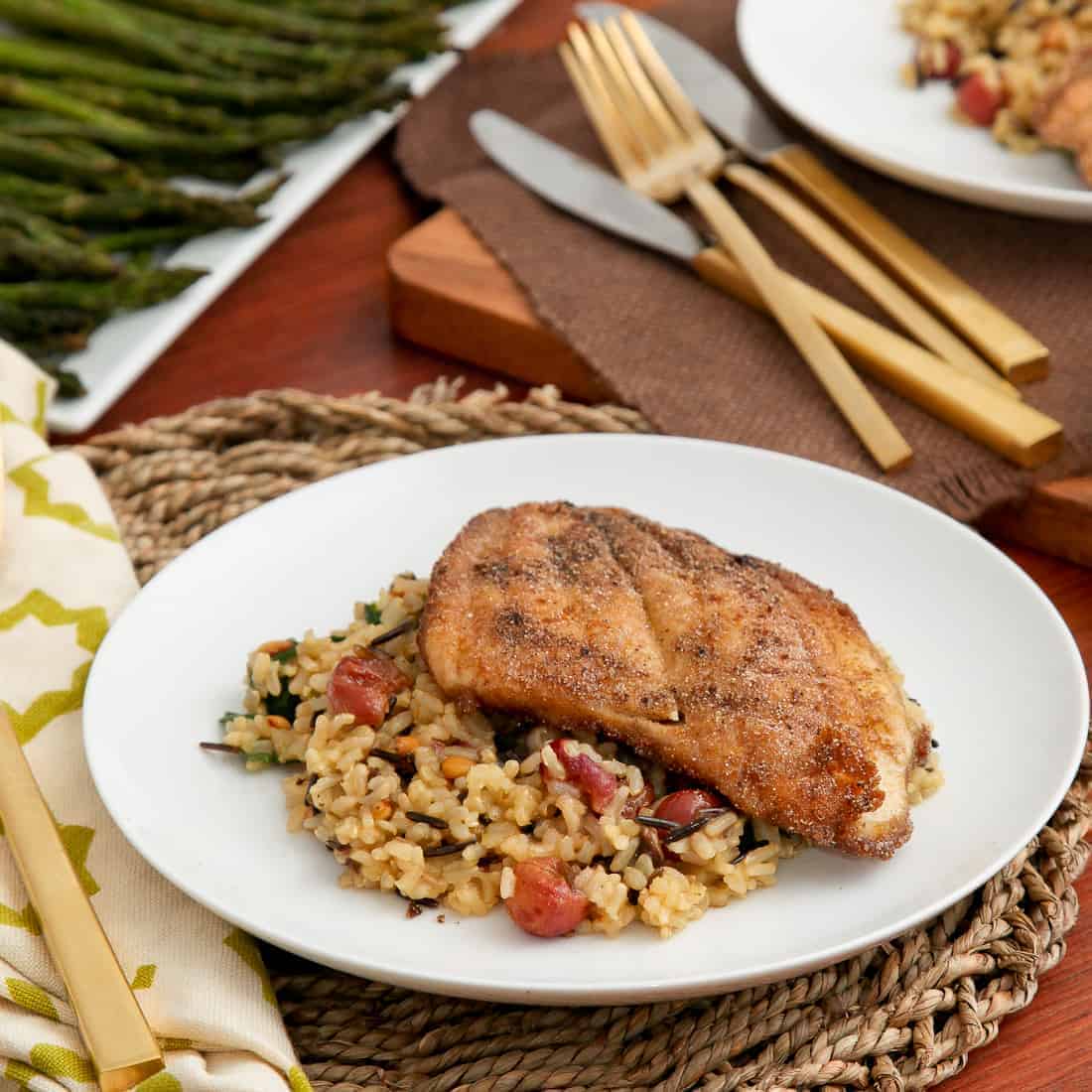 To be clear, I say this all with a slightly exaggerated sense of humor because I'm finally making strides...things are on the up and up. However, when I commit myself to getting some serious writing done, time for creativity in the kitchen really does simmer down. I fall back on time-tested recipes. The ones I know like the back of my hand and can whip up with barely any thought. Or can dictate to my loving husband while keeping my eyes peeled to my dissertation proposal.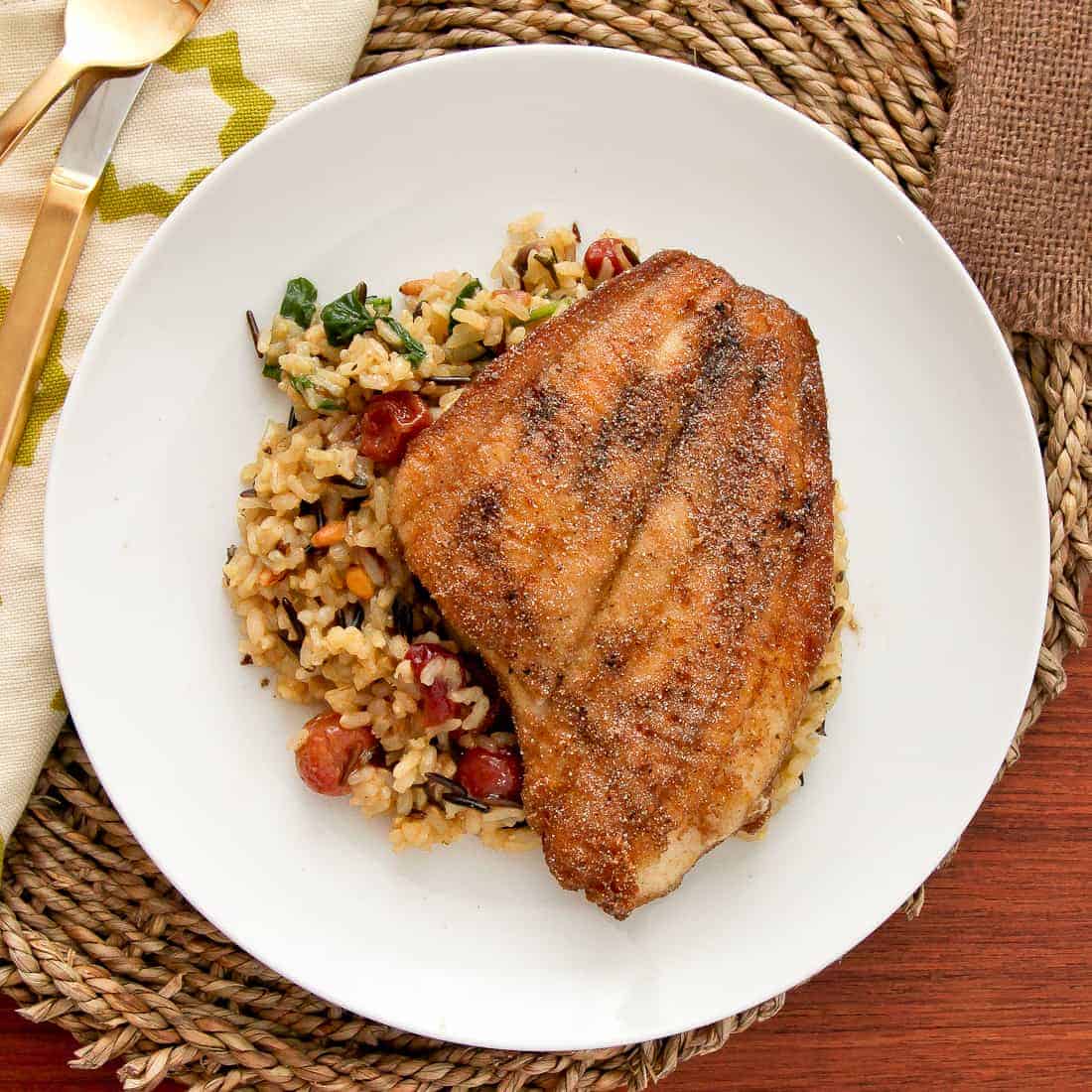 This mixed wild rice is one of those dishes. I came up with the recipe on a busy day a few months ago while at the produce market without a dinner plan. Like a lost girl with peculiar cravings, I ended up with rice, grapes, spinach, shallots, and mushrooms in my basket and went with it. The grapes seemed like a wild card, but it turns out they tie all the flavors together. A punch of sweetness to cut the savory. The pine nuts add texture, spinach adds depth. So now when the weight of 1000 research articles is dragging me down, this recipe gets repeated. Each time with a different gluten-free pan-fried protein resting on top. A go-to automatic win. On the days when you need a win.
(PS. Roasted grapes?! Why haven't we talked more about these?!)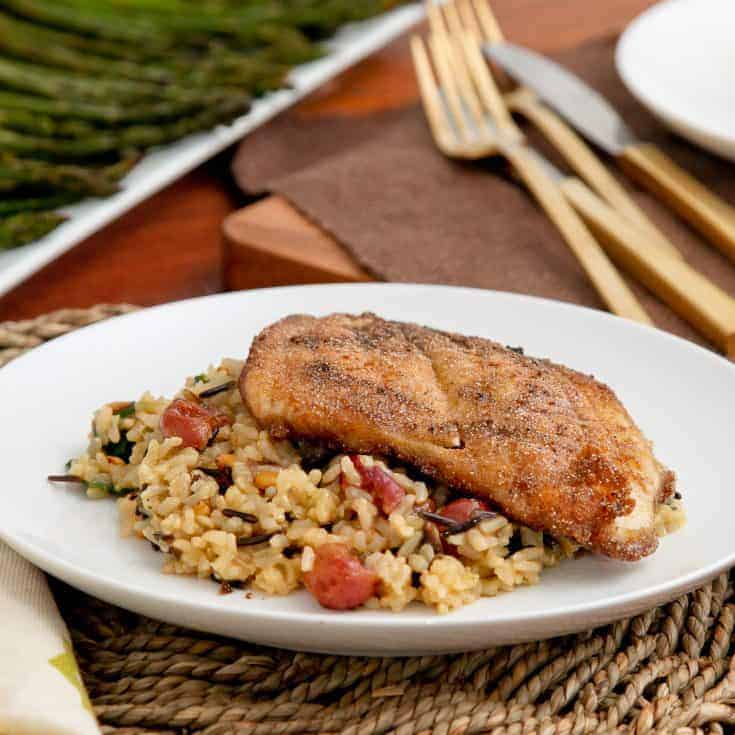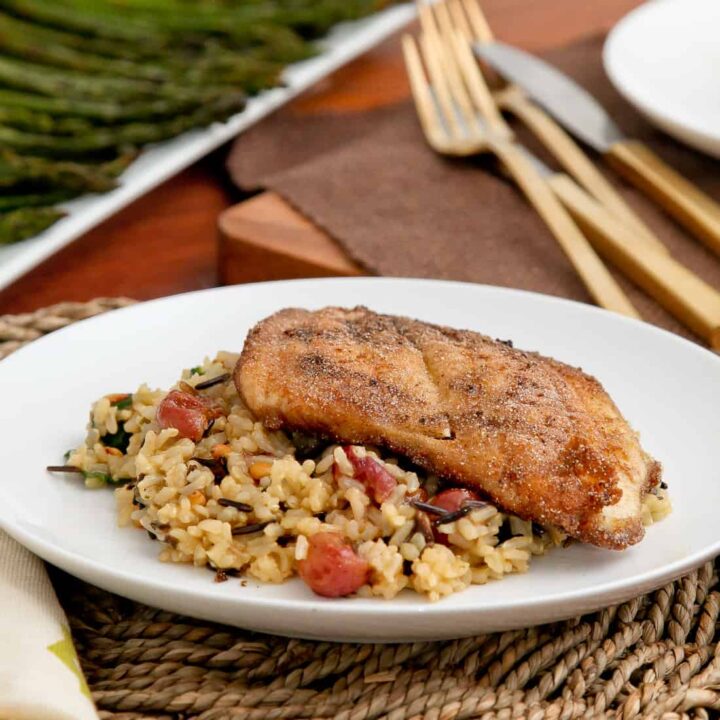 Mixed wild rice with roasted grapes
Ingredients
1 tablespoon olive oil
1 large shallot, chopped
1 cup shiitake mushrooms, sliced
1½ cups mixed wild rice
2 cups vegetable broth
1¾ cup water
1 tablespoon butter
½ teaspoon salt, plus more to taste
¼ teaspoon thyme
½ teaspoon dried parsley flakes
¼ teaspoon garlic powder
¼ teaspoon pepper, plus more to taste
1½ - 2 cups red grapes, roasted at 400ºF for 20 minutes, until they begin to shrivel
¼ cup pine nuts, roasted
1½ cups spinach
Instructions
Heat 1 tablespoon of olive oil over medium high heat in a heavy bottom pot. Add the chopped shallot and cook, stirring, until fragrant and caramelized, about 3 minutes.
Add the mushrooms and cook, stirring, until they begin to sweat, about 2 minutes.
Add the butter and stir to melt.
Add the rice and cook, stirring, until it begins to brown, about 5 minutes.
Add the vegetable broth, water, salt, thyme, parsley, garlic powder, and pepper. Reduce heat to medium low. Cover and cook for 30-45 minutes, until the liquid is absorbed and the rice is tender. Remove from heat.
Add the roasted grapes, pine nuts, and spinach, stirring to combine. Cover and let rest for 5 minutes.
Serve with pan-fried sole (recipe below)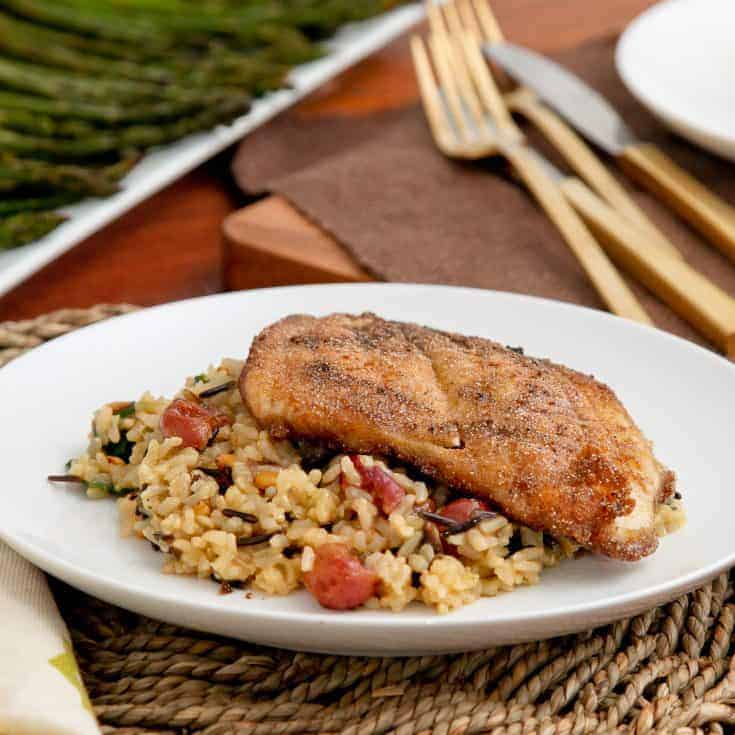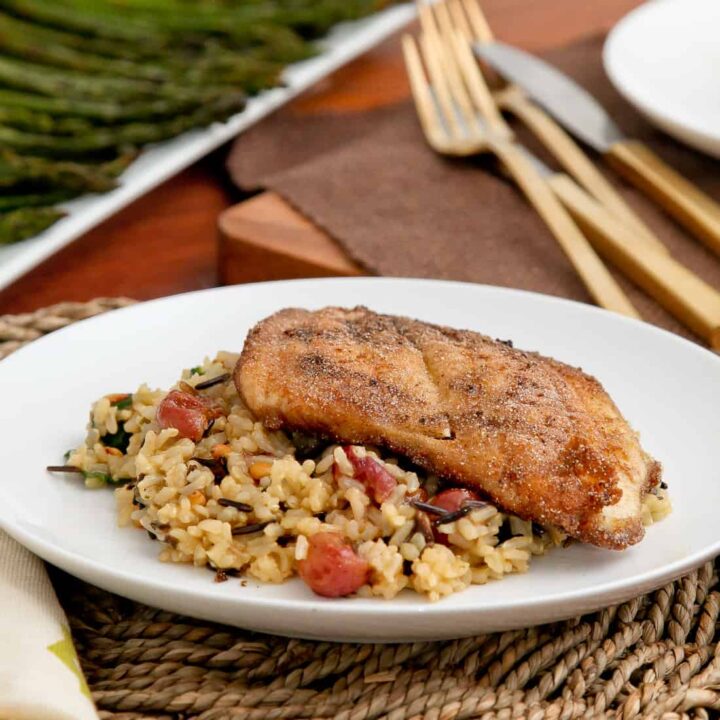 Gluten-free pan-fried sole
Ingredients
1 pound fresh sole filets (4 medium pieces)
¼ cup of white rice flour
1½ tablespoons nutritional yeast
1 tablespoon cornstarch
¼ teaspoon garlic powder
¼ teaspoon salt
¼ teaspoon pepper
1 egg
1 tablespoon of water
2 tablespoons olive oil
Instructions
Combine the white rice flour, nutritional yeast, cornstarch, garlic powder, salt, and pepper in a bowl. Once mixed, spread it out on a plate.
Whisk together the egg and water.
Dip each filet in the egg wash then in the rice flour mixture to coat.
Heat the olive oil over medium high heat in a large cast iron skillet.
Cook the filets two at a time (or more if you can fit them!) for 3-4 minutes on each side, or until golden brown. Transfer to a paper towel lined plate to drain. Serve on top of mixed wild rice.