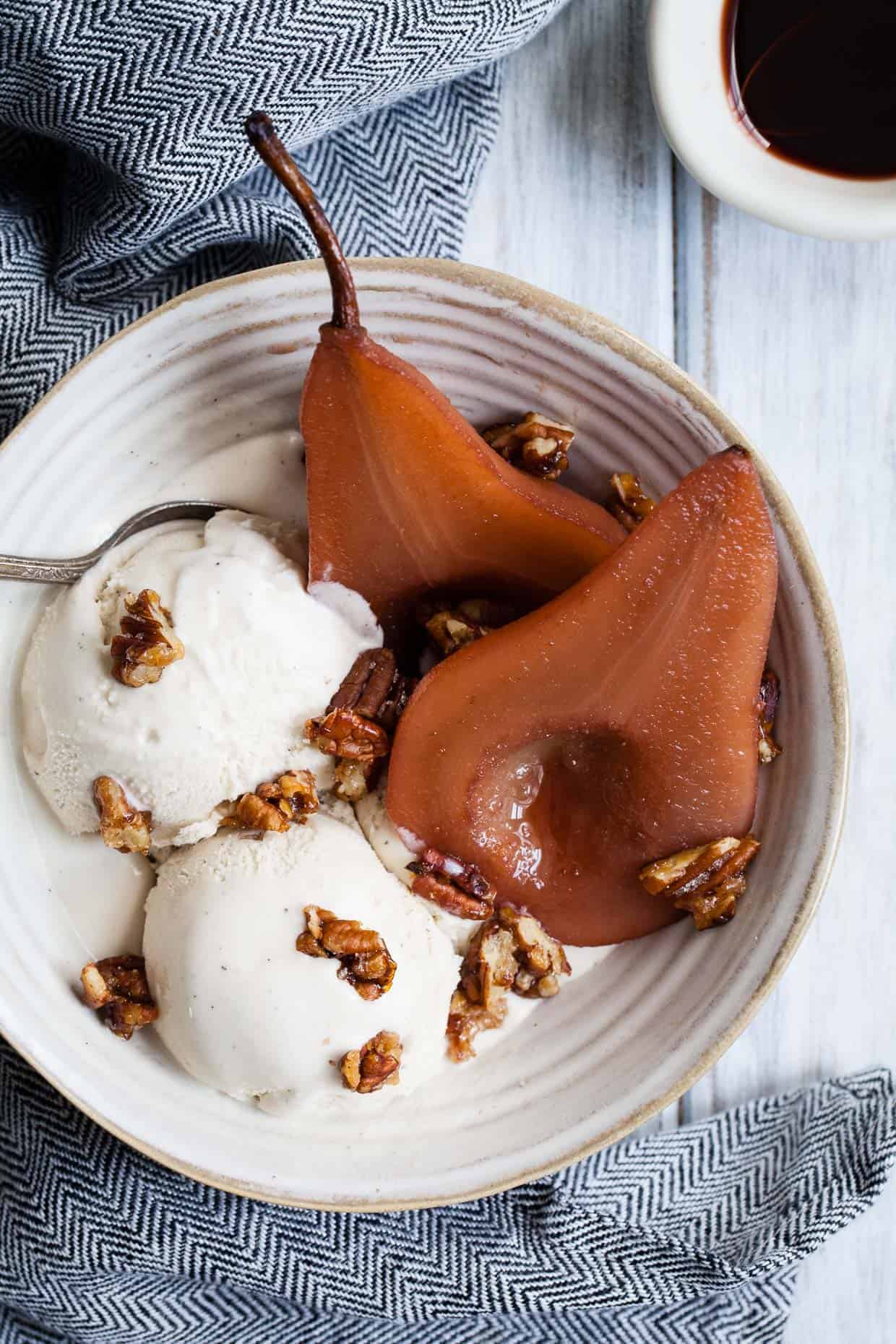 I originally planned to share this recipe as "Mulled Pomegranate Cider Poached Pears with Vegan Cardamom Ice Cream & Candied Pecans," but I thought you'd all be too tired after reading the title to actually feel inspired to make it (which would be a darn shame!). So I've split it into two posts (get the cardamom ice cream recipe here!). But really all the pieces are quite simple, I promise. And if you want to blow your guests away with a holiday sundae, you should pick up some pears and head to your kitchen asap.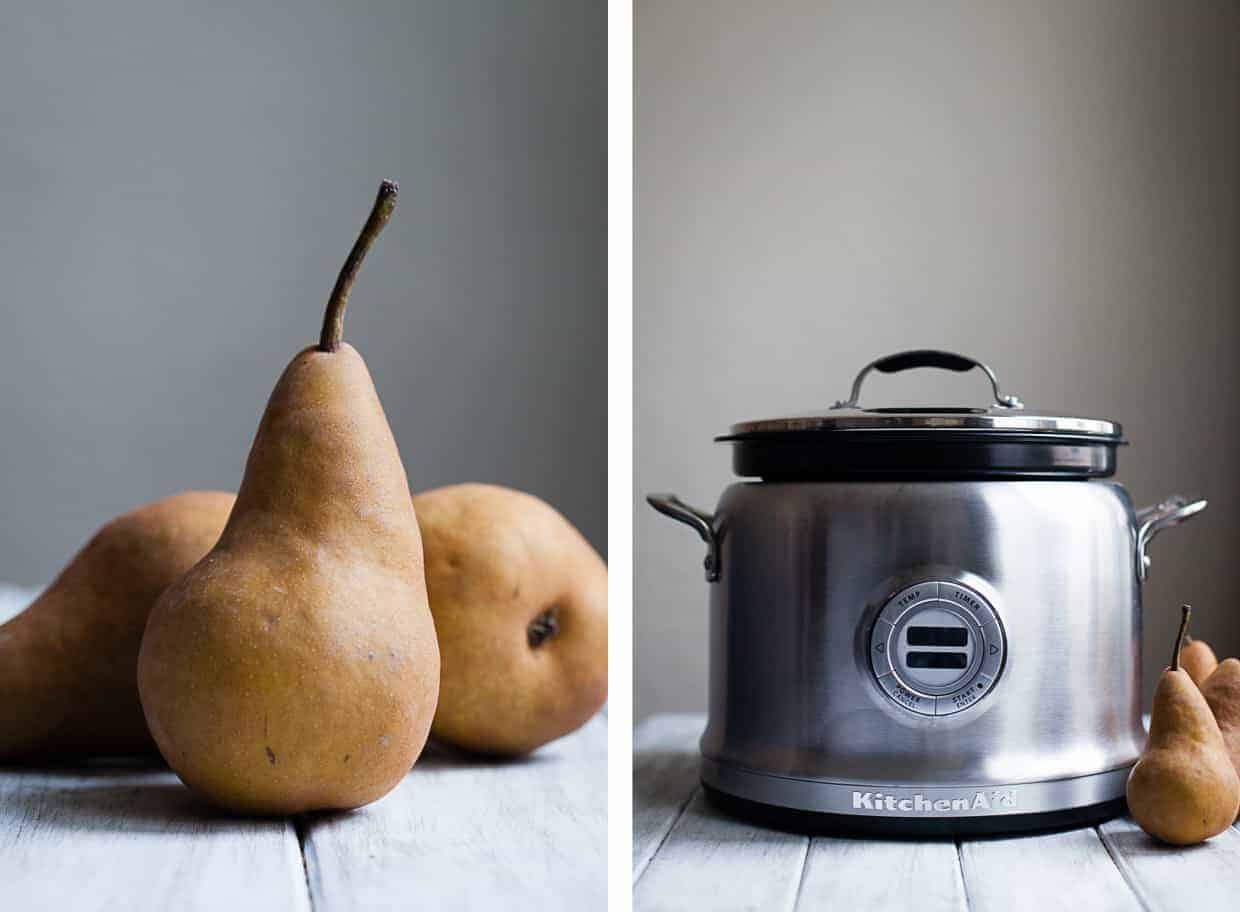 While the spices are mulling, the pears are poaching, and the ice cream is steeping, you'll have plenty of time to watch cat videos. Speaking of - surely you've all seen videos of cats climbing (and knocking over) Christmas trees, right? In years past, our cats have seem most interested in sleeping among the gifts beneath the tree.
Until this year.
The year they finally realized we set up a giant tree full of shiny cat toys hanging from the branches - obviously just for them! Last night, we came into the living room to find Aioli ⅔ the way up the tree, laying among the lights and ornaments (left). Just chillin' like "yeah, this is a great cat bed." Then while writing this post - this happened (right).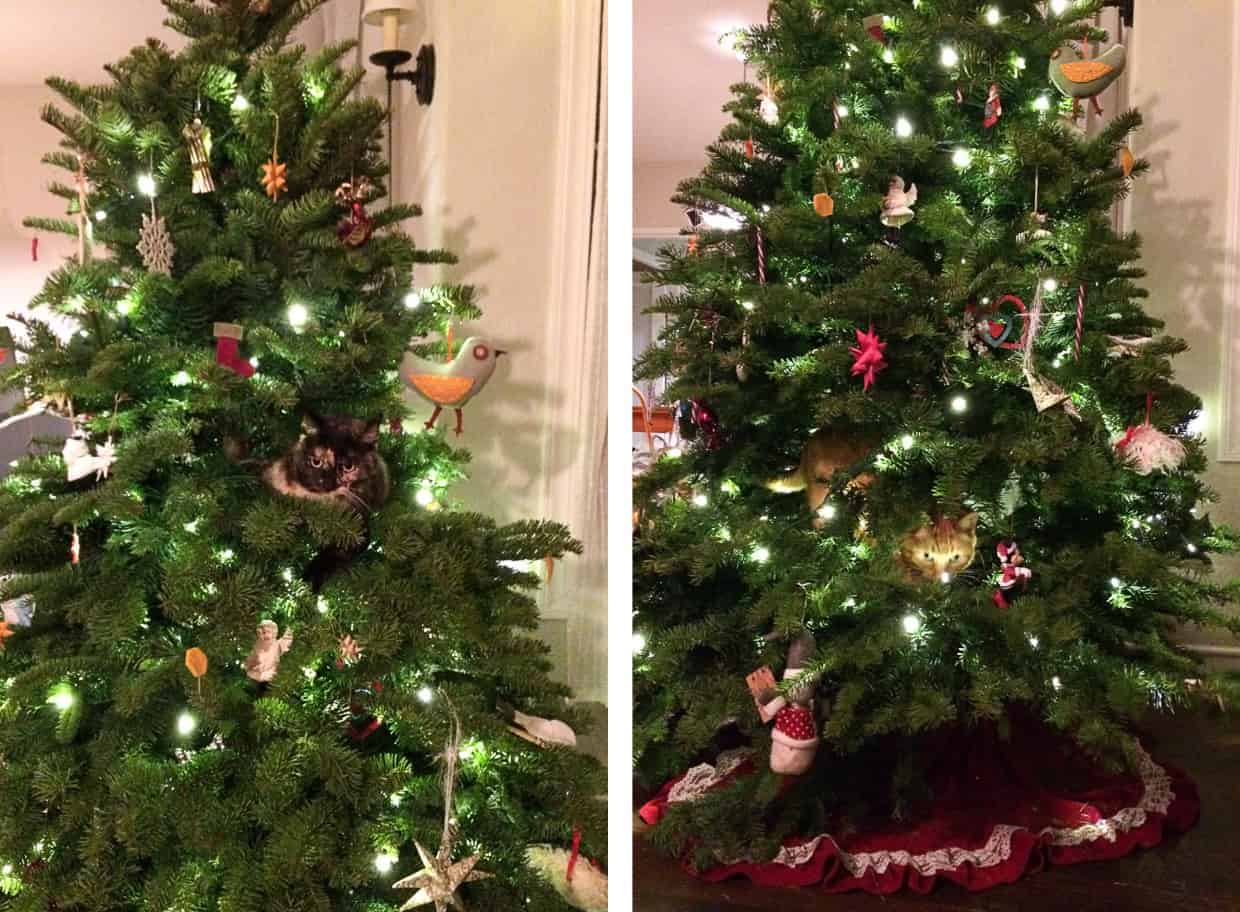 This morning, I found a scattering of my childhood ornaments cat toys all around the tree skirt and not a guilty cat in sight. They are trying their hardest to prepare us for toddlerhood. Let's keep our fingers crossed the tree stays standing through the season.
We've officially embraced the holidays at Chez Menanix - I've got Christmas tunes blasting all day, while Lucas throws old holiday classic movies on repeat at night. We've even got some of mom's homemade english toffee to munch on and allofthebakedgoods loaded up on plates for the neighbors. With the aroma of mulled pomegranate cider wafting through the house, it's feeling mighty Christmas-y up in here.
When my shiny multi-cooker moved in, I packed up my rice cooker and my slow cooker to replace them with just one appliance that does everything those two did and more. It sears, steams, simmers, boils, and even makes yogurt - it's a super appliance! One that's also so much sexier than its predecessors.
In the case of these poached pears, you can set the multi-cooker to boil or simmer and go back to watching Home Alone and decorating your tree without having to keep an eye on the flame. Plus in the hustle and bustle of holiday cooking, it opens up extra space on the stove for all your other goodies.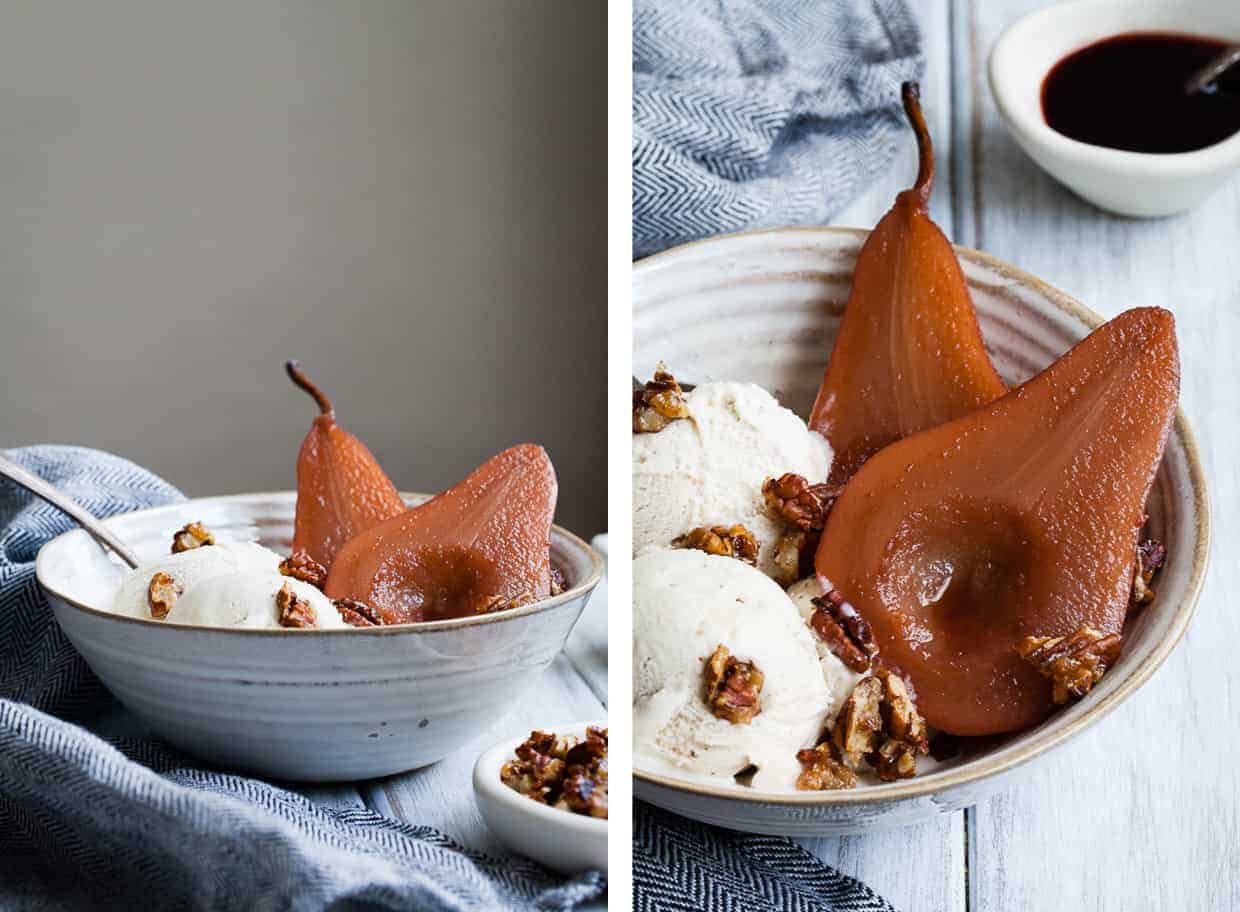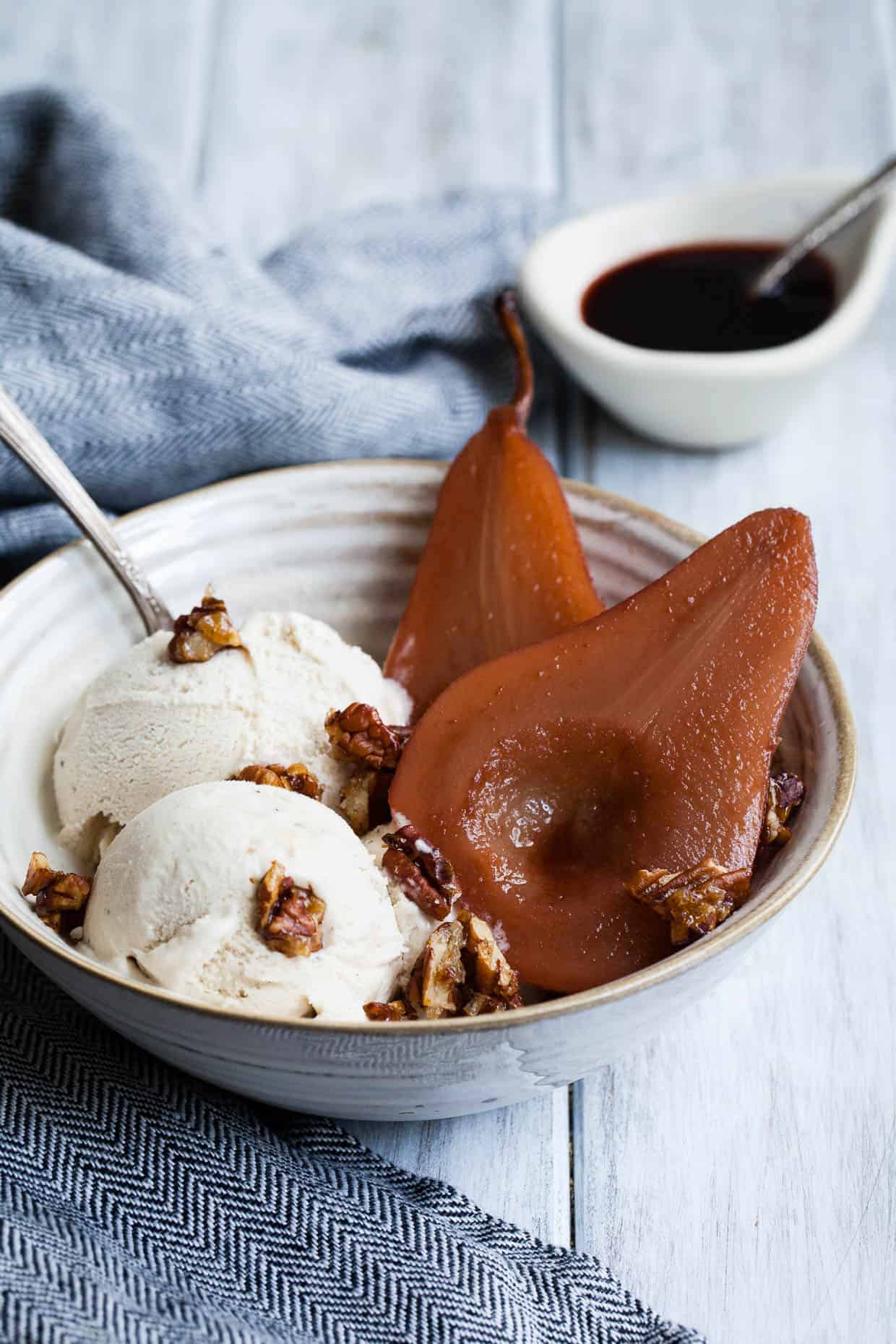 Anything that allows me the freedom to make these mulled pomegranate cider poached pears without standing over the stove is a major win. With a drizzle of aromatic mulled pomegranate syrup on top, these warm poached pears are sweet and citrusy with roasty toasty fall mulled spices infused throughout. Serve them over a few scoops of homemade vegan cardamom ice cream with a handful of candied pecans sprinkled on top, and you've got a wintry sundae worthy of gold medals. Get the recipe for the vegan cardamom ice cream up here!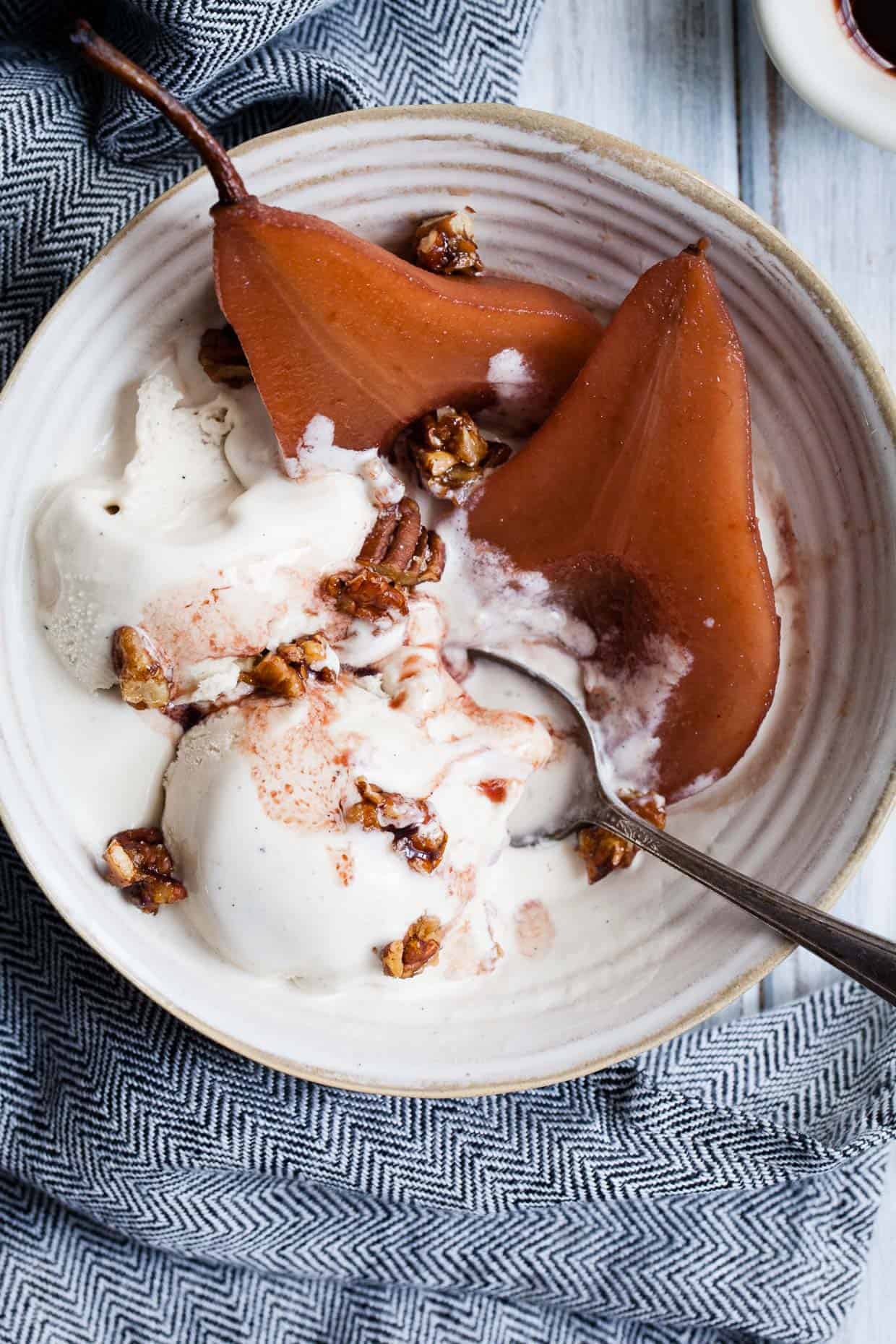 Thanks for reading Snixy Kitchen! To stay up on what's coming out of my kitchen,  follow me on Facebook, Instagram, Twitter, Bloglovin', Pinterest, or subscribe via e-mail to get new recipes right to your inbox.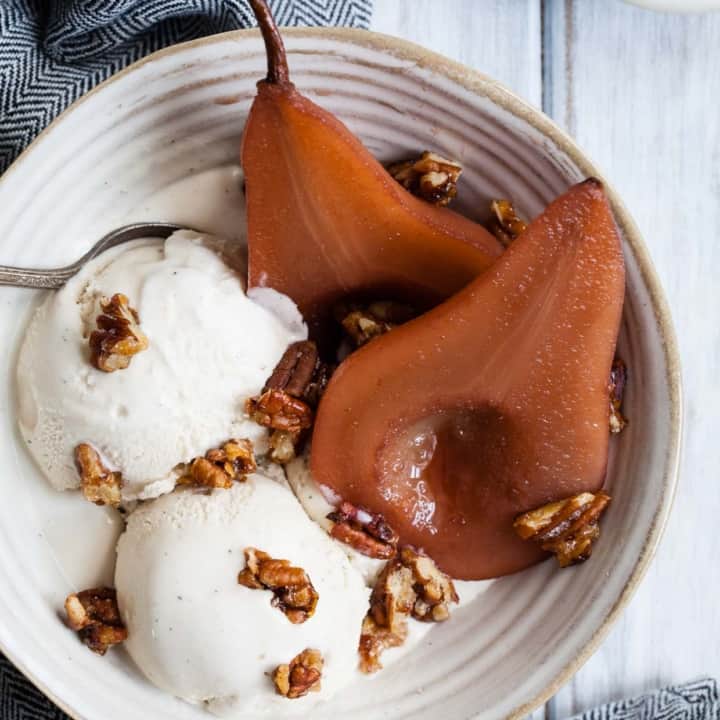 Mulled Pomegranate Cider Poached Pears
Yield:
4 poached pears (serves 8 w/ ice cream)
Ingredients
Mulled Pomegranate Cider Poached Pears
2¾ cups pomegranate juice
¼ cups fresh orange juice (from 1 large orange)
1½ teaspoons orange zest
6 whole cloves
3 cardamom pods, crushed
2 cinnamon sticks
4 medium ripe firm bosc pears, peeled, halved, and cored
Quick Candied Pecans
1 tablespoon unsalted butter
½ cup chopped pecans
2 tablespoons sugar
Instructions
Mulled Pomegranate Cider Poached Pears
Combine the pomegranate juice, orange juice, orange zest, cloves, crushed cardamom pods, and cinnamon sticks to the bowl of your KitchenAid Multicooker (or a medium/large pot) and bring it to a boil over medium-high heat.
Reduce to simmer and nestle in the pear halves, cut side down. Cook, covered with a small crack to allow steam to escape, for 20-25 minutes, or until the pears are soft when poked with a knife. If using the Multicooker, make sure the lid opening slots line up with the spout of the bowl to allow some steam to escape.
Use a slotted spoon to remove the pears from the poaching liquid and transfer to a plate.
Return the pomegranate cider to a boil over medium heat and reduce to a syrup for about 10-15 minutes. Remove from heat.
Serve warm pear halves over scoops fresh cardamom ice cream with a drizzle of the mulled pomegranate syrup and a small handful of candied pecans.
Quick Candied Pecans
Melt the butter in a small pan over medium-low heat. Add the pecans and sugar and stir to coat.
Cook, stirring, until the sugar dissolves completely and begins to lightly brown.
Transfer the pecans to a sheet of parchment paper and spread them out with a spoon to cool.
Once cool and crisp, break them up and serve over poached pears and ice cream.
Disclosure: I was not compensated to write this post. KitchenAid has generously providing the KitchenAid Multicooker and Stir Tower for this post as well as for one reader. As always, the opinions expressed here are solely my own.