Fresh whole milk ricotta blended into a rich and creamy egg-free ice cream. Sweetened only with honey and infused with lemon thyme, this ricotta ice cream is luscious and aromatic. Serve topped with warm vanilla peaches for a summer sundae to celebrate National Ice Cream Month this July!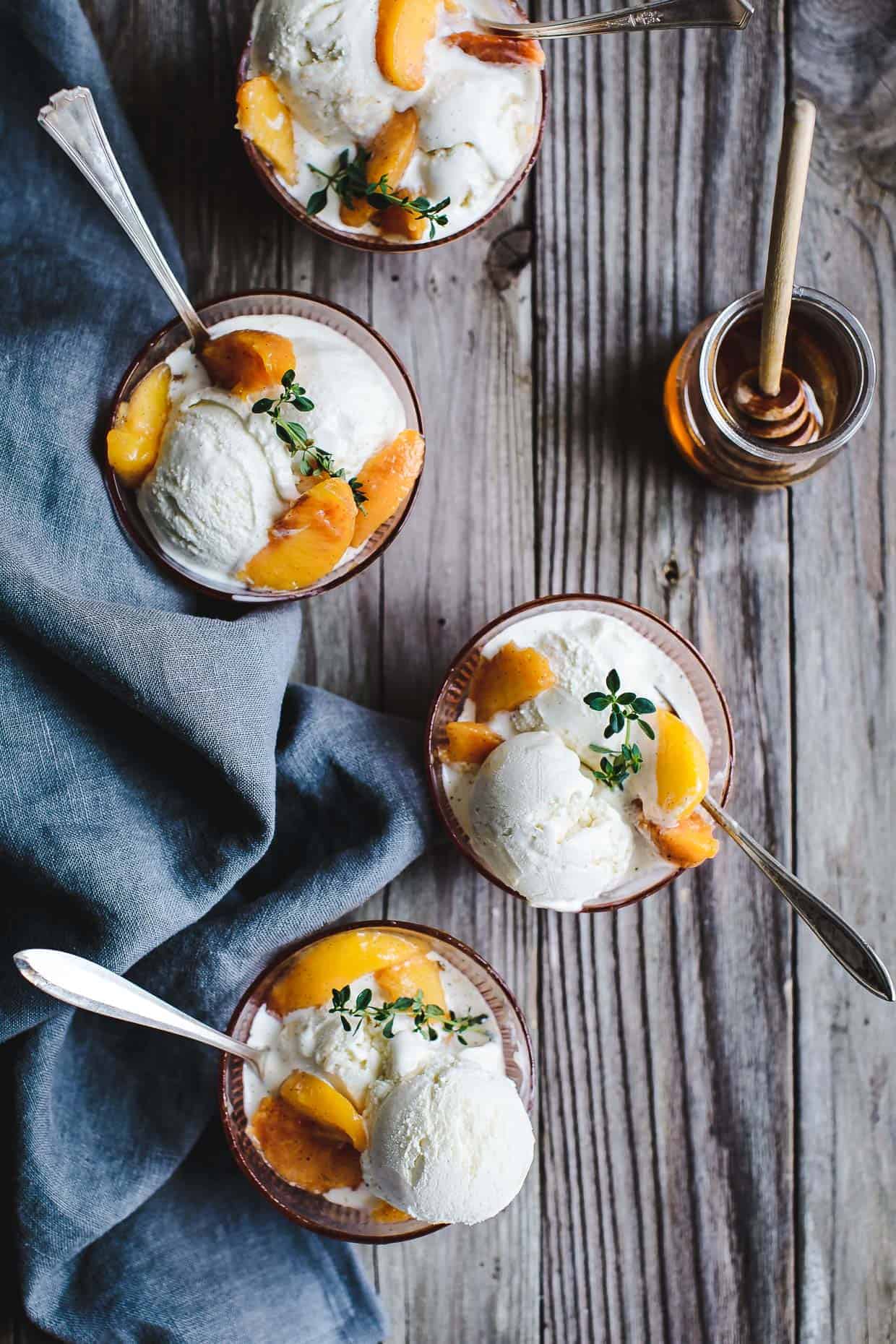 The repetitive hum of rock salt spinning in an old wooden ice cream maker was my soundtrack to backyard parties in July in the mid 1990s. When I finally got my own ice cream maker nearly 20 years later, I was no stranger to homemade ice cream. Only back then, we ate it soft like frozen yogurt, straight from the metal churning bowl. Ice cream soup. I've since upgraded my mom to her own KitchenAid stand mixer ice cream maker attachment just like mine so we no longer have to throw barbecues just for an excuse to churn ice cream on the back porch.
In collaboration with Rodelle, I'm celebrating National Ice Cream Month with this homemade honey and lemon thyme ricotta ice cream. And by celebrating, I mean making and eating ice cream all month long.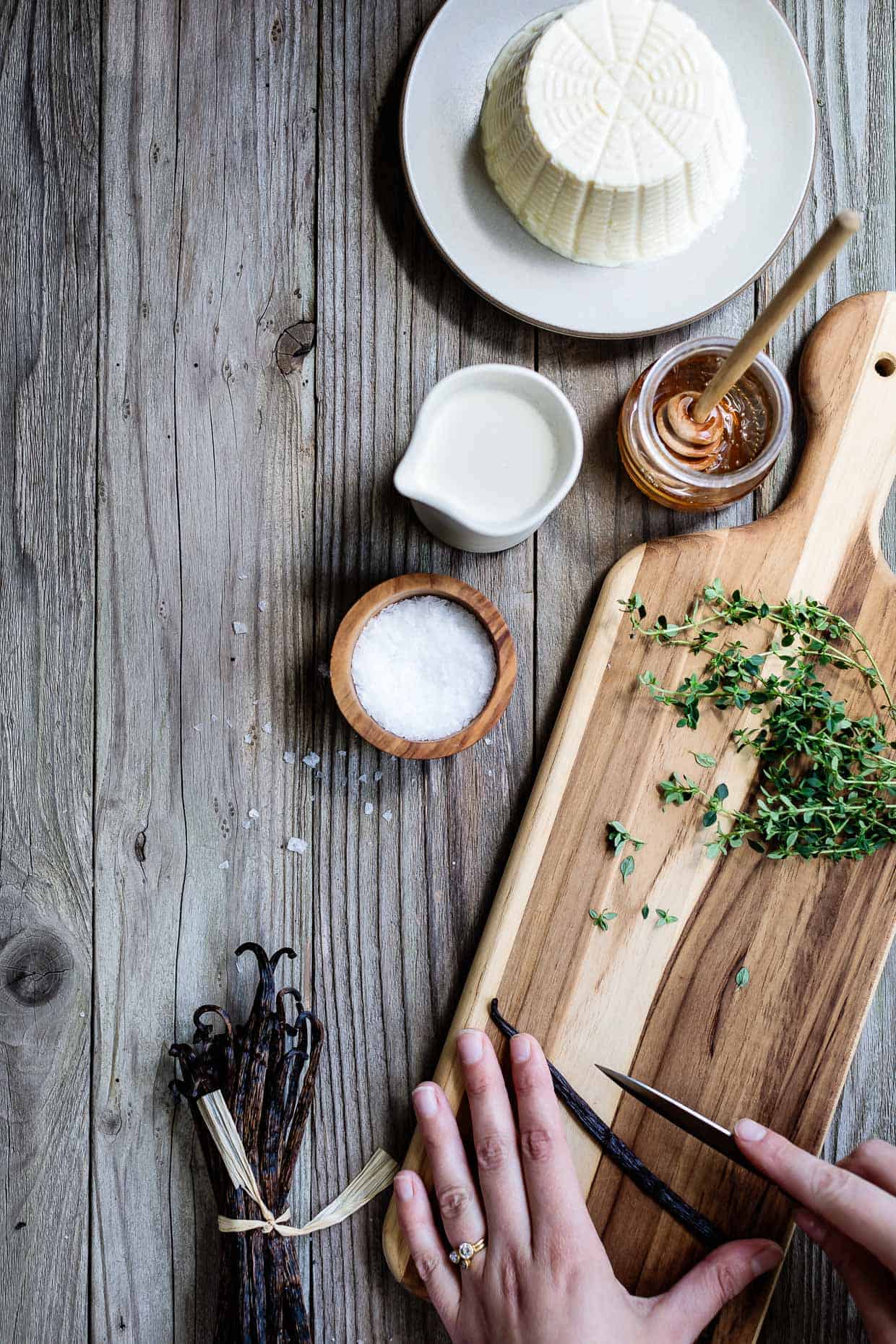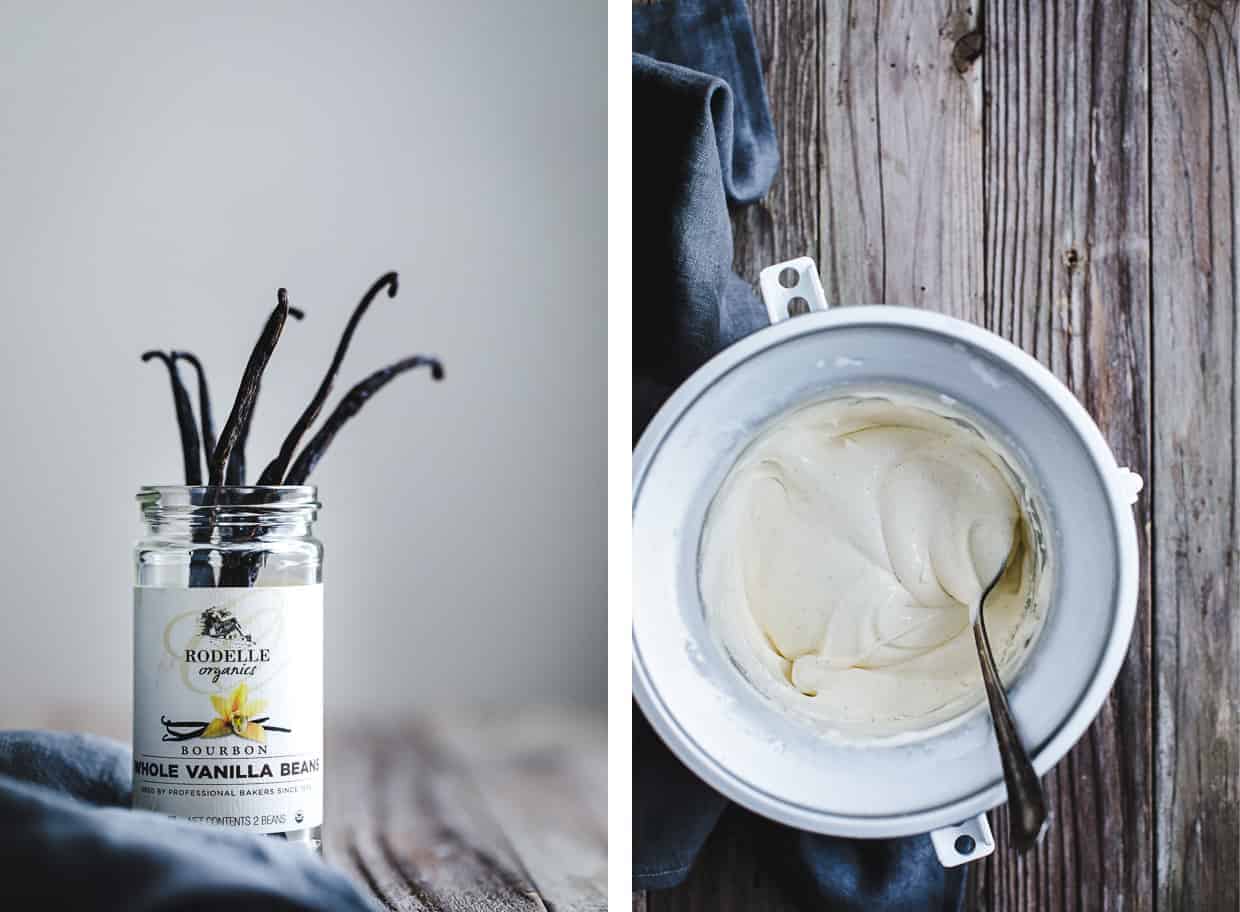 I'm on a ricotta spree right now - the kind where you go to the market for all the things, but come home with a basket of ricotta for dinner instead. I think I'm making up for lost time, all the years of my life where I didn't much care for ricotta (and always said I hated that chalky texture of cooked ricotta). That was the old me. The one who hadn't yet discovered fresh whole milk ricotta and its stretchy pillowy texture that's almost burrata-like.
The new me finds excuses to eat ricotta for every meal/snack of the day. Blended into ice cream, fresh ricotta gives a unique slightly savory taste and achieves a creamy texture without an egg custard.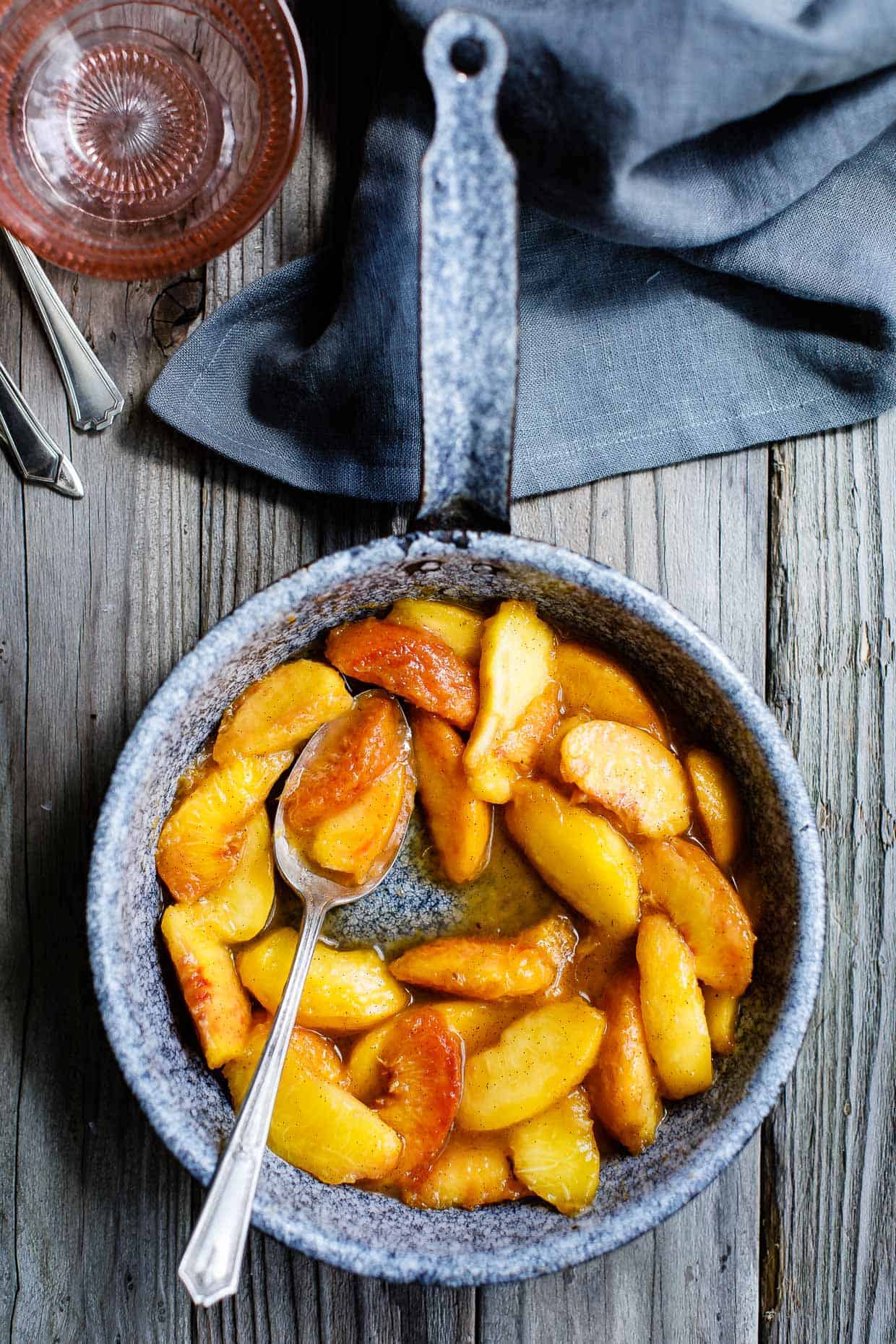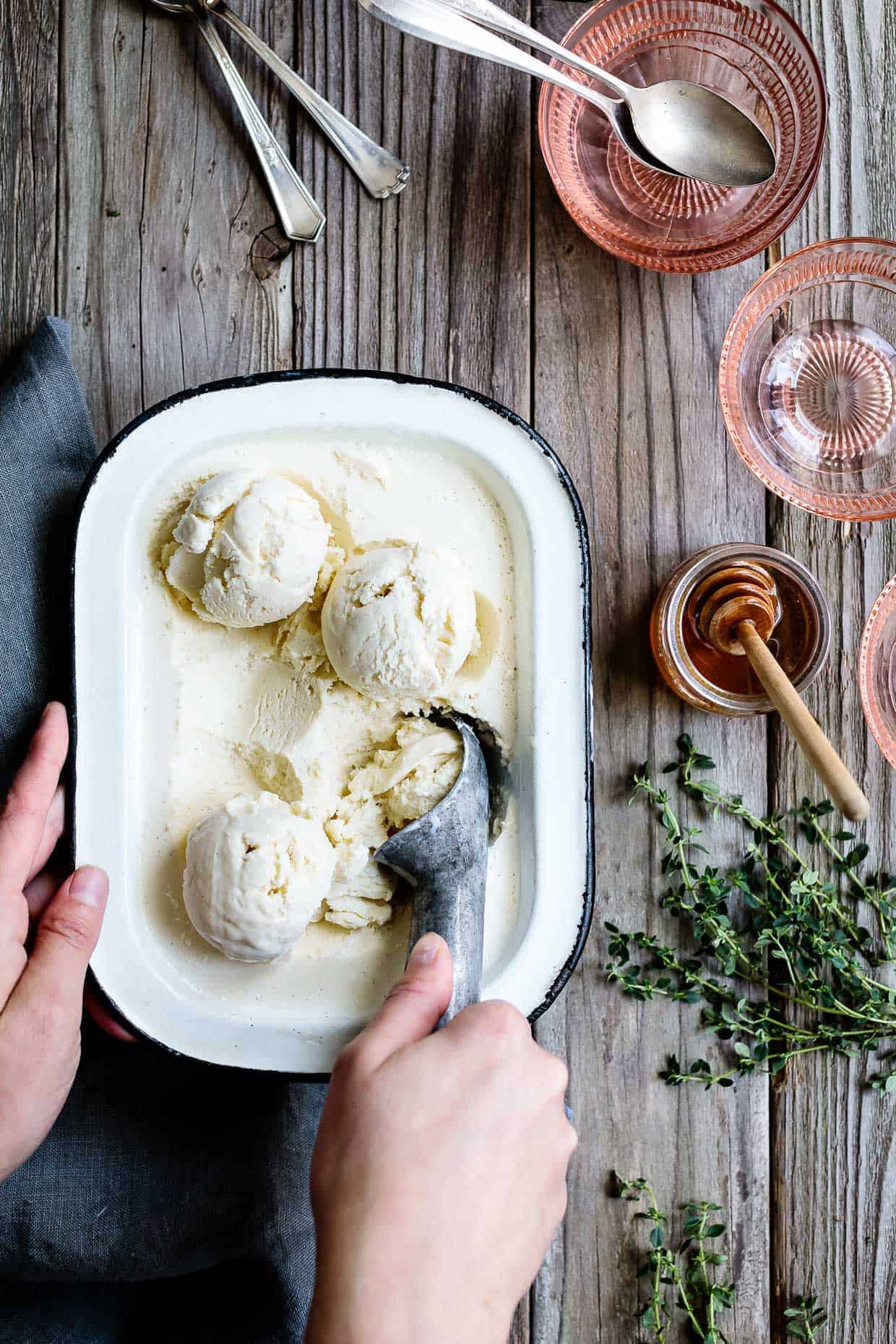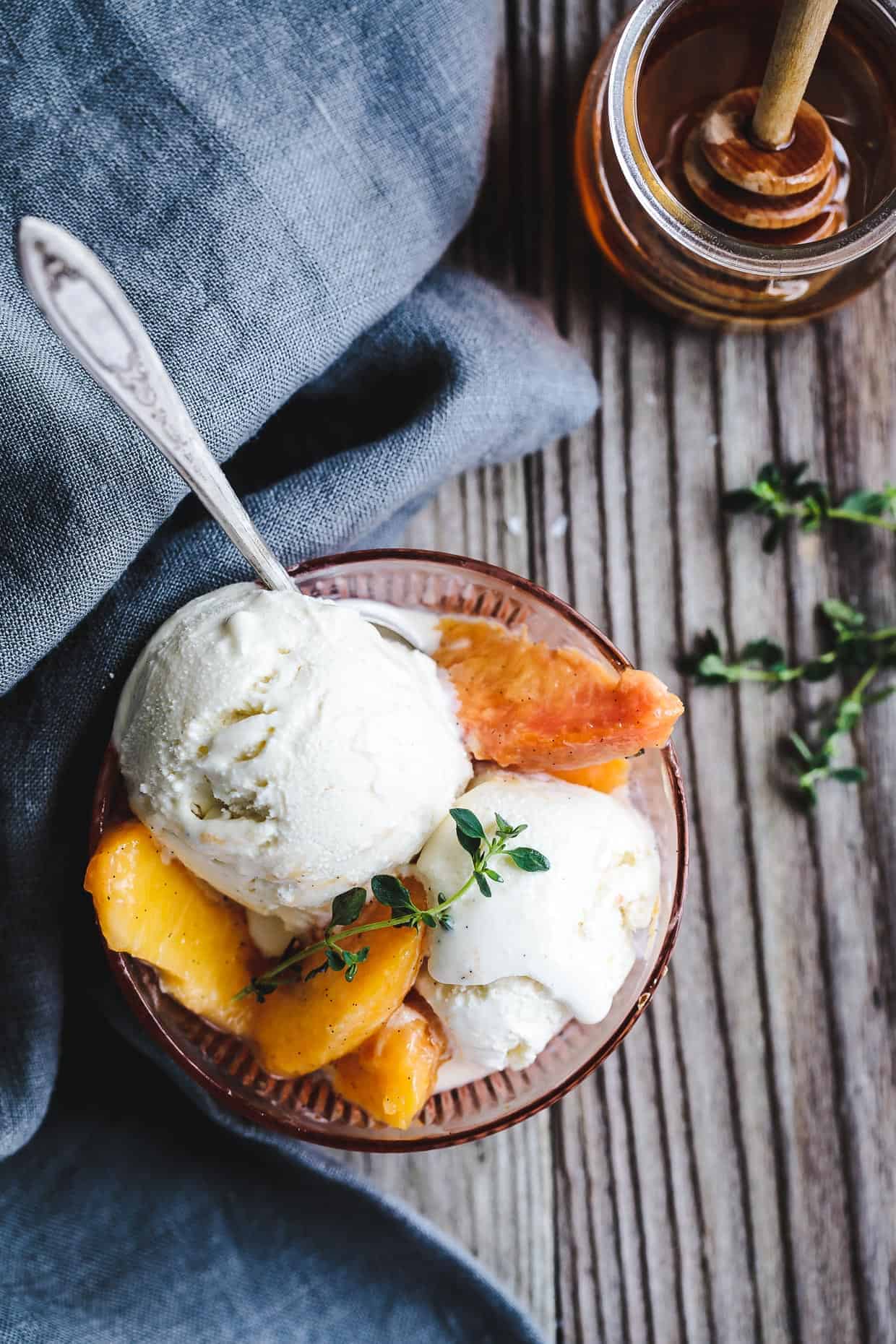 With only ¼ cup of honey and 2 tablespoons of cane sugar, I've kept this ice cream only mildly sweet so you can taste each of the components - ricotta, lemon thyme, honey, and vanilla bean. To get in the full summer spirit, I topped the scoops with warm ripe peaches flecked with vanilla bean. And it all feels so indulgent.
Infusing whole vanilla beans into ice cream or cooking it with fresh peaches adds a deep creamy sweet note that's definitely worth the investment. This year in particular, you might have noticed the cost of vanilla beans begin to rise; back in March, an intense tropical cyclone hit Madagascar, causing damage to communities and an estimated 20-30% reduction in crop. While the vanilla industry is still volatile, Rodelle is working on the ground with the humanitarian relief effort in the communities and farms. And supporting these farmers by purchasing their beans adds to that effort. If you're looking for more ways to help, Rodelle also encourages donations to support recovery efforts in Madagascar to UNICEF, CARE, and the Malagasy Red Cross Society).
If you're new to using whole vanilla beans, here's a quick video Alanna and I made for Rodelle a couple years ago: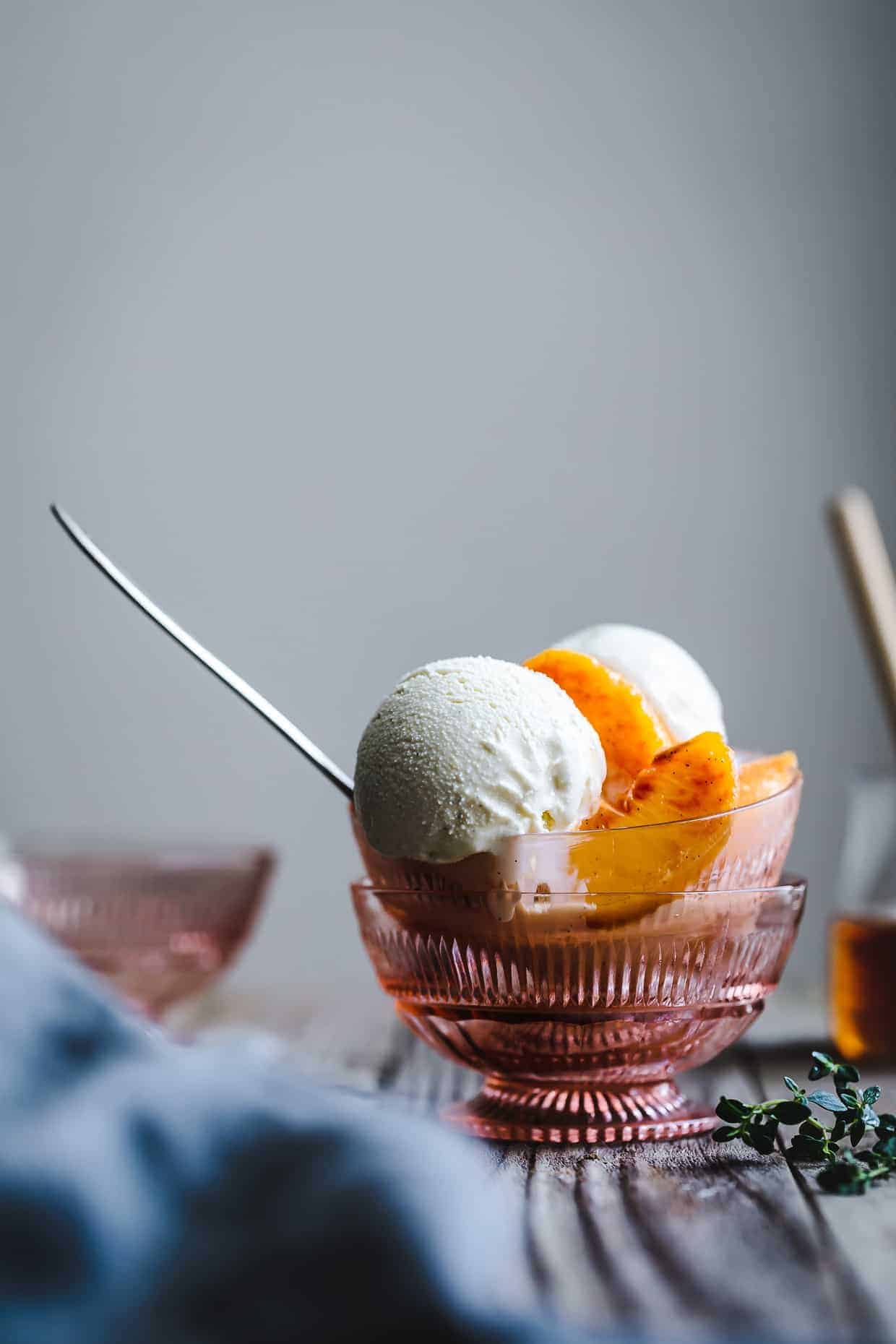 With so little sugar in this batch, I reasoned, I couldn't help but sneak a couple first bites of ice cream to Zoella. Though she doesn't have much anything to compare it to, one bite of this ricotta ice cream and she started dancing around the room. Grooving to the sweet subtle marriage of honey, vanilla bean, and cheese (her favorite).
Though to be fair, T Swift's Shake it Off was also on the stereo and that's her summer jam (17 months old - going on 16 years). Whenever that specific song comes on (often), Zo hollers for everyone to join her while she bounces, twirls, and kicks her feet in rhythm. While she may not grow up with a summer rock salt soundtrack, this kid's got homemade honey & lemon thyme ricotta ice cream served in her great-great grandma's pink dessert cups and T Swift family dance parties to fill her July memories.
What's your ice cream & song summer beat combo?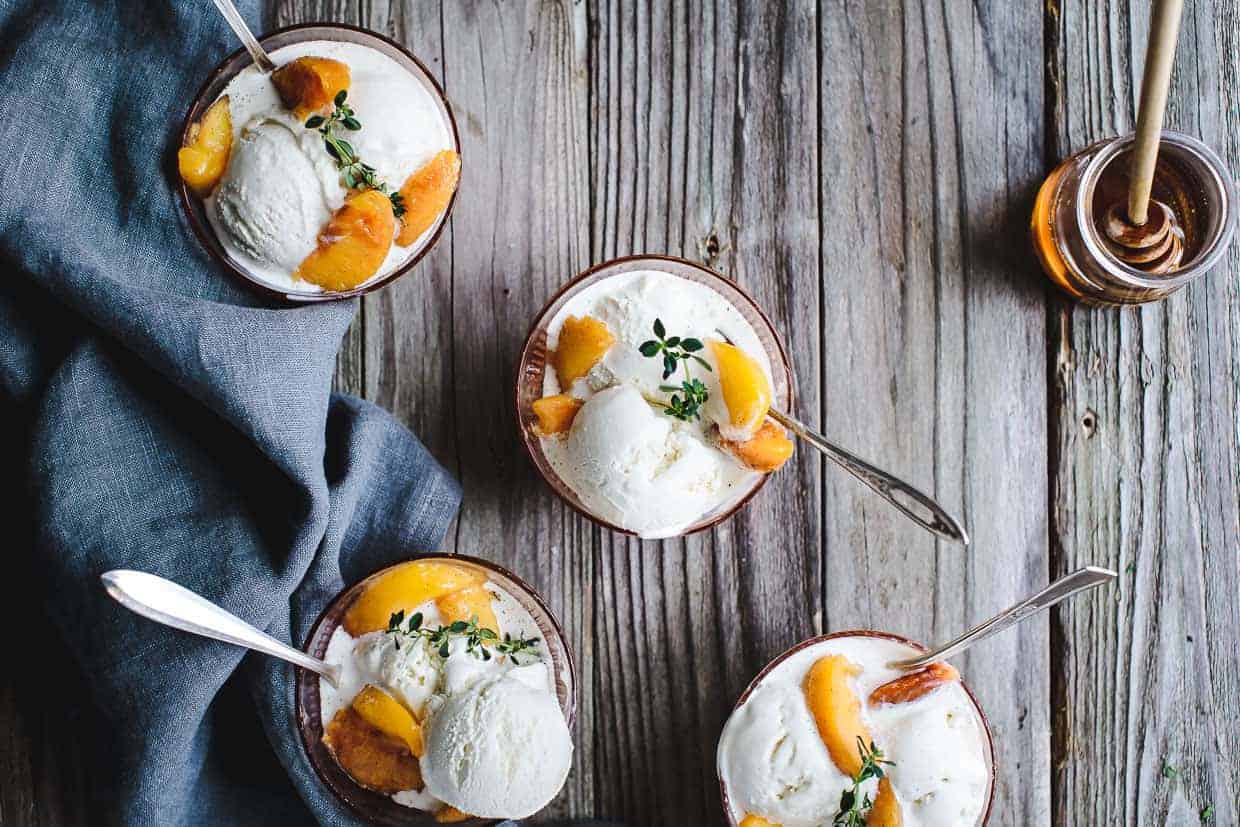 Disclosure: Special thanks to Rodelle for sponsoring this post! Find more Rodelle inspiration on Facebook, Instagram, or Pinterest. And thanks to you for supporting the brands that keep Snixy Kitchen cooking.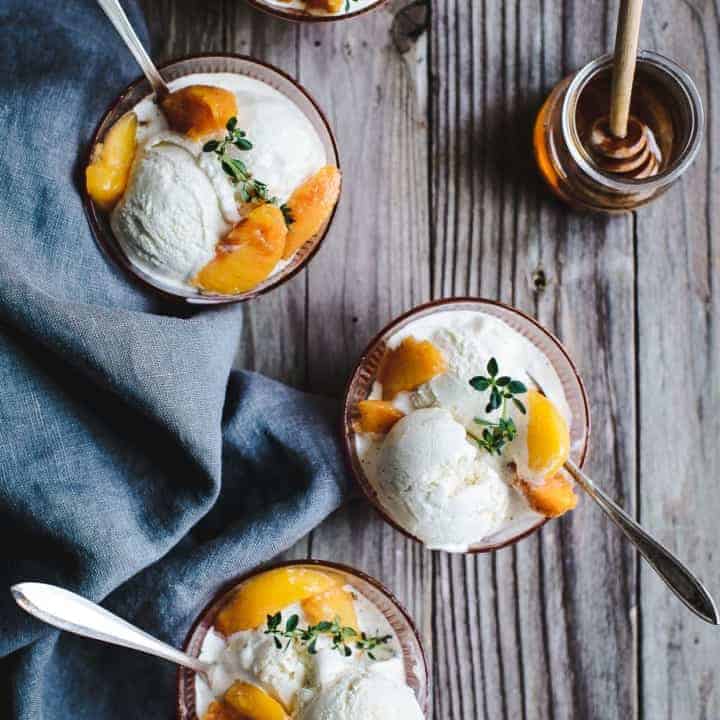 Honey & Lemon Thyme Ricotta Ice Cream with Vanilla Peaches
Ingredients
Honey & Lemon Thyme Ricotta Ice Cream
1 cup whole milk
2 tablespoons corn starch
¾ cup heavy whipping cream
4-6 sprigs fresh lemon thyme (or regular thyme works too!)
¼ cup honey
2 tablespoons cane sugar
3 tablespoons cream cheese, room temperature
½ teaspoon flaky salt (such as maldon)
1 tablespoon vodka (optional)
Vanilla Peaches
3 medium peaches
½ tablespoon unsalted butter
½ tablespoon honey
Instructions
Honey & Lemon Thyme Ricotta Ice Cream
Whisk the corn starch in a small bowl with about 3 tablespoons of the milk to make smooth slurry. Set aside.
Bring remaining ¾ cups + 1 tablespoon whole milk and heavy whipping cream to boil in a small saucepan over medium heat. Remove from heat, add the fresh thyme and vanilla bean seeds and pod, cover, and let steep for 20 minutes.
Strain the milk into a heat proof bowl to remove the thyme and vanilla bean. Scrape the inside of the warm vanilla bean into the milk and cream. Return the steeped milk and cream to the saucepan.
Give the corn starch slurry one last whisk to make sure it's completely incorporated. Slowly whisk the corn starch slurry into the milk and cream saucepan, and bring it back to a boil over medium-high heat.
Cook, stirring, until it thickens about 1 minute.
Pour in the honey and sugar, stirring just until it dissolves. Remove from heat.
Meanwhile, prepare an ice bath by filling a large bowl with ice cubes and water.
Add the honeyed milk to a blender or food processor with fresh ricotta, cream cheese, vodka, and salt. Blend until completely smooth.
Pour the ice cream base into a large 1-gallon Ziploc bag. Seal it and submerge the mixture in the ice bath until cold, about 30 minutes.
Churn according to the manufacturer's instructions and freeze over night.
Serve with warm vanilla peaches.
Vanilla Peaches
Peel the peaches. Either do this with a vegetable peeler or blanch the peaches in boiling water for 20 seconds, dunk them in an ice bath, and slide the skin off. Slice into 8-12 wedges.
Melt the butter in a medium skillet over medium-low heat. Add the peaches, honey, and vanilla bean scrapings. Cook just until the honey melts and the peaches begin to soften, 3-5 minutes.
Serve warm or cold over scoops of ice cream.