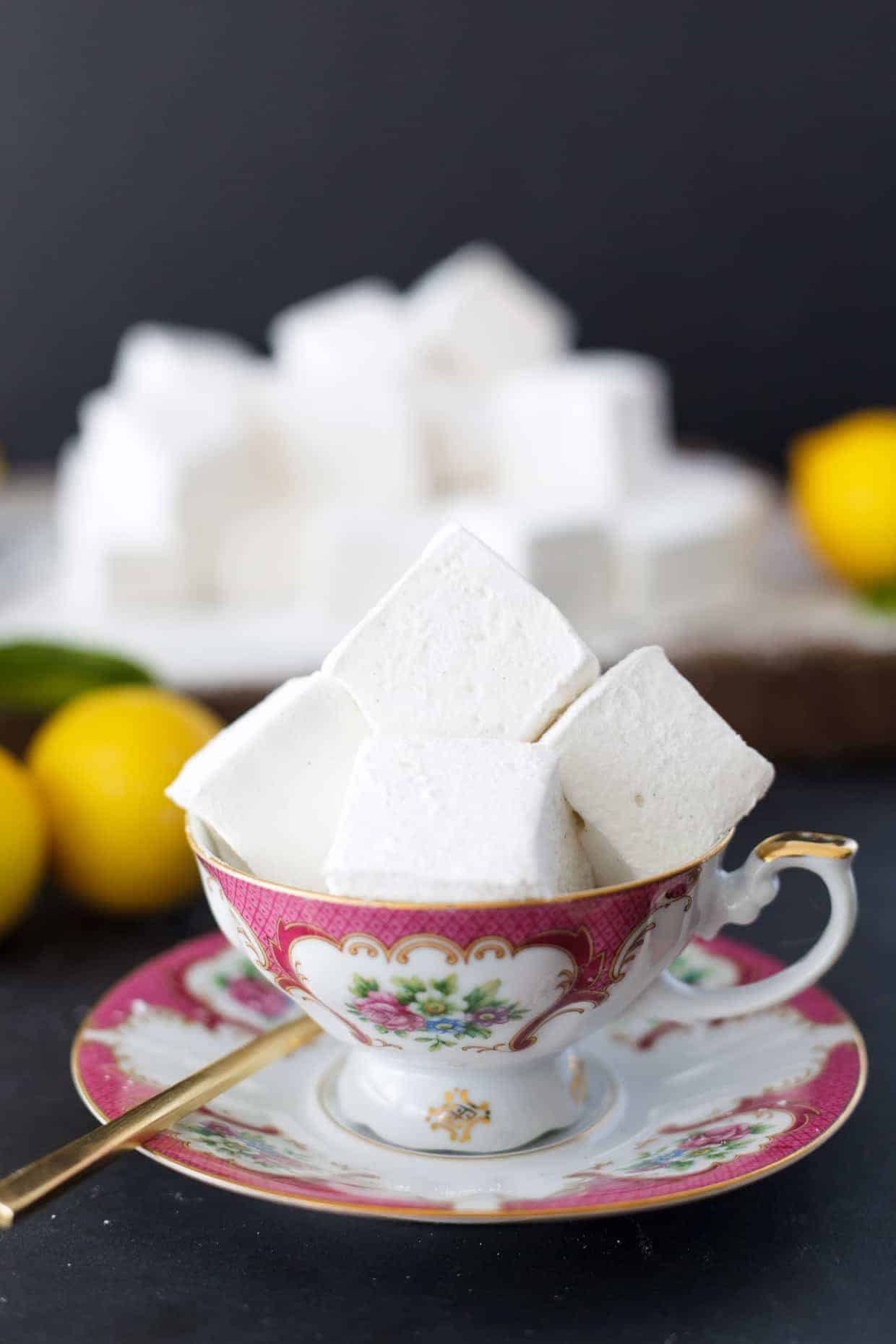 When we moved into this house in March of last year, we discovered a blooming meyer lemon tree in the backyard. Without so much as a wave hello to the tree, it produced ripe fruit nearly 8 months of the year, starting as soon as we moved in. An impressive "welcome to the neighborhood" treat. This year, California produce seem to have gotten a bit confused. Maybe it was payback for my social neglect, but more likely the tree's growth stunted from the lack of water this season.
Our pear tree should just now be getting ready to ripen in time for November, but after flowering this June, it dropped all of its fruit and now sits bare in the backyard. There might be a Little Red Hen analogy here. I should have shown my trees a bit more love.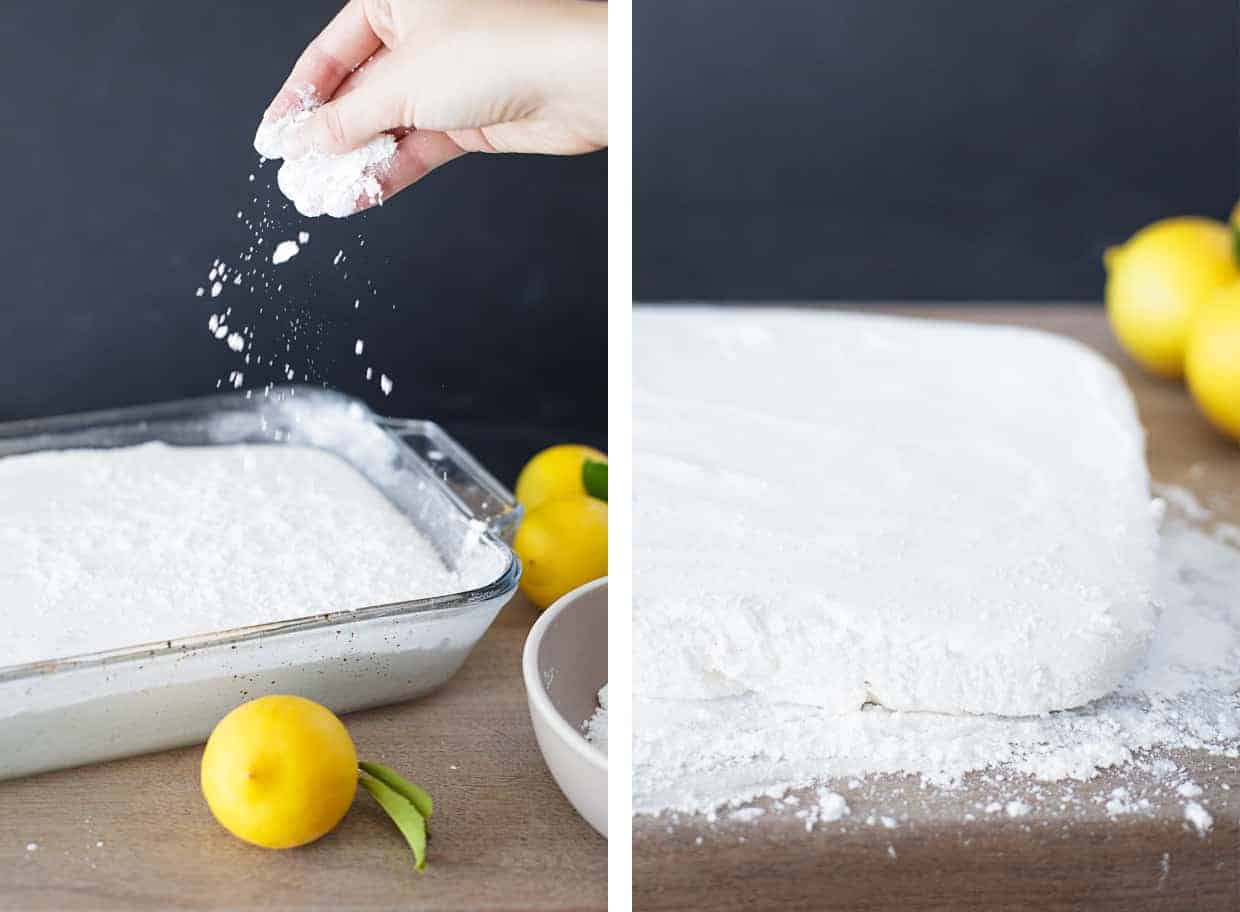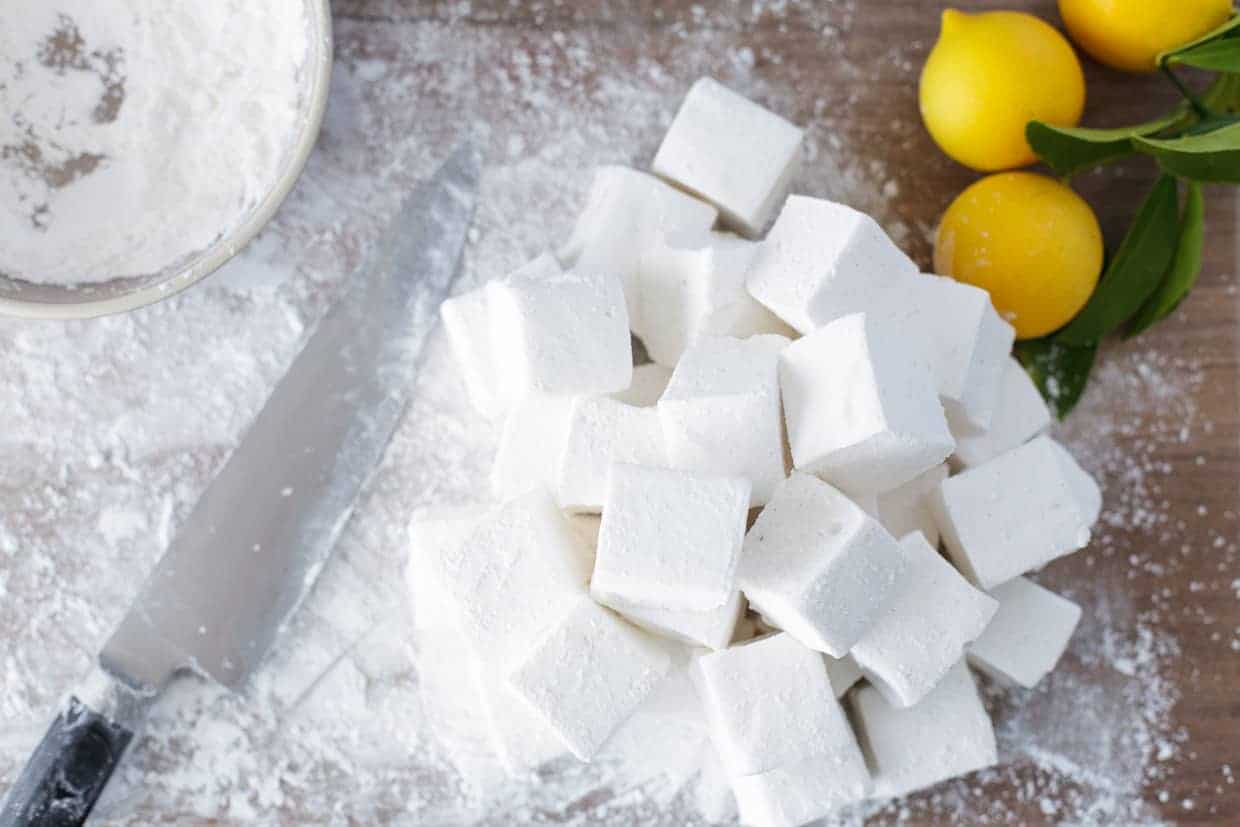 The meyer lemon tree didn't have the same sad fruitless fate. Instead it waited until Labor Day weekend to ripen - five months late. This little lemon bush has fortitude. It asks for so little attention in return for its fruit that I don't even care that it took its sweet time this year. So here we are with an abundant meyer lemon harvest happening right now, which also means we're up to our ears in lemon curd and homemade lemon meringue marshmallows. Feels like June to me and I'll take it.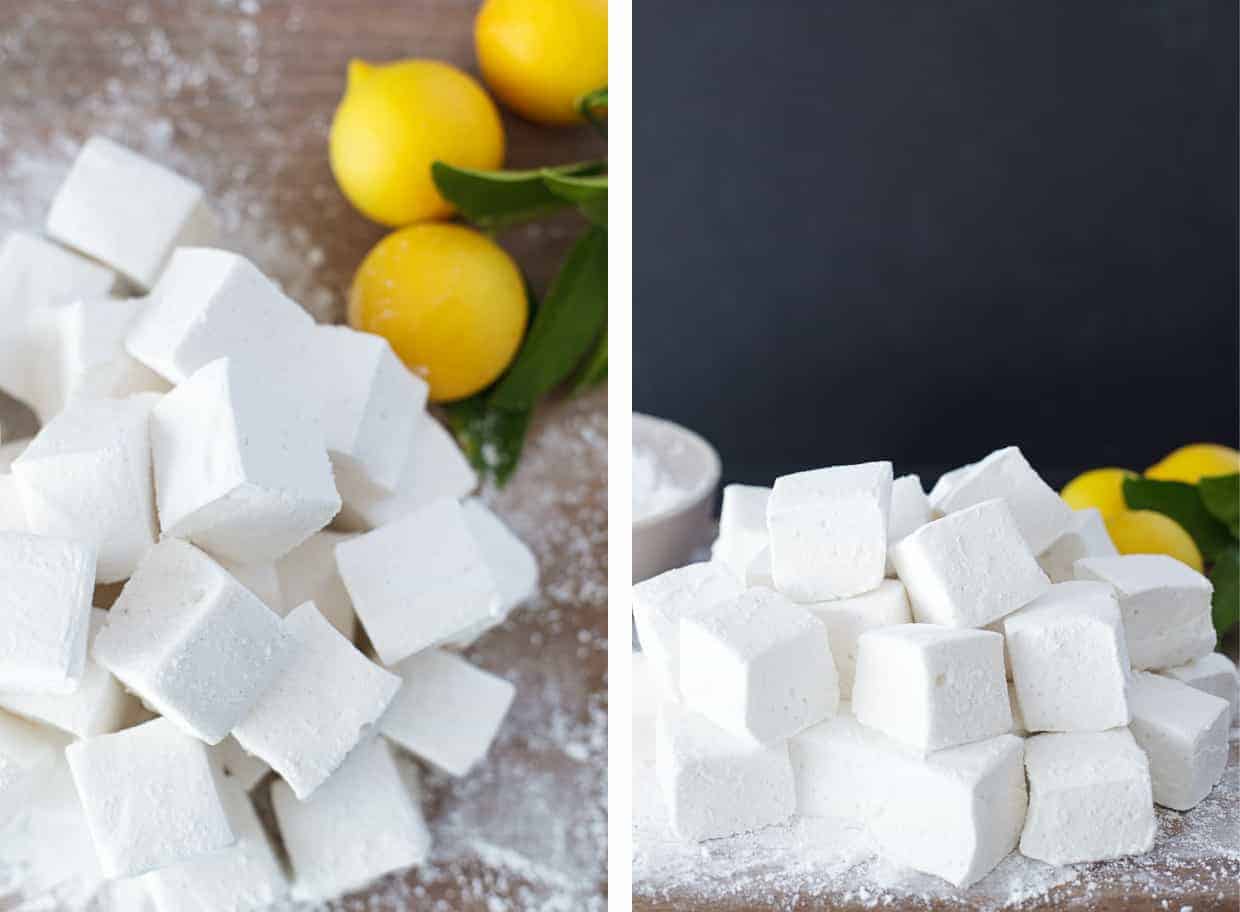 One more reason it's not bad to be my neighbor: never-ending buckets of meyer lemons at your fingertips. Actually, you can come scoop up some lemons even if you don't live next door - In fact, it's encouraged. A girl can only drink so much lemonade. It's totally normal that I just invited the entire internet to come pick fruit from my backyard, right?
Since camping weather is still in full-swing here in California, we're going to keep the s'mores coming. I promise after we eat s'mores together, I'll welcome pumpkin and apples into my kitchen with open arms.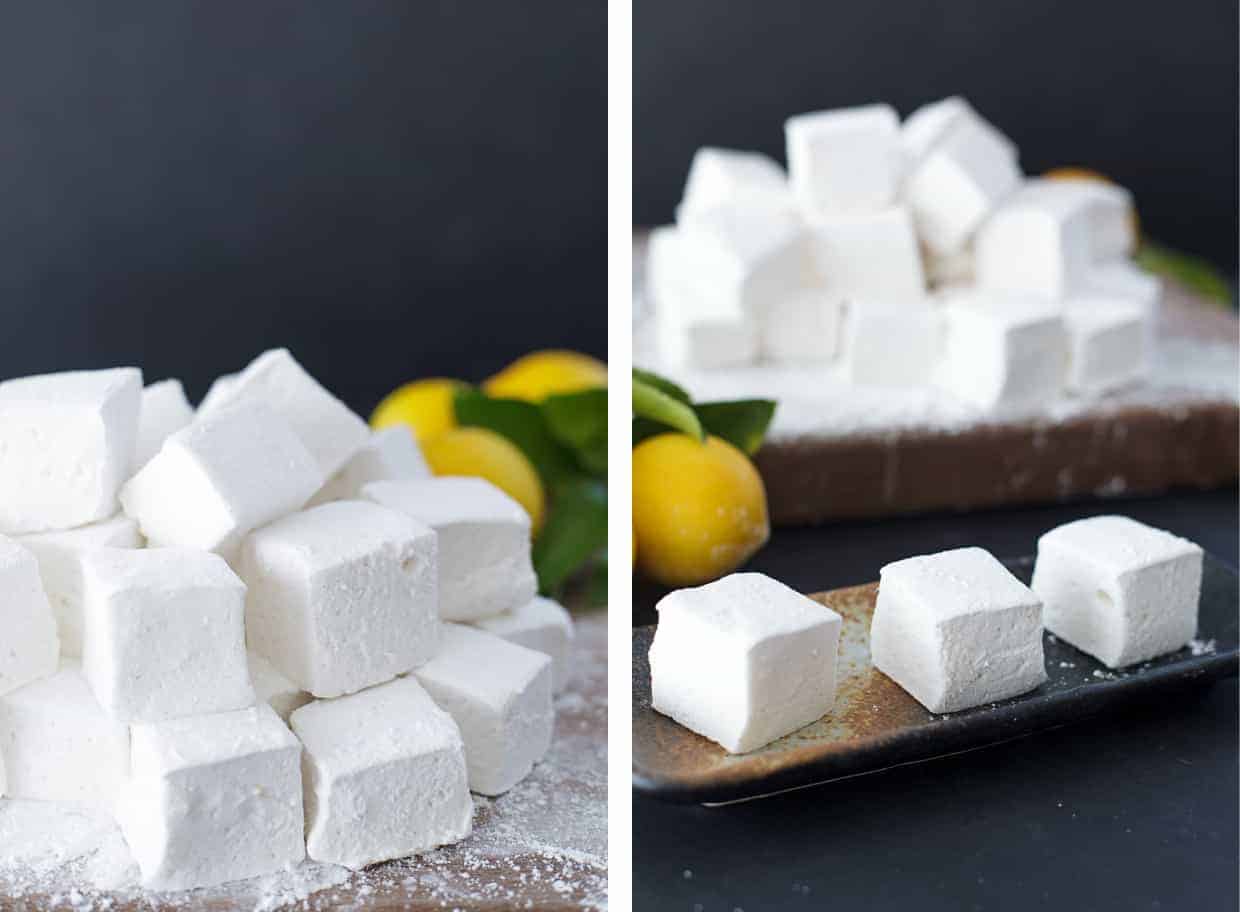 These s'mores though. You need them in your life. I mean, after you lug home your meyer lemon haul, you're going to need something to do with ALL THOSE LEMONS, right? That something is this: lemon meringue s'mores starring these homemade lemon meringue marshmallows. Stay tuned for the rest of the s'mores recipe later this week. Or just eat the entire batch of lemon meringue marshmallows while binge watching Gilmore Girls on Netflix.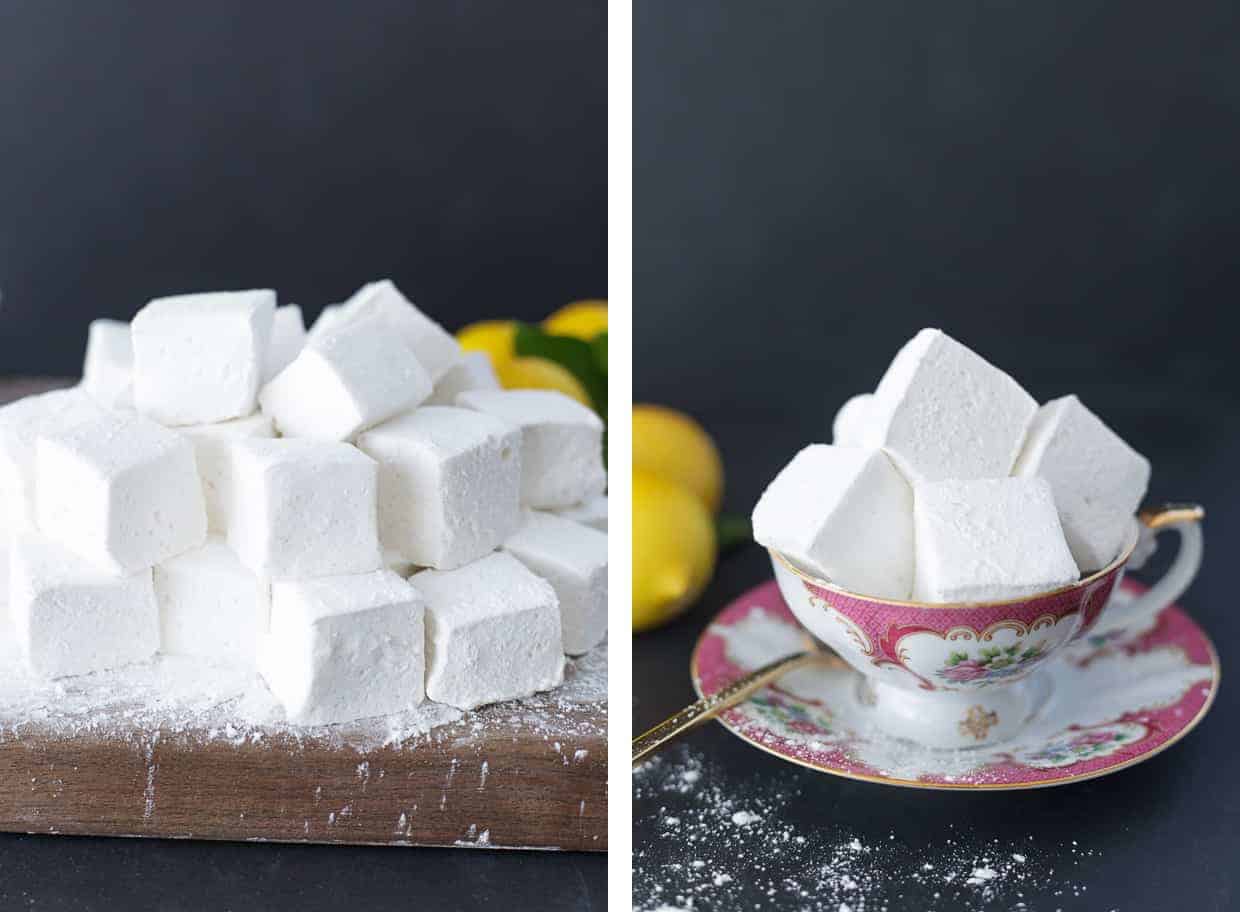 Have you ever had homemade marshmallows? They're a totally different experience from those crummy stale processed ones we all have sitting in the back of our cabinet from last summer (that maybe even come with few grains of sand or flecks of dirt in the bag - how does it get in there?!). Homemade marshmallows melt in your mouth - they're like sweetened fluffy clouds. Light and airy puffs that are delicately moist on the inside. This lemon meringue version mixes tart lemon juice with vanilla bean to mimic the flavors of a lemon meringue pie.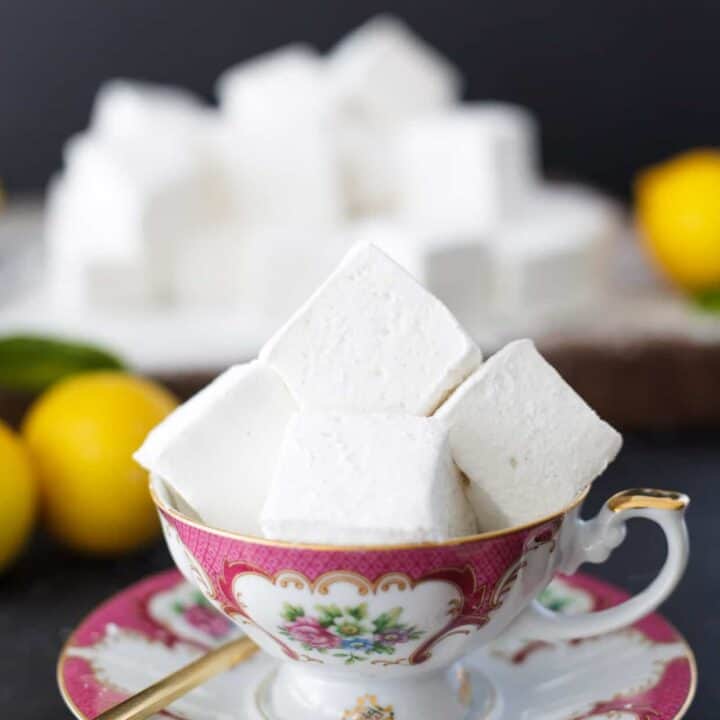 Homemade lemon meringue marshmallows
Yield:
30-40 marshmallows
Ingredients
¼ cup powdered sugar for dusting
¼ cup tapioca starch (or corn starch) for dusting
3 quarter-ounce packages unflavored powdered gelatin
¼ cup lemon juice from 2-3 large lemons (or meyer lemons)
¾ cup cold water, divided
¼ teaspoon fleur de sel
1 cup light corn syrup
1-½ cups sugar
1 whole vanilla bean seeds (or substitute by increasing the vanilla extract to 1 tablespoon)
1 teaspoon vanilla extract
½ teaspoon finely chopped lemon zest
Instructions
Combine the powdered sugar and tapioca starch in a small bowl.
Line a lightly-oiled 9x12 glass baking dish with parchment or wax paper. Lightly oil the paper and gently dust it with a bit of the powdered sugar mixture. Set the powdered sugar mixture aside for later.
In the bowl of a stand mixer fitted with the whisk attachment, whisk together the powdered gelatin with lemon juice and ¼ cup water. Let sit while you prepare the rest.
In a small saucepan, combine the sugar, light corn syrup, fleur de sel, and remaining ½ cup of water and cook over medium heat, stirring, until the sugar dissolves.
Insert a candy thermometer and increase the heat. Cook, stirring occasionally, until the syrup reaches 240°F.
Turn the mixer to low and gently pour the syrup into the gelatin mixture. Increase the speed to high and whip for about 15 minutes, until the mixture nearly triples in size and becomes white and fluffy.
Add the vanilla bean seeds, vanilla extract, and lemon zest and mix until completely combined.
Pour the marshmallow cream into the prepare baking dish and smooth the top with a spatula.
Leave the pan to dry out, uncovered, overnight.
Dust the top of the marshmallows and a cutting board with the powdered sugar mixture.
Use the parchment paper to help you turn the marshmallows out onto the dusted cutting board. Use a lightly oiled knife to cut the marshmallows into squares.
Toss each marshmallow in the powdered sugar mixture until it's no longer sticky on any side.