All week long, I look forward to brunch. Who's with me? Sunday afternoon brunch with my hair still frazzled and jammies under my apron. The kind of slow Sunday where you prepare gluten-free sweet amaranth waffles flecked with cinnamon and nutmeg, while spiced chai poached pears simmer on the stove as topping.
This past weekend, our Sunday brunch was Texas BBQ with my husband's extended family in San Antonio - ribs, brisket, sausage, and potato salad. And don't get me wrong, I thought long and hard about smuggling a rack of ribs home in my luggage, but at the end of a week of Texas BBQ, I'm ready for some whole grains and a lazy Sunday.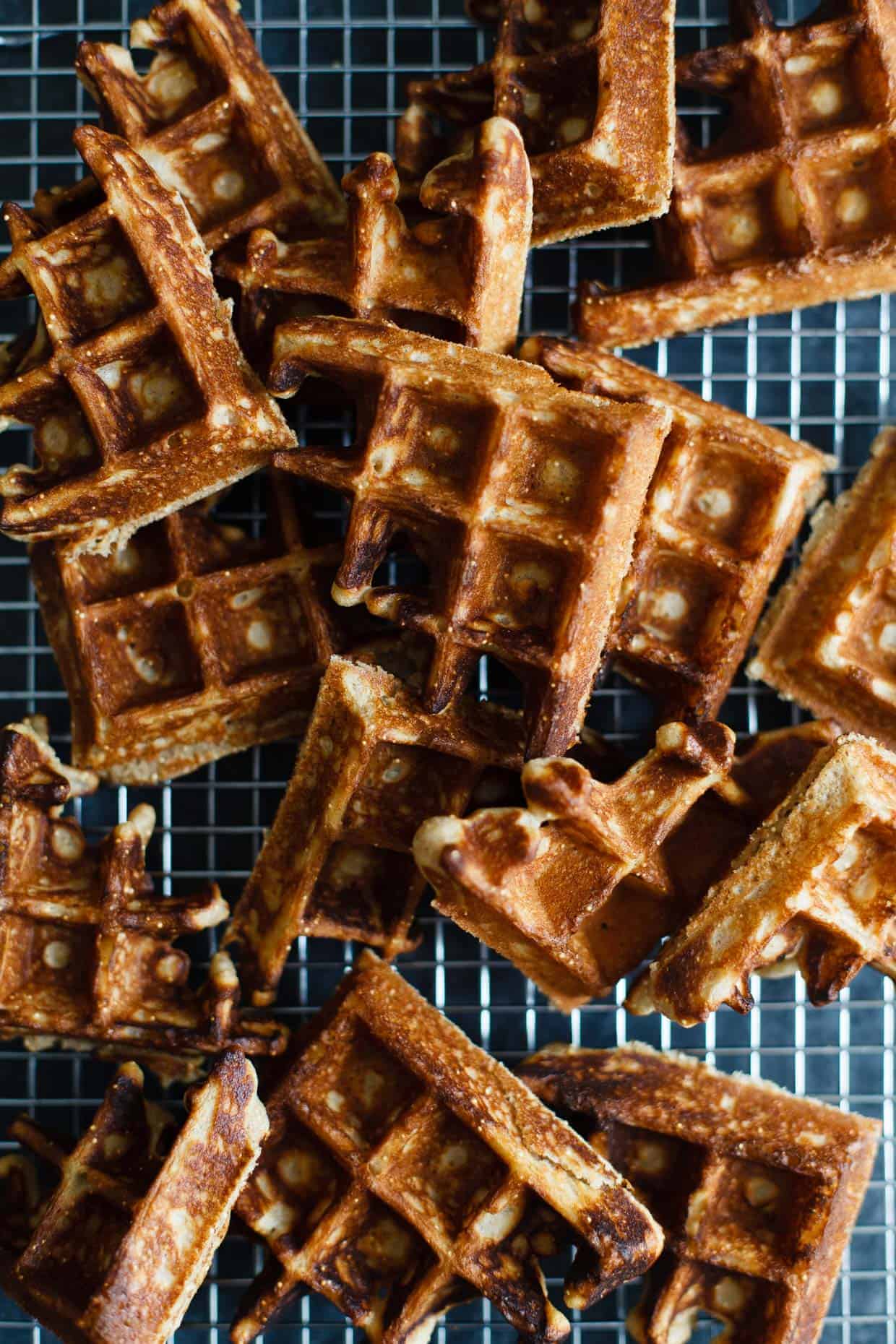 We just got home from a highly choreographed week of travel that almost unravelled an hour before our flight, and not even from one of the major predictable things that could have gone wrong.
I spent two days in Seattle with KitchenAid, while Lucas stayed home all alone with the baby for the first time. The plan was for me to land back in Oakland at 8:07am on Wednesday, where they'd be waiting in the terminal to catch our 9:50am flight to Austin together. I pre-packed Zoella's suitcase and left Lucas with an excessively detailed checklist to help with getting the baby and all the luggage to the airport and through security by himself (relatedly: do you know how much shit a baby needs?!).
Off without a hitch: My morning flight was on time (whew!), Lucas actually woke up to his 6am alarm (magic!), and Zoella held it together all the way to the airport.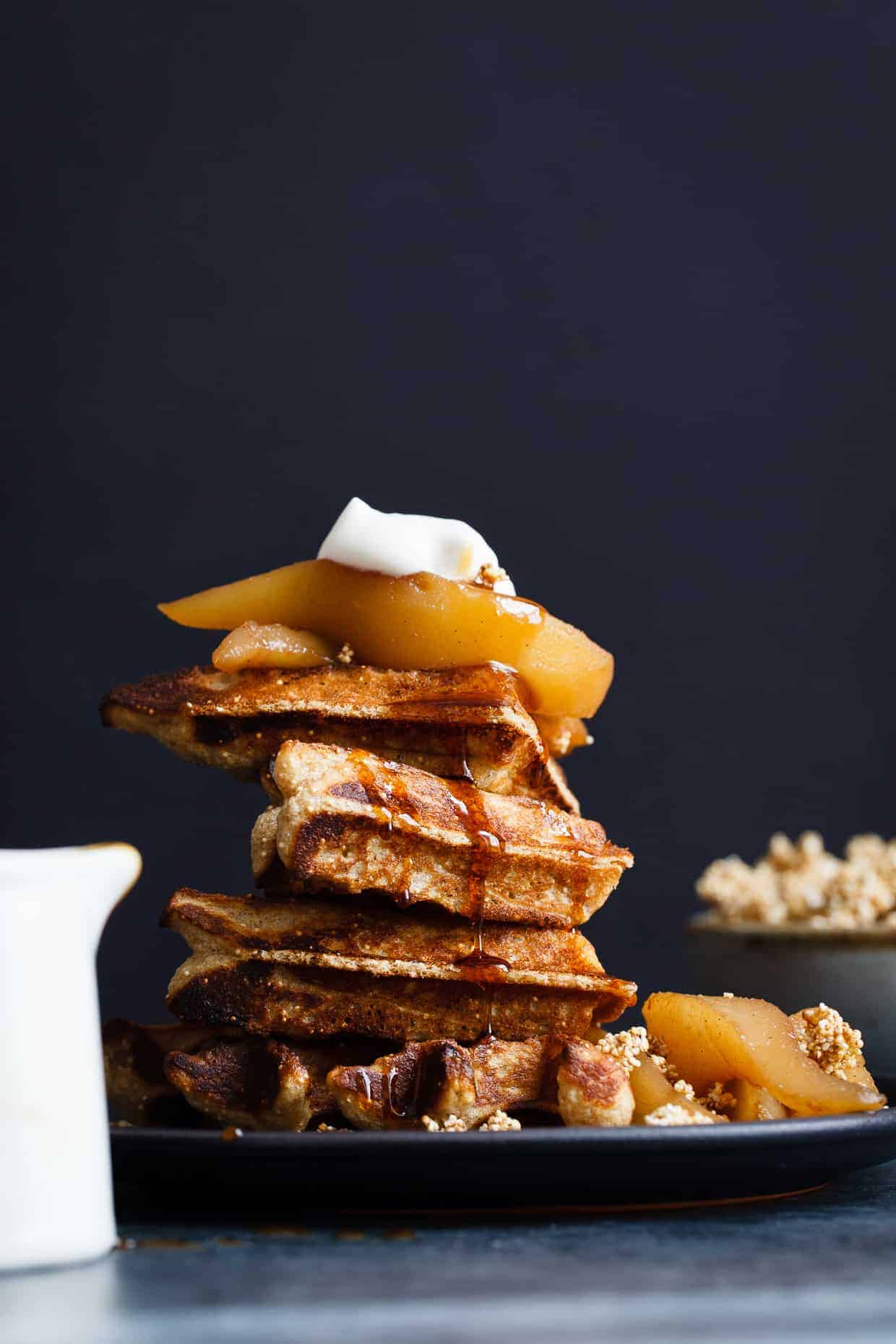 Things were going smoothly, until the ticket agent insisted Lucas show official proof that our 8 month old baby was less than 2 years old. Before you're like, "well that's protocol" - I called ahead to add her as a lap child and they told me that she was so young we didn't need a birth certificate. Sadly it turns out her instagram baby pictures don't count as proof.
Aside from, you know, looking at her as proof, they eventually reluctantly accepted a screenshot of her birthday on the health insurance website - probably persuaded by the panic on Lucas's face.
To be fair, when they went through security, the TSA agent asked, "if you take her out of the carrier, can she walk through the metal detector?" So I'm pretty sure the folks who work at Oakland Airport have never met a baby before.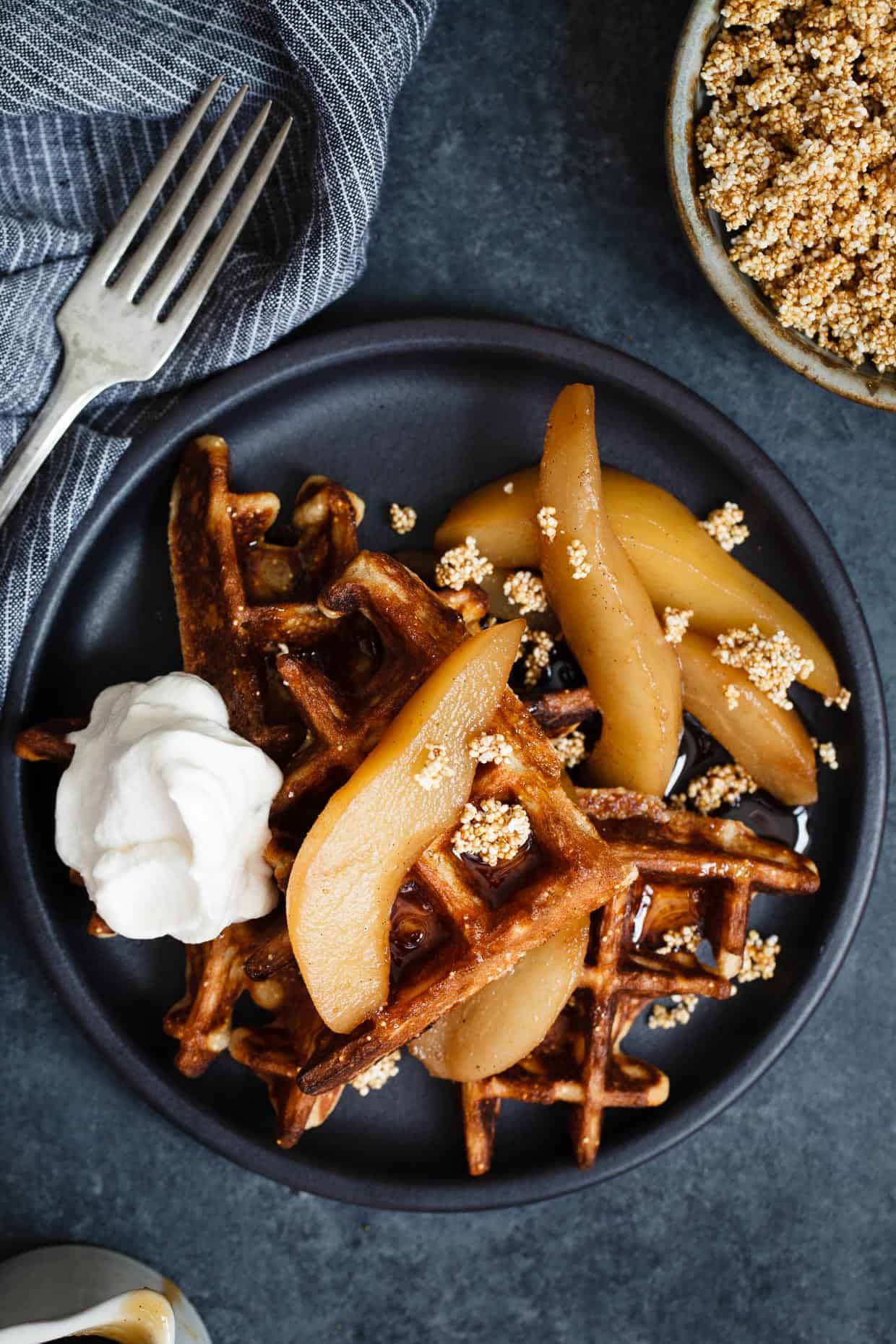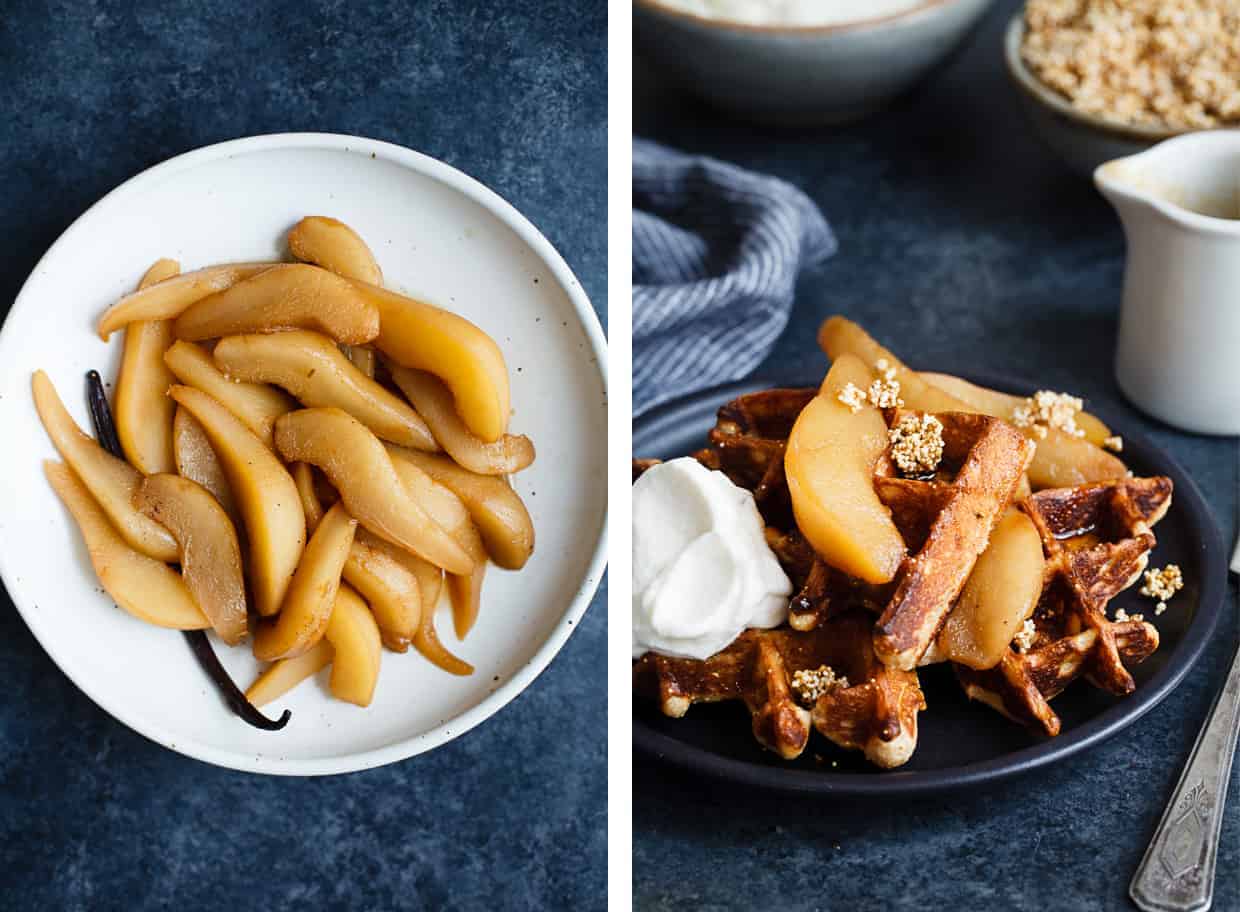 Now we're ready for waffles. Back when I shared my savory amaranth waffles with pear fennel salad, I promised a sweet companion for them, but instead teased you with the spiced chai pear topping first. This Sunday, we can both look forward to waffles and you can have both sweet and savory. This sweet rendition is kissed with nutmeg and cinnamon and a hint of sugar. Earthy nutty amaranth balances nicely with the spiced chai poached pears and honeyed pear syrup. A few sprinklings of candied popped amaranth to add some crunch and a dollop of whipped cream clouds to finish it all off.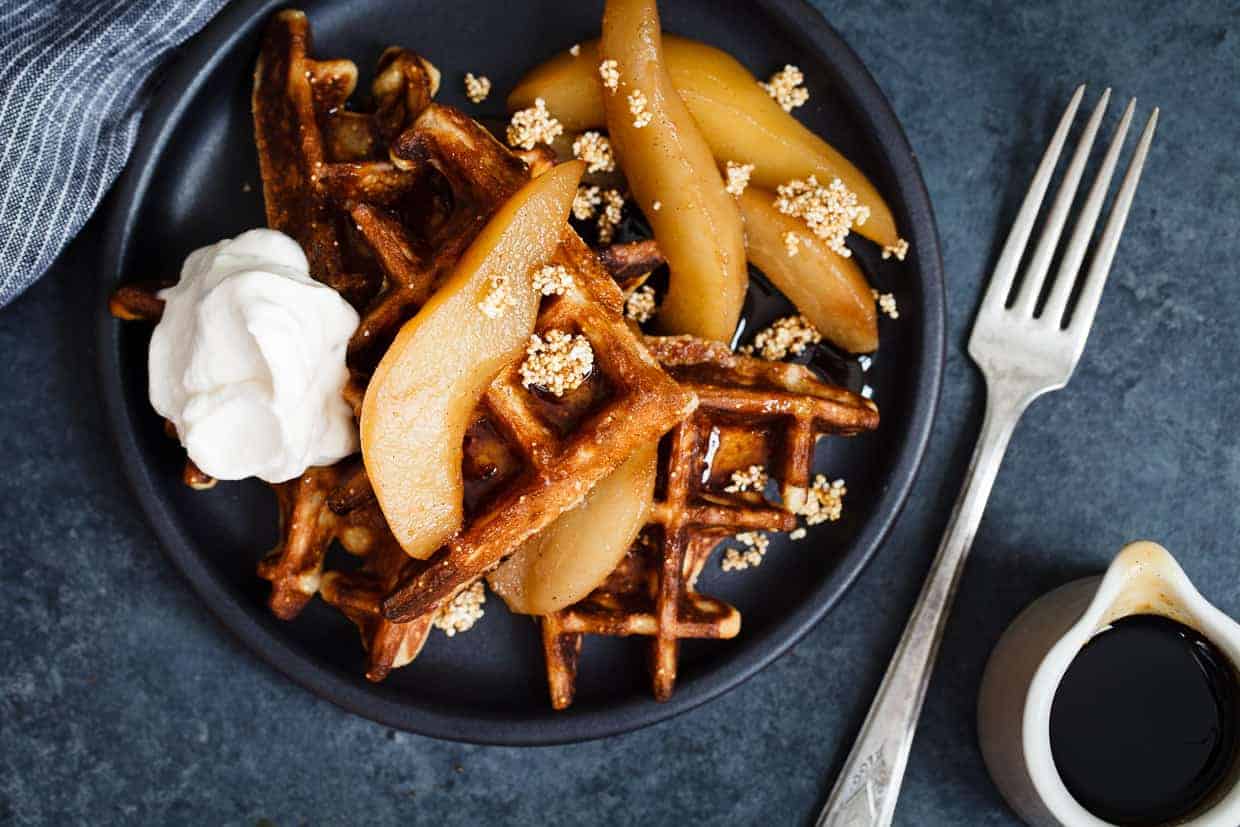 It's like an ice cream sundae in waffle form. (Also I want to put this candied popped amaranth on all my ice cream sundaes...)
Thanks for reading Snixy Kitchen! To stay up on what's coming out of my kitchen,  follow me on Facebook, Instagram, Twitter, Bloglovin', Pinterest, or subscribe via e-mail to get new recipes right to your inbox.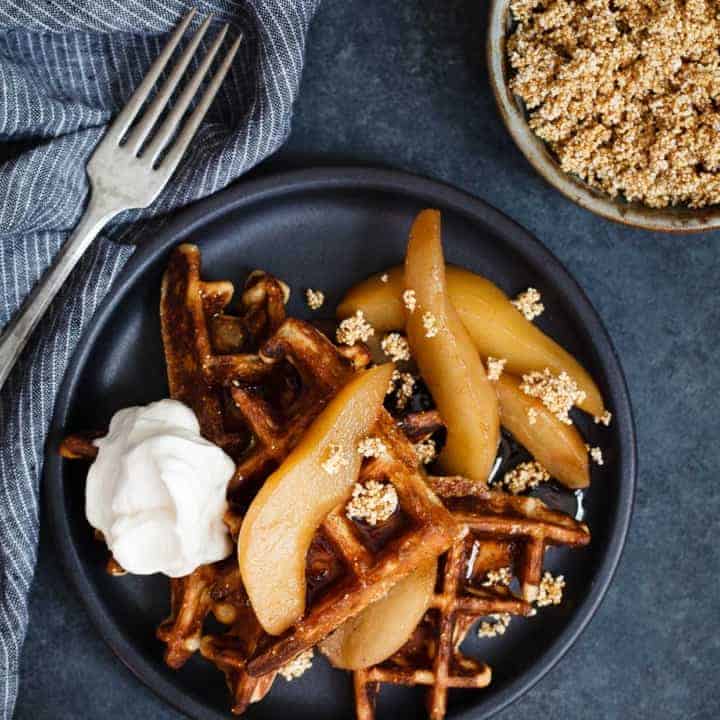 Gluten-Free Sweet Amaranth Waffles with Spiced Chai Poached Pears
Yield:
4 dessert servings
Ingredients
Gluten-Free Sweet Amaranth Waffles
3 tablespoons sugar
2 teaspoons baking powder
½ teaspoon salt
½ tsp cinnamon
¼ teaspoon freshly grated nutmeg
½ cup + 3 tablespoons whole milk
2 eggs, separated
3 tablespoons melted butter
½ tsp vanilla
Candied Popped Amaranth & Whipped Cream (optional)
¼ cup sugar
2 tablespoons water
½ cup heavy whipping cream
¼ cup powdered sugar
½ teaspoon pure vanilla extract
Instructions
Gluten-Free Sweet Amaranth Waffles
In a medium bowl, sift together the amaranth flour, oat flour, sweet rice flour, tapioca starch, sugar, baking powder, salt, cinnamon, and nutmeg. Set aside.
Whisk together the milk, egg yolks, melted butter, and vanilla extract in a small bowl. Set aside.
Using a stand mixer or an electric mixer, beat the egg whites on high speed until they stiff peaks form, about 2-3 minutes.
Add the milk mixture to the dry ingredients and whisk until thoroughly combined. Fold in the whole grain amaranth, if using. Gently fold the whipped egg whites into the batter until just combined - do not over mix.
If using an electric waffle iron, cook waffles according to manufacturer directions, lightly spraying the iron with canola oil. If using a stovetop waffle iron, be sure to heat up both sides for at least 3 minutes on medium heat. Lightly spray the top and the bottom of the waffle iron with canola oil. Pour ¾-1 cup of batter into the middle of the waffle iron and cook for 60-90 seconds. Flip the waffle iron and cook for another 60-90 seconds. Gently open the waffle iron to check the waffle and, if needed, continue cooking until both sides are crispy. (Every stove is slightly different, but mine is ready after 90 seconds on both sides). Transfer to a plate and repeat with remaining batter.
Divide among 4 plates and serve topped with poached pear, candied popped amaranth, pear syrup, and whipped cream (recipes below)
Spiced Chai Poached Pears & Pear Syrup
Prepare the poached pears and pear syrup according to the recipe here.
Candied Popped Amaranth
Heat a large deep skillet or saucepan over high heat for at least 3 minutes. Have a bowl nearby to pour the popped amaranth into.
Put the ¼ cup whole grain amaranth into the pan and watch it pop! It should start popping in about 10 seconds. Keep cooking, stirring, until it's completely popped a few seconds longer, being careful not to burn it. When it's finished popping, quickly pour the popped amaranth into a bowl to cool. Measure out 1 cup popped amaranth and transfer it to a heat-proof mixing bowl.
In a small pot, heat the water and sugar over medium high heat, stirring until the sugar melts. Cook, stirring, until the sugar turns dark amber colored and smells caramelized. Pour the caramelized sugar over the amaranth and stir to combine.
Pour the candied amaranth onto a baking sheet and spread it out to cool. Break it apart to sprinkle on top of waffles.
Whipped Cream
In the bowl of stand mixer fitted with the whisk attachment, with a hand mixer, or by hand, whisk together the cream, powdered sugar, and vanilla extract until soft peaks form.
Serve dollops on top of waffles.