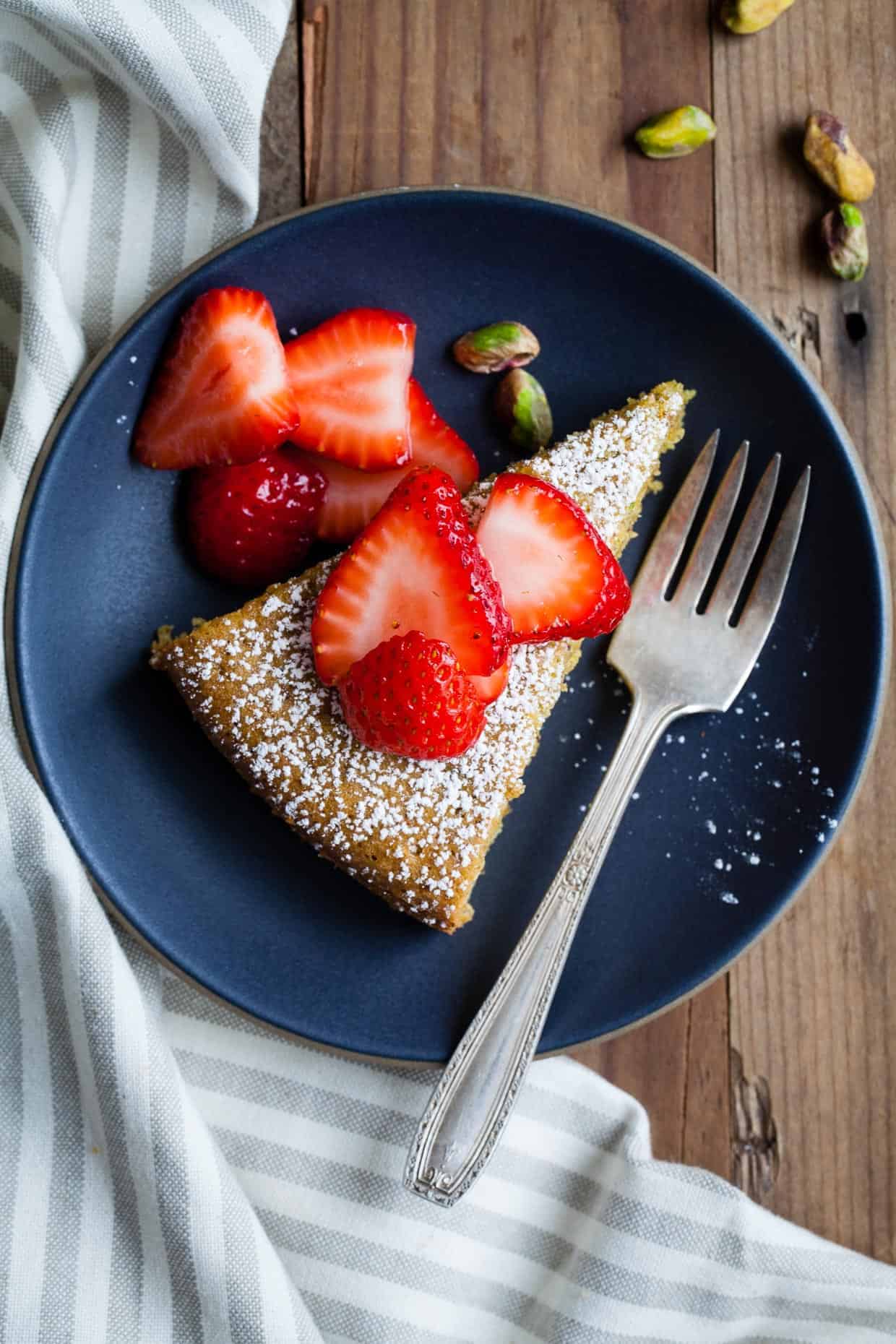 I used to be a kid who loved dirt. Over the 4th of July, I could camp by the lake for a week without a shower, not worrying about the crud under my fingernails or whatever was nesting in my hair. Back then we ate s'mores over the campfire every night. Twenty years later, we still return the same lake every summer, but now we stay in a cabin and eat this gluten-free pistachio rose cake topped with rose-scented strawberries for dessert.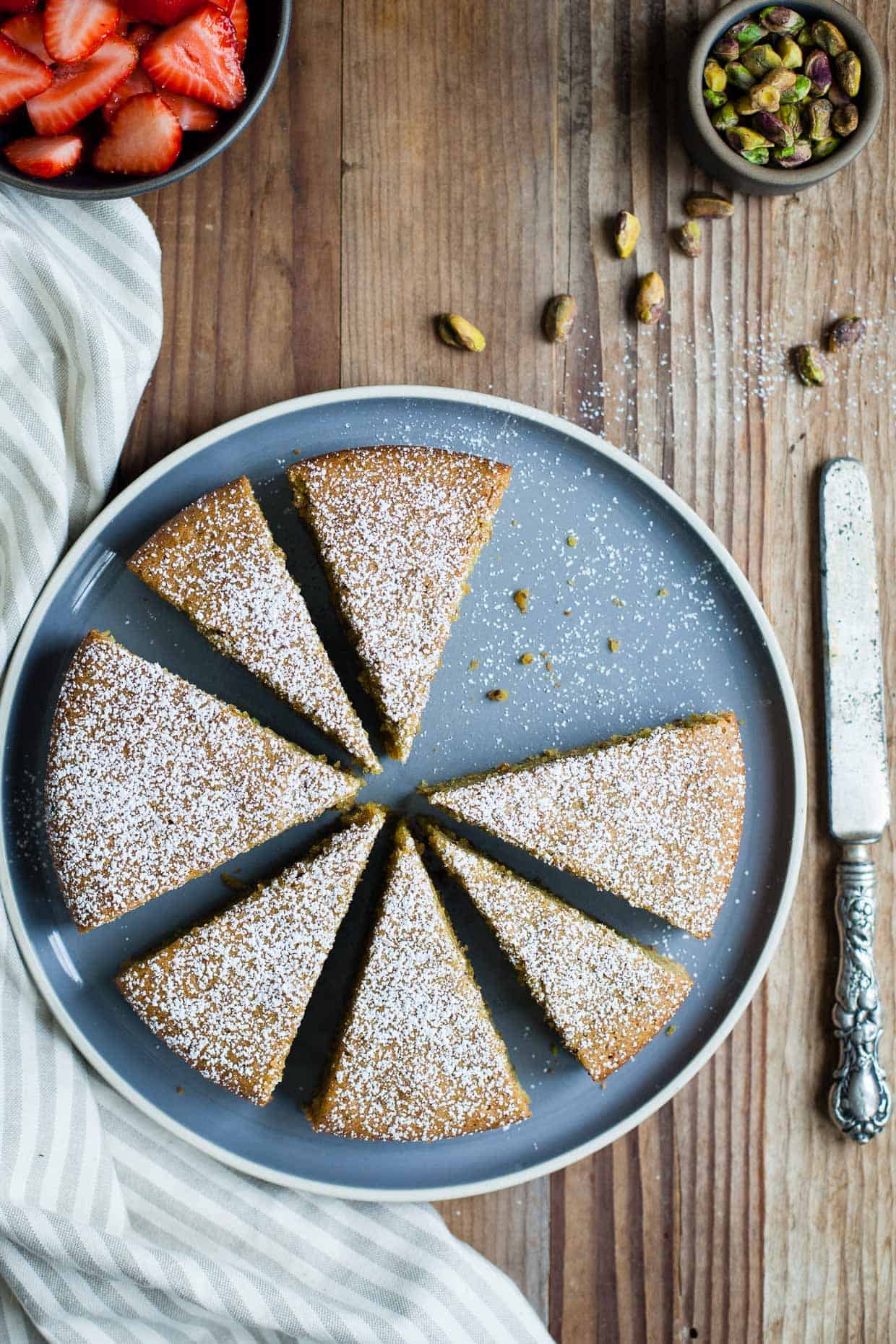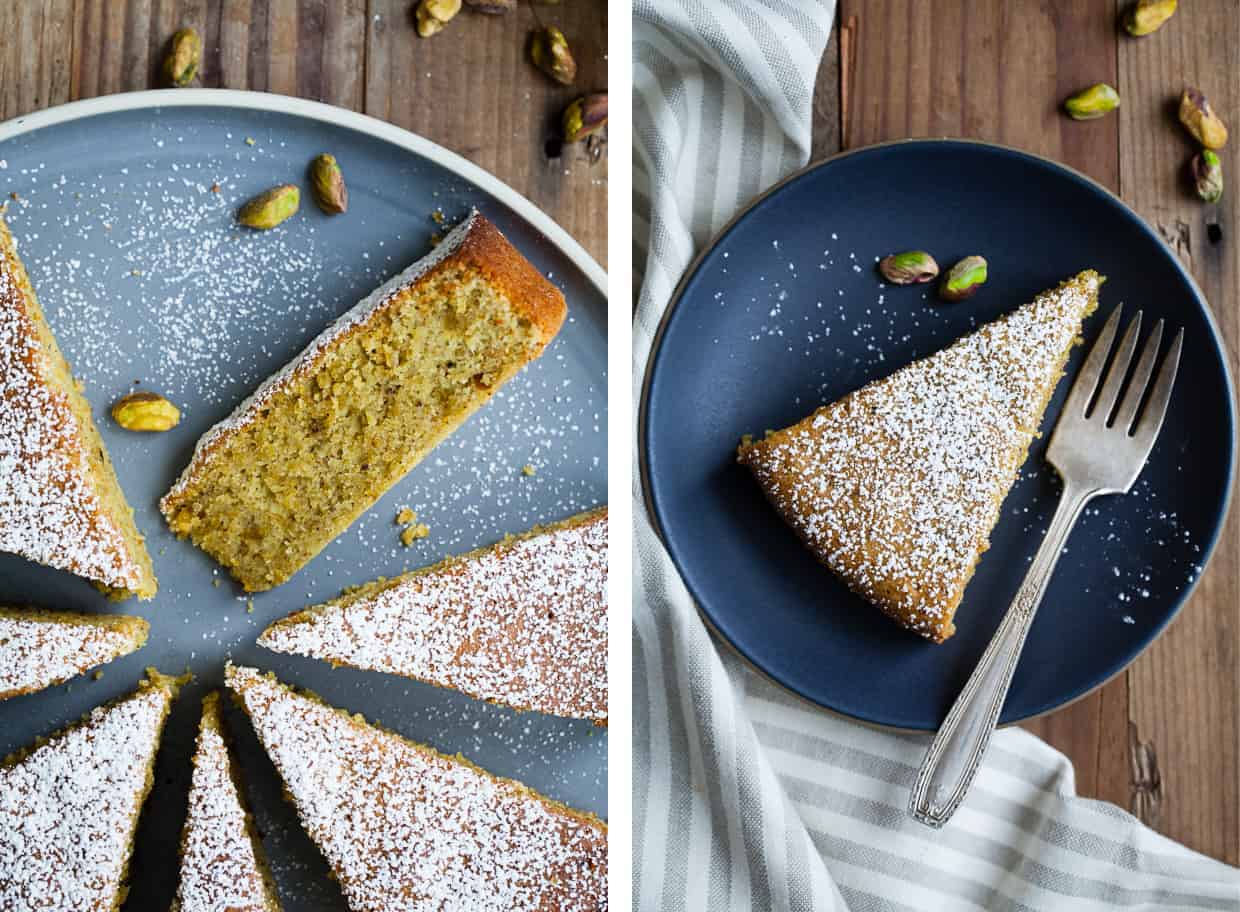 It'll still be out of plastic bowls with mismatched camping forks, though. #roughingit
The same bowls we used to tell my parents we were pregnant with #cheesebabygirl one year ago. Over the 4th of July, we planned to serve my parents a bowl of warm peach cobbler with custom vintage spoons stamped with "Grandma" & "Grandpa" tucked into the scoop of vanilla ice cream on top.
I laid the groundwork by telling my mom I needed to make a cobbler and shoot a quick video of the whole family eating it -- and it had to be posted to Instagram the Saturday we got there. Interjection: People say I'm a terrible liar. That's a terrible lie, but somehow she bought it.
People also say she's gullible.
That morning, I called my mom and reminded her that I'd be making breakfast for everyone when we got there (and yes, cobbler is totally an acceptable breakfast when you put buttermilk biscuits on top). She agreed. Only she didn't tell anyone else and when we arrived, everyone had eaten and they were all suited up for the beach with the ice chests and towels packed, impatiently waiting.
No one wanted cobbler less than my family at that moment and they made sure I knew. Probably the only time in history someone was forced to stay for homemade cobbler.
I served up the cobbler in rainbow plastic camping bowls and snuck the stamped spoons into my parents' servings, while Lucas filmed "for Instagram." Beat up plastic bowls with silver spoons and still no one suspected a thing.
Here's what happened next:
Mom (after a few bites): Is this your spoon?
Me: Yeah.
(Mom takes 2 more bites...)
Me: I bought it for you.
Mom: Oh. (Pulls down her glasses to look closer, then looks at me in shock) NO WAY?!
(Dad's still oblivious and almost done with his cobbler)
Mom: Look at your spoon, Tom.
(Dad giggles. Yeah, GIGGLES)
And like that, no one wanted cobbler more than my family at that moment.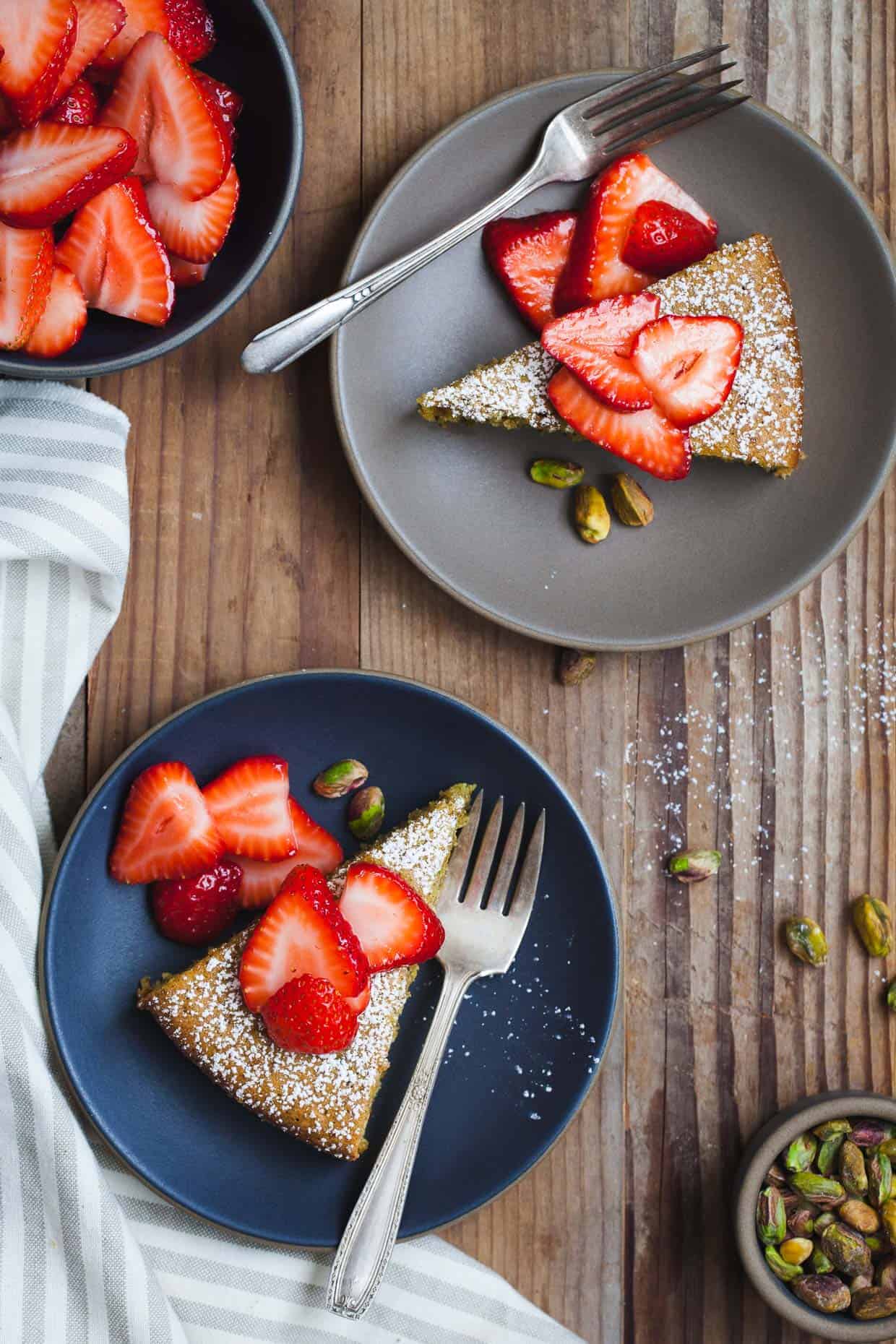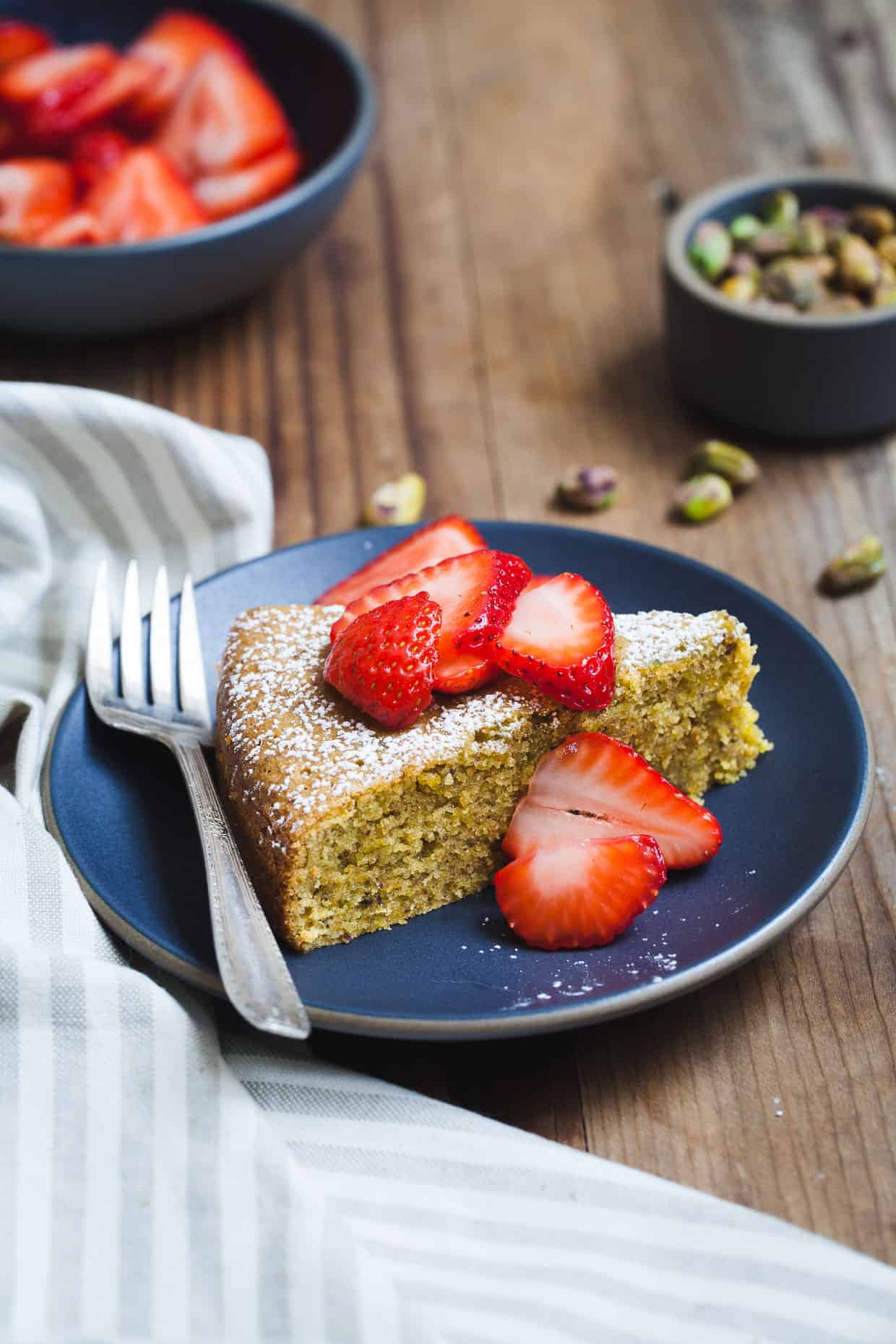 This year I don't have baby news as a buffer, so I'll make this pistachio rose water cake ahead of time so no one is forced to wait. Drawing its flavor profile from the classic Persian Love Cake and this Lemon-Frosted Pistachio Cake that Alanna and I styled for the NYT, this gluten-free pistachio rose water cake is tender and moist like an almond cake, with a deep nuttiness and subtle floral and citrus notes. This recipe calls for creaming the butter and sugar, and whipping the egg whites - both of which infuse air into the cake, giving it a light crumb. Don't skip those steps lest you end up with a dense cake.
Bonus: Not overly sweet, it also works as a breakfast coffee cake. New tagline -- Snixy Kitchen: your guide for eating dessert for breakfast.
When topped with top of the season rose-scented strawberries (and, if you fancy, a dollop of cardamom whipped cream??) this gluten-free pistachio rose water cake reminds me of an elegant strawberry shortcake. As such, I can't think of a more appropriate breakfast/dessert for the 4th of July.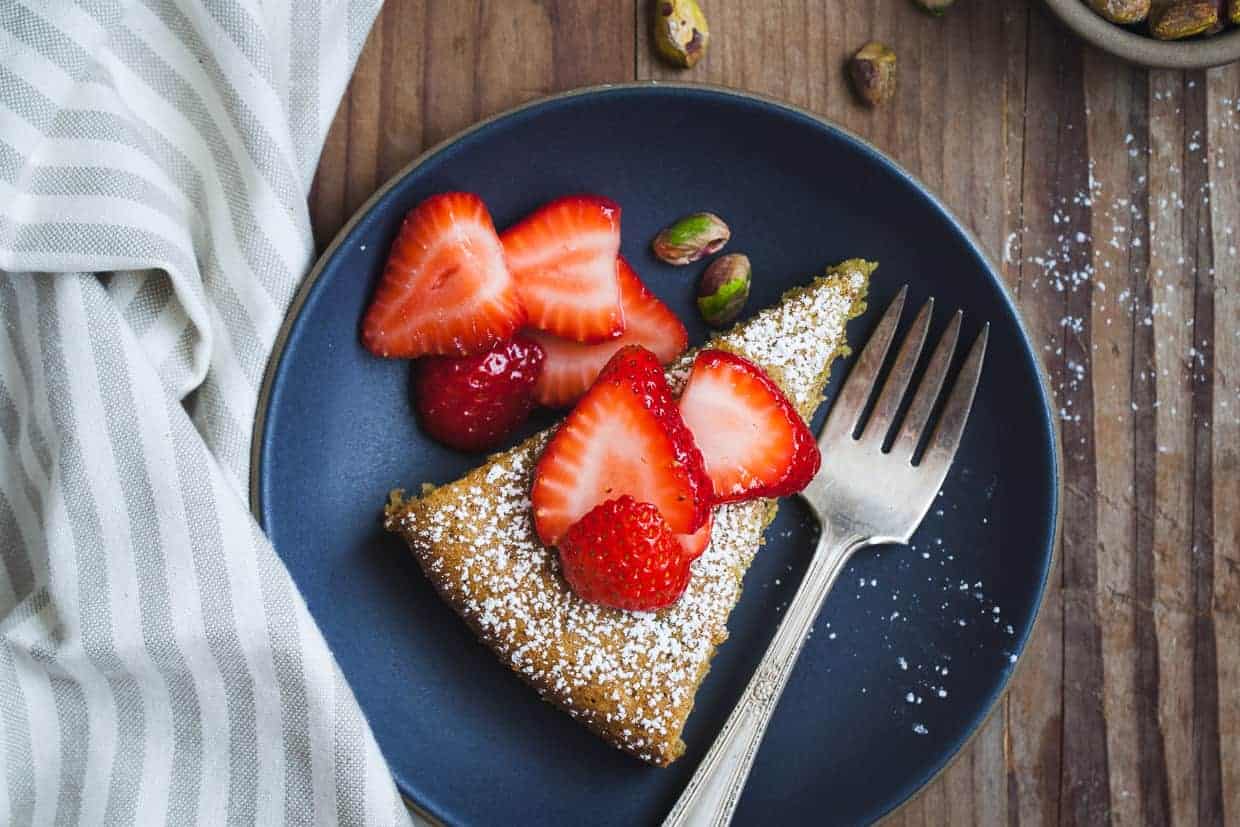 Thanks for reading Snixy Kitchen! To stay up on what's coming out of my kitchen, follow me on Facebook, Instagram, Twitter, Bloglovin', Pinterest, or subscribe via e-mail to get new recipes right to your inbox.

Gluten-Free Pistachio Rose Water Cake with Rose-Scented Strawberries
Ingredients
1½ cups (180g) finely ground unsalted pistachios* (from about 1¼ cups whole pistachios)
1½ cups (160g) almond flour
4 ounces (½ cup) unsalted butter, room temperature
⅔ cup sugar
5 large eggs, separated
1 tablespoon rosewater
Zest of half an orange
1 teaspoon baking powder
½ teaspoon salt
For serving (optional):
1lb strawberries, cored and sliced
1 tablespoon sugar
½ teaspoon rosewater
Instructions
Preheat the oven to 400°F. Spread the ground pistachios in an even layer on a baking sheet. Bake on the middle rack for 10-15 minutes, stirring every few minutes, until fragrant and lightly toasted. Let cool.
Reduce heat to 350°F. Butter the bottom and sides of an 8½-inch springform pan and line the bottom with a round of parchment paper.
In the bowl of a stand mixer fitted with a paddle, beat the butter and sugar until light an fluffy, about 5 minutes, scraping the sides as necessary.
Add the egg yolks, on at a time, and beat until just combined. Add the rosewater and orange zest and beat just to combine.
In a separate bowl, combine the nut flours, baking powder, and salt.
With the mixer on low, slowly add the dry ingredients to the egg yolk mixture in the stand mixer, beating until evenly combined.
In a separate clean bowl (or in the stand mixer with the contents transferred to another bowl), beat the egg whites until soft peaks form.
Use a rubber spatula to stir ⅓ of the whipped egg whites into the batter. Gently fold the remaining whipped egg whites into the batter until just combined.
Pour the batter into the prepared pan and spread evenly. Bake for 50 minutes to an hour, until the top springs back when pressed gently.
Meanwhile, combine the strawberries, sugar, and rosewater in a bowl. Chill until ready to serve, up to a 24 hours.
Let cool 10 minutes before releasing the cake from the springform. Serve topped with rose-scented berries.
Notes
*I pulse the pistachios in a blender or food processor until finely ground, but before they turn into nut butter!
**The nut oils ensure the cake stays moist for up to a few days wrapped in foil or refrigerated in an airtight container!