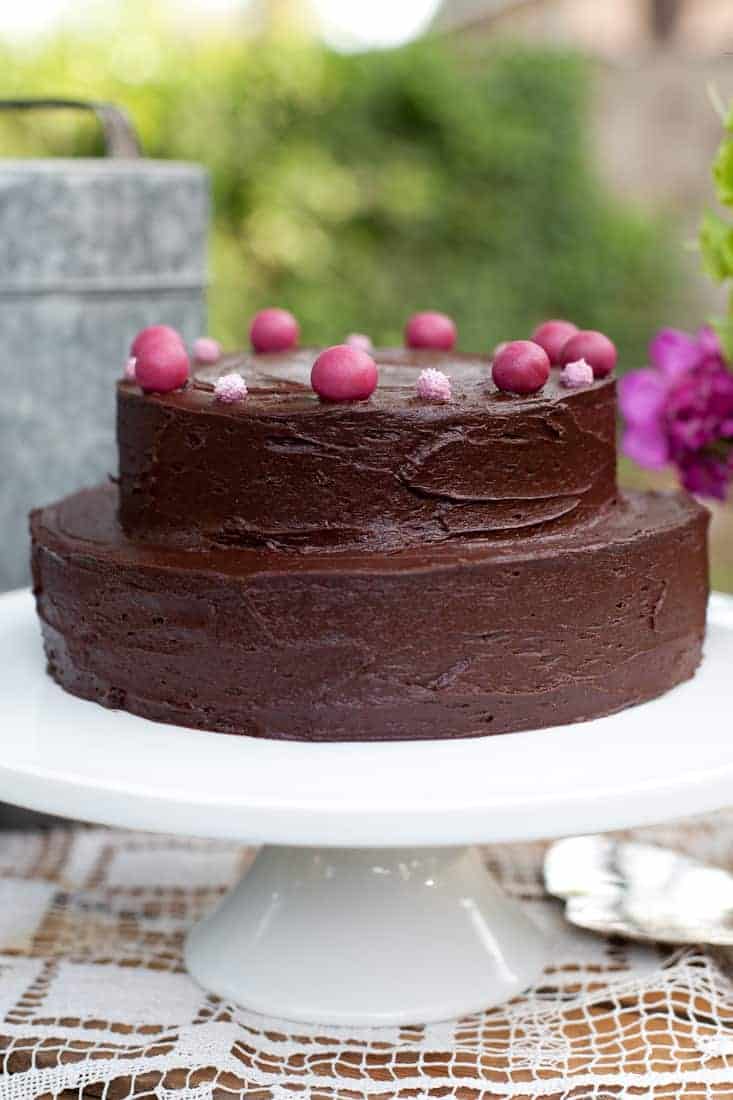 I got caught in the middle of the top-secret of all surprises, wearing a pink leopard print apron with a chocolate covered spatula in hand. There are surprises that if discovered before their time maybe bum the surprise-giver out for a split second, but really aren't that big of a deal. Like when you plan a birthday breakfast in bed, but your spouse wakes up early and finds you mixing a bowlful of eggs in your jammies. You easily just snap with a smile, "get back to bed!" and continue whisking. Then there are those top-secret surprises that are a really really big deal and your brother would probably kill you if you spoiled it. Like when he plans a surprise proposal to his girlfriend (Alexis) of 5 years on a hike with her best friend, followed by a surprise engagement barbecue with family and close friends. And there you are, baking a two-tiered deep chocolate layer cake in your parents' kitchen on a Friday night for the engagement barbecue the next afternoon when your mom texts you, "Alexis is bringing me home from dinner, HIDE ALL EVIDENCE!"
Ummm...I'm in the middle of baking a chocolate cake - I can't very well hide the stand mixer, cocoa powder, melted chocolate, cracked eggs, and cake pans in 5 minutes. I can hide the gift behind the couch cushions, but the deconstructed chocolate cake and preheating oven? Not so much. So I lied. I put my expensive acting degree to work and lied straight to her face. It wasn't like she wouldn't notice the cake either; Alexis has a chocolate addiction that puts my sweet tooth to shame. Like a hawk, she instantly zoomed in on the bowl of chocolate.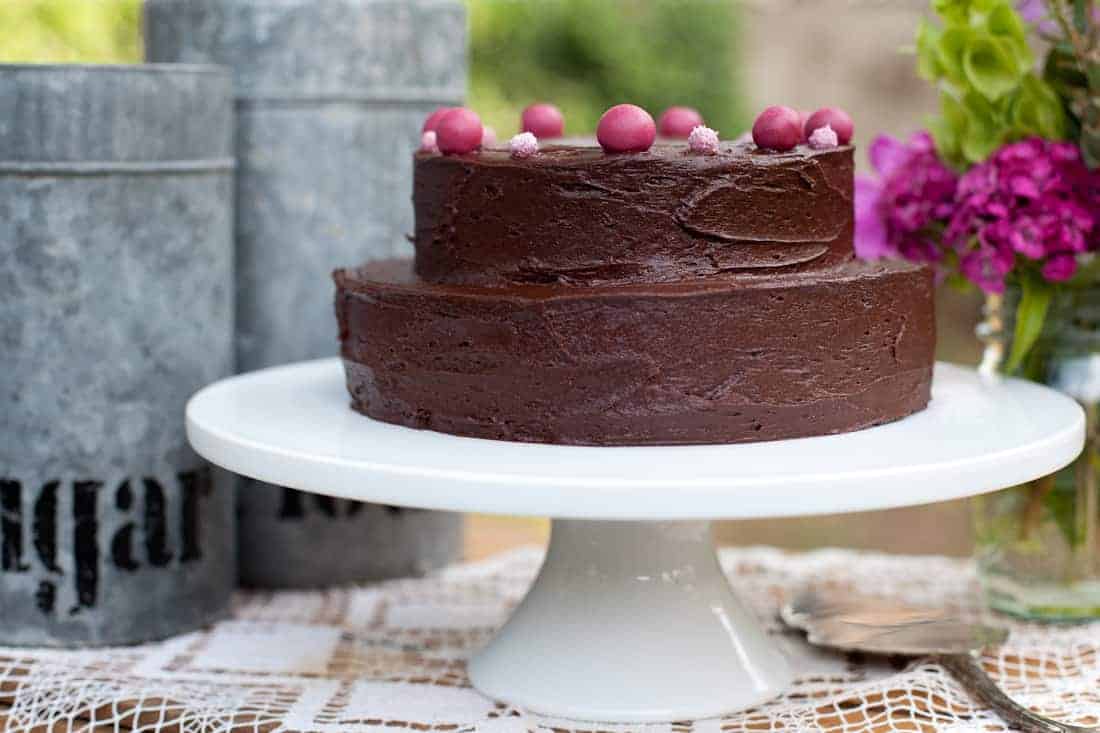 Here's how it went:
Alexis: Ooo - what are you making?
Big fat lie #1: I'm sorry I missed dinner, I have to do a sponsored chocolate cake post by tomorrow morning. So stressed!
Alexis: Do I get to eat this?
Big fat lie #2: Yeah, I thought we'd serve it on Easter.  I'm going to freeze the layers to do a crumb coat - I'm not going to frost it until tomorrow. Here, lick the bowl (and stop asking questions!).
Completely oblivious to what big life event would be happening to her in about 12 hours, she accepted my lies as fact as I handed her the batter bowl for her surprise engagement cake.
Obviously, since I'm sharing this cake, she said yes! While they were up hiking in the park on the Saturday before Easter, Alexis's best friend asked her to take a picture of him and his fiancé, while my brother Justin kneeled down behind her to surprise her with the ring when she turned back around. She was SO SURPRISED and, of course, cried like crazy. We couldn't ask for a better partner for my brother, and the entire family is over the moon that Justin (finally) popped the question.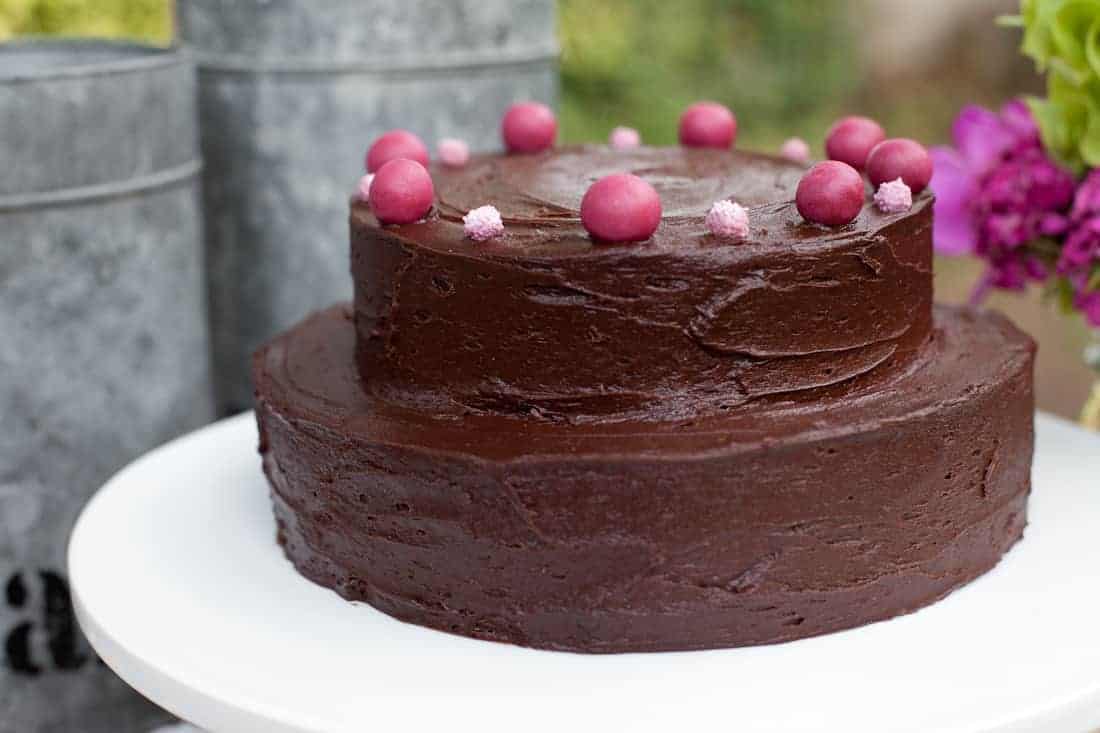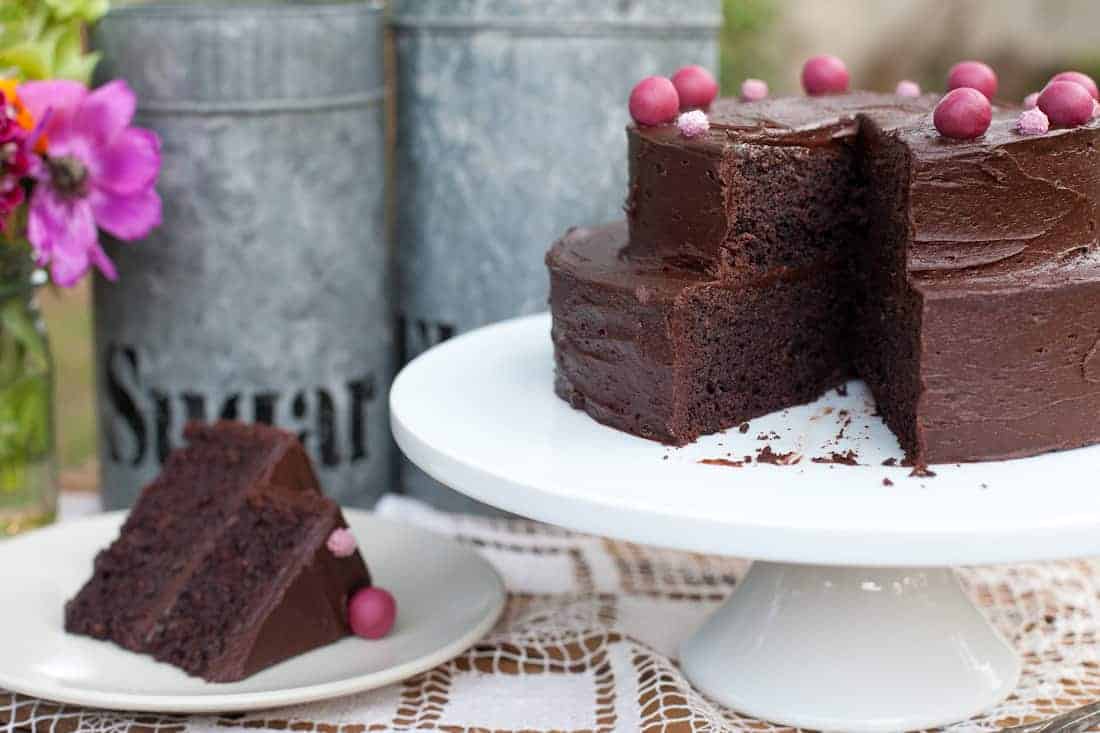 I also can't wait to continue baking chocolate treats for the rest of the festivities. Starting with this tiny tiered gluten-free deep chocolate layer cake. I adapted this recipe from the America's Test Kitchen gluten-free cookbook my friend Nicole gave me for my birthday, but because I always have to have a say in things, I added and changed quite a few things to put my own spin on it.
With the oven light on, I watched the cakes bake, terrified they'd turn out raw in the middle and burnt on the edges like the last time I tried to bake a chocolate cake, and I was convinced that if they did bake, as soon as I pulled them out, they'd sink in the middle like most dense flourless chocolate cakes. And then, like magic, they puffed up perfectly and out popped the most beautiful chocolate layers I ever saw.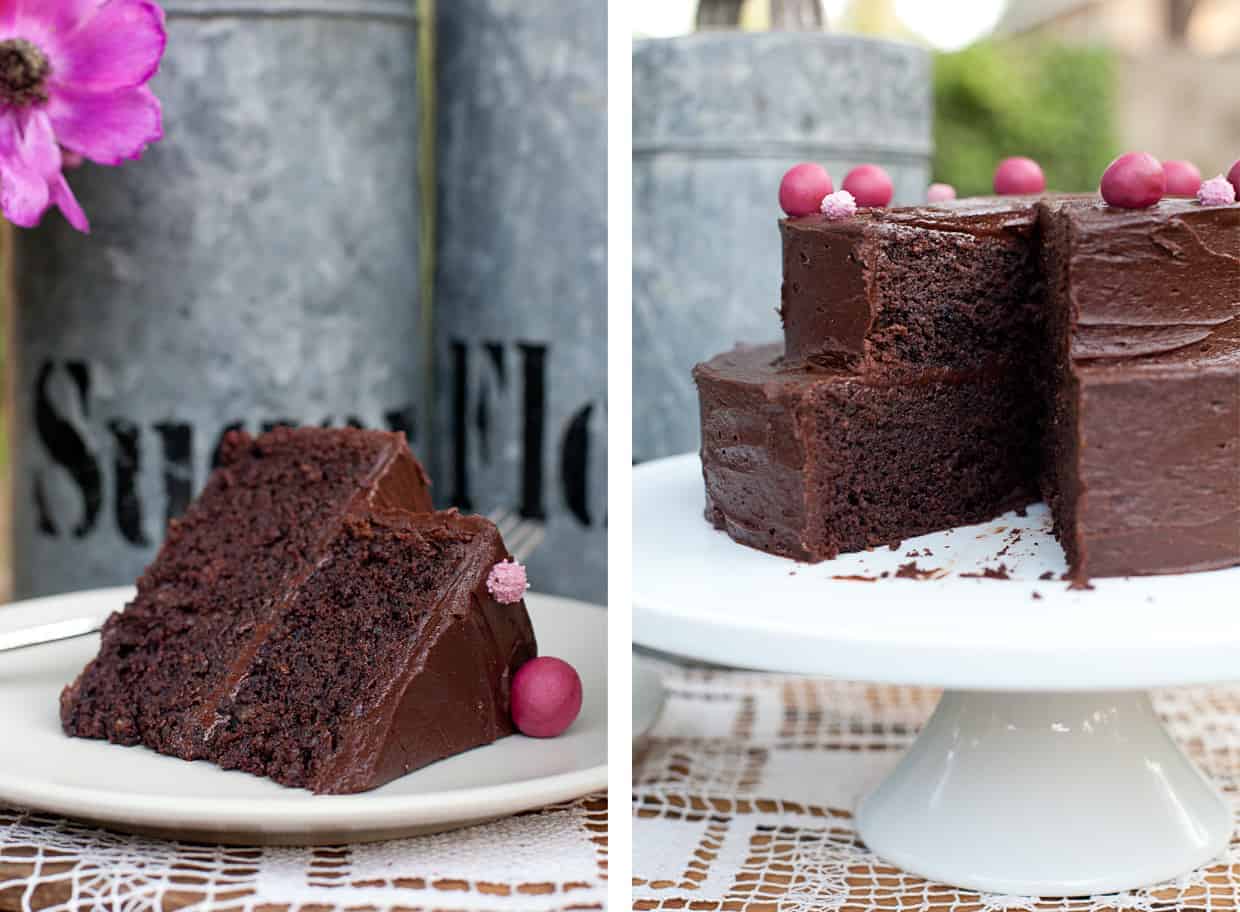 With deep dark chocolate flavors infused throughout, this recipe produces a flourless chocolate cake that is just that - airy and cake-like and not too fudgy. It's dense and moist enough to pack a chocolate punch - what with the high-quality cocoa powder, melted chocolate, and chocolate extract - but light enough to deserve a creamy chocolate buttercream frosting. And addicting enough to spark a second midnight serving and another slice for Easter breakfast. The cake was gone in less than 24 hours. Here's to you, Justin & Alexis! I can't wait to see what adventures you set out on next - I love you both almost as much as this chocolate cake;)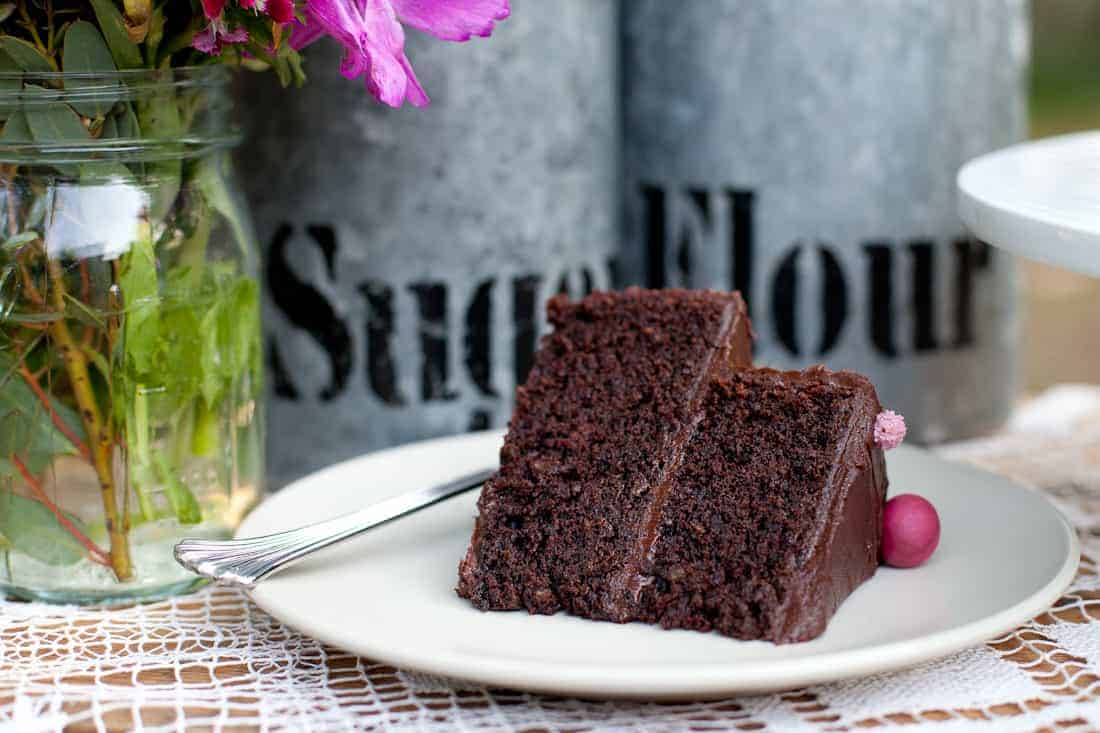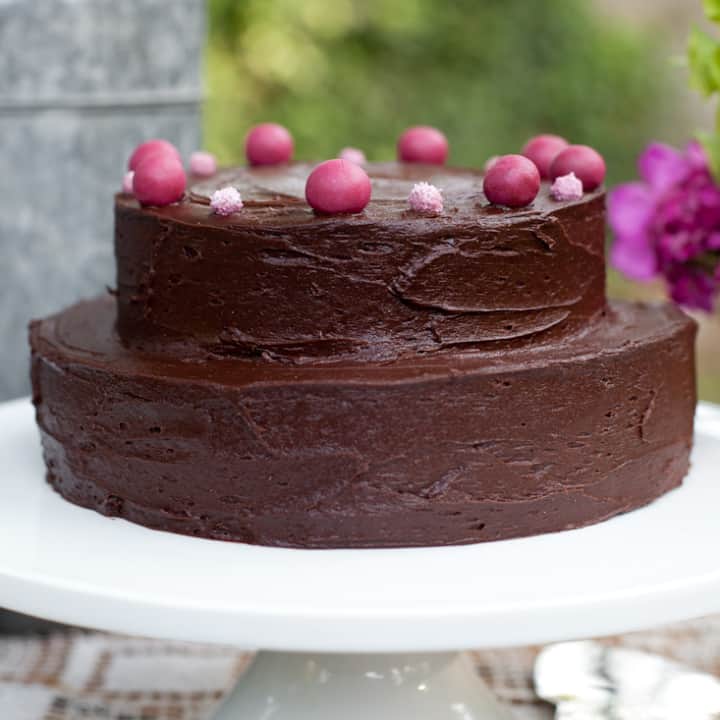 Gluten-free deep chocolate layer cake
Yield:
Two 8-inch layers or one tall 6-inch and one 8-inch
Ingredients
½ cup + 2 tablespoons good-quality dutch-processed unsweetened cocoa powder (I used Rodelle Baking Cocoa
1 cup vegetable oil
1 cup good-quality bittersweet chocolate chips
½ cup + 2 tablespoons white rice flour
3 tablespoons brown rice flour
1 tablespoon almond meal or almond flour
¼ cup oat flour (I make my own oat flour by grinding gluten-free oats in the food processor)
2 tablespoons tapioca starch
1 teaspoon milk powder
1½ teaspoons baking powder
1 teaspoon baking soda
1 teaspoon xanthan gum
1 teaspoon salt
4 large eggs
1½ cups sugar
1 cup whole milk
Frosting (recipe below)
Instructions
Mix the cocoa powder, chocolate chips, and vegetable oil in a small microwave-safe bowl. Microwave at 50% power, stirring every 30 seconds until melted and smooth, about 2 minutes. Set aside to cool completely.
Preheat the oven to 350°F and arrange the rack in the lower-middle position of the oven. Butter the bottom and sides of two cake pans (either two 8-inch rounds or for a tiered cake, one 6-inch and one 8-inch round). Line the bottom and sides of each pan with parchment paper and butter the parchment paper.
Whisk together the white rice flour, brown rice flour, almond meal, oat flour, tapioca starch, baking powder, baking soda, xantham gum, and salt together in a small bowl and set aside.
In a separate large bowl (or the bowl of a stand mixer), whisk together the eggs, vanilla extract, chocolate extract, and sugar until well combined.
Add the melted chocolate mixture and whole milk, and whisk until combined.
Slowly mix in the dry ingredients until completely combined and smooth.
Divide the batter between the prepared cake pans and smooth the tops. If making a tiered cake, pour 2 cups of batter into the 6-inch round cake pan and 3½ cups of batter into the 8-inch round. If using two 8-inch rounds, divide the batter evenly.
Bake until a toothpick inserted into the center of the cake comes out clean, rotating the pans halfway through. For the tiered cake, cook the 6-inch round for 35 minutes and the 8-inch round for 42 minutes. For two 8-inch rounds, your layers will be thinner, so check the cakes after 30 minutes.
Let the cakes cool for 5-10 minutes, then remove the cakes from the pans and let cool completely on a wire rack for about an hour, discarding the parchment paper.
When you're ready to frost, use a large knife to level the tops of the cakes, cutting off just a very thin layer of the rounded tops.
Frost according to the directions below.
Slice and serve with a glass of milk!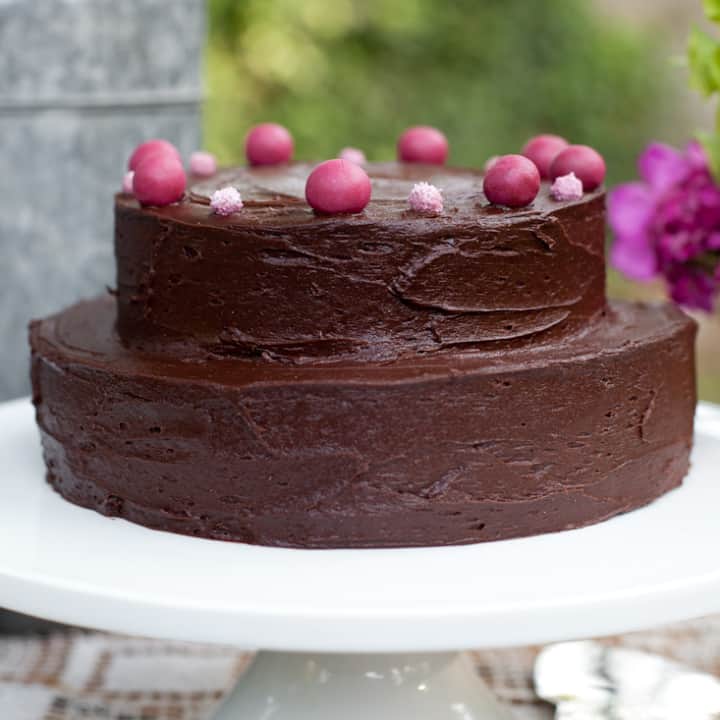 Chocolate buttercream frosting
Ingredients
1 cup + 2 tablespoons unsalted butter, room temperature
3 tablespoons whole milk
1½ teaspoons pure vanilla extract
3 cups powdered sugar
¾ cups dutch-processed unsweetened cocoa powder
¾ teaspoons instant coffee granules
pinch of salt
Instructions
In the bowl of a stand mixer fitted with flat beater, whip the butter until light and fluffy, about 2 minutes.
On low-speed, add the milk and vanilla extract and mix until combined.
Slowly add the powdered sugar, one cup at a time, until completely combined.
Add the cocoa powder, instant coffee, and salt and mix until completely combined and smooth.
Increase the speed to medium-high and whip until light and fluffy, 2-3 minutes.
To frost the layer cake, place about a tablespoon in the center of a cake platter or stand to help stabilize the bottom layer.
Cover the edges of a cake stand or platter with strips of parchment paper, to keep it clean while frosting the cake.
Place one cake layer on top of the dollop of frosting and the parchment paper, brushing away any crumbs. Place a large dollop of frosting on top of the cake, and spread it to the edges into an even layer using an offset spatula.
Place the second cake layer on top, again brushing away any crumbs. Again, place a large dollop of frosting on top of the cake, and spread it to the edges into an even layer using an offset spatula.
Using a few tablespoons of frosting at a time on the tip of the spatula, spread the frosting onto the sides of the cake, smoothing out as desired. (TIP: Avoid crumbs by keeping a separate bowl to wipe any crumb-covered frosting off the spatula as you work).
Remove the strips of parchment paper and wipe the platter clean as needed.