These cinnamon-spiced hazelnut chocolate chunk muffins are gluten-free and dairy-free. In partnership with Pacific Foods, I've used their Hazelnut Non-Dairy Beverage to create sweet morning muffins with a distinct nutty flavor that are fluffy and moist.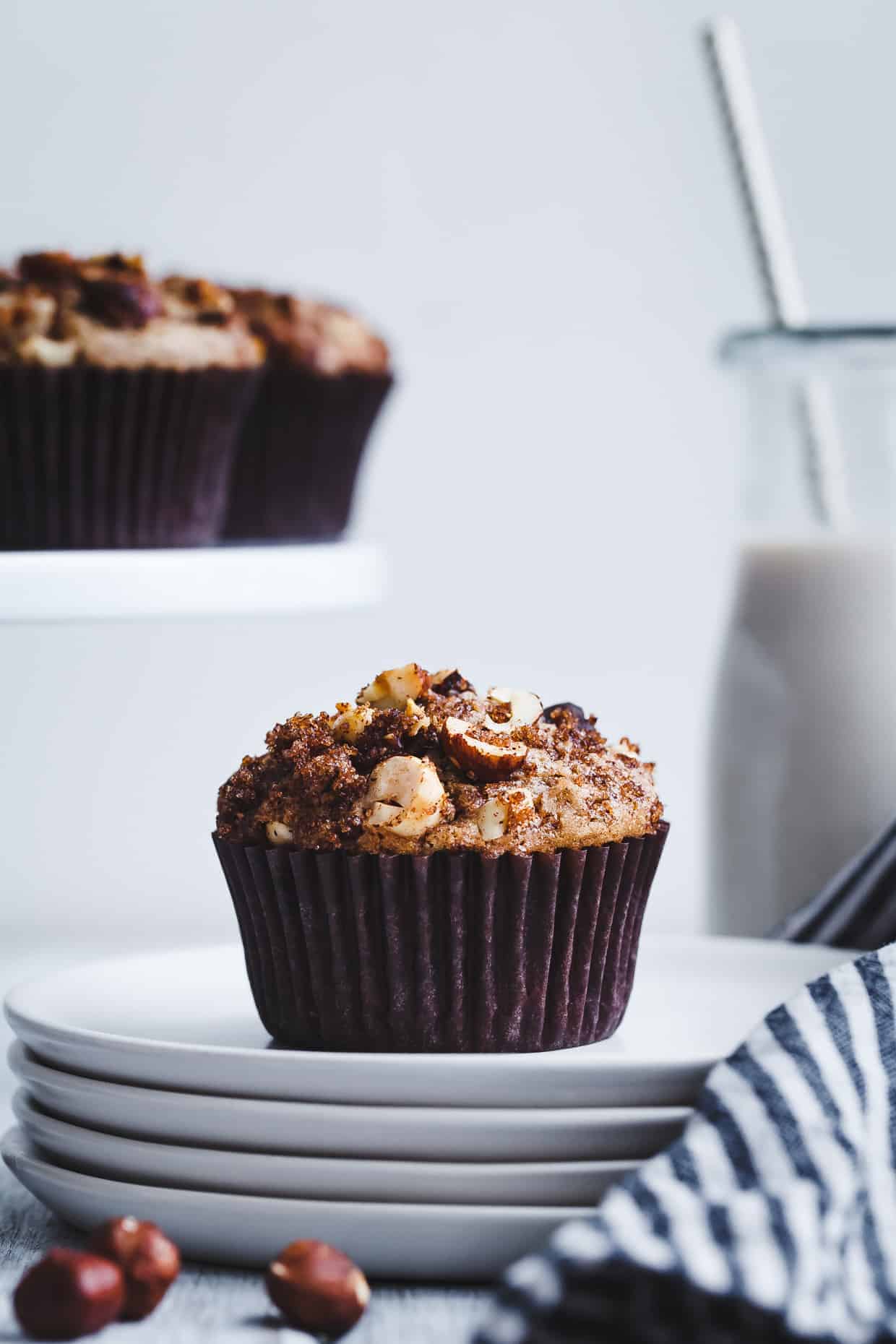 As a kid, we'd serve my mom breakfast in bed every Mother's Day. In retrospect, my mom definitely woke up earlier than me 364 days of the year, so she probably had to force herself to stay in bed that day, knowing she'd blow the surprise if she got up. Also, I've got no rational explanation for why we tip-toed around as though it was a secret when really, this was a family tradition that happened every Mother's and Father's Day. But we did. We rarely strayed far from the standard eggs and bacon (my dad's specialty), but if I still lived close, I'd bring my mom these gluten-free cinnamon hazelnut chocolate chunk muffins this year.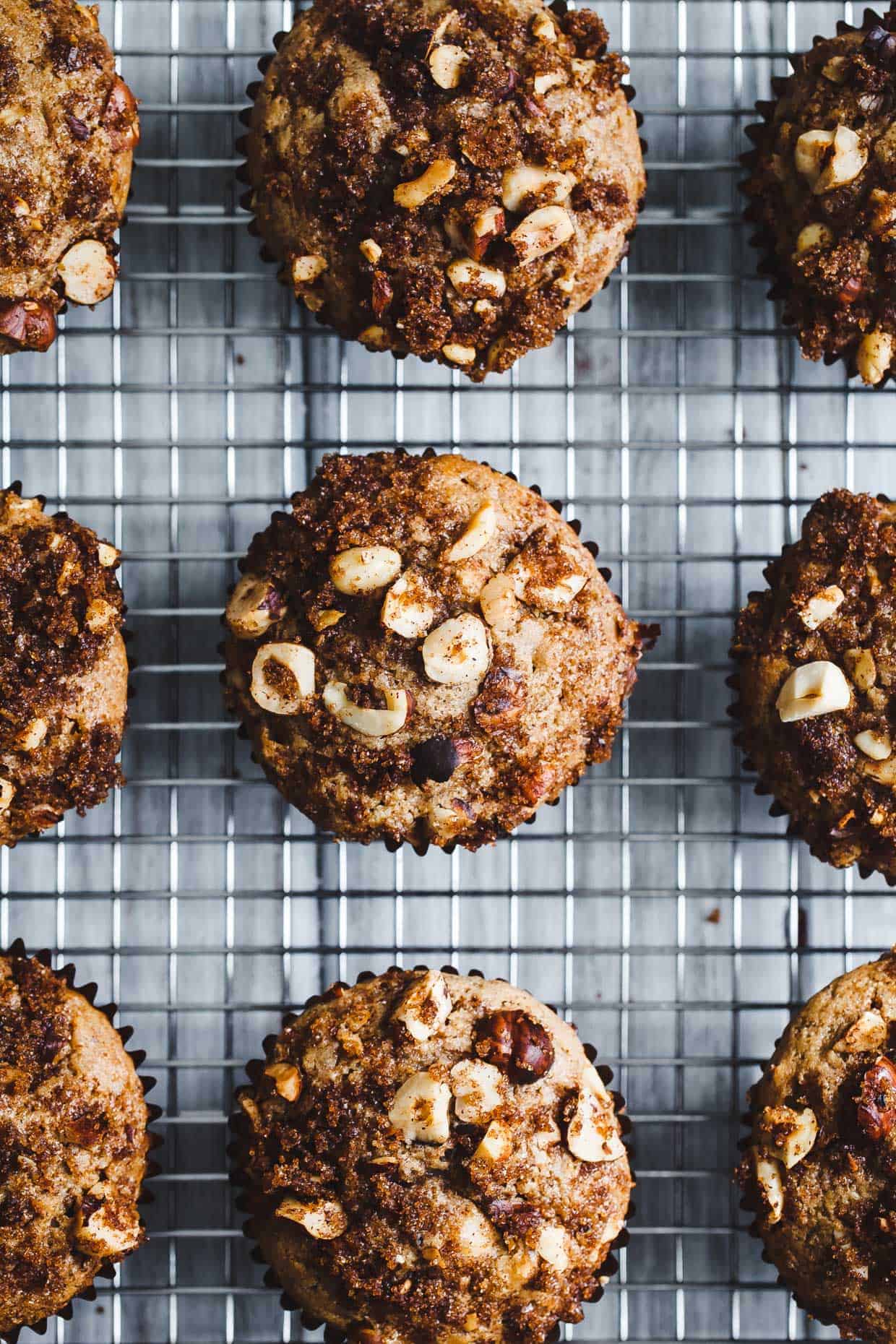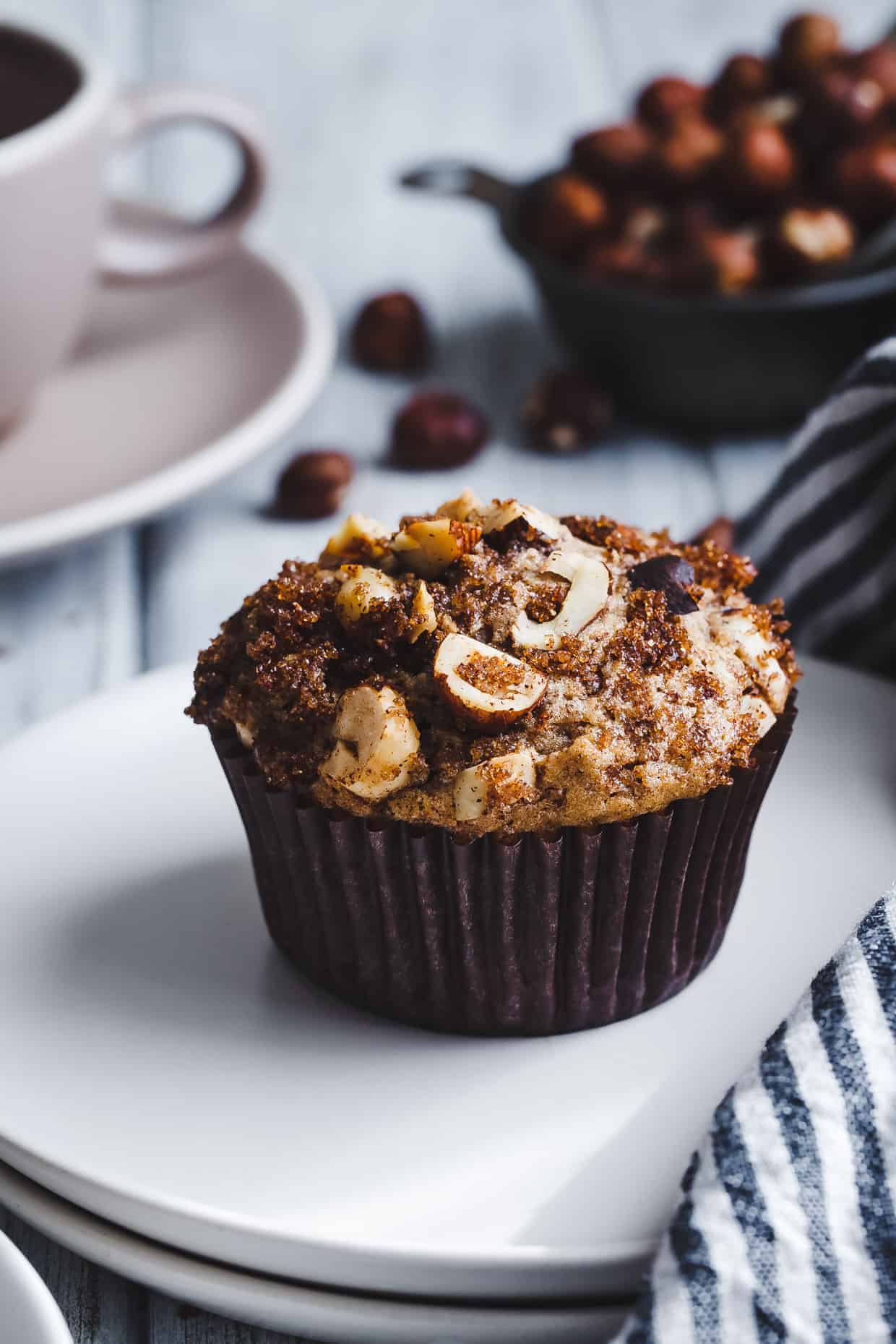 Now that I'm on the other side of Mother's Day, I've thought about investing in one of those lap meal trays to carry on the tradition. But then I also thought about how I'm notoriously messy and that just sounds like a recipe for crumbs in my sheets. And ants. So maybe not. Zoella still nurses in the morning, so I guess technically someone will be having a Mother's Day breakfast in bed.
Perhaps we can switch the tradition to breakfast from bed where the meal is on the table as soon as I roll out of bed? (Take notes, Zo. Tell Daddy.)
And by meal I mean, these muffins. Cinnamon hazelnut chocolate chunk muffins, piping hot from the oven. As a mom, I'm telling you: bake these up on Sunday and your mom will love you. I mean, I guess I can't speak for all moms, but she probably will.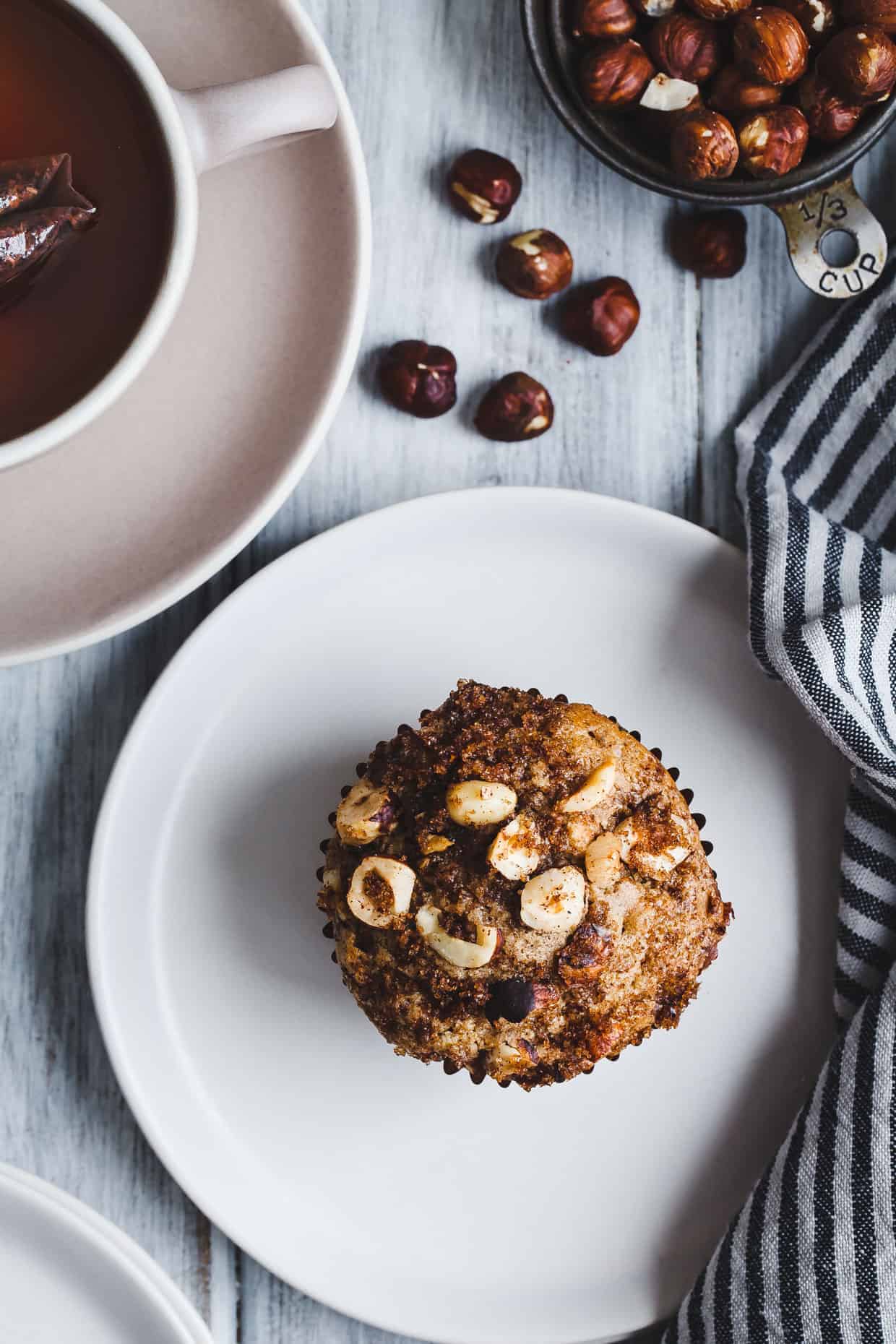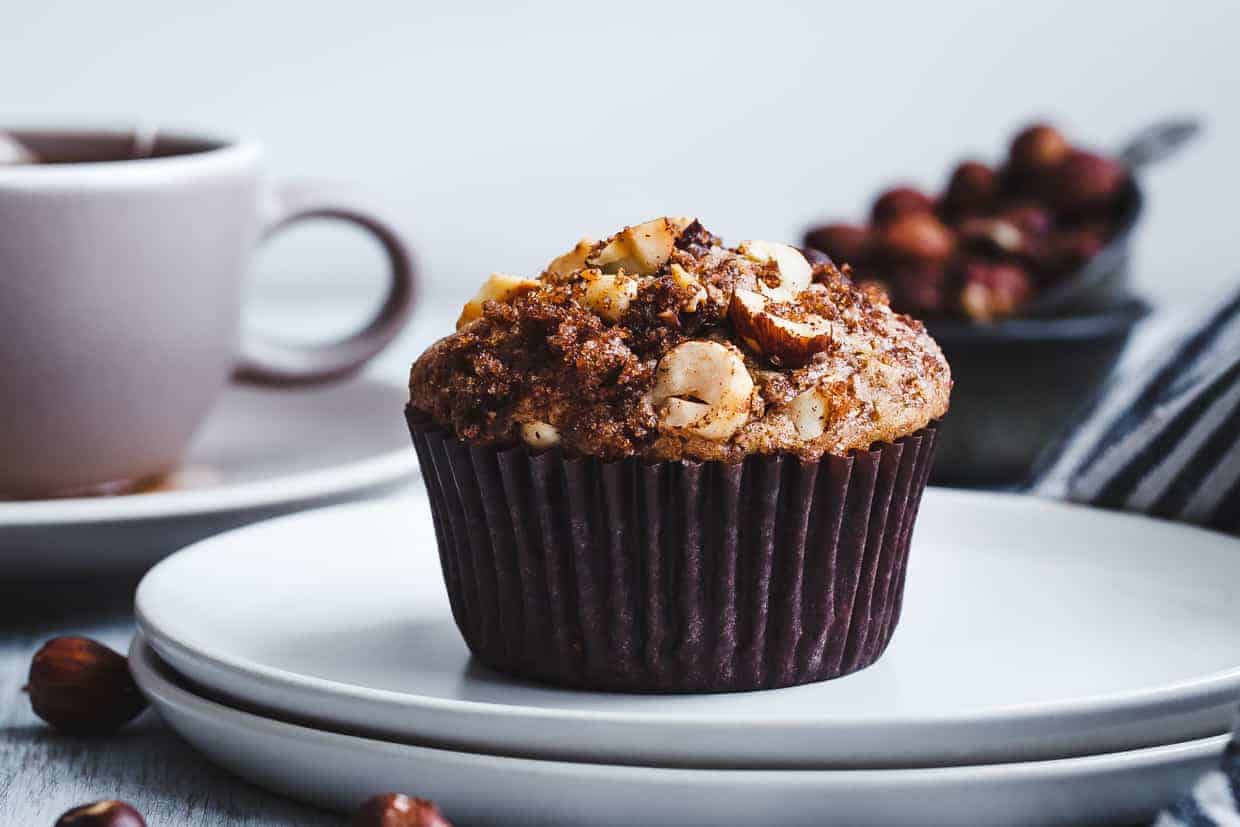 They're cinnamon-spiced, filled with pockets of melted chocolate, and both gluten-free and dairy-free. To make it super easy, I've used an all-purpose gluten-free flour blend and Pacific Food's Hazelnut Original Non-Dairy Beverage, which lightly sweetens with a distinct nutty flavor and produces a moist dairy-free muffin. The dark sugary hazelnut streusel on top is the part that says "I really love you, mom."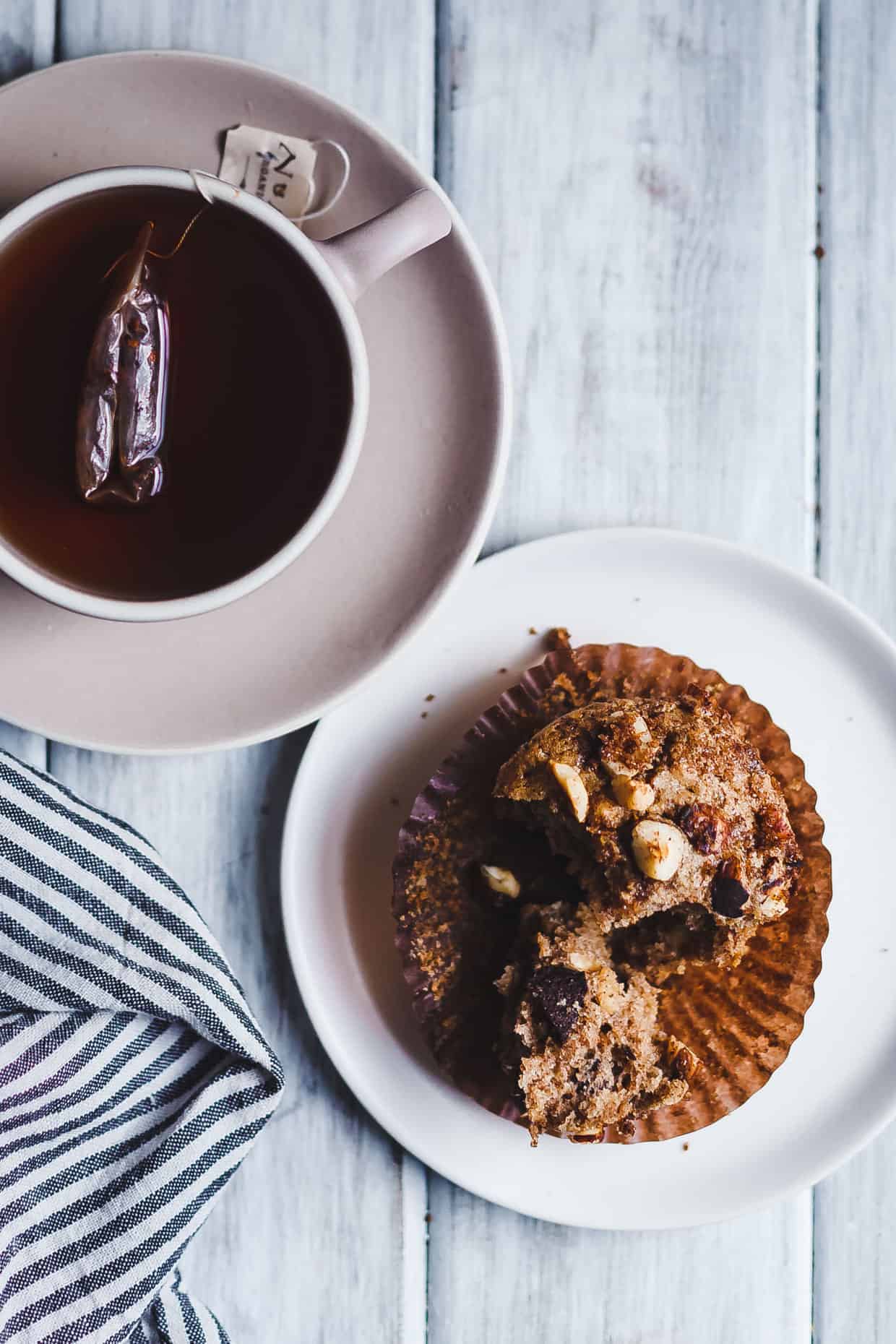 You can find this recipe along with 9 more dairy-free recipes plus helpful tips in Pacific Food's new Non-Dairy Made Easy e-book! The e-book is available as a free download on their website, where you can also take a short online quiz to try to win some Pacific non-dairy beverages.
Disclosure: Special thanks to Pacific Foods for sponsoring this post! And thanks to you for supporting the companies that keep Snixy Kitchen cooking!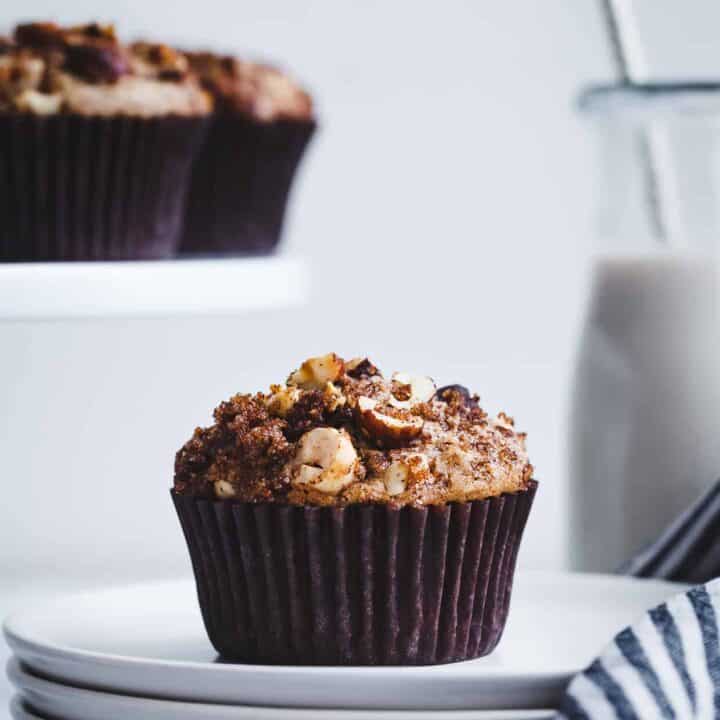 Gluten-free Cinnamon Hazelnut Chocolate Chunk Muffins
Ingredients
For Muffins
1½ cups Bob's Redmill 1-to-1 Baking Flour (for non-gluten-free version, replace with all purpose flour)
¾ cup sugar
1 tablespoon + 1 teaspoon ground cinnamon
1½ teaspoons baking powder
½ teaspoon baking soda
½ teaspoon kosher salt
½ cup + 2 tablespoons Hazelnut milk
½ cup safflower oil (or vegetable/canola oil)
2 large eggs, room temperature
2 teaspoons pure vanilla extract
½ cup coarsely chopped toasted hazelnuts
¼ cup dark chocolate chunks
For Streusel
¼ cup coarsely chopped toasted hazelnuts
3 tablespoons light brown sugar
1 tablespoon coconut oil or vegan butter
1 teaspoon ground cinnamon
Instructions
Preheat oven to 350°F and line muffin tin with 12 liners.
Prepare streusel topping by mixing all ingredients together in a bowl until evenly combined and clumpy when pressed together. Set aside.
Whisk flour, sugar cinnamon, baking powder, baking soda, and salt together in a medium bowl.
In a separate bowl, whisk together hazelnut milk, oil, vanilla, and eggs until combined.
Add liquid ingredients to dry ingredients and mix until completely smooth.
Fold in chopped hazelnuts and chocolate chips.
Divide batter among 12 muffin liners, filling each ¾ full.
Sprinkle the streusel topping over muffins.
Bake for 18-20 minutes, until a toothpick inserted into center comes out clean. Transfer muffin to a wire rack to cool before serving.
Thanks for reading Snixy Kitchen! To stay up on what's coming out of my kitchen,  follow me on Facebook, Instagram, Twitter, Bloglovin', or Pinterest, or subscribe via e-mail to get new recipes right to your inbox.