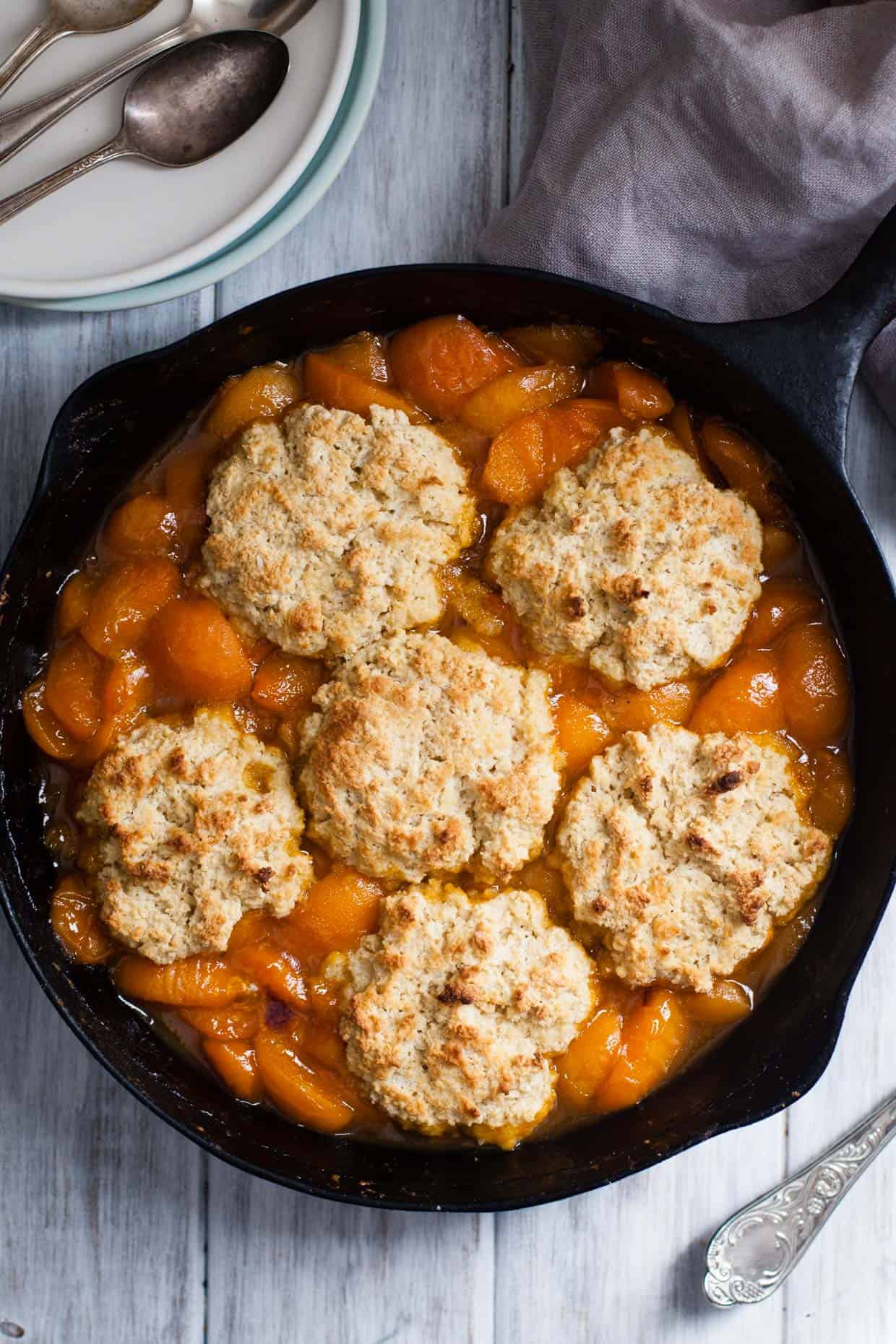 One of the best parts about visiting my parents during the summer is the box of stone fruit they send as a parting gift. In June we get apricots and plums and by July they're overflowing with peaches. Last year I turned the loot into an apricot galette and this year I've baked them up into this apricot cobbler with sweet buttermilk biscuits. This definitely won't be the last cobbler of the season.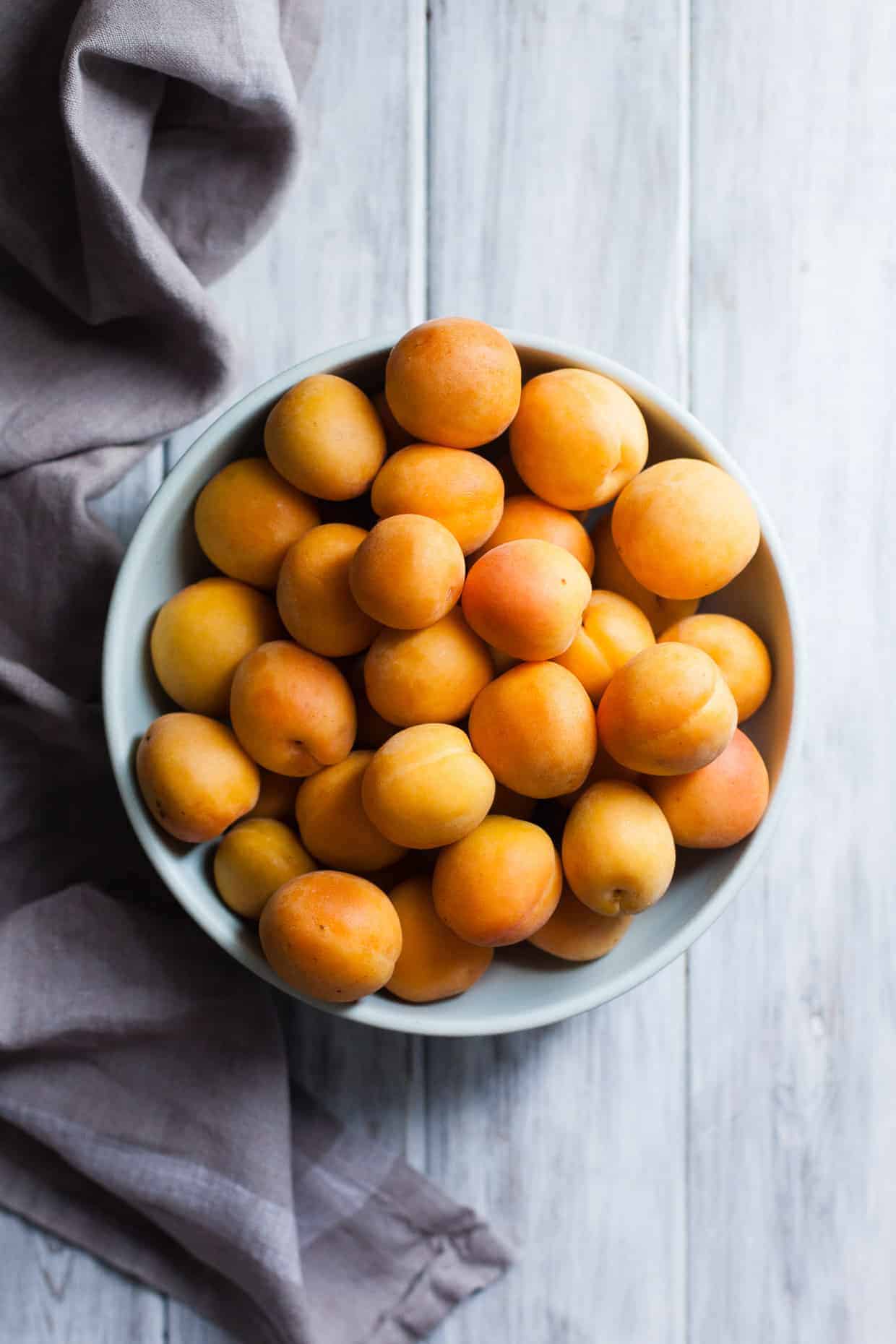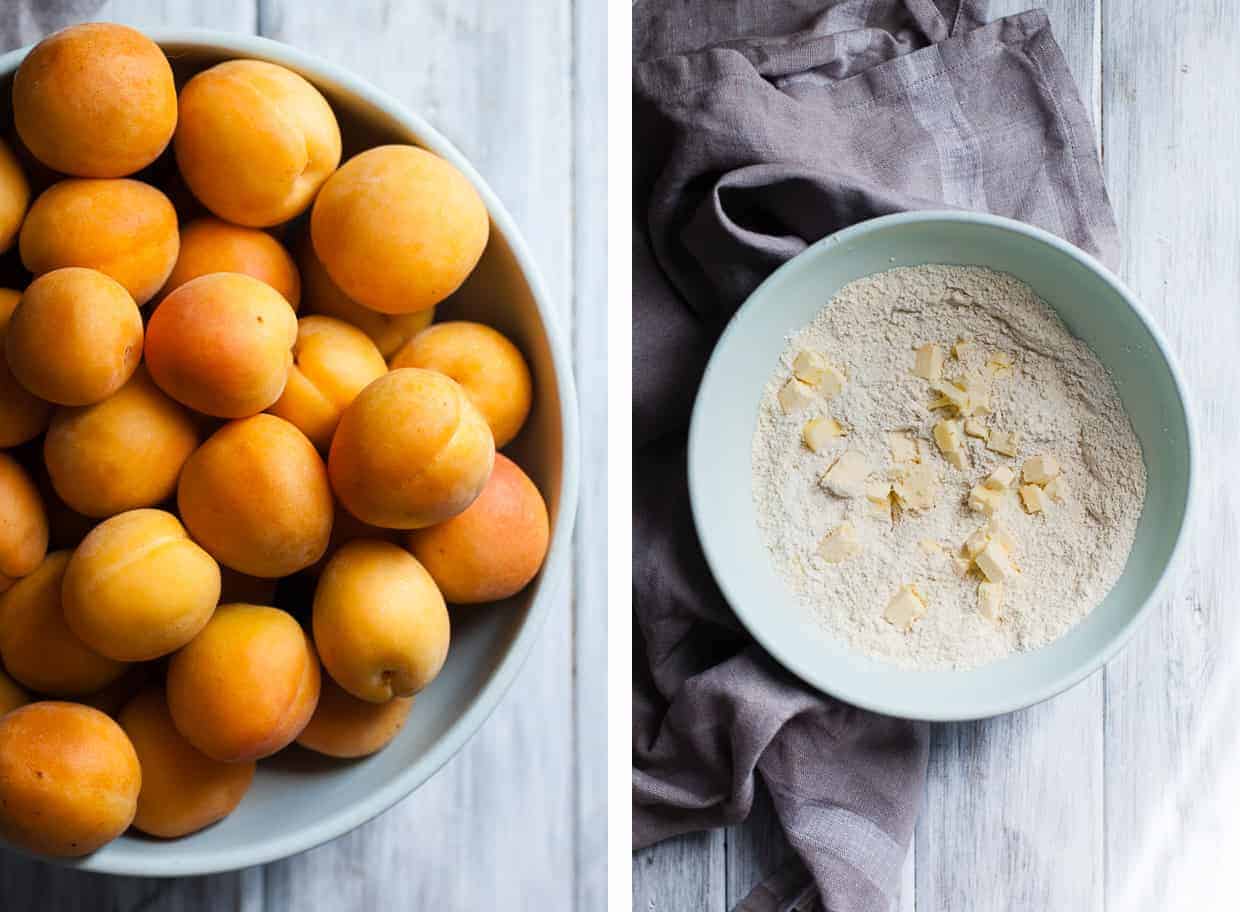 On Saturday I went to put a spool of thread back into my sewing box, and before I knew it, I'd gone full on beast mode gutting the guest room and three closets of things we most definitely didn't need. Apparently one tiny piece of disorganization can set off catastrophic cleaning. Does this ever happen to you? It's like If You Give a Mouse a Cookie: Grown-up Edition.
Also: Is an electric blanket that no longer works just a regular blanket with cables?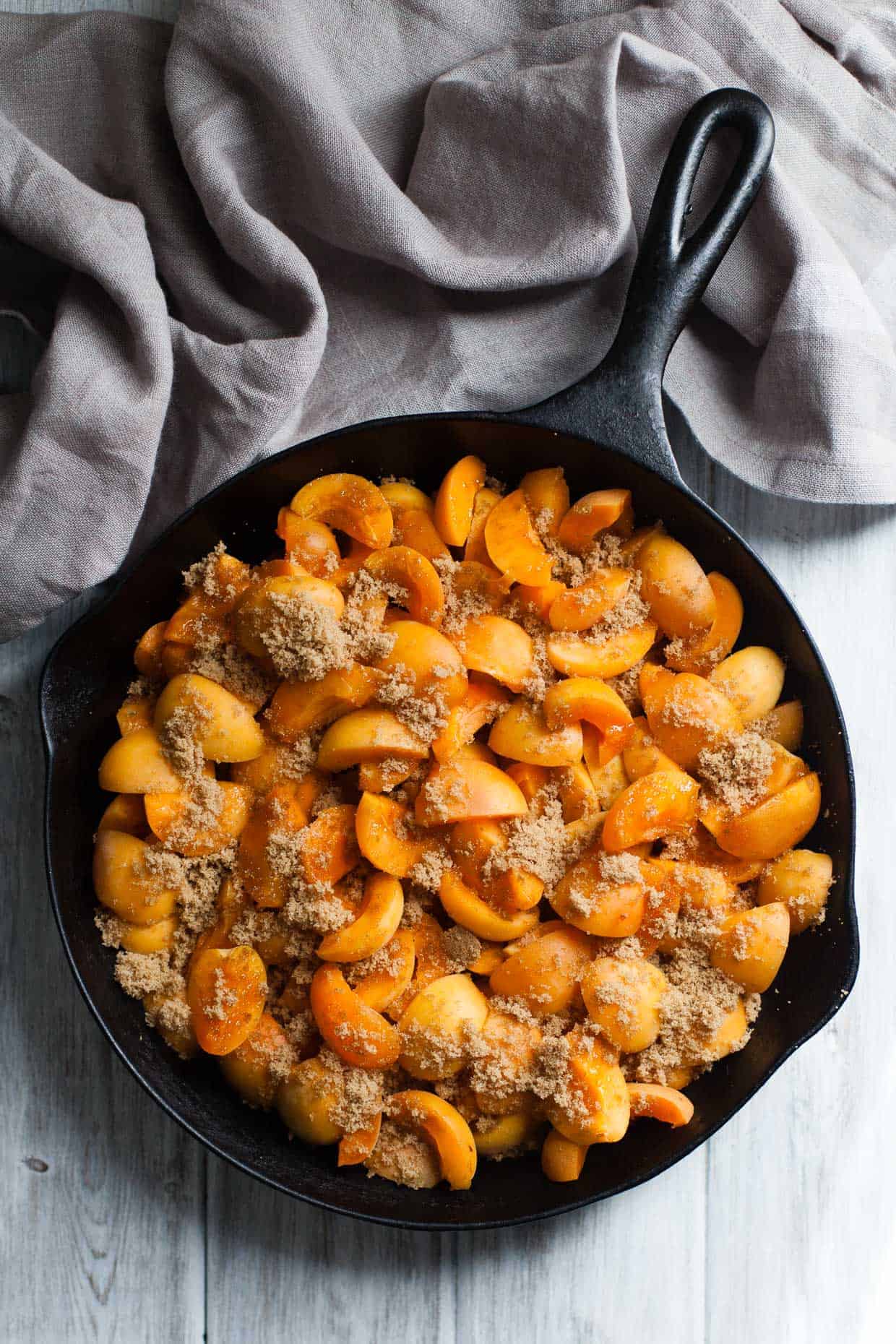 I called my mom to see if she wanted the 10+ binders back that she lent me when I started grad school. She didn't even let me finish asking before she emphatically screamed, "No! Don't bring anything back here!"
Then followed it up with, "what should I do with your 300+ hippo collection taking up space in your old bedroom closet?" Touché. (How long are you allowed to store your hippo, rock, troll, and sticker collections in your childhood closet after you go away to college?).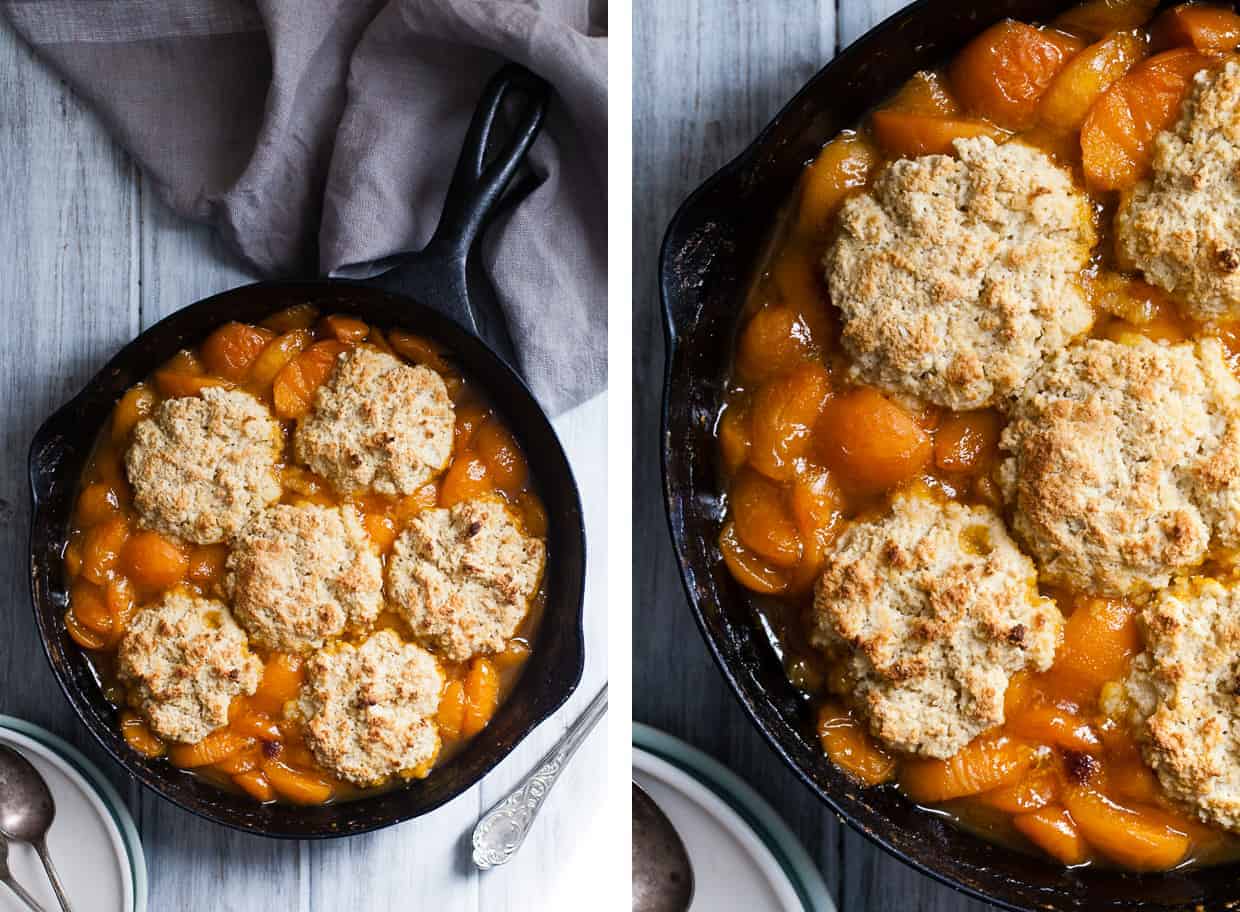 We went to dinner at our friend's house last week and their 19-year old daughter Emma was back from college for the summer. (Note: Her room looks just as she left it). I brought this apricot cobbler for dessert and served it warm with a spoonful of vanilla ice cream. Emma inhaled her serving then came back looking for seconds, "that was one of the best desserts I've ever had." With that kind of praise, Emma's invited over for dessert any time she wants.
I agree though - this dessert tastes like early summer in a bowl and it couldn't be any easier to make. The buttermilk biscuits are flakey, moist, with a hint of sweetness. They're perfect as a breakfast biscuit or baked on top of warm stone fruit into this decadent dessert. Heck, eat this cobbler for breakfast - you deserve it.
Just hurry up and get your apricots while they're hot and ripe - you don't want to miss their short season! Just in time for the 4th of July.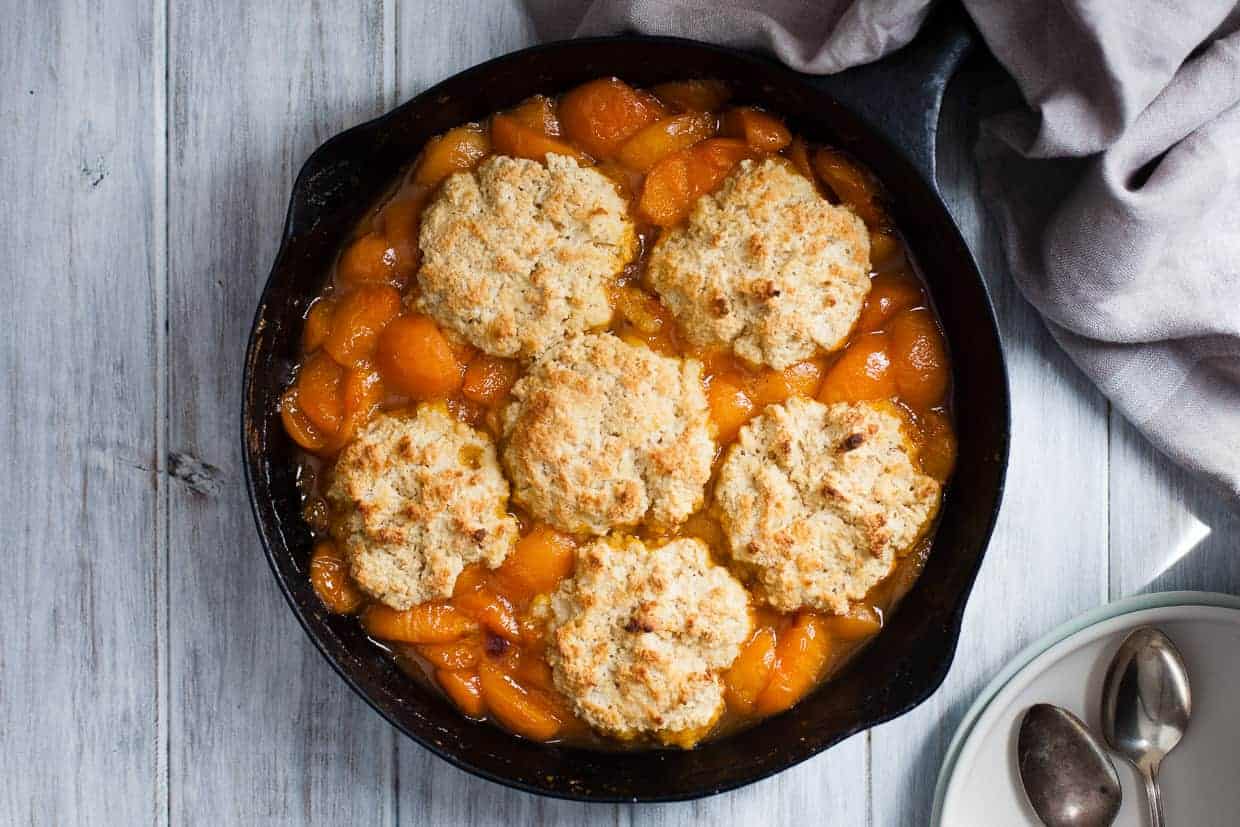 Special thanks to Jered's Pottery for the light blue handmade mixing bowl pictured above. Their online shop will be open soon!
Thanks for reading Snixy Kitchen! To stay up on what's coming out of my kitchen,  follow me on Facebook, Instagram, Twitter, Bloglovin', or Pinterest, or subscribe via e-mail to get new recipes right to your inbox.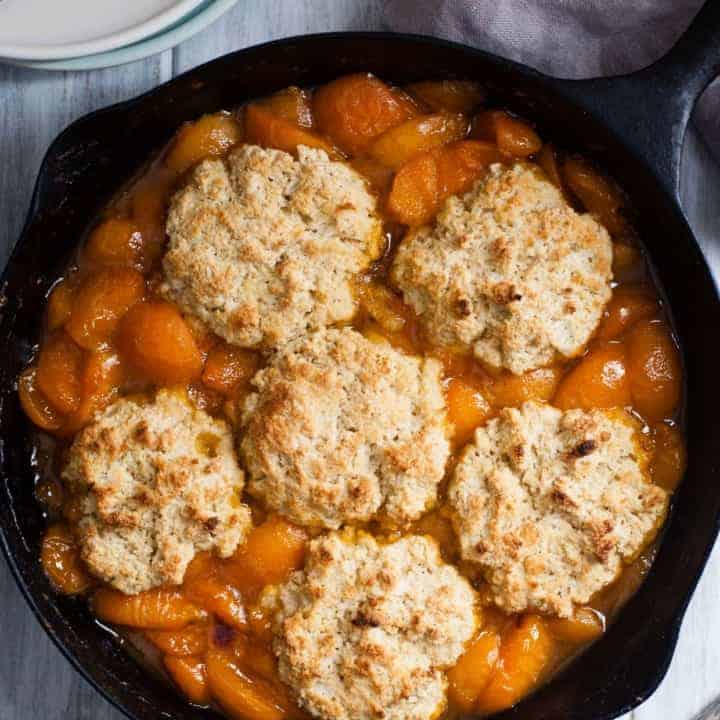 Apricot Cobbler with Buttermilk Biscuits
Ingredients
Apricot Filling
2¼ lbs fresh apricots, quartered
1 tablespoon tapioca starch
3 tablespoons brown sugar
Sweet Buttermilk Biscuits
¼ cup plus 2 tablespoons millet flour (for non-gluten-free version, replace the first six ingredients up to the xanthan gum with 1 cup all-purpose flour)
¼ cup plus 2 tablespoons gluten-free oat flour*
2 tablespoons sweet rice flour (different from "white rice flour" or "brown rice flour")
1 tablespoon tapioca starch
1 tablespoons brown rice flour
¼ teaspoon xanthan gum
2 tablespoons sugar
1 teaspoon baking powder
¼ teaspoon baking soda
¼ teaspoon salt
Scant 3 tablespoons cold unsalted butter, chopped into ¼" cubes
¼ cup plus 3 tablespoons cold buttermilk
Instructions
Preheat the oven to 450°F.
Toss the apricots with tapioca starch and brown sugar in a medium cast-iron skillet. Heat on the stove, stirring until just warm and beginning to bubble, 3-5 minutes. Turn off the heat, but leave on the stove while you prepare the biscuits. (Note: If you don't have a cast-iron skillet, you can heat the apricots in any pan/skillet, and then transfer it to a 9x9 baking dish to add the biscuits and bake).
In a medium bowl, whisk together the millet flour, oat flour, sweet rice flour, tapioca starch, brown rice flour, xanthan gum, sugar, baking powder, soda, and salt.
Add the cold butter to the flour and, working quickly, use your hands or a pastry knife to combine until the largest pieces of butter are no bigger than a pea.
Add the buttermilk and stir with a fork to completely combine.
Divide the biscuit dough into six pieces. Slightly flatten them into round disks and plop them on top of warm apricots.
Bake for 15-17 minutes, until the biscuits are golden brown.
Serve warm with vanilla ice cream.
Notes
*I grind my own oat flour by pulsing gluten-free oats in the blender or food processor until fine, then sifting out any large pieces.