Frosted earl grey brownies baked in a loaf pan and topped with rose petals for a romantic Valentine's Day dessert for two! Adapted from the Best Ever Frosted Brownies from Sweet & Simple by Christina Lane, these brownies are exactly that with the perfect chewy balance between fudgy and cakey.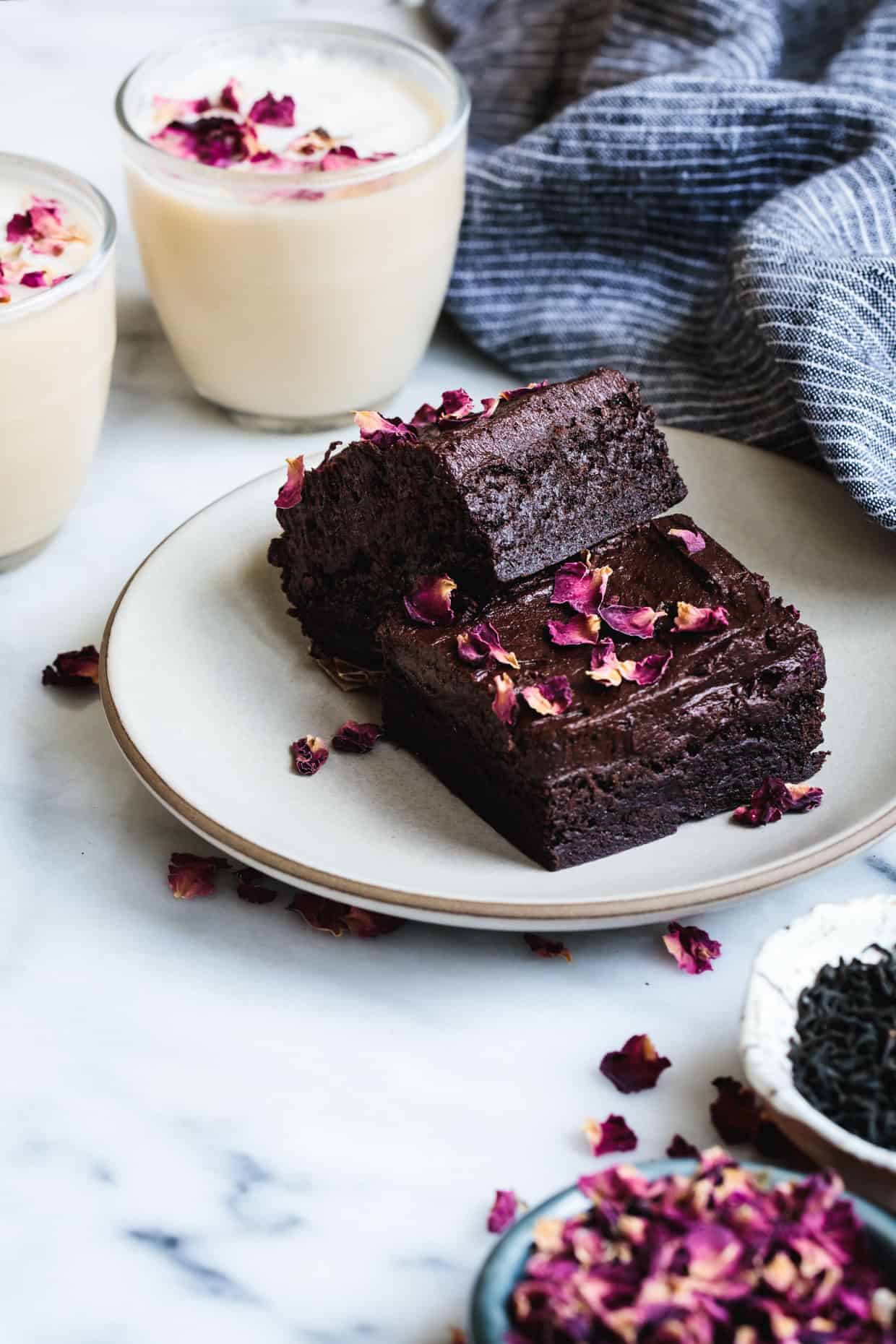 The base for these earl grey brownies comes from my friend Christina's newest cookbook Sweet & Simple. When a brownie boasts as "Best Ever Frosted Brownies" you should probably pull out the cocoa powder and preheat the oven. No questions asked.
In her cookbook (and on her blog), Christina scales down her recipes for small batches. This pan makes 8 brownies, or by Christina's math, two servings - SHE GETS ME. Sweet & Simple is filled with perfectly-tested classic desserts and a few uniquely decadent flavor pairings - all with simple recipe steps and all scaled down for small servings. Just as I did here with these earl grey brownies, many of these foolproof recipes are the perfect canvas for adding your own spin without worrying about having to dump out a huge batch of brownies.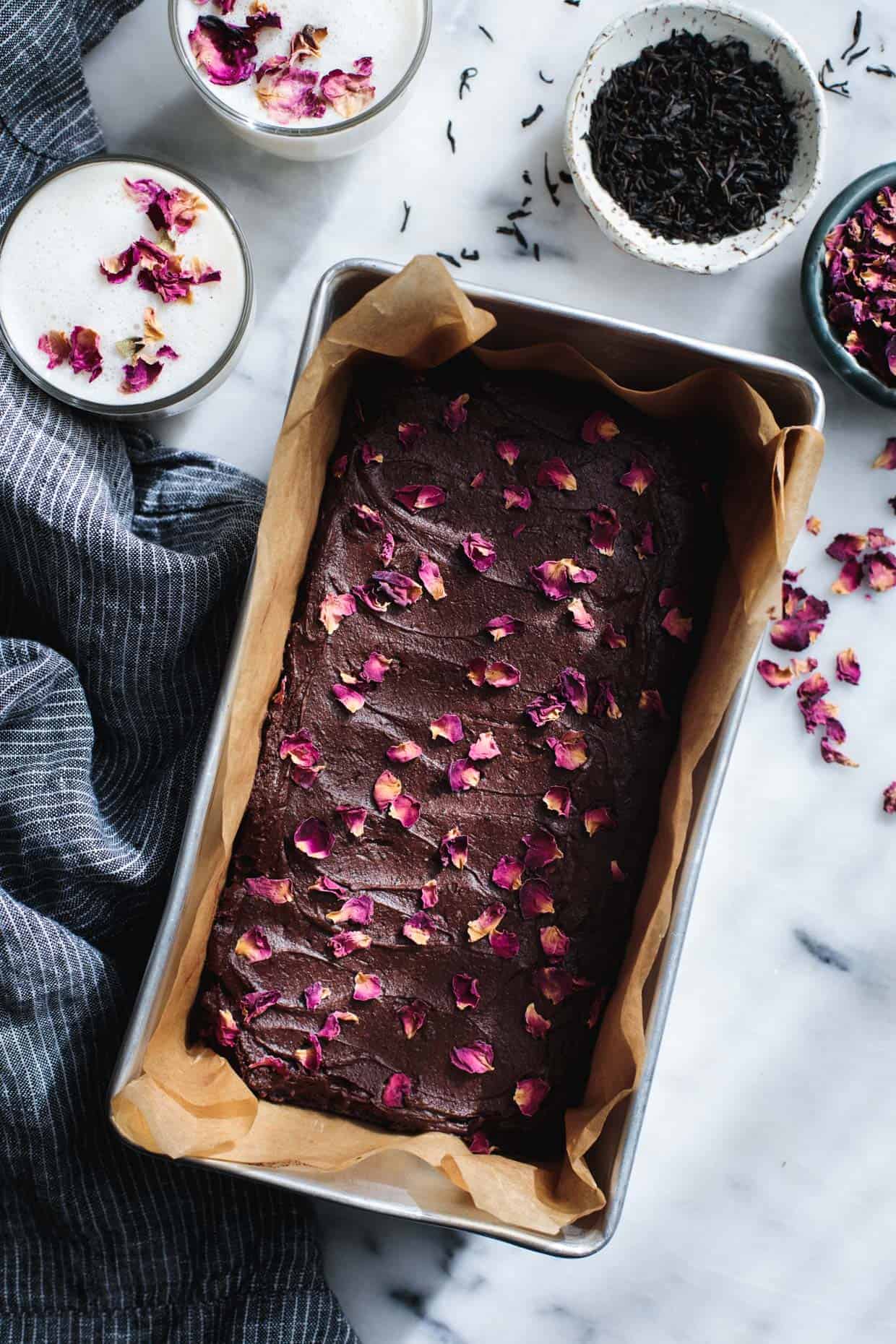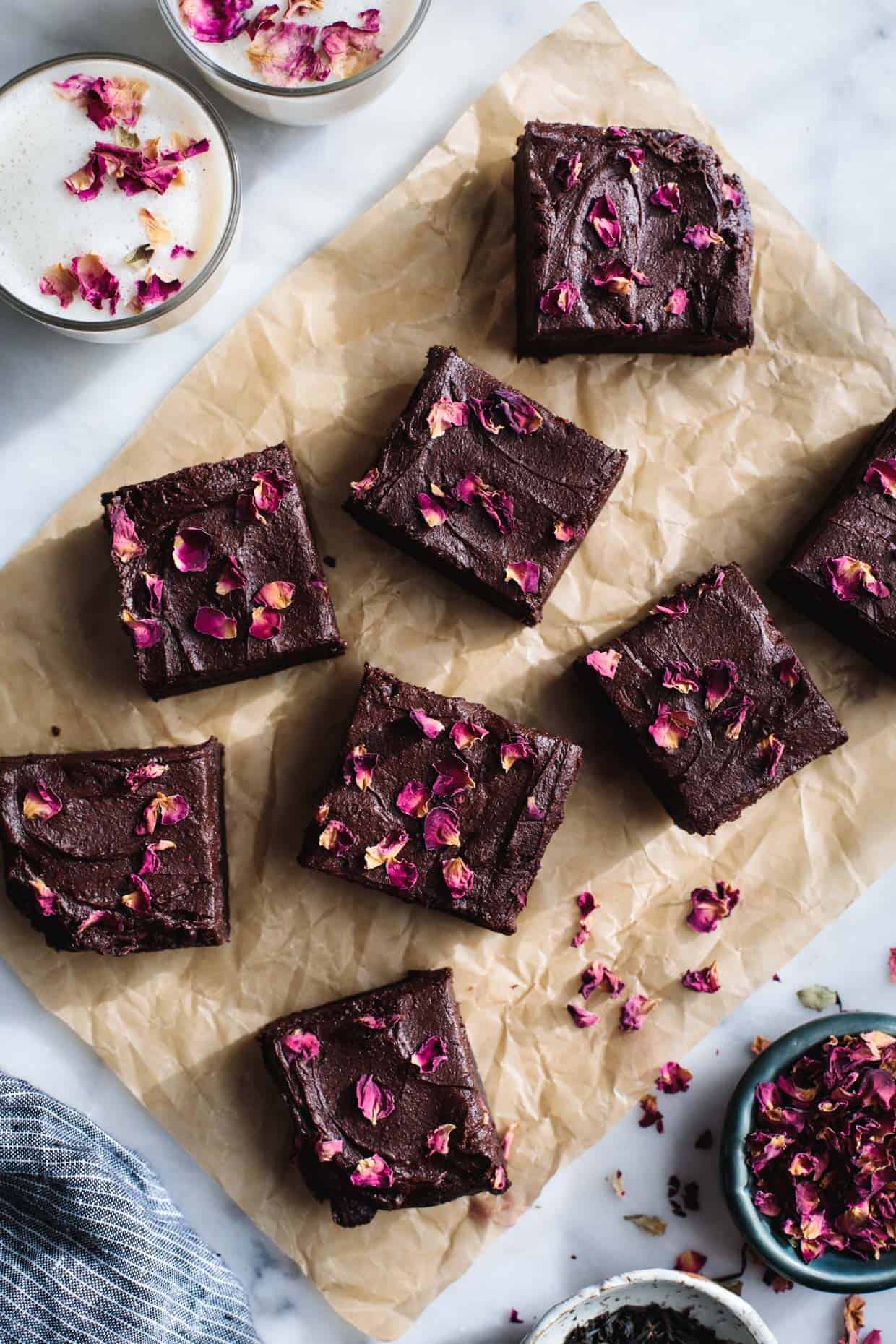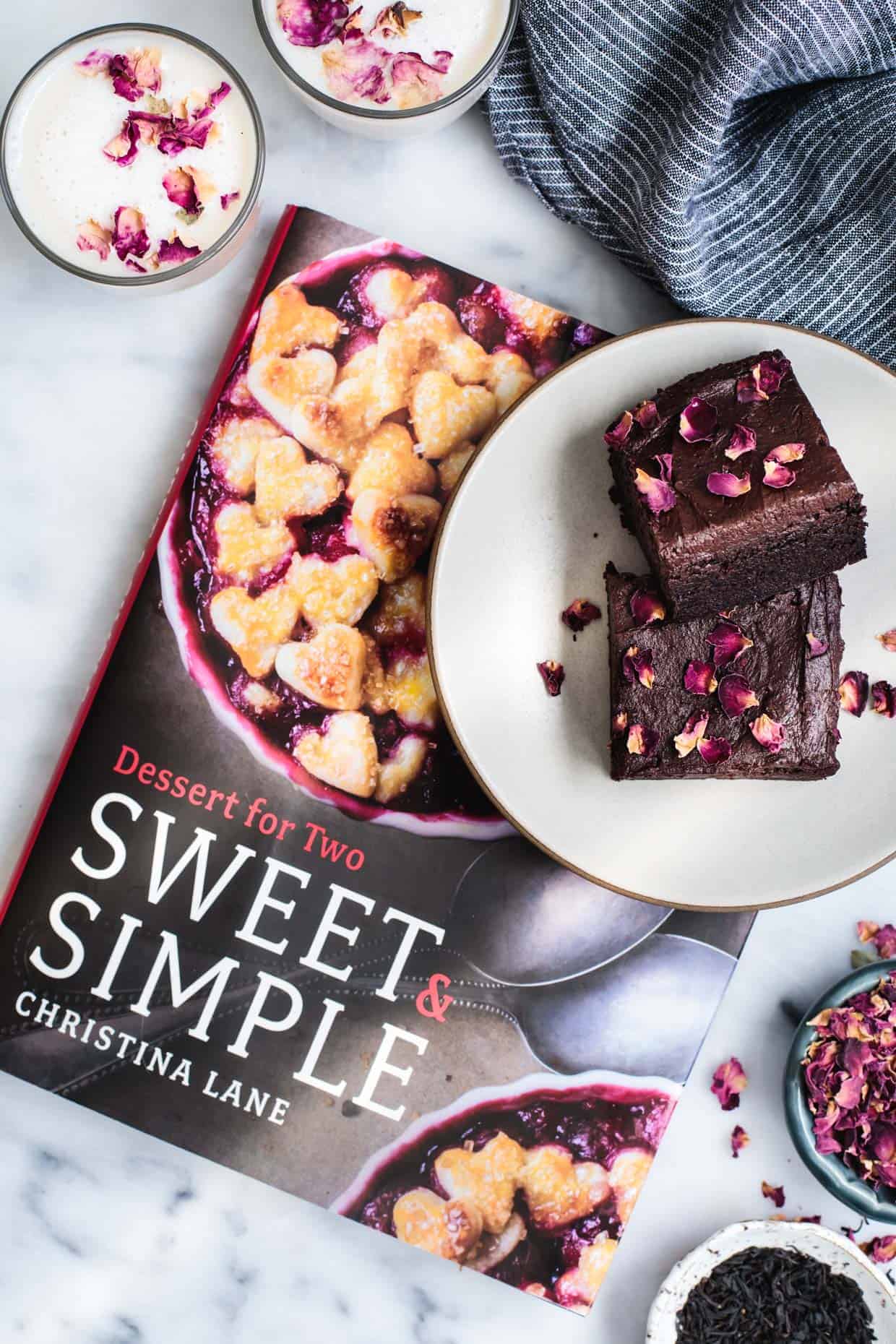 I took her best ever frosted brownies and swapped out the all-purpose flour for a buckwheat flour blend to turn the brownies gluten-free and mixed in ground earl grey tea to give them my own twist. Christina wasn't lying - these frosted brownies are the best ever. Chewy, fudgy, and cakey all at once.
Buckwheat's chocolatey notes enhanced the cocoa's richness and paired brilliantly with the citrusy earl grey infusion. I used to think chocolate was such an assertive flavor that it would overpower anything you mixed in that wasn't equally as aggressive. These brownies debunk that belief - they're are kissed with subtle notes of earl grey tea that are still pungent enough to alter the flavor profile of the entire brownie with hints of bergamot. The rose petals thrown on top add floral aromatics that fancy up the brownies into a Valentine's Day-worthy dessert.
I drink tea as soon as I wake up, so I vote you just go head a serve up an earl grey brownie breakfast-in-bed for two (or one...). Just make sure you've got a foaming cup of Todd's stunning rose earl grey tea latte on the side.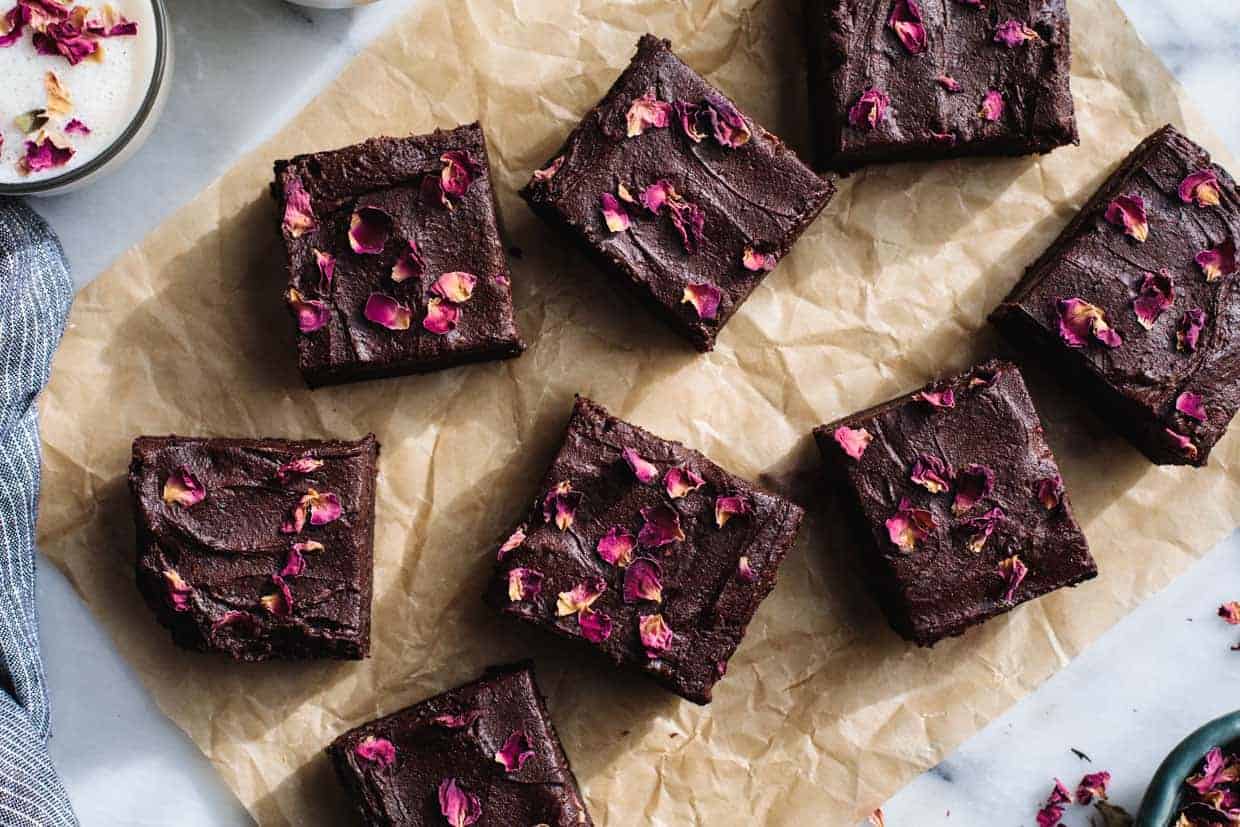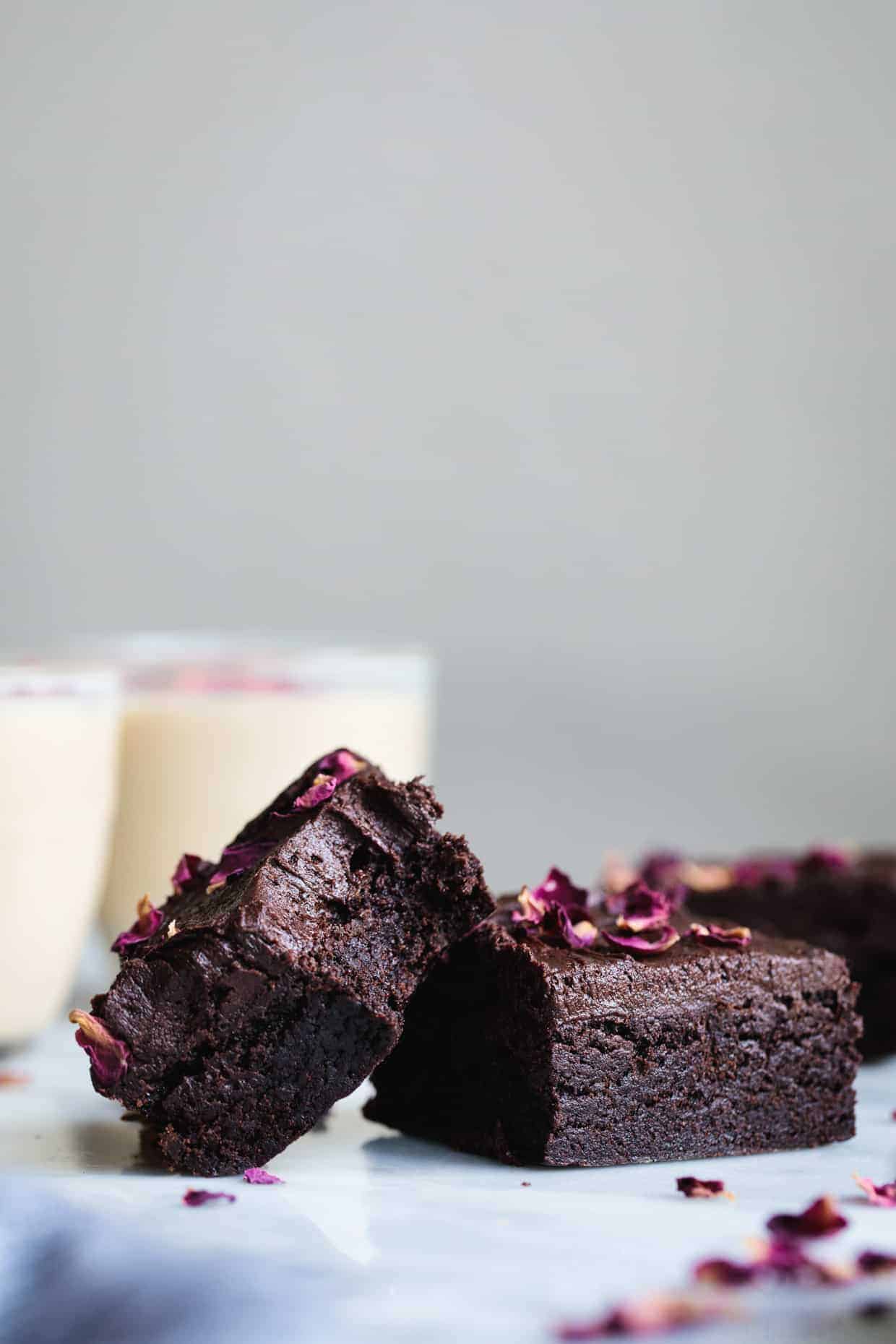 The small serving size is also great for folks with no self control around chocolate (ahem: me). You're just one cookbook and one pan away from homemade brownie perfection, y'all! This book beefs up your Valentine's Day game like woah - pre-order your copy to ship on February 7th! Then make her perfect sugar cookies (I did) and lemon matcha cake roll (I will), and once you've done that, will you be my Valentine?
Thanks for reading Snixy Kitchen! To stay up on what's coming out of my kitchen,  follow me on Facebook, Instagram, Twitter, Bloglovin', or Pinterest, or subscribe via e-mail to get new recipes right to your inbox.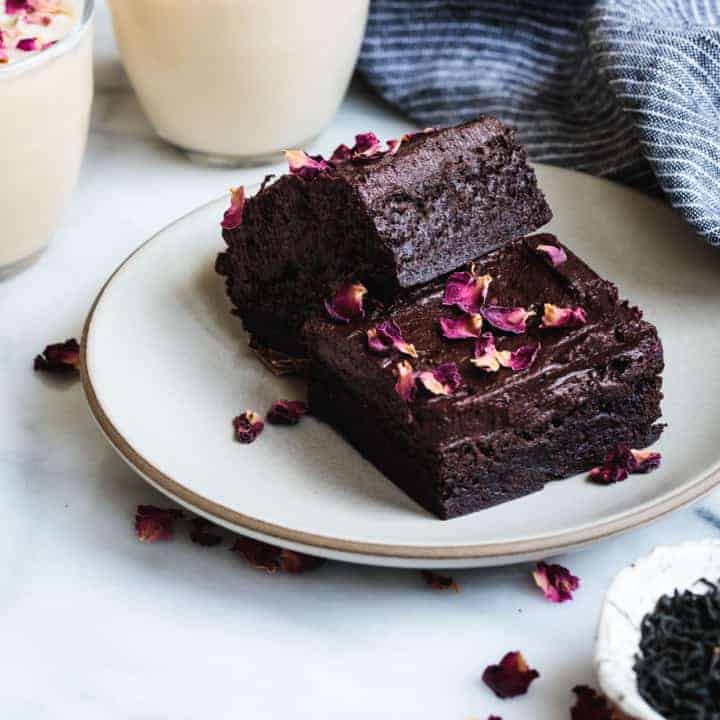 Gluten-free Frosted Earl Grey Brownies with Rose Petals
Ingredients
Earl Grey Brownies
2 tablespoons loose-leaf earl gray tea, finely ground in a coffee grinder (1 tablespoon ground)
½ cup unsalted butter (1 stick), room temperature
1 cup + 2 tablespoons granulated sugar
¼ teaspoon kosher salt
1 large egg
Optional: dried edible rose petals, for decoration
Chocolate Earl Grey Frosting
6 tablespoons unsalted butter, softened
¾ cup powdered sugar
¼ cup cocoa powder
2 tablespoons loose-leaf earl gray tea, finely ground in a coffee grinder (1 tablespoon ground)
1 teaspoon vanilla extract
¼ teaspoon salt
2-3 tablespoons milk or cream
Instructions
Preheat the oven to 325°F and line a 9-inch loaf pan with parchment paper.
In a small bowl, whisk together the buckwheat flour, sweet rice flour, tapioca starch, and ground earl grey and set aside.
In a medium microwave-safe bowl, combine the butter, cocoa powder, and sugar. Microwave at full powder for 30 seconds. Stir the mixture and microwave again for another 30 seconds. Stir again and add one more 30-second interval if the butter isn't mostly melted. Let it cool for 1 minute.
Stir in the vanilla and salt.
Stir in the egg.
Add the flour mix and stir vigorously for about 1 minute or 50 strokes.
Scrape the mixture into the prepared pan and bake for 45-50 minutes. The surface should appear dry and potentially starting to crack. Remove from oven and let cool completely before frosting (if you're impatient like me, let the brownies cool for 5 minutes in the pan and then chill for 10 minutes or so).
Meanwhile prepare the frosting. In a medium bowl or in the bowl of a stand mixer, beat the butter until soft. Sift together the powdered sugar, cocoa powder, and tea. Add to the butter and beat until combined, scraping down the sides as needed. Add the vanilla and salt and beat until just combined. Slowly add milk or cream, beating as you go, until the frosting is spreadable.
Once the brownies are cool, frost, top with dried rose petals, and serve.