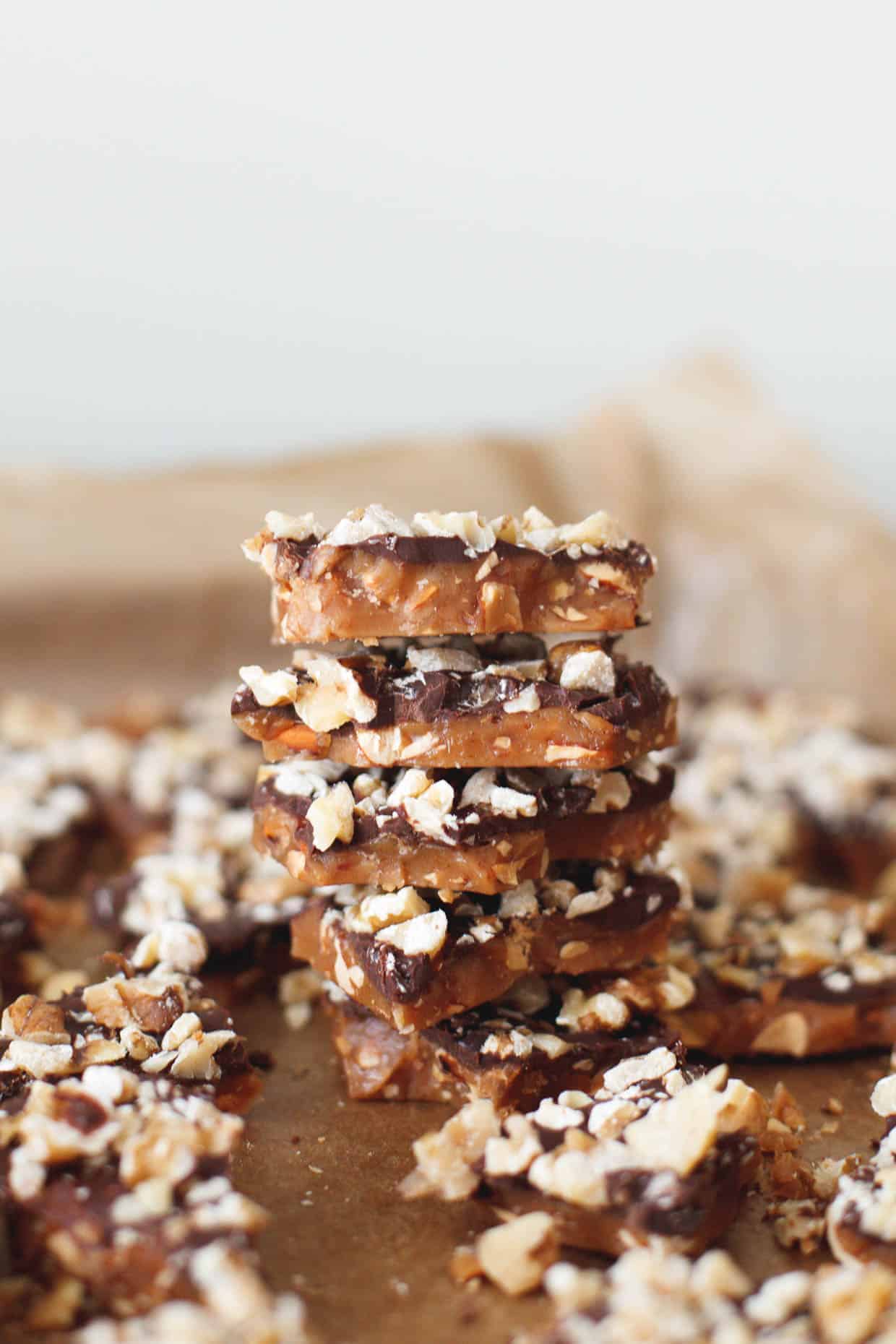 Back when I was first getting into cooking, my aunt gave me a board game for foodies. Imagine Cranium except every category has to do with food. One card category involves listing out ingredients one by one while the other team guesses what dish they make up. Now that I cook more often, I'm pretty sure none of these ingredient lists would make an edible dish. Plus, a disproportionate of the cards begin with ½ cup of mayonnaise. Whatever you're making - start with half a container of mayonnaise. No thank you.
Find a recipe that starts with 2 sticks of butter, however, and I'm certain it's something fantastic. Basically: "this recipe starts with two bricks of gold." That's exactly how my mom's almond English toffee recipe starts and it's the stuff my dreams are made of.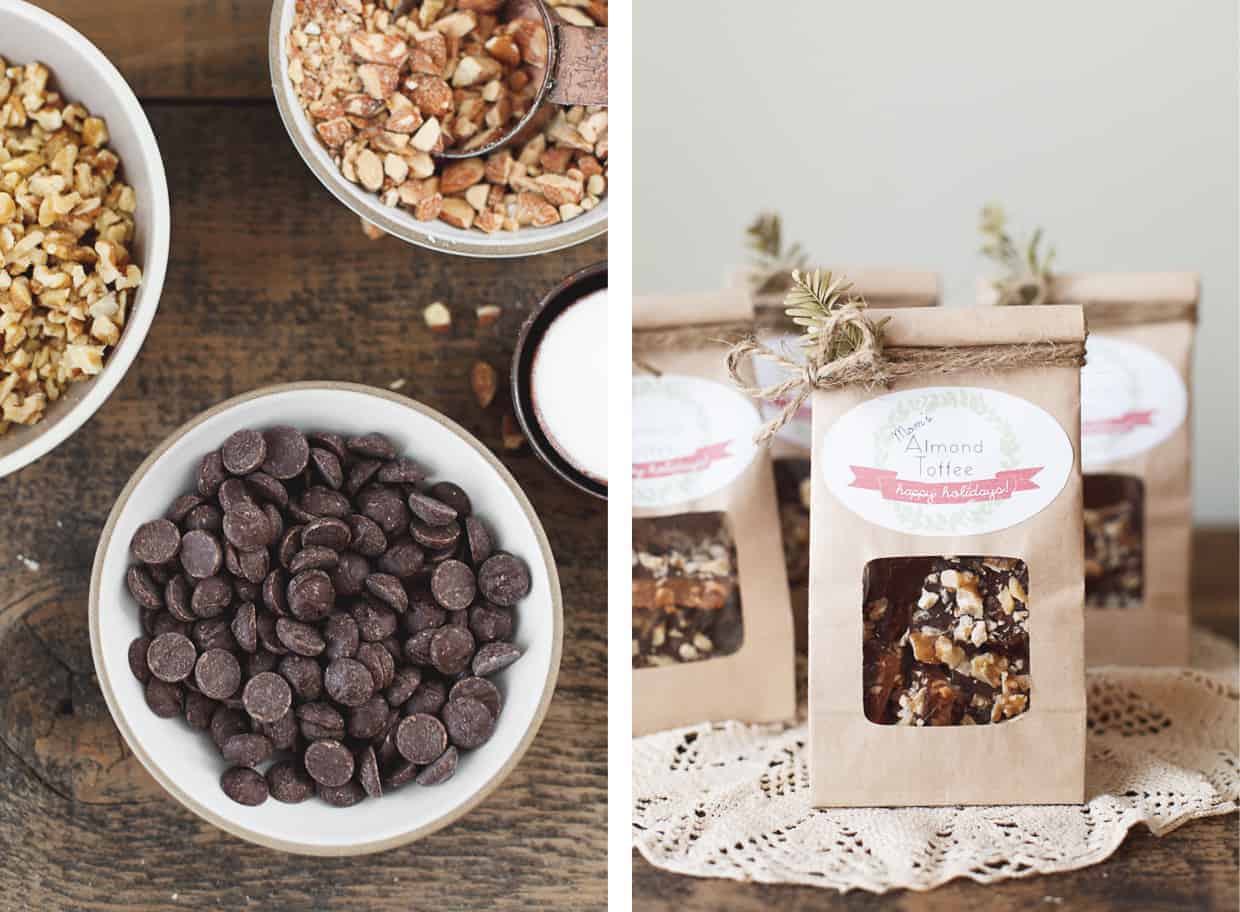 This is a cherished family recipe that my mom makes over a dozen batches of every Christmas to give to all of her friends, family, and neighbors for the holidays. Pro-tip #1: get on my mom's good side. It's her signature holiday treat and everyone looks forward to their bag each December. If there's one thing you can always count on, it's mom's almond toffee for the holidays.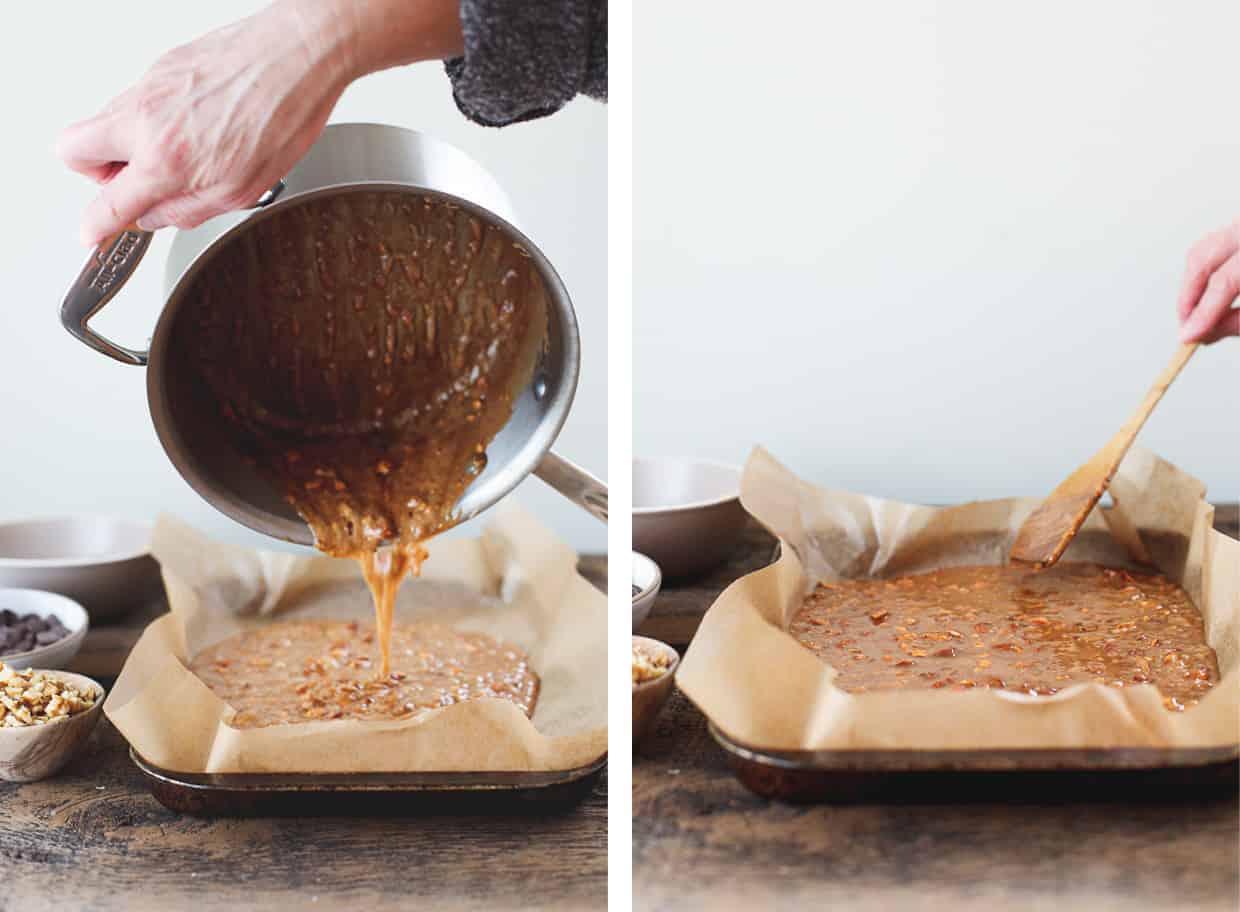 Even though she's been making this toffee for years, she never taught me how to make it. She was so shocked that I didn't already have the recipe when I asked for it this year that she dropped everything to drive 3 hours to teach me how to make it (those are her delicate hands modeling the recipe).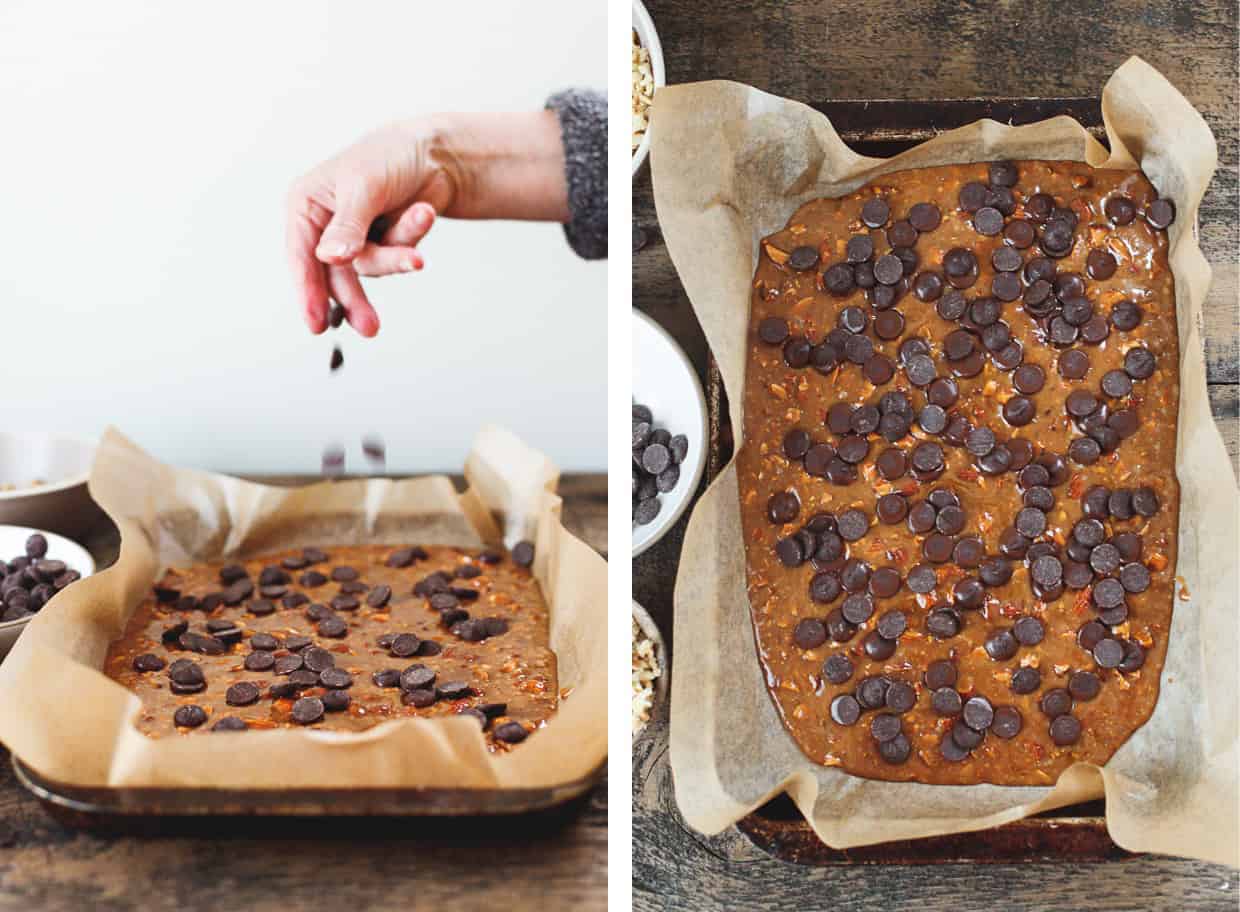 Actually she first texted me a picture of the recipe, with scratched out notes written all over it and a glob of peanut butter right in the middle. According to her recipe, you know it's done when "the mix is EXACTLY the color of Peanut Butter." Underlined as if it's one of the ingredients (to be clear: it's not).
Until this year, I assumed peanut butter was a primary ingredient because she kept the giant jar on the counter during the holidays for color matching. So I texted back a list of questions, the first of which was, "what brand of peanut butter, mom?" ("What's the Pantone number of the peanut butter?!")
It's Jif peanut butter, in case you're wondering.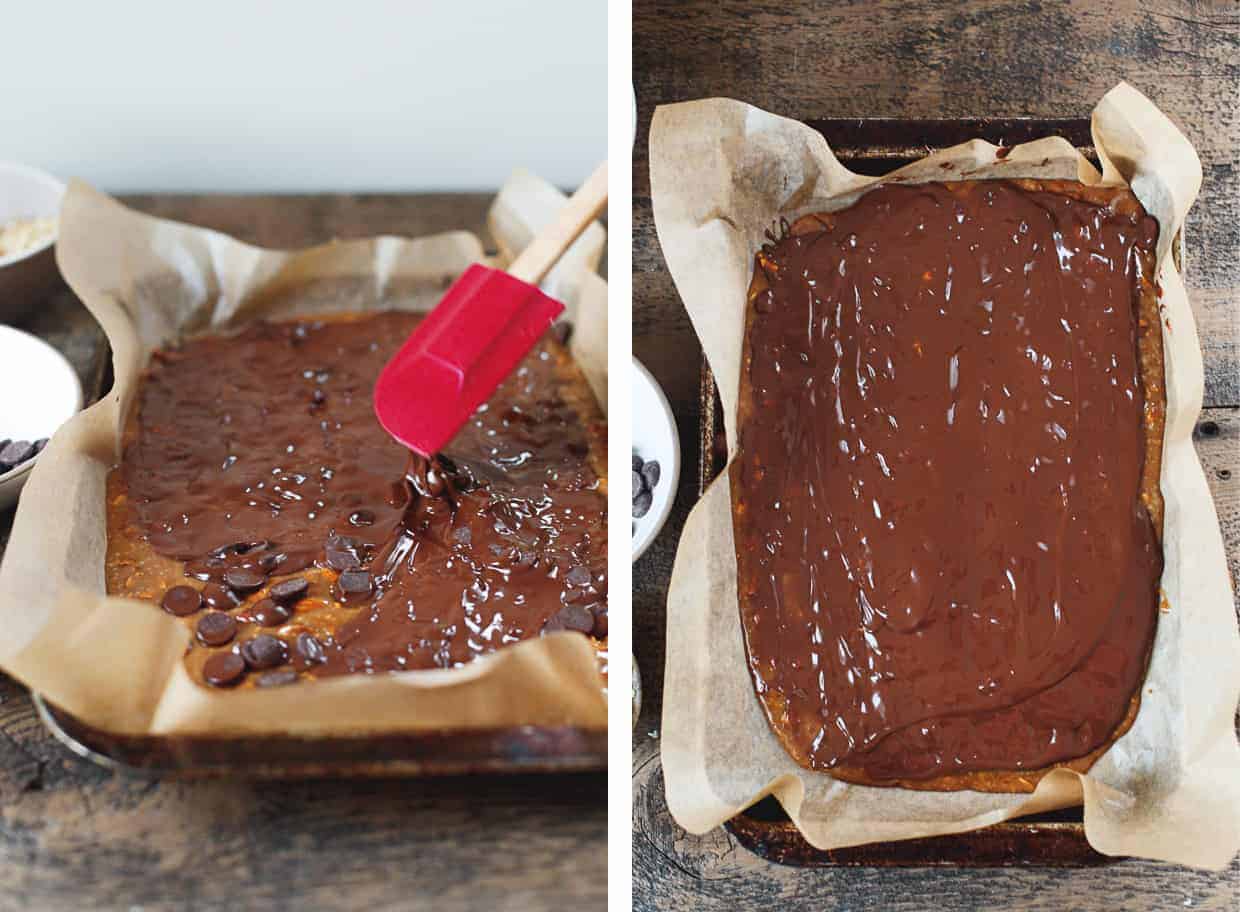 Instead of asking you to buy a specific jar of peanut butter to make mom's toffee, I translated her process into temperature measurements while she made the first batch. Then I made four more batches because...do you really need a reason? IT'S EDIBLE GOLD.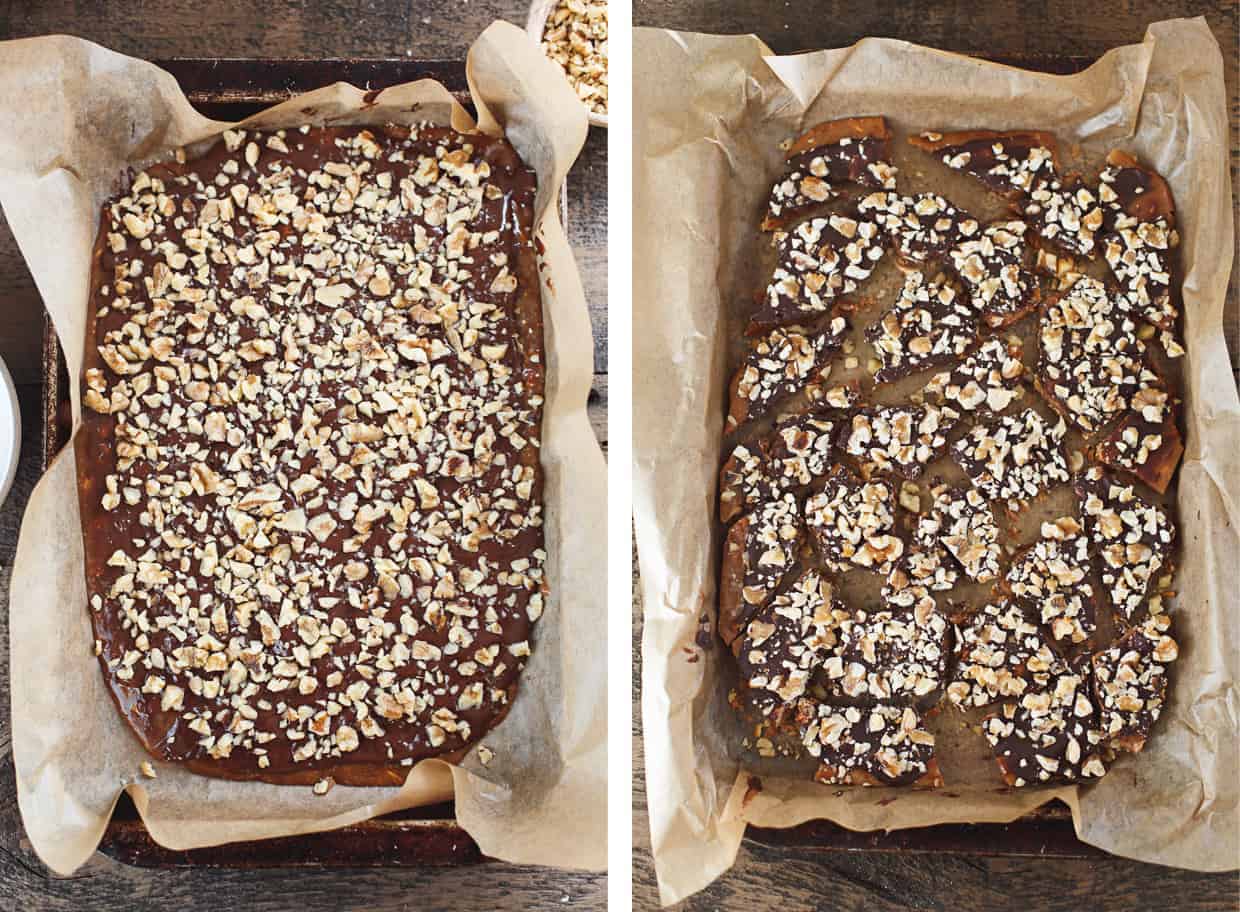 Now that I've got the recipe, I'm giving homemade toffee as gifts to all my friends and bringing it to every party, starting with Alanna's birthday (Pro tip #2: this is how you make friends).
This recipe is a highly addicting, deeply buttery toffee crunch with roasted almonds scattered throughout and a layer of chocolate and walnuts on top. Imagine almond roca, but even better because it's made with love (and simple ingredients).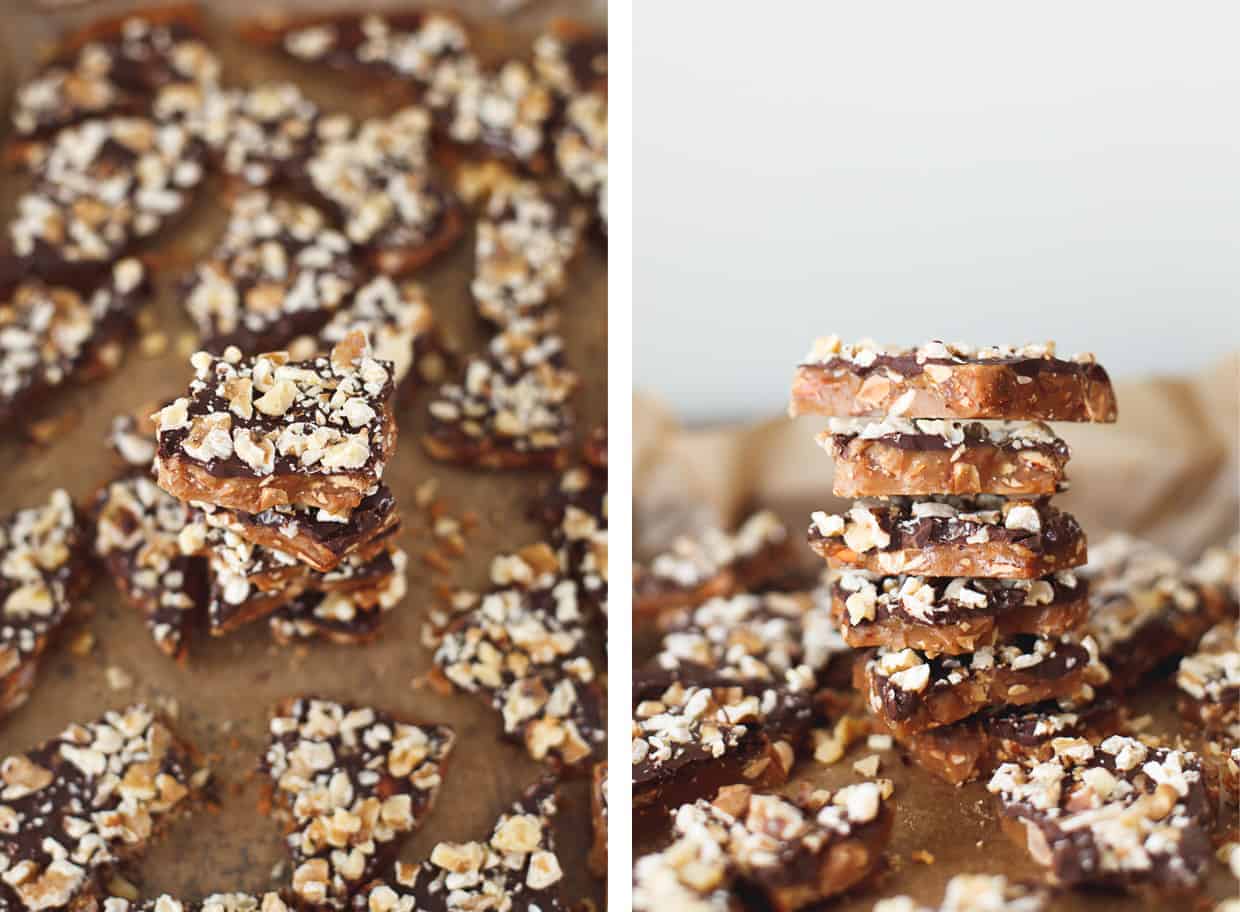 I've made batches with semi-sweet chocolate and with dark chocolate, and even a batch without chocolate. And if walnuts aren't your thing, feel free to add chopped almonds on top. This last time, I absent mindedly flip-flopped the almonds and the walnuts for a walnuty toffee with a salted chocolate almond topping and I'm still eating it like crack. Whatever you do, plan to make more than one batch (and wear stretchy pants).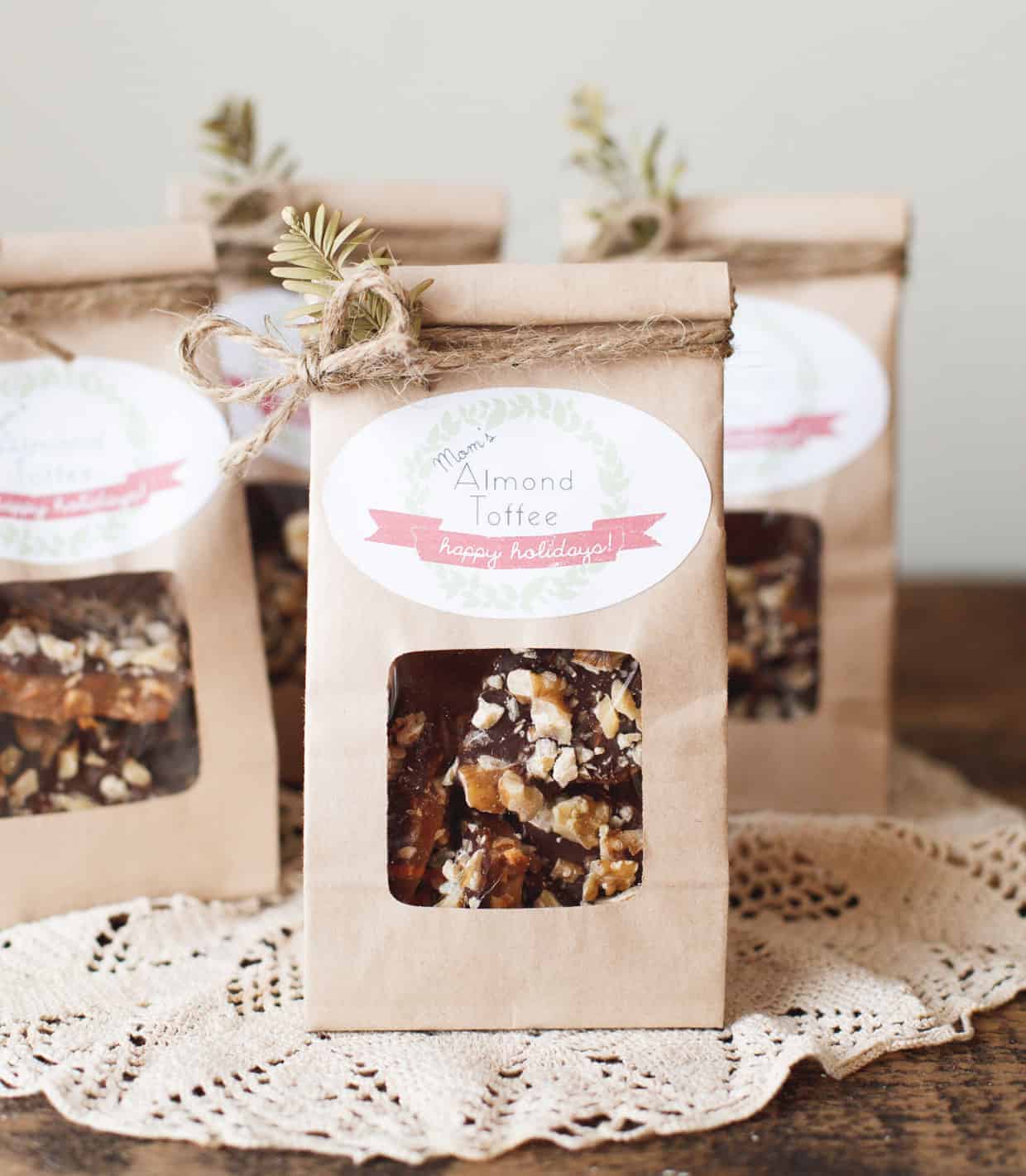 Thanks for reading Snixy Kitchen! To stay up on what's coming out of my kitchen,  follow me on Facebook, Instagram, Twitter, Bloglovin', or Pinterest, or subscribe via e-mail to get new recipes right to your inbox.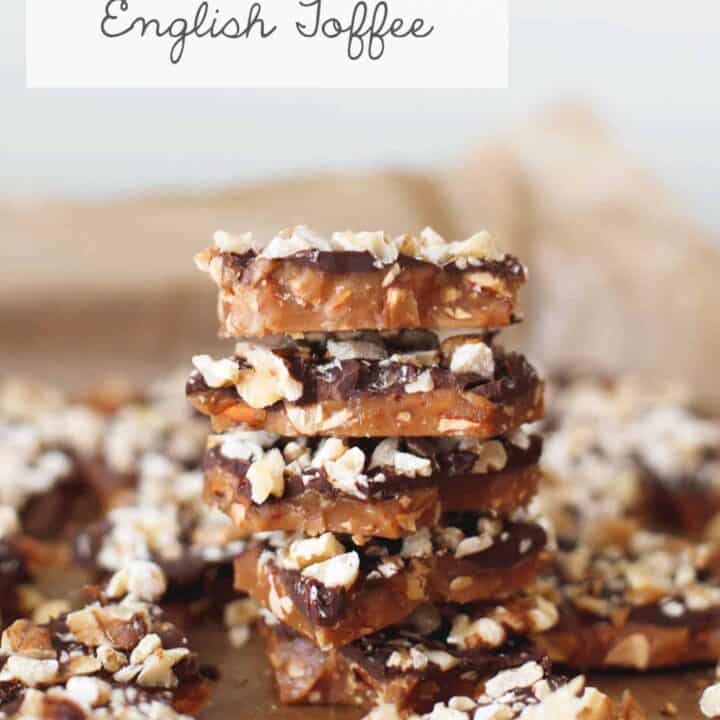 DIY Gift: Mom's Chocolate Almond English Toffee
Yield:
About 1-½ pounds, or 5-6 small bags
Ingredients
⅓ cup of water
1 cup of unsalted butter (2 sticks), sliced into 5-8 pieces each
1-⅓ cups of sugar
¼ teaspoon salt
¾ cups of roasted almonds, coarsely chopped (you can use raw or roasted almonds and they're both delicious - my mom usually makes it with raw almonds, but this year tried roasted and loves it even more)
3-4 ounces of semi-sweet or dark chocolate chips* (see note)
½ cup walnuts, chopped
Instructions
Read all the directions before getting started. Stuff happens so fast and you want to make sure you're prepared for what's coming next. Make sure that you have an accurate candy thermometer - 5 degrees off will drastically change the texture of your toffee from crunchy to taffy-like. Here's a handy article on how to calibrate your candy thermometer.
Prepare a quarter-sheet baking sheet (9 x 13) by lining it with parchment paper. (Since you don't spread the toffee to the edge of the pan, if all you have is a larger baking sheet, it will work too!)
Put the water in a medium pot and arrange the butter chunks in a single layer on the bottom. Heat on extremely low heat until the butter melts (should take 10-15 minutes). Do not stir.**
Increase the heat to medium-low and bring the butter to a rolling boil.
Add the sugar, salt, and almonds and briefly stir to combine. Stop stirring and insert a candy thermometer. Cook, undisturbed, until the caramel reaches 260°F, or begins turning amber colored, whichever comes first (this will differ depending on your pot, but should take around 10 minutes to start turning colors). At this point, don't take your eyes off of the pot, even to just wash a quick dish, as you'll risk burning the caramel. Depending on your pot, this could take 5-15 minutes more, but when it starts turning dark amber, it turns quickly.
Cook, undisturbed, until the mixture reaches 300°F (or as my mom says, "is EXACTLY the color of peanut butter"). Check the color of the caramel at the bottom of the pot with a single gentle stir once it reaches around 285°F, or appears amber colored throughout, to make sure it isn't getting too dark. If your mixture turns amber brown before it reaches 300°F, stir gently occasionally to keep it from burning.
Once it reaches 300°F, immediately pour the caramel onto the prepared pan and use the wooden spoon to spread it into a thin ¼-inch thick layer. Let it sit for 1 minutes, then sprinkle the chocolate chips evenly over the top. Let the chocolate chips melt for 1-2 minutes, then use a rubber spatula to spread them evenly into a thin chocolate coating.
Sprinkle the chopped walnuts evenly over the top and use the back of a sturdy metal or plastic spatula to gently press the walnuts into the chocolate.
Let it sit for 4-6 hours, or until the toffee has cooled and the chocolate has solidified. If you're impatient like me, you can also put the pan in the fridge for 15-20 minutes just to solidify the chocolate.
Break into chunks using your hands or an old knife and store in an airtight container at room temperature for a couple of weeks. (As if you won't eat it before then...)
Notes
*Do not use mini chocolate chips as the chocolate will melt too fast and won't harden back up at room temperature. I prefer using Ghirardelli chocolate chips as think they look the smoothest when melted on top of this toffee, but any kind will work!
**From my experience, it works best if you use a heavy-bottomed stainless steal pot and not an enameled cast-iron pot.